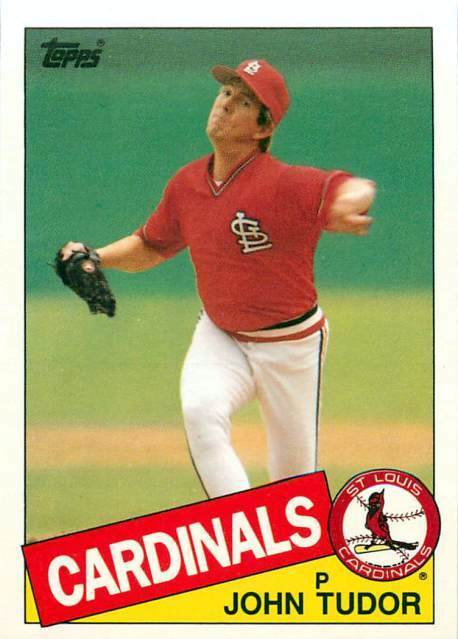 ---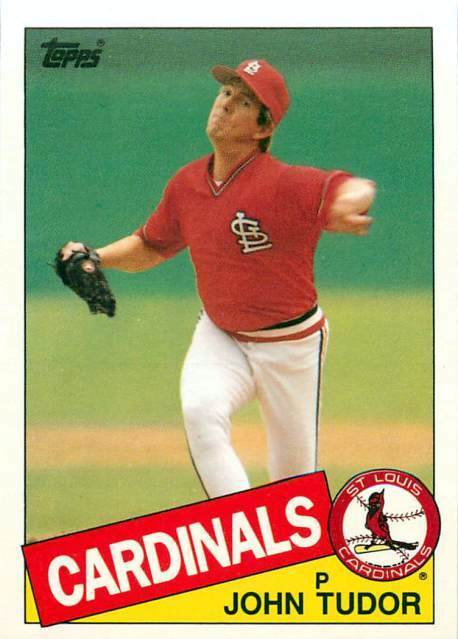 In the 21st century, it's become rare for whole teams to post 10 complete games in a single season – let alone a single pitcher. Only two men since the year 2000 have done so: C.C. Sabathia (2008) and James Shields (2011). Seasons with double-digit shutouts are an even more compelling feat. Over the half century from 1961 through 2010, six pitchers accomplished such mastery: Sandy Koufax, Dean Chance, Juan Marichal, Bob Gibson, and Jim Palmer were the first five. The last was John Tudor, for the St. Louis Cardinals in 1985.
That was easily the lefty's best year; Tudor had no more than 13 wins in any season before or after 1985. Assorted injuries marred much of his remaining time in the game and led him to retire after 1990. For those who appreciate the art of pitching, though, Tudor was a treat, even if his form wasn't textbook. Scout and executive Mike Arbuckle called him "a classic chicken-winger" – i.e., "a pitcher who leads with his elbow with limited extension, shortening his delivery into a more awkward and less fluid motion; generally applied to lefthanded pitchers without strong fastballs."1
Actually, in his early years, Tudor could reach around 93 miles per hour, as he recalled in 2011. However, chronic arm pain sapped his speed and forced him to get by with "guts and guile," as sportswriter Peter Gammons put it in a May 1990 feature.2 In addition, from 1979 through 1983, he pitched for the Boston Red Sox, and being a southpaw in Fenway Park taught him how to walk a tightrope. Tudor's style was surgical. He worked fast, changed speeds beautifully, moved the ball around, and had very good control.
Whitey Herzog, his manager in St. Louis, said, "Nobody ever did more with less than my favorite cranky Yankee, John Tudor. John won me 64 ballgames and only lost 27 [actually 62-26] between 1985 and 1990, a record that still leaves me shaking my head, considering the stuff he had. Well, when you can't crack eighty-five on the radar gun, maybe a foul mood and a chip on your shoulder are just the right ticket. They sure didn't hurt John."3
Tudor's game face was severe: lips compressed, eyes boring in. His intensity carried over off the field as well. "He was also combative, curt, and bluntly honest; when he considered a question stupid, he said so."4 His disappointment in losing Game Seven of the 1985 World Series is well remembered – he sliced his hand punching an electric fan in the clubhouse.
Yet to focus on this aspect of a complex personality is far too simplistic, as writers strove to recognize during Tudor's career. "Even friends and acquaintances differ in their perspectives," wrote Ross Newhan of the Los Angeles Times in 1988.5 First, Tudor didn't like to talk about himself – he was refreshingly free of ego. His acerbic wit could also be playful. He was intelligent, introspective, and demanding – of himself more than anyone. "I'm only concerned about doing my job," he told Newhan. "I try to be as honest as I can, though that's where I've gotten in trouble in the past."6
John Thomas Tudor was born on February 2, 1954, in Schenectady, New York. For many years, General Electric had its headquarters and largest plant in this city. John's father, Melton Tudor, was an engineer for GE. 7 However, John was in Schenectady for only a few weeks, as Melton and his wife Jean made their home in Lynn, Massachusetts (one of Boston's northeastern suburbs). John was the oldest of their three children, followed by a brother named Paul and a sister named Carol.
Tudor began playing baseball at the age of seven. When he was nine years old, his family moved a few miles north, to Peabody. As early as 1966, he got some ink in the Boston Globe – though not as a pitcher. "'He may be small, but he certainly showed me how a Little League first baseman should handle a glove and cover the base,' exclaimed Joe Coleman, Globe clinic director, after watching left-handed John Tudor excel in Peabody American's District 15 victory over Danvers Americans, 2 to 0, at Danvers Saturday."8 John was pitching then too, but did not hurl for that all-star team.
Tudor, who grew up to be a 185-pound six-footer, went to Peabody High School. There he also played ice hockey, which he called his first love and which he still enjoys as recreation today, and basketball. Although he was not immediately a star on the mound, he refutes a 1985 Sports Illustrated reference that he was once cut from the baseball team.9 In 2011, Tudor credited the influence of his coach, John Bezemes. "He gave me the opportunity to play my senior year and made me hungry enough to want to succeed at a higher level."10
Since he did not receive any other college offers, Tudor then attended North Shore Community College, a two-year college in Danvers, just a few miles northeast of Peabody. There he was MVP of his team in 1973. After North Shore, Tudor went to Georgia Southern College, where he joined the baseball team as a walk-on. In the spring of 1975, the junior was 6-2 in 10 games with a 1.46 ERA (including one shutout) for the Eagles.11
That June, the New York Mets selected him in the 21st round of the amateur draft, but he did not sign. The criminal justice major had said just a few weeks before, "I'd like a chance to play pro ball. Afterwards, I'll probably go into law enforcement. Probably be a [state] policeman." At that point, though, he was still thinking about returning for his senior year.12 So he spent the summer of 1975 playing with Falmouth in the Cape Cod League. His catcher was the same close friend who handled him at Peabody, Dave Bettencourt – the man who later helped turned around his old batterymate's 1985 season.
Since Tudor had not signed with the Mets, he was eligible for the secondary phase of the January 1976 draft. On the recommendation of scout Bill Enos, the Red Sox took him in the third round, and this time – even though he had a year of college eligibility left – he decided to sign.13 He eventually got his degree in 1978.
During his first three years in Boston's minor-league system, Tudor spent a lot of time in the bullpen. He started 33 times in 82 total appearances. In fact, during spring training 1978, the Boston Globe indicated that he wanted to be a short reliever.14 But when he started, he could be brilliant, as he displayed in a seven-inning no-hitter (with just two walks) for Bristol of the Double-A Eastern League on June 28, 1977. It was a sign of the future: Tudor needed just 61 pitches and 80 minutes. He said, "I'm supposed to be a power pitcher. Lately, I've been going with the breaking ball instead of power. For a change, I'm not making a fool of myself." Manager John Kennedy observed, "He hit the inside corner on righties and had the ball running over the plate. He also kept ahead of the hitters."15
The lefty made it to Boston's Triple-A affiliate, Pawtucket, by the end of that season. He spent all of 1978 plus parts of 1979 and 1980 there. Allegedly pitching coach Johnny Podres said in 1979, "he doesn't have a gut in his body" – something completely at odds with every other description of Tudor as a competitor, with his hockey mentality. Podres was known for teaching the change-up, the pitch that became Tudor's bread and butter. In 2011, though, Tudor said, "I learned nothing from Podres. I was not a prospect so he didn't waste his time. Bobby Sprowl was a top pick [second round, 1977]."
Tudor's manager with the PawSox was Joe Morgan, who later managed the Red Sox. In 2011, "Walpole Joe" remembered, "One time Pawtucket was playing an exhibition game against the Red Sox. I told John, 'I'll pitch you a couple of innings. He said, 'I don't care if I pitch against them or not.' When he did pitch, the Red Sox batters couldn't catch up to his fastball. Later Bob Montgomery said to me, 'Boy, that Sprowl kid can really throw good.' Nobody on the Red Sox knew it was Tudor pitching. I told Tudor the story and said to him, 'Now they know who you are. Aren't you glad you pitched?'"16
During the winter of 1978-79, Tudor got his first experience of baseball in a foreign land with the Licey Tigres of the Dominican League. Other U.S. teammates included Cliff Johnson, Ken Landreaux, and Mark Clear; among the native stars were Manny Mota and Pedro Borbón.
Tudor was one of the last men cut by the Red Sox during spring training 1979. At Pawtucket, though his won-lost record was just 10-11, his ERA of 2.93 showed how well he was pitching – now as a full-time starter (he relieved only once in 25 outings). The big club called him up in early August, and he made his major-league debut on August 16. It was at Fenway, and his Peabody High buddies were yelling down to him from the bleachers.17 Unfortunately, he didn't get past the third inning in that start, and he lasted just 4 1/3 in his next turn five days later. Peter Gammons – then of the Boston Globe – wrote, "The problem with making any definitive judgment on John Tudor is that all sorts of bobbles, bungles and bleeders have beset him in his two brief starts."18
A month later, on September 21, he got his first win: a 4-1 decision over the Detroit Tigers at Fenway that was called after 6 1/2 innings because of rain. Joe Morgan said, "He was sharp, with a good command of his fast ball and change-up. However, he's going to have to show consistency to stay up here. It will be up to him."19 Yet even then, his pitching shoulder – which he had originally hurt at Georgia Southern – was bothering him considerably.
Tudor did not come north with the Red Sox in April 1980, though it is interesting to observe that Peter Gammons described him largely in terms of his fastball. "I was a power pitcher at that time," he confirmed in 2011. When Jack Billingham's time in the majors ended that June, Boston recalled Tudor, and except for a couple of injury rehab assignments, he never pitched another game in the minors. He pitched well for the Red Sox during the rest of 1980 (8-5, 3.02), but regressed during the strike year of 1981 (4-3, 4.58). In 1983, he said, "I never really got my feet off the ground (in 1981); I had to prove myself all over again."20
After that season ended, Tudor went back to the Dominican League for his only other time in winter ball. This time he was with Águilas Cibaeñas. An interview in spring training the following March described him as "a witty fun-loving guy, a natural who can hold his own with just about anybody in a verbal sparring contest. 'I had a lot of fun in the sun,' he said. 'My record was 6-2 or 7-2 and the earned run average was anywhere from 2.00 to 2.20. It all depended what newspaper you read. I didn't bother to keep my stats. Besides, my calculator was buried in snow back in Massachusetts."21
Tudor became a regular in the Boston rotation, turning in similar fairly good performances in 1982 (13-10, 3.63) and 1983 (13-12, 4.09). A highlight came on May 27, 1983, versus the Blue Jays at Exhibition Stadium, as he pitched the first of his two career one-hitters. The perception in Boston, though, was inconsistency. In June 1983, Larry Whiteside of the Boston Globe wrote, "The peaks and valleys of John Tudor's career test the nerves." At least Whiteside recognized him as "a fierce competitor" – others misread his demeanor.22
On December 6, 1983, the Red Sox traded Tudor to the Pittsburgh Pirates for Mike Easler. Boston was dealing from depth, with two other good young lefties in Bruce Hurst and Bob Ojeda. Peter Gammons wrote, "[General manager Haywood] Sullivan took the advice of his baseball people that Easler is the best lefthanded hitter on the market and that [Oil Can] Boyd, Mike Brown, [Dennis] Eckersley, [Al] Nipper, [Roger] Clemens, et al. will make people forget the winningest Red Sox pitcher of the last two years."23 Easler, "the Hit Man," had the best season of his career with Boston in 1984 – but the Philadelphia Daily News said, "Most National League people feel the Red Sox were raped."24 Tudor said in 2011, "I never heard that before."
After the trade, there was talk that the Pirates (who already had many starters) might use Tudor in the bullpen, which no longer suited him. However, he stayed in the rotation during his only year in Pittsburgh, a frustrating one that lacked support from the team behind him – two or fewer runs scored in nine of his losses – and from attendance. That December, the Bucs traded him and Brian Harper to the Cardinals for George Hendrick and a minor-leaguer named Steve Barnard. Bob Hertzel of the Pittsburgh Press wrote, "He served the Pirates well, winning 12 and losing 11 for a team that could not hit, could not run, could not play defense and showed it by finishing last."25 In 2011, Tudor added, "It was the only team in major-league history to lead the league in pitching [3.11 team ERA] and finish last."26
Tudor himself was noncommittal at first about going to St. Louis. He said, "Once you get traded away from home [i.e., Boston], after that everything else is easy. I can stay in Pittsburgh or I can go. I really don't care." With tongue in cheek, he added, "I'm gonna miss the parrot."27
Cardinals GM Joe McDonald said that his team had acquired "a good, solid starter" and that the front office had wanted to make room for young outfielders like Andy Van Slyke and Vince Coleman. Whitey Herzog said in spring training, "I like left-handed pitchers who learn to pitch in Fenway Park. It's going to take them more time to get there, but they have to be tough and they have to have learned how to pitch."28
As has often been chronicled, as of May 29, 1985, Tudor's record stood at 1-7, 3.74. At that point, Dave Bettencourt – a coach for many years at the high school and college level – issued his memorable tip after watching the Cards on television. "It was at my 'gathering' point where my mechanics were fouled up," Tudor explained that July. "It had to do with the way I was releasing the ball. Since that time, everything's just fallen into place. In fact, I've never been in a better groove than I am right now."29
Few pitchers in major-league history have ever gotten on such a roll. In his remaining 26 starts that year, Tudor posted a 1.37 ERA, won 20 and lost just one (to the Dodgers on July 20, as Fernando Valenzuela threw a shutout). His changeup was working just right, but Whitey Herzog said, "His real key is when he throws inside with his fastball. That's his 'out' pitch."30 If a righty batter tried to lean out too far over the plate. . .zip! Inside corner at the knees, strike three called.
Tudor's 10 shutouts in 1985 all came during this run. The first, a precursor of the stretch drive, came at New York's Shea Stadium on June 8. Ed Lynch allowed just two hits in eight innings, but reliever Tom Gorman gave up a homer in the ninth to Tommy Herr, and Tudor yielded just three hits himself as he won 1-0. He went on to throw his other one-hitter (vs. the Cubs on August 8) and three shutouts in a row during September.
The race for the NL East between the Mets and the Cardinals that year was a purist's delight. In Tudor's third consecutive shutout, he and Doc Gooden matched zeroes for nine innings at Shea Stadium. César Cedeño then homered off Jesse Orosco in the tenth inning, and Tudor finished a superb three-hitter. Yet after that game, when writers asked if he thought he should win the Cy Young award, Tudor's gracious response was, "How could anyone even think that I deserve to win the award over Gooden? All his stats are better than mine. I don't want to get into that kind of thing."31
Another gripping duel took place on October 1. The Mets came to St. Louis needing a sweep to erase the Cardinals' three-game lead. Again, Tudor pitched ten scoreless innings, but Ron Darling threw nine of his own and Orosco added two more, while Darryl Strawberry's 11th-inning shot off the Busch Stadium clock off Ken Dayley scored the game's only run.
When Tudor won his 20th game of the season in late September, he said, "I have to give credit to the awesome defense I have behind me…This defense has been a godsend to me. I can't say enough about it. It's phenomenal."32 He also noted that roomy Busch Stadium had contributed greatly to his success. "Your mistakes just don't show up as much," he said in 1986. "You've got guys like Willie McGee running down balls in the gap that might be home runs in Fenway."33
Tudor was 1-1 in the NL Championship Series against the Dodgers. He then won the World Series opener at Kansas City, allowing just one run in 6 2/3 innings, and followed up with a shutout at home in Game Four. "John Tudor's pitches dropped and darted and dazzled," wrote the Sacramento Bee. "The Royals looked like they were trying to hit butterflies with swizzle sticks. 'I don't think I can throw the ball any better than that,' said Tudor, who threw 106 pitches."34
In Game Seven, though, the season's workload caught up with him. Peter Gammons wrote, "The day before the game [Tudor] had said, 'I know I'll pay the price forever. But I also may only be here once in my life. It's worth whatever price I have to pay.' His shoulder didn't make it through the third inning, his shortest appearance of the entire year. 'He'd try to throw pitches right down the middle, and they'd be a foot out of the strike zone,' recalled [pitching coach Mike] Roarke. 'When that happens to a pitcher with perfect control, you know the arm just gave out.'"35 Yet while the defeat stung (and the memory still lingers), Tudor lived up to what he said before the Series. "I'll go back to Boston when we're finished and live the same way I always live. I haven't changed. I'm the same person and pitcher I was in Boston."36
Tudor had a respectable season in 1986 (13-7, 2.92), but recurring shoulder stiffness had taken still more off his fastball – that August, the Chicago Tribune noted that he threw the slowest in the National League at 80-82 miles per hour.37 The ailment forced the lefty out of his last start, against New York on September 16, and the Cardinals shut him down for the year while he underwent tests. "I had my first shoulder surgery in January '87," Tudor recalled in 2011.
He was ready to go at the beginning of the '87 season, but on April 19, Mets backup catcher Barry Lyons barreled into the St. Louis dugout after a foul pop that landed several rows back in the seats. Tudor suffered a broken leg and was out until August. In typically stoic form, though, he said, "What's done is done. I tried to catch Lyons…If I wasn't there, I don't know what would have happened to him."38
When the ace returned, it took him a while to pare down his ERA, which ended up at 3.84. Yet he pitched winning ball, with a record of 10-2. In the playoffs against San Francisco, he was 1-1, including 7 1/3 shutout innings in Game Six, another 1-0 affair. He was also 1-1 in the World Series loss to the Minnesota Twins.
Coming off knee surgery over the winter, and with his shoulder bothersome, Tudor spent the first few weeks of the 1988 season on the disabled list. He was just 6-5 in 21 starts for St. Louis that year, though he was leading the NL in ERA with a very tidy 2.29 when on August 16, the Cardinals – desperate for a first baseman – traded him to Los Angeles for Pedro Guerrero. The Dodgers, who were leading the NL West, were hungry for left-handed pitching to sustain them during the pennant race. After Tudor went all the way to win his debut in L.A., he came out with a characteristic quote: "Once you start becoming satisfied, then you start regressing. I'm never satisfied with a game, and I'm definitely not satisfied with that one."39
Tudor was not at his best during his one start in the NLCS against the Mets. However, Mike Scioscia's ninth-inning homer off Dwight Gooden got him off the hook. After the Dodgers finished upsetting New York, Tudor also started once in the World Series victory over Oakland, but he had to leave in the second inning of Game Three. In the first inning, he was clearly in pain while pitching to José Canseco, and after he struck out Mark McGwire to open the bottom of the second inning, his elbow was too tender to battle through.
Tudor had serious ligament damage – Dr. Frank Jobe, who performed Tommy John surgery, warned that it might even be career-ending.40 Dr. Jobe also removed frayed shoulder cartilage and two screws that were still in the pitcher's right knee from the Lyons accident. Not long after the overhaul, on November 12, John married Gail Norgard. By June 1989, the veteran was back in action – although he didn't make it past the fifth inning in any of three starts before landing back on the disabled list. He came back for three more relief appearances in September.
On December 15, Tudor rejoined the Cardinals – after his original club, the Red Sox, had expressed some interest earlier that month. St. Louis signed the 36-year-old for one year at $450,000 plus incentives, and it turned out to be a good investment. Even though his fastball had decreased to just 78-80 miles per hour, he won each of his first four starts, allowing just three earned runs in 28 innings. After the fourth start, opposing manager Roger Craig said, "It's kind of a miracle. He just changes speeds and keeps the ball down."41
Yet in typical fashion, Tudor was his own sharpest critic, offering Peter Gammons this self-analysis in May: "My changeup is getting faster, which is a bad sign, because it means my shoulder isn't allowing the proper deceleration. It was as if I was getting by on reputation. I haven't been able to get the ball inside, so I don't have anything to keep hitters from diving on me. I haven't thrown a slider all season. I'm not getting the proper extension at the end of my delivery, so not only am I not getting the pop on my fastball, but I don't have my control. . . I have all these doubts storming inside me, and they all revolve around that 78-mile-an-hour fastball."42
Several teams inquired about his availability in August, but Tudor went back on the DL shortly thereafter. When he returned in September, he made one last start and then came out of the bullpen three times. He posted a 12-4 record and 2.40 ERA in 146 1/3 innings. Baseball Prospectus put this performance in perspective in March 2011: only three pitchers aged 35 or older have managed to last as many as 100 innings as a starter after spending a season (or most of a season) away from the game. The other two were Bert Blyleven and Pedro Martínez.43 Quite rightly, Tudor became the NL's Comeback Player of the year.
On that note, John Tudor retired. (It was something he'd been mulling for a couple of years anyway.) Along with his excellent lifetime winning percentage (.619) and ERA (3.12), certain other statistics portray his effectiveness. Opponents' on-base percentage against Tudor was just .299, while the major-league average was .324. He also allowed home runs at the rate of one for every 11.5 innings pitched.
Yet as often as he was able to fool enemy batters, a handful enjoyed particular success against him. Rod Carew was 14-for-26 (.538). Mike Diaz, who showed good power as a platoon player for the Pirates in 1986 and 1987, was 9-for 20 with four homers. Kevin McReynolds was 15-for-40 with four homers.
After retiring, Tudor returned to Massachusetts, living in the same unostentatious way he always did. He and Gail had three children: a daughter named Allison and twin boys named Casey and Corey. He kept his hand in as a player – though at first base, not on the mound – in the Boston-area Intercity League. He said, "I'm just trying to have fun. And I'm trying to stay unnoticed." 44
He returned to the pros for a while, serving as a minor-league pitching instructor for the Cardinals in 1992 and as a part-time roving pitching coach in the Phillies system in 1993. His last assignment was pitching coach for Port Charlotte in the Florida State League (a Texas Rangers affiliate) in 1995 and 1996.
Author Rob Rains, who has chronicled the Cardinals in several books, included a chapter on Tudor in his 2004 book Cardinals: Where Have You Gone? Rains noted that Tudor remains a fan of the game – though not how it is run, especially in terms of TV times and how they affect children's ability to enjoy the action. John enjoyed coaching his twins' baseball and hockey teams.
It would be enlightening to hear more of John Tudor's views on many aspects of pitching today. Who does he like? What does he think of 12-man pitching staffs, how starters are handled, and the emphasis on the radar gun? More insight into his mental approach to hitters would also be intriguing. He touched on some of these subjects and others in an interview at the 2009 All-Star Game in St. Louis, summing up "Whiteyball" and his days in the game with one line in particular: "It was a different environment, a different form of baseball."45
Other quotes on John Tudor and his craft
"What makes Tudor so tough is that first you see the ball in his hand, then you lose it in his uniform. And his delivery is exactly the same on every pitch. I don't know how he can have such a perfect fastball delivery and throw the ball 25 miles an hour slower. How many times a game do you see a batter swing at what he thinks is a fastball away, only to be halfway into the swing and realize that it's a changeup that's not due to arrive for a few more minutes?" — Mike Schmidt46
"Puts a little on, takes a little off, throws the fastball when you're expecting something different and it looks like it's 95 miles per hour. He's a very smart pitcher." — Chuck Tanner47
"He didn't want any righthanded batters turning on his curveball, so he had a unique strategy. He never showed 'em one. That's right; in five years with the Cardinals, John Tudor never threw his curveball to a righthanded batter. That's 2,000-some hitters at least. If you don't play ball for a living, you might not understand how crazy that is." — Whitey Herzog48
Last revised: August 10, 2011
Acknowledgments
Grateful acknowledgment to John Tudor for his memories (handwritten responses on draft, received by mail July 19, 2011). Continued thanks to Joe M. Morgan (letter, April 22, 2011).
Sources
www.baseball-reference.com
www.retrosheet.org
Rains, Rob. Cardinals: Where Have You Gone? Champaign, Illinois: Sports Publishing, LLC, 2005.
www.checkoutmycards.com
www.licey.com
Notes
1 Callis, Jim, Will Lingo, and John Manuel, editors. Baseball America 2007 Prospect Handbook. Durham, North Carolina, Baseball America Inc., 2007: 496.
Born
February 2, 1954 at Schenectady, NY (USA)
If you can help us improve this player's biography, contact us.
http://bioproj.sabr.org/bp_ftp/images5/TudorJohn.jpg
600
800
admin
/wp-content/uploads/2020/02/sabr_logo.png
admin
2012-01-04 20:39:33
2020-09-08 13:21:18
John Tudor