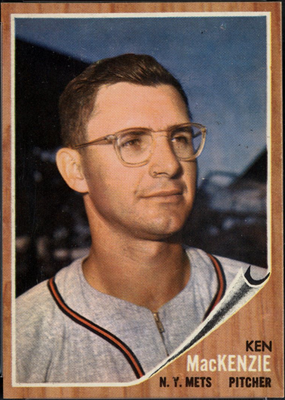 ---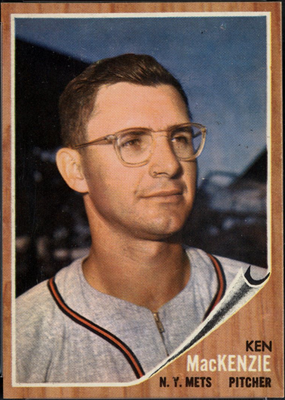 The adage "You can't win for losing" fits the 1962 New York Mets. That team lost 120 games, the most in one season in major league history — many close and winnable. Yet the performance of one pitcher on that team, Ken MacKenzie, deserves recognition. The Canadian-born, Yale-educated, control-oriented, bespectacled lefty reliever emerged as the staff's only member with a winning record, 5-4. His rise to that notable achievement was not meteoric. It involved a slow but persistent journey from the edge of the baseball world in Canada, through the lonely confines of several minor-league bullpens, to singular success on the mound at the Polo Grounds in 1962.
Kenneth Purvis MacKenzie was born on March 10, 1934. His birthplace was the small Ontario town of Gore Bay, on Manitoulin Island, located at the north end of Lake Huron. His father, John McKenzie (last name spelled differently), owned and managed a hardware store. His mother, Evelyn Purvis, was a homemaker for six children: Sandy, Jack, Ken, Doris, Wilda, and Sally.1
MacKenzie was also raised in Gore Bay. Organized baseball and hockey, popular summer and winter sports, were not options for a young athlete on this island setting. A town team in both sports provided the only formal game-playing opportunities. The local fairgrounds served as the town baseball field. A bluff on one side offered natural seating for fans. Cars parked in drive-in fashion around the field allowed a closer perspective. Mesh fencing fastened to three poles defined the home plate area. MacKenzie remembered building the first mound and scavenging for materials to mold it. A dirt infield opened to a rugged outfield with anchored rocks here and there. A snow fence defined the field's outer boundary.2
Was MacKenzie lucky enough to pitch on that fairground's mound when a professional scout happened on the scene in search of Canadian baseball talent? Not at this juncture, although a college-educated MacKenzie would eventually be signed off a different Canadian ball field. A rural setting, Gore Bay was situated on the fringe of the baseball world in Canada and the United States. MacKenzie's high school, C.C. McLean (formerly Gore Bay High School), would not have drawn attention to his athletic potential. Too few students made such exposure impossible. By the time he finished two years of grade 13, an expectation of the Canadian school system for students aiming to enroll in the nation's best universities, only five students remained in his graduating class.3
Instead of enrolling in a Canadian university, MacKenzie ventured south to Connecticut and Yale University. His uncle, a resident of Hartford and a fan of the Yale hockey team, thought MacKenzie might be able to help Yale's efforts on the ice. Acting as a self-appointed recruiter, he encouraged his nephew to apply.4 The young Canadian did not arrive in New Haven with an established hockey or baseball profile, but he eventually played both sports successfully in that Ivy League setting. As a graduating senior in 1956, MacKenzie won second-team All-Ivy honors for hockey and served as captain of the baseball team.
While earning hockey accolades at Yale, MacKenzie realized that baseball defined his future. It was the first time he participated in an organized athletic program providing facilities, training, and a professional coaching staff. He landed on the Yale nine during the coaching tenure of a former major league player, Ethan Allen, who would become MacKenzie's friend and mentor. Allen's hands-off coaching style allowed MacKenzie to discover his own potential. Once, when an assistant coach offered the pitcher instruction, Allen intervened with the directive, "Leave him alone. He wins."5
Statistics validate Allen's appraisal of his pitcher's talent. MacKenzie won 19 games and lost six in his three collegiate seasons, setting the school standard with his 6-0 record against Harvard. In each of those years, his teams won the Big Three Championship, the competitive series involving Yale, Princeton, and Harvard. Ken MacKenzie emerged from his collegiate years as a major-league prospect.
However, he did not sign a professional contract immediately after finishing Yale. A representative from the Milwaukee Braves organization, Jeff Jones, encouraged MacKenzie to play summer ball, after which he would offer the southpaw a professional contract. An opportunity to pitch in the Halifax and District League in Truro, Nova Scotia, paved the way for that transition.6
From this rural setting, MacKenzie signed with the Braves, joining the Atlanta Crackers in the Southern League. He pitched in Atlanta, as well as Wichita and Louisville in the American Association, from 1957 through 1961. During his first two pro seasons, MacKenzie started most of his appearances. The organization moved him to the bullpen in 1959, however, and he started only occasionally thereafter. He developed his primary pitch, a four-seamed fastball, and a secondary one, a two-seamed fastball. While capable of throwing overpowering pitches, MacKenzie was best known for his control.7
He received two brief opportunities to pitch for Milwaukee along the way, totaling 14 games. His memories of these early days at the big-league level recall special moments. The first was his debut, on May 2, 1960, at Candlestick Park in San Francisco. With nobody out and the bases loaded, he relieved Don McMahon, facing Joey Amalfitano. Eleven days later, in his third outing, he notched his first strikeout against Don Hoak of the Pittsburgh Pirates. His next appearance — and first decision — came two weeks later. It featured a memorable game-ending grand slam off the bat of Ed Bailey in Cincinnati's Crosley Field. MacKenzie can still unfortunately visualize it. 8 Even after the passage of nearly 60 years, his memory is completely accurate.
It was not a foregone conclusion that MacKenzie would break into Milwaukee's major-league pitching staff. The Braves won back-to-back NL pennants in 1957-58 and remained a contender, loaded with high-caliber starting pitchers such as Warren Spahn, Lew Burdette, Bob Buhl, and, more significantly for MacKenzie, strong relievers such as Don McMahon and Don Nottebart. There was not much space left for an up-and-coming player to break into that pitching staff. In the meantime, though, MacKenzie performed successfully at various levels of the minor leagues. His overall stats in the minors are impressive. In 175 games and 650 innings, he achieved 47 wins against 23 losses with 396 strikeouts. All of MacKenzie's minor league seasons involved more wins than losses, except his stop in Wichita, where he won one game and lost one.
The high point of MacKenzie's minor-league career was his appearance in the Junior World Series for Louisville in 1960. Not only did the Colonels defeat the Toronto Maple Leafs — a meaningful opponent for the Ontario native — but he was recognized as the Most Valuable Player of that series.
In 1962, MacKenzie landed permanently on a major-league roster when his contract was sold to the newly formed National League expansion team, the New York Mets. Most of the "original Mets" arrived through an expansion draft system devised by the other National League clubs. After this draft phase concluded, MacKenzie joined the team as the first player purchased by the emerging New York club — along with veteran Johnny Antonelli, who quit in January 1962 instead of reporting to the Mets.
The '62 Mets were a mix of old-timers — such as Richie Ashburn, Frank Thomas, and Roger Craig — and rising hopefuls like MacKenzie. It was also a team with intellectual weight. According to William Ryczek, "The Met staff included Jay Hook, possessor of a Master's Degree in Mechanical Engineering from Northwestern; Ken MacKenzie, a Yale graduate; Craig Anderson, a Lehigh alumnus who would later earn a Master's Degree in Education, and Robert C. (Lefty) Miller, holder of a Master's Degree in Business Administration from Northwestern. Al Jackson attended college in Texas, and Galen Cisco was a former Ohio State fullback."9
Casey Stengel, the "Old Perfessor" and Mets manager, knew the background of his pitching staff. In one game when MacKenzie was struggling, Stengel visited the mound and challenged his former Ivy League pitcher, "Make like they're the Harvards." MacKenzie was impressed that his manager knew about his flawless record against the Crimson during his collegiate career.10 An often-told story about MacKenzie, the Mets, and Yale is his remark that, at the time, he was the lowest-paid member of the Class of 1956.
MacKenzie's 5-4 record remains a highlight on a team with the third-worst winning percentage in the majors since 1900. Yet as agonizing as their play often was, the team was also viewed by fans as the "Amazin' Mets" — as Stengel dubbed them. MacKenzie recalls the spirited Met fans who brought numerous banners to the Polo Grounds to express their angst and admiration. The Giants and Dodgers had moved to California, and now it was time to root for the Mets as New York City's new National League franchise. MacKenzie became a Met at an opportune time, pitching successfully for his newfound team. He continues to express his proud attachment to that team through his specially printed license plate, "1962 Met."11
In 1963, MacKenzie remained with the Mets through the first half of the season. In 34 games, his won-lost mark was 3-1. In his year and a half with New York, after dropping his first decision, he posted a winning record.
In August, he was traded to the St. Louis Cardinals for Ed Bauta. It just so happened that the Cardinals were in New York to play the Mets at the time. MacKenzie recalled that after hearing the trade news, "I took the subway to the Roosevelt Hotel where the Cardinals were staying and I exchanged suitcases. We agreed that we would exchange our nylon warm-up jackets—blue for his red one."12
After returning with the Redbirds to St. Louis, MacKenzie attended a picnic at the farm of Cardinals owner August Busch. As he told the story, it was a happy, yet sad occasion where Stan Musial announced his plan to retire at the end of the season.13
MacKenzie's trade from the Mets to the Cardinals, a pennant contender, filled him with hope that he might reach the World Series. Unfortunately, he did not fulfill this dream in St. Louis. After appearing in eight games for the Cardinals, MacKenzie learned in a telephone call in October that he'd been traded to the San Francisco Giants for Jimmie Coker. Moving across country from New York to St. Louis to San Francisco, MacKenzie, his first wife, Gretchen Milem, and their two sons, Kenny and Jeffrey, experienced the emotional challenges facing a major-league reliever and his family. They had to find a home, enroll the kids in schools, get to know their neighbors, and remain aware of the possibility of an unsettling phone call.14
Like the 1963 Cardinals, the 1964 Giants were loaded with top players. It was not easy to leave behind a good team like the one in St. Louis with such players as Bill White, Julian Javier, Dick Groat, Ken Boyer, Curt Flood, Tim McCarver, Bob Gibson, Curt Simmons, Ray Sadecki, and Stan the Man. On the other hand, what a joy to greet future Hall of Famers such as Orlando Cepeda, Willie Mays, Willie McCovey, Juan Marichal, and Gaylord Perry. MacKenzie speaks with great respect about playing with such outstanding players.
MacKenzie spent most of the 1964 season with Tacoma in the Pacific Coast League. However, he did enter 10 major-league games for San Francisco in May and June 1964.
That October, the Houston Astros purchased MacKenzie's contract. Like the Mets, the Astros were still emerging as an expansion team. From 1962 to 1964, the Houston Colt .45s laid the foundation for major league baseball in Texas. In 1965, the team changed name and stadium, going from the old Colt Stadium (built over a swampy area that bred mosquitoes) to the enclosed, air-conditioned Astrodome. Although not the caliber of the Cardinals or Giants, the Astros fielded some good young players, including Joe Morgan, Jim Wynn, and Rusty Staub. MacKenzie joined an aging pitching staff, except for promising teenager Larry Dierker. Splitting time between Houston and Oklahoma City, he pitched in 20 games for the Astros, and finally decided to retire after that season.
Baseball cards can establish a historical narrative about a player. Topps produced five Ken MacKenzie cards from 1960 through 1964, and the text on their backs sounded a refrain:
1960 #534 (rookie card): "Ken has fine control."
1961 #496: "Ken's control is defined as excellent."
1962 #421: "The southpaw impressed everyone with his fine control during his minor league career."
1963 #393: "Ken has received a degree from Yale University."
1964 #297: "A pitcher with fine control."
It's not unusual for details to be repeated from card to card over several years. But this particular description defined Ken MacKenzie's pitching style from the start of his pro career. In the majors, he walked 2.7 batters per 9 innings across 208 1/3 frames in 129 games.
It's also notable that MacKenzie's graduation from Yale was emphasized. This remains a rare accomplishment for a major-league player. Baseball Reference lists 30 Yalies in the majors from 1872 through 2019, not all of whom received a degree. Since MacKenzie, there have been only four.
MacKenzie's own narrative about his major-league career focuses on his status as a "fringe player." Being a relief pitcher in his era placed him in that category from the outset. As MacKenzie notes, "Trust me. Sitting in the bullpen and pitching is a lot more nerve-racking than being in the lineup."15 It is also a feat to start out on the fringe of the baseball world, pitching at the fairgrounds in Gore Bay, Ontario, and work your way to the Polo Grounds in the center, New York City, New York. Ken MacKenzie did not start playing baseball with all the support mechanisms that players often take for granted today. Even so, he ended up on the one of the biggest major-league stages and came away with recognition as a winning pitcher. His statistics do not fully portray MacKenzie's career. For example, his career ERA of 4.80 does not outweigh the conviction and fortitude which enabled him to persist on the fringe.
Retiring from the professional arena doesn't necessarily mean leaving the game of baseball. In 1967, MacKenzie returned to the diamond, this time as freshman baseball coach and freshman hockey coach at Yale. After Ethan Allen's 23-year tenure as varsity baseball coach ended in 1968, MacKenzie succeeded him in 1969, holding that role through 1978. As a side note in 1969, Canada's first major-league franchise made a generous gesture to MacKenzie. As Danny Gallagher noted in his 2022 book about the Montreal Expos, Bases Loaded, MacKenzie was added to the team's roster for 27 days—enough to qualify for his big-league pension.
During his first season as Yale coach, the team included Brian Dowling, the football quarterback who inspired the Doonesbury comic-strip character "B.D." and went on to a nomadic pro career on the gridiron. College baseball coaches did not engage in recruiting players in the late '60s as they do today. The challenge (especially in the Ivy League) was to acknowledge the talent that arrived and make the most of it. MacKenzie coached the Yale nine for a decade through some difficult seasons. Yet in 1973, his team posted a 7-5 record in Ivy League play, led by captain Dick Jauron, who went on to a long career in the National Football League as a player and coach. He was also good enough in baseball to become a 25th-round draft pick by the Cardinals that June.16
Needless to say, MacKenzie shared his major league experience with players on the college diamond. During trips to the mound to help struggling Yale pitchers, he sometimes advised, "Make like they're the Mets."17
MacKenzie did get to work with one future big-leaguer as a college coach, though under unusual circumstances. That was Steve Eddy, a pitcher who signed with the California Angels out of high school in 1975 with the proviso that he be allowed to continue his pre-med studies for two uninterrupted years. During the springs of 1976 and 1977, Eddy worked out with the Bulldogs squad, although it was kept quiet and he could not play in games because of his professional status.18 MacKenzie recalls that Eddy sometimes threw batting practice, "firing fast ball after fastball," which worried the coach that he might hurt someone. After MacKenzie challenged him, Eddy tried to take some heat off his pitches, but he finally had to admit, "I can't throw the ball that slow."19 When the Angels called Eddy up in June 1979, he became the first Yalie in the majors since MacKenzie.
The Eli who followed Eddy to The Show, Ron Darling, said he was recruited by MacKenzie.20 However, the coach himself recalled it as more of a welcome to the Ivy League, noting that Darling had come to Yale primarily to play football.21 During spring training in 1983, the future Mets star recalled, "I asked [MacKenzie] if playing baseball at Yale might hurt my chances for a professional career. He assured me that, if I was good enough, it wouldn't."22 By the time Darling's freshman season began in 1979, MacKenzie had given way to Joe Benanto.
After leaving his coaching position, MacKenzie remained at Yale, taking a position in the Alumni Office, which he held until his retirement in 1984, just after the death of his second wife, Anna McKenna. He developed a program for alumni to take advantage of weekend or week-long courses at Yale before turning his attention to the creation of the Yale Educational Travel program. This travel opportunity with a Yale professor as guide continues to flourish. MacKenzie and Elaine Lewis, his partner for over 30 years, have shared some of these trips since his retirement.23
MacKenzie remained connected to the baseball world through his support of the Baseball Assistance Program (B.A.T.), founded in 1986 by a group of former Major League Baseball players "to confidentially help members of the Baseball Family who were in need of assistance with nowhere else to turn."24 His involvement with B.A.T. provided a service opportunity for MacKenzie as well as a way to stay in touch with some of his former teammates in the process. To this day, he still accepts local speaking engagements to share stories from his baseball career.25
Ken MacKenzie's baseball wisdom influences others, including a successful baseball author and screenwriter, Mark Harris, best known for Bang the Drum Slowly. Harris met MacKenzie during the opening days of Ken's career, when he pitched for the Atlanta Crackers. Their exchange, especially the perspective offered by MacKenzie, helped Harris envision the arc of his writing career:
"Play day by day, write day by day. Some of these articles of mine may be better written than others, the wiser work of experience. I like to think my writing grew better year by year, the later the article the greater the insight.
But I guarantee nothing. Once I met the pitcher Ken MacKenzie when he was a minor-league player for the Atlanta Crackers. I asked him if he thought he'd make his way into the big leagues. MacKenzie said he could not answer my question, he could only do his best from game to game and see where he ended. I followed his advice and did my best with each assignment as it came. If my work improved from time to time practically to the threshold of perfection, so much the better."26
MacKenzie's honest, hopeful self-appraisal served himself and Mark Harris well in their respective careers.
Last revised: March 1, 2022
Acknowledgments
Many thanks to Ken MacKenzie for sharing his memories, in person, over the phone, and through his writings.
This biography was reviewed by Rory Costello and Chris Bouton and fact-checked by Kevin Larkin.
Notes
1 Ken MacKenzie, telephone interview with author, January 6, 2020 (hereafter MacKenzie phone interview).
2 Ken MacKenzie, written manuscript shared with author, October 31, 2019 (hereafter MacKenzie manuscript).
3 MacKenzie phone interview.
4 MacKenzie phone interview.
5 Ken MacKenzie, face-to-face interview with author, October 14, 2019 (hereafter MacKenzie face-to-face interview).
6 MacKenzie phone interview.
7 MacKenzie phone interview.
8 MacKenzie phone interview.
9 William J. Ryczek, The Amazin' Mets 1962 — 1969 (Jefferson: McFarland and Company, 2008), 40.
10 Marty Appel, Casey Stengel, Baseball's Greatest Character (New York: Doubleday Publishing, 2017), 293
11 MacKenzie face-to-face interview.
12 MacKenzie manuscript.
13 MacKenzie manuscript.
14 MacKenzie phone interview.
15 MacKenzie manuscript.
16 Jeremy Gottlieb, "Swampscott legend steps up, Dick Jauron opens first training camp as head coach of the Buffalo Bills," The Boston Globe, July 23, 2006.
17 Sam Rubin, Baseball in New Haven (Charleston: Arcadia Publishing Company, 2003), 77.
18 Joan Ryan, "Yale Pre-med student eyes majors," Shreveport Times, March 17, 1979.
19 MacKenzie manuscript.
20 Joseph Durso, "Yale Man Tries for Mets' Spot," New York Times, February 21, 1983.
21 MacKenzie phone interview.
22 Durso, "Yale Man Tries for Mets' Spot."
23 MacKenzie phone interview.
24 Baseball Assistance Team, https://www.mlb.com/baseball-assistance-team.
25 "Baseball Now and Then with Ken MacKenzie," https://myemail.constantcontact.com/Baseball-Now-and-Then-with-Ken-MacKenzie.html?soid=1103306200035&aid=qdB4oa2XO3w.
26 Mark Harris, Diamond: Baseball Writings of Mark Harris (New York: Donald I. Fine, Inc., 1994), 9.
Born
March 10, 1934 at Gore Bay, ON (CAN)
If you can help us improve this player's biography, contact us.
https://sabr.org/sites/default/files/MacKenzieKen.png
600
800
admin
/wp-content/uploads/2020/02/sabr_logo.png
admin
2020-04-03 00:00:58
2022-03-01 15:59:43
Ken MacKenzie