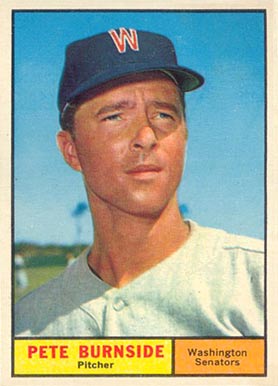 ---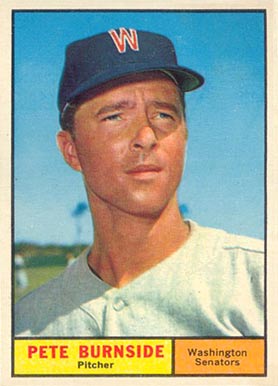 In the mid-1950s the accolades for the rising left-handed Ivy League flamethrower were unending: "boy wonder"1 and "[t]he strikeout sensation."2 New York Giants Farm Director Carl Hubbell—who knew a little something about bringing it when taking the hill throughout his 16-year HOF career—dubbed the youngster "the most promising pitcher in the chain."3 Veteran outfielder Dusty Rhodes, in his homespun Alabama twang. said, "He sure can hum that seed!"4 Longtime sportswriter Dick Gordon observed that he "appears to have everything needed in the way of natural hurling ability. There are those graybeards who even suggest his fast ball is more 'live' than were those of Walter Johnson and Bob Feller."5 These were plaudits suited for a future Hall of Famer. But Illinois native Pete Burnside spent eight years in the major leagues trying to tame his blazing fastball, and his career left him far short of induction in Cooperstown.
Peter Willits Burnside was born on July 2, 1930, the younger of two sons of Robert Snowden and Helen Baxter (Willits) Burnside, in Evanston, Illinois, a suburb of Chicago. He was the three times great-grandson of Irish immigrants William and Margaret (Hogg) Burnside, who arrived in the United States in the first half of the 19th century. The Burnsides settled in the Midwest until the early 1900s, when Peter's grandfather Ralph Henderson Burnside abruptly relocated to the Pacific Northwest. Ralph's son Robert—Peter's father—returned to the Midwest in his early '20s and pursued a career in sales. In 1924 he met and married Chicago native Helen Willits. Pete's maternal grandfather was Ward Willits, who commissioned a prairie-style house from Frank Lloyd Wright located in Highland Park. This house is renowned and appears in coffee-table books on American architecture. Robert and Helen's marriage dissolved a few years after Peter was born.
Though he enjoyed a variety of sports, Burnside particularly favored baseball. As often as possible he took the el to Wrigley Field, just 12 miles south from his home, where he idolized and tried to emulate Cubs All-Star pitcher and fellow lefty Larry French. Burnside attended New Trier High School in Winnetka, Illinois, a school that has produced a long list of accomplished alums, including actors Charlton Heston and Rock Hudson and pro football HOF lineman Bruce Matthews. Burnside established his own credentials at New Trier on both the hardwood court and baseball field. Especially adept at free throw shooting, the tall, thin, almost frail-looking guard led the basketball team to a 13-3 record during his senior year. But Burnside especially excelled in baseball. A string of 19 straight scoreless innings on the hill earned him a spot on the citywide prep school All Star team (he proved a mean pitcher in American Legion play as well). Soon he was attracting major league attention. The Cubs gave Burnside a tryout in Wrigley Field, but following his high school graduation in 1948, he chose Dartmouth College instead.6
Though Burnside's college pursuits did not cool the interest in him, one scout—former big league hurler Tom Sheehan, who had initially spied the kid in Chicago—had a clear advantage over the competition. Sheehan's boss, Dartmouth graduate and Giants vice-president Chub Feeney, was willing to accommodate Burnside's desire to secure a bachelor's degree in history and sociology.7 Nor was Feeney the least bit shaken when Burnside underwent cartilage surgery on both knees in December 1948. Six months later, following a stint of semi-pro ball in Kenosha, Wisconsin, during his summer break, Burnside signed with the Giants. The agreement stipulated that he would not pitch in the organization until the spring semesters ended at Dartmouth. Assigned to the St. Cloud (Minnesota) Rox in the Northern League (Class C), Burnside made one dismal appearance—eight walks and three runs in two innings—before a back ailment limited him to batting practice pitching alone.
From 1950 through his college graduation in the spring of 1952 Burnside toiled for three of the Giants' minor league affiliates, including a brief stint with AAA Ottawa in the International League in 1951. But batters got few opportunities to hit during this time, because Burnside either walked or struck them out—177 walks and 165 strikeouts in 147 total innings. His control problem persisted after he left Dartmouth. Burnside lost in his only appearance with the AAA affiliate Minneapolis Millers in the American Association, yielding seven walks and three runs in just two innings. Promptly reassigned to the AA Nashville Volunteers in the Southern Association, Burnside made just nine appearances before being drafted into the US Army medical corps. Pitching for the Fort Leonard Wood (Missouri) Hilltoppers in October 1953, he gained national attention by striking out the first 17 batters in an inter-service game.
Discharged late the spring of 1954 and following a brief assignment in Minneapolis, Burnside was traded to the Nashville Vols for infielder Alex Cosmidis. Though he continued to issue a multitude of walks, not to mention surrendering 16 home runs in only 97 innings, in Nashville Burnside began to exhibit his long-anticipated potential. On July 23 he delivered a five-hit shutout against the Atlanta Crackers, the only southpaw to whitewash the pennant-winning club during the season. Four weeks later Burnside beat Atlanta again with a one-hit 3-1 win. Burnside's 6-4 record was only one of two to top .500 among pitchers for the lowly Volunteers. "[Burnside] ha[s] the stuff, in bountiful quantity," said The Sporting News contributor Joe King. "It's only a question of polish and control before [he] is ready to wear [a] Giants uniform."8 During the offseason Burnside accompanied Giants stalwarts Willie Mays and Ruben Gomez to Puerto Rico, where they lifted the Cangrejeros de Santurce to a pennant. In Santurce Burnside also first met his future Washington Senators teammate and lifelong friend Don Zimmer.
Burnside entered 1955 primed for his first full season of professional play. A strong spring positioned him to join the World Series champion Giants roster, but the team's equally strong staff anchored by All-Star southpaw Johnny Antonelli cramped Burnside's playing time. Two weeks before the start of the season, he was assigned to the AA Dallas Eagles in the Texas League. "I'm happy about it," the hard-working, conditioning-obsessed hurler admitted. "I want a chance to pitch regularly and I know I'll get it here."9 Paired with fellow All-Star Red Murff, Burnside led the Eagles to a last-to-first title while pacing the circuit with 235 strikeouts. In three of his wins he gave up two or fewer hits, including one in which the only hit was also the only ball hit out of the infield. Called up by the Giants in September, Burnside made his major league debut on September 20, 1955, in the Polo Grounds against the Pittsburgh Pirates. Starting the second game of a doubleheader, he retired the side in order in the first before being torched for seven runs on three hits and six walks over the next 2⅔ innings (only two of the runs were earned in a game sloppily played on both sides). He had much greater success on the last day of the season in a duel against Philadelphia's future Hall of Fame righty Robin Roberts. Burnside surrendered just two hits over the first five innings en route to a 5-2 complete game win.
Burnside's goal in the next season was to build upon his Texas League success, but injuries thwarted that goal. In March a pulled tendon in his left leg sidelined him through the latter stages of spring training. Among the Giants' last cuts, Burnside was assigned to Minneapolis, where he fractured his left foot only three days into the season. Other injuries caused him to spend nearly half the season on the disabled list. When he did pitch, Burnside initially showed some promise, but he collapsed in the second half—a single win in his last seven decisions, including both losses to the Indianapolis Indians in an August 10 doubleheader. He finished with a disappointing record of 5-9 and a 4.62 ERA in just 113 innings. Nonetheless, the organization remained enamored of Burnside's potential and selected him among the September call-ups (though he did not appear in a game). Burnside had a much better season during winter ball with Leones del Escogido in the Dominican League, leading the circuit in wins (11) and ERA (1.72) while establishing a league record 109 strikeouts. His restored health was largely responsible, but so was the tutelage of John "Red" Davis, Burnside's skipper during his successful 1955 campaign in Dallas (and in Minneapolis in 1957).
A sportswriters' poll the following spring dubbed Burnside the Giants' most personable newcomer. Unfortunately, this did little to help his pitching. He struggled through a difficult spring that included a 22-6 loss to the Cleveland Indians on March 16. Still, Burnside broke camp with the parent club in April. Unfortunately, the Giants were but a shadow of the 1954 World Series champions. Two seasons later, had the team dropped to their worst finish in 10 years. Many new faces, Burnside's included, populated the club's 1957 roster. His season started splendidly: on April 23 Burnside hurled his first major league shutout, a three-hit 1-0 win over the Pirates. But then his season plummeted. Burnside didn't survive the first inning in three of his next four starts. In May the club optioned him to Minneapolis, but he returned less than three weeks later to help take up slack through a stretch of 15 games in 13 days for the big league club. He lost to the Pirates on June 2 in a disappointing 2-0 game, followed three days later by bombing in the first inning again, this time against the Milwaukee Braves. Burnside made two more starts, including one against his hometown Cubs on June 13, before being shipped back to Minneapolis. Farm director Carl Hubbell thought Burnside pressed too hard. "He puts everything he's got on every pitch. He does better down with the Millers because he relaxes more."10
Manager Red Davis immediately plugged the lefty into Minneapolis's rotation and got immediate spectacular returns. His lefty went 8-0, 1.46, with four shutouts, including a one-hitter. Burnside attributed the turnaround to his skipper: "[Davis] has confidence in me and lets me pitch."11  Slowed slightly by a hairline fracture of the fibula from a line drive back to the mound, Burnside still made the American Association All-Star squad and finished with a record of 10-5, 2.47 in 131 innings. Again he got called up late by the big club but did not make an appearance.
The Giants had a new home city in San Francisco as the 1958 season debuted, and Burnside had a new pitch: a sinker. The club rose in the standings and nearly doubled their gate in The City by the Bay. Unfortunately, when it came to effective pitches in his repertoire, Burnside's sinker lived up to its name. Save for a one-hit shutout of the Baltimore Orioles on March 29 that he shared with righty Joe Shipley, Burnside struggled through most of the spring. Unable to demote the 27-year-old without exposing him to waivers, the Giants held on to the struggling lefty when they broke camp. On June 7, Burnside had pitched just 10 innings the entire season when he entered in the ninth inning against the Braves. He needed to get one batter out to lock down a 7-4 Giants win, and he failed. On another day, after yielding a three-run home run to outfielder Wes Covington, he was sent to the Pacific Coast League.
But once again reunited with Red Davis, now managing the AAA Phoenix Giants, Burnside returned to form. On July 10 he carried a no-hitter into the seventh against the Spokane Indians before settling for a one-hit shutout. Nine days later, he surrendered just two hits to the Vancouver Mounties in another whitewash. Burnside won 11 games to help lead Phoenix to a first-place finish in the club's inaugural season. The successful finish proved to be his last in the Giants organization. On October 5, 1958, the team sold him to Detroit. "He's always had a good arm," Tigers GM John McHale explained. "We've had some good reports on Burnside. Several times he's been on the verge of establishing himself in the major leagues."12
Burnside spent most of the winter in Puerto Rico before moving to the Dominican League to assist the Tigres del Licey in their playoff hunt. He achieved success in both circuits, including two consecutive shutouts during the first week of December. The second was a 1-0 whitewash of San Juan in which Burnside—an awful batsman—collected the game-winning hit. When spring training opened in 1959 he brought with him yet another new pitch: the screwball.13 A year earlier the Giants' All-Star righty Marv Grissom taught Burnside the pitch, and he mastered it in the Caribbean. "That new screwball puts a strain on Burnside's arm, but it's a good pitch," said Tigers manager Bill Norman. "It makes his fastball better."14 Burnside enjoyed the best Grapefruit League campaign of his career including a strong six innings of one-hit pitching against Chicago White Sox on March 15. Various national sportswriters tabbed him as the "hardest worker in camp, likeliest to improve and the surprise of the training [camp]."15 Burnside was used exclusively in relief throughout the regular season and made 30 appearances (then a career high), including a particularly productive stretch through July when he surrendered just four earned runs in 30⅔ innings.
Following another winter in the Puerto Rican League, Burnside reported to the Tigers 1960 spring camp competing with right-handers Bob Bruce, Jerry Davie and Ray Semproch for the team's fifth starter role. Though he began the season in the bullpen, injuries and general ineffectiveness from the rotation, combined with Burnside's strong start—a record of 2-0, 2.16 in his first seven appearances—quickly moved him into a starting role. Burnside placed among the team leaders in starts (15) and innings pitched (113⅔) and finished with a record of 7-7 and ERA of 4.28 for the second-division club. Left unprotected in the 1960 expansion draft, he was selected by the Washington Senators as the eighth pick overall.
Through much of the 1961 season Burnside's individual fate shared that of the woeful Washington ball club, which staggered to 101 losses. Promising starts like the heartbreaking two-hit loss to the Boston Red Sox on May 12 were too often countered by outings like the one on June 7, in which Burnside was lifted in the first after walking four of the first seven Cleveland Indians. Following another difficult outing on July 2 in Yankee Stadium, he was removed from the rotation. Burnside struggled to keep an ERA below 6.00, and he joined All-Star righties Frank Lary and Jim Perry as the only hurlers to surrender three home runs to Roger Maris during the Yankee slugger's iconic 61-homer season.
The balance of Burnside's season brightened up the advice of pitching coach Sid Hudson, who suggested that the southpaw simply shorten his stride. Lo and behold, Burnside surrendered just two earned runs and 10 hits over 13⅔ innings through September 2. Returned to the rotation, Burnside yielded just five earned runs over 43 innings, including two shutouts. "His improvement was sudden but [certain]," said Senators GM Ed Doherty. "When he had those good days late in the season, there was not a better pitcher in the league."16 Following the October 5 trade of righty Dick Donovan, the 30-year-old Burnside was projected as the Senators' co-anchor starter alongside Bennie Daniels.
Unfortunately the lefty-righty duo of Burnside and Daniels disappointed, compiling a combined record of 12-27 in 1962; both finished the season in the bullpen. Burnside had begun strongly—4-3, 3.45 in his first nine starts—but then nosedived, losing seven of his last eight decisions. At times the Senators' anemic offense could be blamed; at other times Burnside couldn't get beyond the second inning.17 August was awful: in three starts, a total of 12 innings pitched, Burnside surrendered 16 runs and 22 hits. Though he finished with single season career high marks in starts (20), complete games (6), innings (149⅔), and strikeouts, he also served up a career-high 20 homers, including a pair of bases loaded jolts by third basemen Clete Boyer of the New York Yankees and Detroit Tiger Steve Boros. On December 5, 1962 Burnside, whom the Senators once considered untouchable, was traded to the Orioles for fellow Dartmouth graduate Art Quirk in a five-player swap.
Baltimore was looking to Burnside to fill the left-handed reliever role vacated by the trade of veteran Billy Hoeft. But the lefty's stay in Charm City was short-lived: he was released on May 9 after a mere 7⅓ innings pitched. The Houston Colt .45s offered him an immediate tryout, but nothing came of this. Instead on May 24, after Quirk got optioned, the Senators signed Burnside again. The team used him almost exclusively in relief, and he evinced a return to form with seven strong appearances in July. The following month rookie skipper Gil Hodges described Burnside as "a front-line reliever" as he and newly-acquired veteran Ed Roebuck temporarily became an effective lefty-righty bullpen duo.18 This appraisal, alas, was premature. On September 22 and again five days later, Burnside faced three batters but was unable to retire a single one.
He wouldn't see the big leagues again. In October Burnside was assigned to the AAA Toronto Maple Leafs in the International League. He never reported there, choosing instead to play in Japan for two seasons before calling it quits. In 1964, Burnside started Game 5 in a deadlocked Japan World Series and pitched the Hanshin Tiger's to a 6-3 victory for a 3-2 series lead. Though his overall record was just 10-22 for the Tigers, his ERA was a respectable 3.09.
Before leaving for Japan, he married Suzette Herbuveaux in Maricopa, Arizona. Nine years his junior, Chicago-born Suzette eventually moved to Arizona and became acquainted with Pete in 1958 when he was pitching for the Phoenix Giants. Around this time, Burnside inherited $3 million—most likely from his maternal grandfather, a former railroad supply company executive. The couple had three children, a daughter and two younger sons.
After his two years in Japan, they returned to Evanston, Pete's birthplace, where he pursued a master's degree at Northwestern University. In May 1967 he was hired as a teacher and coach at his alma mater, New Trier High School. He remained there 26 years before retiring. Burnside passed away at 92 on August 26, 2022 in Glenview, Illinois.
Although a fierce competitor, Burnside enjoyed a fine reputation among both teammates and competitors as an extremely pleasant person. Like countless other nice guys and talented pitching prospects both before and after him, Pete Burnside entered baseball's professional ranks with considerable fanfare, a blazing fastball, and nothing but promise. But the game is stern. All the high expectations produced nothing but a pedestrian eight-year MLB career: 19-36, 4.81 over 567⅓ innings. That he lasted that long was in itself an achievement.
Last revised: September 23, 2022 (zp)

Acknowledgments
The author wishes to thank Tom Schott for review and edit of the narrative.
Sources
Ancestry.com
Born
July 2, 1930 at Evanston, IL (USA)
If you can help us improve this player's biography, contact us.
http://sabr.org/sites/default/files/BurnsidePete.jpg
600
800
admin
/wp-content/uploads/2020/02/sabr_logo.png
admin
2016-08-10 19:08:32
2022-09-23 08:27:06
Pete Burnside