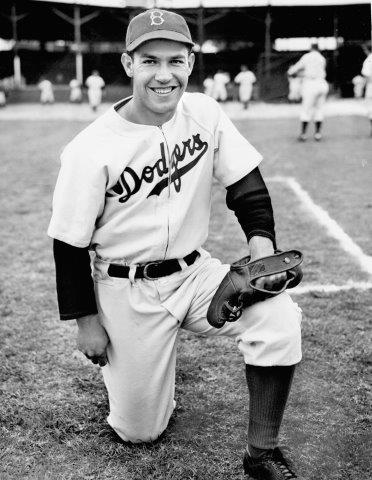 ---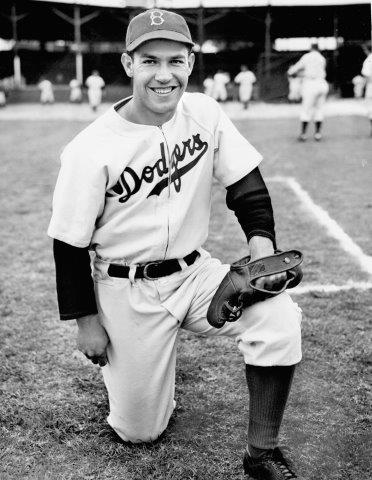 Only a handful of people who saw Pete Reiser in his prime were still around in the 21st century. Those who did have two things in common: They remember when the Dodgers belonged to Brooklyn . . . and they cannot watch an athlete streak toward an outfield fence without feeling just a little sick to their stomachs. Pete was a five-feet-ten and a half inch, sinewy-strong 185-pounder who generated more speed, power, and pure energy than seemed physically possible from that modest frame. The only thing that could stop Pete was an unpadded stadium wall.
Harold Patrick Reiser was born on March 17—St. Patrick's Day (hence his middle name)—1919, in St. Louis, Missouri. He was the sixth of nine living children born to George and Stella (Boody) Reiser. As a boy, his friends and family called him Pete, after the cowboy movie hero Two-Gun Pete. He loved westerns, and as a child often walked around the neighborhood with a pair of toy six-shooters holstered to his belt. Eventually his nickname became Pistol Pete.
Reiser's father, a good semipro pitcher, began flinging pitches to his son at an early age; and at an early age, Pete could hit them. Pete's older brother, Mike, often brought him along to play in his sandlot games. Thus, at least in modern parlance, Pete spent much of his youth "playing up." Mike was later signed out of high school by the New York Yankees, but contracted scarlet fever shortly thereafter and died.
Reiser was good at every sport he tried. As a fourteen-year-old at Holy Ghost Parochial School, he impressed a local soccer scout enough to earn $50 a game—more than his dad was making in a week. He was a terrific football player, bowler, and ice skater, too; and he was ambidextrous. Pete threw and batted right-handed as a boy, but could swing around and do almost as well left-handed. His sports fantasy, however, did not take place on the diamond. Raised in a devout Catholic family, he dreamed of becoming a football star for Notre Dame.
At William Beaumont High School, Reiser was the team's shortstop. He was not big, but he was fast. He also had a powerful arm and a live bat, and he was unrelenting on defense. He believed there was no ball he could not get to. This was not a major issue in the infield, where players are encouraged to leap and dive and spin. In the outfield, where Reiser would ultimately play, his imprudence would lead to his downfall.
At fifteen, Reiser sneaked into a St. Louis Cardinals tryout, where he out-threw and outran more than 800 other boys. He was disappointed when he returned home without a contract, but later a Cardinals scout, Charlie Barrett, visited the Reiser home and explained why they hadn't made a big deal about Pete at Sportsman's Park. The Cardinals didn't want word leaking out to the Browns, with whom they shared the ballpark, or anyone else. The scout also admitted they'd had their eye on him since grade school. The Cardinals knew Pete wasn't old enough to sign to a contract, so they got permission from George Reiser to hire the boy as a "chauffeur."
That summer Reiser drove around the South with Barrett as he visited the Cardinals' farm teams. At each stop the teenager would take the field and test himself against the bush leaguers. It was on these trips that Reiser got his first glimpse of life on the road. He had never eaten in a restaurant in his life. He liked it.
Just as planned, Reiser was signed by the Cardinals in 1937, after high school. He played shortstop for two Class D teams—New Iberia, Louisiana of the Evangeline League and Newport of the Northeast Arkansas League. In 1938 Commissioner Kenesaw Mountain Landis ruled the Cardinals' system tied up so many young players that it went against the interest of baseball. Landis broke up their minor-league monopoly by cutting loose dozens of players, who were then dispersed to other teams through a kind of Depression-era free agency. Of these players, Pete Reiser was arguably the best. More to the point, he was the one Branch Rickey most wanted to keep.
Rickey contacted his one-time associate Larry MacPhail, who was now running the Brooklyn Dodgers. They worked out a gentlemen's agreement. The Dodgers would sign Reiser, hide him in the low minors for a couple of years, and then trade him back to the Cardinals. Rickey called Pete and told him to sign with Brooklyn no matter what they offered. This kind of chicanery was contradictory to baseball rules, and had Landis learned of the arrangement, he would have stopped it.
Pete followed orders, signed with the Dodgers for $100 and was sent to Superior, Wisconsin of the Class D Northern League, where he hit .302 with fifty-five extra-base hits. He was still hitting right-handed at the time, but once he revealed that he was ambidextrous, coaches encouraged him to swing around to the left side, to take better advantage of his speed. He would hit almost exclusively left-handed for the better part of the next ten years.
Reiser first caught the eye of the Dodgers' new player-manager, Leo Durocher, when he arrived at spring training in 1939. It was a hot day and Durocher did not feel like playing shortstop. He asked Pete to play the position. What happened next is a part of baseball lore. Pitchers literally could not get Reiser out. In eleven trips to the plate over three games, he collected three walks, four singles, and four home runs. Durocher, who had been pining for a left-handed power threat, had one dropped right in his lap—from Class D ball, no less!
Durocher started telling the beat writers that Reiser would be his Opening Day shortstop. He was ready to take the rookie under his wing, as he would do twelve years later with Willie Mays. When glowing articles started showing up in the New York papers, MacPhail received a phone call from an enraged Rickey accusing him of a double-cross. MacPhail sent Durocher a telegram instructing him to stop playing Reiser—phenom or not. He needed more instruction and was to be sent to the minor-league camp.
Durocher, who hated to be second-guessed when it came to players, ignored these orders. MacPhail then boarded a flight south so he could deal with Leo face-to-face. Durocher was just as conniving as Rickey and MacPhail, but he also had a big mouth, so MacPhail was not about to tell him the real story behind Pistol Pete. An argument ensued during which MacPhail fired Durocher. The next day they settled their differences; nevertheless, Durocher could see MacPhail was serious about Reiser. He optioned Pete to the minors as ordered.
That year Reiser suffered the first of many serious injuries he would endure during his professional career. Playing the outfield with Class A Elmira, New York, he felt a sharp pain while throwing a ball to the infield. He continued to play for two weeks until the pain became unbearable. X-rays showed that he had fractured his arm. He underwent an operation to remove bone chips from his right elbow and played in only thirty-eight games in 1939. Toward the end of the season, he returned for a few games, throwing left-handed.
Reiser was back in Elmira to start the 1940 season, but the Dodgers realized he had nothing left to prove there. He was batting .378 when they promoted him to their top farm team, in Montreal, and from there he arrived in Brooklyn and appeared in his first game on July 23. After a 0-for-9 start, he batted .293 in fifty-eight games and was one of Durocher's most used bench players.
Reiser worked his way into the starting lineup early in 1941, playing center field between veterans Joe Medwick and Dixie Walker. Pistol Pete started hot and stayed hot, torturing enemy pitchers at the plate and on the base paths, while making remarkable catches and throws in the outfield. His teammates and the Brooklyn fans knew they were seeing something rare and special.
Reiser finished the year with a .343 average to win the batting crown by a wide margin. He led the National League with thirty-nine doubles, seventeen triples, 117 runs scored, and a .558 slugging percentage, and finished second to teammate Dolph Camilli in voting for the Most Valuable Player award.
The Dodgers and Cardinals battled through a grueling summer atop the standings. The lead changed hands often, and neither team could open up more than a three-game bulge. In mid-September, the Dodgers arrived in St. Louis for a three-game series nursing a one-game lead. Freddie Fitzsimmons won the opener in extra innings, the Cardinals won the second game, and then Brooklyn broke a scoreless tie in the eighth inning of the third game to win 1–0. The Dodgers maintained their advantage the rest of the way to win the pennant by two and a half games.
In the World Series, the Dodgers lost two of the first three games to the Yankees. In Game Four, Reiser's fifth-inning two-run homer over the Ebbets Field scoreboard off Atley Donald gave Brooklyn a 4–3 lead. But Mickey Owen's infamous "dropped third strike" with two out in the ninth allowed the Yankees to rally for a 7–4 win. A day later, the Yanks clinched the Series with a 3–1 victory.
On March 29, 1942, during spring training, Pete married his fiancée, Patricia Hurst, near Daytona Beach, Florida. That same day, Pete and Pat served as best man and maid of honor at the wedding of his roommate, Pee Wee Reese. The Reisers had their first daughter, Sally, born in St. Louis, on March 20, 1943.
As good as Pete Reiser had been in 1941, he was even better in 1942. Few who saw him in the season's first half questioned whether he would repeat as batting champ. Some—including Reiser himself—thought he could follow up Ted Williams's .406 campaign in 1941 with a .400 season of his own. Reese was having a fine year, too. Sportswriters were calling Pete and Pee Wee the Gold Dust Twins.
On July 18, 1942 the Dodgers had an eight game lead over the Cardinals when they went to St. Louis for a four game series. Reiser, batting .356, was riding an eleven-game hit streak. In the eleventh inning of a 6–6 tie on the July 19, Enos Slaughter belted a long drive off Johnny Allen. Reiser raced toward the center-field wall, narrowly avoiding the flagpole that rose from the playing field, and caught Slaughter's hit in full stride—and then hit the concrete wall an instant later. The ball fell from his glove and, although dazed, he threw the ball to the cutoff man, Reese. By the time Reese fired the ball home, Slaughter had circled the bases to win the game.
All attention turned to number 27, who lay on the field motionless, facing the sky, his shoulder separated and blood trickling from his ears. When Durocher reached him, the manager started to cry. Pete was carried off on a stretcher and woke up the next morning in the hospital with a fractured skull and a brain injury. The Cardinals' team doctor examined him and recommended that he not return to the field that season. In the era before the effects of a concussion were fully understood, Reiser did what gamers do—he returned to the diamond as soon as he could walk. He was dizzy, had a hard time focusing, and felt weak, but there was no keeping him out of the lineup.
He would never be the same player again.
Reiser hit .244 from July 25, the day he returned, to the end of the season, even trying to switch-hit to minimize the pain in his shoulder. The Dodgers' lead evaporated down the stretch as St. Louis edged Brooklyn by two games. From the heights of July, Reiser ended up batting .310, but still led the league with twenty steals. Before the injury, teammate Billy Herman—who had played with Hall of Famers Chuck Klein and Hack Wilson—said Pete Reiser was the greatest player he had ever seen on a baseball field.
After the season, Reiser attempted to enlist in the Navy, but flunked his physical and was classified 4–F. In January 1943 he tried again, this time at an Army recruiting office. He was about to be rejected when an officer recognized him and waved him through. Soon he was on his way to Fort Riley in Kansas.
If baseball was tough on Pete Reiser's body, military life was even tougher. One day, after a long march in below-zero weather, he started feeling woozy and was diagnosed with pneumonia. Doctors were ready to issue a medical discharge when the base commander realized he had the great Pete Reiser in the infirmary. He decided to keep him at Fort Riley so he could play for the camp team after he recuperated. The deal he made with Pete was that he could be excused from all duties, leave the base virtually whenever he liked, and have his own private room.
Over the next two years, Fort Riley put together quite a team. It included Joe Garagiola, Lonny Frey, Harry Walker, Al Brazle, Murry Dickson, Rex Barney, Ken Heintzelman, and Frank "Creepy" Crespi. One player who didn't make the club was an African American lieutenant who was told he had to play with the base's colored team. Of course, there was no colored team at Fort Riley. So he watched the players practice a while and then turned and walked away. It was Reiser's first encounter with his future Brooklyn teammate, Jackie Robinson.
Even on an Army team, Reiser was incapable of letting up. Once he was chasing a fly ball and burrowed right through the thick hedge that formed the outfield wall—and down a ten-foot drainage ditch on the opposite side. He separated his shoulder and couldn't throw. So he simply switched to a right-handed glove and threw with his left arm, as he had in Elmira in 1939.
In 1945 Reiser was transferred to Camp Lee, in Virginia. When the war ended, he was almost sent to Japan as part of a team that would play exhibitions to entertain the troops. Luckily for him, a base doctor looked at his medical records and was appalled. Clearly, he never should have been allowed into the Army in the first place. Pete was discharged early in 1946, in time to catch up with the Dodgers in spring training.
The Brooklyn brass noticed right away that their former star no longer had a major-league arm. Previously, there had been discussions within the organization that he might be better off in the infield, if only from a self-preservation standpoint. But now that was out of the question. Of course, in his first exhibition start Pete drilled three hits and drew three walks, so he wasn't about to lose his starting job in the outfield.
Pete's season ended early with a fractured fibula, suffered during a stolen base attempt against the Cubs. Prior to that he had reinjured his shoulder and limped through a series of minor pulls, sprains, and strains. The shoulder got so bad that he was moved to left field, and often threw the ball underhand. In an August game with the Cardinals, he ran into the left-field wall chasing a Whitey Kurowski hit. While convalescing at home, he burned his hands lighting the oven for his wife. It just wasn't Pete's year. (It wasn't the Dodgers' year either—they wound up the season tied with the Cardinals, then lost two straight in a playoff for the pennant.)
Even so, Reiser could still run. He led the league in 1946 with thirty-four stolen bases—including seven steals of home. He batted .277 in 122 games and led the team with eleven home runs, three of which were inside-the-park. By the time he hurt his ankle, however, his swing had become hitched and choppy because of the aching shoulder. He was basically a slap hitter in the second half. He simply wasn't driving the ball with the same authority anymore.
The 1947 Dodgers had an entirely new look. Robinson was now the man who made the Dodgers go. This stroke of historic good fortune helped to counter a second straight injury-plagued campaign for Reiser, whose grim encounter with the center-field wall at Ebbets Field provided the lowlight for an otherwise brilliant Dodgers' season. Chasing a ball hit by Culley Rikard of the Pirates, Pete snagged it on the dead run an instant before slamming into the fence. He held onto the ball for the out, but fractured his skull. The injury was so bad that he was given the last rites, and he lay in a hospital bed for five days hovering between life and death.
When Pete Reiser was in the lineup in 1947, he was a solid contributor. In 110 games he batted .309 with some power and plenty of speed. He finished a distant second to Robinson in the National League stolen-base race, with fourteen. The Dodgers won with Pete and without him. At season's end their record was 94-60, five games better than the second-place Cardinals.
The ill effects of the head injury—plus a sore leg—were evident in the World Series against the Yankees. Reiser misplayed a couple of balls in the first two games—both losses at Yankee Stadium. He started Game Three, but injured his ankle on a steal attempt. Manager Burt Shotton replaced him with Carl Furillo in the second inning, and Pete spent the remainder of the series as a bench player.
Reiser saw action as a pinch-hitter in the pivotal ninth inning of Game Four, when Bill Bevens tried to complete the first World Series no-hitter. Leading 2–1, Yankees manager Bucky Harris had Bevens intentionally walk Pete with two outs and Al Gionfriddo on second. A free pass to put the winning run on base was hardly sound baseball strategy, but it had been a wacky game up to that point, with Bevens already having walked nine hitters.
Sensing an opportunity, Shotton sent Eddie Miksis in to run for Pete and sent Cookie Lavagetto in to hit for Eddie Stanky. Lavagetto took Bevens' second offering the other way and hit it against the screen in right field. By the time Tommy Henrich retrieved the ball and got it back to the infield, Miksis was on his way home with the winning run.
The Yankees and Dodgers split the next two games. Reiser saw his last bit of playing time by drawing a walk in Game Five and then heading to the bench with Miksis running for him again. Furillo was now the team's center fielder. The Dodgers led Game Seven in Yankee Stadium but Joe Page shut them down in a five-inning relief stint and the Yankees came back to win, 5–2.
Pete Reiser was never a regular player again. In 1948 Durocher returned to the Brooklyn dugout from his one-year suspension and saw that Pete was no longer capable of playing the outfield. Still recalling the young superstar from 1941 and 1942, Durocher believed that he could at least keep the potent Reiser bat in the lineup, and played him at first base in spring training. Stanky was a holdout and Rickey planned to trade him, which would create an opening at second for Robinson. Pete was a candidate for the first-base job—until Leo saw him in action and realized that he needed to look elsewhere. Pistol Pete had gained a few pounds and was sluggish around the bag.
Reiser saw sporadic playing time in the outfield and spelled newcomer Billy Cox at third base for a few games. Mostly he was used as a pinch-hitter and fill-in outfielder. He spent much of the 1948 season on the injured list and finished with a .236 average in sixty-four games. After the season, Pete asked Rickey to trade him. Rickey obliged, engineering a minor swap with the Boston Braves in December for journeyman outfielder Mike McCormick and infielder Nanny Fernandez.
Though still no more than a bench player, Reiser, now thirty, enjoyed a minor renaissance in Boston in 1949. He saw action in the outfield and at third, and collected nineteen extra-base hits among his total of sixty. He batted .271 and stole three bases. Additionally, his second daughter, Shirley, was born in Boston on July 11 of that year.
Pete's 1950 campaign was a different story. His average sank to .205. The Braves released him after the season. Less than a week after leaving the Braves, Branch Rickey—now running the Pittsburgh Pirates—acquired Reiser for the third time. He proved to be a handy bench player for manager Billy Meyer, hitting .271 in seventy-four games. Rickey released him after the season, but offered him a chance to manage the Pirates' farm club in New Orleans. Pete turned down the opportunity. He felt he had some more good baseball in him. He was signed by the Cleveland Indians in February 1952. Cleveland's manager, Al Lopez, had been a catcher with Pittsburgh when Reiser broke in.
Reiser functioned primarily as a pinch-hitter in 1952, playing just ten games in the outfield. He batted a paltry .136 with three homers in the first half and played his final game as a major leaguer on July 5. The injury that ended his career was a separated shoulder, suffered while sliding in a game against the Yankees. Pete might have stayed with the Indians, but he was needed at home by his wife, Pat. Sally, the younger of their two daughters, had severe developmental problems and he wanted to be closer to home while they decided their next move. When he told Lopez why he was saying goodbye to baseball, Lopez cried. Like everyone who had seen Pete Reiser in his prime, he was saddened by a good guy and great player with such relentlessly horrible luck.
After baseball, Reiser owned a car dealership and worked as a carpenter. In 1955 Dodgers general manager Buzzy Bavasi offered him the manager's job at the Dodgers' Class D affiliate in Thomasville, Georgia. Pete enjoyed managing and coaching, and did a good job with the youngsters that season. When the Dodgers finally won the World Series in the fall, he felt great pride. If he couldn't get a ring, he was delighted that Pee Wee could.
Over the next few years, Reiser was assigned to manage the Dodgers' top minor-league hitting prospects, including Tommy Davis and Frank Howard. In 1960 he accepted an invitation to join manager Walter Alston's staff in Los Angeles. When the team moved to Chavez Ravine in 1962 and adopted a small-ball strategy, Pete's coaching insights became invaluable to the team's success. He had already been working with shortstop Maury Wills on the finer points of base stealing, helping to transform Wills into the league leader in 1960 and 1961. With the stolen base now one of the team's primary weapons, Pete and Maury set out to make a little history.
They developed a set of unwritten rules—when to go, when not to go, and how to distinguish a legitimate stolen base from what Reiser called a "honeymoon steal." He also urged Wills to level with Alston when he felt that a pitcher's pickoff move was too hard to read. Alston would not bunt Wills to second unless he knew that he couldn't steal, so honesty was an important policy. The result was a 104-steal season, breaking Ty Cobb's record and earning Wills the Most Valuable Player award. Wills later called Reiser his "mentor."
Reiser continued coaching for the Dodgers through the 1964 season. He got his long-awaited World Series ring in 1963, when Los Angeles swept the Yankees. In 1965, the Dodgers assigned him to manage the Spokane (Washington) Indians their affiliate in the Pacific Coast League. Pete's stay in Spokane was cut short when he suffered a heart attack while hitting fungos that spring. He was forty-six at the time.
Reiser returned to the game in 1966 at the behest of Durocher, who was now managing the Chicago Cubs. As a fellow coach for Los Angeles in the early 1960s, Durocher had come to admire Reiser's rapport with young players. Pete especially liked working with Latino players. He felt they brought the same aggressiveness and joy to the game he had so many years earlier. Pete even served as an interim manager for the Cubs' Texas league team in Dallas-Fort Worth that season.
Reiser stayed with the Cubs through 1969 before accepting an offer from another Dodgers coaching compatriot, Lefty Phillips, who was now managing the California Angels. In 1970 Pete worked with Sandy Alomar on his base stealing and Alex Johnson on his batting. Alomar topped thirty steals for the first time (and would do so again in 1971). Johnson won the batting title. How much credit Reiser could take for this transformation is pure conjecture. The taciturn Johnson must have driven Pete crazy, particularly with his attitude on defense, which was the polar opposite of Pete's. To Johnson, walls weren't for crashing into. They provided shade on hot days.
Reiser spent two years on Phillips's staff and left when the team fired the manager and hired Del Rice for the 1972 season. The welcome mat was out for Pete in Chicago as long as Durocher was there, and in 1972 Pete returned to coach for the Cubs. He stayed with them through the wild 1973 NL East race, when Chicago was part of a five-way logjam. During a brawl with the Giants that season, someone slugged Pete and he disappeared under the pile, unconscious.
Reiser did some scouting for the Cubs in the late 1970s, until he couldn't hold up to the travel anymore. After the 1981 season he announced to Pat he was retiring for good. Two days later, on October 25, the newswires carried the story of his death in Palm Springs, California, at sixty-two. The cause was listed as a respiratory illness (emphysema). Pete had been a heavy smoker since his teen years. Pat Reiser died in 2001.
There is no official count of Reiser's baseball injuries, but the best guess reads something like a dozen collisions with unpadded fences, five skull fractures (though he claimed only four), a chronically dislocated shoulder, two broken ankles, damaged knee cartilage, torn muscles in his left leg, and two beanings in the days before batting helmets. As a player, he was carried off the field on a stretcher eleven times—six times conscious, five times not.
Most players must wait for decades to appreciate their legacy. In the case of Pete Reiser, he could look at two things he had helped to create—one with pride and the other with irony. The Dodgers, a hapless collection of clowns and losers in the years before he arrived in Brooklyn, now believed they could win every year. Pete had helped to make them believers with his phenomenal 1941 season.
Also, by the early 1950s most teams had either installed warning tracks or at least planned to, and some stadiums were also starting to pad their walls. The first padded wall at Ebbets Field was made of cork. Given how hard Reiser hit that wall, it is doubtful anything other than modern foam cushioning would have saved him.
Alas, in the heat of the moment, Pete Reiser just never could pull up and play it off the wall. Every fly ball was his to catch, and catch them all he would—or kill himself trying.
Sources
Durant, John. The Dodgers. New York: Hastings House, 1948.
Durocher, Leo. Nice Guys Finish Last. With Ed Linn. New York: Simon & Schuster, 1975.
Goldstein, Richard. Superstars and Screwballs: 100 Years of Brooklyn Baseball. New York: Dutton, 1991.
Heinz, W.C. Once They Heard the Cheers. New York: Doubleday Books, 1979.
Honig, Donald. Baseball When the Grass Was Real. New York: Coward, McCann and Geoghegan Inc., 1975.
Jacobson, Sidney. Pete Reiser: The Rough-and-Tumble Career of the Perfect Ballplayer. Jefferson, North Carolina: McFarland & Company, 2004.
Mann, Arthur. Branch Rickey, American In Action. Cambridge, MA: The Riverside Press, 1957.
McNeil, William. The Dodgers Encyclopedia: Second Edition. Champaign, Illinois: Sports Publishing LLC. 2003.
Shatzkin, Mike, and Jim Charlton. The Ballplayers: Baseball's Ultimate Biographical Reference. New York: Arbor House, William Morrow, 1990.
Tiemann, Robert L. Dodger Classics. St. Louis: Baseball Histories, Inc., 1983.
Baseball Digest
MACO Baseball Guidebook
Popular Sports
Sport
Sportfolio
Sports Pix
True Baseball Yearbook
The New York World-Telegram
JockBio.com
Born
March 17, 1919 at St. Louis, MO (USA)
Died
October 25, 1981 at Palm Springs, CA (USA)
If you can help us improve this player's biography, contact us.
https://sabr.org/sites/default/files/images/Reiser-Pete-NBL.jpg
600
800
admin
/wp-content/uploads/2020/02/sabr_logo.png
admin
2012-01-04 20:34:17
2020-07-01 17:51:19
Pete Reiser