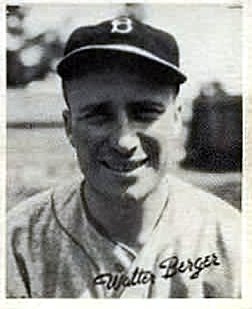 ---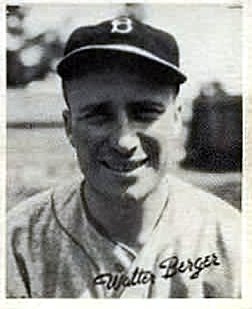 Walter Anton ("Wally") Berger, whose hitting for power and average and steady center field play sparkled for 1930s Boston Braves clubs that had few other bright spots, set rookie home run and runs batted in standards that stood for decades. Until it was broken twice in the 2010s decade, Berger and Frank Robinson (1956) shared the National League record for home runs by a rookie with 38. 
The righthand-hitting "lanky, raw-boned, blond giant" (six-foot-two, 198 pounds), as Harold Kaese characterized Berger in The Boston Braves, was a fixture in early All-Star Games. He played all nine innings for the losing National League squad in the inaugural 1933 game, was a National League starter again in 1934, and was selected for the National League team in 1935 and 1936, when he didn't get into the game. His stature as an "all-time Brave" despite toiling for the club during seven-plus seasons when fourth place was the best National League finish they could muster, is evident in his selection as an outfielder on several All-Century Team rosters for the combined Boston, Milwaukee, and Atlanta franchises and by Bill James as the best centerfielder ever to play for Hall of Fame manager Bill McKechnie, his only skipper in Boston (1930-37). Berger hit the most home runs (105) in Braves Field by any player in history, and the 190 home runs he hit as a Brave are a Boston NL franchise record.
Wally Berger was born in Chicago to Anton and Hedwig ("Hattie") Steinke Berger, German immigrants, on October 10, 1905. He was the oldest of three children, with a brother and a sister.
Fred Berger, his brother, three years younger than Wally, was good enough in his own right to play six seasons (1930-35) in the Pacific Coast League before finishing his career with three years in the American Association. Fred, also an outfielder, hit 23 home runs and drove in 137 runs, both career highs, for the Mission club (San Francisco) in 1935. The Mission home games were played in Seals Stadium, considered a pitcher's park. Despite a solid career at the highest levels of the minors, Fred Berger never had an opportunity to play in the majors. (Beverage)
Anton Berger ran a Chicago saloon where young Wally heard stories of the old-time White Sox. After the family moved to the Mission District of San Francisco in 1910, Berger played sandlot baseball and made the 1920 Mission High School team as a third baseman, causing a teammate, future Hall of Famer Joe Cronin, to move to shortstop and second base. In 1921, after his junior year, Berger dropped out of school. "I was out of school but still very much interested in baseball," he recalled in Freshly Remember'd, his posthumously published 1993 memoir with George Morris Snyder. "I decided I wanted to be a ball player, but I also believed I should go to work to help out with my family. I was reading about all those sixteen-and seventeen-year-old kids signing up."
The teenaged Berger prepared himself with five years of semipro baseball in the San Francisco area before he was offered his first professional contract. He played for the San Carlos Athletic Club, Modern Woodmen of America, and Bertillion Hatters, generally for five dollars a game. At various times during his semipro career he worked as a carpenter's helper, cargo stenciler at Pier 42 on the San Francisco waterfront, truck driver, and as a glass door glazer for the Nicolai Door Company. At Nicolai he turned down a promotion to shipping clerk which would have paid $45 dollars a week, choosing instead to report to his first professional baseball spring training with the San Francisco Seals in February, 1926. (Berger/Snyder)
In the summer of 1925, the 19-year-old Berger had signed with Charlie Graham, general manager of the Pacific Coast League Seals, to report for 1926 spring training. His contract was for $250 a month, but he was one of 80 players signed to similar contracts. He recalled in Freshly Remember'd, "It wasn't going to hurt them any. They took eighty of us to spring training. After one week they dumped forty of them. It was a big wholesale thing-what could they lose? A little bit of room and board for a week or two." The Seals trained in Boyles Hot Springs, California, near Sonoma. Berger had hurt his back just before leaving for camp. After he was examined by the team trainer, Berger was one of those released. He sought help from a chiropractor, went back to work at Nicolai Door Company, gradually got into workouts, recovered to play for the Bertillion Hatters again for part of the 1926 season, and was re-signed by the Seals for 1927.
"This time I lasted two weeks," Berger recalled in Freshly Remember'd. He played and hit well, but after those two weeks manager Nick Williams cut him. Williams told Berger there was no roster space and suggested he go back to San Francisco, wait until the Seals broke camp, and check with him then, as he would try to find a place for him to play for the 1927 season. Nick Williams ultimately offered to place Berger with a semipro team in Emmett, Idaho. Berger declined and was about to apply for his old job with Nicolai Door when he received an offer from the Anaconda Copper Company in Butte, Montana, arranged by a high school friend, Harry Meyerson. Berger accepted, agreeing to $275 a month to work for the company and play shortstop for the Anaconda semipro team. Enroute from San Francisco, Berger's train stopped in Pocatello, Idaho, where two of his friends, Jimmy O'Connell and Harry Benjamin, were playing with the local team in the Utah-Idaho League. He visited them during his stop and told them about his job in Butte. Within two weeks O'Connell and Benjamin wired Berger about signing with Pocatello. He quit his Anaconda job and signed an organized baseball contract with Pocatello for $200 a month. It was less then he was being paid with Anaconda, but "I had finally made it into organized baseball and was playing in the outfield, which had always been my preference." (Berger/Snyder)
Berger played some right field and mainly center field with the 1927 Pocatello Bannocks of the Class C Utah-Idaho League under player-manager Ivan "Ivy" Olson, a veteran of the Dodgers' 1920 World Series team. Although he got a late start at Pocatello and his contract was acquired for $700 (Kaese) by the Los Angeles Angels of the Pacific Coast League late in the season, he set a Utah-Idaho League record with 24 home runs and tied for the league batting title at .385. His reliable outfield play produced eleven putouts in the Bannocks' August 9 game.
Finishing the 1927 season with a .365 average at Los Angeles, Berger battled illness and injury in his 1928 and 1929 seasons as he remained with the Chicago Cubs' top (then Class AA) minor league conduit. In 1928 he was hitting .327 through 138 games of a 200-plus game season when he contracted intestinal flu and had to return home to San Francisco for recovery. In 1929 he hurt himself sliding, but still got into 193 games and hit 40 home runs.
When the 1929 season ended, Berger was nearly 24 years old and, as an Angel, under the control of the Chicago Cubs. Along with reports that he would be promoted to Chicago for the 1930 season, the press also noted rumors that Pittsburgh, the Philadelphia Athletics, the Boston Braves, the New York Giants, and Cleveland were also interested in the emerging slugger. Berger recalled in Freshly Remember'd: "What the manager probably had in mind was keeping me back with  Wes Schulmerich. My feeling was that I had put in the years and I wanted to get going. I wanted to hit that big league before I got too old. To get to the big leagues is tough-I figured that if you don't make the jump after four years in the minors, if you don't develop it in four years, you shouldn't fool with baseball."
Learning that the Boston Braves had purchased his contract for two players and a reported $40,000 to $50,000 (Berger/Snyder; www.baseballlibrary.com) for the 1930 season, and that he was on his way to the major leagues, Berger first displayed the inclination to negotiate what he saw as fair compensation for his services. This would last through most of his tenure in the majors. He asked Boots Weber, Angels club secretary, for a $5,000 share of the contract price, pointing out that he had just been married (on October 29, 1929, to the former Bertha Harriett Wilson (Wally Berger Player Information Questionnaire, National Baseball Hall of Fame Library). He was rebuffed with the observation that his contract was now the property of the Boston Braves. With no major league games to his credit and as a rookie under the reserve clause, Berger had little bargaining power then, but the seed was planted for the future. Berger, who took a pay cut in 1927 to get his first organized baseball opportunity at Pocatello, had established himself as a legitimate major league prospect and let the Braves management know it.
The Braves sent Berger a $4,500 contract for 1930. "I held out immediately. They said we're giving you the standard increase over your minor league salary. You come up and show us what you can do and then we'll talk about what you can get the second year. I finally agreed. They said I'd have to prove myself, so with that thought in mind, I went to spring training." (Berger/Snyder)
The Braves trained in St. Petersburg, Florida, in 1930. Berger knew that he would be in a battle with other outfielders, and reported in good shape, aiming for a good first impression. His press reputation preceded him because of his success in the Pacific Coast League, and the sportswriters already had a nickname for him, "Biff," which Berger recalled disappeared fairly early in his rookie year. (Beverage) Berger hit his first spring training home run against the Yankees on March 22 and found in McKechnie, the first-year Boston manager, somebody he saw as a leader, liked, and respected.
Rookie of the Year awards didn't exist before 1947, but Berger's 1930 season could be used as a standard. He immediately gained McKechnie's confidence, playing 145 game in left field, and hitting .310 in 555 at-bats. Even in a hitters' year, Berger's rookie slugging and dramatic home runs stood out. He homered for the first time on May 1 at Forbes Field in Pittsburgh (www.baseballlibrary.com) and hit 38 round-trippers, the most ever by a major league rookie and a Boston National League franchise record. His 119 runs batted in were another National League rookie record. Berger hit two balls out of Braves Field and onto the Boston & Albany Railroad tracks (Kaese). His timely hitting beat the third-place Giants by one-run margins five times over the course of the season. (Kaese) The 38-homer major league rookie mark, tied by Frank Robinson (Cincinnati, NL) in 1956, stood for fifty-seven years until Mark McGwire (Oakland, AL) hit 49 in 1987. Albert Pujols (St. Louis) drove in 130 runs in 2001 to break Berger's 71-year-old National League rookie RBI record. Through the 2002 season, Berger and Robinson still shared the NL rookie home run mark.  But the homer-happy 2010s have taken their toll: Cody Bellinger of the Dodgers upped the rookie mark to 39 in 2017; The Mets' Pete Alonso boosted it all the way to 53 in 2019.
Berger's rookie production and McKechnie's experienced managing lifted the Braves to a sixth-place finish in 1930 after owner-manager Judge Emil Fuchs had brought them home eighth in 1929. The team slipped to seventh in 1931 when Berger was reunited with his Los Angeles teammate, Schulmerich, a five-foot-eleven, 210-pounder dubbed "Big Wes," who the Braves thought might duplicate Berger's rookie heroics. He didn't. Schulmerich hit over .300 but with little power. Berger failed to match his 1930 home run total but achieved career highs in games played (156), at-bats (617), and batting average (.323). He showed his speed with 13 of his 36 career stolen bases and on May 30, 1931, became one of only five players ever to hit a ball out of Baker Bowl to left field. (Bogart)
Schulmerich, a former all-conference fullback at Oregon Agricultural College, now Oregon State, became an immediate fan favorite but was gone 29 games into the 1933 season. He and Berger were among 17 players of German heritage the Braves brought to spring training in 1931. (Kaese)
The 1932 Braves improved to fifth place at 77-77, but Berger slipped to 17 home runs and 73 batted in although he hit .307. He rebounded to lead the 1933 Braves to an 83-71 fourth-place finish, their first appearance in the National League's first division since 1921. Berger's grand slam on September 30 against the Phillies in Boston clinched the elevated finish. The team had been in the pennant race with New York until earlier in September, and a then-franchise record 517,803 Depression-era fans, 150,000 of them for a crucial late-season series with the Giants, spun the turnstiles at Braves Field (Kaese). Berger hit 27 of the team's 54 home runs in 1933 and drove in 106 of 511, as the fans voted him the National League's starting center fielder in the inaugural All-Star Game in Chicago.
The 1934 Braves clung to fourth place. Berger's power continued (34 home runs, 121 RBI), and he was again an All-Star Game starter, but he failed to hit .300 for the first time in his career, finishing at .298.
The league-leading power potential Berger had shown over the first five years of his career was realized in 1935. He again hit 34 home runs (Babe Ruth was next for the Braves, with six, in his curtain-call part-season with the club), this time enough to lead the National League. He also claimed the NL runs batted in title with 130 and was selected to the National League All-Star team for the third consecutive year. Berger's efforts failed to lift the Braves, however, as the club lost 115 games and sagged to eighth place, 61 1/2 games behind the pennant-winning Cubs, and 26 behind the seventh-place Phillies. Only 232,754 saw the Braves play at home. Off the field, the club's financial woes drove Fuchs to resign as president. He was replaced by Bob Quinn, business manager of the Brooklyn Dodgers and a former co-owner and president of the Red Sox from 1923 to 1932. Quinn sought to generate fan interest by dropping the name "Braves" for a new name for the 1936 team to be selected by Boston baseball writers from fans' nominations. "The judges, solicitous of the headline writers, picked the short but singularly vapid title of Bees." (Kaese)
As a Bee, Berger was selected as an All-Star again in 1936, but to the dismay of his Boston fans didn't get into the game, played at Braves Field. Now age 30, he suffered a shoulder and hand injury that limited him to 138 games and 534 at-bats and started the decline in his productivity that would end his major-league career four seasons later. Berger, the Braves' durable mainstay in center field since his 1930 rookie season, missed an entire week in mid-May of the 1936 season except for limited pinch-hitting duty and missed the final nine games in 1936, making his last appearance in the second game of a doubleheader on September 20. (Wally Berger 1936 Game-By-Game Record, National Baseball Hall of Fame Library) He still hit 25 home runs and drove in 91.
That 1936 season marked Berger's last full one as a Brave/Bee, although Quinn's new name lasted through the 1940 season. On June 15, 1937, after appearing in only 30 games Berger was traded to the New York Giants for pitcher Frank Gabler and $25,000. (Kaese) With the Giants, manager Bill Terry used Berger as a platoon outfielder in left, center, and right and a pinch hitter. (Berger/Snyder) Berger appeared in a combined 89 games with Boston and New York, batted 312 times, and hit 17 home runs, 12 of them as a Giant. His hitting helped the Giants win the pennant and Berger got into three 1937 World Series games as the Giants lost to the Yankees in five. He was voted a full World Series share and as a Giant, could avoid his nemesis, Carl Hubbell, the New York ace. Berger could never hit Hubbell hit with any consistency. (Berger/Snyder; Kaese) "Hubbell could put you in a slump if you tried to adjust your swing to his screwball. You were better off to take your outs and get ready for the next game." (Murray)
The now-32-year-old Berger's role was even further diminished with the Giants in 1938. "I rode the bench most of the time," he recalled in Freshly Remember'd. On June 6, after batting 32 times in 16 games, Berger was traded again within the National League, going to Cincinnati, where he was reunited with McKechnie, then in his first year as the Reds' manager after his tenure in Boston. McKechnie had been closely monitoring the recovering strength in Berger's shoulder and arm and installed his former old reliable as a regular. Berger responded with 16 home runs, 56 RBI, and a steady .307 average in 99 games (407 at-bats) for the fourth-place Reds. (Berger/Snyder)
Those 1938 Reds were forming the nucleus of a team that would win National League pennants in 1939 and 1940. Berger hit .258 in 97 games, but contributed 14 of the Reds' 98 home runs, some of them of the tape-measure variety (newspaper accounts cited in Berger/Snyder) as the club fought off the Cardinals to win by 4 1/2 games in 1939. Neither Berger nor the Reds fared well in the Series against the Yankees. Berger was hitless in 15 at-bats. The Reds were swept, 4-0.
Berger's departure from the major leagues in 1940 was not pleasant for the player who had been the toast of Boston for seven-plus seasons, then a vital part of two other teams' pennant-winning seasons. After negotiating bitterly with the Reds over his 1940 salary which was settled at $7,500 after an initial offer of $5,500 (Berger/Snyder), he was not used in spring training games, batted only two times as a pinch hitter in the first month of the season, and was released by the Reds on May 10. Berger recalled in Freshly Remember'd that for the first time, he was disappointed in his old friend McKechnie for never letting Berger know of plans for his release and not discussing the release with him when it came.
The Philadelphia Phillies, destined to finish eighth in the 1940 National League as the Reds won another pennant and the World Series, signed Berger after his release. "None of their outfielders were hitting, but they didn't play me. I wondered why they brought me over there. Finally, I got to play, but by this time I'm out of rhythm." (Berger/Snyder) He hit .302 in 22 games and his final major-league home run for Philadelphia, but by July he was disenchanted, told the Phillies so, and was given his release.
Berger, now 34 and with a damaged shoulder, then signed with Indianapolis of the American Association, but injured his hand and didn't finish the 1940 season. He played for his former Pacific Coast League team, the Los Angeles Angels, for part of the 1941 season. "My heart wasn't in it anymore after being in the big leagues. Going up was fine, but going down, no." (Berger/Snyder)
As he had shown from the beginning of his major league career, Berger was a tenacious salary negotiator. He held out well into spring training twice with Boston under Judge Fuchs, hammering out $10,000 for 1932 and $12,000 for 1934, both in the depth of the Depression, when even Babe Ruth accepted a salary cut. (Alexander) His top salaries were in 1936 and 1937, at $12,500 each, negotiated with Bob Quinn. His most productive financial year in baseball was 1937, with the $12,500 salary and a Giants' World Series share of $4,489.96. (Berger/Snyder; Reach Official American League Baseball Guide, National Baseball Hall of Fame Library)
Berger joined the Navy in February 1942, and served until October 1945, as a baseball coach at the Naval Air Training Station in San Diego. After discharge from the Navy, he scouted for the Giants in 1947 and 1948. He also scouted for the Yankees and managed their Manchester, New Hampshire, team in the New England League in 1949.
He left baseball at age 45 in 1950. Berger, divorced from his first wife in the 1930s, had married the former Martha Anna Sobzhak on April 19, 1942, and they returned to Manhattan Beach, California, in the Los Angeles County South Bay area. Neither the first marriage nor Berger's 46-year marriage to Martha produced any children. (Beverage)
Berger worked for the Norair Division of Northrop Corporation handling disposition of aircraft parts and as a staff member of the Aviation Technician's School at Northrop Institute of Technology in Inglewood, California, until retirement in 1970 at age 65. He then devoted his time to speaking engagements and baseball ceremonials. (Berger/Snyder)
Berger's 1930-40 major league career (1,350 games, an even .300 batting average, 242 home runs, 898 RBI, and .522 slugging average; seven World Series games; four consecutive All-Star Game selections), shortened by the age at which he reached the majors and by his shoulder injury, garnered him three Baseball Writers Of America votes for induction to the Hall of Fame, one in 1956, two in 1958.
In his introduction to Freshly Remember'd, George Morris Snyder summed up a solid, workmanlike career: "Berger was modest, quiet, hard-working, conscientious, and disciplined. He didn't kick dirt on umpires, become engaged in scandal, or engage in wacky behavior. He didn't make good copy for the boys in the press box. In his prime he played in a 'pitchers park' with a team that never came close to winning all the marbles. It was a club out of the mainstream. It was inadequately financed, poorly administered, and usually overmatched on the field. Despite all this, the Braves were always an interesting team, a team that had its great moments. They were led by the best manager of the times and supported by devoted and hopeful fans. And for seven seasons their most brilliant, courageous, and persevering player was Walter Anton Berger."
Wally Berger died November 30, 1988, in Redondo Beach, California. He was 83 and had been hospitalized after a stroke. He is buried in Inglewood Park (California) Cemetery, with a simple joint marker inscribed "Walter A. Berger, Beloved Husband, 1905 – 1988 [and] Martha A. Berger, Beloved Wife." Martha Berger died in 1996.
Last revised: October 18, 2021 (zp)
Sources
Berger, Walter Anton and George Morris Snyder, Freshly Remember'd, Schneider/McGuirk Press, Redondo Beach, California, 1993.
James, Bill, The Bill James Guide To Baseball Managers From 1870 To Today, Simon & Schuster, Inc. (Scribner), New York, 1997.
Kaese, Harold, The Boston Braves, Van Rees Press, New York, 1948.
Neft, David S. and Richard M. Cohen, The Sports Encyclopedia – Baseball, St. Martin's Press, New York, 1993 edition.
Pietrusza, David and Matthew Silverman and Michael Gershman, Michael, editors, Baseball – The Biographical Encyclopedia, Total/Sports Illustrated, Kingston, New York, 2000.
Thorn, John and Pete Palmer and Michael Gershman, et al., editors, Total Baseball, 7th Edition, Total Sports Publishing, Kingston, New York, 2001 edition.
Associated Press, account of 1933 All-Star Game, July 6, 1933.
Murray, Jim, column in Los Angeles Times, July 24, 1988.
United Press, account of Pocatello Bannocks game, August 9, 1927.
The Boston Globe, Obituary, December 1, 1988.
The Daily Breeze (Torrance, California), Obituary, December 2, 1988.
The New York Times, Obituary, December 3, 1988.
The Sporting News, Obituary, December 12, 1988.
www.baseballhistorian.com.
www.baseballlibrary.com.
www.baseballreference.com.
www.cbssportsline.com.
www.geocities.com (Mike McCann's Minor League Baseball Page, Complete List of Minor Leagues).
www.retrosheet.org.
www.thedeadballera.crosswinds.net.
Los Angeles County, California, Register-Recorder, Certificate of Death of Walter Anton Berger, issued December 2, 1988.
National Baseball Hall of Fame Library, Cooperstown, New York – Reach Official American League Base Ball Guide, Wally Berger 1936 Game-By-Game Record, Wally Berger Personal Information Questionnaire.
Acknowledgments
Charles Alexander (SABR), Athens, Ohio (General discussion of Depression salaries in Breaking the Slump – Baseball In The Depression Era, Columbia University Press, New York, 2002).
Dick Beverage (SABR), Placentia, California.
Bob Bogart (SABR), Glen Rock, Pennsylvania (Baker Bowl history from The New Phillies Encyclopedia, Rich Westcott, Temple University Press, 1993)
Ira Siegel (SABR), Redondo Beach, California.
Stew Thornley (SABR), Roseville, Minnesota (Photo of Walter/Martha Berger grave marker).
Born
October 10, 1905 at Chicago, IL (USA)
Died
November 30, 1988 at Redondo Beach, CA (USA)
If you can help us improve this player's biography, contact us.
http://bioproj.sabr.org/bp_ftp/images5/BergerWally.jpg
600
800
admin
/wp-content/uploads/2020/02/sabr_logo.png
admin
2012-01-04 20:31:59
2021-10-19 06:11:46
Wally Berger