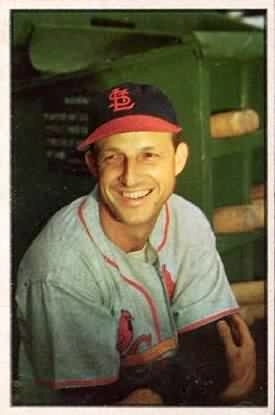 July 13, 1948: Stan Musial wows St. Louis crowd with home run in All-Star Game
---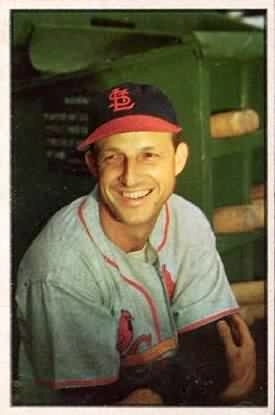 Baseball's 15th All-Star Game took place in Sportsman's Park on July 13, 1948, before a capacity crowd of 34,009. It was the second time St. Louis had hosted the summer classic. The first time, in 1940, the host team was the St. Louis Browns. That game took place in 1940 and resulted in a 4-0 National League win behind a three-run first-inning home run by Max West of the Boston Bees. It was the first shutout in All-Star Game history. This time the American League prevailed, 5-2, in 2 hours 27 minutes behind stellar pitching by Vic Raschi of the New York Yankees and Joe Coleman of the Philadelphia A's, each of whom threw three shutout innings at the Nationals.
The National League had lost five of the last six All-Star Games and 10 of 14 overall, but it appeared to have the advantage coming into this one. The pitching staff selected by manager Leo Durocher of the Brooklyn Dodgers was well rested and the 25-man team was mostly healthy. In contrast, four of the top stars of the American League were limited because of injury and six of their pitchers had worked just two days earlier. One was Hal Newhouser, who came into the All-Star break with a 13-6 record on his way to a 21-win season. He had thrown 7⅔ innings on Sunday and asked not to be used. In addition, Joe DiMaggio was afflicted with sore heels and a swollen knee, Ted Williams was battling torn rib cartilage, and George Kell had a bum ankle. As a result, all three would-be starters were limited to pinch-hitting duties.1
The American Leaguers were also without Bob Feller, who had withdrawn from the game.2 Feller was only 9-10 at the break, but his withdrawal drew a firestorm of criticism, particularly from American League manager Bucky Harris, who said that if he had his way, Feller would never be asked to another All-Star Game.3 St. Louis Cardinals shortstop Marty Marion also drew criticism for his last-minute withdrawal from the game, all of which prompted a letter from the Cincinnati Reds, signed by veteran pitcher Bucky Walters, urging a fine equal to three days' pay for any player selected who skipped the game. That prompted Commissioner Happy Chandler to issue a statement expressing his concern "over the failure of club owners and players to take seriously the All-Star Game" and promising to take whatever steps were necessary in the future to assure participation by those selected.4
Although major-league baseball was integrated the previous year, no African-American players were selected for the All-Star Game until 1949. In 1948 Jackie Robinson was passed over at second base even though he was hitting a hard .295 at the break. Larry Doby was similarly bypassed in the American League despite hitting .288 for a team in the thick of the pennant race.
With his choices limited, Harris named Washington Senators right-hander Walt Masterson to start the game, even though he had only a 6-6 record and had also pitched on Sunday.5 Durocher, who had broken convention by picking only six pitchers instead of the usual eight, started Ralph Branca, his ace from the Dodgers, who was 10-6 at the break and well rested.6
The game began under a blistering sun in hot, muggy conditions. Center fielder Richie Ashburn, the only rookie on either squad, led off for the National League. Ashburn had taken the National League by storm, hitting .351 to earn the starting spot.7 He swung at the first pitch of the game and legged out a groundball to Joe Gordon at second for an infield single.8 Ashburn stole second and advanced to third on a groundout before hometown hero Stan Musial thrilled the St. Louis fans by homering to the top of the right-field pavilion to put the National League into the lead, 2-0.9 Although the NL threatened in the third and sixth innings with men in scoring position, they were unable to score again.
Branca sailed through the bottom of the first against the American Leaguers, striking out the first two batters. But in the second, Detroit's Hoot Evers, DiMaggio's replacement in center field, belted a one-out home run into the left-field bleachers to bring the score to 2-1. Evers thus became the second player in history to homer in his first All-Star at-bat.10
The National League put together singles by Musial and Slaughter in the top of the third but were unable to score as Andy Pafko hit into a force out at second to end the inning. In the American League third, Branca lost command and walked the first two batters, Mickey Vernon and Pat Mullin. He recovered to strike out Tommy Henrich looking, but Vernon and Mullin surprised by executing a double steal, aided by the fact that third baseman Pafko was playing deep and had to take Walker Cooper's throw on the run.11 Lou Boudreau followed with a fly ball to deep right to bring in Vernon easily with the tying run.
After Johnny Schmitz relieved Branca to start the fourth inning, the American League quickly took control of the game. With one out Ken Keltner singled to left, George McQuinn singled to center, and Birdie Tebbetts walked to load the bases. Vic Raschi, a .243 hitter who had relieved Masterson on the mound in the top of the inning, got behind in the count on a couple of wild swings before lining a single to left to drive in two runs and knock Schmitz from the game.12 Durocher brought in Johnny Sain to face Joe DiMaggio, pinch-hitting for Mullin. On the first pitch DiMaggio lined out to Musial in left, deep enough to bring in Tebbetts from third and put the American League ahead 5-2. Despite its best efforts, the National League would not be able to recover from that big inning.13
After five hot, muggy innings, dark thunderclouds moved in during the sixth inning accompanied by lightning bolts around the ballpark.14 With spitting rain falling, the National League mounted a serious rally in the top of the sixth on one-out singles by Bob Elliott and Phil Masi off Raschi, who was pitching his third and final inning. Buddy Kerr then grounded out to Keltner at third, advancing both runners. With two outs, pinch-hitter Eddie Waitkus followed by working a walk to load the bases. Raschi next faced Ashburn, who already had two hits. With the count at 2-and-2 Ashburn backed away from an inside fastball that caught the corner for a called third strike.15 It ended the uprising and was the last serious National League challenge.
In the bottom of the sixth the American League threatened against Ewell Blackwell of the Reds, who relieved Sain to start the inning. With one out McQuinn singled to left and then stole second as Tebbetts was called out on strikes. Bucky Harris surprised everyone by sending up Ted Williams, who was not expected to play, to pinch-hit for Raschi. Williams drew a walk and Newhouser, who was also not expected to participate, pinch-ran. Blackwell quickly quelled the threat by getting Al Zarilla to ground to Red Schoendienst at second for a force out.
Light rain fell intermittently through the seventh and eighth innings but it didn't bother Joe Coleman of the A's, who relieved Raschi and set the National Leaguers down in both frames, giving up only a walk to Musial in the seventh. For the Nationals, Sain pitched 1⅔ innings of scoreless baseball, while Blackwell finished with three scoreless innings, although he walked three.
The drama in the ninth was largely whether the thunderstorms would hold off long enough for the game to finish. The National League cooperated, however, and, with rain falling, could muster only a two-out walk by Bill Rigney off Coleman before Musial grounded out to second baseman Bobby Doerr to end the game on the short end of a 5-2 score.
If an All-Star MVP award had existed, it surely would have gone to Raschi, the winning pitcher, whose fourth-inning single drove in the winning run. As for the National League, its frustration would continue in 1949 with an 11-7 loss in Ebbets Field in Brooklyn before it finally broke through with a 5-4 win in 1950 in a 14-inning thriller in Chicago's Comiskey Park.
This article appears in "Sportsman's Park in St. Louis: Home of the Browns and Cardinals at Grand and Dodier" (SABR, 2017), edited by Gregory H. Wolf. Click here to read more articles from this book online.
Notes
1 David Vincent, Lyle Spatz, and David W. Smith, The Midsummer Classic – The Complete History of Baseball's All-Star Game (Lincoln: University of Nebraska Press, 2001), 90.
2 Feller had controversially skipped the 1947 All-Star Game due to a back injury suffered in his last start before the game. He recovered well enough, however, to pitch two days after the game. In 1948 Indians owner Bill Veeck allegedly told Feller to fake an injury because, in the midst of a pennant race, he did not want to send both Bob Lemon and Feller to the game and risk injury. John Sickels, Bob Feller – Ace of the Greatest Generation (Washington: Brassey's, 2004), 193-94; Bob Feller with Bill Gilbert, Now Pitching – A Baseball Memoir (New York: Birch Lane Press, 1990), 152-53.
3 Frank Graham, Baseball Extra (New York: A.S. Barnes, 1954), 143-44. Harris selected Boston's Joe Dobson to replace Feller. Vincent, et al., 90.
4 Vincent et al., 90-91.
5 Masterson was on his way to an 8-15 record for the seventh-place Senators, who won only 56 games.
6 Durocher picked two sluggers instead, Sid Gordon of the Giants and Bob Elliot of the Braves. Vincent et al., 91.
7 Ibid.
8 John Debringer, "American League Beats National 11th Time in 15 Games With Three Runs in 4th," New York Times, July 14, 1948: 28; Gordon's throw was wide but the official scorer ruled it an infield hit, Vincent et al., 91.
9 Debringer.
10 Max West's three-run homer off Red Ruffing in the first inning of the 1940 game, also in Sportsman's Park, was in his first All-Star at-bat.
11 Cooper was starting his sixth consecutive All-Star Game for the National League.
12 "American Leaguers Humble Nationals, 5-2," Los Angeles Times, July 14, 1948: 9.
13 Donald Honig, The All-Star Game – A Pictorial History, 1933 to Present (St. Louis: The Sporting News, 1987), 70.
14 Los Angeles Times, July 14, 1948: 9.
15 Los Angeles Times, July 14, 1948: 11.
Additional Stats
American League 5
National League 2
---
Sportsman's Park
St. Louis, MO
Box Score + PBP:
Corrections? Additions?
If you can help us improve this game story, contact us.
Tags
http://bioproj.sabr.org/bp_ftp/images5/MusialStan.jpg
600
800
admin
/wp-content/uploads/2020/02/sabr_logo.png
admin
2018-11-15 14:45:26
2021-10-29 08:45:01
July 13, 1948: Stan Musial wows St. Louis crowd with home run in All-Star Game