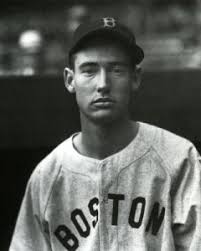 July 2, 1939: Ted Williams hits his first game-winning homer, off a future Hall of Famer
---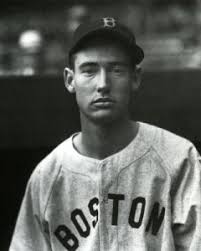 This game's win was secured by Ted Williams's first game-winning home run off a future Hall of Famer. On May 30, the 20-year-old rookie right fielder had hit a first-inning homer off Red Ruffing — his first off a Yankees pitcher and first off a future Hall of Famer — but it had been Jimmie Foxx's second-inning homer that won that game.
Lefty Gomez came into the July 2 game with four 20-win seasons to his credit and 2,118⅔ innings of major-league experience before facing Williams in the seventh inning. Two times he had led the league in both wins and ERA (26-5, 2.33 in 1934 and 21-11, 2.33 in 1937). He'd already won 159 games in his career and was 6-2 to this point in 1939.1
The Red Sox starter also bore the nickname "Lefty" — Lefty Grove, who came into the game with a record of 7-2. Like Gomez a future Hall of Famer, Grove had already enjoyed eight 20-win seasons, including seven in a row (one of them a 31-win season), and accumulated 278 career wins.2
The two teams — the Yankees and the Red Sox — were first and second in the standings, but they weren't close. The Red Sox were 12½ games behind the Yankees. They were more worried about the teams in third, fourth, and fifth place — the Indians, Tigers, and White Sox. Boston was just 2½ games ahead of Cleveland and three ahead of Detroit.3
The game was the first of a Sunday afternoon doubleheader at Fenway Park. Lou Gehrig had played the final game of his career on April 30, but he continued to travel with the team. When he came out to present the Yankees' batting order, Red Sox owner Tom Yawkey came out to greet him.
The Yankees scored first, and Grove lost his batterymate in the first inning. After shortstop Frankie Crosetti grounded out to lead off, third baseman Red Rolfe singled. Grove walked right fielder Tommy Henrich. Center fielder Joe DiMaggio doubled to right field and drove in Rolfe.
Henrich tried to score, too, but was thrown out at the plate on a relay by shortstop (and Boston's manager) Joe Cronin. Henrich had tried to score standing up and had a "head-on collision" with catcher Gene Desautels, who suffered "cuts and bruises about the face."4 Desautels was "knocked cold and forced to retire for the rest of the day."5 Johnny Peacock took his place. Yankees catcher Bill Dickey grounded out to end the inning. The injury was the first of seven for both teams in the doubleheader.6
Center fielder Doc Cramer walked with one out in the bottom of the inning, and first baseman Foxx came to bat, but both were retired on a strike-'em-out, throw-'em-out double play when Cramer tried to steal second base.
The Yankees had a single, a walk, and a successful double steal in the second, but no run eventuated. Crosetti lined out to Jim Tabor at third base for the final out.
Tabor singled leading off the bottom of the third. With one out, Grove sacrificed him to second. Leadoff batter Bobby Doerr was hit on the left elbow by a pitch and had to leave the game for X-rays, which revealed just a soft-tissue bruise but no fracture. Tom Carey ran for Doerr. After Cramer grounded out to retire the side, Carey replaced Doerr at second base.
The next run scored was another by New York, in the top of the fourth. Joe Gordon, the Yankees' second baseman, walked and stole second, winding up at third on Peacock's wild throw. After another walk and a fly out to shallow right field, Gomez hit a fly ball to deep left field and Gordon scored when Peacock made another error on the throw home.
Foxx walked to lead off the bottom of Boston's fourth. Williams flied out to left field, but Joe Cronin hit a two-run homer high into the net above the left-field wall that tied the game, 2-2.
Neither side got a baserunner in the fifth.
The Yankees took a 3-2 lead in the top of the sixth on a solo home run by Gordon into the center-field bleachers. The Red Sox matched that run in their half of the inning when Williams walked, Cronin singled him to second, and left fielder Joe Vosmik singled to drive Williams home.
Tabor then flied out to second base, and Joe Gordon slipped the ball to Crosetti, rather than throwing it to Gomez. When Peacock stepped into the box and an unaware Vosmik started to take a lead, Gordon got Vosmik with the hidden-ball trick.7
Grove set down the side in order in the top of the seventh. He led off the bottom of the seventh and Gomez struck him out. Tom Carey singled but was forced at second on Cramer's grounder to shortstop. Foxx walked to put two on with two outs.
This set the stage for Ted Williams. Gomez got two strikes on him, but then "The Kid" hit a three-run home run to deep right field. The ball carried into the right-field bleachers, "a drive that went with a favoring wind, just clearing the fence as Henrich backed into the wall.8 Henrich dropped as he crashed and had to be assisted off the field. Blood trickled from a cut on the right side of his head."9
Henrich was injured so badly that he had to spend overnight at Boston's St. Elizabeth's Hospital. The Boston Herald said he "smacked his head against the concrete front wall as the ball carried into the bleachers and suffered a severe concussion and a lacerated scalp."10
With the Red Sox now leading 6-3, Joe DiMaggio singled to lead off the eighth, but Grove got Dickey to ground out and Gordon to line into a double play.11
The Red Sox added an insurance run in the bottom of the eighth. Vosmik walked and was sacrificed to second by Tabor. Peacock atoned in some measure for his pair of errors earlier, singling in Vosmik.
The 7-3 score held as Grove set down the side in the ninth, the final batter being a pitcher (Red Ruffing) pinch-hitting for Gomez. Ruffing struck out.12
It wasn't yet the Fourth of July, but young Williams already had 61 runs batted in. He set a rookie record in 1939, never matched before or since, by driving in 145 runs.
In the day's second game, the Yankees piled up a 6-1 lead off starter Elden Auker by the third inning and finished with a 9-3 win, Bump Hadley going the distance for New York. Dickey and DiMaggio both hit two-run homers. As it happens, all 12 of the runs in the second game were scored after two outs. Williams was 0-for-2 and walked twice. He walked 107 times in 1939.
The games drew a sold-out crowd, with attendance reported as 35,000. The two games together took as long to play as some single games take in the second decade of the twenty-first century: 1:53 and 2:00. In 2013 the average Red Sox-Yankees game lasted 3:24.13
Sources
In addition to the sources cited in the Notes, the author consulted Baseball-Reference.com and Retrosheet.org.
baseball-reference.com/boxes/BOS/BOS193907021.shtml
retrosheet.org/boxesetc/1939/B07021BOS1939.htm
Notes
1 Gomez finished the 1939 season with a record of 12-8 and a 3.41 earned-run average. He was 6-0 in World Series play, but worked only one inning in the 1939 World Series. Gomez was selected to the National Baseball Hall of Fame in 1972.
2 Grove finished the 1939 season with a record of 15-4 and a league-leading 2.54 earned-run average. He retired in 1941 after recording his 300th win. Grove was selected to the Hall of Fame in 1947.
3 When the season was over, the Red Sox had held onto second place but were a full 17 games behind the Yankees, who went on to sweep the Cincinnati Reds in the 1939 World Series.
4 James P. Dawson, "Grove Prevails, 7-3, at Boston, Then Yankees Rout Red Sox, 9-3," New York Times, July 3, 1939: 10.
5 Gerry Moore, "Sox Split with Yankees as Injuries Fell Three," Boston Globe, July 3, 1939: 1, 5.
6 Desautels was able to return to play just two days later, on July 4. There were three injuries in the first game, and four lesser ones in the second.
7 Moore: 5.
8 The right-field bullpens, which shortened the home-run distance by 23 feet, were not added until the 1940 season.
9 Dawson.
10 Burt Whitman, "Williams Homer Wins First, 7-3, As 35,000 See Sox, Yanks Split," Boston Herald, July 3, 1939: 1, 10.
11 DiMaggio had three hits in the first game (half of the six hit by the team) and three in the second game, with four RBIs, three of them in game two.
12 Ruffing was a good hitter, used with some frequency as a pinch-hitter. At the end of his 22 years in the majors (which had begun with the Red Sox in 1924), he had a .269 lifetime batting average. Ruffing was 55-for-212 lifetime as a pinch-hitter (.259), with 2 homers and 44 RBIs.
13 Meredith Perri, "Do Boston Red Sox' Games Against New York Yankees Take Longer Than Average Game?" masslive.com, May 19, 2019. masslive.com/redsox/2017/07/do_boston_red_sox_games_agains.html, accessed November 29, 2020.
Additional Stats
Boston Red Sox 7
New York Yankees 3
Game 1, DH
---
Fenway Park
Boston, MA
Box Score + PBP:
Corrections? Additions?
If you can help us improve this game story, contact us.
Tags
https://sabr.org/sites/default/files/Williams-Ted-1939.jpg
600
800
sabr
/wp-content/uploads/2020/02/sabr_logo.png
sabr
2021-02-11 21:44:46
2021-02-11 21:44:46
July 2, 1939: Ted Williams hits his first game-winning homer, off a future Hall of Famer