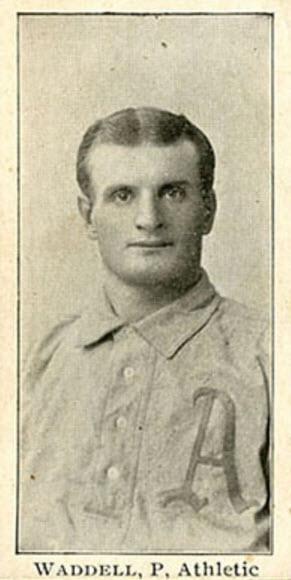 July 9, 1902: Rube Waddell fans 16 batters in 17-inning marathon
---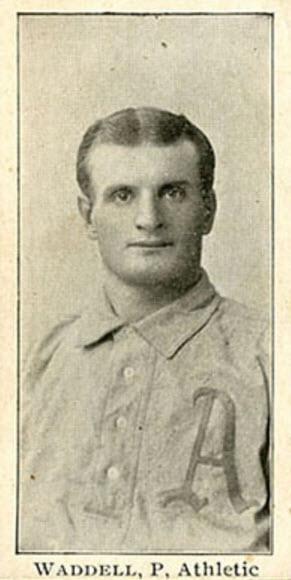 During the 1900 season, pitcher Rube Waddell compiled a 10-3 record and a 1.95 ERA for the Milwaukee Brewers, managed by Connie Mack. "He was sensational," Mack said. "He had everything, ability and color."1 The zany southpaw was immensely difficult to manage, but his talent and showmanship were worth the effort in Mack's estimation.
Waddell was pitching for an independent team in Los Angeles when Mack persuaded him to join his Philadelphia Athletics in June 1902. Results were mixed in Waddell's first three starts for the Athletics. He lost 7-3 to the Baltimore Orioles on June 26, 1902, but five days later he fanned 13 Orioles in a brilliant two-hit shutout.2 Awakened before dawn by the sound of fireworks on the Fourth of July, he rushed out to "help exhaust the supply of explosives." That afternoon he pitched the second game of a doubleheader "with a badly scorched hand," and the Washington Senators "pounded" him "in vicious style," though the Athletics prevailed, 12-9.3
Waddell's fourth start came on Wednesday, July 9, when the Athletics played the Boston Americans in the third game of a four-game series at Boston's Huntington Avenue Grounds. The Boston Americans were led by Jimmy Collins, a 32-year-old playing manager, considered "the king of third basemen."4 Collins chose 26-year-old Bill Dinneen, a big right-hander, as his starting pitcher. Attendance was reported to be 3,784.5
The game proved to be a remarkable pitchers' battle. Philadelphia eked out a run in the fourth inning on a walk to Harry Davis, a sacrifice by Lave Cross, Davis's steal of third, and an infield out.6 They scored again in the top of the sixth on a double by Socks Seybold and a single by Ossee Schrecongost, popularly known as Schreck.7 In the bottom of the sixth, Boston's Freddy Parent clouted a home run to center field with Harry Gleason on base to even the score at 2-2.
The next 10 innings were scoreless, as Waddell and Dinneen dueled relentlessly, and after 16 innings, the score remained deadlocked at 2-2. "Both pitchers were applauded again and again for their fine work."8 Dinneen puzzled the Athletics with his "famous drop ball."9 Waddell's "change of pace was excellent, and it was almost ludicrous at times to see the local players straining their backs to connect safely."10 As the game went on, Waddell seemed to gain even more speed on his overpowering fastball. He was having such a grand time that out of sheer exuberance, he "turned a number of handsprings."11
Both pitchers were helped by stellar defense. Philadelphia third baseman Lave Cross and shortstop Monte Cross "robbed the locals of a good many hits."12 In right field, Boston's Buck Freeman caught "balls far and near in superb style," nine putouts in all.13 Parent's work at shortstop was "sensational" (he handled 18 chances without error), and Hobe Ferris, the Boston second baseman, "gave the finest exhibition of throwing ever seen on the local grounds."14
In the 15th inning, Boston had men on second and third with two outs, but Waddell fanned rookie Gleason to escape the jam. The next inning Parent slugged a ball to deep center field; it looked like a game-winning homer until the speedy Dave Fultz made a spectacular running catch.15
The tie was finally broken by Monte Cross, who led off the top of the 17th inning with a home run to right-center field. Schreck followed with "a slashing triple to right field"16 and scored on Waddell's sacrifice fly, and the Athletics led 4-2.
Ferris started the bottom of the 17th with a bunt single and advanced to second base on Jack Warner's groundout. Chick Stahl, pinch-hitting for Dinneen, was at bat when a pitch from Waddell got away from catcher Schreck. Ferris took off for third base, but Schreck recovered the ball quickly and threw out Ferris on an "exceedingly close" play at third.17
After Stahl lined a single to center field, rookie Patsy Dougherty stepped to the plate. As reported by the Boston Post, what happened next was controversial:
"With Stahl hovering on first base and two men out, it was up to Dougherty to save the game. Two strikes had been called on him and big Waddell never worked harder to get the third strike. He pitched a fast inshoot, which to many of the fans seemed to graze Dougherty's chest. But to the dismay of the crowd, umpire Tommy Connolly claimed Dougherty tried to bunt the ball and called him out. Collins pleaded with Connolly to reverse the decision and the only indication the fans had that the game was ended came from the visiting players throwing their gloves into the air. Then the crowd jumped for the umpire, but the police were too quick and Connolly was escorted safely to his dressing room."18
The final score was Philadelphia 4, Boston 2. In his masterful 17-inning performance, Waddell allowed 12 hits, struck out 16 batters and walked one.
The Athletics went on to win the 1902 American League pennant. Their won-lost record was 26-24 on June 25 when Waddell joined them and 57-29 afterward. Waddell compiled a 24-7 record for the team with a 2.05 ERA. Though he missed more than one-third of the season, his 24 victories ranked second in the league (behind Cy Young's 32), and his 210 strikeouts led the league.
Notes
Additional Stats
Philadelphia A's 4
Boston Americans 2
17 innings
---
Huntington Avenue Grounds
Boston, MA
Box Score + PBP:
Corrections? Additions?
If you can help us improve this game story, contact us.
Tags
http://sabr.org/sites/default/files/WaddellRube.jpg
600
800
admin
/wp-content/uploads/2020/02/sabr_logo.png
admin
2016-12-02 14:00:20
2020-11-23 11:59:13
July 9, 1902: Rube Waddell fans 16 batters in 17-inning marathon