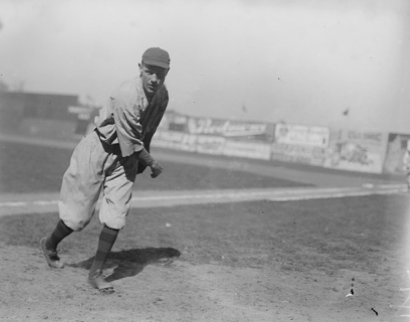 June 16, 1916: Salida Tom Hughes no-hits Pirates at Braves Field
---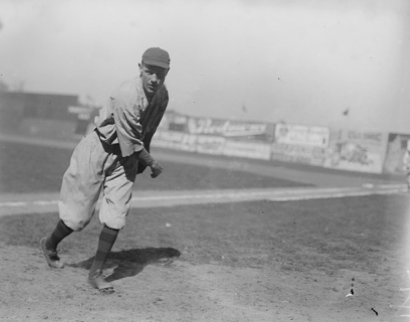 On paper the game between the Boston Braves and Pittsburgh Pirates at Braves Field on June 16, 1916, looked like nothing special. After jumping out to a decent start and sitting in third place with a 15-11 record on May 22, the Braves hit the skids and lost 12 of their next 18. They sank to fifth place, seven games behind the first-place Brooklyn Robins, and sported a record of 21-23 on June 15.
The Pirates, piloted by James "Nixey" Callahan, were even worse, having gone 21-26, good for seventh place and an 8½-game deficit. Their roster still boasted legendary shortstop Honus Wagner, but he was 42 and in his next-to-last season, and even though he was still productive, he was just a shell of his former self. The rest of the lineup was helmed by 33-year-old right fielder Bill Hinchman, who would lead the National League that season with 16 triples, and speed demon and future Hall of Famer Max Carey, who would lead the league with a career-high 63 stolen bases.
Braves skipper George Stallings sent 32-year-old journeyman hurler Tom Hughes (known as "Salida Tom" for the Colorado town in which he grew up) to the mound to face Pittsburgh's hard-luck lefty, 23-year-old Erv "Peanuts" Kantlehner. Despite pitching to a 2.26 earned-run average in 1915, sixth best in the National League, Kantlehner went only 5-12, and 1916 wasn't much better. Going into the June 16 contest, the southpaw boasted a nifty 1.64 ERA, but was only 2-6. Hughes, on the other hand, had enjoyed his best season in 1915, going 16-14 with a 2.12 ERA, and led the league in games, games finished, and saves.1 He began the 1916 season with five wins and a save in his first nine appearances and was 5-2 with a 3.05 ERA when he took the slab against the Pirates.
According to the Boston Post, a drizzle dampened the field but did not interrupt play, and a chilly east wind blew throughout the contest.2 Carey led off with a long drive that was hauled in by right fielder Joe Wilhoit, who would be instrumental to Hughes's success on this day. Hughes retired Doc Johnston and Wagner, and the Pirates went down in order in the first, but not before an injury to Boston catcher Walt Tragesser, who was getting a rare start, knocked him out of the game.
The Braves jumped out to an early 1-0 lead in the bottom of the first on a walk, a single, a bunt, and a throwing error. Rabbit Maranville drew the base on balls to start the frame and advanced to second on a Fred Snodgrass base hit. Wilhoit attempted to advance both runners with a bunt, but popped it right to Kantlehner, who snared the ball out of the air, spun in an effort to double Maranville off second base but heaved the ball into center field. Carey was backing up on the play, but the ball rolled past him and Maranville scored.
Snodgrass moved to third but was erased in a rundown when Sherry Magee grounded to third. Ed Konetchy fouled out to third to end the threat, and Boston held a 1-0 lead. That's all Hughes would need as he continued to mow down Pirates hitters. Hinchman and Joe Schultz went down in the second before Ed Barney lifted what Boston Post writer Ed McGrath called an "ominous fly near the [right-field] foul line."3 Wilhoit raced over and made the catch for the final out of the inning. He would make three more that had McGrath gushing, "Joe Wilhoit had to cover quite a little ground in the pursuit of five hoists that came out to his plot, but managed to get his putouts without any vast trouble."4
The Braves fashioned another minor rally in the second when second baseman Dick Egan blooped a single to right and Hank Gowdy, who'd replaced the injured Tragesser, lined a double to left, but Hughes struck out and Maranville grounded out to third and stranded both runners. It would be the only time Maranville failed to reach base in four trips to the plate.
"Beyond that nothing stirred to encourage the Braves until Bob Harmon came in to pitch the last inning for his crew," wrote McGrath.5 After the second inning, Kantlehner settled down and surrendered only three more hits, all singles, before leaving the game after the seventh inning in favor of Harmon.
But Kantlehner also got an assist from the umpires in the sixth when a controversial call on a steal attempt by the Braves had the Boston Globe's James O'Leary suggesting a change in the way arbiters made future calls.6 With Ed Konetchy at the plate, Sherry Magee attempted to steal second. Konetchy swung at the pitch and fouled it into Walter Schmidt's mitt. Home-plate umpire Bill Klem called "foul" as Schmidt fired a strike to second to nab Magee. Magee insisted he was misled by Klem calling "foul," but the play stood and Kantlehner got out of the inning.
"Umpires will probably evolve some scheme to avoid the confusion which occurred in one play," opined O'Leary. "It would seem … better for the [home-plate] umpire to delay his decision until the play at second is completed, or call it a strike, as are all foul tips if caught."7
Meanwhile Hughes had yet to allow a hit, thanks to his command of the strike zone and Wilhoit's glove. "All eyes were centered on the thin Boston pitcher as he cleaved the murky air with his wide curves," waxed McGrath, "compelling the thoroughly helpless hostiles either to lift the ball in the air, where it would drop into the clutches of a waiting Boston fielder, or swing vainly at elusive shoots."8
Indeed, only three assists were recorded by Boston's fielders; Hughes fanned seven batters, Gowdy recorded nine putouts and Wilhoit captured everything belted his way, whether short or long. Kantlehner popped a shallow fly to right in the fifth; Johnston poled a "screaming drive" toward the right-field corner in the sixth; and Dan Costello blasted a shot in the eighth that seemed headed for extra bases, yet Wilhoit chased down all of them.9
The Braves plated their second tally in the bottom of the eighth when Maranville drew his third free pass of the game, raced to third on another Snodgrass single, and came home on a double steal when catcher Schmidt chucked his throw into center field.
The top of the ninth found Hughes facing Max Carey, Doc Johnston, and Honus Wagner, the first three hitters in Pittsburgh's order. "Every spectator was anxious that Hughes should come through with his 'no-hit game,'" wrote O'Leary.10
"Even the Pittsburgh players caught the feeling," O'Leary continued, "and all who could left the bench and lined up on the top step of the dugout. They did not, so far as could be observed, do anything to distract Hughes from his work, which was to their credit."11
O'Leary surmised that Carey was the "most dangerous of the bad lot" because of his speed, but the center fielder lofted a popup to second baseman Egan for the first out.12 Johnston whiffed and Hughes was only one out from something he'd accomplished once before, although this time it would count.
On August 30, 1910, while with the New York Yankees, Hughes tossed 9⅓ innings of no-hit ball against Cleveland only to lose the game in extra innings.13 His opponent that day was a 20-year-old rookie named George Kahler, who was making only his fourth major-league start and pitched brilliantly, allowing only three hits in 11 innings. Hughes finally gave up a hit in the 10th inning, then fell apart in the 11th and surrendered five runs to lose 5-0.
Now, six years later, he had a chance to capture a no-hitter that would stay in the record books forever.14 Wagner took the first pitch for a ball, then the second for a strike to even the count at 1-and-1. He "struck wildly at another offering," then took ball two to even the count again.15 "Hughes took his time," O'Leary wrote, "and finally the count was two and two. Honus took a look at the next ball, which broke over the corner of the plate. Klem raised his hand, indicating a strike. Gowdy squeezed the ball for all he was worth, and Tommy had reached the goal of all ambitious pitchers."16
With the win, Hughes improved his record to 6-2 and began a run that would see him win 10 of his last 11 decisions before a broken wrist suffered on September 7 sidelined him for the rest of the season. He finished at 16-3 and his .842 winning percentage led all of major-league baseball.
This article appeared in "Braves Field: Memorable Moments at Boston's Lost Diamond" (SABR, 2015), edited by Bill Nowlin and Bob Brady. To read more articles from this book, click here.
Sources
In addition to the sources mentioned in the Notes, box scores for this game can be seen on baseball-reference.com, and retrosheet.org at:
http://www.baseball-reference.com/boxes/BSN/BSN191606160.shtml
http://www.retrosheet.org/boxesetc/1916/B06160BSN1916.htm
Notes
Additional Stats
Boston Braves 2
Pittsburgh Pirates 0
---
Braves Field
Boston, MA
Box Score + PBP:
Corrections? Additions?
If you can help us improve this game story, contact us.
Tags
http://sabr.org/sites/default/files/images/Hughes-SalidaTom-LOC.png
600
800
admin
/wp-content/uploads/2020/02/sabr_logo.png
admin
2017-04-19 12:55:34
2020-04-17 10:25:53
June 16, 1916: Salida Tom Hughes no-hits Pirates at Braves Field