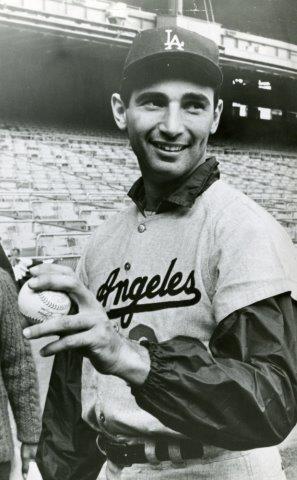 June 30, 1962: Sandy Koufax hurls first career no-hitter against Mets
---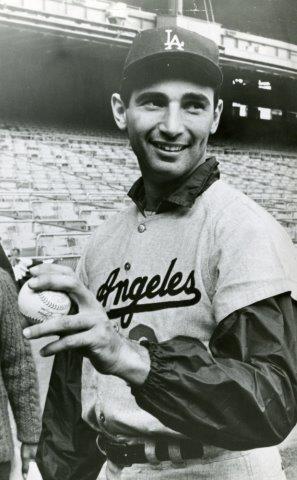 The Los Angeles Dodgers (50-29), in second place a half-game behind the San Francisco Giants, were eager to host the last-place New York Mets at Dodger Stadium. The Mets, in their inaugural season, had won just 20 games and lost 52.
The last time the Dodgers' starting pitcher, Sandy Koufax, faced the Mets was Memorial Day at the Polo Grounds. Koufax went the distance as the Dodgers won, 13-6. The Mets had come up with 13 hits that day, one of them a home run by Gil Hodges. Hodges would not be facing Koufax on this day; he was out with an injured foot.
Koufax (10-4, 2.48 ERA) did not waste any time in getting down to business. Nine pitches were all he needed to set down the first three Mets hitters — Richie Ashburn, Rod Kanehl, and Felix Mantilla — on strikes. Mantilla took his looking. You could have heard each of them muttering some expletives as they left the batter's box.1 As Koufax walked to the dugout, he received a standing ovation from the fans behind the Dodgers dugout.2 Mets third-base coach Solly Hemus was good-naturedly needling Koufax, yelling, "It isn't really that easy, is it?" Koufax could be heard responding, "No, it surely isn't."3
Relief pitcher Ron Perranoski, sitting in the Dodgers bullpen, could see that Koufax had wicked stuff going. He later said, "From my angle back there … his curveball used to break from the first deck, it looked like. And all of a sudden it's breaking from the second deck."4
In the bottom half of the first inning, the Dodgers exhibited their appreciation and support of what Koufax had just done. Bob Miller (0-5, 4.46 ERA) was on the mound for the Mets. With two out, Willie Davis tripled to left-center and then scored on a single that gave Tommy Davis his 81st run batted in and 108th hit of the season, both of them tops in the majors. On the first pitch to Ron Fairly, Davis stole second. Fairly then drew a four-pitch walk, bringing big Frank Howard to the plate. Howard had homered in the previous night's loss to the Mets. With a one-ball count, Howard delivered a groundball single up the middle that scored Davis. John Roseboro smacked a long line drive to right field that went off the fence. Fairly and Howard scored as Roseboro moved easily into second with a double. The Dodgers led 4-0 and after the next batter, Larry Burright, singled, that was it for the starter Miller. Montreal native Ray Daviault, a rookie with a 7.97 ERA, relieved and retired Koufax on a foul pop, ending the inning.
In the top of the second, Frank Thomas swung on the first pitch and smashed a ball into the hole between third and short that looked as though it might get through, but Maury Wills got to the ball moving to his right, made a backhand stop, and threw Thomas out.5 First baseman Ron Fairly made a sweeping catch of the tough hop on the long, hurried throw by Wills.6 The next two batters, Cliff Cook and Jim Hickman, took called third strikes.
In the third, Koufax went to a full count on Elio Chacon but got him swinging. Chris Cannizzaro, the Mets catcher, also worked a full count before flying out to center. (He was the third batter in a row who had gone to 3-and-2; by the end of the game Koufax had gone to full counts on nine batters.) Pitcher Daviault went down swinging on three pitches. Koufax had now fanned seven and was perfect through three innings.
Leading off the fourth, Richie Ashburn became the first Mets baserunner as he walked.
In the fifth inning, two Mets reached the outfield. Cook flied out to left and Hickman flied out to center.
In the sixth, on another full count, Cannizzaro went down swinging; Daviault swung and missed on the final pitch of his at-bat. That gave Koufax 11 strikeouts and marked the 39th time in his career and eighth time in the 1962 season that he had reached double figures. Looking for his 12th strikeout and third of the inning, Koufax had two strikes on Ashburn. But Ashburn struck a curving liner that Tommy Davis appeared to have momentarily lost in the lights. Davis snared the ball on the run to keep the no-hitter alive. Koufax had abandoned his changeup at the start of the fifth inning, and was relying on his fastball and curve.
Each time Koufax passed Hemus as he walked off the mound, Hemus would heckle Koufax by reminding him that he still had a no-hitter going.7
With one out in the bottom of the seventh, Daviault threw a slow curve that Frank Howard lined into the left-field bleachers, 374 feet away. It was his second home run in two games and his eighth of the season. The Dodgers now led 5-0.
When Koufax stepped to the plate to lead off the eighth, the crowd uttered quiet hoorays and hurrahs.
The Dodgers made two defensive replacements in the top of the ninth. Ron Fairly moved from first base to right field, replacing Howard, and Tim Harkness replaced Fairly at first. Daviault, who was still pitching for the Mets, was scheduled to lead off, and Gene Woodling — who rarely hit against a lefty — pinch-hit for him. After the game the 16-year major-league veteran said manager Casey Stengel had told him to "grab a bat, this will be a new experience for you."8 Woodling walked. Joe Christopher ran for him. The spectators then held their breath as Ashburn again hit a liner toward left that Tommy Davis had no chance to snare. But it landed foul by about six feet. With a runner at first, Koufax got three groundballs in a row. Ashburn grounded to shortstop, forcing Christopher at second. Kanehl's grounder to third forced Ashburn at second, and on a 2-and-1 count Mantilla grounded to short, forcing Kanehl at second.
Game over! It was the first no-hitter of the season in the National League and the first for Koufax.
After the final out a message flashed on the scoreboard, reading, "Koufax, report to Buzzie Bavasi and have your contract torn up."9 Sandy was engulfed by his teammates and Solly Hemus, under his breath, congratulated him.10
When it was all over the Mets had hit only five balls out of the infield — Cannizzaro, Cook, Ashburn, and Hickman (twice). Koufax had struck out 13 Mets.
Looking back at the great fielding plays of the game and the five walks issued, Koufax attributed luck playing a big part in pitching a no-hitter. Koufax was quoted as saying "In essence, every pitcher takes the mound trying to pitch a no-hitter. The main idea is to keep the batter from getting a base-hit, isn't it? But you have to be lucky to keep 27 batters from dunking one in or hitting one on the nose."11
This article was published in SABR's "No-Hitters" (2017), edited by Bill Nowlin. To read more Games Project stories from this book, click here.
Notes
1 Dick Young, "A Wing for Sandy's Motel?" New York Daily News, appearing in San Francisco Chronicle, July 6, 1962.
2 Frank Finch, "13 Mets Strike Out in Classic," Los Angeles Times, July 1, 1962.
3 Bob Hunter, "Dazzling Dodger Southpaw Fans 13 Mets, Walks Five," The Sporting News, July 14, 1962.
4 Jane Leavy, Sandy Koufax, A Lefty's Legacy (New York: HarperCollins, 2002), 119.
5 Joe McDonnell, "Dodger Stadium's Most Memorable Moments … Koufax's Three No-Hitters," 1987 Dodger Scorebook.
6 Young.
7 Sandy Koufax with Ed Linn, Koufax (New York: Viking Press, 1966), 188.
8 Ibid.
9 Leavy, 119.
10 Ibid.
11 Finch.
Additional Stats
Los Angeles Dodgers 5
New York Mets 0
---
Dodger Stadium
Los Angeles, CA
Box Score + PBP:
Corrections? Additions?
If you can help us improve this game story, contact us.
Tags
https://sabr.org/sites/default/files/images/Koufax-Sandy-NBHOF.jpg
600
800
admin
/wp-content/uploads/2020/02/sabr_logo.png
admin
2018-10-17 12:19:22
2020-04-17 10:23:52
June 30, 1962: Sandy Koufax hurls first career no-hitter against Mets