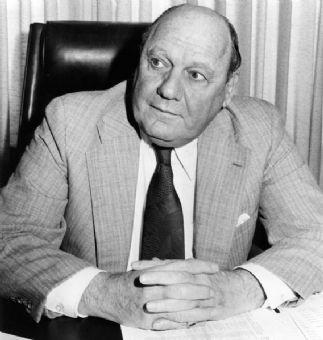 ---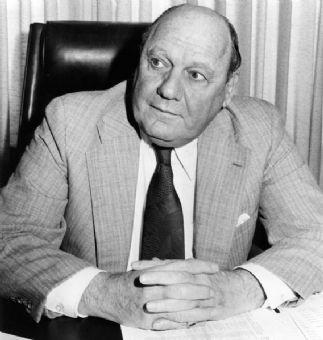 Buzzie Bavasi had a ball running a ball club. In 18 years directing the baseball operations of the Dodgers in Brooklyn and Los Angeles, he assembled four World Series champions and eight pennant winners (and two more clubs that tied for first), more than any team except the Yankees.
He had the benefit of owner Walter O'Malley's money, the scouting staff headed by Al Campanis, and the farm system run by Fresco Thompson. The Dodgers' guiding light was the man who wasn't there, Branch Rickey. He had lost a power struggle to O'Malley, but left behind three disciples who carried on the Rickey way.
Bavasi charmed writers and players even as he was dodging the writers' tough questions and keeping the players' salaries low. He made himself the punch line of his own jokes. "Running a ball club is 10% skill, 40% having the right men working for you and 50% dumb luck," he said, adding, "You pick the right men for the right jobs and you sit back and get all the credit!"1
The Dodgers operated the game's largest and best farm system in the 1950s. It sent more players to the majors than any other team. Bavasi sold or traded the surplus to replenish his major-league roster, but the team relied mostly on homegrown talent to fill holes. As a result, Bavasi was not an active trader. "Why play poker when you're the only one with any money?" he asked.2
Few of the young players the Dodgers relinquished became stars. The most painful loss was Roberto Clemente, who signed for a $10,000 bonus when he was a teenager in Puerto Rico. The Dodgers, knowing he would be eligible for the baseball draft, tried to hide him on their Montreal club. Despite his obvious talent, Clemente spent most of his first professional season on the bench. But Rickey, now GM of the Pirates, knew all about him, and Pittsburgh snatched him away in the draft. "Am I admitting that we blew it?" Bavasi said. "I certainly am."3
Emil Joseph Bavasi acquired his nickname early in childhood when his sister, Lolly, remarked that he was "always buzzing around."4 He continued buzzing all his life, a perpetual motion machine spouting a cascade of words. He was often indiscreet but always interesting. In his 90s he was living history, sharing his vast knowledge of the game with writers in letters, emails, and phone calls.5
He was born in New York City on December 12, 1914, to Sue (Maggio) and Joseph Peter Bavasi. His father had emigrated from Marseilles, France, as a child. Joseph prospered as a distributor of the city's many newspapers through his Union News Co. and invested in real estate. He moved his family into a three-story home in the posh suburb of Scarsdale, with several servants and a chauffeur. He died of pneumonia in 1933, leaving substantial wealth to his widow and two children.
Buzzie entered DePauw University in Greencastle, Indiana, the alma mater of a family friend, National League president Ford Frick. Frick's son, Fred, was his roommate and close friend. As Buzzie told it, his mother was glad he had chosen a good Catholic school; she thought he was attending DePaul. A well-built six-footer, he was the catcher on the varsity baseball team. He said his favorite team, the New York Giants, offered him a $1,500 bonus, but he believed he was too slow to make the majors.
When Bavasi graduated in 1938, his mother's present was a year off, expenses paid. But Ford Frick cut his life of leisure short and took him to meet Larry MacPhail, president of the Dodgers. On Frick's recommendation, MacPhail hired him as a "glorified office boy."6
In 1940 MacPhail dispatched him to Americus, Georgia, as business manager of the Class-D farm club. Before he left New York, Bavasi proposed to his girlfriend, Evit Rice, whom he had known since she was 12. They planned to marry after the season, but the young man got lonesome in Georgia and persuaded Evit to come south for an early wedding. When his pregnant sister arrived for the ceremony, he kissed her hello at the train station. "Next thing I know," he recalled, "no one in Americus will talk to me," because people who had seen the kiss spread the word that his bride was expecting.7
Near the end of the season, the Americus Pioneers were short of players. Bavasi put himself on the roster, played second base and pitched, and went 4-for-12 in four games. He ran farm clubs in Valdosta, Georgia, and Durham, North Carolina, before he was drafted into the army in 1943. He fought through Italy as a machine gunner, earning a Bronze Star for rescuing a wounded soldier from the battlefield.
After his discharge in 1946, the Dodgers assigned Bavasi to Nashua, New Hampshire, as general manager of the Class-B club, with Walter Alston as manager. Rickey had signed Jackie Robinson for the Triple-A Montreal farm team and two other black players, catcher Roy Campanella and pitcher Don Newcombe, who would start at a lower level. When Rickey asked Bavasi to take them, his only question was, "Can they play?"8
Newcombe said they ran into few problems as the first black players in the New England League, but the manager of the Lynn, Massachusetts, team abused them with racial slurs throughout one game. Bavasi challenged him to fight. "I made sure Walter Alston was there," he said. "Walter was big."9 The manager backed off. Newcombe and his wife named their first daughter for Evit Bavasi.
After two years in Nashua, Bavasi was summoned to Brooklyn as a front-office assistant. The new job marked a milestone for the family. "We were married seven years before we had a home or furniture of our own," Evit said, "and then it lasted only five months."10 The Dodgers promoted Bavasi to their top farm club at Montreal in 1948. The Royals won two pennants in the next three seasons, and The Sporting News named him Minor League Executive of the Year in 1950.
Then an upheaval in Brooklyn changed his life. Walter O'Malley, the Dodgers' legal counsel and part owner, bought Rickey's 25 percent share of the team and took control. Because of a buy-sell agreement, Rickey forced O'Malley to pay him $1,050,000, three times as much as he had paid for his stock. O'Malley never forgave him.
Rickey's departure meant that the Dodgers needed a new general manager. Brooklyn Eagle writer Tommy Holmes said "the logical choice" was Fresco Thompson, Rickey's assistant in the farm system.11 But O'Malley evidently realized that no one man could replace Rickey, though he wouldn't say so — he wouldn't compliment his nemesis. He appointed both Thompson and Bavasi as vice presidents. Neither would have the title of general manager.
"All of us will make decisions together," the owner said.12 Bavasi was put in charge of the major-league club and the two Triple-A farms with Thompson running the rest of the two dozen farm teams and the scouting staff. "Thompson and Bavasi were told to 'write your own duties and assignments' — and I'm sure they will handle them satisfactorily," O'Malley said,13 adding, "Fresco and Buzzy are good friends. Each knows what the other can do and they respect each other's judgment."14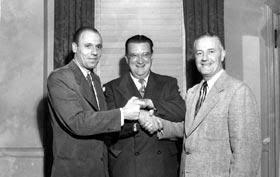 L to R: Buzzie Bavasi, Walter O'Malley, Fresco Thompson, circa 1950.
By giving both men equal rank, O'Malley recognized the importance of scouting and player development. He also signaled that he would take on the business side of the general manager's job. He had sunk most of his money into the team and intended to look after it.
Thompson, 48, had climbed the traditional ladder for 25 years as a player, manager, scout, and executive. Bavasi, not yet 36, had the same title but the more prestigious position.
The triumvirate's first job was hiring a manager. The incumbent, Burt Shotton, was Rickey's man; he had to go. O'Malley approved Bavasi's choice of Charlie Dressen, a former Dodgers coach who was managing Oakland in the Pacific Coast League.
Bavasi inherited a star-studded roster that had won two pennants in four years: Robinson, Campanella, Newcombe, Duke Snider, Gil Hodges, Pee Wee Reese — "the Boys of Summer." But his first year ended in crushing disappointment. The club blew a 13½-game lead and lost to the Giants in a playoff when Bobby Thomson hit the "Shot Heard 'Round the World." The Dodgers rebounded to win again in 1952 and 1953, while losing both World Series to the Yankees.
After leading the team to two pennants and falling just two outs short of a third, Dressen demanded a three-year contract. O'Malley didn't give anybody a multiyear contract — not players, not vice presidents, and not managers. Dressen was out.
O'Malley wanted the shortstop and captain, Pee Wee Reese, to replace him, but Reese turned it down. Bavasi preferred Walter Alston, a veteran of the farm system who had risen to the top at Triple-A Montreal and had managed 17 of the Dodgers on their way up. He was so little known that several newspapers called him "Wally,"15 but O'Malley agreed to give him a shot. With a one-year contract.
O'Malley probably had never said more than "How are you?" to the new manager, but Bavasi knew him well from Nashua and Montreal. Alston's hiring was more proof of O'Malley's trust in his No. 1 baseball executive. That would be the pattern throughout Bavasi's 18 years in the job: O'Malley left baseball decisions to his baseball people with little or no interference, while he set the budget and managed business affairs, his primary interest. "Walter would have been a wonderful guy," Bavasi reflected decades later, "except he loved money too goddamn much."16
Although the Dodgers finished second in Alston's first season — and worse, behind the archrival Giants — the manager received another one-year contract. "Next year" arrived in 1955, when the club won its only World Series championship in Brooklyn. Another pennant followed in '56.
One Dodger was a stranger to Alston: Jackie Robinson. On Rickey's orders, Robinson had tamped down his fiery personality in his early years, but by the time Alston arrived he was an outspoken, abrasive team leader. Star and manager never got along. In 1956 the 37-year-old Robinson's career was winding down, and Alston no longer put him in the lineup every day.
Robinson was contemptuous of O'Malley, too. Most likely he would have resented anyone who displaced Rickey. Bavasi said trading Robinson to the Giants was O'Malley's idea, one of the few times O'Malley intervened in personnel matters.17 They didn't know that Robinson had decided to retire and had sold his announcement exclusively to Look magazine. When the story broke, Bavasi and O'Malley felt betrayed. The most important player in Dodgers history walked away with bitter feelings on both sides.
One day that fall, O'Malley pointed out his window at a long line of people outside the welfare office across the street. Brooklyn was changing, and becoming poorer. The Dodgers were still the most profitable franchise in the National League, but attendance had dropped by one-third from the 1947 peak. O'Malley could only envy the Braves, who were drawing twice as many to their new home in Milwaukee. Ebbets Field, built in 1913, was dilapidated. "Walter had no choice," Bavasi wrote. "He had to move the club somewhere."18
With the city unwilling to help him build a new ballpark in Brooklyn, O'Malley embraced his eager suitors in Los Angeles, where politicians were falling all over themselves to give him most of what he wanted. When he polled Dodgers executives, all but one voted against the move. The one "yes" vote was the only one that counted: O'Malley's.19
As the Dodgers went west after the 1957 season, O'Malley at last appointed Bavasi general manager, with Fresco Thompson reporting to him. The owner would be preoccupied with complications that delayed construction of his ballpark in Chavez Ravine. The 43-year-old Bavasi, with his hairline and waistline going in opposite directions, now had full responsibility for day-to-day operations, though still working in O'Malley's considerable shadow.
Despite the uncertainty and expense of the move, O'Malley approved spending $2 million in the next three years to sign amateur players. Baseball had repealed the bonus rule that required amateurs who were paid more than $4,000 to spend two years on the major-league roster rather than start their training in the minors. While the rule was in force, the Dodgers had signed only two bonus players, Clemente and Sandy Koufax. Now they gave big bonuses to Ohio State slugger Frank Howard and Ron Fairly of Southern Cal, and signed Willie Davis, and Jim Lefebvre, among many others, for lesser amounts. Dodgers scouts, led by Al Campanis and guided by Rickey's principles, looked first of all for speed and strong throwing arms, traits that can't be taught.
The first season in LA proved that O'Malley had hit the jackpot. The Dodgers drew 1.8 million people to their makeshift home in the Los Angeles Memorial Coliseum. It was a smashing success at the box office, a smash-up on the field. The club fell to seventh place in the eight-team league as the Boys of Summer entered the winter of their careers.
Bavasi promised changes for 1959, but he engineered only one significant offseason deal: the acquisition of outfielder Wally Moon from St. Louis. The left-handed batting Moon mastered an inside-out swing to loft homers over the Coliseum's short left-field screen and led the Dodgers' charge into the pennant race. The roster overhaul came in midseason thanks to the farm system. Bavasi called up shortstop Maury Wills and pitchers Roger Craig and Larry Sherry to provide the spark that powered the club into a tie for first place and a playoff victory over the Braves.
With no day off following the playoffs, the Dodgers sleepwalked through Game One of the World Series, losing 11-0 to the White Sox, then awoke to win the next three. Bavasi collapsed after Game Four from exhaustion and an ear infection. He watched on television as the team brought Los Angeles its first championship.
The collapse was the price of his nonstop life. "Buzzie Bavasi always looks as if you're interrupting him on the way to catch a train," Jim Murray wrote.20 O'Malley said later, "The wheels are always turning in Buzzie's head. He'll work for you 24 hours a day. This is because the man doesn't sleep."21
The Sporting News named Bavasi the 1959 Executive of the Year. "The '59 team was not the best club with which I was ever associated, but it was my favorite club," he wrote.22 On paper, the Dodgers were no match for the Braves or Giants. But the 1959 triumph marked the changing of the guard, with younger players replacing the stalwarts of the Rickey regime. It was a homegrown team ­— all but three on the Series roster were products of the farm system. The 1960s Dodgers were Bavasi's team, and Thompson's and Campanis's. During the decade, the franchise won three more pennants and two World Series.
For Bavasi, the games didn't end in the ninth inning. He delighted in gamesmanship at contract time. He told this story often using different players' names, but the gist was always the same. The player came in asking for a big raise. Bavasi prepared a fake contract for one of the stars — Duke Snider, say — showing a low salary. He excused himself from the room, leaving the Snider contract visible on his desk. The player, seeing how little the Duke was supposedly making, would scale back his expectations. "I've pulled that phony-contract stunt a dozen times," Bavasi said, "and I'll do it every chance I get, because this war of negotiation has no rules."23
After Bavasi gleefully confessed those shenanigans and others to Sports Illustrated, Marvin Miller, the head of the Players Association, circulated copies of the articles to all players as examples of management's dishonesty.24
"Buzzie had fun negotiating with players before agents came along," shortstop Don Zimmer said. "It was like he made a game of it. We had some great contract sessions. But once all those agents came along, it took the fun out of the game for him."25 In spite of his con jobs, many players liked him. He would slip them $50 or $100 when they were short. As Zimmer neared the end of his career, Bavasi gave him a choice of where he would be traded.
Bavasi encountered the first player agent in 1965. The Dodgers' pitching aces, Sandy Koufax and Don Drysdale, staged a joint holdout, demanding a combined $1 million over three years, and hired a Hollywood lawyer to represent them. Bavasi wouldn't talk to the man. O'Malley wouldn't hear of three-year contracts, much less $1 million.
The pitchers had compared notes and learned that Bavasi was playing one off against the other. He had asked Koufax, "How can I pay you more than Drysdale?" Then he gave Drysdale the same spiel. Drysdale's first wife, Ginger, suggested that they negotiate together.26
As the "Great Holdout" stretched through most of 1966 spring training, the pitchers signed movie contracts while Bavasi contended that he and O'Malley were enjoying the publicity. Drysdale said the Dodgers settled when the agent began preparing a lawsuit challenging the reserve clause, a fight baseball owners wanted to avoid at all costs. Koufax signed for $125,000, Drysdale $115,000. For one year.27
Like executives of many family-owned companies, Bavasi had risen as high as he could go in the Dodgers organization. O'Malley was training his son, Peter, to take over. When the National League prepared to add two expansion teams for 1969, O'Malley told Bavasi to choose one of the applicants and he would support that city's bid.28 Bavasi allied with San Diego financier C. Arnholt Smith, a wheeler-dealer whose enterprises ranged from banking to tuna canning. With O'Malley's backing, San Diego joined Montreal as the NL's newest entries.
Smith gave Bavasi 32 percent ownership and named him president of the San Diego Padres. It was a chance to make serious money, but Bavasi said leaving the Dodgers "was traumatic."29 In his 18 years, the Brooklyn-Los Angeles franchise had won more games than any club except the Yankees. It's no coincidence that it was also the game's most stable franchise, with Bavasi, Thompson, and Campanis acquiring and developing players, and Alston making out the lineup card for 15 of those years.
The Padres' brown-and-mustard uniforms weren't Bavasi's idea; Arnholt Smith's trademark was a brown suit, shirt, and tie. But the team's pedigree was Dodger blue. Bavasi hired LA coach Preston Gomez as manager and coaches Roger Craig, Wally Moon, and Sparky Anderson, a former second baseman in the Brooklyn farm system. His son Peter, general manager of the Dodgers' Triple-A Albuquerque club, joined him in the front office. The broadcaster was Duke Snider.
Picking over the castoffs in the expansion draft, Bavasi went for young players. The best find was first baseman Nate Colbert, 23, who made three All-Star teams. The Padres predictably finished last in the NL West in their first season, losing 110 games, the same as the Montreal Expos. The biggest disappointment was the attendance, barely over 500,000.
The Padres occupied the cellar for their first six seasons while losing at least 95 games every year. Along the way, another Dodger, Don Zimmer, replaced Gomez as manager and Peter Bavasi was promoted to GM. There was reason for hope: The Padres drafted Dave Winfield in 1973 and brought the future Hall of Famer straight to the majors. But attendance was stuck below 650,000 for five years. Bavasi, accustomed to O'Malley's generous budgets, found himself scrounging in the couch cushions for loose change. "It had come to the point where we'd pay the players on a Friday and ask them not to cash their checks until Monday," he wrote.30
An enthusiastic horse player, Bavasi had bet on a nag. Smith's empire imploded amid criminal investigations. The collapse of his U.S. National Bank was then the largest bank failure in American history, and he went to prison for grand theft and tax evasion. McDonald's hamburger king Ray Kroc bought the San Diego franchise for $12.5 million, but the Internal Revenue Service seized the proceeds to satisfy part of Smith's tax debt. Bavasi's 32 percent interest was worth not one penny.
Relieved fans gave the new owner a standing ovation at the home opener in 1974. But Kroc's new team was stuck in its old ways. The Padres had already lost their first three games to the Dodgers in Los Angeles. When they fell behind Houston, 9-2, in the eighth inning, Kroc grabbed the public-address microphone and pronounced judgment: "I've never seen such stupid ballplaying in my life."31
Meet the new boss, not like Bavasi's old boss. "Ray Kroc was a great baseball fan and an excellent businessman," he wrote. "Put them together, though, and he was lost."32 Kroc was impulsive and unpredictable, generous one minute and the next minute chewing out a McDonald's franchisee for a speck of grease on the counter. Ordering Bavasi to get rid of a player who struck out, then cheering the same player when he homered his next time up.
In Kroc's first season, attendance topped 1 million for the first time. The next year the Padres escaped last place. When free agency arrived in 1977, Kroc's special sauce — cash — brought in relief ace Rollie Fingers and catcher and on-base machine Gene Tenace. The franchise had become respectable. But Peter Bavasi left to become president of the expansion Toronto Blue Jays, making the Bavasis the first father and son to run different franchises at the same time, and Buzzie wearied of Kroc's mercurial management. He retired at 62 near the end of the 1977 season.
The perpetual-motion man flunked retirement. Within weeks Gene Autry persuaded him to join the Angels as executive vice president. Autry wanted him to bring order to the club's business operations. Bavasi agreed to take on the job, but only for one year.
The singing cowboy's team had always played second fiddle to the Dodgers in the LA market. Critics said he treated the Angels as a hobby rather than a business. Bavasi found a country-club atmosphere with layer upon layer of front-office executives extracting freebies from advertisers and giving away tickets, taking money from Autry's pocket. He put a stop to that. He urged a local talk-show host to call him "El Cheapo," reasoning that nobody would ask for favors from a man with that reputation.33
As part of his cost-cutting, Bavasi forced GM Harry Dalton to reduce spending on the farm system, a curious choice for a man steeped in the Dodgers tradition. Dalton, feeling his authority threatened, quit soon after Bavasi arrived. What had begun as a temporary detour from retirement turned into a seven-year run as the Angels' general manager. You'd think he had planned it that way.
Autry had been the biggest spender in the first year of free agency. The signings of Don Baylor, Bobby Grich, and Joe Rudi, added to Dalton's trade for fireballer Nolan Ryan, had reshaped the team, but it was still a loser when Bavasi took over in 1977. Another free agent, hard-hitting outfielder Lyman Bostock, helped lift the Angels into a tie for second in the AL West in 1978, five games behind Kansas City. But Bostock was killed in a street shooting before the end of the season.34
During the winter Bavasi acquired Minnesota's seven-time batting champion Rod Carew, who was a year away from free agency. After Carew vetoed a trade to the Yankees because he didn't want to play for George Steinbrenner, Bavasi stole him in return for cash and four players, none a star. With seven former or future All-Stars in the lineup and five more on the pitching staff, the 1979 Angels won the Western Division title for the first time in their history, but fell to Baltimore in the league championship playoffs.
Bavasi's tenure with the Angels pinballed from one controversy to another, many of his own making. His cheapskate reputation coupled with loose and sometimes sarcastic talk alienated players and fans. When Nolan Ryan became a free agent after the 1979 season, Bavasi said it would be easy to replace Ryan's 16-14 record: "All we need are two 8-and-7 pitchers."35 Ryan was approaching his 33rd birthday, and Branch Rickey had taught Bavasi to be leery of players over 30. He watched Ryan take his tireless electric arm to Houston for a million-dollar salary.
After the Angels won another division title in 1982, and lost again in the playoffs, designated hitter Don Baylor reached free agency. One writer described Baylor. the 1979 AL Most Valuable Player, as "the team's physical and inspirational leader."36 Bavasi let the 32-year-old walk away. Baylor said Bavasi was behind the times: "He watched the whole revolution of the game change. He had players making $5,000 a year then. But to survive and be successful, you have to be willing to change."37
Bavasi had become an outspoken critic of baseball's new order. He called player agents "parasites." He had warned owners not to agree to salary arbitration, predicting correctly that it would drive payrolls up dramatically.38
When manager Gene Mauch retired after the 1982 playoff defeat, Bavasi hired John McNamara, who had managed for him in San Diego. By 1984 he was publicly second-guessing McNamara, although he was the one who had assembled the club's struggling pitching staff. Los Angeles Times writer Ross Newhan urged Autry to find a new general manager or "find another hobby."39
The same day Newhan's blast appeared, Autry announced Bavasi's retirement, while insisting that it was voluntary. He said Bavasi had told him in the spring that 1984 would be his last year.
It was an abrupt end to a 45-year career. A lifetime of perpetual motion was not easy to turn off. At his home in La Jolla, overlooking the Pacific, Bavasi followed baseball on television, sometimes watching three games a day when he could find them. He served on the Hall of Fame's veterans committee for 21 years and campaigned unsuccessfully for the election of Dodgers first baseman Gil Hodges.
He became a voluble source for sportswriters and historians. His favored writers received long letters commenting on the state of the game and its players. "The good ones could play with the old-timers, but the mediocre would have no chance," he wrote to the New York Times's Dave Anderson. "Because of expansion, there are 140 pitchers in the majors today that had it not been for expansion would have Paducah across their shirts."40
His son Peter moved from Toronto to Cleveland as president of the Indians. Son Bill, who broke into baseball under his father in Anaheim, served as GM of the Angels and Seattle Mariners. Son Bob owned a minor league team in Everett, Washington. Christopher was the only son to avoid the family business; he was elected mayor of Flagstaff, Arizona.
Bavasi's retirement lasted for nearly a quarter-century, until he died at 93 on May 1, 2008. He never expressed a moment of regret for the life he had chosen. "It's a pleasure to get up in the morning," he once wrote, "and anybody who complains about a job in baseball is either an idiot or a moron."41
Acknowledgments
This biography was reviewed by Rory Costello and Jan Finkel, and fact-checked by Alan Cohen.
Sources
Armour, Mark L., and Daniel R. Levitt, In Pursuit of Pennants (Lincoln: University of Nebraska Press, 2015).
Baseball-Reference.com
Retrosheet.org
Notes
1 Buzzie Bavasi with Jack Olsen, "The Real Secret of Trading," Sports Illustrated, June 5, 1967. https://www.si.com/vault/1967/06/05/610053/the-real-secret-of-trading, accessed April 22, 2019.
2 Jim Murray, "Busy Buzzie," Los Angeles Times, September 9, 1962: D1.
3 Bavasi, "The Real Secret."
4 Bavasi with John Strege, Off the Record (Chicago: Contemporary, 1987), 9.
5 In 2004 Bavasi responded to an email query from the author, whom he had never met or heard of, and explained how broadcaster Red Barber left the Dodgers.
6 Sam Lacy, "New Brooklyn Dodger Boss," Afro-American (Baltimore), March 3, 1951: 16.
7 Charles Maher, "Bavasi Breaks in Baseball as Winner—Loses Money," Los Angeles Times, March 9, 1967: III-3.
8 Bavasi, Off the Record, 23.
9 Michael Madden, "Nashua, N.H., Was Safe Haven," Boston Globe, March 28, 1997: C10.
10 Billie Trowbridge, "Togetherness Important for Mrs. Buzzie Bavasi," Pasadena (California) Independent Star-News, July 3, 1960: B-5.
11 Thomas Holmes, "Scatter Shot at the Sports Scene," Brooklyn Eagle, October 23, 1950: 15.
12 Harold C. Burr, "O'Malley Holds Reins on Bavasi and Thompson," Brooklyn Eagle, November 3, 1950: 21.
13 Roscoe McGowen "Thompson and Bavasi Are Named Vice Presidents of the Dodgers," New York Times, November 3, 1950: 34.
14 Burr, "O'Malley Holds Reins."
15 See, for example, Louis Effrat, "Dodger Pilot to Emerge from Smog of Speculation Today," New York Times, November 24, 1953: 37.
16 Michael Shapiro, The Last Good Season (New York: Doubleday, 2003), 29.
17 Shapiro, The Last Good Season, 171.
18 Bavasi, Off the Record, 78.
19 Andy McCue, Mover and Shaker: Walter O'Malley, the Dodgers, & Baseball's Westward Expansion (Lincoln: University of Nebraska Press, 2014), 154.
20 Murray, "Busy Buzzie."
21 Maher, "Bavasi: Baseball's Smartest Operator," Los Angeles Times, March 7, 1967: III-4.
22 Bavasi, Off the Record, 115.
23 Bavasi, "Money Makes the Player Go," Sports Illustrated, May 22, 1967. https://www.si.com/vault/1967/05/22/610029/money-makes-the-player-go, accessed April 22, 2019.
24 Charles P. Korr, The End of Baseball as We Knew It (Urbana: University of Illinois Press, 2002), 64.
25 Bob Wolf, "Baseball by Bavasi," Los Angeles Times, September 21, 1991, C1.
26 Don Drysdale with Bob Verdi, Once a Bum, Always a Dodger (New York: St. Martin's, 1990), 125.
27 Drysdale, Once a Bum, 129.
28 McCue, Mover and Shaker, 301.
29 Bavasi, Off the Record, 113.
30 Bavasi, Off the Record, 146.
31 Phil Collier, "Kroc Rips Club on P.A. as Astros Romp, 9-5," San Diego Union, April 10, 1974: C-1.
32 Bavasi, Off the Record, 161.
33 Bavasi, Off the Record, 167.
34 Bostock and two women were riding with his uncle in Gary, Indiana, when one of the women's estranged husband, who was stalking her, fired a shotgun into the car. The killer was found not guilty by reason of temporary insanity. Tim Connaughton, "Lyman Bostock," SABR BioProject.
35 Dick Miller, "Ryan Raps Bavasi … Again," The Sporting News, February 2, 1980: 43.
36 Chris Dufresne, "New York's Baylor Wanted to Stay with Angels," Los Angeles Times, September 1, 1984: III-13.
37 Dufresne, "New York's Baylor."
38 Dave Anderson, "Some (Real) Letters from Buzzie," New York Times, May 4, 2008: SP5.
39 Ross Newhan, "Autry's Naivete Rubbing Off on Angels," Los Angeles Times, August 31, 1984: III-1.
40 Anderson, "Some (Real) Letters."
41 Bavasi, "The Real Secret."
Born
December 12, 1914 at New York, NY (US)
Died
May 1, 2008 at San Diego, CA (US)
If you can help us improve this player's biography, contact us.
https://sabr.org/sites/default/files/BavasiBuzzie.jpg
600
800
admin
/wp-content/uploads/2020/02/sabr_logo.png
admin
2019-07-05 11:15:44
2020-04-09 14:37:33
Buzzie Bavasi