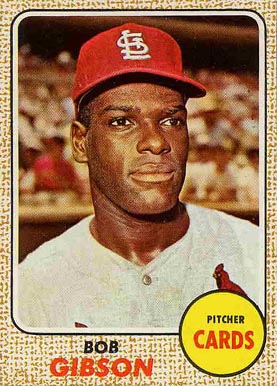 October 8, 1967: A One-Inning Game: Cardinals take 3-1 lead in World Series
---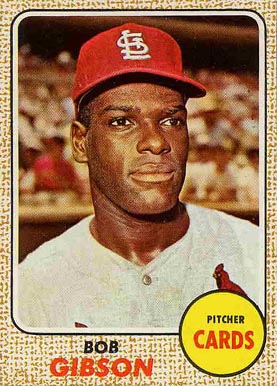 "The St. Louis Cardinals are as bush as the name of the beer company that owns them," sniped Boston Red Sox manager Dick Williams in his ghostwritten column, referring to the inside pitching of the St. Louis staff.1 His Hearst-syndicated column ran on the front page of the Boston Sunday Advertiser; the headline for the Sunday paper was simply: "CARDS 'BUSH.'"
But neither the bad blood between the teams nor the pregame retort prompted any Red Sox retaliation. Quite the contrary, as Larry Claflin summed up in the Boston Record American, "The Red Sox, who roared like lions after Carl Yastrzemski got hit by a pitch Saturday, acted more like lambs Sunday…."2
The inherent intimidation and overall excellence of Bob Gibson made the difference.
Poor Jose Santiago. The Red Sox right-hander was again pitted against the seemingly unhittable Cards ace. Santiago failed to survive the first inning, giving up four runs on six hits.
Lou Brock led off the bottom of the first with an infield single. Cardinals fans had come to believe that whenever Brock got on base to start off a game, the Cardinals won. The Washington Post's Bob Addie wrote, "There's no question that Lou Brock upsets a pitcher's concentration. When he got on base in the first inning today with an infield hit, Boston pitcher Jose Santiago completely lost his poise, fearing Brock would steal."3
After drawing two pickoff throws, Brock faked a steal on Santiago's pitch home, drawing Petrocelli towards the second-base bag. Curt Flood slapped a hit through the hole Petrocelli had vacated. Roger Maris, quietly having a great World Series, doubled to left field scoring both Brock and Flood. Tim McCarver followed with an RBI single. Julian Javier added a single, and Maxvill's base hit to left knocked in the fourth run. Gary Bell, who had lasted only two innings as the Game Three starter, replaced Santiago and retired Gibson to close out the first. The score after one inning, 4-0 Cards. "An Early Ending" ran a headline in the Atlanta Constitution.4 Jim Murray's column in the Loa Angeles Times was headlined "Game Never Over Until Final Out — In First Inning."5
Flood continued to contribute sparkling defensive play in centerfield. And Gibson was Gibson — magnificent! It was an upward battle for the BoSox from the onset. With Gibson on his game, the four-run deficit proved insurmountable.
After Yaz singled in the first, the only ball to leave the infield, Gibson recorded nine outs in a row before George Scott managed an uneventful single with two outs in the fourth. The husky right-hander spread five hits and one walk over nine innings, with the Sox reaching second base only once, with Yaz's leadoff double in the ninth.
With Jerry Stephenson pitching for Boston, in relief of Bell, the Cards scored two more runs in the third inning. Orlando Cepeda led off with a double, and took third on a wild pitch. He scored on McCarver's sacrifice fly to center. Mike Shannon drew a walk and scored on Javier's double to left field.
After Santiago and Bell, manager Williams had resorted to a couple of forgotten pitchers in the pen and one rookie to finish the game. Stephenson had given up the two runs in the third, but pitched well in the fourth. He was followed by righty Dave Morehead, who pitched three no-hit innings. Williams then brought in rookie southpaw Ken Brett — a roster replacement for injured pitcher Sparky Lyle — who pitched a hitless eighth.
Brett, a 19-year-old whose only major-league experience was a two-inning stint against the Cleveland Indians in late September, thus became the youngest pitcher in a World Series game.
Jerry Adair's ground out in the ninth sealed Gibson's complete-game 6-0 win. After the game, Gibson admitted, "I didn't have as much stuff today. But I had that big lead and it wasn't so hard working in this game."6 Indeed, he was working on shorter rest and fatigued. "I was tired when I went out to pitch Sunday and by the eighth and ninth innings I had to force myself to go on."7
"Gibson was simply too much for us. He overwhelmed our right handed hitters," wrote Williams.8 Boston reporters provided a different perspective. The Boston Globe's Ray Fitzgerald described the Red Sox effort that day as being "flatter than the leftover champagne from last week's victory celebration."
Down three games to one, the Sox appeared doomed.
The Sox took some solace in recalling their many Red Sox comeback efforts in this magical year. Jim Lonborg said, "We're so used to being with our backs to the wall that that it's getting to be almost a comfortable feeling with the Red Sox. They're not going to beat us if we can just get a couple of runs."9 "It still takes four games to win it," Yastrzemski reminded writers. "We are going to come back, believe me. It's going to be tough but we can do it."10
Dick Williams announced the Sox would go with their stopper in Game Five. The "darlings of destiny" desired to extend their miracle season, and those hopes lay in the right arm of Jim Lonborg.
This article appears in "The 1967 Impossible Dream Red Sox: Pandemonium on the Field" (SABR, 2017), edited by Bill Nowlin and Dan Desrochers. To read more stories from this book, click here.
Sources
In addition to the sources mentioned in the Notes, box scores for this game can be found on baseball-reference.com, and retrosheet.org at:
https://www.baseball-reference.com/boxes/SLN/SLN196710080.shtml
http://www.retrosheet.org/boxesetc/1967/B10080SLN1967.htm
Notes
Additional Stats
St. Louis Cardinals 6
Boston Red Sox 0
Game 4, WS
---
Busch Stadium
St. Louis, MO
Box Score + PBP:
Corrections? Additions?
If you can help us improve this game story, contact us.
Tags
http://sabr.org/sites/default/files/images/GibsonBob.jpg
600
800
admin
/wp-content/uploads/2020/02/sabr_logo.png
admin
2017-09-19 15:59:36
2020-04-17 13:34:05
October 8, 1967: A One-Inning Game: Cardinals take 3-1 lead in World Series