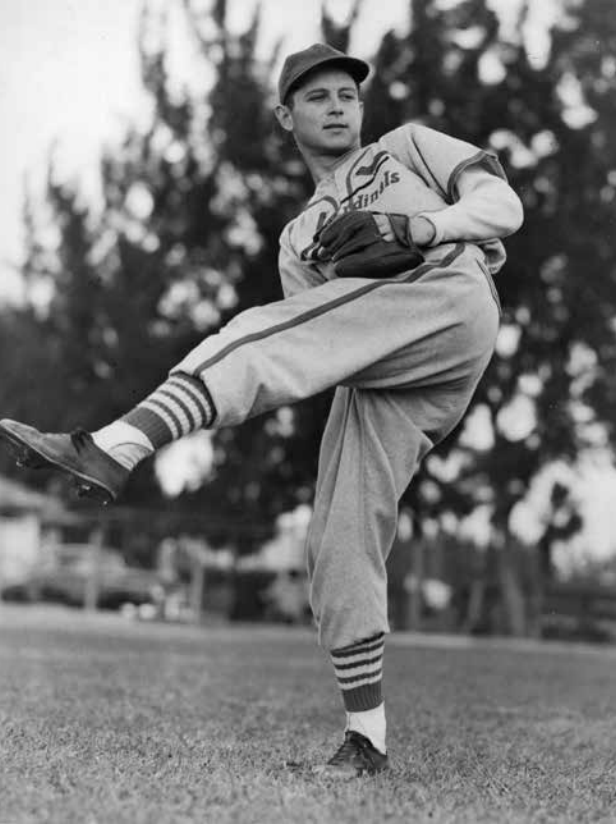 October 1, 1942: Cardinals rookie Johnny Beazley evens World Series in Game Two
---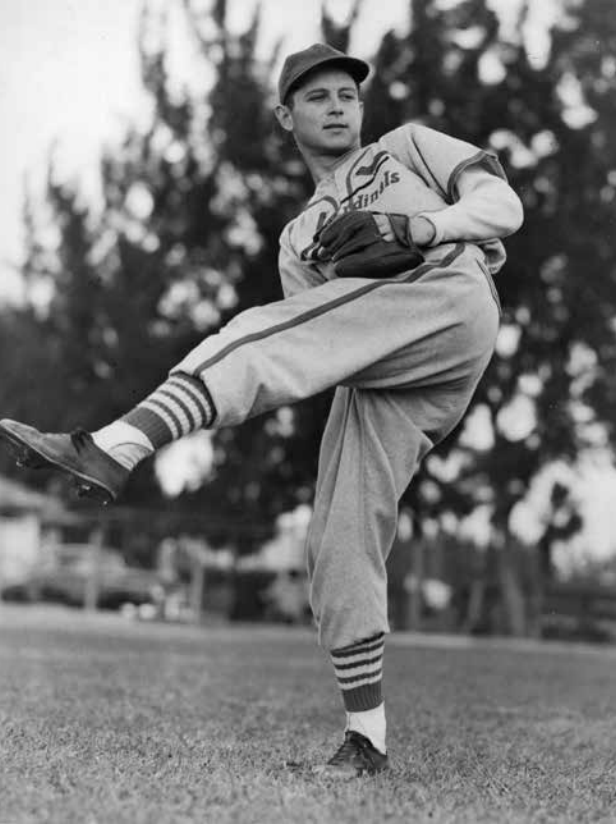 Despite St. Louis's last-inning heroics the previous day, the fact remained that New York had taken Game One of the 1942 World Series. Going into Game Two on October 1, the Cardinals faced a must-win situation — no team had ever come back to win a best-of-seven Series after dropping the first two contests.1 And even if they won the Cardinals faced the daunting challenge of traveling to Yankee Stadium for the next three contests, an experience many found intimidating when playing for the first time on the field of Ruth and Gehrig.
John Drebinger, longtime sportswriter for the New York Times, saw the Cardinals' late rally as a minor aberration in the Yankees' march toward another world championship. "And so as the years roll on, apparently do (Red) Ruffing and the Yanks even though occasionally the rolling gets a bit bumpy."2
Yankees manager Joe McCarthy sought to take the second contest with Ernie Bonham. The 29-year-old Bonham, ironically nicknamed Tiny for his 6-foot-2, 215-pound frame, was 21-5 during the season with a league-leading 22 complete games and an impressive 2.27 ERA. He had built his record on pinpoint control, a solid fastball, and a tricky forkball. Bonham's experience in postseason play was impressive; he had beaten the Brooklyn Dodgers, 3-1, in the 1941 World Series, in a complete-game, four-hit effort to clinch the title
Cardinals skipper Billy Southworth countered with 24-year-old rookie Johnny Beazley, whose 21-6 record and 2.13 ERA were as impressive as Bonham's. Beazley, who made the team in spring training, was being rooted on by three of his former high-school teammates. He had signed a note while in school in Tennessee promising they would be his guests if he ever played in a World Series. He made good on his commitment by arranging for them to come to Sportsman's Park to watch the contest.3
Despite the Cardinals' precarious position, they did not show any sign of being overwhelmed. They were loose; possibly surviving a grueling pennant race with the Dodgers minimized the pressure they should have felt. Perhaps it was a sense of youthful naiveté — theirs was the youngest team in the majors.4 Or maybe it was because of their jovial trainer, Harrison "Doc" Weaver, who had entertained the club down the stretch drive with his mandolin and endless playing of Spike Jones's hillbilly song "Pass the Biscuits, Mirandy," which contributed to a relaxed clubhouse. Weaver went beyond being the jolly court jester. He had a secret weapon — a "double whammy" hex often unleashed with devastating results — or so the Cardinals believed.5
For the 34,255 spectators at Sportsman's Park the main question revolved around which Cardinals team would show up, the one that made four errors and just one hit over eight innings or the one that banged out six hits and four runs in their last at-bat? They would not have long to find out.
Beazley opened the game by walking Phil Rizzuto, then retired the next three hitters. In the bottom of the inning, Jimmy Brown worked a leadoff walk against Bonham. It was Bonham's only walk of the game but it proved timely. Terry Moore attempted a sacrifice bunt, and Bonham, thinking he could force Brown out at second, threw to the bag but he failed to account for Brown's speed. Umpire Cal Hubbard called Brown safe. Enos Slaughter and Stan Musial both made outs and it looked as if Bonham would escape damage. As Bonham began to pitch to Walker Cooper, second baseman Joe Gordon darted toward second, attempting to hold Brown closer to the bag. Cooper lined the ball right to the spot Gordon had just vacated. The ball rolled all the way to the wall, the double scoring both Brown and Moore for a 2-0 St. Louis lead.
Had Bonham thrown to first on Moore's bunt or Gordon stayed in position, things would have been different. On such plays do games turn. Johnny Hopp flied out to end the inning. Counting the previous day's game, St. Louis had scored six runs in the last two innings against the Yankees.
Over the next five innings New York garnered five hits and a walk but could not score. In the bottom of the seventh Hopp singled to right with one out, his second hit of the game. The only other hit was Cooper's run-scoring single in the first, as Bonham had proved almost as effective as Beazley. Now, with Hopp on first, Whitey Kurowski sliced a drive down the left-field line with Charlie Keller in futile pursuit. Umpire George Magerkurth ruled that the ball had landed fair, just inside the line. Kurowski ended up at third with a triple as Hopp scored to make it 3-0. New York disputed Magerkurth's call to no avail.
The top of the eighth began with Rizzuto striking out and Rolfe grounding to second. Roy Cullenbine scratched out an infield single. It was the Yankees' sixth hit; up to this point Beazley had done well in scattering New York's offensive efforts. But with the Yankees desperate to get something going, Cullenbine, after getting a long lead off Beazley, stole second with Joe DiMaggio at bat. The Yankees' cleanup hitter then singled, driving Cullenbine home with New York's first run of the game. As St. Louis fans were absorbing this turn of events, Keller drove a pitch onto the roof of the right-field pavilion, making it a brand new ballgame, 3-3.
St. Louis started the bottom of the eighth as New York had at the top of the frame. Brown and Moore went down quietly before Slaughter doubled, aggressively taking third when Rizzuto failed to come up cleanly with Cullenbine's throw from right. With the go-ahead run on third, Bonham now faced Stan Musial.
Musial hadn't gotten the ball out of the infield his first three at-bats. Having made the first and third outs in the previous day's ninth inning rally, he was still looking for his first safety in the Series — of all the regulars he was the only one who had failed to hit safely. Although he hit .315 during the regular season, third in the National League, he had not yet established himself as one of baseball's icons. With a 0-for-7 skein, Musial was working toward being St. Louis's offensive goat.
That prospect was quickly eliminated when Musial slapped a groundball single over second to drive in Slaughter with the Cardinals' fourth run. Cooper flied out to end the inning and St. Louis went into the top of the ninth with a one-run lead.
Beazley found himself in immediate trouble when Bill Dickey opened the inning with an infield single. McCarthy lifted the 35-year-old Dickey for pinch-runner Tuck Stainback, whom the Yankees had used sparingly during the year. He appeared in just 15 games, mostly as a pinch-runner, often for Dickey.
Buddy Hassett singled to right and one of the most crucial plays of the Series unfolded. Stainback, off with the hit, headed toward third but Slaughter grabbed the ball and threw on a line to Kurowski, nailing Stainback at third by yards. Instead of runners on first and third with no outs, the Yankees had Hassett at first with one out. Red Ruffing, pinch-hitting for Bonham, flied to left. Although it might seem odd to have one pitcher hit for another pitcher, Ruffing was one of the best hitting pitchers in the game, and arguably as capable as Frank Crosetti or Jerry Priddy on an otherwise threadbare Yankee bench. Rizzuto grounded out and the Series was tied at one game apiece.
The Cardinals were jubilant. Beazley, congratulated by Southworth and team owner Sam Breadon, was ecstatic, "Hey you guys! Now we know them fellers can be beat. Let's go and get them." Outfielder Harry Walker chimed in, "Hot Daddy! We're after 'em now. Get them in New York too." 6
The Yankees clubhouse was quiet and tense. When a reporter asked coach Earle Combs a question about the game, he "flared up in an outburst few had thought was possible from the coach." There was a pervasive feeling that bad calls by the umpiring crew had cost them the game.7
The momentum was shifting. St. Louis might have received breaks on various calls, including Brown beating Bonham's throw to second in the first inning and Kurowski's barely fair triple in the seventh. But St. Louis had shown something; its speed (Brown) and defense (Slaughter) were forces to be reckoned with. Most important, the Cardinals realized that the Yankees were not invincible — and more to the point, so did New York.
Besides talent, there could have been something else at play. Although Weaver might have been applying hexes, he wasn't the only Cardinal dabbling with the supernatural. After the game Beazley told reporters he had been given a rabbit's foot by a fan. Whether things mystical would accompany St. Louis to Yankee Stadium remained to be seen.
This article appears in "Sportsman's Park in St. Louis: Home of the Browns and Cardinals at Grand and Dodier" (SABR, 2017), edited by Gregory H. Wolf. Click here to read more articles from this book online.
Photo Caption
In his first full season in the majors, Johnny Beazley won 21 games and tossed two complete-game victories in the World Series for the world champion Cardinals in 1942. (National Baseball Hall of Fame, Cooperstown, New York)
Sources
In addition to the sources cited in the Notes, the author also accessed Retrosheet.org and Baseball-Reference.com.
Notes
1 Nor would one until 1955 when the Dodgers took the World Series from the Yankees after dropping the first two contests in the seven-game Series. The Giants dropped their first two games against the Yankees in 1921, but that was a best-of-nine Series.
2 John Drebinger, "Yankees Set Back Cardinals By 7-4 In Series Opener," New York Times, October 1, 1942: 1.
3 "Beazley Makes Good on a Promise," The Sporting News, October 8, 1942: 13.
4 https://baseball-reference.com/leagues/MLB/1942.shtml.
5 Bob Broeg, "Cards Mourn Dr. Weaver, Trainer, Morale-Builder," The Sporting News, June 1, 1955: 36.
6 "Cardinals Confident After Win," Hartford Courant, October 2, 1942: 17.
7 See James P. Dawson, "Victory Proves Cards Are Unawed By Yankee Might…" New York Times, October 2: 1942, 18, and "Blow That Beat Bonham Foul — McCarthy," The Sporting News, October 8, 1942: 14.
Additional Stats
St. Louis Cardinals 4
New York Yankees 3
Game 2, WS
---
Sportsman's Park
St. Louis, MO
Box Score + PBP:
Corrections? Additions?
If you can help us improve this game story, contact us.
Tags
https://sabr.org/sites/default/files/Screen%20Shot%202018-11-13%20at%203.22.53%20PM.png
600
800
admin
/wp-content/uploads/2020/02/sabr_logo.png
admin
2018-11-13 15:23:03
2020-04-17 13:34:00
October 1, 1942: Cardinals rookie Johnny Beazley evens World Series in Game Two