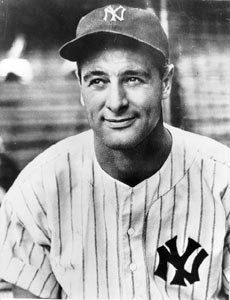 October 2, 1932: Yankees crush the Cubs to take World Series title in 4-game sweep
---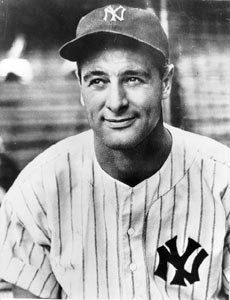 Winning their fourth title, the New York Yankees crushed the Chicago Cubs 13-6 to sweep the 1932 World Series.
Guy Bush started for Chicago and opposed Johnny Allen of New York. Both exited early.
After averaging eight runs over the first three games of the Series, the Yankees got off to another good start offensively, thanks to a batting order whose first six hitters eventually went on to Cooperstown. Earle Combs and Joe Sewell both singled. After Bush plunked Babe Ruth to load the bases with none out, Lou Gehrig drove in a run on a "great catch"1 of his fly ball by center fielder Frank Demaree that gave New York a 1-0 lead. Bush then walked Tony Lazzeri, and player-manager Charlie Grimm hurried Lon Warneke into the game to relieve Bush, who "failed because of an injury he had concealed for two weeks."2 Warneke induced consecutive groundouts to minimize the damage.
Allen started better than Bush but finished worse. Yielding a single to Woody English, he faced Riggs Stephenson with two out and English on first. Stephenson singled and Demaree hit a three-run homer to put the Cubs up 3-1. Grimm reached on Frankie Crosetti's error, which preceded consecutive singles by Gabby Hartnett and Billy Jurges. The Jurges hit extended the Chicago lead to 4-1 and knocked Allen out of the game. Wilcy Moore, reacquired by the Yankees from the Red Sox on August 1, relieved and retired Warneke to end the action-packed first frame.
After that, no batter reached for either team until Gehrig doubled with two outs in the top of the third. Lazzeri followed with a two-run blast to pull New York to within 4-3. Bill Dickey and Ben Chapman both singled, but Warneke got Crosetti to preserve the lead.
Moore, with his "tremendous sidearm sinkerball,"3 kept getting the Cubs to beat the ball into the dirt, getting two outs that way in the second and all three in the third. The Yankees threatened in the fourth as the weak-hitting Moore, with a lifetime New York batting average of .087, singled to start the inning and Combs walked. Grimm lifted Warneke, who departed "rubbing his right elbow, which he seemed to have strained beyond its endurance in a vain attempt to check this Yankee avalanche."4 On came Jakie May; he retired Sewell, Ruth, and Gehrig to keep Chicago in front.
Moore had his second 1-2-3 frame in the fourth, and the Yankees put on two baserunners again in the fifth via a Lazzeri single and a walk to Chapman. Crosetti, who had struggled both offensively and defensively, hit into a 4-6-3 double play to end the threat.
For the third time in four innings, Moore set down the Cubs in order in the bottom of the fifth, "one of the finest defensive innings ever played. Crosetti started it by tearing almost to the bullpen and careening off the wall as he clutched English's foul. … [Kiki] Cuyler bounded one over Moore's head. Crosetti dashed in, picked up the ball while on the dead run, and threw to first ahead of the runner. Then Lazzeri made a dive to his right to get … Stephenson's liner."5
In the top of the sixth, Moore fanned, Combs walked, and Sewell doubled him to third. With first base open, May struck out Ruth. The legendary reporter Grantland Rice lauded "portly Jakie May [for fanning] the great Ruth twice in succession and this for the 50,000 Cubs rooters was the only jewel left in the toad's head of defeat."6
Chicago could have walked Gehrig to face Lazzeri. Perhaps because Lazzeri had homered in his prior appearance, or perhaps because the southpaw May would rather face the lefty Gehrig than the righty Lazzeri, May pitched to Gehrig. Lou's single plated both runs. Lazzeri struck out to end the frame, but New York had seesawed back in front, 5-4.
Porous defense allowed Chicago to tie the game. With one out, Grimm had an infield single and advanced to second on Gehrig's error. Grimm scored on Crosetti's throwing error, his second miscue of the game and fourth of the Series, which put Hartnett at second. Moore escaped additional damage by fanning Jurges and getting May, who had no RBIs on the season in only nine plate appearances, on a grounder to leave the go-ahead run in scoring position. Grimm passively let May hit, an unfortunate oversight given the need to manage aggressively against the high-scoring Yankees.
May would not survive the seventh, which started poorly for the Cubs on a leadoff single by Dickey and Crosetti's one-out double. With Moore due, Joe McCarthy, who had managed Chicago in its last World Series appearance, in 1929, did what Grimm had failed to do, pinch-hit for his hurler. Pitcher Red Ruffing (.306 BA in 1932) was the batter. Grimm sought to set up a double play and ordered an intentional walk for Ruffing. This move backfired for the Cubs in a sequence that essentially sealed Chicago's fate.
A single by Combs on a ball that "dropped on the outer edge of the foul line"7 put New York up 6-5. Sewell's single extended the lead to 8-5. Then Ruth singled to put the Yankees ahead 9-5. May hit Gehrig to reload the bases, and Grimm yanked him in favor of Bud Tinning, who retired Lazzeri and Dickey.
Herb Pennock came on for New York. During the season, he had started 21 of his 22 games and had had no regular-season saves since 1929. In Game Three of this Series, however, Pennock had pitched the ninth inning when McCarthy made him the first Yankee reliever of the Series. With a runner on first and no outs, Pennock set down the final three batters of the game to protect the New York win.
In Game Four, Pennock again set down the first three batters in the seventh but ran into difficulty in the bottom of the eighth. Stephenson singled, and Demaree walked. With one out, Hartnett reached on the fourth New York infield error of the day, this one by Sewell, to load the bases and bring the tying run to the plate. But Pennock pitched stoutly, getting Jurges to fly to right and fanning pinch-hitter Rollie Hemsley. The Yankees had a four-run lead and one inning to go to win the World Series.
The New York bats boosted the margin against veteran spitballer Burleigh Grimes. Combs, who had smacked a career-high nine homers in 1932, turned the trick again to put the Yankees up 10-5 with what would turn out to be his only Series round-tripper in the 72nd and last plate appearance of his postseason career. Gehrig walked with two outs and scored on Lazzeri's second homer of the game. Dickey singled, advanced to second on center fielder Demaree's muff, and scored on Chapman's double. Pennock carried a comfortable 13-5 lead as he toed the rubber needing but three outs to secure another New York championship.
Billy Herman got the Cubs off to a good start with a single. He took second and third on defensive indifference, and scored Woody English's grounder. Pennock whiffed Cuyler and got Stephenson to fly to Chapman. New York had won its fourth World Series, the last three of which (1927, 1928, and 1932) had lasted the minimum four games.
The undermanned Chicagoans could not keep up with the big bats from the Bronx, forcing a hometown scribe to concede, "Other world series decided in the minimum of four games have, obviously, been eminently decisive, but it is doubtful that any world title was so consistently devoid of class as the Cubs proved to be in the struggle with the Yankees."8 Few would have thought that the Cubs would return to the World Series before the Yankees.
This article appears in "Wrigley Field: The Friendly Confines at Clark and Addison" (SABR, 2019), edited by Gregory H. Wolf. To read more stories from this book online, click here.
Sources
In addition to the sources cited in the Notes, the author also accessed Retrosheet.org, Baseball-Reference.com, SABR.org, and The Sporting News archive via Paper of Record.
https://www.baseball-reference.com/boxes/CHN/CHN193210020.shtml
https://www.retrosheet.org/boxesetc/1932/B10020CHN1932.htm
Notes
1 Woody English, "'Better Team Won,' Says Cub Captain," Boston Globe, October 3, 1932: 13.
2 Irving Vaughan, "Injuries Bring Downfall of Bush, Warneke," Chicago Tribune, October 3, 1932: 23.
3 Fred Glueckstein, "Wilcy Moore," SABR BioProject, sabr.org/bioproj/person/3a388917 (accessed July 6, 2017).
4 John Drebinger, "Yankees Defeat Cubs, 13-6, Before 51,000; Win World's Series in Four Straight Games," New York Times, October 3, 1932: 21.
5 Arch Ward, "Get Refunds Tomorrow on Fifth Game," Chicago Tribune, October 3, 1932: 23.
6 Grantland Rice, "Yankees Win World Series Again, Crushing Cubs, 13-6," Boston Globe, October 3, 1932: 1.
7 Joe Sewell, "Cubs Outclassed, Says Sewell after Triumph," Boston Globe, October 3, 1932: 13.
8 Edward Burns, "Yanks Win World Title; Four Straight," Chicago Tribune, October 3, 1932: 23.
Additional Stats
New York Yankees 13
Chicago Cubs 6
Game 4, World Series
---
Wrigley Field
Chicago, IL
Box Score + PBP:
Corrections? Additions?
If you can help us improve this game story, contact us.
Tags
http://bioproj.sabr.org/bp_ftp/images3/GehrigLou.jpg
600
800
admin
/wp-content/uploads/2020/02/sabr_logo.png
admin
2019-12-02 14:22:22
2020-04-17 13:33:55
October 2, 1932: Yankees crush the Cubs to take World Series title in 4-game sweep