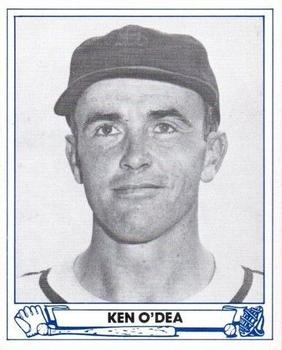 October 5, 1944: O'Dea's pinch-hit single leads Cards to Game 2 win in 11th
---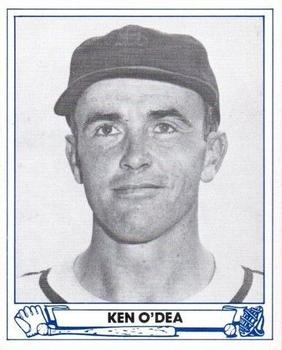 "They looked more like a softball team than a baseball team, but that was okay. They were different. They were allowed to look different. They were always in last place," opined sportswriter Joe Falls about the St. Louis Browns.1 But this year was different. The Browns, a ragtag bunch of 4Fs and misfits, were in the World Series and had taken the first game of the Series, 2-1, against the heavily favored in-town rival St. Louis Cardinals, despite only two hits.2
The "Streetcar Series" or "Trolley Series," as it was known in St. Louis, was the first intracity World Series that didn't include a team from New York since 1906, when the Chicago Cubs and White Sox squared off. It was also only the third time World Series opponents had shared the same home field.3
Browns manager Luke Sewell, in a surprise move, had started Denny Galehouse in Game One, but for Game Two Sewell went to his ace, Nelson Potter. Potter was enjoying what was probably the finest year of his career. He had won 19 games for the Browns that year, and might have won 20 if not for being ejected from a game for using the spitball. Potter had a good September and had not allowed a run in his last 20 innings.
Cardinals manager Billy Southworth countered with Max Lanier, who also enjoyed a fine 1944 season. Lanier had gone 17-12 with a 2.65 ERA. Lanier, a natural righty, had become a left-hander after breaking his right arm several times in his youth. Unlike Potter, Lanier had struggled down the stretch. He hadn't won a game since a complete-game victory against the Boston Braves on August 22. He had lost his last seven starts with an ERA of 6.29.
The first inning went smoothly for both pitchers; both retired the side in order. Lanier had an easy second, but Potter gave up a leadoff double to Walker Cooper. Potter struck out Ray Sanders and retired the next two batters on groundouts. The Browns went down easily in the third, but Potter once again ran into trouble. Emil Verban led off with a single. Lanier squared to bunt and popped it up. Potter missed the easy catch, fumbled the ball, and compounded his mistake when he threw wild to first. Verban ended up at third and Lanier at first. Potter was charged with two errors on the play. (Ironically, the last World Series pitcher to make two errors in an inning was Lanier, who did it in Game One of the 1942 Series. Next up was Augie Bergamo, who hit an RBI grounder to second as Verban came home to make it 1-0. Potter erased Johnny Hopp and Stan Musial to end the inning.
Potter got into trouble again in the bottom of the fourth, when he walked Ray Sanders with one out and Whitey Kurowski singled sharply to left. League MVP Marty Marion grounded to third for what looked like an easy double play, but the ball was booted by Mark Christman and skipped into left field. With the bases loaded, Verban lofted a fly ball to left field and Sanders scored to give the Cardinals a 2-0 lead, with both runs being unearned.
The Browns mounted their first offensive threat in the top of the fifth when Gene Moore bunted for the Browns' first hit of the game. (Moore, a left-handed batter, got a surprise start against the left-handed Lanier.) The threat evaporated as the Browns offense continued to fizzle with a couple of groundouts and a fly out.
In the bottom of the sixth, Kurowski doubled to deep center with two outs. Marion was then intentionally walked, bringing up Verban, who popped up to first.
The Browns' first serious threat tied the score, 2-2. With two outs in the seventh, Moore got his second hit, a single to center. Red Hayworth doubled to left, scoring Moore, then Frank Mancuso pinch-hit for Potter and singled to center, scoring Hayworth.
The top of the eighth began with Mike Kreevich's double to left off Lanier. Manager Southworth went to his bullpen, bringing in 30-year-old rookie reliever Sylvester "Blix" Donnelly. In the bullpen Bud Byerly and Fred Schmidt had both been warming up, but Southworth decided to play a hunch. "I sent word down there for Donnelly to get ready," he said. "Yes, I know he worked the day before, but I had a hunch he was the right man for the relief job."4 Donnelly had pitched admirably for the Cardinals in 1944 with a 2.12 ERA in 76⅓ innings, and had pitched two hitless and scoreless innings in Game One. Chet Laabs, who became a hero for the Browns on the last day of the season by hitting two homers and helping the Browns clinch their first pennant, struck out when he fouled off a bunt attempt with two strikes. Donnelly recorded another strikeout when he got Vern Stephens swinging. After intentionally walking George McQuinn, Donnelly struck out Christman, who flung his bat in disgust, to end the Browns threat.
Neither team scored in the ninth and the game moved to extra innings. It was the first extra-inning game in the World Series since 1939, when the Yankees closed out the Reds in Game Four, 7-4. In the 11th the Browns threatened to take the lead. McQuinn doubled off the screen in right field to lead off the inning. Christman bunted down the third-base line, but Donnelly grabbed the ball quickly and fired to third to nab McQuinn for the first out. Southworth said of the play, "He's like a cat out there on the mound, a swell fielding pitcher."5 Arthur Daley of the New York Times said of the play, "Donnelly's astounding executed play made all the difference between victory and defeat."6 Donnelly retired the next two batters with a fly ball and a strikeout.
The Cardinals wasted no time in their half of the 11th. Sanders singled to center. Kurowski bunted him to second and Marion was intentionally walked for the second time. Southworth sent Ken O'Dea to pinch-hit for Verban. O'Dea was no stranger to the pressures of pinch-hitting in the World Series. A backup catcher, he had appeared in four previous World Series going 5-for-10 with one home run and four RBIs. He had also knocked in the only run for the Cardinals in Game One with a pinch-hit sacrifice fly. It was even noted in the World Series program, "Though not a consistent hitter, [O'Dea] has swatted many timely wallops to turn defeats into victories."7 O'Dea did not disappoint Cardinals fans when he sent a Bob Muncrief pitch into right field to bring home the winning run and even the Series at one game apiece. O'Dea modestly said of the hit, "I caught one of Muncrief's curve balls just right and that was that."8
Muncrief made no excuses for the loss, saying, "You'll never see me with my chin in my hands over a ball game. I do the best I know how and if I lose I try harder the next time."9 Browns manager Sewell took the loss in stride, saying, "I don't like it a bit when we lose a ball game, but we didn't fold up in the pennant race and we won't fold in the Series."10 When asked if the Browns would take Game Three Sewell replied confidently, "You're damn right we will."11
Donnelly went four innings for the win, giving up two hits and walking one while striking out seven.12 Southworth said of Donnelly's performance, "His last few games were great and today he came through when the chips were down."13
This article appears in "Sportsman's Park in St. Louis: Home of the Browns and Cardinals at Grand and Dodier" (SABR, 2017), edited by Gregory H. Wolf. Click here to read more articles from this book online.
Sources
Besides the sources mentioned in the Notes, the author consulted Baseball-Reference.com, SABR.org, and Retrosheet.org.
Notes
1 John Heidenry and Brett Topel, The Boys Who Were Left Behind (Lincoln: University of Nebraska Press, 2006), 4.
2 The format for home field for the World Series during World War II was 3-4 to reduce traveling. Since both teams shared Sportsman's Park, a 2-3-2 format was used and the Browns were the "road" team for Games One and Two.
3 The 1921 and 1922 World Series between the New York Giants and New York Yankees were played at the Polo Grounds, the Giants' home field. The Yankees played at the Polo Grounds from 1913 through 1922. Yankee Stadium opened in 1923.
4 J. Roy Stockton, "Tie Broken on O'Dea's Pinch Hit," St. Louis Post-Dispatch, October 6, 1944.
5 Charles Dunkley, "Donnelly's Firearm Act May Mean Starting Role," Detroit Free Press, October 6, 1944.
6 Heidenry and Topel, 96.
7 Ibid.
8 "Donnelly, Relief Pitcher, Is Also Magician," Cincinnati Enquirer, October 6, 1944.
9 Lou Smith, "Big Hand Played by Donnelly," Cincinnati Enquirer, October 6, 1944.
10 Dunkley.
11 "Donnelly, Relief Pitcher, Is Also Magician."
12 Stan Musial said of Donnelly's performance, "Without Donnelly's pitching and field, we would have been down three games because the Browns won the third contest, 6-2, as Jack Kramer beat Ted Wilks." Stan Musial, as told to Bob Broeg, Stan Musial: The Man's Own Story (New York: Doubleday, 1964), 81.
13 "Donnelly, Relief Pitcher, Is Also Magician."
Additional Stats
St. Louis Cardinals 3
St. Louis Browns 2
11 innings
Game 2, WS
---
Sportsman's Park
St. Louis, Mo
Box Score + PBP:
Corrections? Additions?
If you can help us improve this game story, contact us.
Tags
https://sabr.org/sites/default/files/ODea-Ken-TCMA.jpg
600
800
admin
/wp-content/uploads/2020/02/sabr_logo.png
admin
2018-11-14 12:30:09
2020-04-17 13:33:59
October 5, 1944: O'Dea's pinch-hit single leads Cards to Game 2 win in 11th