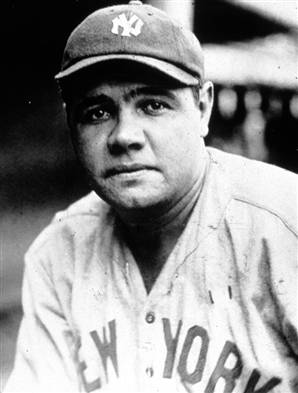 October 6, 1926: Babe Ruth becomes first player to hit three homers in World Series game
---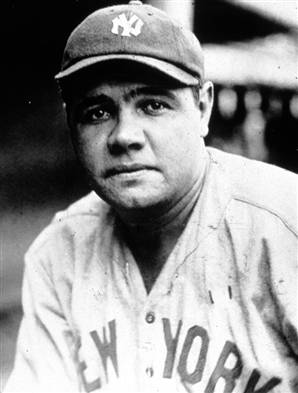 The American League home-run leader with 47 in 1926, Babe Ruth had hit only four in his first 25 World Series games. Then he gave "the greatest exhibition of batting a World's Series ever saw"1 and become the first player to hit a trio of homers in a postseason game as the Yankees evened the 1926 World Series at two games apiece with a 10-5 triumph over the Cardinals.
New York had scored only four times in the first 26 innings of the Series. "We hope to get going today," said Yankees manager Miller Huggins. "Our bats can't be tied indefinitely. The boys are bound to get some hits out of their system."2
In the first three games St. Louis received excellent starts from Bill Sherdel, Pete Alexander, and Jesse Haines. Game Four starter Flint Rhem, who had a career record of 10-15 entering the season only to lead the National League with 20 wins in 1926, began strongly by fanning Earle Combs and Mark Koenig. But Ruth put New York on top, 1-0, with a blast "a mile high [that] seemed a mile long. It went away out over the pavilion and came down among the mass of fans in Grand Avenue, who couldn't get into the park and stood out there listening to the cheering."3
Following Ruth, cleanup hitter Bob Meusel walked, but when he tried to score from first base on a single to right by Lou Gehrig, a throw from Billy Southworth to Rogers Hornsby to Bob O'Farrell cut him down at home.
New York starter Waite Hoyt went 16-12 in the regular season. He was facing the Cardinals for the first time since tossing a scoreless inning against them in his big-league debut as a member of the Giants in 1918. Hoyt's reacquaintance with the Cardinals quickly turned sour as St. Louis tied the game thanks to a trio of singles by Taylor Douthit, Southworth, and player-manager Hornsby. With men at second and third, Hoyt avoided further damage when he fanned Chick Hafey to end the frame.
Tony Lazzeri doubled off Rhem to start the second but, in more adventures in bad New York baserunning, fell victim to a Douthit-to-Tommy-Thevenow-to-Les-Bell relay while trying to stretch his hit into a triple. On a nice play, Bell "made a desperate drive to lay the ball on the sliding Yankee."4 The last three New York batters had homered, walked, singled, and doubled, but the Yankees had just one run to show for all of these productive plate appearances.
Hoyt set down the Cardinals in order in the bottom of the second, and Rhem again retired Combs and Koenig in the top of the third to face Ruth with two outs and nobody on base. "Rhem threw Ruth a slow ball … as big as a derby hat, but the motion was deceptive and the Babe had started a quick swing when he saw that he was shooting too soon. Then, so quickly that you could barely perceive the motion, he pulled back again and took a long, slow swipe. … He banged the baseball … over the roof of the right field pavilion close to the middle of the park."5 New York led 2-1, a score that would hold until the top of the fourth inning.
With one out in that frame, Rhem walked Lazzeri. Next Joe Dugan lifted one to shallow left-center. As sportswriter Grantland Rice described the scene, "Both Douthit and Hafey started for the ball. They were traveling at top speed after the manner of two taxicabs attempting to cross the street from opposite directions when the collision took place. One had just reached the ball when the other struck him with the force of a tornado."6 Dugan got credit for a double, and Lazzeri raced home with the third Yankee run. Hank Severeid singled, but Douthit got his second outfield assist in three innings by throwing out Dugan at home.
Down 3-1, St. Louis rallied in the bottom of the fourth. With one out, Hafey singled and O'Farrell reached on a Koenig error. In his postgame analysis, Huggins said, "Koenig … tried to do too much: He was trying to scoop the ball and throw it with the one motion, overeager to make the kill."7
Thevenow doubled to score Hafey and cut the Yankees' lead to 3-2. Specs Toporcer batted for Rhem and hit a sacrifice fly to tie the game, and then Douthit doubled in Thevenow to give the Cardinals a lead for the first time, 4-3. All three St. Louis runs in the inning were unearned. Southworth followed with a single to left, and Douthit tried to score. According to the radio broadcaster, "Ruth relayed it home with a perfect throw, a gorgeous throw and gets Douthit trying to come in from second base. Babe Ruth nor no other man ever made a better throw than that. … Babe shot it like an arrow and Severeid did not have to move for it."8
Art Reinhart relieved Rhem but failed to retire a batter. Combs walked and Koenig doubled him in to knot the game, 4-4. Reinhart walked Ruth and Meusel to load the bases, and threw two balls to Gehrig. "Here was the point where Hornsby should have acted," wrote the New York Times's James Harrison. "He had Herman Bell warmed up, and it was no secret that Reinhart was now in the clouds. The left-hander steadied a little, but [after] the count was two and two, he walked Gehrig, forcing Koenig in and sending New York ahead" with a 5-4 lead.9 Hi Bell came in with the bases loaded and none out. A Lazzeri sacrifice fly and a Dugan squib to the catcher gave the Yankees two more runs to make the score 7-4.
New York expanded on its lead in the top of the sixth. Bell gave up a single to Combs and fanned Koenig before yielding Ruth's third homer of the game, this time to deep center field, to extend the Yankee lead to 9-4. The 39-year-old Alexander, in his 16th season in the majors, wrote, "It was one of the longest, if not the longest drive I have seen since I have been in baseball."10
After the game, in response to an assertion that the blast had gone almost 600 feet, the slugger admired his own prodigious feat. "Boy, that was a darling," Ruth proudly exclaimed.11
Meusel followed with a single, but Southworth earned his second assist of the game, matching Douthit, by throwing out Meusel trying to stretch the hit into a double. That saved a run as Gehrig followed with a double before Lazzeri popped to short.
O'Farrell and Thevenow gave the Cardinals a good start with singles to start the bottom of the sixth, but Hoyt escaped unscathed.
New York tallied its final run in the top of the seventh thanks to a Severeid single, Hoyt's sacrifice, and a double by Combs.
Wild Bill Hallahan, a back-of-the-bullpen reliever who walked more than five batters per nine innings in 1926 but who would become a frontline starter for St. Louis in the 1930s and the NL starter in the first All-Star game, in 1933, lived up to his nickname by walking the bases loaded in the top of the eighth, an inning that also featured the lone sacrifice bunt of Gehrig's 34-game World Series career. Severeid fouled to Les Bell at third, however, to strand a trio of Yankees.
St. Louis still trailed 10-4 going into the bottom of the ninth. Hornsby reached on a one-out single, advanced to second on Jim Bottomley's grounder, and scored on a two-out single by Les Bell. But Hoyt secured the 10-5 win by getting Hafey to pop to Severeid. According to Brooklyn manager Wilbert Robinson, Hoyt's "good control of a high fast one and a low curve made half of them of no value to the Cardinals."12
The Yankees had relied on heavy hitting to compensate for losing four runners on the bases. New York would ultimately fall to the Cardinals in Game Seven on another aggressive baserunning adventure that failed — when Ruth was caught stealing to end the game.
This article appears in "Sportsman's Park in St. Louis: Home of the Browns and Cardinals at Grand and Dodier" (SABR, 2017), edited by Gregory H. Wolf. Click here to read more articles from this book online.
Notes
1 "Ruth's Great Exhibition," The Sporting News, October 14, 1926.
2 William F. Allen, "Crowd at Game Today Likely to Set New Record," St. Louis Post-Dispatch, October 6, 1926 (evening edition).
3 James Crusinberry, "Ruth Gets 3 Homers; Yanks Win, 10-5," Chicago Tribune, October 7, 1926.
4 J. Roy Stockton, "Yankees 3, Cardinals 1 (3½ Innings); Ruth Hits Two Home Runs," St. Louis Post-Dispatch, October 6, 1926 (evening edition).
5 Westbrook Pegler, "Finders Is Keepers When the Babe Swings the Bat," Chicago Tribune, October 7, 1926.
6 Grantland Rice, "Cardinals Crushed as Babe Ruth Smashes Three Mighty Home Runs," Boston Globe, October 7, 1926: 12; "Douthit played out the game, but the next day was stiff and sore, and Hornsby advised him to stay on the side lines" for the rest of the Series. "Alexander Joins Immortals in Cardinals' Series Triumph," The Sporting News, October 14, 1926.
7 "'I Told You So!' Huggins Chortles," New York Times, October 7, 1926.
8 "Radio Description of Fourth Game," New York Times, October 7, 1926.
9 James R. Harrison, "Ruth Hits 3 Homers and Yanks Win 10-5; Series Even Again," New York Times, October 7, 1926.
10 Grover C. Alexander, "Alexander Takes Hat off to Babe," Boston Globe, October 7, 1926: 12.
11 Associated Press, "Spirit of Cards Broken by Yank Attack: Huggins," Chicago Tribune, October 7, 1926.
12 Wilbert Robinson, "Ruth Really Great, Robinson Declares," New York Times, October 7, 1926.
Additional Stats
New York Yankees 10
St. Louis Cardinals 5
Game 4, WS
---
Sportsman's Park
St. Louis, MO
Box Score + PBP:
Corrections? Additions?
If you can help us improve this game story, contact us.
Tags
http://bioproj.sabr.org/bp_ftp/images3/RuthBabe.jpg
600
800
admin
/wp-content/uploads/2020/02/sabr_logo.png
admin
2018-11-10 13:39:49
2020-10-26 00:13:27
October 6, 1926: Babe Ruth becomes first player to hit three homers in World Series game