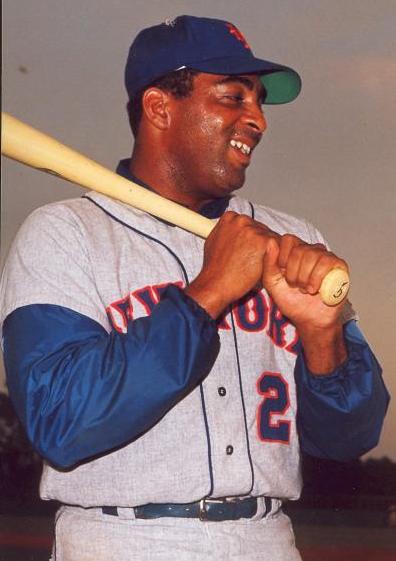 October 14, 1969: Mets win a World Series game for the Agees
---
"If the ball drops, I might have had an inside-the-park [grand-slam] home run. I was just a step away from second base when he [Tommie Agee] caught it." — Paul Blair after the second of Tommie Agee's iconic catches.1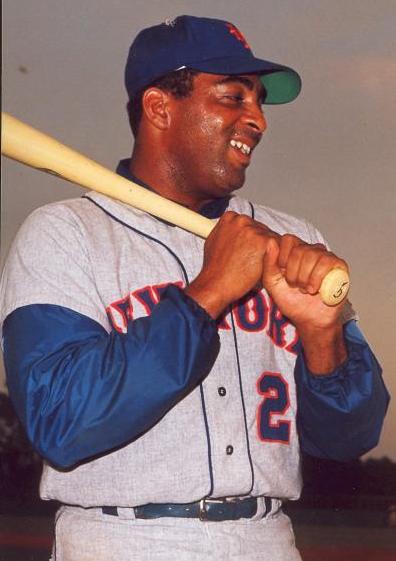 On October 12, 1969, the Mets had returned from Baltimore with the World Series tied at one game apiece.When play resumed on October 14 they put rookie Gary Gentry against Baltimore ace Jim Palmer in an attempt to take a one-game lead in the Series. The crowd, which grew to 56,335, assembled early and rose from their seats as Steve Lawrence and Eydie Gorme sang the National Anthem.
After that, it would be heroes named Agee and Gentry and Ed Kranepool and Jerry Grote who would bring the spectators to their feet again and again. A stadium known to literally rock under the pressure of upwards of 100,000 stomping feet would rock so that the folks in the upper deck would experience tremors akin to an earthquake.
Gentry was nervous. Just four years before, he had hurled the second longest complete game (14 innings) in the history of the College World Series. His most recent start had been against Atlanta in Game Three of the National League Championship Series, and despite the fact that the Mets clinched the pennant that day, Gentry had not made it through the third inning. Palmer had gone 16-4 during the regular season despite missing all of July and early August with a bad back.
Gentry had no trouble retiring the Orioles in the first inning. He retired Baltimore's leadoff batter, Don Buford, who went down swinging, and no Oriole would reach him for a hit until the fourth inning. I could feel [the nervousness]," said Gentry. I'm glad. I think you have to be nervous to pitch well. It makes you concentrate more."2
Center fielder Agee, the Mets' leadoff batter, had gone hitless in nine at-bats during the first two games of the Series. This time he sent a Palmer fastball to straightaway center field for an immediate 1-0 lead. Not only did it sail over the 410-foot sign, it landed close to 20 feet beyond, at the base of the hitters' backdrop beyond the fence. Agee returned to the dugout after his blast and said to his teammates, "He's not that fast today."3 It was the fifth time in 1969 that Agee had led off a game with a home run. It had been a great season for Agee, who had led the Mets in homers (26, with 76 RBIs) after starting his time with the Mets with an 0-for-34 slump in 1968.
The Mets kept it going in their half of the second inning. There were two runners on as Gentry stepped to the plate. On a pitching staff that prided itself in offensive production, Gentry was absent when it came to batting. He had batted in only one run during the season in 74 at-bats, and was wearing an 0-for-28 collar. But he hit Palmer's first pitch for a double that scored both runners, giving the Mets a 3-0 lead. Orioles center fielder Blair, who played the shallowest center field in the game, was burned on this occasion as Gentry's hit sailed beyond his reach.
Palmer then settled down and hoped for his mates to get him some runs. It was not to be, as Agee, in the game of his life, thwarted two potential Orioles rallies, catching two balls, each slugged to the opposite field.
In the fourth inning with one out, Frank Robinson slammed a ball to left field. A lunging Cleon Jones grabbed the ball, but umpire Hank Soar ruled that the ball had been trapped. Robinson stood on first base with the Orioles' first hit of the afternoon. Boog Powell singled to advance Robinson to third. Gentry struck out Brooks Robinson for the second out and Elrod Hendricks stepped in. The left-handed-hitting catcher got every bit of a Gentry fastball and sent it to deep left-center. Agree, who had been playing Hendricks to pull, scampered into left-center and with an outstretched glove made a backhand catch at the 396-foot sign, brushing against the wall as the ball was secured in the webbing of his glove. He kept the ball in the glove as he ran in, finally tossing it to umpire Shag Crawford as he crossed the first-base line.4
In the bottom half of the inning, it was "Bud versus Boog." After a walk, the Mets' Bud Harrelson dove back to first on a pickoff attempt by Palmer. The ball got past Powell and as Harrelson picked himself up and tried to go to second base, Powell's leg blocked his path. Powell went to retrieve the ball, and Harrelson was awarded second base on Powell's interference by home-plate umpire Larry Napp.5Orioles manager Earl Weaver vehemently disputed the call, to no avail. Gentry struck out to end the threat.
The Mets extended their lead to 4-0 in the sixth inning as Grote doubled just inside the left-field foul line off a Palmer curveball, scoring Ken Boswell. But with the lead, Gentry encountered control problems in the seventh inning, walking the bases full after securing the first two outs on fly balls to Agee. Mets' manager Gil Hodges summoned Nolan Ryan from the bullpen. Ryan's warmups were blistering but somewhat wild. One went straight to the backstop. The sound of the others finding Grote's glove could be heard by right fielder Art Shamsky and he moved toward the right-field line, figuring that Paul Blair would not be pulling any of Ryan's pitches.
Agee was playing Blair straightaway. "Ryan's the fastest, but Blair's got a quick bat," thought Agee. Ryan's first two pitches to Blair were strikes, and the flamethrower was one strike away from extricating the Mets from the jam. Blair's bat wasn't as quick as Agee thought, and the Orioles' center fielder slammed Ryan's third offering toward right-center field. Agree scampered off to his left. With the ball slicing away from him, he dove and, sprawled on the ground, held the ball aloft. "I held my breath for a minute," said Ryan. "But then I saw him tap his glove and I knew it was all right. Every time he does that, I know he's going to catch it."6 In the aftermath, Agee said, "I was hitting the ground and catching [the ball] at the same time. As far as defense, I don't think I ever played a better game."7
A standing ovation greeted Agee when he led off the Mets' half of the inning. He walked.
The Mets' final tally came in the eighth inning. Kranepool had signed with the team out of James Monroe High School in the Bronx in 1962, their first year, and had played at least one game in every season since then. With right-hander Palmer pitching, the lefty Kranepool had been plugged in at first base. It was his only start of the World Series. He slammed a homer to right-center field off Orioles' reliever Dave Leonhard to extend the Met lead. "This could be the only one I'll play, so I was really thrilled to hit it out,"Kranepool said.8 (It was indeed the only game he played in the Series.)
The Orioles, who had already been deprived of five potential runs by virtue of Agee's two catches, mounted a threat in the ninth inning against Ryan. With two runners on, Buford sent a long fly ball that was out of everyone's reach except for the fans sitting in foul territory just beyond the foul pole in right field. After the near miss, Buford walked, bringing up Blair once again with the bases loaded. Hodges, with relievers Ron Taylor and Tug McGraw warming up in the bullpen, visited the mound, but elected to keep Ryan in the game. This time, Ryan came back and surprised Blair with a curveball for a called strike three. "All I could do," said Blair, "was say, 'Hell of a pitch.'"9 Harrelson would add, "How about that last pitch? Blair's shoes are still out on the field."10
Said Weaver, "We had one run in the last 18 innings and Agee had five today. If they had to play without him, we'd have won."11
"I think we may not have to go back to Baltimore," predicted Tom Seaver.12
Manager Hodges said, "I guess we picked up a few more nonbelievers. With Seaver and (Jerry) Koosman all set, I couldn't plan for anything better. I'd have to say we're in good shape."13Indeed, the Mets did not have to go back to Baltimore. Seaver and Koosman kept the Baltimore bats, which had registered only 12 hits in the first three games, silent in Games Four and Five14as the Mets completed their eight-year journey from laughable neophytes to World Series champions. The impossible dream had grown up to be the inescapable reality.
Sources
In addition to the sources cited in the Notes, the author used Baseball-Reference.com and the following:
Donnelly, Joe. "With Gentry, Nervous Is Best," Newsday, October 15, 1969: 42.
Daley, Arthur. "Quality of Being Amazing," New York Times, October 15, 1969: 51.
Eskanazi, Gerald. "Met in Metamorphosis," New York Times, October 15, 1969: 50.
Isaacs, Stan. "Game Saving 'Agee' Has 4-Glove Rating,"Newsday, October 15, 1969: 41.
Koppett, Leonard. "Agee Says Second Catch was Easier Because It Was 'On My Glove Side,'" New York Times, October 15, 1969: 50.
Notes
Additional Stats
New York Mets 5
Baltimore Orioles 0
Game 3, WS
---
Shea Stadium
New York, NY
Box Score + PBP:
Corrections? Additions?
If you can help us improve this game story, contact us.
Tags
http://bioproj.sabr.org/bp_ftp/images4/AgeeTommie.jpg
600
800
admin
/wp-content/uploads/2020/02/sabr_logo.png
admin
2016-12-07 17:56:18
2020-04-17 13:34:07
October 14, 1969: Mets win a World Series game for the Agees