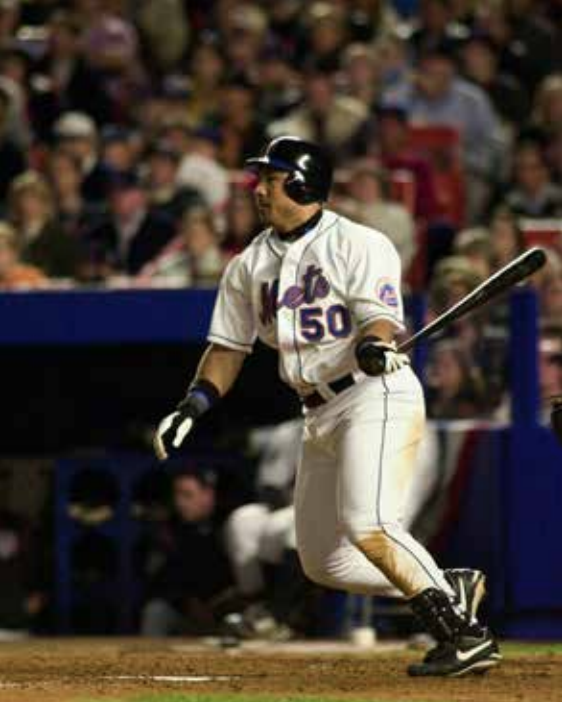 October 7, 2000: Benny Agbayani's blast ends playoff drama in 13th inning
---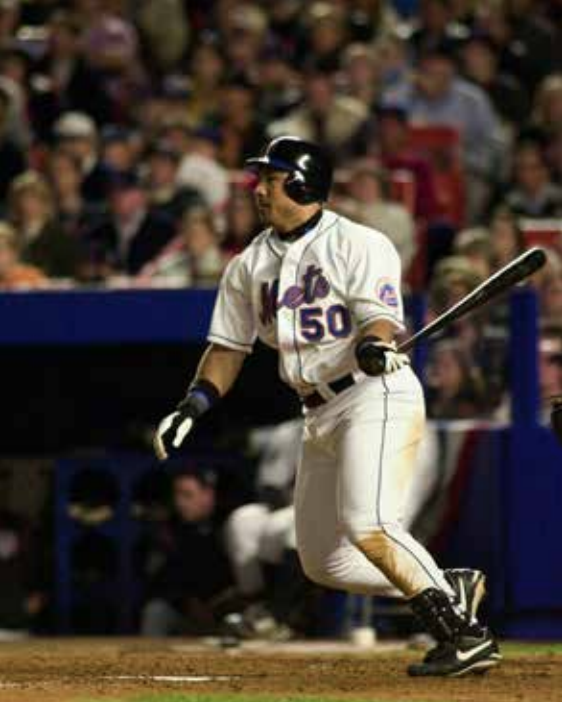 This game started at 4:20 on a crisp fall afternoon.1 It ended 5 hours and 22 minutes later on a dramatic home run by Benny Agbayani into the "picnic area" bleachers in left-center. The capacity crowd of 56,270 had the ballpark moving on its foundation as the popular Hawaiian's teammates carried him off the field.2
Agbayani was fortunate even to be with the Mets to start the 2000 season. He had options left to be sent back to the minors, whereas his close friend and fellow outfielder Jay Payton did not. Agbayani got a reprieve, however, when the Mets carried 10 pitchers rather than 11 early on. He stayed because Darryl Hamilton had toe surgery and got more playing time after the Mets released Rickey Henderson in May.
"Mets manager Bobby Valentine told me things have a way of working out," Agbayani said afterward. "I didn't understand that. Now I do."3
This was a battle full of tension. Giants starting pitcher Russ Ortiz took a no-hitter into the sixth inning, and the Mets had to come from behind. San Francisco closer Robb Nen, who'd blown just five of 46 save opportunities in 2000 – and none since July 2 – gave up a clutch two-out hit in the eighth. Also, both sides squandered many opportunities. "These are always nerve-racking," Mets catcher Mike Piazza said. "A lot of guys really couldn't swallow out there."4 New York's starter, Rick Reed, said, "I was on the bench and I said to someone, 'You can hear a pin drop.'"5
The Shea crowd got raucous early, though. The game was only two pitches old when the scoreboard flashed that in the other NLDS, the St. Louis Cardinals had completed their sweep of the Atlanta Braves, who'd knocked the Mets out of the playoffs in 1999. The fans did a derisive tomahawk chop.6
Reed – called the "poor man's Greg Maddux" because he relied on location, not speed – held San Francisco scoreless through three innings. After Bill Mueller's two-out double in the third, the Mets intentionally walked fearsome Barry Bonds, who had hit 49 homers in the regular season. Jeff Kent then grounded out.
San Francisco scored twice in the fourth. Ellis Burks and J.T. Snow started with singles. After Rich Aurilia fouled out, Bobby Estalella's single brought Burks home. Ortiz tried to sacrifice, but Snow was forced out at third. Ortiz beat the throw to first, though, and Marvin Benard followed with the Giants' fourth single of the inning, scoring Estalella.
Mueller flied out, and after that, Reed and five relievers – Dennis Cook, Turk Wendell, John Franco, Armando Benitez, and Rick White – threw nine scoreless innings. "We were out in the bullpen just feeding off of each other," said White.7 It wasn't easy, though; San Francisco got the leadoff man on first base five times. On average, two of those runners should have scored.8 The Giants stranded 16 altogether.
Ortiz began the game with a 4-0 career record and a 2.83 ERA against the Mets.9 But he didn't make it out of the sixth. After Mike Bordick drew a leadoff walk on four pitches, Hamilton, batting for Reed, singled for the Mets' first hit. Bordick went to third and then scored on Timo Pérez's single. A big inning did not develop, though. Edgardo Alfonzo grounded one up the middle; Pérez, running with the pitch, beat the flip to second and prevented a double play. With runners in scoring position, Giants manager Dusty Baker called for an intentional walk to slugger Piazza. The strategy worked perfectly: Lefty reliever Alan Embree entered and got Robin Ventura to ground into a 4-6-3 DP. Embree's day was done after just two pitches. 
The Giants' first threat to add an insurance run came in the seventh. Lefty Cook walked Benard and Mueller sacrificed successfully, bringing up Bonds. He grounded out to first baseman Todd Zeile, moving Benard to third. Valentine then brought in Wendell for a righty-righty matchup against Kent. Wendell struck him out.
Burks walked to lead off the eighth, but Wendell stayed out of trouble, striking out Snow and Aurilia and getting Estalella to ground out. The Mets then tied it. Doug Henry, who'd pitched a 1-2-3 seventh, hit Bordick with a pitch. Lenny Harris, the lifetime leader in pinch hits, batted for Wendell. He forced Bordick out at second, barely avoiding a double play – in fact, first-base umpire Brian Gorman got the close call wrong.10  After Pérez popped out, Baker brought in Nen with a four-out save in mind. But Harris stole second and Alfonzo doubled. "I don't try to think about how nasty Nen is," said Alfonzo.11
"Fonzie's entire career, it seems like he does the big thing that gets us to the point where we have a chance to win," said Valentine. "And then someone else does something right at the end."12  Alfonzo went no further, though, because Piazza struck out.
Franco, the 40-year-old lefty who'd moved from closer to setup man for Benitez in 1999, then came on. Again the Giants' first batter, shortstop Ramón Martinez, singled. Franco retired the next three, though, ending with a strikeout of Bonds, who later groused about plate umpire Jerry Crawford. Franco, who'd slipped a changeup past Bonds to end Game Two, shook off Piazza and went with fastballs this time. "You have to get the feeling that Barry Bonds has seen enough of John Franco," wrote the New York Daily News.13
In the bottom of the ninth, Payton singled with two outs and stole second. Nen pitched around Zeile and walked him; he then whiffed Bordick on three pitches. So, for the second time in the series, extra innings ensued. New York City Mayor Rudy Giuliani, well-known as a Yankees fan, thereupon left for the game at Yankee Stadium. It was then 7:55.14
Kent singled off Benitez to start the 10th and took second as Burks grounded out. The Mets then put Snow on intentionally – not a surprise, because he'd hit a three-run homer off Benitez in the bottom of the ninth to tie Game Two. Benitez got two flyouts, and the big Dominican flamethrower struck out the side in the 11th.
Meanwhile, Felix Rodríguez pitched two scoreless innings for San Francisco. He set the Mets down 1-2-3 in the 10th, which featured "a bit of intrigue. … Crawford walked toward a small camera that rested on the padding against the backstop, about waist-high. Valentine, suspected by some of using electronic equipment to steal opponents' signals, sauntered out of the dugout. And as if to prove nothing was sinister, he took a white towel and covered the camera. An inning later, the camera was gone."15
Rodriguez threw 36 pitches as he worked out of trouble in the 11th. Piazza singled to lead off and Joe McEwing pinch-ran. Ventura singled, and Rodríguez then survived two long at-bats. Agbayani flied out on the ninth pitch after failing to get a sacrifice bunt down, and Payton struck out on the 10th pitch. He had fouled off seven deliveries, breaking three bats in the process.16  Zeile walked on four straight balls to load the bases, but pinch-hitter Todd Pratt flied out. The game went on.
Staffs weren't 12 and 13 men deep back then. When White entered in the 12th, the Mets had just fifth starter Glendon Rusch left. Again the Giants put the leadoff man aboard as Bonds walked – "I got a little too picky with him," said White.17  After striking out Kent and Burks, White walked Snow too. However, Doug Mirabelli flied out.
Baker then brought in his sixth pitcher, rookie southpaw Aaron Fultz. With two out, Alfonzo singled, as did McEwing, but Alfonzo overran second base. He "seemed stunned, holding his foot on the bag a full 20 seconds after … Kent tagged him out."18
White escaped another jam in the 13th. He struck out Calvin Murray, but Martinez and Mueller singled around Benard's strikeout – the Giants' 17th of the game. That brought up the ever-dangerous Bonds, but he popped White's first pitch, a fastball away, to second. "If he had dove into it and hit it the other way, it might have gone out of the park," said the pitcher.19
Indeed, though the night had grown chilly, the wind was blowing out to left.20  With one out in the home half, Fultz left a 1-and-0 fastball up, and Agbayani – hitless in his first five at-bats – took the mistake deep to end it. As he began his trip around the bases, he flipped his black bat skyward. Rounding first, he flashed the Hawaiian shaka "hang loose" sign.21  The gesture has various meanings – including thanks.
"My approach was … I'm going to hit the ball hard," said Agbayani. "I had to redeem myself. . . that was the redemption right there."22  He added, "Nothing could compare to this. Nothing."23
This article was published in "Met-rospectives: A Collection of the Greatest Games in New York Mets History" (SABR, 2018), edited by Brian Wright and Bill Nowlin. To read more articles from this book at the SABR Games Project, click here.

Sources
https://www.baseball-reference.com/boxes/NYN/NYN200010070.shtml
https://www.retrosheet.org/boxesetc/2000/B10070NYN2000.htm
Notes
1 Murray Chass, "Good Omen at Start Augurs Victory in 13," New York Times, October 8, 2000.
2 For discussion of how big crowds at Shea caused this movement, likened to the sensation of an earthquake, see Michael S. Schmidt, "Shea, Rattle and Roll," New York Times, October 20, 2006.
3 Tyler Kepner, "Agbayani Makes His Bid for Mets' Mr. October," New York Times, October 8, 2000.
4 Ben Walker, "Agbayani's Homer in 13th Propels Mets," Associated Press, October 8, 2000.
5 Kepner, "Agbayani Makes His Bid for Mets' Mr. October."
6 Chass, "Good Omen at Start Augurs Victory in 13."
7 Roger Rubin, "For Rick, Playoff Spotlight White Hot," New York Daily News, October 8, 2000.
8 According to a study of major-league data from 1952 through 2009, 37.8 percent of leadoff batters who reached first base eventually scored. "The Leadoff Walk," fangraphs.com, September 15, 2010.
9 Walker, "Agbayani's Homer in 13th Propels Mets."
10 T.J. Quinn, "Benny Blast Is a Giant Lift," New York Daily News, October 8, 2000.
11 Steve Popper, "Rookie Is Left to Explain the Pitch That Got Away," New York Times, October 8, 2000.
12 Kepner, "Agbayani Makes His Bid for Mets' Mr. October."
13 Roger Rubin, "Franco Gets Best of Bonds – Again," New York Daily News, October 8, 2000.
14 Chass, "Good Omen at Start Augurs Victory in 13."
15 Walker, "Agbayani's Homer in 13th Propels Mets."
16 Kepner, "Agbayani Makes His Bid for Mets' Mr. October."
17 Chass, "Good Omen at Start Augurs Victory in 13."
18 Kepner, "Agbayani Makes His Bid for Mets' Mr. October."
19 Chass, "Good Omen at Start Augurs Victory in 13."
20 Mark Kriegel, "Benny Blast Is a Giant Lift," New York Daily News, October 8, 2000.
21 Andre Marchand, "Mets' Hawaii Five-O Deep Sixes Frisco," New York Post, October 8, 2000.
22 Dan O'Neill, "Agbayani's Homer Gives NY a Late Win," St. Louis Post-Dispatch, October 8, 2000.
23 Kriegel, "Benny Blast Is a Giant Lift."
Additional Stats
New York Mets 3
San Francisco Giants 2
13 innings
Game 3, NLDS
---
Shea Stadium
New York, NY
Box Score + PBP:
Corrections? Additions?
If you can help us improve this game story, contact us.
Tags
https://sabr.org/sites/default/files/Benny%20Agbayani.png
600
800
admin
/wp-content/uploads/2020/02/sabr_logo.png
admin
2019-10-17 13:27:39
2022-06-02 17:36:36
October 7, 2000: Benny Agbayani's blast ends playoff drama in 13th inning