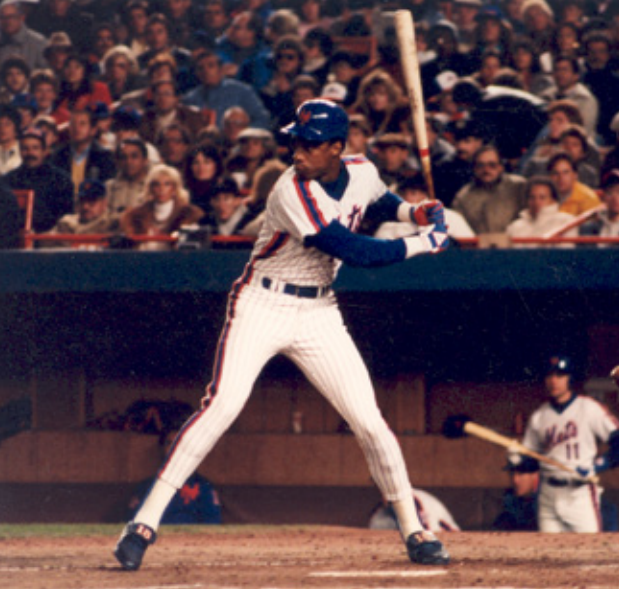 October 8, 1988: Mets beat Dodgers, weather in Game 3 to regain control of NLCS
---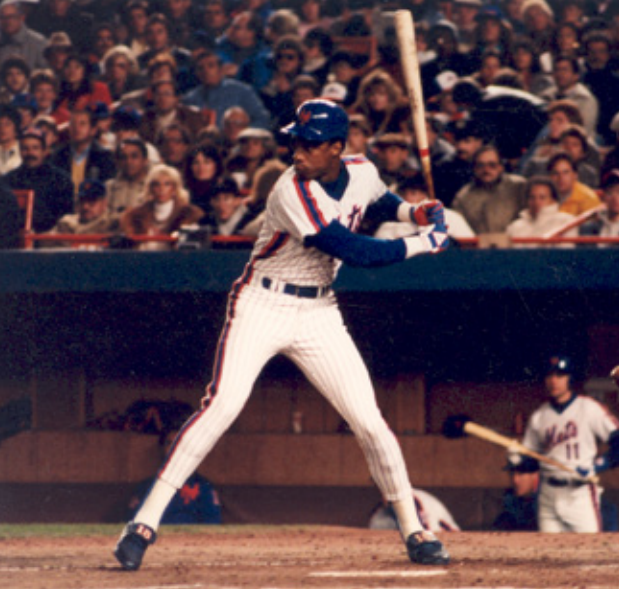 Wet, wild, and weird — with a dash of pine tar. So went the third game of the 1988 National League Championship Series at Shea Stadium on a damp, frigid Saturday afternoon in October.
There were players stumbling and skidding all over the field — recorded in the official box score as "soaked."1 In the end, the Mets floated to an 8-4 victory on the heels of a five-run eighth-inning rally after Dodgers reliever Jay Howell was tossed with the sticky substance on the heel of his glove.
Mercury had slipped into retrograde the previous week. Across the river, the Columbia University football team, playing Princeton, was on the verge of ending its five-year deluge of 44 straight losses. October 8, 1988, was that kind of day.
The Mets and the Dodgers had last seen baseball over 60 hours and 3,000 miles ago, when Los Angeles shocked New York in Game Two to knot the series at a game apiece. It was 30 degrees warmer and desert dry then.
Granted, the Dodgers might have been buoyed by some choice words in a ghostwritten column by the Mets' Game Two starter, young pitching phenom David Cone. After the Mets had staged a ninth-inning comeback against Dodgers ace Orel Hershiser and closer Howell in Game One, Cone had called Hershiser merely "lucky" for holding New York scoreless for eight innings and compared Howell's curveball to a high school pitcher's.2 The fired-up Dodgers had sent Cone to the showers after two innings.
Was Game Two an anomaly? The Mets couldn't wait to board a red-eye and find out on their home turf behind 17-game winner Ron Darling. But the day after the designated travel day, Friday, October 7, rain and what NL President A. Bartlett Giamatti called "manifestly chilly" conditions3 washed away the evening's contest, leading to the noon Saturday deferment.
The rainout worked in the Dodgers' favor. With the extra day off, they could rest scheduled Game Three starter John Tudor and his sore hip4 and instead start Hershiser, who was poised to win the NL Cy Young Award and would now be available were there a Game Seven.5 Also in the Dodgers' favor: They had the NL's best road record during the season, at 49-31.
On the other hand, the Mets had undoubtedly the best home record, at 56-24, and had beaten the Dodgers in 10 of 11 meetings before October. Darling hurled a complete-game shutout against Los Angeles on September 2. Opposing Hershiser, who had ended the regular season with 59 straight scoreless innings, could spell a speedy pitchers' duel.
Not so much. Although the rain had slowed to a drizzle by game time, the puddled tarp remained on the field as the teams warmed up. Dark clouds forced the lights on, in spite of it being midday. Fans — 44,672 of them — wore layers and huddled under multicolored umbrellas in the 43-degree weather.
The 8½-inning game slogged in at 3 hours and 44 minutes and featured 13 walks and four errors.
"Worst day I ever played baseball. Should've never played. Brutal conditions," said Darling, who lasted six innings.6
"Jay Howell is suspended for the pine tar incident, because it was so cold we were trying to figure out any way to hold the ball," recalled Hershiser, who went seven.7
Howell had a 3-and-2 count against Kevin McReynolds to start the eighth inning when Mets first-base coach Bill Robinson saw him pulling at his glove. Robinson motioned to manager Davey Johnson, who rose from the dugout to alert umpire crew chief Harry Wendelstedt. In a gathering at the mound, home-plate umpire Joe West yanked Howell's glove off his hand, tested the string and the pocket, and threw him out of the game.
The glove was tossed to Giamatti in the stands for further inspection. Howell, who exited to a rousing chorus of "Cheat! Cheat! Cheat!," said he had been greasing his pitches with pine tar to get a "better grip on the ball" in the cold weather.8
"It's not cheating," Howell said. "It doesn't change the flight of the ball. I'm certainly not the first pitcher to use pine tar."9
But he was the first to be ejected from a postseason game for its use.10 The Mets then batted around off three Dodgers relievers, permanently tilting the game in their favor after an inauspicious start.
Poor control and fielding put Darling in a two-run hole in the top of the second. He walked the leadoff batters, Mike Marshall and John Shelby, on full counts. Mets first baseman Keith Hernandez, who would win his 11th Gold Glove that November, was anticipating that the next hitter, Mike Scioscia, would swing away. When Scioscia bunted up the line, Hernandez had to scramble for the ball and backhanded it beyond Wally Backman covering first. Hernandez's error — he'd made just two all season — scored Marshall and put Shelby on third. Shelby scored on an infield groundout.
More Mets misjudgment in the third cost another run. With speedy Steve Sax on third and one out, the middle infielders were playing too far back. When the slumping Kirk Gibson grounded to second, Backman could only throw to first while Sax trotted home. 3-0, Dodgers.
Hershiser nearly had the second out in the bottom of the third, but the muddy mound turned strike three into a wild pitch and Mookie Wilson reached safely. Gregg Jefferies's single followed by Darryl Strawberry's double to the right-field corner put the Mets on the board.
The soggy circus continued even on what should have been routine plays, such as when Gibson stumbled on the wet grass chasing Wilson's left-field fly in the bottom of the fifth and had to make a one-handed dive to put it away.
In the bottom of the sixth, with Hernandez on first, Gibson juggled a bad hop on Strawberry's single. Taking advantage of Gibson's hesitation, Hernandez, who initially held up after rounding second, broke for third. But his foot gave way on the grimy basepaths. On all fours with his helmet rolling adrift, Hernandez awkwardly tried to wriggle his way toward the bag, falling twice. He was out by half a hand's length.
The Dodgers returned the favor in the Mets' next at-bat, a high hop from McReynolds to the infield. Third baseman Jeff Hamilton bounced the ball across the diamond, and first baseman Mickey Hatcher juggled it too much to have had control when McReynolds crossed the bag. Safe, E-5.
After Howard Johnson forced out McReynolds and sent Strawberry to third, right-handed-hitting Gary Carter uncharacteristically sprayed a single into shallow right to score Strawberry. Backman drove in Johnson on a grounder off the glove of a diving Hatcher. His string of "yeahs" upon reaching base were as remotely audible as Dodgers manager Tommy Lasorda's string of obscenities from the bench. Tie game.
"This is one of the zaniest, craziest innings I've ever seen in my life," remarked announcer Tim McCarver.11
In the top of the eighth, Mets reliever Roger McDowell slid like a banana peel trying to field Scioscia's tapper back to the mound. What should have been the third out wound up in foul territory. An infield single by Hamilton and a walk to Mike Davis loaded the bases. The Mets summoned lefty Randy Myers from the bullpen to face lefty-hitting Danny Heep, pinch-hitting for Hershiser. But Lasorda replaced Heep with right-handed-hitting Mike Sharperson — and Myers (ultimately also the winning pitcher) forced in the go-ahead run on a bases-loaded walk.
Had the bottom of the eighth played out differently, perhaps Howell, who had 21 saves, would've shut the Mets down the final two innings. Instead, he lasted five pitches before the pine tar incident.
"Did it change my strategy?" recalled Lasorda. "You throw my best relief pitcher out of the game, and you change my strategy."12
Howell's ejection was a catalyst in the Mets' offensive onslaught, as his replacement, Alejandro Peña, allowed a two-out RBI double to Backman to tie the game (and blow the save). After walking pinch-hitter Lenny Dykstra, Peña was relieved by Jesse Orosco, whom the Dodgers acquired in a trade from the Mets that offseason. Orosco then hung a curve to Wilson for an RBI single, hit Jefferies to load the bases, and threw ball four to Hernandez to walk in a run and off the field. Strawberry's bloop single to shallow left off Ricky Horton scored two more, and the Straw celebrated his third hit with his fists in the air. "Heyyyyyyy!"
Up by four, the Mets called on Cone to prove that the Dodgers hadn't spooked him. Cone delivered a 1-2-3 ninth, and New York was two wins away from the World Series.
"I can see why we're called the Amazing Mets," said Backman, who was 2-for-4 with two RBIs. "We don't die. We just keep fighting until we win."13
But the Mets would not win another at home, as the Dodgers snatched away the next two en route to taking the series in seven.
This article was published in "Met-rospectives: A Collection of the Greatest Games in New York Mets History" (SABR, 2018), edited by Brian Wright and Bill Nowlin. To read more articles from this book at the SABR Games Project, click here.

Sources
https://www.baseball-reference.com/boxes/NYN/NYN198810080.shtml
https://www.retrosheet.org/boxesetc/1988/B10080NYN1988.htm
Notes
1 Statistics, unless otherwise noted, are taken from Baseball-Reference.com. https://baseball-reference.com/boxes/NYN/NYN198810080.shtml.
2 Bob Klapisch ghostwrote the column with David Cone's byline. It ran in the New York Daily News on October 5, 1988, entitled, "It Was Justice — Not Luck."
3 NLCS ABC broadcast, October 7, 1988.
4 "I have the body of an 80-year-old, but I'll be all right," Tudor quipped before his proposed start. Joseph Durso, "Darling and Tudor Meet in a Tie Breaker," New York Times, October 7, 1988, https://nytimes.com/1988/10/07/sports/darling-and-tudor-meet-in-a-tie-breaker.html.
5 The Dodgers' strategy paid off, as the NLCS did produce a Game Seven — and Hershiser hurled a shutout to send the Dodgers to the World Series.
6 Ron Darling postgame interview, ABC broadcast, October 8, 1988.
7 Lyle Spencer, "Oral History of Epic Mets-Dodgers 1988 NLCS," MLB.com, October 5, 2015, https://m.mlb.com/news/article/152995440/oral-history-of-epic-mets-dodgers-1988-nlcs/.
8 ABC News broadcast, October 8, 1988. According to the NLCS ABC broadcast, the Mets were aware Howell had been using pine tar on his glove in Game One, but broadcaster Al Michaels implied that since manager Davey Johnson waited until a 3-and-0 count became 3-and-2 on McReynolds, perhaps the Mets said nothing because they were winning. Dodgers pitcher Alejandro Peña may have been using pine tar in a previous game, as well.
9 Sam McManis, "Dodgers Lose Grip and Slip to 8-4 Loss: Mets Rally to Win After Howell Ejected," Los Angeles Times, October 9, 1988, https://articles.latimes.com/1988-10-09/sports/sp-5620_1_mets-rally.
10 Howell was suspended three games for the incident, and thus was available to pitch Game Seven — though his presence turned out to be unnecessary, as Hershiser went the distance.
11 NLCS ABC broadcast, October 8, 1988.
12 Joseph Durso, "THE PLAYOFFS; Bizarre Game Turns the Mets' Way," New York Times, October 9, 1988, https://nytimes.com/1988/10/09/sports/the-playoffs-bizarre-game-turns-the-mets-way.html.
13 Ibid.
Additional Stats
New York Mets 8
Los Angeles Dodgers 4
Game 3, NLCS
---
Shea Stadium
New York, NY
Box Score + PBP:
Corrections? Additions?
If you can help us improve this game story, contact us.
Tags
https://sabr.org/sites/default/files/Strawberry-Darryl.png
600
800
admin
/wp-content/uploads/2020/02/sabr_logo.png
admin
2019-10-16 15:37:05
2020-04-17 13:33:56
October 8, 1988: Mets beat Dodgers, weather in Game 3 to regain control of NLCS