2014 SABR Analytics: Duke-Fuqua, Cornell, Loras win Diamond Dollars Case Competition
The 2014 Diamond Dollars Case Competition winners were announced Thursday, March 13 during the SABR Analytics Conference at the Hyatt Regency Phoenix in Phoenix, Arizona.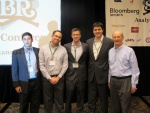 A team from Duke University's Fuqua School of Business won the Graduate and Professional School Division, narrowly beating out the University of Chicago-Booth. The team consisted of Greg Frank, Jontue Long, Ethan Mann, Hamilton Marx and Joe Smilari. The Case Competition judges cited the Duke team's "clarity in conveying and portraying the assessment of risk in the top pitchers in baseball."
In the two Undergraduate Divisions, the winning teams were from Cornell University in Ithaca, New York, and from Loras College in Dubuque, Iowa.
Cornell's team consisted of Hudson Belinsky, Max Fogle, Matthew Provenzano, Jesse Sherman and Alex Smith.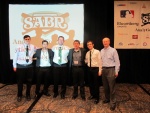 Loras' team consisted of Katie Gonzales, Nick Klein, Austin Overmann, Megan Tews and Shane Williams.
"It's amazing how the quality of the presentations has ramped up higher and higher each and every year," said SABR President Vince Gennaro, who develops the case studies in the Diamond Dollars Case Competition. "The judges always have a tough job choosing from a number of impressive and insightful presentations."
In this year's case, students were asked to analyze the top three "pitching assets" in the game today — the pitchers who will generate the greatest value to a team over the balance of his years under contract or team control. Answers ranged from rising stars such as the Miami Marlins' Jose Fernandez or the Pittsburgh Pirates' Gerrit Cole to the reigning Cy Young Award winner, Clayton Kershaw of the Los Angeles Dodgers.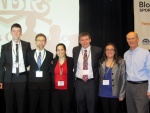 In the Diamond Dollars Case Competition, undergraduate, graduate and professional school students from colleges and universities across the country compete against each other by preparing an analysis and presentation of a baseball operations decision — the type of decision a team's GM and his staff is faced with over the course of a season. The cases are developed by Gennaro, author of Diamond Dollars: The Economics of Winning in Baseball, and consultant to MLB teams. The Diamond Dollars Case Competition is the first national competition to be based solely on baseball operations issues.
Four- to five-person student teams are asked to evaluate a baseball operations case problem. The student team presents their analysis and recommendations to a panel of judges that includes MLB front office executives.
This year's judges were Brian Bannister, former MLB pitcher; Joe Bohringer, Chicago Cubs; Christopher Correa, St. Louis Cardinals; John D'Angelo, Major League Baseball; Mike Debartolo, Washington Nationals; Scott Freedman, Philadelphia Phillies; Sarah Gelles, Baltimore Orioles; Samuel Mondry-Cohen, Washington Nationals; George Ng, YarcData; Matt Obernauer, Colorado Rockies; Dave Studenmund, The Hardball Times; Tom Tippett, Boston Red Sox; and Victor Wang, Cleveland Indians.
Other participating schools in the Graduate and Professional School Division were: University of San Francisco-School of Management; Pepperdine University-School of Law and Graziadio School of Business; Carnegie Mellon-Tepper School of Business; Tulane University Law School; University of Alabama-Manderson School of Business; and Santa Clara University-Leavey School of Business.
Participating schools in the Undergraduate Divisions were: Tufts University (two teams; Team 2 was an honorable mention); Rutgers University; NYU-SCPS Tisch Center (honorable mention); Ohio University; Rice University; Elon University; VCU-Maggie L. Walker Governor's School; Macalester College; and St. John Fisher College.
A record 19 colleges and universities participated in the 2014 Diamond Dollars Case Competition.
Six alumni from the 2012 and 2013 Diamond Dollars Case Competitions have secured internships or permanent positions within Major League Baseball.
For more coverage of the 2014 SABR Analytics Conference, visit SABR.org/analytics.
For more information on entering the Diamond Dollars Case Competition, contact SABR President Vince Gennaro or click here for rules and entry requirements.
---
Originally published: March 13, 2014. Last Updated: July 27, 2020.
https://h2j7w4j4.stackpathcdn.com/wp-content/uploads/2020/03/research-collection4_350x300.jpg
300
350
jpomrenke
/wp-content/uploads/2020/02/sabr_logo.png
jpomrenke
2014-03-13 15:42:26
2020-07-27 15:55:49
2014 SABR Analytics: Duke-Fuqua, Cornell, Loras win Diamond Dollars Case Competition