A conversation with SABR BioProject chief editor Jan Finkel
Editor's note: This article first appeared in the SABR Deadball Era Research Committee newsletter in November 2012.
By Bill Lamb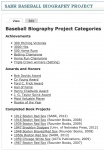 Player profiles, ballpark histories, and other submissions to the SABR BioProject have greatly expanded our knowledge and appreciation of Deadball Era subjects. Recently, BioProject chief editor Jan Finkel, a most deserving recipient of the Bob Davids Award at the SABR convention this summer, responded to a series of questions posed by newsletter editor Bill Lamb. Here is what Jan had to say on a variety of topics.
BILL: With over 2,000 biographies already published and counting, how would you assess the current state of the BioProject? And what is the target number for completed biographies by the time of the 2013 SABR Convention?
JAN: I think the BioProject is in excellent shape. Mark Armour had a brilliant plan, and manages everything smoothly. We have over five hundred members and a dedicated corps of editors. About three hundred different writers have contributed at least one biography. Bill Nowlin has contributed three hundred bios; Len Levin has edited well over four hundred. I'd like to see us hit the 2,500 mark by the convention, but that may be a stretch.
BILL: Of all the biographies that you have reviewed, do you have a personal favorite(s)? And why so?
JAN: I can't really pick one or two, but my favorites are often of the obscure figures, the cup-of-coffee types. For one thing, I've never heard of at least half the figures that come in, so there's always something new. Again, the obscure figures often have a fascinating or poignant story that supersedes their playing career. Two that come to mind are Wally Snell by Charlie Bevis and John Carden by Bill Hickman.
BILL: For a typical biography subject, what is an acceptable amount of time between assignment of a particular biography to an author and the submission of that biography to BioProject editors? To what extent has delay in completion of biographies been a problem, and have any measures been taken to address assignments that go uncompleted for extended periods of time?
JAN: We like to see a biography submitted within a year of assignment. It hasn't been a huge problem, but sometimes we've had to nudge a writer, make certain he or she is still committed to the assignment. If a writer no longer wants to do a piece, we announce the availability of the subject and reassign it when appropriate. In the interest of full disclosure, I can't say too much on this subject given how long I've been working on Juan Marichal.
BILL: In your opinion, what impact has the BioProject had on the appreciation of Deadball Era subjects?
JAN: I think it's been symbiotic. The beautiful Deadball Stars volumes that Tom Simon and David Jones managed and edited spearheaded much of what we do. And let's remember that Tom Simon's Green Mountain Boys of Vermont got everything started. At the BioProject we seek bios from every era of baseball, and I think we've encouraged appreciation of every era. We also have a significant number of pieces on minor leaguers, Negro leaguers, women, executives, umpires, broadcasters, scouts, ballparks, and organizations.
BILL: Name three (or more) currently unassigned Deadball Era subjects that you would like someone to take up, and why these three?
JAN: Two that have always intrigued me are Jim or Joe Nealon (I've seen him listed with both first names, a fact which already raises questions) and Ed Abbaticchio, who both played for the Pirates. Nealon only played two seasons but led the league in RBIs his first year; he was dead at 25. What happened? Abbaticchio was one of the first Italians if not the first to play in the majors, and I've often wondered what he might have endured. I remember seeing a Life piece about Joe DiMaggio that was full of stereotypical drivel. Hank Greenberg and Jackie Robinson went through hell, and I wonder what it was like for Abbaticchio.
I don't have a specific third, but it would likely be a cup-of-coffee player, the kind that Charlie Bevis and Bill Nowlin write about so wonderfully. As I've often said, those players often have the best stories, precisely because baseball wasn't their whole life.
BILL: The BioProject has published a number of excellent team biographies. Is there anything in the works for a Deadball Era team bio?
JAN: The 1912 and 1918 Red Sox are finished and available. The 1901 Boston Americans and 1914 Braves are in the works. It's not a team biography, but a book on all the World Series of the period using contemporary accounts is progressing nicely. I'd like to see more. The 1901-03 and 1909 Pirates come to mind, but I grew up in Pittsburgh and am a little biased. The 1906-10 Cubs were extraordinary. The Red Sox dominated the second decade. The White Sox of 1906, 1917, and 1919 would be fascinating, as would the Reds of 1919. How about any number of Giants, Tigers, and Athletics teams? What about black baseball? I've gone on too long, but there's a lot of fertile ground.
BILL: As chief editor of the BioProject, what is the best part of the job? What is the most trying?
JAN: I don't like to brag—all right, a little bit—but I have the best job in SABR because I get to see every biography as it comes in. Nobody else I know gets to do that.
The worst part is telling a writer that his or her article just isn't working. I daresay all of our editors would tell you the same thing. You have to be truthful, but you also have to be humane.
BILL: What are the most common shortcomings of BioProject submissions and what measures, if any, have been taken to improve the situation?
JAN: I can't speak for all of our editors. The obvious shortcomings are incomplete research, weak or unsupported assertions, and fuzzy writing. Most worrisome to me, though, is a lack of focus, a thesis if you like. I don't want to see an assortment of facts with no point; my first impulse is to ask, "Why are you telling me all this?" I also like to see the individualizing or personalizing detail, what makes the subject unique. As an example, there's a large handful of pitchers from the Deadball Era with about 185-199 wins: Babe Adams, Jack Chesbro, Sam Leever, Doc White, Ed Walsh, Deacon Phillippe, Jesse Tannehill, Rube Waddell, and somebody I've probably forgotten. Some are in the Hall of Fame, most of them aren't. You can only discuss their stats for so long. How do you show the individuality of each one? That the writers achieved this is what makes the Deadball Stars books so good. The only way I know to improve the situation is to have a sound working relationship between writer and editor. Fortunately, we have that relationship ninety-nine percent of the time. Indeed, we have a number of writers who request a specific editor because they work so well together.
BILL: Name your personal Deadball Era all-star team, including four pitchers, one bench player, and a manager. (Players ineligible for the Hall of Fame or otherwise persona non grata can be selected.)
JAN: I've taken some liberties here with the pitching staff, the bench, and so on. I've listed everyone in alphabetical order. It's MY team, and I'm greedy enough to want every great player.
This is the most difficult position to choose because it was a pitchers' era. Mordecai Brown rates very high with Chief Bender just a little behind him. Joe McGinnity, Rube Waddell, Jack Chesbro, Ed Walsh, Joe Wood, Addie Joss, Jim Vaughn, and Jack Coombs all had some remarkable seasons, but I wanted durability and consistency, so I picked the above five. I also wanted a southpaw and didn't want to leave any of the others out.
Manager—Fred Clarke (Honorable Mention to Frank Chance and Connie Mack; wouldn't want Hughie Jennings or John McGraw as gifts)
Note to newsletter readers: We hope to include a Deadball Era All-Star team ballot in the February 2013 newsletter, with the poll results to be published the following issue. So please start thinking about who to choose for your own team.
BILL: In your opinion, which was the best Deadball Era team, and why?
JAN: For a single season I'd have to go with the 1906 Cubs and the 1909 Pirates based on the sheer number of wins. The 1902 Pirates come into play because that 27.5-game margin is impossible to ignore. Over a long haul it's the Cubs from 1906 through 1910. They averaged 106 wins a year. While I'm thinking about it, I want to say something about Tinker, Evers, and Chance. It's fashionable to denigrate their selection to the Hall of Fame, crediting Franklin P. Adams's poem and all that. Think of all those 530 wins, though. Nobody has ever put together five years of that caliber. Somebody must have been doing something right on that team. The Athletics of 1910-14 and Red Sox of the 1910s merit consideration as well.
Jan Finkel, longtime college English professor and dedicated chief editor of the BioProject, received the Bob Davids Award at this year's SABR convention.
Writing a BioProject essay is an easy way to get involved as a SABR member. Click here to learn more.

Related link:
Watch Jan Finkel receive the 2012 Bob Davids Award at SABR 42 in Minneapolis (June 29, 2012):
---
Originally published: December 17, 2012. Last Updated: December 17, 2012.
https://sabr.org/wp-content/uploads/2020/03/research-collection4_350x300.jpg
300
350
jpomrenke
/wp-content/uploads/2020/02/sabr_logo.png
jpomrenke
2012-12-17 12:00:00
2012-12-17 12:00:00
A conversation with SABR BioProject chief editor Jan Finkel