This Week in SABR: August 7, 2015

Welcome to "This Week in SABR!" Click here to view this week's newsletter on the web. Here's what we've been up to as of August 7, 2015:
---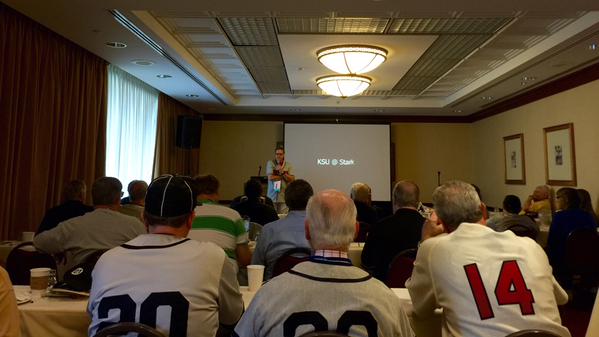 The 18th annual Jerry Malloy Negro League Conference has kicked off in Pittsburgh, and after a full day of research presentations by the likes of historians Todd Peterson, Sherman Jenkins, Richard Puerzer, James Brunson and others, attendees are being treated to a terrific pitching matchup tonight between Pirates ace Gerrit Cole and the Dodgers' three-time Cy Young Award winner Clayton Kershaw at PNC Park.
The Malloy Conference is open to all baseball, history and sports fans of all ages. Click here to download an information packet and schedule (PDF).
The only symposium dedicated exclusively to the study of black baseball continues through Saturday in Pittsburgh. To view early photos from the 2015 Malloy Conference, courtesy of Leslie Heaphy, Michelle Freeman, and Josh Howard, visit SABR.org/malloy.
---
SABR is seeking a full-time Manager of Chapter/Partner Relations to work in its Phoenix office.
E-mail your resume and letter of interest in PDF format to jobs@sabr.org by Monday, August 10. No phone calls, please.
Responsibilities:
Will serve as a liaison between the SABR national office and our 70 regional chapters. Will work closely with chapter leaders to brainstorm and help implement programming for chapter events, special SABR events, and SABR Day. Will work with chapters to bring in new members and to retain members.
Will serve as the liaison to SABR's partners. Goal is to make SABR's partners aware of SABR's historical and current content and to deliver and help promote that content. Will work with partners on SABR conferences and events.
Will work closely with SABR's Student Group Affiliate Members (colleges, high schools, middle schools).
Skills:
Self-starter, innovative, good problem solver.
Adept at multitasking and project management.
Good communication and organizational skills.
Strong written and computer skills.
Working knowledge of baseball and a strong passion for the game.
This full-time, salaried position will be based at the SABR headquarters in Phoenix, Arizona, and include health/dental and retirement benefits. SABR is an equal-opportunity employer.
For more information, click here.
---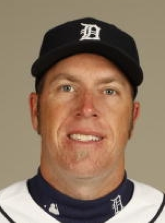 Mike Hessman is best known as a modern-day Crash Davis — and like the fictional character from the classic film Bull Durham, he spent many years closing in on the all-time career home run record in Minor League Baseball.
The 37-year-old Toledo Mud Hens first baseman cracked his 433rd career home run on Monday, August 3 — a go-ahead grand slam in the seventh inning off Lehigh Valley's Dustin McGowan. Hessman passed Buzz Arlett atop the all-time list for U.S. minor leaguers. Arlett was a Pacific Coast League legend who was once named as the greatest minor-league player in baseball history in a survey of SABR members.
You can view Hessman's career statistics in the SABR Minor League Database, which has been licensed to Baseball-Reference.com. Hessman began his professional career in 1996, when he was selected by the Atlanta Braves in the 15th round of the amateur draft. He reached the major leagues in 2003, and hit .188 with 14 home runs in 109 games over parts of five seasons with the Braves, Detroit Tigers, and New York Mets.
For the record, four other minor-league players from the Mexican League have also hit more home runs than Arlett. The Mexican League joined Organized Baseball in 1955, but it is not part of the U.S.-based affiliated minor-league system. Hector Espino holds the all-time minor-league record in North America with 484 home runs; he surpassed Arlett during the 1977 season. Click here for the full list of minor-league players with 400 career home runs.
A comprehensive list of minor-league home run records can be found in Going for the Fences: The Minor League Home Run Record Book, edited by the late SABR founding member Bob McConnell and published by SABR in 2009. (Click the link to download the free PDF e-book.) In Going for the Fences, McConnell painstakingly compiled statistics, facts, and stories about home run records in the minor leagues from the 19th century through 2008 — the only reference work dedicated to minor-league home runs. Records in more than 50 categories are listed, and helpful annotation throughout enables the researcher or casual fan to place these statistics in context.
To purchase a paperback version of Going for the Fences, click here to visit Createspace.com. SABR members, visit our Research Resources page for a coupon code to get a 50% discount on the paperback edition at Createspace.
---
All SABR members are invited and encouraged to submit a Research Presentation Proposal Abstract for the 2016 Frederick Ivor-Campbell 19th Century Base Ball Conference.
The eighth annual 19th Century Conference will be held April 15-16, 2016, at the National Baseball Hall of Fame in Cooperstown, New York.
Abstracts of 200-500 words are being accepted through October 31, 2015, for a 20- to 25-minute oral research presentation on any topic about 19th-century baseball. Please include title and contact information. Proposals must be part of an e-mail or in the form of a Word or PDF document sent to Peter Mancuso at peterplus4@earthlink.net.
Details on conference registration will be available at SABR.org/ivor-campbell19c in early 2016.
To view coverage of the 2015 Ivor-Campbell 19th Century conference, click here.
---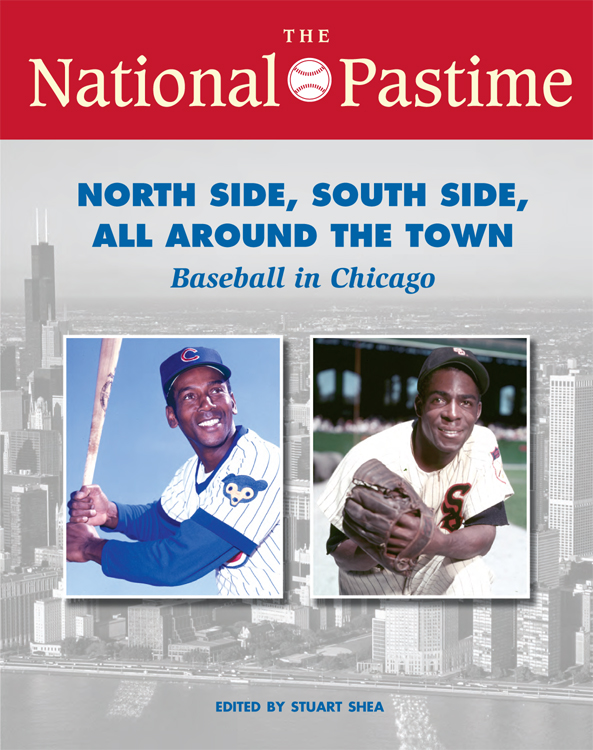 Since 2009, The National Pastime has served as SABR's convention-focused publication. Published annually, this research journal provides in-depth articles focused on the respective geographic region where the national convention is taking place in a given year.
The SABR 45 convention took place recently in Chicago, and we have dedicated the theme of The National Pastime to baseball in Chicago. All SABR members receive a free expanded e-book copy of The National Pastime as part of their membership benefits, while attendees of the national convention also received a souvenir print edition in their goody bags. This year we had such a surplus of fantastic articles and contributions that the e-book edition contains 45 contributions (the print edition just 25).
Click a link below to download the expanded e-book edition of the 2015 convention journal, The National Pastime: Baseball in Chicago.
SABR members also have the option of the reading the TNP in these formats, too:
If you weren't able to attend the convention in Chicago, please enjoy this issue of The National Pastime as your virtual trip to the Windy City. Happy reading!
To learn more about contributing to a future SABR publication, click here.
— Cecilia M. Tan, editor
Having trouble downloading our e-books? To view PDF files on your computer, click here to download the free Adobe Reader software. Having trouble downloading e-books to your Kindle, Nook, Sony Reader or iPad? Click here for additional help.
---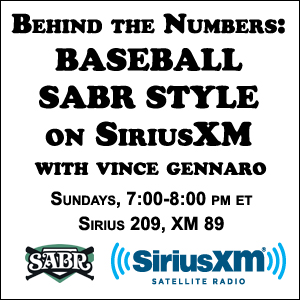 We invite you to listen to Behind the Numbers: Baseball SABR Style on SiriusXM, a new radio show hosted by SABR President Vince Gennaro, on Sunday nights on MLB Network Radio.
Baseball SABR Style focuses on examining and interpreting the statistical analysis that plays a critical role in baseball today. It will air weekly throughout the year on MLB Network Radio, available to subscribers nationwide on XM channel 89, Sirius channel 209, and on the SiriusXM Internet Radio App. (Recent shows are available afterward in the "on-demand" section of the SiriusXM app or website.)
For more information, click here.
---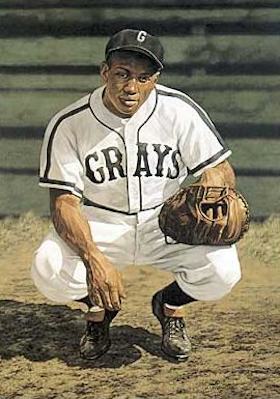 Seven new biographies were posted this week as part of the SABR Baseball Biography Project, which brings us to a total of 3,317 published biographies. Here are the new bios:
All new biographies can be found here: http://sabr.org/bioproj/recent
You can find the SABR BioProject at SABR.org/BioProject.
Bios on more than just ballplayers: The ambitious goal of the SABR Baseball Biography Project is to publish a full-life biography of every major league player in history. But SABR members write about a lot more than just ballplayers. In addition, we have pages for Ballparks, Broadcasters, Executives, Managers, Scouts, Spouses, Umpires and a lot more on the BioProject website. You can browse all of these categories at http://sabr.org/bioproj/browse. So if you've ever thought, "Hey, that person (or ballpark) should get the full BioProject treatment" — write the story and we'll publish it!
Get involved! If you'd like to help contribute to the SABR BioProject, visit our BioProject Resources page or read the FAQs section to get started. We're also looking to expand the BioProject to include all "encyclopedic" articles on baseball-related subjects from past SABR publications or committee newsletters. If you come across an article you think should be included in the SABR "baseball repository" at the BioProject, send a copy or link to markarmour04@gmail.com or jpomrenke@sabr.org.
---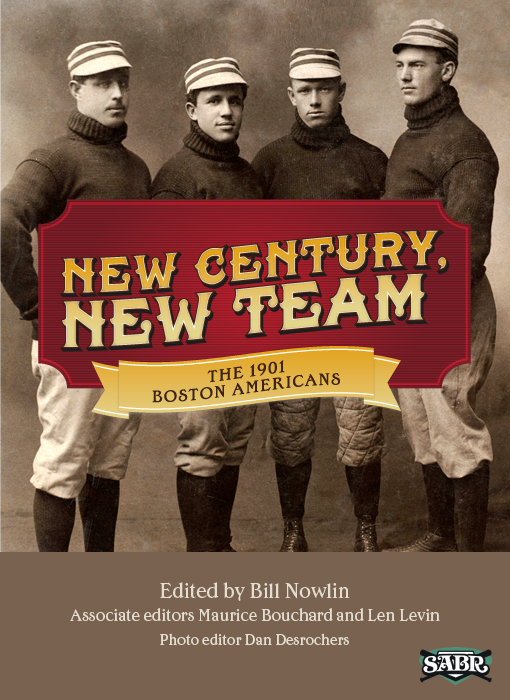 The team now known as the Boston Red Sox played its first season in 1901. The Boston Americans played in a new ballpark — the Huntington Avenue Grounds — literally on the other side of the railroad tracks from the Beaneaters and they out-drew the established National League team by more than 2-1, in part because they had enticed some of the more popular players: player/manager Jimmy Collins, pitcher Cy Young, and slugger Buck Freeman.
Their stories and many more are included in New Century, New Team: The 1901 Boston Americans, edited by Bill Nowlin and published by the SABR Digital Library in 2013.
The SABR BioProject biographies that appeared in that book can now be read online at:
http://sabr.org/category/completed-book-projects/1901-boston-americans
You can find other team pages from our completed book projects — 30 and counting! — by going to SABR.org/BioProject and clicking the Browse button (http://sabr.org/bioproj/browse).
---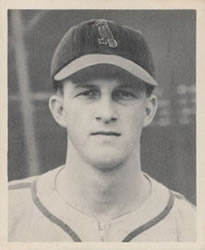 Three new game stories were posted this week as part of the SABR Games Project. Here are the new game stories:
The SABR Baseball Games Project was launched in 2014 to research and write articles on major-league and Negro League regular, postseason, and All-Star Games. These game accounts will complement Retrosheet and Baseball-Reference box scores as well as BioProject essays on the players involved.
The articles are not intended to be mere play-by-play summaries, nor should they be first-person narratives. Rather the goal is to put each game in historical context — whether that history is of a particular player, team, season, or something even broader.
Visit the Games Project website at SABR.org/gamesproject.
---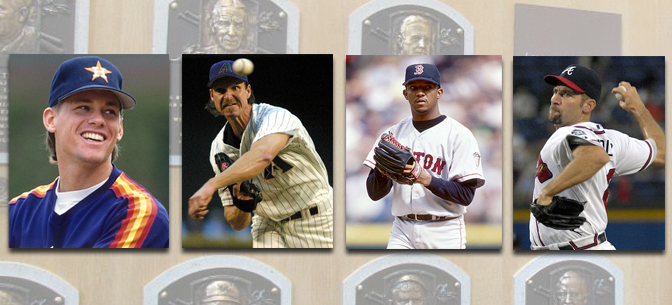 Want to write a Hall of Fame biography for the SABR BioProject?
SABR Director Emily Hawks is launching a new BioProject initiative for biographies of players who are likely to be on the 2016 Hall of Fame ballot later this year. Note that these biographies will be assigned with a MUCH shorter timeline, with the aim of all editing and fact-checking to be complete by the time the Hall of Fame voting "debate season" begins in November. As such, we need completion by October 1, 2015. In addition, we will be checking in more frequently to try to head off bios that are in danger of not being finished. All of these are famous people, so the research should be easier than many of our more obscure bios.
If you are interested in writing a SABR biography for one of these players, please contact Emily Hawks at emilyhawks@gmail.com:
Mark McGwire
Trevor Hoffman
Edgar Martinez
Larry Walker
Jeff Kent
Nomar Garciaparra
Jason Kendall
Jim Edmonds
You can now read SABR BioProject articles for the entire 2015 induction class at the links below:
---
All SABR members have access to complete online archives of The Sporting News through Paper of Record at SABR.org/paperofrecord.
Over the past week or so, the Paper of Record service has gone down several times, and the folks at Hypernet Inc., who operate Paper of Record, have told us they are working hard to get the service restored as soon as possible.
Sorry for the inconvenience, but we thank you for your patience.
---
We've heard your feedback: Some of you have said you look forward to "This Week in SABR" every Friday, but sometimes there are just too many compelling articles and announcements to read every week. We're not complaining — hey, keep up the great work! — but we know the feeling. So in an effort to make the length of this newsletter more manageable to read, we'll summarize some of the repeating/recurring announcements in a special "In Case You Missed It (ICYMI)" section of "This Week in SABR".
Here are some major headlines from recent weeks that we don't want you to miss:
All previous editions of This Week in SABR can be found here: http://sabr.org/content/this-week-in-sabr-archives.
---
We'd like to welcome all of our new SABR members who have joined this week. You can find all Members-Only resources at members.sabr.org and the New Member Handbook can be downloaded here.
Please give these new members a warm welcome and help them make the most of their membership by giving them the opportunity to get involved in their local chapter or a research committee.
You can find contact information for any SABR member in the online membership directory (SABR.org/directory).
| Name | Hometown | | | Name | Hometown |
| --- | --- | --- | --- | --- | --- |
| Leland Bailey | Sebastopol, CA | | | Rahin Hemani | Markham, ON |
| Esmeraldo Castillo | Yonkers, NY | | | David Karpinski | Roseville, MN |
| Matthew Chan | Gilroy, CA | | | Andrew Kraus | Port Richey, FL |
| David Chapman | Moline, IL | | | Owen Lawson | Fircrest, WA |
| Joan Dautel | Fairborn, OH | | | Frederic Nicholson | Bayside, NY |
| James Elfers | Newark, DE | | | Joe Pas | Clinton Twp, MI |
| Matt Ely | Tacoma, WA | | | Dennie Templeton | Hickory, NC |
| Steve Fleury | Scottsdale, AZ | | | John Waters | Anderson, SC |
| Jacob Heiser | Arlington, TX | | | Daniel Watkins | Fenton, MO |
---
Here are the new SABR research committee updates this week:
Statistical Analysis: At SABR 45 in Chicago, the committee began a project to compile a bibliography/list/guide for newcomers to sabermetrics. The SABR Guide to Sabermetric Research at SABR.org/sabermetrics is more of an explanation of what sabermetrics is than a "Sabermetrics 101" that would allow people to get an understanding of actual sabermetric knowledge. Committee chair Phil Birnbaum has set up a Yahoo! discussion group where you can submit your ideas for the bibliography. Click here to sign up. For more information, contact Phil at

birnbaum@sympatico.ca

.
Find all SABR research committee newsletters at SABR.org/research.
---
Here are the new regional chapter updates this week:
Visit SABR.org/chapters for more information on SABR regional chapters.
---
Here is a list of upcoming SABR events:
All SABR meetings and events are open to the public. Feel free to bring a baseball-loving friend … and make many new ones! Check out the SABR Events Calendar at SABR.org/events.
---
Here are some recent articles published by and about SABR members:
Read these articles and more at SABR.org/latest.
---
This Week in SABR is compiled by Jacob Pomrenke. If you would like us to include an upcoming event, article or any other information in "This Week in SABR," e-mail jpomrenke@sabr.org.
Have trouble reading this e-mail? Click here to view this week's newsletter on the web.
Are you receiving our e-mails? "This Week in SABR" goes out by e-mail to all members on Friday afternoons. If they're not showing up, try adding "sabr.notes@sabr.org" to your contact list to ensure they show up in your inbox (and not the spam folder.)
---
Originally published: August 7, 2015. Last Updated: April 3, 2020.
https://sabr.org/wp-content/uploads/2020/03/research-collection4_350x300.jpg
300
350
jpomrenke
/wp-content/uploads/2020/02/sabr_logo.png
jpomrenke
2015-08-07 15:00:00
2020-04-03 14:39:14
This Week in SABR: August 7, 2015