This Week in SABR: December 18, 2015

Welcome to "This Week in SABR!" Click here to view this week's newsletter on the web. Please note: The SABR office will be closed on December 24-25 for the holidays. The next edition of "This Week in SABR" will be sent on Wednesday, December 23. Here's what we've been up to as of December 18, 2015:
---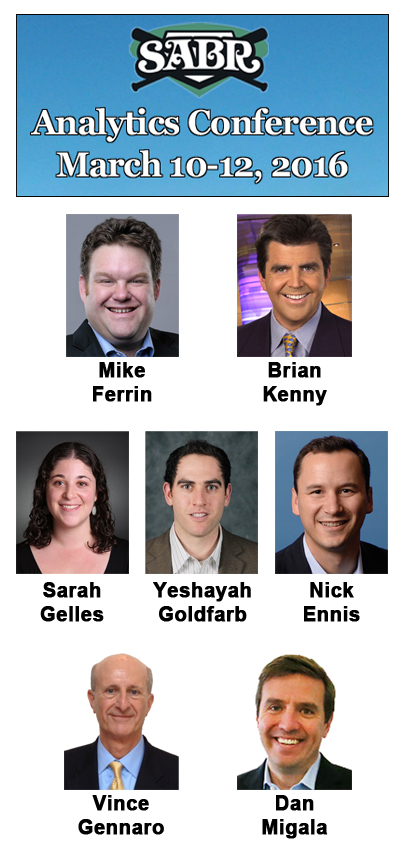 We're pleased to announce more featured speakers and panelists for the fifth annual SABR Analytics Conference, which will be held March 10-12, 2016, at the Hyatt Regency Phoenix in downtown Phoenix, Arizona.
Conference registration is available now at the SABR Store. Click here to register! The conference is open to all baseball fans. Stay tuned as more featured speakers will be announced soon!
Brian Kenny, host, MLB Network
Mike Ferrin, broadcaster, Arizona Diamondbacks and MLB Network Radio
Nick Ennis, Director of Baseball Operations, San Diego Padres
Sarah Gelles, Director of Analytics, Baltimore Orioles
Yeshayah Goldfarb, Director of Minor League Operations/Quantitative Analysis, San Francisco Giants
Vince Gennaro, SABR President
Dan Migala, Founding Partner, Property Consulting Group
Please note: Due to a scheduling conflict, MLB Commissioner Rob Manfred will no longer be able to speak at the 2016 SABR Analytics Conference. All speakers are subject to availability.
SABR has a long and storied history with baseball statistical analysis, evidenced by the link between our name and sabermetrics. While SABR is a multi-faceted organization involved in virtually every aspect of baseball, we continue to build on our legacy by producing and hosting the fifth annual SABR Analytics Conference.
Once again, we're bringing together the top minds of the baseball analytic community under one roof to discuss, debate and share insightful ways to analyze and examine the great game of baseball.
The schedule will consist of a combination of Guest Speakers, Panels and Research Presentations — plus the unique Diamond Dollars Case Competition, in which undergraduate, graduate, and law school students from across the country analyze and present a real baseball operations decision.
Conference registration is available now at the SABR Store.

Click here to register!

The conference is open to all baseball fans. The early registration rate is $395 for SABR members and $495 for nonmembers, or $350 for currently enrolled high school or college students (includes one-year membership to SABR).
Book your hotel room: The 2016 SABR Analytics Conference will be held Thursday, March 10 through Saturday, March 12 at the Hyatt Regency Phoenix, 122 N. 2nd St., Phoenix, AZ 85004. Click here to book your hotel room at the special SABR group rate of $179/night (plus tax) for double occupancy. Or call

(602) 252-1234 and mention that you're with the SABR Analytics Conference.
Check back soon at SABR.org/analytics as we announce some of our featured speakers, panels and presentations for the 2016 SABR Analytics Conference!
Related links:
---
We're about to hit the "sweet spot" of SABR's year-end donation drive, and your support can make a big difference. We're less than $20,000 from reaching our goal by December 31 — and we need your help! Please consider making a charitable contribution to SABR today:
You can also send your donation by check to:
SABR
Cronkite School at ASU
555 N. Central Ave. #416
Phoenix, AZ 85004
By doing so you help SABR fulfill its mission and increase the impact of our baseball analysis and historical study. Please note: We MUST receive your donation by December 31 in order to process it in 2015.
If you've already made a contribution to SABR this year, we are grateful for your generous donation.
SABR depends upon the volunteer work of members to mount our exciting events like the SABR Convention, the Analytics Conference, and the Jerry Malloy Negro League Conference; to produce groundbreaking research through the SABR Digital Library e-book program, the Baseball Research Journal, and The National Pastime; and to expand the online resources of the research committees, regional chapters, the BioProject, the Games Project, and much more. SABR continues to offer unparalleled opportunities for involvement and benefits for members around the world.
As a 501(c)3 organization, tax-deductible donations allow SABR to expand member opportunities and to become an even larger voice in the baseball community. Many members have already become donors, and you can join them right now by making your gift online at SABR.org/donate. Please help us reach our donation drive goal!
All of us at SABR appreciate your support of our great organization and the game we love.
To learn more, visit SABR.org/donate.
---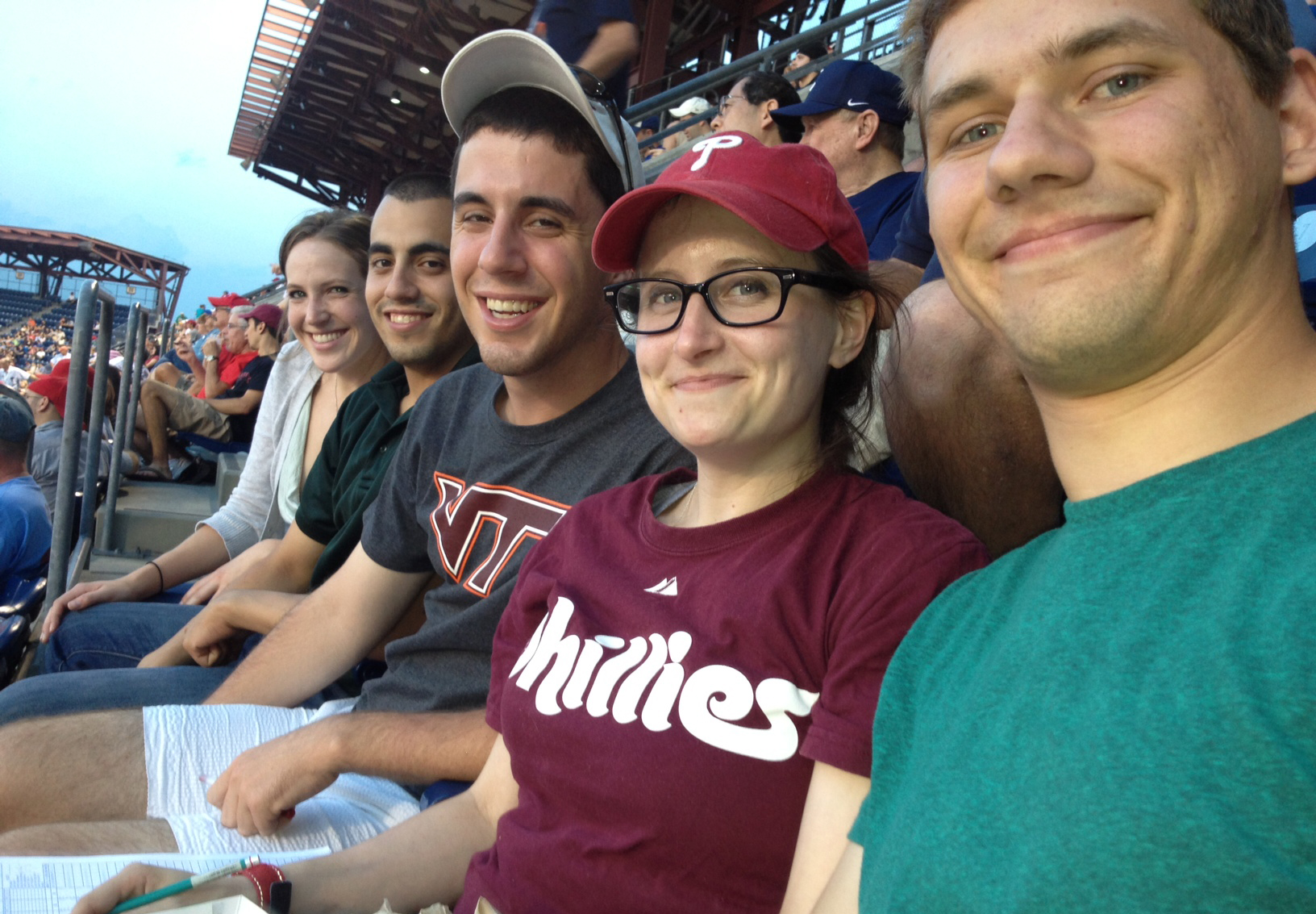 A SABR membership makes a great gift for the baseball fan in your life! All baseball fans are welcome to join SABR. Gift memberships are $65/year (with discounts available for anyone under 30 or over 65), and members receive all the benefits of a standard membership.
Here are some benefits of membership:
Two issues of the Baseball Research Journal, which includes articles on history, biography, statistics, personalities, book reviews, and other aspects of the game.
Expanded e-book edition of The National Pastime, our convention journal which focuses on baseball in the region where that year's national convention is held (in 2016, it's Miami)
"This Week in SABR" e-newsletters every Fridays, with the latest goings-on in SABR and highlighting SABR members' research
New e-books we publish through the SABR Digital Library — free to all SABR members
Regional chapter meetings, which can include guest speakers, presentations and trips to ballgames
Online access to back issues of The Sporting News and other periodicals through Paper of Record
Access to SABR's lending library and other research resources
Online member directory to connect you with an international network of passionate baseball experts and fans
Discount on registration to our annual conferences and National Convention
Access to SABR-L, an e-mail discussion list of baseball questions and answers that many feel is worth the cost of membership itself
The opportunity to be part of a passionate international community of baseball fans
Click here for a complete list of Member Benefits and what you receive for your annual dues. Want more details? Click here for Frequently Asked Questions about getting the most out of your SABR membership.
SABR membership is on a "rolling" calendar system; that means your membership lasts 365 days no matter when you sign up!
Please note: If you are an active SABR member and wish to purchase a gift membership for someone else, you must log out of the website first before you can proceed with your order. If you have any questions, please call (602) 496-1460 for details.
---
For those of you whose SABR memberships expire by December 31 — you can check your current membership status here — it's time for you to renew! We're excited about the upcoming year ahead of us and we hope you'll take advantage of all the great membership benefits offered to SABR members in 2016. Here's a short list:
http://sabr.org/member-benefits
You can renew your membership for 1 year or 3 years online at the SABR Store; by phone at (602) 496-1460; or by mailing this downloadable PDF form and your payment to the office at: SABR, Cronkite School at ASU, 555 N. Central Ave. #416, Phoenix, AZ 85004.
Dues are the same as they have been in recent years: for this, you get two editions of the Baseball Research Journal, the expanded e-book edition of The National Pastime; 8-10 free e-books published by the SABR Digital Library; "This Week in SABR" every Friday; access to research resources such as Paper of Record (with complete archives of The Sporting News); discounts to all SABR conferences such as the National Convention (Miami 2016), the SABR Analytics Conference, the Jerry Malloy Negro League Conference, and the Frederick Ivor-Campbell 19th Century Conference; discounts to MLB.TV; and much, much more.
We believe SABR has something for everyone, from the active researcher to someone passionate about baseball. We hope you'll invite your friends, colleagues and family members to join at store.sabr.org.
Add a family member for $15: Any SABR member can add a family member in the same household for $15 per year; they will receive all electronic member benefits and access to the website, but no printed publications. To add a new family member, please contact Membership Director Deb Jayne. Note: In order to renew your existing family membership, you must log in to the SABR website under the family member's username/e-mail address, not your own.
---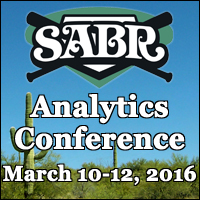 With generous funding from The Anthony A. Yoseloff Foundation, Inc., SABR will award up to four scholarships to high school and college students who wish to attend the 2016 SABR Analytics Conference on March 10-12, 2016, in Phoenix, Arizona. This scholarship will pay for registration, air transportation and lodging up to a total value of $1,250.
The objective of this scholarship fund is to encourage student engagement with baseball analytics, and to engender an active interest in baseball research and SABR. The Yoseloff scholarship is to assist young researchers who want to attend SABR's Analytics Conference and to introduce them to fellow SABR members and professionals within the baseball community. Through this fund, SABR hopes to inspire future baseball research, expose students to high-quality research and build the research capability of interested students.
Students must be currently enrolled in a high school, college undergraduate or graduate program, and be between 18 and 29 years of age at the time of the conference. Some form of age verification (photocopy of driver's license, passport, etc.) must be attached to your application. All applications must be postmarked or e-mailed to Jeff Schatzki at jschatzki@sabr.org no later than December 31, 2015.
Click here for complete details on eligibility requirements and submission details. Or Click here to download the PDF application.
---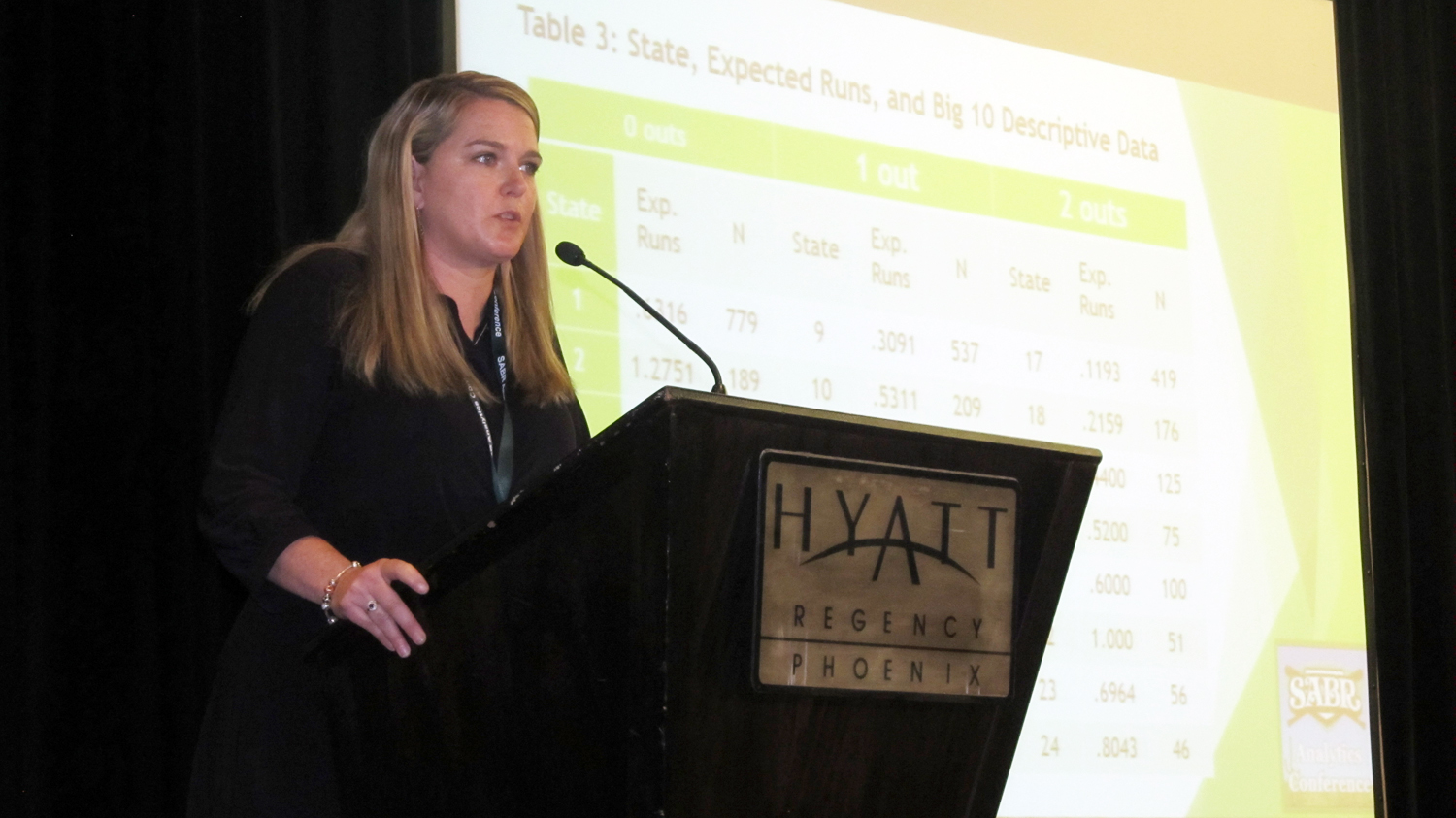 The SABR Analytics Conference brings together the leading minds in baseball analytics to discuss and debate topics relevant to the quantitative analysis of the game of baseball, including aspects of innovation and technology. Past conferences have been attended by representatives from 27 MLB teams.
We are now accepting abstracts for oral presentations for the fifth annual SABR Analytics Conference Conference, scheduled for March 10-12, 2016, at the Hyatt Phoenix Downtown.
Abstracts of proposed research presentations should be no more than 500 words in length, and must include the abstract's title, review of previous work on the subject, a summary of the research methodology and anticipated results, and the expected contribution to the field of baseball analytics offered by this work. Please send all abstracts to this e-mail address: 2016-analytics-presentations@sabr.org.
The submission deadline for 2016 SABR Analytics Conference presentation abstracts is 11:59 p.m. PST, Thursday, December 31, 2015. Please note: If your presentation abstract is accepted, you will be required to register for the conference in order to qualify for a presentation slot.
---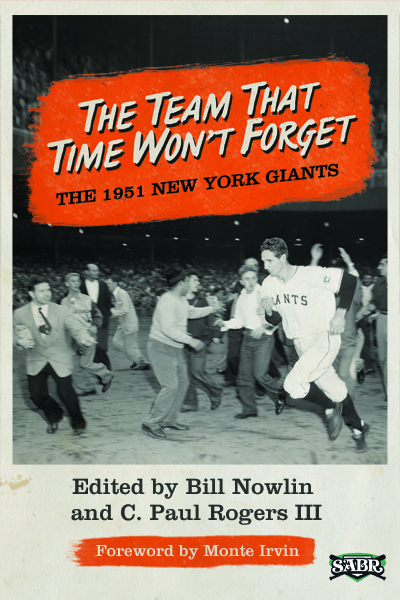 Add a pennant-winning book to your collection with the newest e-book from SABR Digital Library:

The Team That Time Won't Forget: The 1951 New York Giants
Edited by Bill Nowlin and C. Paul Rogers III
Associate editors: Clem Comly and Len Levin
Contributing editors: James Forr and Carl Riechers
Foreword by Monte Irvin
ISBN (e-book): 978-1-9335-9998-4
ISBN (paperback): 978-1-9335-9999-1
Because of Bobby Thomson's dramatic "Shot Heard 'Round the World" in the bottom of the ninth of the decisive playoff game against the Brooklyn Dodgers, the team will forever be in baseball public's consciousness.
But of course there is much more to the story of that famous team than a dramatic home run (albeit the most famous and probably the most dramatic home run in baseball history) and sign stealing. After all, the team started the year 2-12 and found itself 13 games out of first place with a little more than six weeks left in the season. They soon peeled off 16 wins in a row and went 37-7 down the stretch to force the famous playoff. The '51 Giants did win 97 games other than the game everyone remembers.
The team is also of historic significance because of its role in the integration of baseball. It was the year Willie Mays first showed his brilliance to major-league audiences, in late May joining black teammates Monte Irvin, Hank Thompson, and Ray Noble. At the time, the Dodgers and Giants had most of the smattering of African-American players in the big leagues, and it is no surprise that those two teams battled down to the wire for the National League pennant.
Fueled by Giants manager Leo Durocher, who had previously managed the Dodgers, the two teams simply did not like each other and they showed it. Beanballs, flashing spikes, and brawls and near brawls were the order of the day. It is, of course, a rivalry that endures today, with both clubs having moved to the West Coast in 1958.
For any number of reasons, the '51 Giants truly are the team that time won't forget. It is the aim of this book to assure that to be true by providing an in depth look at and future resource about that historic team.
Includes a foreword by Giants outfielder Monte Irvin, as well as biographies of all players, coaches, executives, and broadcasters. Also included are chapters on the Polo Grounds, recaps of notable games, the integration of the Giants, sign-stealing, the 1951 All Star Game, World Series, and more.
Contributors: Eric Aron, Thomas Ayers, Matt Bohn, Terry Bohn, Maurice Bouchard, Bo Carter, Alan Cohen, Rory Costello, Nicholas Diunte, Alexander Edelman, James E. Elfers, Greg Erion, Charles F. Faber, Scott Ferkovich, Dan Fields, Jeff Findley, James Forr, Rob Garratt, Peter M. Gordon, Don Harrison, Tom Hawthorn, Dr. Lawrence Hogan, Monte Irvin, Bill Johnson, Jimmy Keenan, David H. Lippman, Jeffrey Marlett, Brian McKenna, Rob Neyer, Skip Nipper, Armand Peterson, Janice A. Petterchak, Joe Phillips, C. Paul Rogers III, John T. Saccoman, Curt Smith, David W. Smith, Lyle Spatz, Mark S. Sternman, Andy Sturgill, Rick Swaine, Judith Testa, Stew Thornley, Steve Treder, Clayton Trutor, Gregory H. Wolf.
SABR members, get this e-book for FREE!
Having trouble downloading our e-books? To view PDF files on your computer, click here to download the free Adobe Reader software. Having trouble downloading e-books to your Kindle, Nook, Sony Reader or iPad? Click here for additional help.
SABR members will get discounted rates for all Digital Library publications, including many for free. Find all past publications at SABR.org/ebooks.
---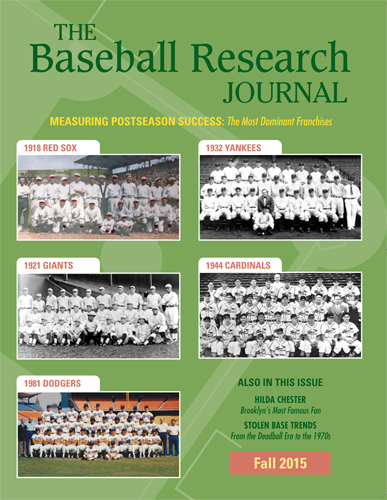 Good news! The Fall 2015 edition of the Baseball Research Journal has been mailed out to all SABR members.
Those of you who receive the print edition should find your BRJ arriving in the next two to four weeks, although we hear many have already arrived. For digital subscribers, the e-book edition was delivered to your inboxes on November 4.
To learn more about contributing to a future SABR publication, click here.
We hope you enjoy reading the Fall 2015 Baseball Research Journal!
---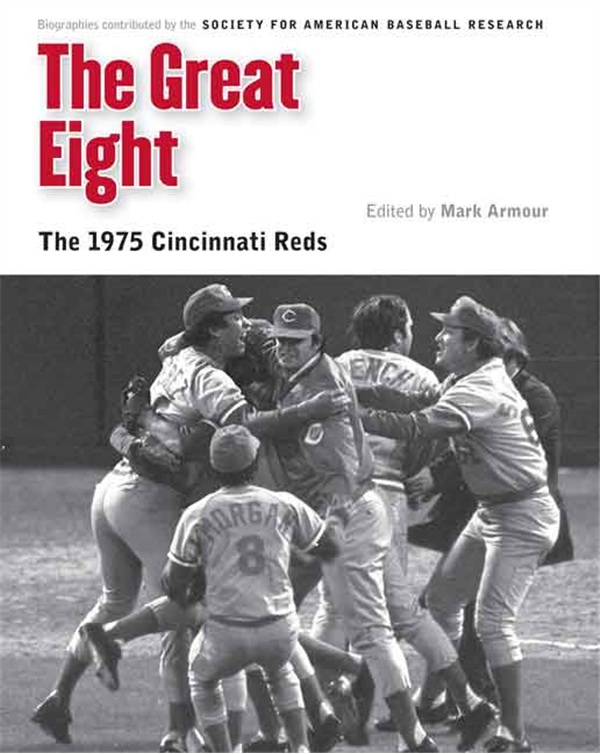 In SABR's The Great Eight: The 1975 Cincinnati Reds, edited by Mark Armour and published by University of Nebraska Press in 2014, we celebrated the "Big Red Machine," one of the most memorable teams in baseball history. While the Reds dominated the National League from 1972 to 1976, it was the '75 team that surpassed them all, winning 108 games and beating the Boston Red Sox in a thrilling 7-game World Series.
Led by Hall of Fame manager Sparky Anderson, the team's roster included other legends such as Johnny Bench, Pete Rose, Joe Morgan, Tony Pérez, Ken Griffey Sr., and Dave Concepción. The 1975 Reds were notably disciplined and clean-cut, which distinguished them from the increasingly individualistic players of the day.
The SABR BioProject biographies that appeared in that book can now be read online at:
http://sabr.org/category/completed-book-projects/1975-cincinnati-reds
You can also purchase the book from University of Nebraska Press by clicking here.
---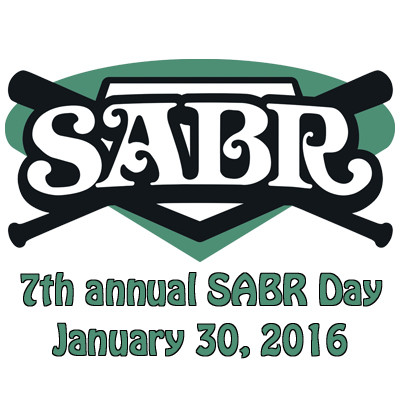 Just a reminder to all that the seventh annual SABR Day will be held Saturday, January 30, 2016. We're starting to compile details now on 2016 SABR Day chapter meetings around the country. We'll post them as soon as we get them at SABR.org/sabrday.
Regional SABR meetings are open to all baseball fans and are usually free to attend, so bring a friend! Guest speakers often include current and former baseball players, managers, umpires, executives, scouts, writers and authors.
SABR Day events are scheduled for Saturday, January 30, 2016, in the following cities:
Cooperstown, NY (Cliff Kachline Chapter)
Fort Lauderdale, FL (South Florida Chapter)
Las Vegas, NV (Maddux Brothers-Las Vegas Chapter)
Little Rock, AR (Robinson-Kell Chapter)

Louisville, KY (Pee Wee Reese Chapter)

New York, NY (Casey Stengel Chapter)
Rochester, NY (Luke Easter Chapter)
San Francisco, CA (Lefty O'Doul Chapter)
St. Louis, MO (Bob Broeg Chapter)
Click here for complete details on all events on our 2016 SABR Day map (or click here to view details on a spreadsheet).
Chapter leaders, to add your SABR Day event to the calendar, please send details to jpomrenke@sabr.org. We'll post more information soon on each of these meetings at SABR.org/sabrday.
In addition, some chapters are holding their SABR Day meetings on a different day, due to venue or schedule availability. Click on a link below or see the Events Calendar for details on each of these meetings, as well:
For a complete recap of 2015 SABR Day activities, visit SABR.org/sabrday/2015.
---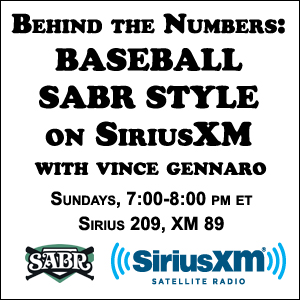 Behind the Numbers: Baseball SABR Style on SiriusXM, a new radio show hosted by SABR President Vince Gennaro, returns this Sunday night on MLB Network Radio. Please note the show will air at its original timeslot of 7:00-8:00 p.m. ET this week.
This week's guest is Russell Carleton of Baseball Prospectus.
Baseball SABR Style focuses on examining and interpreting the statistical analysis that plays a critical role in baseball today. It airs weekly throughout the year on MLB Network Radio, available to subscribers nationwide on XM channel 89, Sirius channel 209, and on the SiriusXM Internet Radio App.
For more information, click here.
---
This weekend, we will set a milestone at SABR.org: 1 million unique visitors in a calendar year for the first time.
SABR.org has enjoyed another year of record traffic in 2015 and we have already surpassed all daily, weekly, and monthly totals that were set a year ago.
In 2014, we set a record with 937,972 unique visitors and 2.5 million pageviews on the website. Through December 17, we have had more than 997,000 UVs in 2015 and are on pace to go over 1 million this weekend. We have had more than 2.7 million pageviews so far this year.
SABR.org surpassed 100,000 monthly unique visitors three times in 2015 (April, May, and October), establishing a new high with 110,959 unique visitors in April with online coverage of the SABR Analytics Conference and the start of the baseball season. We are averaging more than 94,000 monthly unique visitors in 2015, an 11% increase from the monthly average in 2014 and a 48% increase from 2013.
---
Please note: Only ONE entry per nomination will be considered (do not submit multiple nominations for the same award). For more information on SABR Awards, click here.
---
MLB.com, the official web site of Major League Baseball, is seeking stats stringers to cover these clubs in 2016 and beyond:
Atlanta
Baltimore/Washington DC
Boston
Houston
Los Angeles (both clubs)
Miami
Oakland/San Francisco
Pittsburgh
Texas
Toronto
Stats stringers are responsible for digitally scoring games from the MLB ballparks, which provides the data used in the live content applications on MLB.com, including At-Bat, Gameday and MLB.TV, real-time highlights and text alerts, and by our business partners. This is a perfect part-time job for a responsible, computer-savvy person who happens to be a big baseball fan.
Those interested in applying should apply online, here: http://mlb.theresumator.com/apply/oHAhlE/Stats-Stringers. ONLY those who apply online will be considered, and due to volume, we may be unable to respond to all applicants.
For more information on qualifications and responsibilities, click here.
---
We've heard your feedback: Some of you have said you look forward to "This Week in SABR" every Friday, but sometimes there are just too many compelling articles and announcements to read every week. We're not complaining — hey, keep up the great work! — but we know the feeling. So in an effort to make the length of this newsletter more manageable to read, we'll summarize some of the repeating/recurring announcements in a special "In Case You Missed It (ICYMI)" section of "This Week in SABR".
Here are some major headlines from recent weeks that we don't want you to miss:
All previous editions of This Week in SABR can be found here: http://sabr.org/content/this-week-in-sabr-archives.
---
We'd like to welcome all of our new SABR members who have joined this week. You can find all Members-Only resources at members.sabr.org and the New Member Handbook can be downloaded here.
Please give these new members a warm welcome and help them make the most of their membership by giving them the opportunity to get involved in their local chapter or a research committee.
You can find contact information for any SABR member in the online membership directory (SABR.org/directory).
| Name | Hometown | | | Name | Hometown |
| --- | --- | --- | --- | --- | --- |
| Michael Beusch | San Leandro, CA | | | Seth Moeller | Shelbyville, IL |
| Scott Bowles | Naples, FL | | | David Norwood | Wetumpka, AL |
| Joseph Butash | Boston, MA | | | Yusuke Onishi | Sinjyuku, JPN |
| Greg Chandler | Carrollton, TX | | | Terry Owens | Waukesha, WI |
| James Dodd | Round Rock, TX | | | Luis Ramirez | San Jose, CRC |
| John Gorman | Erie, PA | | | Christopher Rinaldi | New Orleans, LA |
| Brad Harris | Jacksonville, FL | | | Kevin Schindler | Flagstaff, AZ |
| Glen Herrick | Sioux Falls, SD | | | Bruce Schoenfeld | Boulder, CO |
| Jeffrey Herrmann | Peekskill, NY | | | Dave Snyder | Toney, AL |
| John Koskinen | Madison, WI | | | Bill Stephan | Magnolia, TX |
| Johanna-Rosalye Luna | Phoenix, AZ | | | David Wernick | Maineville, OH |
| Deanna Martin | Salt Lake City, UT | | | Geoff Willbanks | Tyler, TX |
| Neal McCall | Chapel Hill, NC | | | | |
---
There are no new SABR research committee updates this week.
Find all SABR research committee newsletters at SABR.org/research.
---
Here are the new regional chapter updates this week:
Visit SABR.org/chapters for more information on SABR regional chapters.
---
Here is a list of upcoming SABR events:
All SABR meetings and events are open to the public. Feel free to bring a baseball-loving friend … and make many new ones! Check out the SABR Events Calendar at SABR.org/events.
---
Here are some recent articles published by and about SABR members:
Read these articles and more at SABR.org/latest.
---
This Week in SABR is compiled by Jacob Pomrenke. If you would like us to include an upcoming event, article or any other information in "This Week in SABR," e-mail jpomrenke@sabr.org.
Have trouble reading this e-mail? Click here to view this week's newsletter on the web.
Are you receiving our e-mails? "This Week in SABR" goes out by e-mail to all members on Friday afternoons. If they're not showing up, try adding "sabr.notes@sabr.org" to your contact list to ensure they show up in your inbox (and not the spam folder.)
---
Originally published: December 18, 2015. Last Updated: April 3, 2020.
https://sabr.org/wp-content/uploads/2020/03/research-collection4_350x300.jpg
300
350
admin
/wp-content/uploads/2020/02/sabr_logo.png
admin
2015-12-18 15:00:00
2020-04-03 14:39:14
This Week in SABR: December 18, 2015