This Week in SABR: March 13, 2015

Live from the fourth annual SABR Analytics Conference, welcome to "This Week in SABR!" Here's what we've been up to as of March 13, 2015: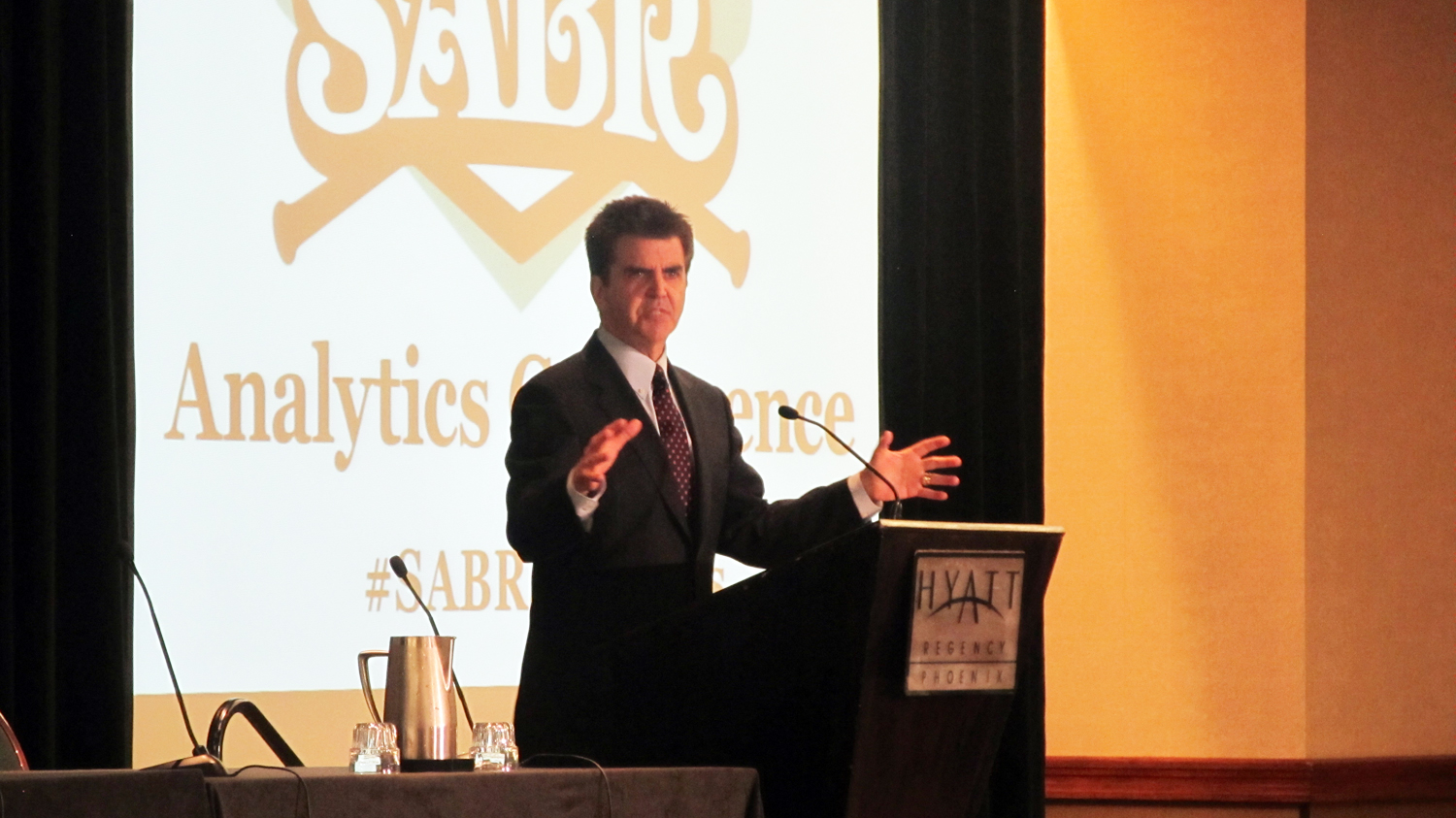 Couldn't make it to Arizona for the SABR Analytics Conference? Visit SABR.org/analytics for full coverage of this exciting event that brings together the top minds in the baseball analytics community in 2015. You'll feel like you're wandering through the Hyatt Regency Phoenix with stories and multimedia clips from the great panel discussions and research presentations on our schedule, photo galleries, and much more.
During the conference, you can follow along on Twitter by searching for the hashtag #SABRanalytics or by reading tweets from our account (@SABR) and from other conference attendees.
View our photo galleries from each day of the conference at SABR.org/analytics/photos.
We've already posted some highlights from the first day at SABR.org/analytics:
The full schedule is available online at SABR.org/analytics/schedule.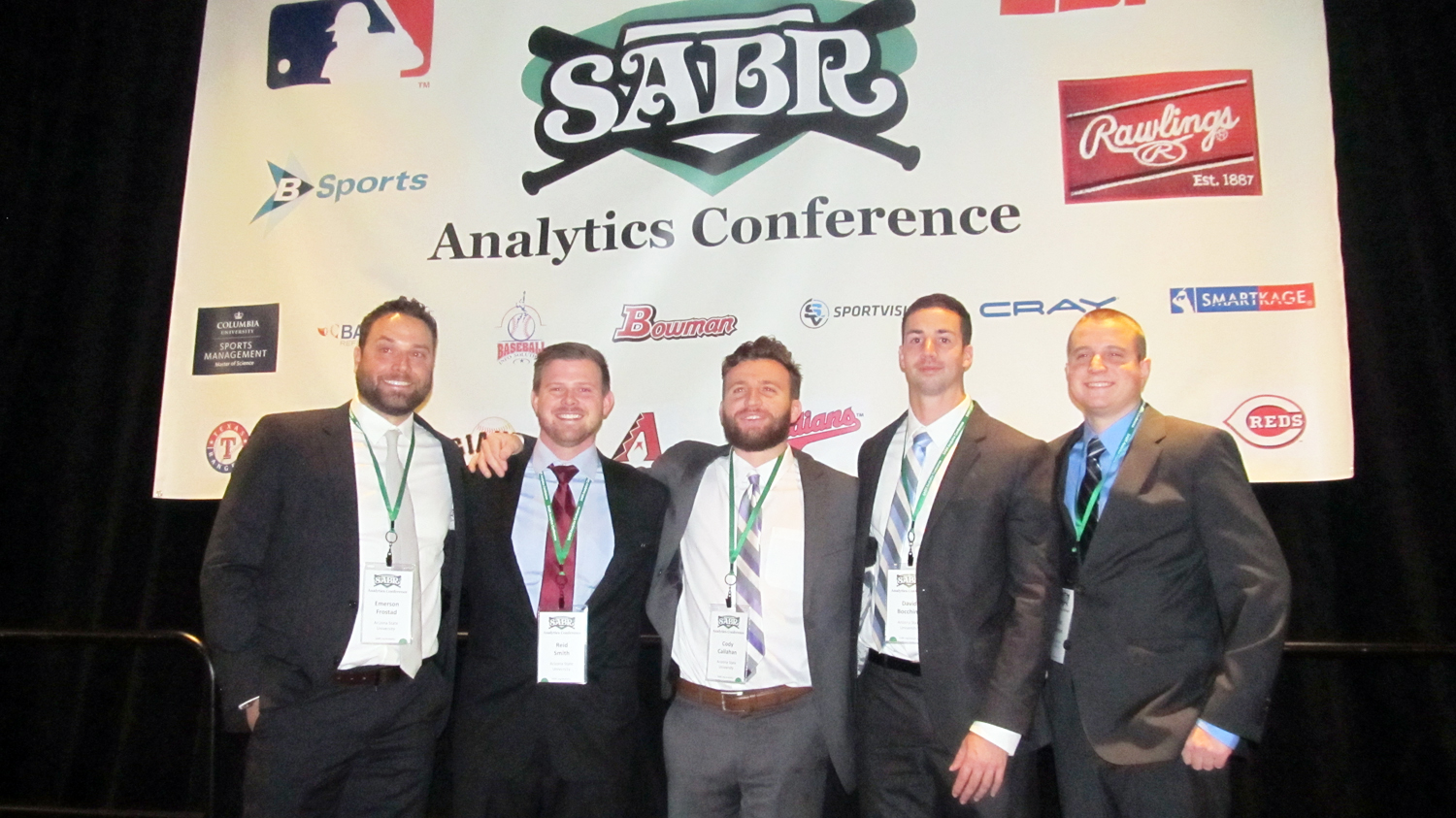 The 2015 Diamond Dollars Case Competition winners were announced Thursday, March 12 during the SABR Analytics Conference at the Hyatt Regency Phoenix in Phoenix, Arizona.
A team from Arizona State University won the Graduate and Professional School Division. The team consisted of Sean Aronson, Emerson Frostad, David Bocchino, Reid Smith, and captain Cody Callahan.
In the Undergraduate Division, the winning team was from Stanford University. Stanford's team consisted of Avner Kreps, Vihan Lakshman, Do-Hyoung Park, Alec Powell, and captain Jordan Wallach.
"The judges thought the results were very impressive … in the complex way these students are processing this data," said SABR President Vince Gennaro, who develops the case studies in the Diamond Dollars Case Competition.
The runner-up in the Graduate and Professional School Division was Ryerson University (captained by D'arcy Mulligan). The runner-up in the Undergraduate Division was Tufts University (Team 2, captained by Caleb Pykkonen).
In this year's case, students were asked to determine the best possible trade package for Philadelphia Phillies star left-hander Cole Hamels in terms of present and future value to both teams involved in the deal.
To learn more about the winners, click here.
Sam Miller and Grant Brisbee were announced as winners of 2015 SABR Analytics Conference Research Awards this week at the SABR Analytics Conference in Phoenix, Arizona.
Miller was voted as the winner of the Historical Baseball Analysis/Commentary award for his article "Baseball's Seven Wonders: Kerry Wood's 20-K Game," published by Baseball Prospectus on March 18, 2014. Miller is the editor-in-chief of Baseball Prospectus. He has contributed to four Baseball Prospectus annuals and co-edited the 2015 edition. He also co-hosts the "Effectively Wild" podcast with Ben Lindbergh, and is a contributor to ESPN The Magazine.
Brisbee was voted as the winner of the Contemporary Baseball Commentary award for his article "Rumors, Rumors, Every Where, Nor Any Drop to Drink," published by SB Nation on December 15, 2014. Brisbee is the senior baseball writer for SB Nation. Since 2005, he also has been the lead writer for McCovey Chronicles, a San Francisco Giants-themed website on the SB Nation network. His work has appeared on MLB Network, Deadspin, and Business Insider. He is a graduate of San Jose State University.
The award for Contemporary Baseball Analysis will be announced on Saturday at the 2015 SABR Analytics Conference.
You can read all the 2015 finalists by clicking here.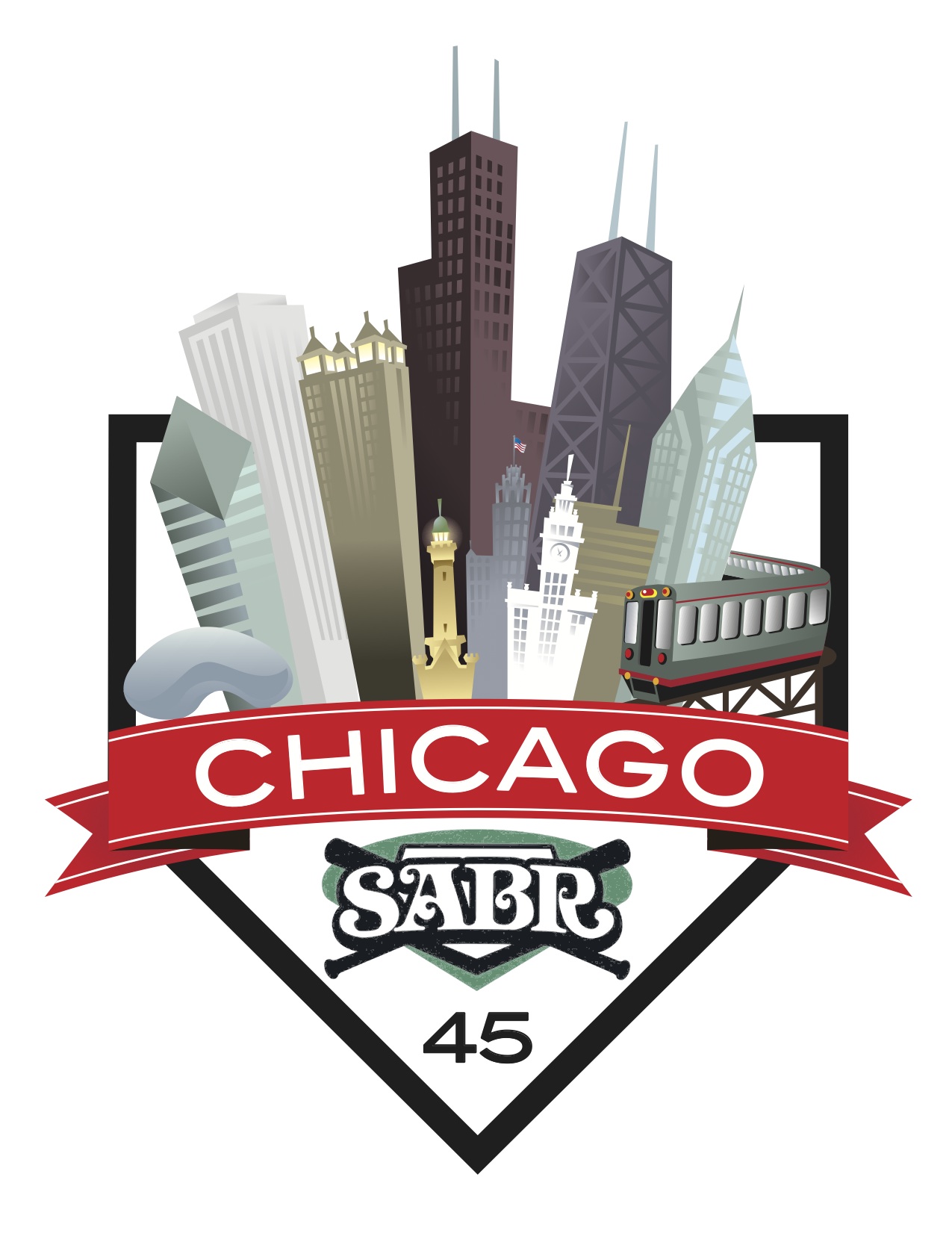 We hope you'll join us for what promises to be a spectacular SABR 45 convention, June 24-28, 2015, at the Palmer House Hilton in Chicago, Illinois.
Hotel and conference registration for the 2015 convention is now available. Click here for complete information on SABR 45 registration rates, all-inclusive packages, and optional sessions. Or click here to register for SABR 45. More details on guest speakers, panelists, and presenters will be announced soon.
Please note: The SABR 45 all-inclusive package includes 1 full conference registration; 1 ticket to the Cubs game on Thursday, June 25; 1 round-trip ticket on the CTA Red Line train; and 1 ticket to the Awards Luncheon on Friday, June 26. It does NOT include any other optional events such as the Downtown Baseball Walking Tour on Wednesday, June 24, The Baseball Project concert on Thursday, June 25, or the Historical Ballpark Sites Bus Tour on Sunday, June 28. Those tickets must be purchased separately.
All SABR 45 attendees will also receive a souvenir print edition of The National Pastime, our annual convention journal, focusing on baseball teams, players and events in the Chicago area. All SABR members, whether you attend the convention or not, will receive the expanded e-book edition of The National Pastime in their inboxes later this summer. Click here to register for SABR 45.
For more information on SABR 45, visit SABR.org/convention.

Save the date! The 18th annual Jerry Malloy Negro League Conference, hosted by SABR's Negro Leagues Research Committee, will be held August 6-8, 2015, at the Wyndham Grand Pittsburgh Downtown in Pittsburgh, Pennsylvania.
The conference is open to all baseball, history and sports fans of all ages. Registration and hotel information will be available soon.
The Malloy Conference promotes activities to enhance scholarly, educational, and literary objectives. For the past 17 years, the event has been the only symposium dedicated exclusively to the examination and promotion of black baseball history. The conference is open to baseball and history fans of all ages. Each year, monies are targeted to donate books to schools or libraries; raise funds for the Negro Leagues Baseball Grave Marker Project; and award scholarships to high school seniors in a nationwide essay contest and a nationwide art contest.
For more information about the Jerry Malloy Negro League Conference, visit SABR.org/malloy.
Registration is now closed for the seventh annual Frederick Ivor-Campbell 19th Century Base Ball Conference, which will be held April 17-18, 2015, at the National Baseball Hall of Fame and Museum in Cooperstown, New York.
Anyone wishing to be placed on a waiting list in event of cancellations should contact Peter Mancuso at peterplus4@earthlink.net. The conference is open to all SABR members and up to two non-SABR family members or friends (ages 18 or over.)
The 2015 conference will be highlighted by a keynote address from baseball historian Jerrold Casway, along with a panel discussion, "Sporting News: Baseball in the 19th Century Press" with Jim Overmyer, Bob Tholkes, George Thompson, and John Thorn; a special presentation by James Brunson III ("Black Baseball: 1858-1900"); a Member Spotlight interview of Bob Bailey by Tom Simon; plus book signings, more research presentations, a welcome dinner, and more.
For more information, visit SABR.org/ivor-campbell19c or contact Peter Mancuso at peterplus4@earthlink.net.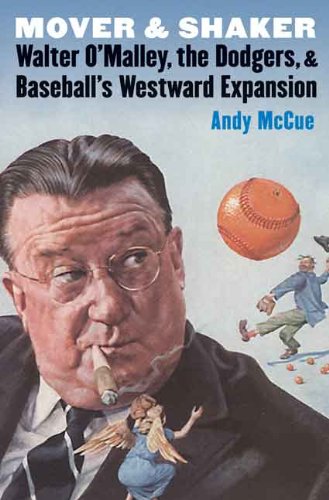 2015 Seymour Medal winner Andy McCue, a past SABR President and a former business journalist from Riverside, California, will receive his award at the banquet of the 22nd annual NINE Spring Training Conference on Saturday, March 14 at the DoubleTree by Hilton Hotel in Tempe, Arizona (formerly the Fiesta Inn and Resort.)
The banquet includes the Seymour Medal ceremony with Dorothy Seymour Mills, dinner, and the NINE keynote address by SABR member Terry Cannon, founder and Executive Director of the Baseball Reliquary, a California-based nonprofit dedicated to fostering an appreciation of American art and culture through the prism of baseball history.
To register for the NINE conference, visit nineregistration.com.
McCue won the Seymour Medal — which honors the best book of baseball history or biography published during the preceding calendar year — for Mover & Shaker: Walter O'Malley, the Dodgers, and Baseball's Westward Expansion, published by the University of Nebraska Press.
The Seymour Medal, named in honor of Dr. Harold Seymour and Mrs. Dorothy (Seymour) Mills, was first awarded by SABR in 1996. To be considered for the medal, a work must be the product of original research or analysis. The winning book shall significantly advance our knowledge of baseball and shall be characterized by understanding, factual accuracy, profound insight and distinguished writing.
To see a list of previous Seymour Medal winners, click here.

You now have the opportunity to take advantage of a special offer from MLB Advanced Media for the 2015 season.
All SABR members can get a 20% discount off a MLB.TV Premium Monthly subscription. This discount is valid for each month of the 2015 season, so you can use it all year long:
With MLB.TV, you can watch every 2015 Regular Season out-of-market game LIVE or on-demand in HD Quality. Choose home or away broadcasts. MLB.TV is on your favorite devices, including iPhone, iPad, Android phones, Xbox 360, Sony PlayStation and more. Watch up to four games at once with Mosaic. DVR functionality lets you pause or rewind live games. PLUS, watch select 2015 Spring Training games LIVE online.
For any questions about your subscription, please contact MLB.TV Customer Service.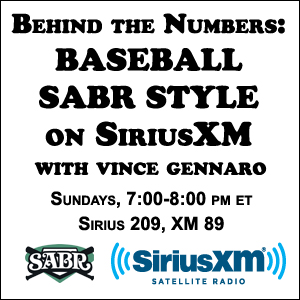 This week's episode of Behind the Numbers: Baseball SABR Style on SiriusXM, a new radio show hosted by SABR President Vince Gennaro, will include highlights from the SABR Analytics Conference in Phoenix.
Baseball SABR Style made its debut on February 15. The show — focused on examining and interpreting the statistical analysis that plays a critical role in baseball today — will air weekly throughout the year on MLB Network Radio, available to subscribers nationwide on XM channel 89, Sirius channel 209, and on the SiriusXM Internet Radio App. (The show will also be available afterward in the "on-demand" section of the app.)
For more information, click here.
The Spring 2015 issue of the Baseball Research Journal is in typesetting now, and I thought this might be a good moment to remind folks that the BRJ is open to research by all SABR members.
The BRJ is interdisciplinary, meaning that we define "baseball research" very broadly. So everything from physics to physiology might find its way into our pages. Economics, history, sociology, game theory, etymology, architecture, psychology, records, biomechanics, meteorology: if it's "research" we are open to being queried about it.
If you're interested in writing for the Fall 2015 edition of the BRJ, a query is the simplest way to start: send me an email at ctan@sabr.org describing your idea for an article, a few sentences about your topic, a rough idea of where you expect the investigation or analysis to go, and if possible give a guess as to the length. (BRJ articles are typically 2,000 to 6,000 words long, but this is not a hard limit by any means.) Please also include in your query how you became interested in the topic and any qualifications you have to research it, and what sources you might draw on to complete the research.
If you have a completed paper or near-completed manuscript, please write me for the writers guidelines which will give you more information on how to format the submission and where to email it (hint: JournalSubs@sabr.org).
The peer review process can take months to complete, so the sooner we receive a paper, the sooner we can start the process. There is no single firm "deadline" but I would expect most papers received before April 1 have a good chance to make it into the fall issue, whereas those arriving in May might be cutting it close, and by June the issue will likely be full or only have a few slots left.
— Cecilia M. Tan
SABR Publications Editor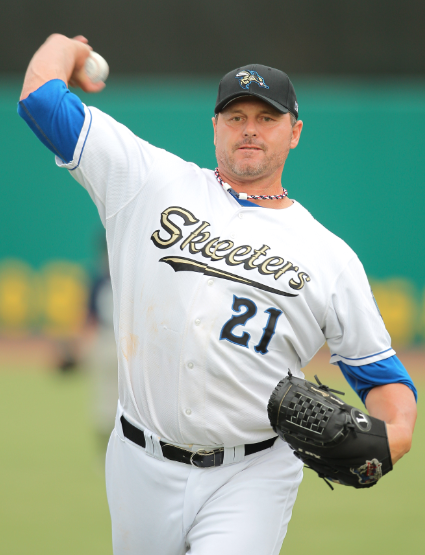 Three new game stories were posted this week as part of the SABR Games Project. Here are the new game stories:
The SABR Baseball Games Project was launched in January 2014 to research and write articles on major-league and Negro League regular, postseason, and All-Star Games. These game accounts will complement Retrosheet and Baseball-Reference box scores as well as BioProject essays on the players involved.
The articles are not intended to be mere play-by-play summaries, nor should they be first-person narratives. Rather the goal is to put each game in historical context — whether that history is of a particular player, team, season, or something even broader.
Visit the new Games Project website at SABR.org/gamesproject.
In Memoriam
Longtime SABR member Donald Hazelwood, 91, of Walnut Creek, California, died on February 21, 2015. He joined SABR in 1982 and was active in the Lefty O'Doul Chapter and the Pacific Coast League Historical Society; he was a devoted fan of the old Oakland Oaks and then the Oakland A's. Born on February 16, 1924, in Oakland, Don was a proud graduate of St. Joseph's High School in Alameda in 1941 and of Santa Clara University with a degree in business in 1948. During his college years, Don served in the US Navy during World War II. Following his college graduation, Don worked the majority of his career at Wells Fargo Bank in San Francisco before retiring in 1982. In retirement, Don loved to lawn bowl and was a member of the Rossmoor Lawn Bowling Club. He was also an avid baseball fan and collector of baseball memorabilia. Don is survived by his wife of 59 years, Rosary; son Scott and his wife, Rachael; brother Robert and his wife, Barbara; and grandchildren James and David. He was preceded in death by brother, Jack (survived by wife Jean). A funeral service will be held at 11 a.m. on Saturday, March 14 at St. Anne's Catholic Church, 1600 Rossmoor Parkway, Walnut Creek, CA 94595.
Please note: Only ONE entry per nomination will be considered (do not submit multiple nominations for the same award). For more information on SABR Awards, click here.
We've heard your feedback: Some of you have said you look forward to "This Week in SABR" every Friday, but sometimes there are just too many compelling articles and announcements to read every week. We're not complaining — hey, keep up the great work! — but we know the feeling. So in an effort to make the length of this newsletter more manageable to read, we'll summarize some of the repeating/recurring announcements in a special "In Case You Missed It (ICYMI)" section of "This Week in SABR".
Here are some major headlines from recent weeks that we don't want you to miss:
All previous editions of This Week in SABR can be found here: /content/this-week-in-sabr-archives.
We'd like to welcome all of our new SABR members who have joined this week. You can find all Members-Only resources at members.sabr.org and the New Member Handbook can be downloaded here.
Please give these new members a warm welcome and help them make the most of their membership by giving them the opportunity to get involved in their local chapter or a research committee.
You can find contact information for any SABR member in the online membership directory (SABR.org/directory).
| Name | Hometown | | | Name | Hometown |
| --- | --- | --- | --- | --- | --- |
| Peter Armstrong | Stoke Orchard, ENG | | | Michael Pagano | West Chester, PA |
| Chris Byrum | Arlington, TX | | | Mark Ramsey | Iowa City, IA |
| Joe DeZarlo | South River, NJ | | | Mike Raymond | Odessa, TX |
| Steven Haas | Clarksville, MD | | | Daniel Roland | Kent, OH |
| Desiree Hanford | Bartlett, IL | | | Jeff Sanborn | Brentwood, TN |
| John Holdforth | Omaha, NE | | | Kevin Schramm | Morris, IL |
| Gordon Janis | Alexandria, VA | | | David Tabor | Chicago, IL |
| Stephen Katz | New York, NY | | | Veronica Thompson-Crew | Sparks, NV |
| Jeff Lantz | St. Petersburg, FL | | | Robert White | Zanesville, OH |
| George Moskal | Woodland Park, NJ | | | | |
Here are the new SABR research committee newsletters published this week:
Find all SABR research committee newsletters at SABR.org/research.
Here are the new regional chapter updates published this week:
Visit SABR.org/chapters for more information on SABR regional chapters.
Here is a list of upcoming SABR events:
All SABR meetings and events are open to the public. Feel free to bring a baseball-loving friend … and make many new ones! Check out the SABR Events Calendar at SABR.org/events.
Here are some recent articles published by and about SABR members:
Read these articles and more at SABR.org/latest.
---
This Week in SABR is compiled by Jacob Pomrenke. If you would like us to include an upcoming event, article or any other information in "This Week in SABR," e-mail jpomrenke@sabr.org.
Have trouble reading this e-mail? Click here to view this week's newsletter on the web.
Are you receiving our e-mails? "This Week in SABR" goes out by e-mail to all members on Friday afternoons. If they're not showing up, try adding "sabr.notes@sabr.org" to your contact list to ensure they show up in your inbox (and not the spam folder.)
---
Originally published: March 13, 2015. Last Updated: April 3, 2020.
https://h2j7w4j4.stackpathcdn.com/wp-content/uploads/2020/03/research-collection4_350x300.jpg
300
350
jpomrenke
/wp-content/uploads/2020/02/sabr_logo.png
jpomrenke
2015-03-13 13:00:00
2020-04-03 14:39:15
This Week in SABR: March 13, 2015