This Week in SABR: October 23, 2015

Welcome to "This Week in SABR!" Click here to view this week's newsletter on the web. Here's what we've been up to as of October 23, 2015:
---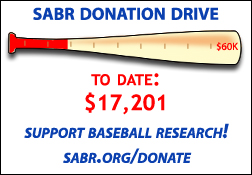 This has been a banner year for SABR, and you can help us bring 2015 to an even more successful close by making a charitable contribution to our year-end donation drive.
SABR depends upon the volunteer work of members to mount our exciting events like the SABR Convention, the Analytics Conference, and the Jerry Malloy Negro League Conference; to produce groundbreaking research through the SABR Digital Library e-book program, the Baseball Research Journal, and The National Pastime; and to expand the online resources of the research committees, regional chapters, the BioProject, the Games Project, and much more. SABR continues to offer unparalleled opportunities for involvement and benefits for members around the world.
As a 501(c)3 organization, tax-deductible donations allow SABR to expand member opportunities and to become an even larger voice in the baseball community. Many members have already become donors, and you can join them right now by making your gift online at SABR.org/donate. Please help us reach our donation drive goal!
You can also send your donation by check to: SABR, Cronkite School at ASU, 555 N. Central Ave. #416, Phoenix, AZ 85004.
All of us at SABR appreciate your support of our great organization and the game we love.
To learn more, visit SABR.org/donate.
---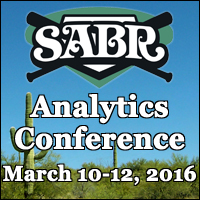 SABR has a long and storied history with baseball statistical analysis, evidenced by the link between our name and sabermetrics. While SABR is a multi-faceted organization involved in virtually every aspect of baseball, we continue to build on our legacy by producing and hosting the fifth annual SABR Analytics Conference.
Once again, we're bringing together the top minds of the baseball analytic community under one roof to discuss, debate and share insightful ways to analyze and examine the great game of baseball.
The schedule will consist of a combination of Guest Speakers, Panels and Research Presentations — plus the unique Diamond Dollars Case Competition, in which undergraduate, graduate, and law school students from across the country analyze and present a real baseball operations decision.
Conference registration is available now at the SABR Store.

Click here to register!

The conference is open to all baseball fans. The early registration rate is $395 for SABR members and $495 for nonmembers, or $350 for currently enrolled high school or college students (includes one-year membership to SABR).
Book your hotel room: The 2016 SABR Analytics Conference will be held Thursday, March 10 through Saturday, March 12 at the Hyatt Regency Phoenix, 122 N. 2nd St., Phoenix, AZ 85004. Click here to book your hotel room at the special SABR group rate of $179/night (plus tax) for double occupancy. Or call

(602) 252-1234 and mention that you're with the SABR Analytics Conference.
Check back soon at SABR.org/analytics as we announce some of our featured speakers, panels and presentations for the 2016 SABR Analytics Conference!
---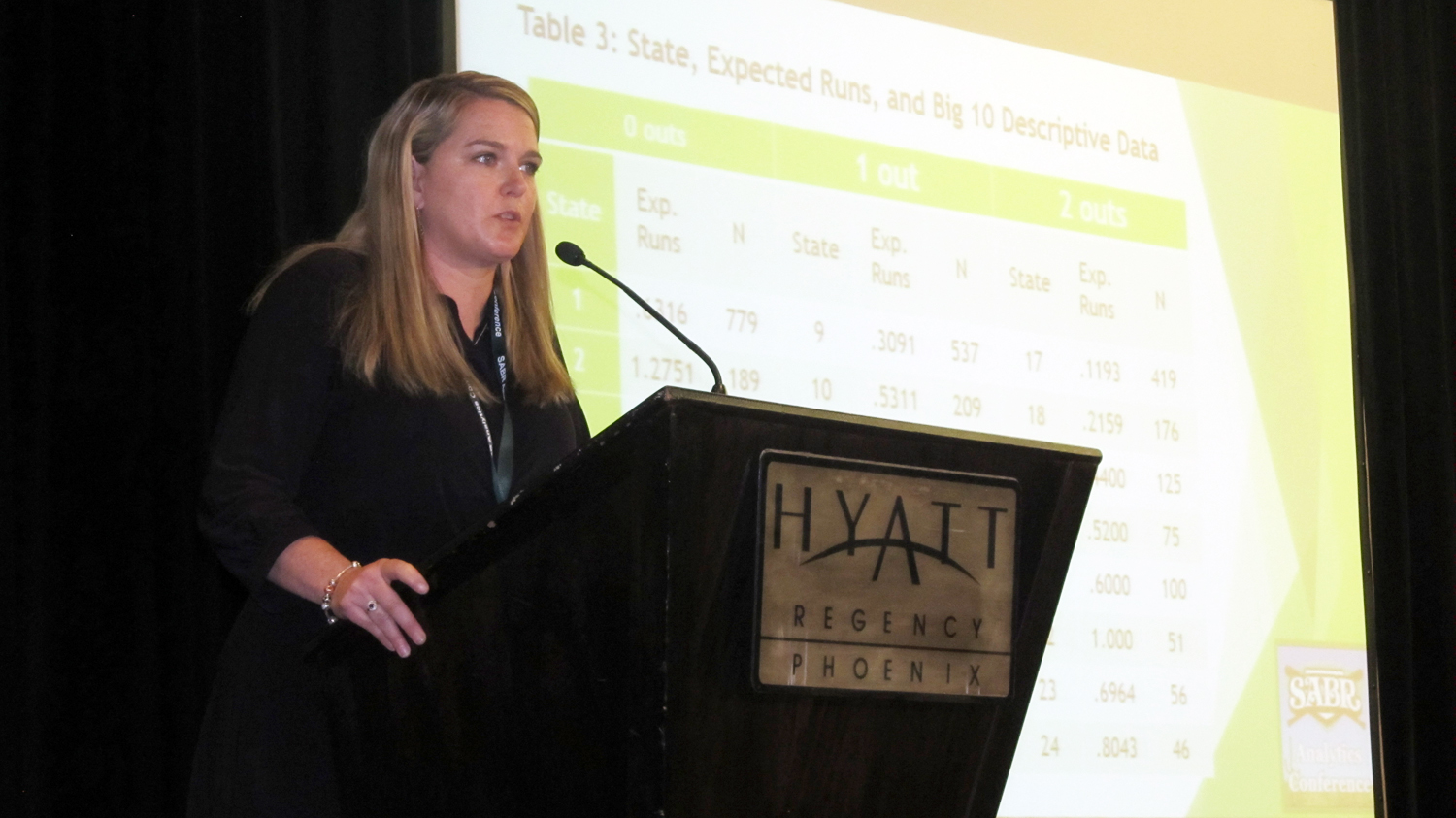 The SABR Analytics Conference brings together the leading minds in baseball analytics to discuss and debate topics relevant to the quantitative analysis of the game of baseball, including aspects of innovation and technology. Past conferences have been attended by representatives from 27 MLB teams.
We are now accepting abstracts for oral presentations for the fifth annual SABR Analytics Conference Conference, scheduled for March 10-12, 2016, at the Hyatt Phoenix Downtown.
Abstracts of proposed research presentations should be no more than 500 words in length, and must include the abstract's title, review of previous work on the subject, a summary of the research methodology and anticipated results, and the expected contribution to the field of baseball analytics offered by this work. Please send all abstracts to this e-mail address: 2016-analytics-presentations@sabr.org.
The submission deadline for 2016 SABR Analytics Conference presentation abstracts is 11:59 p.m. PST, Thursday, December 31, 2015. Please note: If your presentation abstract is accepted, you will be required to register for the conference in order to qualify for a presentation slot.
---
What are the best baseball analytics articles you've read in 2015?
We're seeking nominations for the 2016 SABR Analytics Conference Research Awards, which recognize baseball researchers who have completed the best work of original analysis or commentary during the preceding calendar year in the following categories:
Contemporary Baseball Analysis: Honoring the best analysis focusing on a subject related to the modern game(s), team(s) or player(s).
Contemporary Baseball Commentary: Honoring the best commentary focusing on a subject related to the modern game(s), team(s) or player(s).
Historical Baseball Analysis/Commentary: Honoring the best original analysis or commentary focusing on a subject related to a game(s), team(s) or player(s) throughout baseball history.
Please send all nominations via e-mail to this address: 2016-analytics-awards@sabr.org. Include author, title, date of publication and a URL link (if applicable).
Voting for the winners will be conducted online in January 2016 at SABR.org, BaseballProspectus.com, FanGraphs.com, HardballTimes.com, and BeyondtheBoxScore.com, with results weighted equally at 20%.
Results will be announced and presented at the fifth annual SABR Analytics Conference, March 10-12, 2016, at the Hyatt Regency Phoenix in Phoenix, Arizona. Learn more or register for the conference at SABR.org/analytics.
---
For those of you whose SABR memberships expire by December 31 — you can check your current membership status here — it's almost time for you to renew! We're excited about the upcoming year ahead of us and we hope you'll take advantage of all the great membership benefits offered to SABR members in 2016. Here's a short list:
http://sabr.org/member-benefits
You can renew your membership for 1 year or 3 years online at the SABR Store; by phone at (602) 496-1460; or by mailing this downloadable PDF form and your payment to the office at: SABR, Cronkite School at ASU, 555 N. Central Ave. #416, Phoenix, AZ 85004.
Dues are the same as they have been in recent years: for this, you get two editions of the Baseball Research Journal, the expanded e-book edition of The National Pastime; 8-10 free e-books published by the SABR Digital Library; "This Week in SABR" every Friday; access to research resources such as Paper of Record (with complete archives of The Sporting News); discounts to all SABR conferences such as the National Convention (Miami 2016), the SABR Analytics Conference, the Jerry Malloy Negro League Conference, and the Frederick Ivor-Campbell 19th Century Conference; discounts to MLB.TV; and much, much more.
We believe SABR has something for everyone, from the active researcher to someone passionate about baseball. We hope you'll invite your friends, colleagues and family members to join at store.sabr.org.
Add a family member for $15: Any SABR member can add a family member in the same household for $15 per year; they will receive all electronic member benefits and access to the website, but no printed publications. To add a new family member, please contact Membership Director Deb Jayne. Note: In order to renew your existing family membership, you must log in to the SABR website under the family member's username/e-mail address, not your own.
---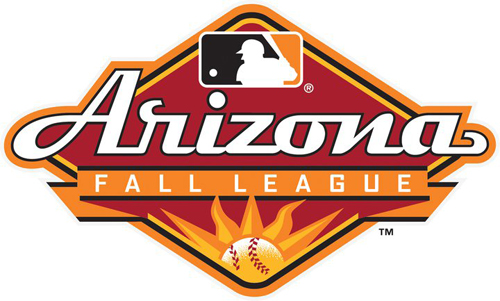 We're just a few weeks away from the seventh annual SABR Arizona Fall League Experience — a new name, but same great experience — on November 5-7, 2015, in Scottsdale, Arizona. We hope you'll join us!
Schedule: The full conference schedule is now available at SABR.org/AFL.
Host hotel: Holiday Inn Express & Suites, Old Town Scottsdale, 3131 N. Scottsdale Rd., Scottsdale, AZ 85251. Visit www.hiescottsdalehotel.com to book your room online or call the hotel at (480) 675-7665. Please note: The special SABR group rate is no longer available.
The event will feature four AFL games showcasing baseball's top prospects, including games at Scottsdale Stadium and Camelback Ranch, our first trip to Glendale. We'll also have dinner at Don and Charlie's in Scottsdale, home to one of the great sports memorabilia collections you will ever see, and a ballpark dinner at Salt River Fields at Talking Stick with a special guest speaker.
On Saturday, November 7, attendees will join members of SABR's Flame Delhi Chapter for their regional fall meeting, with research presentations and guest speakers. The conference will conclude with the nationally televised Fall Stars Game on Saturday evening at Salt River Fields at Talking Stick.
The Arizona Fall League (mlbfallball.com) is baseball's premier player development league. In the first six years of the conference, attendees were treated to sneak peeks at Mike Trout, Bryce Harper, Buster Posey, Starlin Castro, Stephen Strasburg, Nolan Arenado, and Billy Hamilton before they hit the big leagues.
Learn more about Arizona baseball history by downloading Mining Towns to Major Leagues: A History of Arizona Baseball, SABR's 1999 convention journal that was recently republished as an e-book at the Flame Delhi Chapter's website, SABRAZ.org.
All baseball fans are welcome to attend, so join us in November for the SABR Arizona Fall League Experience!
---
As Major League Baseball winds up the postseason, we took a whirl through the SABR archives for interviews with heroes of Octobers past conducted by members of our Oral History Research Committee.
Over the last four decades, the SABR Oral History Committee has compiled hundreds of interviews of former players in the majors, minors, Negro Leagues and All-American Girls Professional Baseball League, along with executives, scouts, authors and writers, broadcasters and fans.
Click here to listen to excerpts from our Oral History Collection, including clips from Lew Burdette, Hank Bauer, Dusty Rhodes, Al Gionfriddo, and Marty Marion.
For more information on the SABR Oral History interview collection, visit http://sabr.org/research/oral-history-research-committee.
Related link: Did you know you can find every SABR biography from our 1969 New York Mets book online? Click here to read bios of Seaver, Koosman, Agee, Clendenon, and many more from The Miracle Has Landed: The Amazin' Story of how the 1969 Mets Shocked The World, edited by Matthew Silverman and Ken Samelson (Maple Street Press, 2009).
---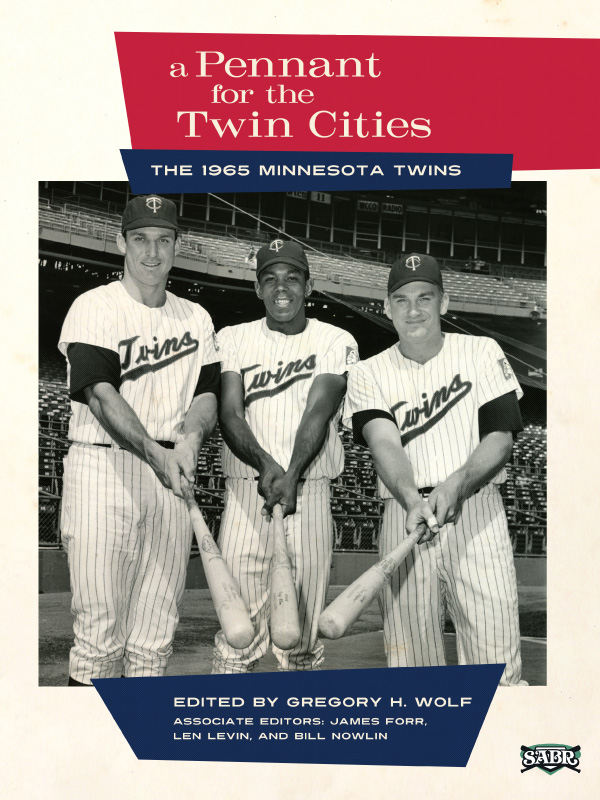 Add a pennant-winning book to your collection with the newest title from the SABR Digital Library:
A Pennant for the Twin Cities: The 1965 Minnesota Twins
Edited by Gregory H. Wolf
Associate Editors: James Forr, Len Levin, and Bill Nowlin
ISBN (ebook): 978-1-943816-08-8, $9.99
ISBN (paperback): 978-1-943816-09-5, $19.95
404 pages
This volume celebrates the 1965 Minnesota Twins, who captured the American League pennant in just their fifth season in the Twin Cities. Led by an All-Star cast, from Harmon Killebrew, Tony Oliva, Zoilo Versalles, and Mudcat Grant to Bob Allison, Jim Kaat, Earl Battey, and Jim Perry, the Twins won 102 games, but bowed to the Los Angeles Dodgers and a herculean performance by Sandy Koufax in Game Seven of the World Series.
Included are the life and baseball stories of all 35 roster players, the coaches, and manager of the 1965 Twins, plus team owner Calvin Griffith; broadcasters Herb Carneal, Halsey Hall, and Ray Scott; and sportswriters Dick Gordon and Max Nichols. A comprehensive summary of the regular season, as well as meticulous essays highlighting important games and the All-Star Game played in Minnesota, an overview of the 1965 Dodgers, and thorough summaries the World Series games are included. Chapters about how the Griffith family built its pennant winner, the fate of the Twins after 1965, Metropolitan Stadium, and the 1965 season "by the numbers" round out the book.
Contributors include Marc Z. Aaron, Mark Armour, Peter C. Bjarkman, Alan Cohen, Tracy J.R. Collins, Rory Costello, Jeff English, Greg Erion, Dan Fields, Jan Finkel, Chip Greene, Kevin Hennessy, Jack Herrman, Jimmy Keenan, Norm King, Ben Klein, Patrick Lethert, Daniel R. Levitt, Bill Nowlin, J.G. Preston, Joel Rippel, Frank Russo, Rick Schabowski, Steve Schmitt, Doug Skipper, John Swol, Stew Thornley, Tom Tomashek, Joseph Wancho, Steve West, and Gregory H. Wolf.
SABR members, get this e-book for FREE!
SABR members will get discounted rates for all Digital Library publications, including many for free. To download all past releases, visit SABR.org/ebooks.
Having trouble downloading our e-books? To view PDF files on your computer, click here to download the free Adobe Reader software. Having trouble downloading e-books to your Kindle, Nook, Sony Reader or iPad? Click here for additional help.
---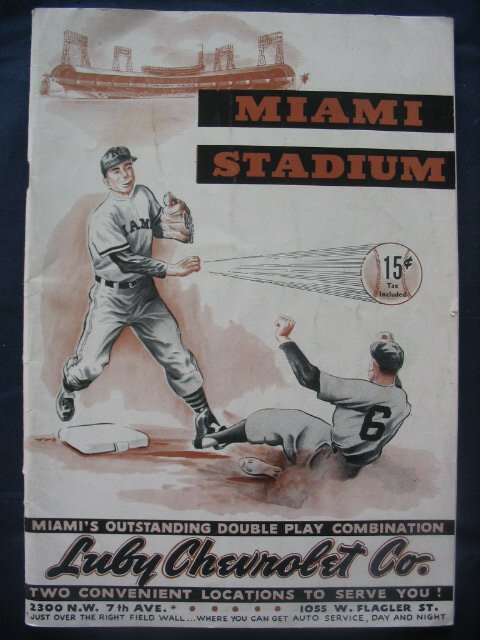 The 46th annual SABR national convention will take place July 27-31, 2016, in Miami, Florida.
To coincide with the convention, the summer 2016 issue of The National Pastime will focus on Florida and particularly Miami-area baseball. Florida has had a long relationship with Major League Baseball as the home of the Grapefruit League spring training, as well as various minor leagues, college baseball powerhouses, and two current major-league expansion franchises.
This issue of The National Pastime will be edited by publications director Cecilia Tan. She will be taking queries and abstracts until November 15, 2015, and will make assignments no later than December 1. First drafts of articles will be due no later than March 1, 2016, and rewrites (if needed) will be due by April 15.
Remember that every article must include proper citation of sources and present a clear thesis, and to be published in a SABR journal, your SABR membership must be current.
Note also that the TNP will have both a print edition (given out to SABR 46 convention attendees) and an expanded e-book version that will be sent to all SABR members. Some, but not all, of the articles will be selected to appear in the print edition, while more will appear in the electronic edition.
---
All SABR members are invited and encouraged to submit a Research Presentation Proposal Abstract for the 2016 Frederick Ivor-Campbell 19th Century Base Ball Conference.
The eighth annual 19th Century Conference will be held April 15-16, 2016, at the National Baseball Hall of Fame in Cooperstown, New York.
Abstracts of 200-500 words are being accepted through October 31, 2015, for a 20- to 25-minute oral research presentation on any topic about 19th-century baseball. Please include title and contact information. Proposals must be part of an e-mail or in the form of a Word or PDF document sent to Peter Mancuso at peterplus4@earthlink.net.
Details on conference registration will be available at SABR.org/ivor-campbell19c in early 2016.
To view coverage of the 2015 Ivor-Campbell 19th Century conference, click here.
---
The 19th annual Jerry Malloy Negro League Conference will be held in the summer of 2016 at Eau Claire, Wisconsin (dates TBA soon). The conference is open to all baseball, history and sports fans of all ages. Applications are now available for the High School Essay Contest, the Youth Art Contest, and the Library Grant program for 2016:
Essay Contest: SABR's Negro Leagues Committee will award four $1,000 scholarships to high school seniors in its eighth annual essay contest in 2016. Students must be current high school seniors, carrying a minimum 2.5 GPA, and planning to pursue a degree at an accredited U.S. post‐secondary institution. Visit SABR.org/malloy to download PDF scholarship applications for the Jimmie Crutchfield Memorial Scholarship, the Rube Foster Memorial Scholarship, the Robert Peterson Scholarship, and the Normal "Tweed" Webb Scholarship. All applications must be sent no later than March 28, 2016.
Library Grants: SABR's Negro Leagues Research Committee will award two $500 Dick Clark Memorial Library Grants for 2015-16. School and community libraries from across the country are invited to submit grant proposals centering on educating students and the community about black baseball and American history. All applications must be sent by April 4, 2016.
Youth Art Contest: SABR's Negro Leagues Committee's will hold its seventh annual Youth Art Contest in 2016. The theme is "Black Baseball Life." The deadline for entries is May 23, 2016.
For more information, visit SABR.org/malloy.
---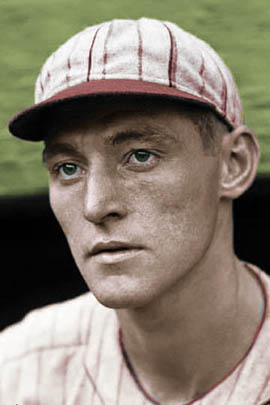 Three new biographies were posted this week as part of the SABR Baseball Biography Project, which — along with the publication of our new e-book on the 1965 Minnesota Twins last week — brings us to a total of 3,464 published biographies. Here are the new bios:
All new biographies can be found here: http://sabr.org/bioproj/recent
Help us write 2016 Hall of Fame biographies: SABR Director Emily Hawks has launched a new BioProject initiative for biographies of players who are likely to be on the 2016 Hall of Fame ballot later this year, and a few players still need biographers. If you are interested in writing a SABR biography for one of these players, please contact Emily Hawks at emilyhawks@gmail.com: Sammy Sosa, Mark McGwire, Jeff Kent, Jason Kendall, Jim Edmonds.
---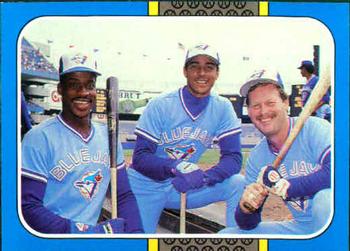 One new game story was posted this week as part of the SABR Games Project. Here is the new game story:
All new Games Project stories can be found here: http://sabr.org/gamesproject/recent
---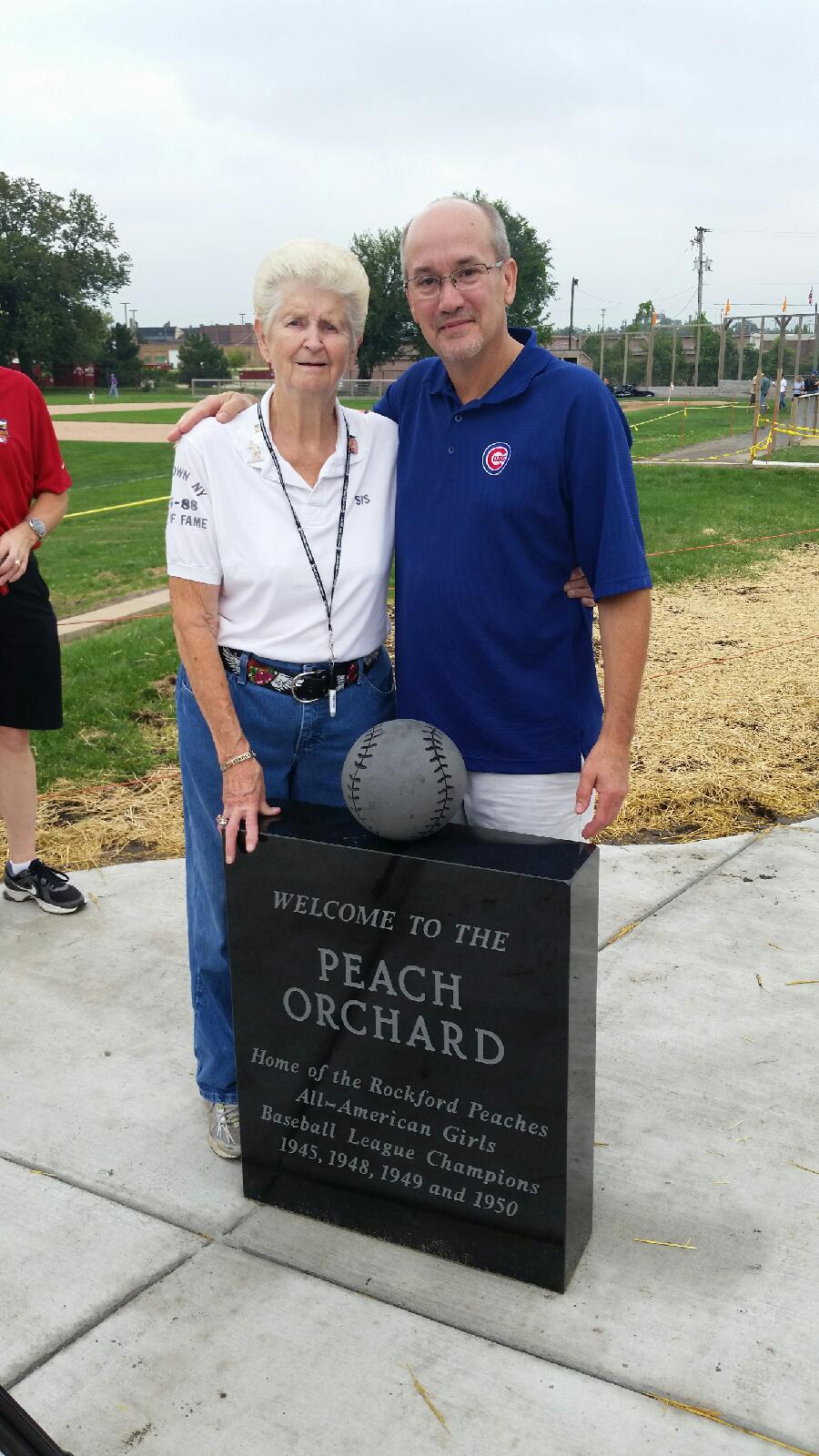 On August 29, 2015, Rockford, Illinois, celebrated the grand re-opening of Beyer Stadium Park, home of the Rockford Peaches of the All-American Girls Professional Baseball League from 1943 to 1954. But on this day, two of Rockford's teams were honored with hundreds in attendance. Rockford is the only city that may claim to have teams in both the inaugural seasons of Major League Baseball and the All-American Girls Professional Baseball League.
The David Stalker Baseball Memorial Series, established in 2005, uses proceeds from a SABR member-produced book called Base Ball Pioneers, 1850-1870: The Clubs and Players Who Spread the Sport Nationwide, which helps pay for a good percentage of these monuments. The funds are used for monuments anywhere in the country. Until this year, we only honored players and teams from the Deadball Era (1901-1919), but now I decided to expand the series into the earlier years of baseball.
The Forest City Club of Rockford was a member of major league baseball's inaugural season in 1871. The team was established in 1865 as the boys returned home from the Civil War, and put Rockford on the map. The city prospered from the game of baseball and 2015 marked the 150th anniversary of the team's beginning and marked the 100th anniversary of the passing of team legends Albert Goodwill Spalding and Ross Barnes. The first monument unveiled was for the Forest City club.
The second monument unveiled was for the Rockford Peaches and the All-American Girls Professional Baseball League. Rockford and South Bend were the only two teams that played the full duration of the league's existence, from 1943 to 1954. Plaques around the monument were also unveiled, honoring former player Helen "Sis" Waddell-Wyatt, who unveiled a plaque of herself, as did Lou "Erickson" Sauer. The daughter of Dorothy "Dottie" Ferguson Key unveiled her mother's plaque and Charlene Hawes (O'Brien) unveiled one for the Peaches batgirls.
For more information and photos, visit Seamheads.com.
— David Stalker
---
In Memoriam
Richard Lock, 84, of Sylvania, Ohio, a SABR member since 2000, died on October 7, 2015 , in Sylvania. He was an avid fan of the San Francisco Giants baseball team and the New York Giants football team. Born in New York, he graduated from Rutgers University in 1953 and served with honors in Korea as a 2nd lieutenant in the US Air Force. He married the love of his life, Elizabeth (Betty) Louise Kenney, in 1957 and they were married for nearly 58 years with three children, Albert, Dorothy, and John. After earning his MBA from NYU in 1958, he settled in Toledo, Ohio, and worked for 26 years at Owens-Illinois. He later started a financial consulting business, Magnus Associates, and served on the boards of a number of companies and nonprofit organizations, including the Salvation Army Advisory Board of NW Ohio where he served for over 40 years. A memorial service was held October 12 at St. Stephen Lutheran Church in Sylvania. For more information, click here.
Virgil D. "Burt" Penn III, 80, of Glen Mills, Pennsylvania, a SABR member since 1976, died on October 19, 2015. He was the beloved companion of Priscilla J. Harry (Stanford), devoted father of Deborah, brother of Raymond B. (Kathryn), Jeffrey (Frances), and predeceased by his sister Maureen J. Relatives and friends are invited to his Masonic Service at 12:00 p.m. on Saturday, October 24, followed by his memorial service at the Videon Funeral Home in Broomall, Pennsylvania. For more information, click here.
---
We've heard your feedback: Some of you have said you look forward to "This Week in SABR" every Friday, but sometimes there are just too many compelling articles and announcements to read every week. We're not complaining — hey, keep up the great work! — but we know the feeling. So in an effort to make the length of this newsletter more manageable to read, we'll summarize some of the repeating/recurring announcements in a special "In Case You Missed It (ICYMI)" section of "This Week in SABR".
Here are some major headlines from recent weeks that we don't want you to miss:
All previous editions of This Week in SABR can be found here: http://sabr.org/content/this-week-in-sabr-archives.
---
We'd like to welcome all of our new SABR members who have joined this week. You can find all Members-Only resources at members.sabr.org and the New Member Handbook can be downloaded here.
Please give these new members a warm welcome and help them make the most of their membership by giving them the opportunity to get involved in their local chapter or a research committee.
You can find contact information for any SABR member in the online membership directory (SABR.org/directory).
| Name | Hometown | | | Name | Hometown |
| --- | --- | --- | --- | --- | --- |
| Tommy Cason | St Simons Island, GA | | | Lou Parrotta | Utica, NY |
| Tim Dotson | Evanston, IL | | | Joe Pilla | Telford, PA |
| Tim Frawley | Wantagh, NY | | | Adam Reilly | Dallas, TX |
| Larry Howard | West Hartford, CT | | | Tyler Sundby | Denver, CO |
| David Jepsen | Iowa City, IA | | | Steve Svoboda | Laguna Niguel, CA |
| David Kilpatrick | Dobbs Ferry, NY | | | Anthony Ventola | Jupiter, FL |
| Mike Mattsey | Robinson, IL | | | Amanda Watson | West Peoria, IL |
| Glenn Mercer | Chino, CA | | | James Weldon | Morgan Hill, CA |
| James Murray | Wilton, CT | | | | |
---
There were no new SABR research committee updates this week.
Find all SABR research committee newsletters at SABR.org/research.
---
Here are the new regional chapter updates this week:
Visit SABR.org/chapters for more information on SABR regional chapters.
---
Here is a list of upcoming SABR events:
All SABR meetings and events are open to the public. Feel free to bring a baseball-loving friend … and make many new ones! Check out the SABR Events Calendar at SABR.org/events.
---
Here are some recent articles published by and about SABR members:
Read these articles and more at SABR.org/latest.
---
This Week in SABR is compiled by Jacob Pomrenke. If you would like us to include an upcoming event, article or any other information in "This Week in SABR," e-mail jpomrenke@sabr.org.
Have trouble reading this e-mail? Click here to view this week's newsletter on the web.
Are you receiving our e-mails? "This Week in SABR" goes out by e-mail to all members on Friday afternoons. If they're not showing up, try adding "sabr.notes@sabr.org" to your contact list to ensure they show up in your inbox (and not the spam folder.)
---
Originally published: October 23, 2015. Last Updated: April 3, 2020.
https://sabr.org/wp-content/uploads/2020/03/research-collection4_350x300.jpg
300
350
jpomrenke
/wp-content/uploads/2020/02/sabr_logo.png
jpomrenke
2015-10-23 15:00:00
2020-04-03 14:39:14
This Week in SABR: October 23, 2015