This Week in SABR: September 11, 2015
Welcome to "This Week in SABR!" Click here to view this week's newsletter on the web. Here's what we've been up to as of September 11, 2015:
---

Save the date! SABR 46 will be held July 27-31, 2016, at the Hyatt Regency Miami in Miami, Florida. Registration information will be available at SABR.org/convention in early 2016.
The Miami Marlins' homestand that week includes games against the St. Louis Cardinals and Philadelphia Phillies. Marlins Park, which opened in 2012 on the site of the historic Orange Bowl, is a state-of-the-art retractable roof facility offering a stunning visual experience for fans, including spectacular views of downtown Miami, the famous "Red Grooms" home-run sculpture in left-center field, two 450-gallon fish tanks behind home plate, The Clevelander, and the unique Bobblehead Museum.
The 2016 national convention will be SABR's 46th annual gathering; the organization's founding in Cooperstown in 1971 is counted as the first.
This will be SABR's second national convention in the Sunshine State, and the first since SABR 30 in 2000. Hall of Famers Tony Perez and Monte Irvin spoke at the West Palm Beach convention that year, along with then-Marlins general manager Dave Dombrowski, a longtime SABR member, and former major-league pitcher Elden Auker. Learn more about SABR's convention history by clicking here.
---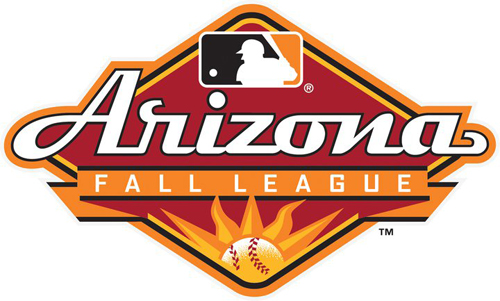 Registration is now open for the seventh annual SABR Arizona Fall League Experience — a new name, but same great experience — on November 5-7, 2015, in Scottsdale, Arizona.
Schedule: The full conference schedule is now available at SABR.org/AFL.
Host hotel: Holiday Inn Express & Suites, Old Town Scottsdale, 3131 N. Scottsdale Rd., Scottsdale, AZ 85251. Visit www.hiescottsdalehotel.com to book your room online or call the hotel at (480) 675-7665 and mention the "SABR Fall League Experience" to get the special group rate of $109/night (plus tax). Reservations must be booked by October 4, 2015, to get the SABR group rate.
The event will feature four AFL games showcasing baseball's top prospects, including games at Scottsdale Stadium and Camelback Ranch, our first trip to Glendale. We'll also have dinner at Don and Charlie's in Scottsdale, home to one of the great sports memorabilia collections you will ever see, and a ballpark dinner at Salt River Fields at Talking Stick with a special guest speaker.
On Saturday, November 7, attendees will join members of SABR's Flame Delhi Chapter for their regional fall meeting, with research presentations and guest speakers. The conference will conclude with the nationally televised Fall Stars Game on Saturday evening at Salt River Fields at Talking Stick.
The Arizona Fall League (mlbfallball.com) is baseball's premier player development league. In the first six years of the conference, attendees were treated to sneak peeks at Mike Trout, Bryce Harper, Buster Posey, Starlin Castro, Stephen Strasburg, Nolan Arenado, and Billy Hamilton before they hit the big leagues.
Learn more about Arizona baseball history by downloading Mining Towns to Major Leagues: A History of Arizona Baseball, SABR's 1999 convention journal that was recently republished as an e-book at the Flame Delhi Chapter's website, SABRAZ.org.
All baseball fans are welcome to attend, so join us in November for the SABR Arizona Fall League Experience!
---
SABR's Student Group Affiliate Membership program, established in 2014, will provide students with access to many of the electronic benefits that SABR members enjoy, including "This Week in SABR," e-book editions of the Baseball Research Journal and The National Pastime, free SABR e-books, and access to the members-only section of SABR.org. This membership will not include any printed publications or voting rights.
In order to make the Student Group Affiliate Membership affordable for groups to join, here are the options we offer:
College/University groups/classes: For an annual fee of $250, a group of up to 25 students can receive a one-year electronic SABR affiliate membership.
High School/Middle School groups/classes: For an annual fee of $100, a group of up to 20 students can receive a one-year electronic SABR affiliate membership.
Any educational class or student group at the middle school, high school or college/university level is eligible for a SABR affiliate membership, as long as a faculty member, teacher, or advisor is an active SABR member (or registers to join.) The teacher/advisor will be listed as the group contact on the SABR website.
The teacher/advisor will be asked to collect the money, names and e-mail addresses for all students wishing to join, and submit those to the SABR office at one time. In addition, the advisor/instructor must be an active SABR member or sign up for a regular SABR membership; annual dues are $65, with discounts available for adults under the age of 30 or over 65.
To sign up for a Student Group Affiliate Membership, or if you have any questions about how it might work for your group or class, please contact SABR Director Dr. Leslie Heaphy at Lheaphy@kent.edu or (330) 244-3304.
---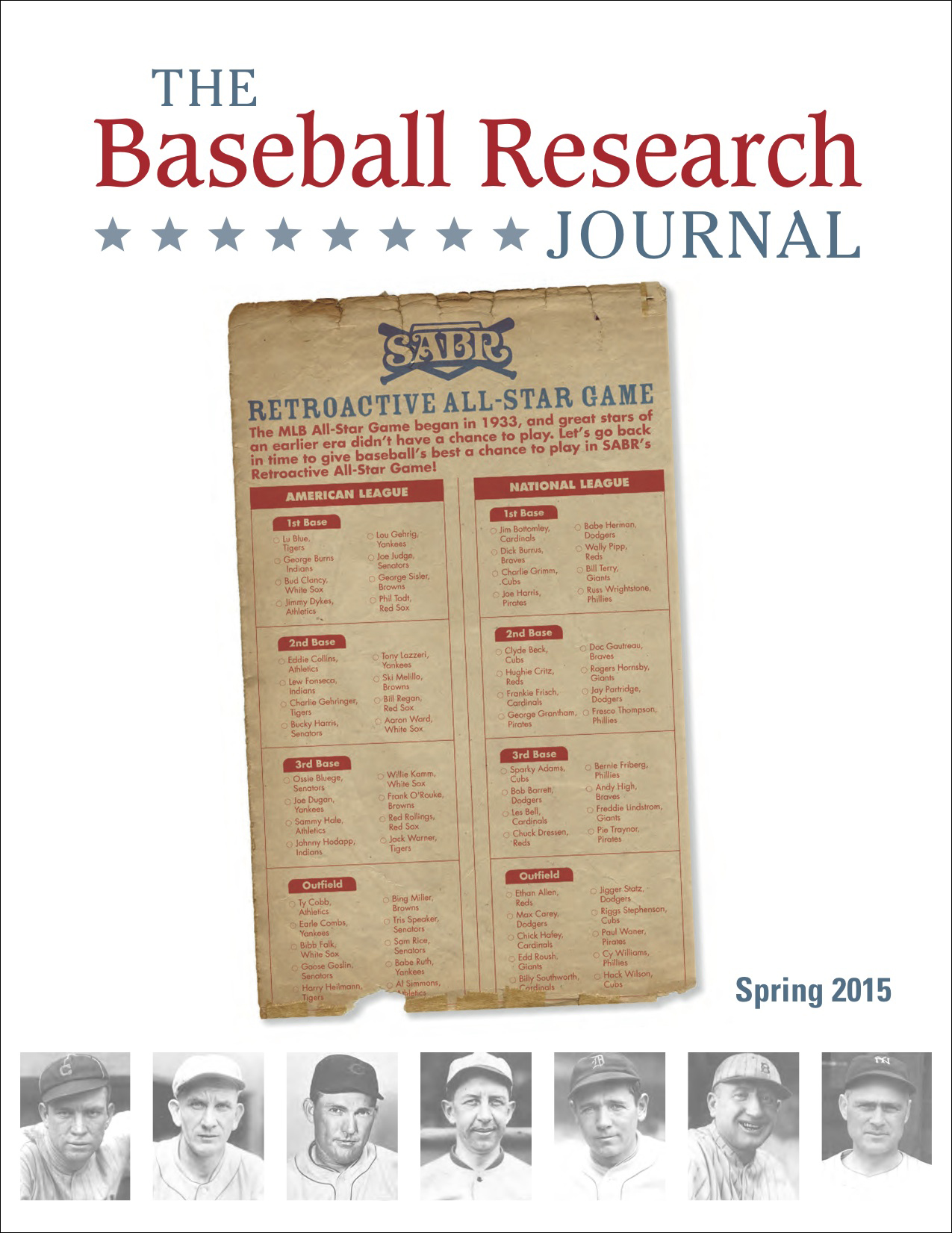 Once again, SABR is offering its members the opportunity to opt out of receiving the printed version of the Fall 2015 Baseball Research Journal. We'll deliver the e-book version of the Fall 2015 BRJ in the format of your choice (EPUB, MOBI/Kindle or PDF) straight to your inbox in early November. Click here to learn more about receiving the e-book edition of the BRJ.
Opt out of receiving the printed edition by October 1, 2015, in order to get early access to all the great content in the BRJ in e-book format and online at SABR.org.
To opt out of receiving the printed version of the Baseball Research Journal: Click here to edit your membership profile. Scroll to the bottom and select "Receive publications electronically." Then save your changes.
Please note: If you do nothing, you will continue to receive two print editions of the Baseball Research Journal every year by mail.
If you've never read a Baseball Research Journal in e-book form, click here to try it out with the Spring 2014 edition. The Baseball Research Journal, and all SABR e-books, are available in EPUB, MOBI/Kindle or PDF formats.
To read articles from the BRJ archives, click here.
---

Periodically throughout the year, SABR.org publishes listings of new books that are received at the SABR office. This feature is called The SABR Bookshelf, continuing a popular section from the old SABR Bulletin.
Here are The SABR Bookshelf listings for Summer 2015:
http://sabr.org/content/sabr-bookshelf-summer-2015
Click the link above more detailed information on each of these books:
The Little General: Gene Mauch, A Baseball Life, by Mel Proctor
Calling the Game: Baseball Broadcasting from 1920 to the Present, by Stuart Shea
Scandal on the South Side: The 1919 Chicago White Sox, edited by Jacob Pomrenke
Braves Field: Memorable Moments at Boston's Lost Diamond, edited by Bill Nowlin and Bob Brady
The Best Team Money Can Buy: The Los Angeles Dodgers' Wild Struggle to Build a Baseball Powerhouse, by Molly Knight
Reading's Big League Exhibition Games, by Brian C. Engelhardt
Big Data Baseball: Math, Miracles, and the End of a 20-Year Losing Streak, by Travis Sawchik
Split Season: 1981: Fernandomania, the Bronx Zoo, and the Strike that Saved Baseball, by Jeff Katz
Havana Hardball: Spring Training, Jackie Robinson, and The Cuban League, by César Brioso
Lucky Me: My Sixty-Five Years in Baseball, by Eddie Robinson with C. Paul Rogers
The Grand Old Man of Baseball: Connie Mack in His Final Years, 1932-1956, by Norman Macht
The Middle Atlantic League, 1925-1952: A Baseball History, by William E. Akin
Had 'Em All the Way: The 1960 Pittsburgh Pirates, by Thad Mumau
The Haymakers, Unions and Trojans of Troy, New York: Big-Time Baseball in the Collar City, 1860-1883, by Jeffrey Michael Laing
Nine Innings for the King: The Day Wartime London Stopped for Baseball, July 4, 1918, by Jim Leeke
The 1902 Pittsburgh Pirates: Treachery and Triumph, by Ronald T. Waldo
Finding the Left Arm of God: Sandy Koufax and the Los Angeles Dodgers, 1960-1963, by Brian M. Endsley
The Grind: Inside Baseball's Endless Season, by Barry Svrluga
The 50 Greatest Dodgers Games of All Time, by J.P. Hoornstra
The Game: Inside the Secret World of Major League Baseball's Power Brokers, by Jon Pessah
The Miracle Boston Braves of 1914: The Impossible Miracle, by Mark Leiter
Montana Baseball History, by Skylar Browning and Jeremy Watterson
RuleGraphics: Professional Baseball, First Edition, by Dennis Goodman
The Galveston Buccaneers: Shearn Moody and the 1934 Texas League Championship, by Kris Rutherford
Breaking Ground: How Jackie Robinson Changed Brooklyn, by Alan Lelchuk
Baltimore Orioles: 60 Years of Orioles Magic, by Jim Henneman
Bolded names indicates that the author(s) is a SABR member. Click here for a list of publishers found in the SABR Bookshelf, along with their contact information.
All new SABR Bookshelf listings can be purchased at the SABR Bookstore, powered by Amazon.com. In addition, check out new books published by SABR at SABR.org/ebooks (free for SABR members!)
To get your NEW book listed on The SABR Bookshelf, make sure a review copy is sent to: The SABR Bookshelf, Cronkite School at ASU, 555 N. Central Ave. #416, Phoenix, AZ 85004. An e-book file will also suffice; please send the e-book in PDF, EPUB or Kindle/MOBI format to jpomrenke@sabr.org.
To ensure a listing in The Baseball Index — SABR's online catalog of baseball research materials at www.baseballindex.org — make sure a review copy is sent to The Baseball Index, 4025 Beechwood Pl., Riverside, CA 92506.
To see previous listings in the SABR Bookshelf, click here.
---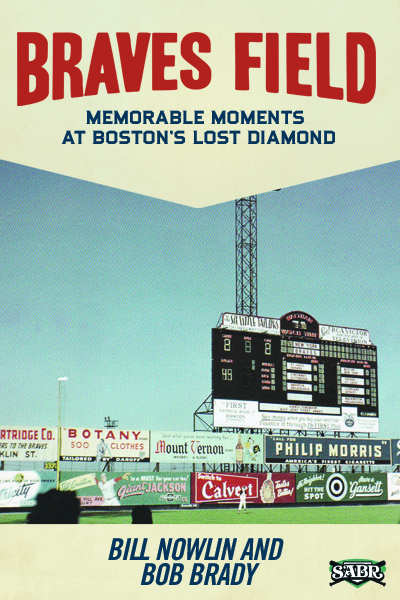 Celebrate the 100th anniversary of Braves Field by adding the newest title from the SABR Digital Library:
Braves Field: Memorable Moments at Boston's Lost Diamond
Edited by Bill Nowlin and Bob Brady
Associate Editors: Greg Erion and Len Levin
$9.99 e-book; $19.95 paperback
ISBN (e-book): 978-1-933599-92-2
ISBN (paperback): 978-1-933599-93-9
277 pages
From its opening on August 18, 1915 to the sudden departure of the Boston Braves to Milwaukee just weeks before the start of the 1953 baseball season, Braves Field was home to Boston's National League baseball club. The ballpark hosted many other events, from college and NFL football to major-league soccer to championship boxing, and the facility lives on as Boston University's Nickerson Field. Many of the most memorable moments to occur in Braves Field history are portrayed here, providing a look back at a ballpark often overlooked even in Boston today.
Braves Field: Memorable Moments at Boston's Lost Diamond combines the collaborative effort of 43 members of the Society for American Baseball Research (SABR), including Alan Cohen, Bob Brady, Bob Goodof, Bob LeMoine, Bob Ruzzo, Brian Davenport, C. Paul Rogers III, Cecilia Tan, Chip Greene, Dan McCloskey, David C. Southwick, Donna L. Halper, Douglas Chapman, Eric Aron, Gerald E. Beirne, Greg Erion, Gregory H. Wolf, Harvey Soolman, Herb Crehan, Jack Zerby, Jim Kaplan, Jim Prime, Joe Schuster, Joe Wancho, John Delmore, John DiFonzo, Len Levin, Lyle Spatz, Mark Pestana, Mark S. Sternman, Mike Lynch, Mike Richard, Mort Bloomberg, R.E. McMillin, Raymond Miller, Richard "Dixie" Tourangeau, Rick Schabowski, Saul Wisnia, Scott Ferkovich, Thomas Mason, Tim Goehlert, Tom Hufford, Tyler Ash, W. G. Nicholson, and Warren Corbett.
SABR members, get this e-book for FREE!
SABR members will get discounted rates for all Digital Library publications, including many for free. Find all past titles at SABR.org/ebooks.
Having trouble downloading our e-books? To view PDF files on your computer, click here to download the free Adobe Reader software. Having trouble downloading e-books to your Kindle, Nook, Sony Reader or iPad? Click here for additional help.
---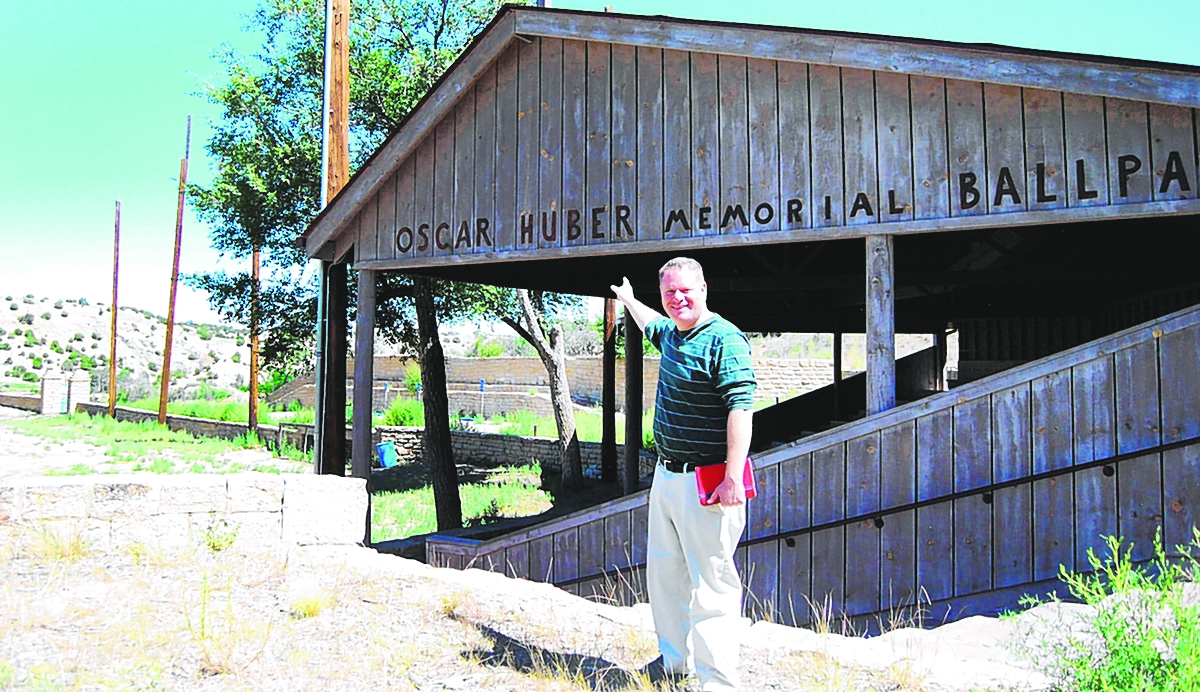 When the subject of father-and-son baseball broadcasters comes up, it's easy to rattle off the Bucks (Jack and Joe), the Brennamans (Marty and Tom) and the Carays (Harry, Skip, and Chip.)
How about the Greenwalds?
SABR member Doug Greenwald is the voice of the Fresno Grizzlies, the Triple-A affiliate of the Houston Astros. Fresno spent 16 years as a farm team for the San Francisco Giants — where Doug's father, Hank Greenwald, called major-league games for nearly two decades.
Gary Herron, a SABR member who specializes in New Mexico baseball history, corralled Doug Greenwald as he was passing through Albuquerque with the Grizzlies, who had come to take on the local Isotopes in a Pacific League tilt. The two talked about Greenwald's interesting travels around the minor-league circuit, where he has a fascination for visiting obscure post offices on road trips (he has more than 3,500 photos of different post offices!)
Read the full article at SABRMedia.org: http://sabrmedia.org/2015/09/09/on-the-road-with-minor-league-broadcaster-doug-greenwald
---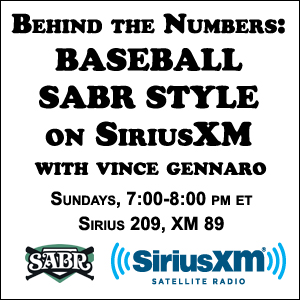 We invite you to listen to Behind the Numbers: Baseball SABR Style on SiriusXM, a new radio show hosted by SABR President Vince Gennaro, on Sunday nights on MLB Network Radio.
Baseball SABR Style focuses on examining and interpreting the statistical analysis that plays a critical role in baseball today. It will air weekly throughout the year on MLB Network Radio, available to subscribers nationwide on XM channel 89, Sirius channel 209, and on the SiriusXM Internet Radio App. (Recent shows are available afterward in the "on-demand" section of the SiriusXM app or website.)
For more information, click here.
---
Want to write a Hall of Fame biography for the SABR BioProject?
SABR Director Emily Hawks has launched a new BioProject initiative for biographies of players who are likely to be on the 2016 Hall of Fame ballot later this year, and a few players still need biographers. If you are interested in writing a SABR biography for one of these players, please contact Emily Hawks at emilyhawks@gmail.com:
Mark McGwire
Larry Walker
Jeff Kent
Nomar Garciaparra
Jason Kendall
Jim Edmonds
In addition, we're also seeking biographers for an upcoming book focusing on no-hitters and the pitchers who threw them. If you would like to write a SABR biography for one of these players, please contact Bill Nowlin at bnowlin@rounder.com:
Earl Hamilton
Mike Witt
Mike Scott
Matt Young
Dallas Braden
In each case, we will want both a biography of the pitcher and a Games Project account of their no-hitter. These Games Project articles are also available (minus the pitcher biography) for the upcoming book on no-hitters:
May 6, 1953: Bobo Holloman's no-hitter
And for an upcoming book on the National Association's Boston Red Stockings, these three games are available:
September 8, 1871: Boston 17, Philadelphia 14. Boston scores 6 runs in the ninth to win it.
April 23, 1873: Philadelphia 8, Boston 5. Philadelphia scores 4 in the ninth to spoil the Boston home opener.
June 3, 1873: Boston 6, New York 5, 12 innings.
Please contact Bill Nowlin at bnowlin@rounder.com if you are interested in writing for these future SABR publications. To learn more about SABR BioProject group projects, click here.
---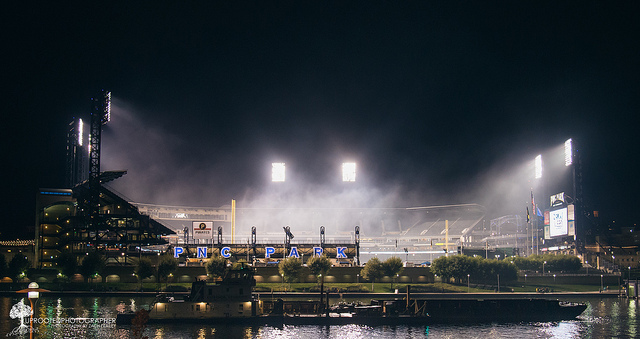 The SABR Baseball Games Project was launched in 2014 to research and write articles on major-league and Negro League regular, postseason, and All-Star Games. These game accounts will complement Retrosheet and Baseball-Reference box scores as well as BioProject essays on the players involved.
You can now find all recent articles published in the SABR Games Project, including essays from Inventing Baseball: The 100 Greatest Games of the 19th Century, on one page:
http://sabr.org/gamesproject/recent
Games Project articles are not intended to be mere play-by-play summaries, nor should they be first-person narratives. Rather the goal is to put each game in historical context — whether that history is of a particular player, team, season, or something even broader.
Visit the Games Project website at SABR.org/gamesproject.
---
We've heard your feedback: Some of you have said you look forward to "This Week in SABR" every Friday, but sometimes there are just too many compelling articles and announcements to read every week. We're not complaining — hey, keep up the great work! — but we know the feeling. So in an effort to make the length of this newsletter more manageable to read, we'll summarize some of the repeating/recurring announcements in a special "In Case You Missed It (ICYMI)" section of "This Week in SABR".
Here are some major headlines from recent weeks that we don't want you to miss:
All previous editions of This Week in SABR can be found here: http://sabr.org/content/this-week-in-sabr-archives.
---
We'd like to welcome all of our new SABR members who have joined this week. You can find all Members-Only resources at members.sabr.org and the New Member Handbook can be downloaded here.
Please give these new members a warm welcome and help them make the most of their membership by giving them the opportunity to get involved in their local chapter or a research committee.
You can find contact information for any SABR member in the online membership directory (SABR.org/directory).
| Name | Hometown | | | Name | Hometown |
| --- | --- | --- | --- | --- | --- |
| Richard Bak | Dearborn, MI | | | Conor Murphy | Notre Dame, IN |
| Steve Correz | Santa Ana, CA | | | Carl Rogan | White Bear Lake, MN |
| Jeremy Feador | Rocky River, OH | | | Tommy Schaff | St. Louis, MO |
| Scott Hengst | Lambertville, NJ | | | Mike Valle | Laramie, WY |
| Will Henshon | Wellesley, MA | | | Terence Vent | Spokane, WA |
---
Here are the new SABR research committee updates this week:
Find all SABR research committee newsletters at SABR.org/research.
---
Here are the new regional chapter updates this week:
East Tennessee Chapter meeting recap (August 29; Bristol, VA)
Robinson-Kell Chapter September 2015 newsletter (Little Rock, AR)
Rogers Hornsby Chapter-North inaugural meeting: RSVP now for the inaugural meeting of the Rogers Hornsby Chapter-North on Saturday, September 19 in Waco, Texas. All baseball fans are welcome to join us. Please reserve your spot now to David Skelton at dsbaseballfan@yahoo.com. Expected speakers include: former major-leaguer Lindy McDaniel, author John Wood, Texas League historian Mark Presswood, Eric Robinson on Negro League history in Central Texas, Eugene Baker, David Lintz, Robert Gamboa, and Gale McCray. Click here for more details.
Visit SABR.org/chapters for more information on SABR regional chapters.
---
Here is a list of upcoming SABR events:
All SABR meetings and events are open to the public. Feel free to bring a baseball-loving friend … and make many new ones! Check out the SABR Events Calendar at SABR.org/events.
---
Here are some recent articles published by and about SABR members:
Read these articles and more at SABR.org/latest.
---
This Week in SABR is compiled by Jacob Pomrenke. If you would like us to include an upcoming event, article or any other information in "This Week in SABR," e-mail jpomrenke@sabr.org.
Have trouble reading this e-mail? Click here to view this week's newsletter on the web.
Are you receiving our e-mails? "This Week in SABR" goes out by e-mail to all members on Friday afternoons. If they're not showing up, try adding "sabr.notes@sabr.org" to your contact list to ensure they show up in your inbox (and not the spam folder.)
---
Originally published: September 11, 2015. Last Updated: April 3, 2020.
https://sabr.org/wp-content/uploads/2020/03/research-collection4_350x300.jpg
300
350
jpomrenke
/wp-content/uploads/2020/02/sabr_logo.png
jpomrenke
2015-09-11 15:00:00
2020-04-03 14:39:14
This Week in SABR: September 11, 2015