This Week in SABR: September 5, 2014

Welcome to "This Week in SABR!" Here's what we've been up to as of September 5, 2014:
---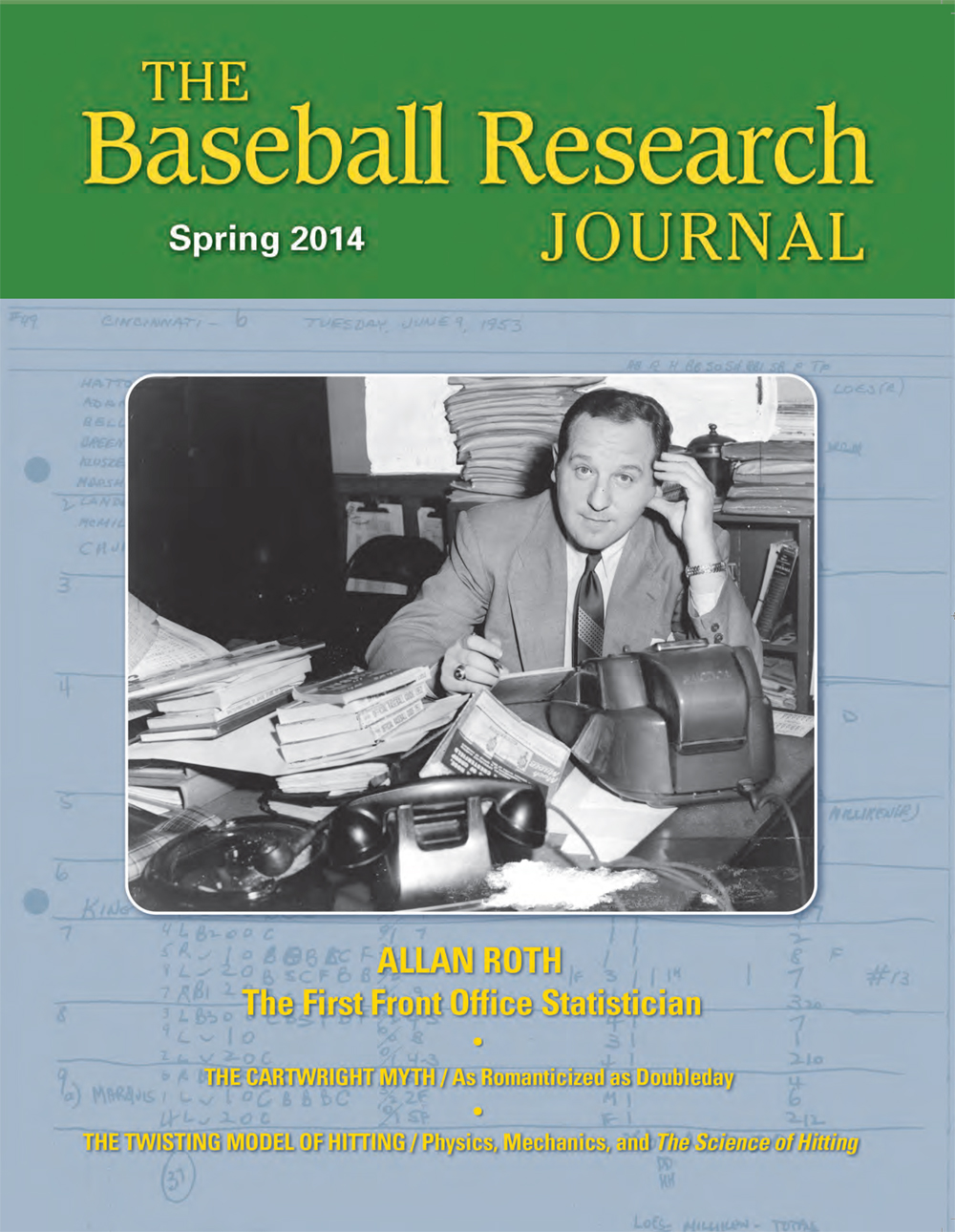 Once again, SABR is offering its members the opportunity to opt out of receiving the printed version of the Fall 2014 Baseball Research Journal. We'll deliver the e-book version of the Fall 2014 BRJ in the format of your choice (EPUB, MOBI/Kindle or PDF) straight to your inbox in early November. Click here to learn more about receiving the e-book edition of the BRJ.
Opt out of receiving the printed edition by October 1, 2014, in order to get early access to all the great content in the BRJ in e-book format and online at SABR.org.
To opt out of receiving the printed version of the Baseball Research Journal: Click here to edit your membership profile. Scroll to the bottom and select "Receive publications electronically." Then save your changes.
Please note: If you do nothing, you will continue to receive two print editions of the Baseball Research Journal every year by mail.
If you've never read a Baseball Research Journal in e-book form, click here to try it out with the Spring 2014 edition. The Baseball Research Journal, and all SABR e-books, are available in EPUB, MOBI/Kindle or PDF formats.
To read articles from the BRJ archives, click here.
---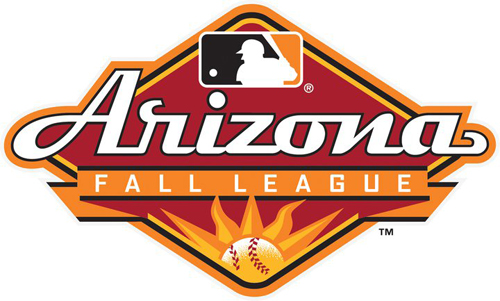 Registration is now open for the sixth annual SABR Arizona Fall League Conference, which will be held October 30-November 1, 2014, in Scottsdale, Arizona.
Host hotel: Holiday Inn Express & Suites, Old Town Scottsdale, 3131 N. Scottsdale Rd., Scottsdale, AZ 85251. Visit www.hiescottsdalehotel.com and use the Group Code "SABR" or call (480) 675-7665 and mention the "SABR AFL Conference" to get a special conference room rate of $99/night (plus tax). Reservations must be booked by September 29, 2014, to get the SABR group rate.
The conference will feature three AFL games at three different ballparks, including new Cubs Park in Mesa. We'll also have dinner at Don and Charlie's in Scottsdale, home to one of the great sports memorabilia collections you will ever see. We'll also have a special evening with members of the Arizona Major League Alumni.
On Saturday morning, attendees will join members of SABR's Flame Delhi (Arizona) Chapter for their regional fall meeting. Saturday night is always a highlight of the conference as the top prospects from every organization participate in the AFL Fall Stars game at Salt River Fields at Talking Stick. All of this, including transportation, is included in one low registration price.
The full conference schedule will be available soon at SABR.org/AFL.
The Arizona Fall League (mlbfallball.com) is baseball's premier player development league. In the first five years of the conference, attendees were treated to sneak peeks at Mike Trout, Bryce Harper, Buster Posey, Starlin Castro, Stephen Strasburg, Nolan Arenado, and Billy Hamilton before they hit the big leagues.
Learn more about Arizona baseball history by downloading Mining Towns to Major Leagues: A History of Arizona Baseball, SABR's 1999 convention journal that was recently republished as an e-book at the Flame Delhi Chapter's website, SABRAZ.org.
All baseball fans are welcome to attend, so join us in October for the SABR Arizona Fall League Conference!
---
There have been a number of inquiries made to the Society for American Baseball Research about the possibility of student groups/classes joining SABR. After much discussion, the SABR Board voted to approve Student Group Affiliate Memberships.
A Student Group Affiliate Membership will provide students with access to many of the electronic benefits that SABR members enjoy, including "This Week in SABR," e-book editions of the Baseball Research Journal and The National Pastime, free SABR e-books, and access to the members-only section of SABR.org. This membership will not include any printed publications or voting rights.
In order to make the Student Group Affiliate Membership affordable for groups to join, here are the options we offer:
College/University groups/classes: For an annual fee of $250, a group of up to 25 students can receive a one-year electronic SABR affiliate membership.
High School/Middle School groups/classes: For an annual fee of $100, a group of up to 20 students can receive a one-year electronic SABR affiliate membership.
Any educational class or student group at the middle school, high school or college/university level is eligible for a SABR affiliate membership, as long as a faculty member, teacher, or advisor is an active SABR member (or registers to join.) The teacher/advisor will be listed as the group contact on the SABR website.
The teacher/advisor will be asked to collect the money, names and e-mail addresses for all students wishing to join, and submit those to the SABR office at one time. In addition, the advisor/instructor must be an active SABR member or sign up for a regular SABR membership; annual dues are $65, with discounts available for adults under the age of 30 or over 65.
To sign up for a Student Group Affiliate Membership, or if you have any questions about how it might work for your group or class, please contact SABR Director Dr. Leslie Heaphy at Lheaphy@kent.edu or (330) 244-3304.
---

Periodically throughout the year, SABR.org publishes listings of new books that are received at the SABR office. This feature is called The SABR Bookshelf, continuing a popular section from the old SABR Bulletin.
Here are The SABR Bookshelf listings for Summer 2014:
http://sabr.org/content/sabr-bookshelf-summer-2014
Click the link above for more detailed information on each of these books:
Yesterday's Tiger Heroes: The Detroit Tigers and the 1956 Baseball Season, by Jim Sargent
Boots Poffenberger: Hurler, Hero, Hellraiser, by Austin Gisriel
Sol White's Official Baseball Guide, by Solomon White, with introduction and notes by Gary Ashwill
A Whole Lot of Bar-B-Q: and Other Baseball Stories, by Mike Shannon
Baseball Skippers and Their Crews: The History of Every Major League Manager and Coach – 1871-2014, by Thomas W. Brucato
The 1934 St. Louis Cardinals: The World Champion Gas House Gang, edited by Charles F. Faber
Baseball: The Fans' Game, by Gordon S. (Mickey) Cochrane
Japanese American Baseball in California: A History, by Kerry Yo Nakagawa
The Texas League Baseball Almanac, by David King and Tom Kayser
The Bridgeport Hammer, by Jonathan Weeks
Baseball on the Prairie: How Seven Small-Town Teams Shaped Texas League History, by Kris Rutherford
Strike Four! The Crankshaft Baseball Book, by Tom Batiuk and Chuck Ayers
How Baseball Explains America, by Hal Bodley
Field of Fantasies: Baseball Stories of the Strange and Supernatural, edited by Rick Wilber
Mudville Madness: Fabulous Feats, Belligerent Behavior, and Erratic Episodes on the Diamond, by Jonathan Weeks
The Devil's Snake Curve: A Fan's Notes From Left Field, by Josh Ostergaard
Three Up – Three Down: Pearls of Wisdom, by Merrianna L. McCully
The All-In-One Baseball Stat 'Effectiveness of Advanced Bases' (EAB), by Alfredo Nasiff Fors
Baseball's Greatest Comeback: The Miracle Braves of 1914, by J. Brian Ross
The 1928 New York Yankees: The Return of Murderers' Row, by Charlie Gentile
Milwaukee Braves: Heroes and Heartbreak, by William Povletich
Black Baseball Entrepreneurs, 1902-1931: The Negro National and Eastern Colored Leagues, by Michael Lomax
Inventing Baseball Heroes: Ty Cobb, Christy Mathewson, and the Sporting Press in America, by Amber Roessner
Winning in Both Leagues: Reflections from Baseball's Front Office, by J. Frank Cashen
When Baseball Went White: Reconstruction, Reconciliation, and Dreams of a National Pastime, by Ryan A. Swanson
Forfeits and Successfully Protested Games in Major League Baseball: A Complete Record, 1871-2013, by David Nemec and Eric Miklich
Baseball Explained, by Phillip Mahony
When in Doubt, Fire the Skipper: Midseason Managerial Changes in Major League Baseball, by Gary Webster
The Set-Up Men: Race, Culture and Resistance in Black Baseball, by Sarah L. Trembanis
Old Comiskey Park: Essays and Memories of the Historic Home of the Chicago White Sox, 1910-1991, edited by Floyd Sullivan
Johnny Evers: A Baseball Life, by Dennis Snelling
Lefty Grove and the 1931 Philadelphia Athletics, by Robert P. Broadwater
Ed McKean: Slugging Shortstop of the Cleveland Spiders, by Rich Blevins
Lead Me Out to the Ballgame: Stories and Strategies to Develop Major League Leadership, by Howard C. Fero and Rebecca L. Herman
To get your NEW book listed on The SABR Bookshelf, make sure a review copy is sent to: The SABR Bookshelf, Society for American Baseball Research, 4455 E. Camelback Rd., Ste. D-140, Phoenix, AZ 85018. An e-book file will also suffice; please send the e-book in PDF, EPUB or Kindle/MOBI format to jpomrenke@sabr.org.
To ensure a listing in The Baseball Index — SABR's online catalog of baseball research materials at www.baseballindex.org — make sure a review copy is sent to The Baseball Index, 4025 Beechwood Pl., Riverside, CA 92506.
Bolded names indicates that the author(s) is a SABR member. Click here for a list of publishers found in the SABR Bookshelf, along with their contact information.
All new SABR Bookshelf listings can be purchased at the SABR Bookstore, powered by Amazon.com. In addition, check out new books published by SABR at SABR.org/ebooks (free for SABR members!)
---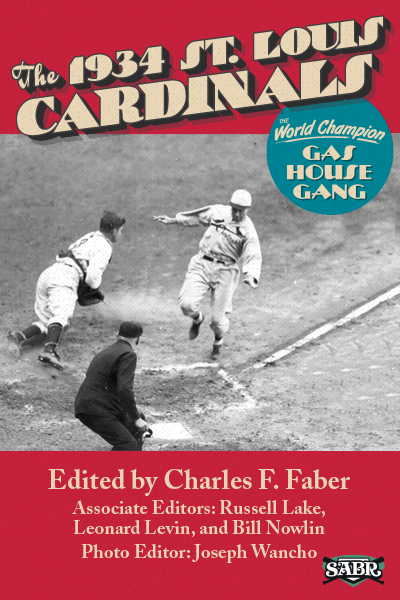 Add a championship baseball book to your collection from the SABR Digital Library:
The 1934 St. Louis Cardinals:
The World Champion Gas House Gang
Edited by Charles F. Faber
$6.99 e-book, $19.95 paperback
ISBN (e-book): 978-1-933599-57-1
ISBN (paperback): 978-1-933599-73-1
280 pages
The 1934 St. Louis Cardinals were one of the most colorful crews ever to play the National Pastime. Sportswriters delighted in assigning nicknames to the players, based on their real or imagined qualities. What a cast of characters it was! None was more picturesque than Pepper Martin, the "Wild Horse of the Osage," who ran the bases with reckless abandon, led his team­mates in off­ the­field hi­jinks, and organized a hillbilly band called the Mississippi Mudcats. He was quite a baseball player, the star of the 1931 World Series and a significant contributor to the 1934 championship.
The harmonica player for the Mudcats was the irrepressible Dizzy Dean. Full of braggadocio, Dean delivered on his boasts by winning 30 games in 1934, the last National League hurler to achieve that feat. Dizzy and his brother Paul accounted for all of the Cardinal victories in the 1934 World Series. Some writers tried to pin the moniker Daffy on Paul, but that name didn't fit the younger and much quieter brother.
The club's hitters were led by the New Jersey strong boy, Joe "Ducky" Medwick, who hated the nickname, preferring to be called "Muscles." Presiding over this aggregation was the "Fordham Flash," Frankie Frisch. Rounding out the club were worthies bearing such nicknames as Ripper, "Leo the Lip," Spud, Kiddo, Pop, Dazzy, Ol' Stubblebeard, Wild Bill, Buster, Chick, Red, and Tex. Some of these were aging stars, past their prime, and others were youngsters, on their way up. Together they comprised a championship ball club.
"The Gas House Gang was the greatest baseball club I ever saw. They thought they could beat any ballclub and they just about could too. When they got on that ballfield, they played baseball, and they played it to the hilt too. When they slid, they slid hard. There was no good fellowship between them and the opposition. They were just good, tough ballplayers." — Cardinals infielder Burgess Whitehead on "When It Was A Game," HBO Sports, 1991
With contributions by Mark Armour, Eric Aron, Thomas Ayers, Lawrence Baldassaro, Parker J. Bena, Alan Cohen, Greg Erion, Charles F. Faber, Paul Geisler, Joseph Girard, Nancy Snell Griffith, Don Harrison, Dwayne Isgrig, Jimmy Keenan, Norm King, Jeffrey Marlett, Andy McCue, Jack Morris, Bill Nowlin, J.G. Preston, C. Paul Rogers III, Matthew Silverman, Fred Stein, Andy Sturgill, Clayton J. Trutor, Cort Vitty, Joseph Wancho, Charlie Weatherly, Bob Webster, and Gregory H. Wolf.
SABR members, get this e-book for FREE!
Having trouble downloading our e-books? To view PDF files on your computer, click here to download the free Adobe Reader software. Having trouble downloading e-books to your Kindle, Nook, Sony Reader or iPad? Click here for additional help.
---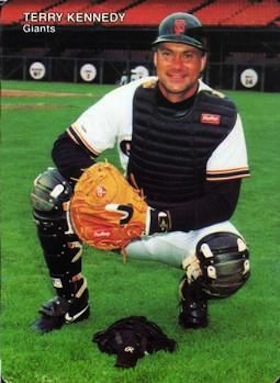 Eight new biographies were posted as part of the SABR Baseball Biography Project, which brings us to a total of 2,885 published biographies. Here are the new bios:
All new biographies can be found here: http://sabr.org/bioproj/recent
You can find the SABR BioProject at SABR.org/BioProject.
Bios on more than just ballplayers: The ambitious goal of the SABR Baseball Biography Project is to publish a full-life biography of every major league player in history. But SABR members write about a lot more than just ballplayers. In addition, we have pages for Ballparks, Broadcasters, Executives, Managers, Scouts, Spouses, Umpires and a lot more on the BioProject website. You can browse all of these categories at http://sabr.org/bioproj/browse. So if you've ever thought, "Hey, that person (or ballpark) should get the full BioProject treatment" — write the story and we'll publish it!
Get involved! If you'd like to help contribute to the SABR BioProject, visit our BioProject Resources page or read the FAQs section to get started. We're also looking to expand the BioProject to include all "encyclopedic" articles on baseball-related subjects from past SABR publications or committee newsletters. If you come across an article you think should be included in the SABR "baseball repository" at the BioProject, send a copy or link to markarmour04@gmail.com or jpomrenke@sabr.org.
---
Four new game stories were posted this week as part of the SABR Games Project. Here are the new game stories:
The SABR Baseball Games Project was launched in January 2014 to research and write articles on major-league and Negro League regular, postseason, and All-Star Games. These game accounts will complement Retrosheet and Baseball-Reference box scores as well as BioProject essays on the players involved.
The articles are not intended to be mere play-by-play summaries, nor should they be first-person narratives. Rather the goal is to put each game in historical context — whether that history is of a particular player, team, season, or something even broader.
Visit the new Games Project website at SABR.org/gamesproject.
---
We've heard your feedback: Some of you have said you look forward to "This Week in SABR" every Friday, but sometimes there are just too many compelling articles and announcements to read every week. We're not complaining — hey, keep up the great work! — but we know the feeling. So in an effort to make the length of this newsletter more manageable to read, we'll summarize some of the repeating/recurring announcements in a special "In Case You Missed It (ICYMI)" section of "This Week in SABR".
Here are some major headlines from recent weeks that we don't want you to miss:
All previous editions of This Week in SABR can be found here: http://sabr.org/content/this-week-in-sabr-archives.
---
We'd like to welcome all of our new SABR members who have joined this week. You can find all Members-Only resources at members.sabr.org and the New Member Handbook can be downloaded here.
Please give these new members a warm welcome and help them make the most of their membership by giving them the opportunity to get involved in their local chapter or a research committee.
| Name | Hometown | | | Name | Hometown |
| --- | --- | --- | --- | --- | --- |
| Ronald Auther | East Lansing, MI | | | Jeffrey Koslowski | Westland, MI |
| Dale Babcock | Kennesaw, GA | | | Rachel Monroe | Springfield, MO |
| Art Black | Pellham, AL | | | Jack Pefhany | Mississauga, ON |
| Justin Entrekin | Murfreesboro, TN | | | William Preston | McKinney, TX |
| Bobby Killins | North York, ON | | | Greg Stokesberry | Cedar Rapids, IA |
---
There were no new SABR research committee newsletters published this week.
Find all SABR research committee newsletters at SABR.org/research.
---
Here are the new regional chapter updates for this week:
Visit SABR.org/chapters for more information on SABR regional chapters.
---
Here is a list of upcoming SABR events:
All SABR meetings and events are open to the public. Feel free to bring a baseball-loving friend … and make many new ones! Check out the SABR Events Calendar at SABR.org/events.
---
Here are some recent articles published by and about SABR members:
Read these articles and more at SABR.org/latest.
---
This Week in SABR is compiled by Jacob Pomrenke. If you would like us to include an upcoming event, article or any other information in "This Week in SABR," e-mail jpomrenke@sabr.org.
Are you receiving our e-mails? "This Week in SABR" goes out by e-mail to all members on Friday afternoons. If they're not showing up, try adding "sabr.notes@sabr.org" to your contact list to ensure they show up in your inbox (and not the spam folder.)
---
Originally published: September 5, 2014. Last Updated: April 3, 2020.
https://h2j7w4j4.stackpathcdn.com/wp-content/uploads/2020/03/research-collection4_350x300.jpg
300
350
jpomrenke
/wp-content/uploads/2020/02/sabr_logo.png
jpomrenke
2014-09-05 15:00:00
2020-04-03 14:39:16
This Week in SABR: September 5, 2014