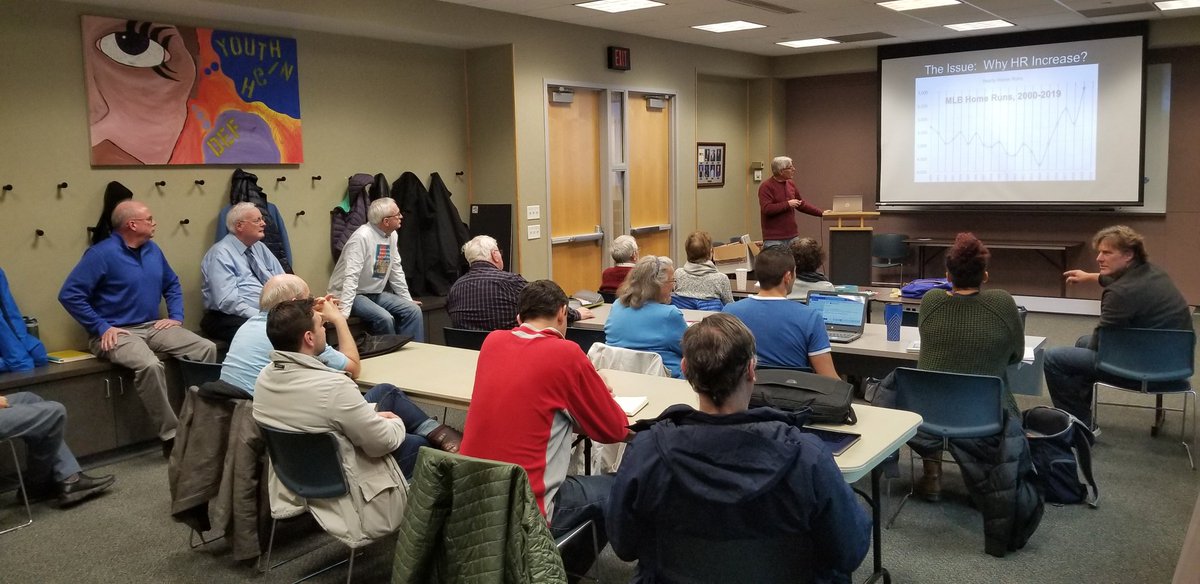 Here's a recap from the SABR Day meeting of the Oscar Charleston Chapter, which took place on Saturday, January 25, 2020 at the Haughville branch of the Indianapolis Public Library.
First, Dan O'Brien reflected on the life of longtime SABR member Pete Cava, who died on December 18, 2019. As many of you know, Pete researched more than 300 Indiana-born professional baseball players, covering playing careers and the players' lives after retiring from the game. Dan, who met Pete in 1986, reflected on their mutual interest in track and field and Pete's successes with Little League coaching—in a funny twist, several of Pete's former players thrived as high school state champions in cross country and swimming, for example.
Second, Professor Alan Nathan covered his work with the MLB Home Run Committee, updating us on the developments since 2018. In essence, his group, which includes academics in math and science, concluded that reduced drag on the ball and adjusted launch conditions contributed to the 2019 home run surge. Professor Nathan's team analyzed the MLB's complete Statcast data, test data from a Washington State University baseball lab, and ball manufacturing information from Rawlings, MLB's official game-ball manufacturer. Please visit this link for up-to-date developments on Professor Nathan's research.
Third, longtime friend of the Oscar Charleston Chapter, Howard Kellman, previewed the Indianapolis Indians' 2020 season and discussed other baseball news. Howard discussed former Indianapolis Indian, Larry Walker, and his recent vote into the Baseball Hall of Fame. Walker was the first Indian voted in since Randy Johnson. With the Indians' April 9, 2020 opening day fast approaching, Howard also connected his discussion with the Major League home run surge, noting that the minor leagues adopted the major league ball (whose stitching and materials might have reduced drag) in 2019, which might lead to greater power numbers in the minors. Indeed, more home runs could mean more fireworks, a tradition that dates back to Bill Veeck's White Sox, which used to be the Indians' parent organization.
Fourth, Tim Tassler covered the history of black baseball in northeast Indiana. Although several teams during the first half of the twentieth-century called Fort Wayne home, two featured most prominently: the Fort Wayne Colored Giants (1908–51) and the Fort Wayne Colored Pirates (1926–29). Although segregation still infected much of the United States, as early as the late 1800s visiting black players routinely stayed at Fort Wayne hotels, and in the 1920s, newspapers reported on "mixed crowds" attending black baseball games. Indeed, Fort Wayne was fertile baseball ground: it hosted Game 4 of the 1932 Negro League World Series between the Chicago Giants and the Homestead Grays.
Finally, thank you to Andrew Reinbold for constructing the meeting's trivia. The top performers were: (1st) John Rickert; (2nd) Todd McDorman; and (3rd) Noel Fliss. And another thank you to Ronnie Wilbur for her book donations as trivia prizes.
Thank you to everyone who made the meeting a success. Your participation helps our Chapter thrive! As always, please let me know if you're interested, or know someone who is interested, in presenting at a future meeting. I'll be in touch in the coming weeks about our next meeting.
— Trent Morton