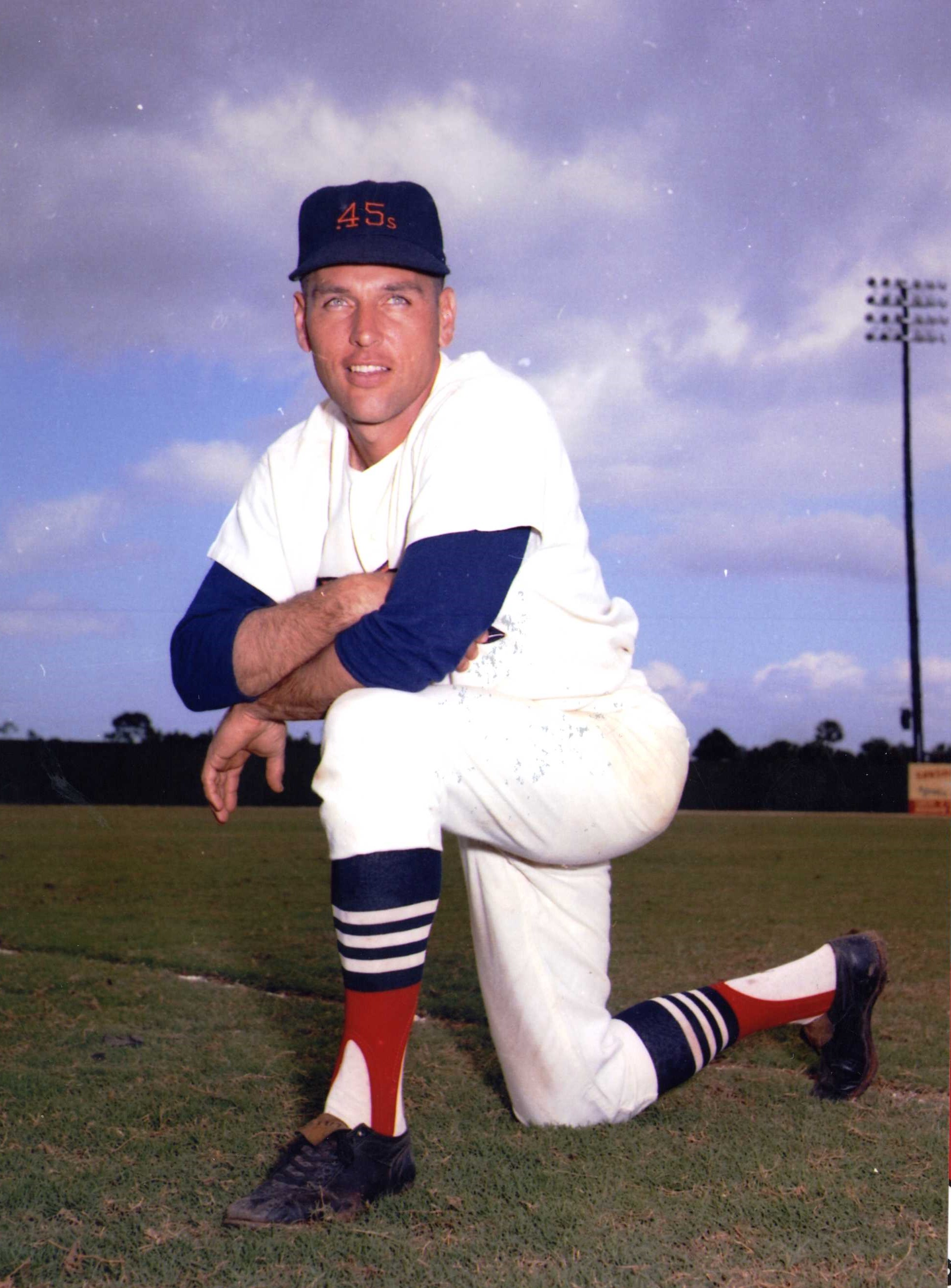 ---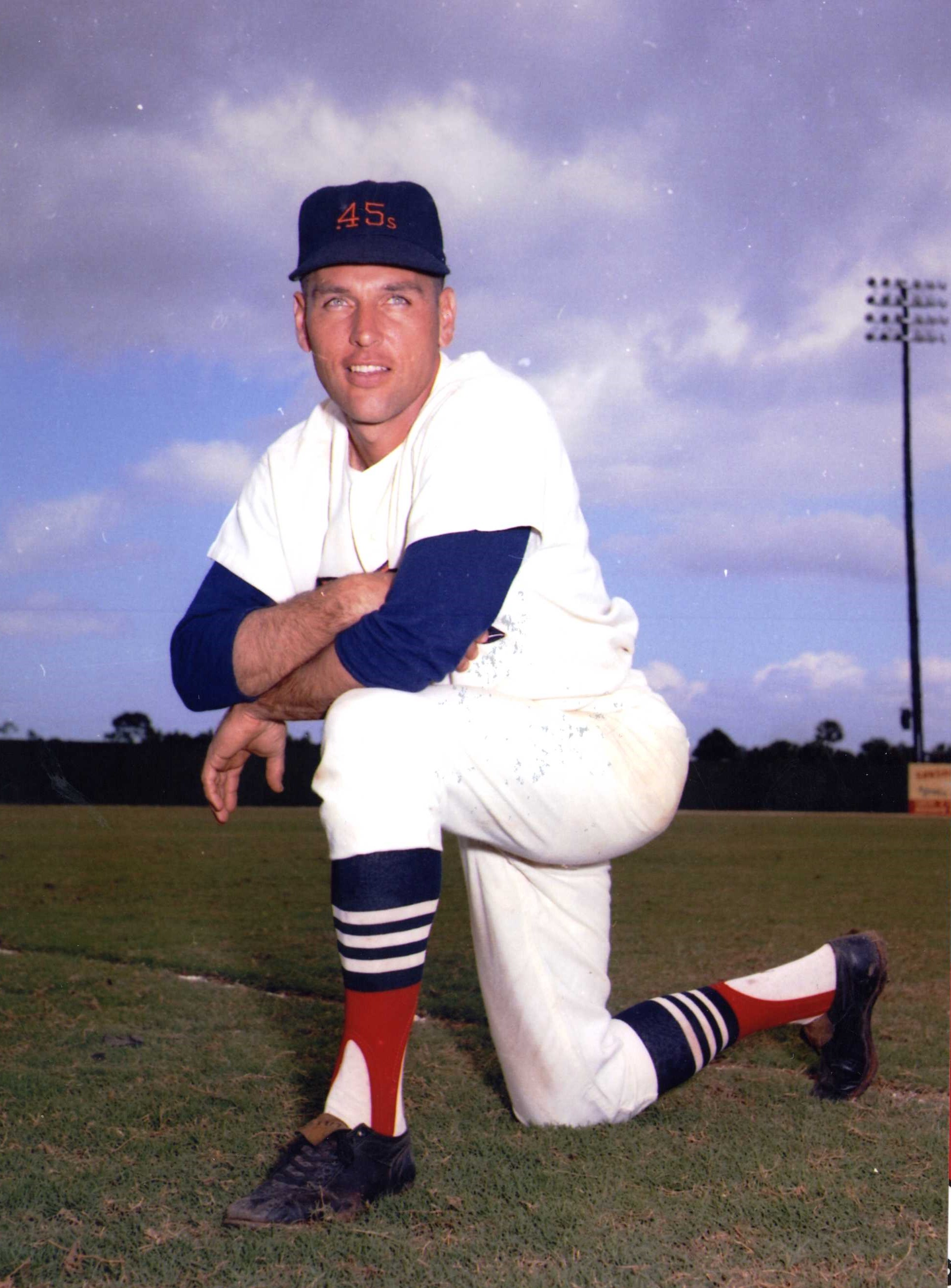 A strong, quiet leader. Steady and determined. One of the best minds in baseball. All apt descriptions of the often-overlooked player, coach, and manager Bob Lillis.
In 1928, Perry Reed Lillis, born in Michigan, married Lillian Pearl Porterfield, from Oklahoma. The couple had two sons: Jack Howard Lillis, born in 1928, and Robert Perry "Bob" Lillis, born June 2, 1930, at Altadena, California. Perry worked several different jobs, supporting his family through the 1930s, including as a wholesale-grocery stockman and a building construction clerk.
Bob recalled that he always seemed to have a baseball in his hands. "My father played a lot of semipro baseball and once had a tryout with the Angels as a pitcher. He taught me a lot."1
On March 17, 1940, both 10-year-old Bob and 11-year-old Jack were baptized at Messiah Lutheran Church, in Pasadena, California.
Bob received recognition as All-Southern California shortstop while at Pasadena High School, which both his parents also attended. As a 140-pound member of the football squad, he starred as a quarterback and running back and earned All-Foothill League, League Player of the Year, and All-CIF and All-Southern California honors.2 He also lettered in basketball and track.
After high school, Bob moved on to Pasadena City College, which won the 1949 Western States Junior College baseball championship, 1-0, over Los Angeles City College. Lillis picked up the only hit for Pasadena when he singled, advanced on a fielder's choice and a walk, then scored when a batter was hit by a pitch with the bases loaded.3 Lillis joined the inaugural class of the Pasadena City College Sports Hall of Fame, in 1961.
After spending one year at PCC, Lillis transferred to the University of Southern California. With the Trojans baseball team, he found early success at the plate, and at one point in April 1950, he led the California Intercollegiate Baseball Association with a .643 batting average. Rated as a top major-league prospect, the slick-fielding shortstop gained valuable experience and skills under USC coach Rod Dedeaux, a former shortstop himself who once played for the Brooklyn Dodgers. Dedeaux "helped me tremendously with pointers on fielding, how to play hitters, give signs, etc.," Lillis said.4 He "taught me more than I can ever say."5
In 1951, at 160 pounds and 5-feet-11, the right-handed Lillis led the Pacific Coast Conference with a .313 batting average. The Brooklyn Dodgers grabbed him away from his All-American (second team in 1950 and 1951) collegiate career in June 1951, when scout Lefty Phillips6 signed him to a professional contract, reportedly worth $15,000, to play at Pueblo in the Class-A Western League. After 37 games there, Lillis moved to Newport News of the Class-B Piedmont League for 39 games. A few years earlier, his older brother, Jack, had signed with the Dodgers and played for a little over four years in their minor-league system.
On December 31, 1951, the 21-year-old Lillis married 20-year-old Gloria Jeanne Keithley in Los Angeles, California.
After the baseball season, Lillis returned to classes at USC, then in 1952 he joined Elmira of the Class-A Eastern League, where his brother had played second base just the year before. With a remarkably close physical resemblance to his brother, some thought Jack had returned to play shortstop. "They look more like twins than most twins," said a local sportswriter.7 Jack left baseball and moved to Las Vegas, later to become chief sales manager for an auto-sales agency there.8
With Newport News in 1951, Lillis lined an attempted bunt to the pitcher, who completed a triple play. In an almost identical play the next year at Elmira, he popped a bunt attempt to the pitcher, who again completed a triple play. Lillis may well be the only batter ever to bunt into two triple plays two years in a row.
Back with Newport News in 1953, Lillis made the Piedmont League All-Star team with a .291 batting average. He teamed with second baseman Charley Neal to set a league record with 199 double plays.
In 1954 military training interrupted Lillis's minor-league service when he was drafted into the US Army. The timing seemed awkward for the shortstop the Dodgers had hoped to groom to replace Pee Wee Reese. Lillis continued to play baseball while in the Army with the Fort Ord, California, team. He posted a .350 batting average for the all-Army and all-Service champion.
Bob and Jeanne celebrated the birth of their first child, daughter Joy Lynn, born in California in May 1955.
After two years of Army duty, Lillis returned to the Dodgers farm system in 1956 with St. Paul of the Triple-A American Association, where he restarted his pursuit of the Dodger shortstop position. He "covers shortstop like a tarpaulin," commented Max Macon, his manager at St. Paul.9 Joe Hennessy of the St. Paul Pioneer Press wrote that Lillis "came out of two years of military service to give one of the most convincing demonstrations at his position in some years."10 Lillis also impressed with his speed and power. The annual poll of American Association managers named him the league's best baserunner.11 He hit 18 home runs for St. Paul that year, especially significant since he never hit more than three in any other professional baseball season.
In the offseason Lillis joined several other Dodgers farmhands for an exhibition trip to Japan. His fine showing on the trip moved him ahead of Don Zimmer and Chico Fernandez in competition for a starting position on the Dodgers. General manager Buzzy Bavasi recognized Lillis's defensive skill, commenting, "His style resembles Pee Wee Reese's. He doesn't have a lot of power. Those 18 home runs were hit in a short ballpark. He's a right-handed hitter, and left field in St. Paul is 265 feet away."12
The Lillis family received a sad setback in March, when Jeanne suffered a miscarriage.
The Dodgers, now with three shortstop prospects, fielded several trade requests. The Philadelphia Phillies especially sought Lillis, while Brooklyn hoped to land a pitcher or outfielder. Finally, just at the start of the 1957 season, the Phillies acquired Chico Fernandez from the Dodgers, who kept Zimmer on the Brooklyn roster and sent Lillis back to St. Paul.
Lillis made the American Association All-Star team in 1957, and earned the title "iron man," not missing a game throughout the season. Despite the earlier trade, the Phillies reportedly offered Brooklyn $200,000 for Lillis during the season.13 The Saints fans voted him the team's most valuable player, and he made the Look American Association team at shortstop. He was slated to join the Dodgers in the September call-up but stayed with St. Paul, which was in the playoffs. He seemed almost certain the join the Dodgers in 1958, and rejoin his former infield partner Charlie Neal, who would shift to second base after playing shortstop for Brooklyn in 1957. Although Lillis had yet to play in a major-league game, Brooklyn manager Walt Alston called him "as good a fielder as there is in the National League."14
Lillis signed a contract with the Dodgers for the 1958 season and joined the team for spring training, with his ability to hit big-league pitching remaining the only major question. "I honestly can say I don't feel nervous," he said as he headed to Vero Beach. "I'll just do my best."15 He came out of the spring with the highest batting average (.324) of any Dodger with 30 or more at-bats. Manager Alston noted that Lillis "has more 'bulldog' and spirit than most people think. He's aggressive, fast, and covers a lot of ground."16 That year, the Dodgers began their first year in Los Angeles, but Lillis found himself back with the Saints to start the season.
Although again named to the American Association All-Star team, Lillis did not play in the game because he severely tore ligaments on both sides of his left ankle on June 17 in a collision with teammate Lacy Curry. In early August, with his ankle still swollen, he received the call from the Dodgers to join the team.
In July 1958, Bob and Jeanne welcomed their second daughter, Jan Robin, born in Minnesota.
Lillis played in his first major-league game on August 17, in the second game of a doubleheader, in which the Dodgers beat the St. Louis Cardinals 9-3. Lillis batted once, in the eighth inning, and grounded out to shortstop. He went hitless for his first 10 plate appearances, then got his first hit on September 1, a line-drive single to left field off Johnny Antonelli of the San Francisco Giants in the fifth inning.
Lillis hit his first home run on September 24. He would hit only two more in his career. Lillis hit the ball over what was the shortest fence in modern major-league history. A baseball field had been squeezed into the oblong-shaped Coliseum while Dodger Stadium was being built. The 40-foot-high screen in left field was only 250 feet from home plate. "It almost scraped the screen coming down. But, nevertheless, it was a home run."17
Lillis ended 1958 with a .391 batting average in 20 games played and finished with a 12-game hit streak. After the season he took a job selling cars in Alhambra, a Los Angeles suburb. He made his first sale to fellow Dodger and USC Trojan Ron Fairly.
Entering the 1959 season, Lillis found himself squared off for the starting shortstop position with Don Zimmer, who had played 110 games at short the prior season and did not relish the competition. "The only thing Lillis can do better than me is run from home to first, commented Zimmer. "After that, I've got him shaded."18 Lillis seemed to have an inside track, but both players flopped at the plate in the spring games. Manager Alston picked Zimmer to start the season "because he has more power, and I wanted as much sock as possible on opening day."19
Lillis served mostly as a second-string shortstop and pinch-runner through May, then found himself playing in the Pacific Coast League for the Spokane Indians by his 29th birthday, when rookie Maury Wills joined the Dodgers as the regular shortstop. Lillis won most valuable player honors for Spokane, despite playing in only 103 games there. He also received a one-fourth share of the Dodgers' World Series earnings.
Several offseason trade offers focused on Lillis and Zimmer, with Zimmer finally going to the Chicago Cubs during 1960 spring training. Lillis spent the full 1960 season with the Dodgers, mostly as backup shortstop and occasional pinch-runner and utility infielder. Limited to just 60 at-bats, he managed a .267 batting average. On October 1, on the last weekend of the season, he and Maury Wills each had five hits in a 14-inning loss to the Cubs at the Coliseum.
In 1961 Lillis had a firm hold on the Dodger utility-infielder job. The team continued to get trade offers for him from several other clubs, including the Phillies, the Cardinals, the Detroit Tigers, and the Minnesota Twins, plus four new teams formed in 1961-1962.
Lillis played sparingly at the start of 1961, entering only 19 games in April and May and producing just one hit in nine at-bats. Then, just before his 31st birthday, the Dodgers traded him and Carl Warwick to the Cardinals for Daryl Spencer. Although he batted only .217 from June through September, Lillis accumulated 230 at-bats in 86 games, compared with 186 at-bats in 117 games total with the Dodgers since 1958.
After the season the National League held an expansion draft to stock its two new franchises, the Houston Colt .45s and the New York Mets. Houston took Lillis with its fifth pick. Lillis saw the draft as a major opportunity for both himself as well as for several other players. "Most of us didn't have a chance to play every day. Now we could show everybody what we could do. Being drafted was not a bad thing," he said.20
First slotted as a utility player, after the first 10 games of the season, he finally at age 31 had a starting position on a big-league team. "I don't mind having to fight for my job," he commented. "I've waited quite a while to be in the position I'm in now, but I know I've got to fight to keep it."21
Lillis started the 1962 season very slowly at the plate. Through May 23, he had a .146 batting average in 103 at-bats and only four runs batted in. Ironically, pitching coach Cot Deal suggested that he try whipping his bat through the zone to achieve a higher velocity on his swing, more like his free-swinging minor-league days.22 Despite a slump in July, he batted .280 in 354 at-bats the rest of the season, to finish with a .249 batting average for the year. He finished strong, hitting .314 in the last 48 games. He also ranked among the hardest batters in the league to strike out, with only 23 whiffs in his 492 plate appearances.
Lillis commanded shortstop most of the season and shifted to second base when the Colts brought up J. C. Hartman to play short. The team also tried Don Buddin (batted .163) and Ernie Fazio (batted .083) at short, with little success.
Probably to his surprise, as much as to anyone else's, Lillis received the nod of the baseball writers as the most valuable player for the first season of the Colt .45s. Several also began to see him as a strong candidate for a manager's job in the future. "He just has the looks," Colts coach Lum Harris said. "When a preacher and a bootlegger walk into a room, you can tell them apart. That's how it is in baseball."23 Also, in April 1962-64, National League sportswriters listed Lillis as the "best managerial material" on the Houston team.24 Former high-school teammate Dick Williams got a similar rating with the Red Sox in 1964.
In 1963 Lillis played in 147 games, with 124 at short, the most of his career for both numbers. He hit the last of his three career home runs on May 21. He did not homer again, in 1,345 more at-bats. At age 33, he stood among the oldest on a Colts team that averaged 27 years old.
Lillis served for several years as the Houston player representative, and in March1966, the team representatives made the major decision to hire Marvin J. Miller of Pittsburgh, a former labor union leader, as the executive director of their association.
Lillis, who turned 37 years old in 1967, started the season with the indefinite assignment as coach and possible utility player, then joined the active player roster before the end of April. He played in only 37 games, 13 of them as a pinch-hitter, and posted a .244 batting average for his final season, giving him a .236 career batting average. When no team claimed him from waivers, Bob Aspromonte became the last original Colt .45 left on the team.
Lillis had a close relationship with longtime teammate Aspromonte, and they often roomed together. Lillis once suggested that "Aspro" take up a hobby, like coin collecting. He even gave him some rare quarters out of his own collection. When asked how he was liking the new endeavor, Aspromonte said, "Those quarters worked fine in the laundry machine."25
The Astros named Lillis chief scout for southeast Texas, then a year later instructional director of their minor leaguers. "I'm not retiring," he said. "I'm just going into another phase of the game."26 Astros manager Leo Durocher (1972-73) named him to the Astros coaching staff for the 1973 season, where he remained the next nine seasons under managers Preston Gomez (1974-75) and Bill Virdon (1975-82). Lillis received strong consideration for the top position in 1975 when Houston finally picked Virdon.
Lillis compiled a book of notes on each National League pitcher to assist Astros baserunners in getting their jump from first base. "We talk to Bob before a game, and when we get on base we know what we have to do against any pitcher," said speedster Enos Cabell. Cabell stole 35 bases in 1976, part of a club record 150 steals for the season.27
The Astros used an experimental walkie-talkie communication system in 1981, linking general manager Al Rosen's box with the dugout during game to position players correctly defensively. Rosen's assistant Tony Siegle viewed the field from upstairs and talked with Lillis in the dugout. "We have a chart on how we want every infielder and outfielder to play each opposing hitter," explained manager Virdon.28
On August 10, 1982, Houston announced the firing of Virdon as manager and named Lillis interim manager, through the end of the season. On his way out, Virdon praised Lillis as "one of the best people I know and without a doubt the best coach anyone could have."29
In the one major change that Lillis made, he declared, "I am not a platoon manager."30 Virdon had used 59 different batting orders in 111 games in 1982 before his exit, and in 1980 he wrote out a record 97 different lineups.
The Astros sat in fifth place in the Western Division, at 49 wins and 62 losses, when Lillis took over. Although he managed a winning record of 28 wins and 23 losses for the rest of the season, Houston stayed in fifth place throughout. He reportedly made good game decisions and demonstrated a positive firmness and rapport with the players as well as with the media.31
Major discussion ensued during the offseason as to whom the Astros would chose as their next full-time leader. Upper management seemed to prefer a younger pick or a "big-name" player, and they courted Joe Morgan, still playing for the San Francisco Giants in 1982. Popular opinion favored Lillis, a member of the Houston organization since its beginning. Lillis received a two-year extension on his coaching contract, guaranteeing his presence with the team either way.
Morgan opted to sign a player's contract with the Phillies, and the Astros finally offered Lillis a one-year contract as manager on November 2. Not bothered by the short tenure of the contract, he responded, "If I do well, I won't have to worry about it. If I don't, no one will have to tell me." He explained his first major task as putting together "a team that will jell and have the right chemistry."32 Television announcer and former Astro Larry Dierker predicted success, saying, "Lillis will relate better to the average ballplayer than a big-name player who turned manager. … The best teachers in this game are the guys who weren't the best players."33
At the start of the 1983 season, Lillis joined seven other big-league managers who did not start 1982 with the same club: Steve Boros with the Oakland Athletics, Russ Nixon with the Cincinnati Reds, Doug Rader with the Texas Rangers, Mike Ferraro with the Cleveland Indians, Joe Altobelli with the Baltimore Orioles, Bill Virdon with the Montreal Expos, John McNamara with the California Angels, and Billy Martin with the New York Yankees.
The Astros endured a rough spring exhibition season, with only three wins and 16 losses. With his typical understated, low-key confidence, Lillis noted, "We didn't peak too soon."34 He also spoke calm words of reassurance. "We waded through the misfortune. We proved we can handle adversity."35
The beginning of the new season brought its own set of woes, as Houston lost its first nine games. State legislators in Albany, New York, conducted their third annual "Billy Martin 'Yer Out' Poll," and Lillis received the most votes as the manager most likely to lose his job before the All-Star break.36
Their early disappointments did not hold sway, and the Astros soon put together some winning streaks, reaching 12 wins in 17 games at one point. Their win against the San Diego Padres on June 17 put them over .500 winning percentage, with 33 wins and 32 losses. On July 16 the Houston record stood at 47-41. The ever-positive Lillis opined, "There isn't a person in our clubhouse who doesn't believe we can be a contender the second half of the season."37 By September, the Astros had compiled the best record in the National League, not counting their opening losing streak. They finished the season with 85 wins — a winning record — and claimed third place in their division.
With the surprising turnaround, Lillis came in second in voting for the National Manager of the Year, just one vote behind Tommy Lasorda of the Dodgers. He also won the Texas Sports Writers Association Pro Coach of the Year award for 1983. He signed a two-year contract to manage the Astros through the 1985 season.
Houston lost the first game of the next season but won the second, leaving the memories of the 0-9 start of 1983 in the past until the team lost the next five games. The Astros played very inconsistently, dropping to 10 games below the .500 mark by June 10, then rebounded to an even 62-62 record on August 18, perhaps inspired by a team meeting called by Cabell, one of the team leaders. In the end, they captured second place in the division, but with a losing record of 80 wins and 82 losses.
Again during 1984, Lillis used his innovative expertise with statistics and radio communication. He compiled comprehensive charts on each batter's tendencies, which he updated every day with input in a computer. This time they employed a three-way system, with Billy Joe Bowman from the press box and Gene Colman with a radar gun in the home-plate tunnel relaying messages to the dugout with a direct-line FM radio setup.38 The system proved effective; on June 14 the team knocked out 10 hits against Fernando Valenzuela in a 3-1 win, after Lillis spent six hours entering information in the computer before setting his lineup.39
A drop in home attendance — down 122,000 from the year before — accompanied the disappointing finish, and some speculated that Lillis might not fulfill the second year of his contract. But owner John McMullen and general manager Rosen showed no intentions to make a change. Even with that lackluster season, Lillis ranked fourth in the National League Manager of the Year voting, with one vote.
During the offseason, Lillis kept contact with his players and sought their thoughts about the needs and opportunities of the year ahead. "I'm trying to get input from everywhere and everyone. Just exactly what our plan of attack in the spring will be remains to be seen."40
The Astros had good contact hitters, without much power, hitting only 79 home runs in 1984, with Jose Cruz producing a paltry team-best of 12. Although they shortened the fences in the Dome, Houston did not add home-run punch over the winter.
In the 1985 version of the "Billy Martin 'Yer Out' Pool," Lillis ranked first in National League managers likely to lose their job by midseason.41 Owner McMullen hosted Yogi Berra at Shea Stadium at an Astros game against the Mets, sparking speculation that he might fire Lillis and hire Berra sometime soon, but McMullen had made a point to tell Lillis about the Berra visit the day before, to allay any possible consternation.42
The Astros actually performed moderately well, winning 10 of 20 games in April, and hung on to a record of 43 wins and 45 losses at the All-Star break. Lillis made his first big-league All-Star appearance in 1985 as a member of Dick Williams's National League coaching staff. The team hit a midseason slump and had fallen to 11 games under the .500 mark by August 26. The Astros then made a remarkable recovery and won nine of their next 10, part of a 27-12 (.692) finish to the season. Their overall record stood at 83-79, tied with San Diego for third place in the division, 12 games behind the division champion Dodgers.
In mid-September McMullen, promising to "shake up his struggling Houston Astros,"43 fired Rosen and replaced him with Dick Wagner, formerly with the Cincinnati Reds. Lillis fell next. At the end of the season the Astros fired him also but offered him a job in the organization. Saying he preferred more aggressiveness to Lillis's "nice guy" style, Wagner said, "To be a manager, you've got to have a little Billy Martin in you to get the respect of the umpires."44 Whitey Herzog shared his thoughts with a group of reporters about the Lillis dismissal: "I think Lillis did a real good job. He just can't sit here and BS with you guys like I can."45
Lillis completed his managerial career a winner, with 276 wins and 261 losses, a winning percentage of .514.
He did not accept the Astros job offer, preferring to work on the field instead. "I'm going to put my name out and let people know I'm available and, preferably, would like to have a job at the major-league level," he said.46 He received consideration from Toronto for the managerial opening with the Blue Jays. In the end he took a coaching position with the Giants, joining Rosen, who became the San Francisco general manager after leaving Houston, and his longtime friend and now Giants manager, Roger Craig. As Craig assembled his coaching staff, he chose Lillis to sit next to him in the dugout. "I think he was the best manager in the NL last year. He's the most solid baseball man I've never known," said Craig.47 Lillis stepped in and managed the Giants during a three-game absence of skipper Craig in September 1991.
Craig often relied on Lillis for key strategy decisions, and used him as a special infield instructor, most notably with Robby Thompson, Jose Uribe, and Royce Clayton. While with the Giants, Lillis coached in the 1987 National League playoffs and the 1989 World Series. He joined Craig's coaching staff for the 1990 All-Star Game.
Al Rosen resigned in November 1992, after a dismal 72-90 season by the Giants, and Bob Quinn Sr., replaced him. The shift also meant a change in managers, from Craig to Dusty Baker, who stuck with Lillis as his bench coach. Baker wanted to draw upon Bob's wealth of knowledge, and likened him to "a library."48
At age 65, Lillis announced his retirement after the 1996 season, completing a career of 46 years of professional and military baseball. He moved to Orlando, Florida, where he spent time with his family and enjoyed watching his two grandsons play Little League baseball.49
Besides his stellar fielding with a light bat, Lillis became widely recognized for his unflappable demeanor and calm confidence in tense times as well as joyous ones. "He loses his temper as infrequently as he loses a groundball hit directly to him," wrote a longtime sports scribe.50 He even got along with the ruling authorities on the field, receiving only three ejections in his career: once as a player, once as a manager, and once as a coach. Two days after his major-league debut, first-base umpire Ed Sudol tossed him for disputing a call at first base. Then 27 years later, with 10 games left as manager of the Astros, Lillis got the thumb from umpire John Kibler over an interference noncall. And finally in 1989, as a coach with the Giants, Lillis argued a call with umpire Ed Montague at first base during the last game of the season. "I thought he was out. I didn't say anything; I just threw my hands up," Lillis said.51
The soft-spoken fielding virtuoso with bright blue eyes and "crewcut brown hair that stands straight up, like porcupine quills"52 entered every season in a tenuous posture, unsure of his eventual role with the team. His steady nature and deep love for the game led him to "just do my best."
Last revised: December 1, 2018
This biography appeared in "Time for Expansion Baseball" (SABR, 2018), edited by Maxwell Kates and Bill Nowlin.
Sources
In addition to the sources cited in the Notes, the author also consulted Ancestry.com, baseballalmanac.com, baseball-reference.com, and retrosheet.org.
Notes
1 Paul Zimmerman, "Lillis Battles with Zimmer at Shortstop," Los Angeles Times, March 6, 1968: 71.
2 https://pasadenasportshalloffame.org/bob-lillis.html.
3 "Pasadena Is Jaycee Baseball Champion," Bakersfield (California) Californian, May 25, 1949: 29.
4 Halsey Hall, "Lillis Studies Hurlers," Minneapolis Star, July 3, 1957: 18.
5 Paul Zimmerman, "Experts Agree Dedeaux Best," Los Angeles Times, April 5, 1961: 78.
6 Phillips also signed Don Drysdale, Ron Fairly, and Larry Sherry from the Southern California area for Brooklyn.
7 Jim Morse, "Morse Code," Star-Gazette (Elmira, New York), June 22, 1951: 9.
8 Hank Ives, "Sad Week for Sports," Pasadena Independent, January 25, 1967: 14.
9 Byron Hollingsworth, "The Morning After," Tampa Tribune, July 1, 1956: 25.
10 Charles Karmosky, "The Sportscope," Daily Press (Newport News, Virginia), July 13, 1956: 14.
11 Halsey Hall, "Kirkland Rated Best AA Outfield Arm," Minneapolis Star, September 5, 1956: 56..
12 Jimmy Cannon, "Campy Is Key to Dodger Building Program in '57," Dayton (Ohio) Daily News, November 17, 1956: 6.
13 "American Association," The Sporting News. July 31, 1957: 38.
14 "Lillis Signs," Miami News, December 30, 1957: 28.
15 Mannie Pineda, "Bobby Lillis Departs for Big Dodger Trial," Pasadena Independent, February 27, 1958: 17.
16 George Lederer, "Dodger Pitching Stale," Long Beach Independent, March 31, 1951: 21.
17 John Wilson, "Astros Welcome Gladding to Fill No. 1 Fireman Role," The Sporting News, January 27, 1968, p. 36
18 "Bunts and Boots," The Sporting News, March 11, 1959: 27.
19 George Lederer, "Don Comes on Fast After Bad Spring," Long Beach Independent, April 26, 1959: 38.
20 David Casstevens, "Unprotected Might Find Valley Haven," Arizona (Phoenix) Republic, November 18, 1997: 12.
21 Mickey Herskowitz, "Lillis Credits Swat Spurt to 'Good Deal,'" The Sporting News, February 9, 1963: 3.
22 "Bob Lillis One of .45s Best Glovemen," La Marque (Texas) Times, August 31, 1962: 7.
23 Charley Eskew, "Point of View," Austin American-Statesman, April 24, 1962: 15.
24 The Sporting News, April 18, 1962: 10; April 20, 1963: 14; and April 25, 1964: 12.
25 "Putt Powell's Putting Around," Amarillo Globe-Times, March 11, 1977: 26.
26 John Wilson, "Astros Give Lillis Snappy A-OK Grade as Front-Office Rookie," The Sporting News, January 20, 1968: 34.
27 "Cabell, Cedeno Reach Accord," Longview (Texas) News, March 24, 1977: 23.
28 "Astros Walkie-Talkie for Defense Positions," Galveston Daily News, May 28, 1981: 16.
29 "Lillis Becomes Astros Manager at 52," Galveston Daily News, August 12, 1982: 17.
30 Harry Shattuck, "Lillis Declares Halt to Platoon System," The Sporting News, August 30, 1982: 47.
31 "1983 Astros Pilot? Lillis Has an Edge," The Sporting News, October 18, 1982: 34.
32 "Lillis Promises '83 Astros Will 'Jell,'" New Braunfels (Texas) Herald-Zeitung, November 3, 1982: 10.
33 "Bob Lillis Manager of Houston Astros," Ukiah (California) Daily Journal, November 3, 1982: 8.
34 Mark Heisler, "The New Fernando Goes Tonight," Los Angeles Times, April 5, 1983: 73.
35 "Ailing Astros Open with Dodgers Today," Del Rio (Texas) News Herald, April 5, 1983: 14.
36 Bob McCoy, "Idol Thoughts," The Sporting News, May 30, 1983: 8.
37 "Astros Make Good on Lillis' Forecast," The Sporting News, July 25, 1983: 25.
38 "When Bowman Speaks, Astros Lillis Listens," Paris (Texas) News, May 8, 1984.
39 Gordon Edes, "Dodgers Fail to Support Valenzuela," Los Angeles Times, June 15, 1984: 35.
40 "Lillis Seeks Consistency in 1985," The Sporting News," October 29, 1984: 44.
41 Bob McCoy, "'Yer Out' Again," The Sporting News, May 27, 1985: 8.
42 Milton Richman, "Despite the Speculation, Yogi's Not Headed for Houston," Petaluma (California) Argus-Courier, May 6, 1985: 6.
43 "Astros Choose Ex-Reds Chief to Fill Top Job," Austin American-Statesman, September 14, 1985: 3.
44 "Astros' Housecleaning catches Lillis' Job," Longview News-Journal, October 8, 1985: 13.
45 Tom Friend and Gordon Edes, "Cards Run Better Than They Fly," Los Angeles Times, October 9, 1985: 48.
46 "Lillis Turns Down a Front Office Job," Petaluma Argus-Courier, October 16, 1985: 10.
47 Mike Barnes, "New Giants' Manager Promises Major Changes," Auburn (California) Journal, December 10, 1985: 10.
48 Mark Newman, "Managing Just Fine," The Sporting News, September 13, 1993.
49 Paul Geisler, Conversation with Bob Lillis' daughter Joy, July 31, 2018.
50 Herskowitz.
51 Nick Peters, "Giants Lose, So Does Clark," Santa Cruz (California) Sentinel, October 2, 1989: 27.
52 Herskowitz.
Born
June 2, 1930 at Altadena, CA (USA)
If you can help us improve this player's biography, contact us.
https://sabr.org/sites/default/files/LillisBob.jpg
600
800
admin
/wp-content/uploads/2020/02/sabr_logo.png
admin
2012-01-04 20:29:20
2012-01-04 20:29:20
Bob Lillis