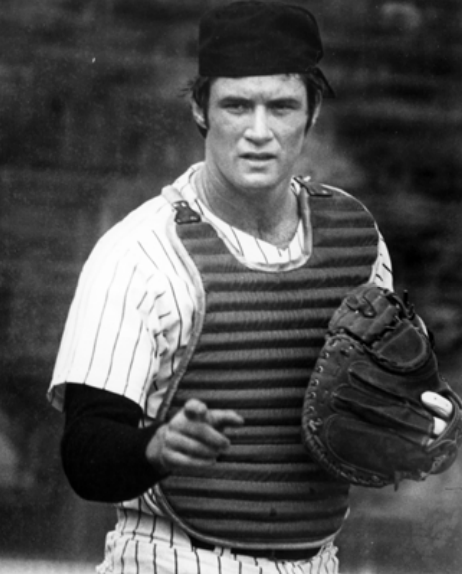 ---
"I realized that this was a short-lived career, and I did something to prepare myself for what was to come later. I never spent a winter without doing something constructive.  I never played winter ball. I went to school or I took courses in advertising, radio and TV production.  I even took books on the road."1 That foresight paid off for Fran Healy.
In 1986 Healy, who in 1978 went straight from the playing field to the broadcast booth, was one of the Mets play-by-play announcers as they put together their best season in many years and won the World Series.
Healy had a good baseball pedigree: His uncle Francis had played with the New York Giants and St. Louis Cardinals, and was a member of the Gas House Gang that won the World Series in 1934. His father, Bernard, had played minor-league ball in the Cardinals organization.
Francis Xavier Healy was born on September 6, 1946, in Holyoke, Massachusetts, one of five children. His mother, Marina, worked in the purchasing department at Providence Hospital.
Fran attended Holyoke High School, batting .408 in his sophomore year and starring on the basketball team, before transferring to the private Tabor Academy in January of his junior year. He starred in American Legion ball for Holyoke Post 351, and was selected to represent the Boston area in the Hearst Sandlot Classic in 1963. He returned to Holyoke High School in 1964, and after graduation was signed by Cleveland Indians scout Hoot Evers for a $40,000 bonus. He was in the Cleveland farm system from 1965 through 1968.
Healy's minor-league travels began in Dubuque, Iowa of the Class-A Midwest League. After batting only .168 in 49 games in 1965, he was batting .258 in 48 games in 1966 when he was called up to Pawtucket of the Double-A Eastern League. He was in the Eastern League through 1968. In 1966 and 1967, he batted .267 and .269, respectively, at Pawtucket, making the league's All-Star team in 1967. When the Indians switched their Double-A affiliation to Waterbury in 1968, he batted .238 and was in the pool of players for the American League's postseason expansion draft.
Healy was selected by the new Kansas City Royals, and the fact that he was their 28th choice did not bode well for his future. Nevertheless, he persevered, and spent the better part of two years at Omaha in the American Association. In 1969 he batted .282, and was called up to the Royals at the end of the season. In his first major-league game, on September 3, 1969, he had two singles against the Detroit Tigers' Denny McLain.
On January 31, 1970, Healy married Gloria Turcotte. They had two daughters, Deborah Michele and Kara.
During spring training in 1970, Healy developed a case of baseball's yips and was having trouble making routine throws back to the pitcher. "I started spring training right after being in military service and I had a hurt muscle in my left shoulder," he said several years later. "I never had thrown the ball back real hard. Maybe (Charlie) Metro mentioned it the year before." Metro had served as director of player procurement for the Royals before taking over as manager in 1970, and saw Healy's slow throws to the mound as a weakness. "He got on me and told everybody I couldn't throw. I guess I sort of got a mental block about the whole thing."2
The decision was made to send Healy back to Omaha for another season. He was embittered, but under the tutelage of manager Jack McKeon he improved on his 1969 performance, batting .294 with 5 home runs and 36 RBIs in 82 games. Healy gave all the credit to McKeon, saying, "I'm just glad I got to go to the guy who could recycle me. I had a lot of maturing to do."3 In his last game of the regular season, on August 31, 1970, Healy was ejected from a game for the first time, after arguing that he had beaten out a groundball to shortstop.
The Royals were out of options on Healy, and rather than expose him to the postseason draft and risk getting little back on their investment in him, they traded Healy to the San Francisco Giants for pitcher Bob Garibaldi. Healy then played in the major leagues continuously from 1971 through the beginning of 1978. He was with the Giants in 1971 and 1972, serving as a backup to Dick Dietz in 1971 and Dave Rader in 1972.
In 1971 Healy batted .280 as the Giants finished first in the NL West. In his first at-bat of the season, on April 15, he hit a walk-off pinch-hit homer in the 10th inning as the Giants defeated Houston. Two days later, he got his first start of the season in the second game of a doubleheader against the Chicago Cubs. He went 4-for-4 with a two-run homer and four RBIs as the Giants won their eighth straight, 8-1, and led the division by three games. Those two homers were all the backup would get in 1971. But by the end of June he was batting .422 (19-for-45). He finished the season batting .280 in 47 games, but did not see action in the postseason.
In 1972 Healy had a great spring and was the Giants' Opening Day catcher. He started 11 of the team's 14 games in April, but was batting just .100 at the end of the month. For the rest of the season, he watched as Dave Rader took over behind the plate. Healy's highlights for the season came in May. In a 2-0 loss to Cincinnati on May 16, he singled in the third inning to break a 0-for-30 drought, and in the first inning he gunned down Joe Morgan and Bobby Tolan in consecutive theft attempts. Later in the game, he threw out Darrel Chaney. Two days earlier, against the Mets, he had gunned down the Mets' first baseman, who had previously played for the Giants and had stolen 336 bases for them in 21 seasons. Willie Mays had just been traded to the Mets and was in his first game with his new team.
It was usually a long time between starts for Healy. He got the call on July 6, after Rader had 18 straight starts, and responded with a 2-for-4 performance as the Giants beat the Phillies 6-4 in Philadelphia. For the season, he batted only .152 in 45 games as the Giants finished fifth in the NL West. 
As the 1973 season was getting under way, Healy returned to Kansas City, in a trade for pitcher Greg Minton. He had his best years with the Royals.
In his first year back with the Royals, Healy was reunited with Jack McKeon, then in his first year as a big-league manager. McKeon had urged the Royals to reacquire Healy. On April 27 Healy caught Steve Busby's no-hitter against Detroit. But Healy was not hitting well. He played in only 24 of the Royals' first 56 games, batting .197. The other catcher, Carl Taylor, was also batting under .200. On June 9 McKeon made Healy the regular catcher. For the balance of the season, he justified McKeon's choice, batting .300 with 6 home runs and 30 RBIs in 71 games, during which the Royals went 40-31. He fashioned hitting streaks of 8 and 11 games. On July 9 Jerry Bell of Milwaukee threw three successive brushback pitches at Healy, who charged the mound. A brawl ensued and Bell and Healy were ejected.
In late August Associated Press sportswriter Robert Moore proclaimed, "Fran Healy has finally made the grade as a major league catcher."4 But after injuring his wrist on August 31, Healy played only six games in September, The Royals played .500 ball in September and finished six games behind the eventual World Series champion Oakland A's. Over the course of the season, Healy threw out 31 of 69 runners trying to steal, finishing fifth in the league with a 44.9 caught-stealing percentage. For the season Healy played in 95 games and batted .276.
In 1974 Healy played in a career-high 139 games, and his 138 games behind the plate were more than any other big-league catcher that season. He set career highs in home runs (9) and RBIs (53). Early in the season, he had four multiple-hit games in a five-game stretch, batted .409 and had three home runs. He was named American League Player of the Week on May 5. The Royals were in second place, within four games of the lead on August 27, but fell out of contention by losing 25 of their last 33 games and finished fifth in the AL West. Healy batted.252 with a career-high 9 homes runs and 53 RBIs.
In 1975, Healy was injured often and played in only 56 games. The injuries started early on. In the second game of the season, Tommy Harper collided with Healy at home plate and Healy suffered a severe Achilles tendon strain. He missed 32 games. Shortly after returning in mid-May he hit an upper-deck job at Yankee Stadium off Doc Medich in the 10th inning that gave the Royals a 4-1 win. A few days later, back home against the Yankees, he tied the game in the ninth inning with a single, then singled again in the 11th inning to set up a walk-off suicide squeeze by Frank White.
Healy credited Harmon Killebrew, who was winding down his career with the Royals, for his improvement at the plate that began in May and extended into early June. Healy noted, "I've always had the problem of lunging at pitches. … Harmon worked with me during spring training.  Now if I lunge, he lets me know in his quiet way."5
Healy's batting average went over .300 and on June 9, after a 2-for-5 performance against Milwaukee, it stood at .309. Then he slumped badly and a 17-for-81 stretch took his average down to .250 by the end of June. On July 9 Healy was again involved in a collision, when Gorman Thomas of the Milwaukee Brewers bowled him over while scoring. Back problems resulting from the collision caused Healy to miss all but 11 of his team's last 78 games. For the season he batted .255 with 2 home runs and 18 RBIs.
Going into the 1976 season, question marks surrounded Healy's status with the Royals. He regained his starting job during spring training, but was batting .071 after four games and found himself on the bench, with Buck Martinez taking over behind the plate. Not playing regularly, Healy requested a trade to an East Coast team, to be closer to his New England roots. On May 16, after playing in only eight games with the Royals, Healy was traded to the Yankees for pitcher Larry Gura. The departing Healy said, "I've been here for years and I have a lot of memories. I'll treasure most of them. I've met some great people and there are some great people in the Royals' organization. I was disappointed I didn't get to catch more, but baseball has its ups and downs."6 With the Yankees, he became Thurman Munson's backup. He played in 46 games the rest of the season, batting .267. He started behind the plate in 23 games and threw out 10 of 17 (59 percent) of would-be stealers. The Yankees won their division and defeated Healy's old team, the Royals, to advance to the World Series, which they lost to Cincinnati. Healy did not play during the postseason.  
In 1977 the Yankees acquired Reggie Jackson and the tempestuous Jackson and Healy became fast friends. Indeed, when Jackson was enshrined in Cooperstown in 1993, he mentioned in his induction speech that "I never got the support from any player like I got from Fran."7 Healy saw little action but was pressed into service in early June when Munson was badly cut on the right hand in a home-plate collision. Healy played six straight games, contributing five RBIs as the Yankees won four of the six. For the season, he played in only 27 games, batting .224. Healy's chief value to the Yankees was neither behind the plate nor at the bat. It was in the clubhouse, where his friendship with Jackson paid big dividends for Reggie and the Yankees. 
That may have been exemplified by the notorious flareup between Jackson and Yankees manager Billy Martin in front of a national TV audience in a game at Fenway Park in Boston. Martin had pulled Jackson from the game and Reggie erupted. Three decades later, Jackson said, "Finally, Fran Healy came into the clubhouse from the outfield (bullpen) and said 'Reggie, get dressed, and change and go home. Because no matter what you do, whether he (Martin) hits you first or you grab him, you're gonna be wrong. So get dressed and go home.' [It was the] smartest thing I was ever told to do and luckily one of the smarter things I did."8
An instance of how close the relationship between Healy and Jackson was occurred prior to Game Five of the 1977 American League championship series. The Yankees were playing the Royals, and Billy Martin, in spite, elected to bench Jackson in the deciding game of the five-game series. It fell to Healy to break the news to Jackson. As Mike Lupica said, "It is a good thing Healy was around, because there is no telling what might have happened between Reggie and Martin."9 Eventually, Martin called upon Jackson to pinch-hit in the eighth inning, and Reggie's hit propelled the Yankees to within a run of the Royals. One inning later, the Yankees rallied to win the game and were on to the World Series.
Healy finished his playing career with the Yankees in 1978, playing only once, on April 21. Suffering from recurring neck problems, he asked the Yankees to release him. He debuted in the Yankees announcing booth shortly after. Although he had made only a cameo appearance on the field in 1978, Healy was voted a $500 share of the World Series money when the Yankees repeated as world champions.
Healy was aware of his situation. As he noted shortly after switching from the playing field to the broadcast booth, "If you're 22 and you're screaming about not playing, they'll listen to you. If you're 32, they'll tell you to take a walk."10 For Healy, the walk was fortuitous.
During his early years in baseball, Healy had continued his studies at American International College in Springfield, Massachusetts. In 1973 he received his degree, with a major in history, from American International College. He worked as a broadcaster for the Yankees from 1978 to 1983, first with Mel Allen and Phil Rizzuto, and later with Frank Messer and Bill White. It is his time with Rizzuto for which he is best remembered. Healy and Rizzuto were, as New York Times sportswriter Ira Berkow wrote, "a comedy team, one that also interspersed solid bits of baseball information that were a treat for Yankee fans. Healy was Abbott to Rizzuto's Costello. The straight man and the laugh-getter. They insulted each other, they goaded each other, and they did so with warmth and, to a fair degree, good taste."11
Healy joined the Mets in 1984, working with Tim McCarver and Ralph Kiner on SportsChannel telecasts, and producing the "Halls of Fame" television series. He did Mets broadcasts through 2005.
In 1986 Healy was part of the announcing team as the Mets won it all. In remembering that team, he said, "Every position on the team you could associate a strong adjective to the position.  The pitching staff was unbelievable.  They had one of the best catchers in the game (in Gary Carter). Certain teams win, but they're not glamorous. That was a glamour team. Nobody used the term 'swagger' back then, but that team had swagger, and I mean a lot of it."12
In 1992, in a ceremony in his hometown of Holyoke, Healy received the Massachusetts American Legion Graduate of the Year Award.
After the terrorist attacks of September 11, 2001, baseball entered a brief hiatus. In the first game back at Shea Stadium, on September 21, emotion filled the air as Healy and his broadcast partner, Howie Rose, took to the airwaves. For 7½ innings, they were able to follow the commissioner's dictum to keep the event solemn. But when Mike Piazza hit a home run that put the Mets ahead in the bottom of the eighth, there was an uproar from the more than 40,000 spectators, and the announcers displayed emotion. Healy said, "This place exploded! It's been waiting to explode all night." And there was a sense of normality.13
Healy, who was under contract to the Madison Square Garden Network, left the booth after the 2005 season when the SportsNet New York got the contract to broadcast the Mets games. He remained with MSG, among other things hosting the Game 365 series.
 Sources
In addition to the sources cited in the notes, the author consulted the Fran Healy file maintained at the Giamatti Research Center, National Baseball Hall of Fame and Museum, Cooperstown, New York; the Omaha World-Herald, and the newspaper articles cited below. Statistics have been taken from Baseball-Reference and Retrosheet.
Bordman, Sid. "Healy Quick Cure for Royal Mitt Aches," The Sporting News, August 18, 1973: 16.
Brown, Garry. "Fran Healy and Reggie Jackson: Baseball's Version of Odd Couple," Union-News (Springfield, Massachusetts), January 7, 1993: 27.
Frizzell, Pat. "Big League Heritage Behind Giants' Backstop Healy," The Sporting News, May 6, 1972: 10.
McGuff, Joe. "Healthy Healy Royals Chief Concern," The Sporting News, January 17, 1976: 41.
Notes
1 Phil Pepe, "Healy's First Death," New York Daily News, May 12, 1978.
2 Joe McGuff, "Gritty Healy Repays Royals With First-Rate Mitt Work," The Sporting News, June 8, 1974: 20.
3 Ibid.
4 Robert Moore, "Healy Helping Royals Toward Pennant," Daily Herald (Biloxi-Gulfport, Mississippi), August 24, 1973: 21.
5 Sid Bordman, "Healy Gets Healthy and So Does Royals' Catching," The Sporting News, June 14, 1975: 14.
6 Joe McGuff, "Royals Find Bullpen Help in the 'Hall-Way,'" The Sporting News, June 5, 1976: 3.
7 John Rawlings, The Sporting News, August 9, 1993: 6.
8 New York Post, October 28, 2011.
9 Mike Lupica, New York Daily News, October 18, 2012.
10 Tony Kornheiser, "They've Done It All, But Not Too Often," Washington Post, August 3, 1980.
11 Ira Berkow, "Healy's Gone, So Who's on First, Now," New York Times, February 6, 1982: 17.
12 Tim Smith, New York Daily News, February 9, 2011.
13 Justin Tasch, "A Time to Heal," New York Daily News, September 21, 2014.
Born
September 6, 1946 at Holyoke, MA (USA)
If you can help us improve this player's biography, contact us.
http://sabr.org/sites/default/files/Healy-Fran.png
600
800
admin
/wp-content/uploads/2020/02/sabr_logo.png
admin
2012-01-04 20:04:06
2021-03-08 06:34:47
Fran Healy