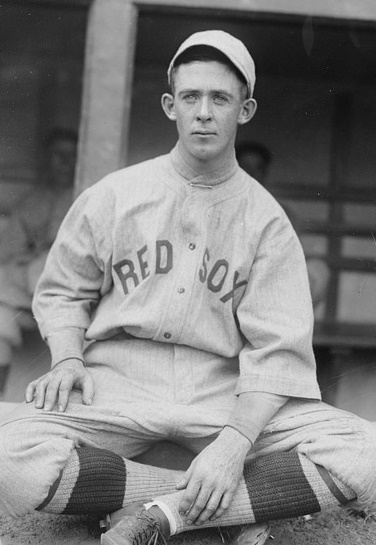 ---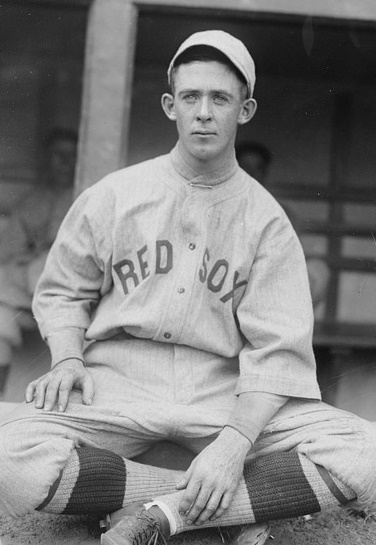 Almost 40 years after he first played for the Boston Red Sox, Hal Janvrin was described by a veteran Boston Post sportswriter as "the greatest schoolboy athlete of all time."[1] As a student at Boston English High School, Janvrin had earned three letters in baseball, three letters in football, three letters in hockey, and three letters in track. He hadn't even finished his schooling when the Red Sox took him west to spring training in 1911, the year they played 63 exhibition games as they split into two teams and traveled all the way to California and back.[2] He took classes after returning and then went straight to the big leagues, first playing for the Red Sox on July 9.
One would think that a star athlete would get a good reception from the hometown crowd, but Red Sox fans seemed to show little patience toward "Childe Harold" and he was nearly hooted out of town after hitting only .148 in his first 32 plate appearances.[3] The Red Sox sent him to the Jersey City Skeeters for seasoning the following year. First, in the fall of 1911, he finished his coursework at English High.
In Jersey City he hit .291 in the course of 132 games during 1912. He thereby missed out on the first season the Red Sox played at Fenway Park and being part of that year's world-championship team. He joined the Red Sox for good in 1913 and later played in the back-to-back World Series wins in 1915 and 1916.
Hal was born in Haverhill, Massachusetts, on August 27, 1892, to Albert and Sarah (Willey) Janvrin, both natives of New Hampshire (Haverhill is at Massachusetts' border with New Hampshire). The family moved to Boston and Hal graduated from the Farragut School and Boston English High. He had been awarded a scholarship to Brown University but declined and turned professional, playing for the Red Sox.
Janvrin was indeed quite an athlete in high school, holding for some time the 45-yard high-hurdles record in the Boston Athletic Association schoolboy games. He was a good enough hockey player that after his professional baseball career ended he played the equivalent of semipro hockey at the Boston Arena. As it happens, his grandson Dave Silk played on the famed "Miracle on Ice" Gold Medal-winning United States hockey team in the 1980 Olympics, and went on to play 249 National Hockey League games with the New York Rangers, Winnipeg Jets, Detroit Red Wings, and Boston Bruins over the next five years. Silk's cousin Mike Milbury both played for and coached the Bruins.
In June 1910 third baseman Janvrin's double and home run helped English win the championship game in the Interscholastic Athletic League. Right halfback Janvrin was voted captain of the Boston English football team in 1910. That fall he was ruled ineligible in the league the following year because he had received a fourth-year diploma, but only after the headmasters of the league's schools changed the rules that had applied at the time of his election. He was ruled eligible to play against other area high schools – but then that decision was reversed, too, a day or two later – prompting a Boston Globe headline: "Janvrin – First He Is, Then He Isn't, Is, And Now Isn't"[4]
He received an offer from the Boston Nationals (called the Doves in 1910 and the Rustlers in 1911) to try out for them in 1911, but was expected to attend Brown. The fate of Janvrin's parents is unknown. The January 4, 1911, Globe noted that he had neither father nor mother and that "his sisters are the only immediate advisers he has and it was their wish that he should not take up professional ball this year, they agreeing that he could enter college next September." The 1910 census showed 33-year-old Jennie Janvrin as head of the family and working as a dressmaker. Alice Janvrin was 30 and worked as a housekeeper for a private family. Charles, 27, was a salesman in a drugstore, and Hal was at school. In early February, however, Red Sox owner John I. Taylor and Treasurer Hugh McBreen visited the Janvrin home and persuaded his guardians to sign a contract on Hal's behalf; the young man took the spring-training trip west with the Red Sox and, after showing quite well in the exhibition games, opened the season with the team. He was listed as 5-feet-11 and 168 pounds, and batting and throwing right-handed.
As indicated, Janvrin's first taste of action came on July 9, 1911, in St. Louis. He played first base and batted seventh. He had two singles in four at-bats. "Janvrin Makes Good," headlined the Globe. After the season, he helped out Coach Downey in working with the Boston English football team.
As Janvrin's good season with the Skeeters moved toward a close in August 1912, the Red Sox secured their rights and planned to bring him back to Boston for the 1913 campaign. He had played every one of the four infield positions, and proved exceptional at shortstop. He covered a lot of ground and had an unusually strong throwing arm, and was fast afoot, beating out more than his share of bunts.
Red Sox owner Jimmy McAleer quickly moved to secure Janvrin's name on a 1913 contract after New York Giants manager John McGraw offered him $5,000 for the young player.[5] Janvrin was being groomed as an understudy to Jake Stahl at first base, but found himself playing all four infield positions for the Red Sox, though more than half of his 87 games were at shortstop. Over the course of his 10 seasons in the major leagues, most of his games were at shortstop and second base, but he played 115 games at first, 62 at third base, and 22 games in the outfield, at least one game in each of the three outfield positions.
Janvrin hit better (.207) in 1913 and homered three times (half of his career total), driving in 25 runs. On the basepaths, he stole 17 bases including a steal of home on September 10 at home against the visiting Detroit Tigers. In 1914 Janvrin bumped his average up to .238 in 145 games, playing so well that he was offered a contract for 1915 in June 1914, as new owner Joseph Lannin locked up five players for the following year. A young pitcher named Babe Ruth joined the Red Sox in midyear. Not all days were good days for Janny, though; he committed four errors at first base in one September game against St. Louis. He drove in 51 runs, and scored 65.
For the fourth year in a row, Janvrin's batting average improved, to .269 in 1915. He played in 99 games, with almost 200 fewer plate appearances than the year before. The Red Sox won the pennant and the World Series, with Janvrin appearing in only one game, Game Two in Philadelphia. Before the Athletics came up to bat in the bottom of the seventh in a 1-1 tie, manager Bill Carrigan made two defensive changes. Hick Cady came in to catch and Hal Janvrin came in at shortstop (Everett Scott had been pinch-hit for). The score was still tied in the top of the ninth, with one out and Larry Gardner on first base. Janvrin hit a weak grounder back to the pitcher, who threw to first as Gardner took second. Pitcher Rube Foster then singled in Gardner, giving the Red Sox a 2-1 lead. Foster pitched a 1-2-3 ninth for the win. Janvrin caught the one ball hit to him, an eighth-inning pop fly to short.
In 1916 Hal got into 117 games, but with not appreciably any more plate appearances. His productivity declined, his batting average dropping to .223. He played in every one of the five World Series games against the Brooklyn Robins, collecting five hits – three of them doubles – in 23 at-bats, setting a modest record that still stood in 2011 for most at-bats in a five-game Series. His eight assists in Game One are also a record that still stands, though shared with seven others. Only Harry Hooper and Duffy Lewis had more hits in the '16 Series, two more in Hooper's case and one more in Lewis's. Janvrin scored twice and drove in one run. Once more the Red Sox were world champions. After the season, he and Duffy Lewis drove across country to California, and Janvrin hooked up with a picked team of players who went to Hawaii and played some exhibition games.
In 1917 new Red Sox owner Harry Frazee found he had a holdout on his hands in Hal Janvrin, but at the end of February the two came to terms. With Everett Scott at short (he held the record for consecutive games played before Lou Gehrig and Cal Ripken) and Jack Barry steady at second base, the opportunities for Janvrin were diminished, often restricted to late-inning work. Janny appeared in only 55 games, and hit only .197, not offering Barry (who was also the manager) a lot of reason to play him more often.
After the season Janvrin enlisted in the Signal Corps of the US Army, one of ten members of the Red Sox to enlist in one or another branch of service for the World War. He underwent training at Fort Devens, in Massachusetts, and also played baseball on the base team. Corporal Janvrin was recommended for Officers Candidate School, and by October became a second lieutenant. In November, the Washington Post reported that he had "developed into one of the best marksmen in the army."[6]
With the war over, and knowing that Janvrin would be mustered out in early 1919, Boston and Washington talked trade possibilities in December and into January. A week after he was discharged, Janvrin was traded to the Senators as part of a three-way deal. He took his time signing, and – before he did – contracted pneumonia in early March. As it happens, he didn't miss much time at all and was playing regularly by the last week in April.
He was still a good field/no hit shortstop, batting only .178 in 61 games through August 24. On the 25th he was told to report to Buffalo. He'd been traded there in a deal that brought Bucky Harris to the Washington Senators, sent with $2,500 to sweeten the deal. Senators scout Joe Engel later said that Janvrin at the time was "a second baseman we didn't rare highly."[7] On September 10 Janvrin's contract was sold to the St. Louis Cardinals and he got into seven games, collecting three hits in 14 September at-bats. He had quite a good year in 1920, playing in 87 games for the Cardinals and batting .274 – to date, the highest average of his career.
The 1921 Cards saw him hit .281 through his first 18 games, and attractive to the Brooklyn Robins, who traded pitcher Jeff Pfeffer to St. Louis for Janvrin and pitcher Ferdie Schupp on June 18. Janvrin faded at the plate, hitting only .196 in the 102 plate appearances he had in the rest of 1921 but he fit the bill as a utility infielder who could handle any position. His ninth-inning single won the October 1 game, capping a four-run rally to beat the Boston Braves in their nest-to-last game of the season.
In terms of batting average, Janvrin looked good in 1922, hitting a career-high .298, but it was in only 57 at-bats and he drove in only one run all season, scoring seven times. On August 3 he was released and traded to Columbus in exchange for shortstop Maurice "Red" Shannon. Though Janvrin was reported on his way to Columbus, he never played for the Senators and indeed finished the 1922 season with Brooklyn, nor did Shannon play for Brooklyn. On December 16 the Robins sold Hal's contract outright to the Seattle Indians of the Pacific Coast League. He began the year with Seattle, hitting .234 in 29 games, but was acquired by the Indianapolis Indians on May 9 and came back from the West Coast and hit.305 over 111 games in the American Association for Indianapolis.
Less than a week after the transaction sending him to Indianapolis – on May 15, 1923 – Hal married Kathleen O. McMahon. They raised a son, Hugh Janvrin, and a daughter listed in his Sporting News obituary as Mrs. Henry Silk. Janvrin's last year in Organized Baseball was 1924, when he played in the early season for the Kansas City Blues. He hit .234 in 44 games, but by July had left O.B. for good, and signed on with the Mount Carmel, Pennsylvania, team of the semipro Anthracite League.
His pro playing days over, Janvrin still kept a hand in the game, in late May 1925 opening the season at first base for the Checker Taxi team in Boston's Twilight League, playing on a team that also included Jocko Conlan and Lefty Tyler. In 1926 and 1927 he handled first base for the Fore River team, also taking on comers such as the House of David and Philadelphia Giants traveling teams. Janvrin turns up umpiring a game between the 1928 Harvard team and its alumni. At one point or another, he managed a number of the semipro teams in the Twilight League. He was hired as baseball coach of the second varsity team at Harvard from 1930 to 1934, working under Fred Mitchell.
A 1939 old-timers game at Fenway Park brought Janvrin together with many of the men he'd known way back when – Speaker, Hooper, Lewis, Carrigan, Mitchell, Walter Johnson, Eddie Collins, and even Cy Young. There was one brief fling with baseball again when he served in 1952 as a scout for the Cleveland Indians.
Janvrin lived in Winthrop, Massachusetts, outside Boston, and owned a bowling alley for a while. During the Second World War, he took a position for the Department of Civil Defense running Rowe's Wharf in Boston Harbor. He worked for years as a storekeeper at Fort Banks in Boston and then as an agent for the Internal Revenue Service, the job he held at the time of his death of myocardial infarction at Boston City Hospital on March 1, 1962.
Sources
In addition to the sources noted in this biography, the author also accessed Janvrin's player file from the National Baseball Hall of Fame, the online SABR Encyclopedia, the Encyclopedia of Minor League Baseball, Retrosheet.org, and Baseball-Reference.com.
---
[1] J.W. Mooney, Boston Post, January 22, 1950.
[2] The story of this unusual spring training is told in The Great Red Sox Spring Training Tour of 1911 (McFarland, 2010) by the author of this biography.
[3] An unidentified January 30, 1915, newspaper clipping in Janvrin's player file at the Hall of Fame says the "fans roasted him and called for his release."
[4] Boston Globe, October 21, 1910.
[5] Washington Post, April 20, 1913.
[6] Washington Post, November 14, 1918.
[7] Washington Post, June 2, 1929.
Born
August 27, 1892 at Haverhill, MA (USA)
Died
March 1, 1962 at Boston, MA (USA)
If you can help us improve this player's biography, contact us.
http://bioproj.sabr.org/bp_ftp/images5/JanvrinHal.jpg
600
800
admin
/wp-content/uploads/2020/02/sabr_logo.png
admin
2012-01-04 20:32:01
2012-01-04 20:32:01
Hal Janvrin