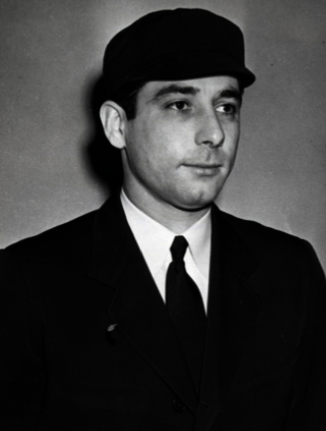 ---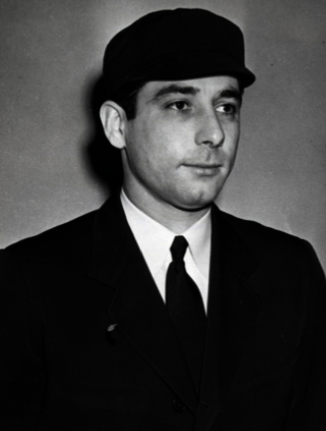 Across the decades, baseball players from the celebrated to the obscure have traded in their spikes for movie or TV scripts. Some — Chuck Connors, Bob Uecker, and Greg Goossen come to mind — enjoyed careers in the entertainment industry as, respectively, the star of TV's The Rifleman, a sometime film and TV actor and full-time raconteur, and the longtime stand-in for Gene Hackman.
Such also was the case with Art Passarella, a big-league umpire from 1941-42 and 1945-53. After leaving the majors, Passarella regularly worked in front of the camera — and it is not surprising that a Google search for him results in as many showbiz as baseball-related hits. But Passarella did enjoy a healthy career in the majors, and he once offered a spot-on definition of an umpire: "…(W)hen the game starts there has to be a boss, a guy who has the say-so. History has shown that the umpire should have this authority. So I know where I stand and I call 'em as I see 'em regardless of what anybody else thinks."1
Arthur Matthew Passarella was born on December 23, 1909, in Rochester, New York. He was the eldest of four children — he had two brothers and a sister — and around his tenth birthday his family moved to Los Angeles.2 Although many parents are averse to their offspring's desire for a career in the arts, Passarella's situation was the opposite. In his youth, he studied the violin for a decade and his father hoped that he would become a professional musician. But young Arthur had other ideas, wishing instead to be a major-league ballplayer. (A similar child-parental conflict was dramatized in the 1930s in playwright Clifford Odets' Golden Boy. Here, the father of Joe Bonaparte, the title character, pressures his son to be a classical violinist, but Joe yearns to take up prizefighting rather than ballplaying.)
In the early 1930s Passarella began playing semipro ball in the Los Angeles area and was proficient enough to sign a couple of professional contracts. Eventually, he rose to the Class B Decatur Commodores (Three-I League) but his baseball skills — not to mention a busted knee — prevented him from moving any higher. So he switched to umpiring and, by 1937, was working semipro diamonds throughout Los Angeles. He also umpired a few games at a tryout at Wrigley Field, where he caught the attention of Russ Hall, a two-year big leaguer (1898, 1901) and secretary of the Association of Professional Ball Players of America. This led to Passarella's being hired to ump in the Class D Evangeline League for $80 per month; ten days later, his paycheck increased to $100 when he switched to the Class C Cotton States League. The Pine Bluff Judges were one of the league teams; while umping in the Arkansas town, Passarella met and began dating Elvina Laurich, whom The Sporting News described as "a woman fan [who] stood out as about the only one who didn't razz the umpire."3 The two wed on March 14, 1938, in Garland, Arkansas, and purchased a home in Pine Bluff.4
Next, Passarella moved on to the Class A-1 Texas League, where he umped from 1938 to 1940. League President Alvin Gardner was impressed with Passarella, telling The Sporting News that he "learned faster than any umpire … in the league in years."5 Connie Mack and Joe McCarthy observed him in exhibition games and liked what they saw. American League President Will Harridge sent Tommy Connolly, his supervisor of umpires, to check out Passarella, and Connolly also was impressed. So on November 10, 1940, Harridge announced the purchase of two new AL umpires, Ernie Stewart and Passarella. It was noted in The Sporting News that both would be "assigned to service for spring exhibition games, where their work will determine whether they will be retained or farmed out for seasoning."6 Passarella's efforts were deemed sufficient and he made his AL debut on April 16, 1941. Two years later, he candidly recalled, "My first major-league game behind the plate is easy to remember. I walked out of the dugout and saw Bob Feller warming up. Boy, was I scared. I was my own worst enemy that day, nervous and unsure of myself. But I got by all right. Feller beat John Niggeling of the Browns and I didn't get into any trouble!"7
A couple of weeks after Passarella's hire, The Sporting News ran a feature article spotlighting his career — and his personality. "He will take a lot of color into major company," wrote reporter Flint Dupre. "Passarella once was credited in the box score with a run kicked in, which he doesn't consider exactly a high point in his short career. He explains that a man was on third base, when the pitcher threw the ball. 'The catcher dropped the throw and in trying to get out of the way, I kicked the ball into the dugout, with the runner from third scoring,' says Passarella. 'I was credited with a run kicked in and the players had considerable fun at my expense.' " The article also foreshadowed his future work as a mentor to wannabe umpires. "He aided a lot of kids in Dallas last winter," wrote Dupre, "and now is doing the same in San Antonio, where he is working in the capacity of a public relations man in a large hotel." Dupre also commented on his stature: "He looks like a small man, because of his build, but actually weighs 182 pounds and stands five feet 11."8
Passarella umped in the AL for the following two seasons. While quickly developing a reputation as a top-flight arbiter, he was prone to the kind of freak on-field mishaps that characterized his career. For example, during the 1942 season, a foul tip off the bat of the Red Sox' Bobby Doerr left him with a broken mask, a cut lip and nose, and a pair of chipped teeth.
At the start of the 1943 season, Passarella's AL career was halted temporarily — but not because of injury. On April 18 he became the first major-league arbiter to enter the US Army during World War II. After his induction in Chicago, he was dispatched to Camp Grant, Illinois, where he took his basic training in the Medical Corps. Almost immediately, he began umpiring games between competing camp teams. "After all," he noted, regarding his leave from the majors, "I'm the same as other American boys and I want to get this thing over and get back to baseball." Of military baseball, he observed that the "difference between our games and games in the fine big league parks is great — but it's still the National Pastime — make no mistake about that. The boys won't do without it."9
While in the service, Passarella held a range of jobs including work as an MP and guard in a POW camp. Most significantly, during the spring of 1944, he began directing an umpire school at Camp Grant. As reported in the Toledo Blade, the school was "believed to be the first of its kind in the country." Its purpose was to "train soldiers planning umpiring careers after the war. A boom in baseball and softball in the postwar period, camp officials said, would create many umpiring jobs."10
Passarella was discharged from the Army on December 11, 1944, and he resumed his big-league career at the start of the 1945 season. His return to the AL was not stress-free. On June 20 he was umpire-in-chief in a game between the Chicago White Sox and St. Louis Browns at Sportsman's Park in St. Louis. Karl Scheel, a 23-year-old former semipro hurler and ex-marine who was Chicago's batting practice pitcher, began goading the Browns' bench. In the eighth inning several St. Louis players charged the White Sox dugout and began badgering Scheel in what manager Jimmy Dykes called "the most brutal" attack he had ever witnessed on a ball field. During the melee, fans entered the field; Passarella and his fellow umps needed police assistance to restore order. He submitted a report of the incident to the American League office, which resulted in fines imposed on Browns manager Luke Sewell and several players. Outraged, Browns president Don Barnes declared that Dykes also should have been censured because he "egged on Scheel." Sewell agreed. "It seems to me there was guilt on both sides," he declared.11
When Passarella was separated from the military, the AL already had the required 12 arbiters. But he was rehired; at the start of the 1945 campaign, the league employed 13 umps, but this changed on August 15 when Ernie Stewart was fired. The reason given was "disloyalty," with Harridge claiming that he was causing dissension among his fellow arbiters. For Stewart's part, he noted that he merely was attempting to win higher salaries for himself and his colleagues. Stewart reported that on July 20 Passarella and fellow ump Hal Weafer were discussing the low pay of umpires with Commissioner Happy Chandler. At this time, Stewart was brought into the conversation and was asked by the commissioner to sound out other arbiters on the subject. After reporting to Chandler, Stewart noted, Harridge "found out about this, it made him mad, and he fired me."12 Harridge, however, did not fault Passarella, and that year he umpired in his first World Series; he went on to work two others, in 1949 and 1952, and umped in the 1947 and 1951 All-Star Games.
As time passed, Passarella developed his own on-field style — and it was anything but low-key. Lou Adamie, the scoreboard operator at Sportsman's Park, was famed for his ability to accurately call balls and strikes and post them on the board before the home-plate ump signaled his decision. "I merely study the mannerisms of the umpires," Adamie explained. "I usually can tell whether it's a ball or a strike, but I can't call 'em on my own, so I look for some telltale mannerism which tips me off." Adamie described Passarella as the "most jittery" of the big-league arbiters: an ump who "jumps when about to shout 'Steeeriiike.' "13 Not surprisingly then, Passarella occasionally was excessively theatrical. On May 22, 1949, he inspected the glove of White Sox hurler Clyde Shoun and determined that the location of its light-tinted manufacturer's label was in violation of baseball's equipment code. Shoun disagreed. The problem was solved when the label was removed from the glove with a pair of shears, but only after Passarella, as reported in The Sporting News, "put on a noisy, gesturing performance."14 Leonard Koppett described Passarella as "talkative and friendly … [and] one of the best umpires to be stuck in a club car with." But Koppett added that "players would accuse him of showboating, of putting on an act."15
Like any person whose workplace is a ball field, Passarella experienced his share of on-field close calls and injuries. On July 8, 1945, James P. Dawson, writing about a Yankees-Tigers contest in the New York Times, reported, "In the Tigers' half of the inning a line single by [Hal] Newhouser almost decapitated Art Passarella, working back of second. He ducked just in time."16 Then on May 12, 1946, in a game pitting the Senators and Athletics, he suffered a broken jaw when he was hit by a foul ball off the bat of Washington's Mickey Vernon. Ten days later, he returned to the field as home-plate ump in an Indians-Red Sox game and, as reported in The Sporting News, his "mask was nipped by Johnny Lazor's seventh-inning foul, but he suffered no ill effects."17 Four days after that, on May 26, Passarella left the field after colliding with the Senators' Buddy Lewis in the first inning of a Washington-Philadelphia game. He did so again on August 30 after suffering a second jaw injury. This time, he was hit by a foul tip at Fenway Park.
Passarella's calls occasionally were not the most popular — and he sometimes felt the brunt of fan frustration. Wrote Louis Effrat in the August 6, 1946 New York Times, "While the majority of 25,067 fans booed, Mayor William O'Dwyer presented the Mayor's Trophy to Manager Bill Dickey of the Yankees, immediately after the American League club had beaten the Giants 3-2… The disapproval … was not against Dickey or the mayor, but in protest against the decision of plate umpire Art Passarella, who called Joe DiMaggio safe at home with the tie-breaking run." As reported in The Sporting News on July 9, 1947, "Although umpire Art Passarella was standing right behind the play, 36,752 Cleveland cash customers and manager Lou Boudreau protested his decision calling George Dickey of the White Sox safe on a steal of second, from which he scored the winning run [on] June 29. Boudreau contended Dickey slid into the ball, held by Lou, but the umpire didn't see it that way." If any umpire is around long enough, he likely will find himself at ground zero of a high-profile play. On August 19, 1951, Passarella was the first-base umpire when Eddie Gaedel came to the plate to pinch-hit for the Browns. Gaedel was of course only 3-feet-7-inches tall and weighed 65 pounds — and Passarella and home-plate ump Ed Hurley immediately halted the game. Zach Taylor, the St. Louis skipper, produced the player's contract that Gaedel had signed with Browns owner Bill Veeck, and so the umps allowed him to bat.
Even more significantly, Passarella was at the center of a controversial play that occurred in the fifth game of the 1952 World Series. The Yankees were playing the Dodgers, and Passarella was the first-base ump. The series was tied at two games apiece and the game — in which Brooklyn starter Carl Erskine retired 19 straight Yankees — was tied, 5-5, in the bottom of the tenth inning. Yankee hurler Johnny Sain led off against Erskine and grounded to Jackie Robinson at second. Robby fielded the ball and threw it to Gil Hodges, Brooklyn's first sacker. It seemed that Sain was safe, but Passarella called him out. Sain and first-base coach Bill Dickey vehemently protested, but to no avail. The Dodgers won the game in the next inning, with Duke Snider doubling home the winning run.
Afterward, photos of the play clearly indicated that Passarella had blown the call. For one thing, Sain's foot touched the bag before the ball reached Hodges. For another, before catching the ball, Hodges took his foot off the bag. Red Patterson, the Yankees PR director, admonished Passarella for making "two lousy calls on a single play."18 The St. Louis Post-Dispatch's J. Roy Stockton labeled the call the "worst decision" of the Series. Passarella responded by declaring that "pictures don't always tell the true story. I was on top of the play and called it as I saw it. That's the way I called it, and I'll stick to it."19
Commissioner Ford Frick added some much-needed insight into the hullabaloo, declaring:
"It looks like Passarella called a wrong play, but if he did he's only human. I assure you it's not the first wrong call ever made by an umpire, if it was that. What's all the shouting about? Players make mistakes, too. So do officials. So does the commissioner. A player makes an error, another forgets to cover a base, a pitcher makes a wild pitch, a catcher lets the ball get away from him. Very little is said. But once an umpire makes a wrong call, he is crucified. Why? An umpire is only human. He can make mistakes, too. All I'm interested in is whether he was in the right position to make a call. The picture shows he was."20
As the years passed, it seemed that Passarella was increasingly victimized by controversy and physical injury. In 1951 an ankle injury he incurred was originally believed to be a sprain; in August it was diagnosed as a fracture, thus ending Passarella's season. Then in an April 23, 1952, Yankees-Red Sox game, he angered Boston catcher Sammy White after being hit by a foul tip off the bat of Gene Woodling. A momentarily stunned and staggering Passarella instinctively grabbed White's shoulder, which displeased the rookie backstop. Later in the game, a second foul tip, this one off the bat of Hank Bauer, crushed Passarella's mask, and the ump had to be treated with icepacks. The following day, when he was umping at third base, a screaming line drive forced him to sprawl over backward to avoid being hit. Then on July 2 he was hospitalized in New York after pulling a muscle in the previous day's Yankees-Red Sox contest.
In a May 15, 1953, Browns-Senators game, Passarella tossed Browns manager Marty Marion and coach Bob Scheffing in the eighth inning after thinking that they were protesting a called strike on Bob Elliott, their third sacker. Marion immediately declared that he was playing the game under protest. The following day, Passarella acknowledged that upon further review Marion and Scheffing were not disputing his call, but the protest was voided because the Browns had won by a 4-0 score. Then on July 5, the ump was right in the middle of a bench-clearing ruckus that resulted when the Tigers' Johnny Bucha, attempting to score from third base on a fly ball, barreled into the Browns' Clint Courtney.
Passarella's plight was summed up in a promotion sponsored by the Simmons mattress company, whose ad campaign awarded Beautyrest mattresses to deserving consumers. One of the "winners" was Passarella. Under a photo of him jawing with a ballplayer and published in the April 13, 1953, Life magazine was a caption that read: "Who needs rest more than an umpire? Every day during the season, nine innings of baseball and ten innings of headaches! To Art Passarella of the American League, the Simmons Company presents a Beautyrest mattress."
Still, it was a bit of a shock when, on November 4, 1953, just over a month before his 45th birthday, Passarella announced that he had submitted his resignation to Harridge. He declined to comment on the reason why he quit, and it remained a mystery if he had done so on his own volition or if he was forced out by Harridge. Perhaps Passarella's resignation was linked to backlash relating to the Sain call. "Discussion of the game and the call persisted past the Series," wrote Roger Kahn, "and the umpire, Art Passarella, announced at length that he was 'resigning' from the American League staff. 'It turns out,' Dick Young said through a nasty smile, 'that Erskine didn't really retire 19 straight Yankees. He retired 18 Yankees and one umpire."21
Nonetheless, Passarella explained that he wished to remain connected to the sport. On the day his retirement was revealed, Eddie Joost was named skipper of the Philadelphia Athletics. A couple of months earlier, rumor had it that Joost was up for the appointment. The Sporting News reported that Passarella — perhaps with tongue implanted in cheek — told Joost, "If you ever get to be manager of this club, and don't hire me as a coach, I'll certainly be disappointed in you, Eddie." 22
Passarella's final big-league appearance was on September 27, 1953. All told, he umpired in 1,668 major-league contests. (Some sources list the number as 1,670.) During his career he ejected players on 21 separate occasions. One whom he tossed twice — both times for bench jockeying — was Johnny Berardino, who eventually altered his name to John Beradino and also opted for a showbiz career, playing Dr. Steve Hardy on the long-running TV soap General Hospital.
One of the ejections was reported in The Sporting News on June 13, 1951:
Umpire Art Passarella chased Johnny Berardino, Browns veteran utility infielder, from the bench during the June 5 game with the Athletics, though Berardino claims he "didn't say a word." However, here's what happened: After Passarella had made two trips to the Browns' dugout, warning the players to stop "riding" him, he pointed his finger menacingly at catcher Matt Batts and Berardino, and told them: "One more word out of either of you, and out you go!" All was silence for a few moments. Then suddenly, players in both the Browns' and A's dugouts broke out in loud guffaws. Members of the Athletics pointed to the Browns' bench and Passarella, glancing around, nearly blew a gasket when he saw what was going on. Berardino had slipped back to the trainer's room, obtained a piece of adhesive tape and there he was sitting in the front row of the dugout with the wide piece of white tape pasted across his mouth. It was only a "gag," but it was more than Passarella had asked for when he demanded silence from his tormentors.
After he exited the majors, the question facing Passarella was: How would he earn a living? (Certainly he was not meant to coach for Eddie Joost.) During the 1947-48 and 1948-49 offseasons, long before his retirement, he worked as an instructor at Bill McGowan's School for Umpires in Florida. In 1949-50 he opened his own arbiter academy. An advertisement in The Sporting News on December 7 featured a photo of the smiling ump and some inviting ad copy: "Art Passarella Says: Write me about my Umpire Training School. You will be amazed and interested in my proposition."
The instruction was held in Bartow, Florida, in conjunction with the Bartow Baseball School and the Gus Mauch Trainer's School. During the following offseason, the school was expanded to include a "Players' Division" for young baseball hopefuls, with instruction by pitcher Ed Lopat. After his retirement from the major leagues, Passarella continued his involvement with the school. Some of the advertising highlighted his participation, while others centered on Lopat and Mauch. The school's locations and affiliations also changed. For the 1952-53 offseason, the trio was connected to the St. Augustine Baseball School in St. Augustine, Florida, where Passarella now resided. But in 1953-54, only he and Lopat were involved. The ump's work was featured in a 1955 Sports Illustrated article on the proliferation of baseball academies. "[Passarella] trains them and if they show promise, he tries to get them jobs umpiring in Class D leagues," wrote James T. Farrell. "This year he took only four young umpires, all of whom admitted that they had once dreamed of becoming ballplayers before they realized they would never succeed. They took up umpiring to stay in baseball."23
Meanwhile, Passarella attempted to find other baseball-related work. He briefly considered a public-relations job but failed to secure a spot with the West Texas-New Mexico League. So he had no choice but to return to the Texas League, where was named umpire-in-chief for the 1954 campaign. But injuries still dogged him. Early in the season he was forced out of action after reinjuring his knee while ducking to avoid a line drive. In June he entered a Fort Worth hospital for a knee operation and was on the shelf for the rest of the season. That August he was removed from the league payroll.
Passarella then hired on as an agent at the St. Augustine branch of the Prudential Life Insurance Company and began hosting Sports and Scores, a television show, on WJHP-TV in St. Augustine. The 1955 season found him umping in the Pacific Coast League, where he yet again was felled by injuries. On June 8, in just his second week in the PCL, he suffered a mild concussion when Pete Milne of the Sacramento Solons crashed into him while running out a grounder. Meanwhile, Passarella's knee still bothered him; that August, he consulted with Dr. Bobby Brown, the former New York Yankee, who then was practicing in San Francisco. He underwent knee surgery early in the 1956 season and returned to action on June 16, only to suffer another season-ending leg injury on July 22.
Most significantly, Passarella at this juncture decided to try show business. Johnny Berardino, his old on-field nemesis, reportedly suggested this career change, telling him, "You've been acting all your life — as an umpire."24 So in 1958, Berardino helped him find an agent and he began securing acting roles in films and on television series; this led to Passarella's entrance into the Screen Actors Guild. (Passarella's movie industry connection dates from the mid-1940s. On December 16, 1945, he, along with Red McDonald, Dewey Widner, and Spike Jordan, three PCL umps, officiated in a contest pitting two teams comprised of major-league players in a benefit for a hospital Christmas fund. Jeanette MacDonald, Frances Langford, Carole Landis, Martha Raye, Kay Francis, and other "film celebrities" also participated in the event.)25
Early on, Passarella was the umpire on Home Run Derby (1960), a half-hour syndicated TV show that was the brainchild of Mark Scott, a part-time actor and play-by-play announcer for the PCL's Hollywood Stars. The program, filmed at Wrigley Field in Los Angeles, featured the era's top sluggers in one-on-one competitions that were the precursors of contemporary home-run hitting contests. The "derby" was divided into nine "innings," with three outs to an inning. The batter was not obliged to swing at every pitch; Passarella's job as "umpire-in-chief" was to determine if any pitches not swung at were strikes — and a strike (or any ball not hit over the fence) was the equivalent of an out.
In some of his acting assignments, Passarella was appropriately cast as an arbiter. He and Emmett Ashford were respectively the "1st Umpire" and "2nd Umpire" in a 1969 episode of the TV series Ironside, and he was behind the plate on several other shows, including Guestward Ho! (1961), a brief summer-replacement series titled Summer Fun (1966), Nichols (1971, in an episode titled "Peanuts and Crackerjacks"), and, most impressively, the John Ford-directed "Flashing Spikes," a 1962 Alcoa Premiere episode featuring James Stewart as an ex-major leaguer banned from baseball for accepting a bribe.
In the Guestward Ho! episode, Passarella played a Little League ump who tosses a female manager, played by Joanne Dru. In a UPI piece that appeared around the time the episode was aired, Passarella claimed that he was "type-cast as a hood … a gangster. I'm always somebody's henchman. It's like when I went into the service, they made me an MP right away."26 He observed that he had played thugs on The Untouchables and Malibu Run — but also a "hayseed" on The Andy Griffith Show. Other nonbaseball roles included "Prison Guard #2" on an episode of Sea Hunt (1959) and "Officer Sekulovich" on various mid-1970s episodes of The Streets of San Francisco. Passarella's character was named for series star Karl Malden, whose birth name was Mladen Sekulovich, and he earned a steady paycheck as Malden's longtime stand-in. But perhaps his most intriguing small-screen appearance came in a 1963 installment of General Hospital. Passarella played a patient; this particular episode also featured Yogi Berra as Dr. Aloysius Sweeney, a brain surgeon.
Passarella umpired on the big screen in Critics Choice (1963), a Bob Hope-Lucille Ball comedy. He is not credited as having appeared in the film version of Damn Yankees (1958); however, according to the American Film Institute Catalog of Feature Films, "Modern sources add Nesdon Booth, Joseph Mell, Leo Theodore, and Art Passarella to the cast" — although Passarella cannot be spotted anywhere in the film. Easily his most memorable movie appearance was in That Touch of Mink (1962), a romantic comedy in which he worked the plate at Yankee Stadium and mixed with a quintet in the Bronx Bombers dugout. Two were "civilians": Cathy Timberlake (Doris Day), an unemployed "computer machine" operator; and Philip Shayne (Cary Grant), a wealthy mover and shaker. The remaining three were Roger Maris, Mickey Mantle, and Yogi Berra.
Passarella's film and television career was noted by industry types who were baseball buffs. A letter penned by longtime entertainment industry publicist Cliff Dektar and headlined "SHOW BIZ UMP," was published in the April 18, 1977, Sports Illustrated. "When Danny Kaye's show-biz types play Roy Clark's Tulsa Drillers … they will need an umpire. I nominate Art Passarella, the retired American League ump who has been working off and on in show business for the last 20 years." Dektar added that Passarella was well-suited to acting because he "admits to being a ham as an umpire. …"
Passarella was 71 when he died of a heart attack on October 12, 1981, in Hemet, California, where he and his wife, Elvina, had settled. So little was known about him that his brief New York Times obituary was filled with errors. For instance, it was stated that he was an AL arbiter from 1945-1953; not cited were the two seasons he spent in the majors prior to his military service. Also mentioned was that "for ten years, he appeared on television as Sergeant Sekulovich, alongside Karl Malden and Michael Douglas, in The Streets of San Francisco." Not only was Passarella in just a handful of episodes, but the series itself lasted not quite six seasons, from September 1972 to June 1977.
Passarella was buried in Graceland Cemetery in Pine Bluff, Arkansas; Elvina died four years later, in 1985. Interestingly, Art's gravestone references his military service — it is noted that he was a "Sgt US Army" — but not his baseball or show-business careers.
This biography originally appeared in "Van Lingle Mungo: The Man, The Song, The Players" (SABR, 2014), edited by Bill Nowlin. It also appeared in "From Spring Training to Screen Test: Baseball Players Turned Actors" (SABR, 2018), edited by Rob Edelman and Bill Nowlin.
Sources
Edelman, Rob, Great Baseball Films (New York: Citadel Press, 1994).
Kahn, Roger, Memories of a Summer: When Baseball Was an Art, and Writing About It a Game (New York: Diversion Books, 2012).
Koppett, Leonard, All About Baseball (New York: Quadrangle Books, 1974).
Birtwell, Roger, "Open season on Passarella in Red Sox-Yankee Games," The Sporting News, May 7, 1950.
Dawson, James P., "Yanks Lose, 3-2, in Tenth Inning," New York Times, July 8, 1945.
Dupre, Flint, "Passarella, New A.L. Umpire, Uses Color in Getting Up Ladder," The Sporting News, November 28, 1940.
Edelman, Rob, "Damn Yankees: A Washington Fan's Fantasy," The National Pastime, 2009.
Effrat, Louis, "Yanks Top Giants, 3-2, on Run in Ninth, New York Times, August 6, 1946.
Farrell, James T., "Get Your Mitt, Johnny — It's Time for Class!" Sports Illustrated, February 28, 1955.
Felker, Carl T., "Barnes Calls Browns' Brawl Fines 'Unfair.' " The Sporting News, June 28, 1945.
Ferdenzi, Til, "Ben Casey Beware! Yogi Winning Raves as Surgeon on Video," The Sporting News, August 24, 1963.
Gillespie, Ray, "Battler Clint Gets a New $1,000 Hint to Mind Manners," The Sporting News, July 15, 1953.
——, "Short Career of Midget in Brownie Uniform," The Sporting News, August 29, 1951.
Ruhl, Oscar, "From the Ruhl Book," The Sporting News, July 25, 1951.
——, "From the Ruhl Book," The Sporting News, April 30, 1958.
——, "Scoreboard Magician Beats Umps to Punch," The Sporting News, March 3, 1948.
Schumach, Murray, "Yankee Sluggers Make Film Debuts," New York Times, August 24, 1961.
Siler, Pfc. Tom, "Passarella Still Calling 'Em as He Sees 'Em, Views of Colonels, Captains Notwithstanding," The Sporting News, June 10, 1943.
St. Amant, Joe, "Ex-Ump Passarella Now an Actor," Hammond (Indiana) Times, May 1, 1961.
Stockton, J. Roy, "Highs and Lows of Yank-Dodger Slam-Bang," The Sporting News, October 15, 1952.
Zminda, Don, "Home Run Derby: A Tale of Baseball and Hollywood," The National Pastime, 2011.
"19th Hole: The Readers Take Over," Sports Illustrated, April 18, 1977.
Advertisement. The Sporting News, September 10, 1947
——. The Sporting News, December 10, 1947.
——. The Sporting News, October 27, 1948.
——. The Sporting News, December 7, 1949.
——. The Sporting News, December 28, 1949.
——. The Sporting News, September 13, 1950.
——. The Sporting News, October 3, 1951.
——. The Sporting News, October 29, 1952.
——. The Sporting News, November 26, 1952.
——. The Sporting News, September 9, 1953.
——. The Sporting News, September 30, 1953.
"A.L. Ump Assignments," The Sporting News, March 15, 1945.
"All Umpires Dissatisfied With Wages, Claims Ernie Stewart, Fired by A.L.," The Sporting News, August 23, 1945.
"American League," The Sporting News, July 9, 1947.
"Art Passarella, Ex-Umpire, Later Acted in Films and TV," New York Times, October 16, 1981.
"Art's Start in Army," The Sporting News, April 15, 1943.
"Berardino Puts on 'Gag' — Gets Thumb From Umpire," The Sporting News, June 13, 1951
"Big League Stars to Play in Coast Benefit Game," The Sporting News, December 13, 1945.
"Buffs' Radio Night Draws 11,483," The Sporting News, September 8, 1954.
"Camp Grant Starts School to Train Baseball Umpires," Toledo Blade, April 5, 1944.
"Caught on the Fly," The Sporting News, December 3, 1942.
——, The Sporting News, August 8, 1956.
"Decision on 'Battle of Dugout' In St. Louis Now Up to Harridge," New York Times, June 22, 1945.
"Firing of Umpire Creates Big Stir," New York Times, August 16, 1945.
"Frick Indicates Umpire Made Bad Call on Sain," New York Times, October 6, 1952.
"From Blue to Khaki," The Sporting News, April 29, 1943.
"Jaw Dislocated," The Sporting News, May 16, 1946.
"Major Flashes," The Sporting News, June 5, 1946.
"Major League Flashes," The Sporting News, July 9, 1952.
——. The Sporting News, May 27, 1953.
"Minor Meetings," The Sporting News, January 27, 1954.
"Obituaries," The Sporting News, October 31, 1981.
"Passarella an Insurance Agent," The Sporting News, November 24, 1954.
"Passarella Decides to Quit; On A.L. Ump Staff Since '41," The Sporting News, November 11, 1953.
"Passarella Gets His Umpiring Job Back," Toronto Daily Star. January 11, 1945.
"Passarella Joshed Joost: 'Hire Me as Coach, Eddie,' " The Sporting News, November 25, 1953.
"Passarella on Ump Faculty," The Sporting News, May 7, 1947.
"Passarella Out for Season," New York Times, August 29, 1951.
"Passarella Promoted," Pittsburgh Press, December 21, 1943.
"Russ Hall, Charity Leader, Dies; Served as Player, Pilot, Umpire," The Sporting News, July 8, 1937.
"Senators Defeat Athletics, 3 to 2," New York Times, May 27, 1946.
"Shoun in Stormy Debut, Loses Trademark on Glove," The Sporting News, June 1, 1949.
"Texas League," The Sporting News, May 5, 1954.
——, The Sporting News, May 12, 1954.
——, The Sporting News, May 26, 1954.
"Texas Releases 2 Umpires in League Economy Move," The Sporting News, June 16, 1954.
"To Celebrate National Beautyrest Month Simmons Announces: 1953 Beautyrest Award," Life, April 13, 1953.
"Tuning In," The Sporting News, May 26, 1955.
"Two New A.L. Umpires," The Sporting News, November 14, 1940.
"Ump Art Passarella Back With Army Sergeant Lingo," The Sporting News, December 21, 1944.
"Ump Passarella Suffers Mild Concussion in Field Mishap," The Sporting News, June 22, 1955.
"Umpires Only Human, Too, Says Frick, Defending Passarella on Disputed Call," The Sporting News, October 15, 1952.
"Woe for the Umpire," Newsweek, May 27, 1946.
afi.com/members/catalog/DetailView.aspx?s=&Movie=52519
arkbaseball.com/tiki-index.php?page=Art+Passarella
baseball-reference.com/bullpen/Art_Passarella
baseball-reference.com/bullpen/Evangeline_League
familysearch.org/pal:/MM9.1.1/XC8Z-DV8
retrosheet.org/boxesetc/P/Ppassa901.htm
search.ancestry.com/cgi-bin/sse.dll?gl=allgs&gsln=Laurich&gspl=6&gss=seo&ghc=20
Notes
Full Name
Arthur Matthew Passarella
Born
December 23, 1909 at Rochester, NY (US)
Died
October 12, 1981 at Hemet, CA (US)
If you can help us improve this player's biography, contact us.
http://sabr.org/sites/default/files/PassarellaArt.png
600
800
admin
/wp-content/uploads/2020/02/sabr_logo.png
admin
2012-01-04 20:32:22
2012-01-04 20:32:22
Art Passarella