---
After a highly successful playing career as both a slick-fielding infielder and a slugger, Davey Johnson went on to an even more decorated career as a manager. His winning percentage of .562 is 10th all-time among managers with 1,000 victories, and is surpassed by only Earl Weaver among pilots who began their career after 1960. But it was while playing for Weaver in Baltimore that Johnson first became a prominent name in baseball, as the valuable second baseman for four pennant winners and the 1966 and 1970 champions. Four men share the record for starting 21 World Series games for the Orioles: Brooks Robinson, Frank Robinson, Boog Powell, and Dave Johnson.
David Allen Johnson was born in Orlando, Florida, on January 30, 1943. Johnson's father, Frederick, was a highly decorated World War II tank commander, who eventually rose to the rank of lieutenant colonel. Frederick left for the war just as Dave was born, and later spent time in an Italian prisoner-of-war camp, where he had his teeth pulled without an anesthetic. He later escaped, and lived with the Italian resistance. The stories of his wartime life were never discussed in the Johnson home—Dave did not learn of them until he was an adult himself. All he knew was that his father was deeply respected by other military men the family associated with. "Dad was very tough, a stubborn Swede on the outside but very caring down deep," recalled Johnson decades later. "I'm stubborn, too. Yet even if he was hard, you still knew he was always thinking about his family, his soldiers, that he'd try to move mountains for them."1
As the child of an Army officer, Johnson lived on Army bases in Germany, Georgia, Texas, and Wyoming. The family eventually settled in San Antonio, Texas, where Johnson first attracted baseball scouts at Alamo Heights High School. Johnson first went to Texas A&M, where he played shortstop for "the greatest coach in the world, Tom Chandler, a real classic who taught me real respect for the game, and gave me an opportunity to show what I could do."2 After two years at College Station, where he also played guard for the varsity basketball team, Johnson entertained suitors from several major-league teams before signing with the Orioles. Scouts Dee Phillips and Jim Russo visited Johnson right after his last college game, and made a deal for a $25,000 bonus.3
After signing with the Orioles, Johnson joined the Stockton club in the California League. As a 19-year-old in 1962, he hit .309 as the club's shortstop, and became one of the best prospects in a system loaded with young talent. The next year he played under Earl Weaver at Elmira (Eastern League) and hit .326 before earning a promotion to Triple-A Rochester in July. The International League proved a bit tougher (.246 in 63 games) and the move also caused him to play regularly at second base, a position he took to very well. He returned to Rochester in 1964 and hit .264 with 19 home runs, playing both middle infield positions, and developing as one of the more promising infielders in the minor leagues. Baltimore was a fine team, and Johnson's path was blocked by shortstop Luis Aparicio and second baseman Jerry Adair, both defensive stalwarts. Johnson made the club in 1965 and backed up at second, short, and third (manned by Brooks Robinson) for half a season before the Orioles decided to send him back to Rochester. He hit just .170 in 47 at bats in the big time, but .301 back in Triple-A.
In the spring of 1966 Orioles manager Hank Bauer turned the second-base job over to Johnson, bypassing incumbent Adair, who had held the job for five years. The promotion could have been temporary, but Adair complained enough to cause the Orioles to deal him to the White Sox in June. Johnson played in 131 games in 1966, and hit .257 with seven home runs. He drew raves for his defense and provided hope for his offense. "We feel," said general manager Harry Dalton, "that this boy is going to be a big hitter among big-league second basemen. He has done everything now that we have asked him to do. He has the intelligence to apply himself."4 The Orioles also won the pennant in 1966, and Johnson's .286 average in the World Series contributed to the sweep of the Los Angeles Dodgers. Johnson earned the distinction of being the batter who got the final hit off Sandy Koufax, a single in Game Two.
Johnson built on his fine rookie year with fine defense and more power (ten home runs and 30 doubles) in 1967, though the Orioles fell to sixth place. After the season the Orioles traded Luis Aparicio to the Chicago White Sox, and the ascension of shortstop Mark Belanger completed the great infield (along with Johnson, third baseman Brooks Robinson, and first baseman Boog Powell) that helped define the great Orioles of the coming years. In the club's climb back to second place in 1968, Johnson hit .242 and made his first All-Star team, striking out against Ron Reed in his only plate appearance.
Johnson battled back woes in 1969, but still hit .280 with 34 doubles, his best offensive season to date. He was selected to another All-Star Game, though he did not play, and won his first Gold Glove for his defensive play. He did all this despite regular visits to the chiropractor and enough discomfort that he often could not sit down. He hit just .231 in the playoff series with the Twins, and was just 1-for-16 in the World Series loss to the Mets. "I'm still flabbergasted we lost," remembered Johnson decades later, "that destiny made all sorts of funky things happen. Gusts of wind blowing balls back to their outfielders, [Ron] Swoboda's diving catch, Al Weis hitting a home run; our winning just wasn't meant to be."5
Even early in his career Johnson's intellect was commented upon in the press. In 1969 he fed various batting orders into a computer at Trinity College, where he took classes, to see what the optimal Baltimore lineup would be. Pitcher Dave McNally, a longtime teammate, recalled a time Johnson visited him on the pitcher's mound, in order to explain to him about "unfavorable change deviation theory." McNally was wild that day, and Johnson was suggesting that he aim for the middle of the plate so that he would miss his spot and hit a corner.6
Johnson had another excellent year in 1970, hitting .281 with 38 extra-base hits. He started the All-Star Game (replacing the injured Rod Carew), going 1-for-5, and won his second Gold Glove award. He also starred in the postseason, hitting .364 with two home runs in the playoff series, then .313 in the Orioles' victorious World Series.
In early 1970 Johnson spoke out about his annual contract hassles, and announced that he had asked the club to trade him. "It's not the city," he said. "I like Baltimore. I like the players, the coaches, and the manager. I don't like management."7 In the spring he even suggested he might retire and go sell real estate—he had recently earned his license. After his fine 1970 season, and the Orioles' championship, he signed for $50,000 early in the off-season and declared himself happy the following spring. He came through in 1971 with his best year yet, .282 with 18 home runs and 72 runs batted in and a third Gold Glove, helping the Orioles to a third straight league pennant. In the end, the club lost the World Series to the Pirates.
In 1972 Johnson battled shoulder and back woes and hit just .221 in 118 games, part of a season-long offensive malaise for the Orioles, who fell to third place. Johnson was also affected by the emergence of 23-year-old infielder Bobby Grich, who played 133 games mainly at shortstop and second base. Grich quickly became a star both at bat and in the field, making the 29-year-old Johnson expendable. On November 30, he was traded to the Atlanta Braves in a six-player deal. "I wanted to be traded to the National League," said Johnson, "and I'm happy to be coming to a good club."8
In 1973 Johnson made the most of his new league, belting 43 home runs and driving in 99 runs for the Braves. He joined with Darrell Evans (41) and Henry Aaron (40) to be the first set of three teammates to hit 40 home runs in a season. "It was the greatest thing that ever happened to me in baseball," Johnson said of the trade, "and the big reason was joining Aaron. He helped make me a better hitter." Aaron refused to take any credit, saying only, "Dave's a smart hitter. He knows what he's doing up there."9 Aaron's chase of Babe Ruth's career record of 714 home runs captivated the baseball public, and he ultimately ended the season one short at 713.
Aside from the home-run barrage, Johnson's error total increased from six to a league-leading 30 in 1973. The next season he shifted between first base and second base in deference to Marty Perez. For the season Johnson started 70 games at first and 62 at second, and hit just .251 with 15 home runs. The next season he was tapped as a platoon first baseman, but after a single at-bat (a pinch-hit double) he signed with the Yomiuri Giants of the Japan Central League. He joined teammate Sadaharu Oh, who that same season hit his 715th home run, passing Babe Ruth's mark just as Henry Aaron had done the previous year.
The Giants were the most dominant and storied team in Japanese baseball, having won 15 Japan Series titles in the previous 24 seasons, featuring both Oh and Shigeo Nagashima. The immensely popular Nagashima had retired at the end of the 1974 season, and immediately was named manager. One of his first acts was to recruit Johnson as his replacement, making Johnson the first foreign-born player on the Giants in nearly 20 years and the first American star player to play in Japan. His 1975 season was a disaster—he hit just .197 with 13 home runs, he was heavily criticized by the press, the fans laughed at him, and he lost 25 pounds. "I swear," recalled Johnson, "I would go to bed sometimes and hear bells. I thought I was losing it there for a while."10
The next year he came back determined to make good. He reported for volunteer winter training in January and regained his starting job. He hit .268 with 26 home runs, was named the league's top fielding second baseman, made the postseason All-Star team, and helped lead the Giants to a league pennant. His tenure ended badly, however, as he clashed with Nagashima over a midseason arm injury and a late-season illness—in both cases his manager did not believe he was hurt, and publicly humiliated Johnson in front of the team. After his excellent season the Giants tried to get him to return, but Johnson would do so only if Nagashima apologized for his treatment. He would not, so Johnson returned to the United States.
Now 34 years old, Johnson signed with Philadelphia in February 1977. For the Phillies, he served as a reserve infielder, playing mostly first base. He hit well, batting .321 with eight home runs in 156 at bats. He also returned to the postseason, and played in the first game of the playoffs against the Dodgers at first base, going 1-for-4 at the plate. In 1977 Johnson returned in the same role, but as he was hitting only .191 in August, the Phillies traded him to the Cubs for relief pitcher Larry Anderson on August 6. He hit better in Chicago, .306 in 49 at bats. Interestingly, Johnson's poor season with the Phillies included a historic accomplishment. Though he hit just two home runs for the club, he became the first major-league player to hit two pinch-hit grand slams in one year. After the season, Johnson decided to retire as a player.
Johnson had studied to be a veterinarian at Texas A&M, but continued his education in the off-season and earned a mathematics degree at Trinity College in San Antonio. Despite his success in baseball, he continued to learn new things. He became a licensed pilot, a scratch golfer, a talented fisherman, and a scuba instructor. He also became adroit at using a computer long before many people owned one, taking graduate classes at Johns Hopkins University while with the Orioles. With all of these hobbies and skills, Johnson knew what he wanted to do—stay in baseball as an instructor or manager.
Over the next five years Johnson managed three seasons in the minor leagues (taking one season off and working the other as an instructor) and won three league championships. His final minor-league season was in 1983 with Tidewater, the New York Mets' Triple-A affiliate, and it was a surprise to no one when in 1984 Johnson was promoted to manage the parent club, which had been floundering for many years. Johnson was 41 years old.
Johnson's boss in New York was general manager Frank Cashen, who had held the same position with the Orioles when Johnson played there. Johnson's first successful move was to persuade Cashen to promote 19-year-old pitch Dwight Gooden, whom Johnson had managed at the tail end of the 1983 season. Gooden won 17 games and the Rookie of the Year Award. This fit a pattern with Johnson, who favored several young players from the system over the mediocre veterans the Mets had been playing. The club won 90 games in 1984, the second best record the club had achieved in its 23-year existence.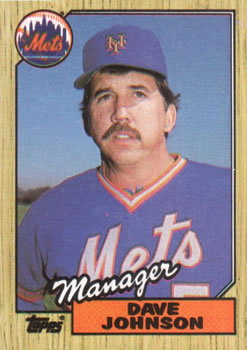 The Mets won 98 games in 1985, then 108 and the World Series in 1986. The latter club was remarkably balanced, with league-leading pitching (Bobby Ojeda, Ron Darling, Gooden, Sid Fernandez, and Jesse Orosco) and hitting (Keith Hernandez, Gary Carter, Darryl Strawberry, Lenny Dykstra, and Mookie Wilson). The team was also very deep, and Johnson used his roster fully, as Earl Weaver had done with Johnson's Orioles clubs.
Although the Mets won 92 games in 1987, and 100 games and the division title in 1988, many observers considered the club a disappointment for reaching only a single World Series. Johnson had become the only manager in big-league history to win 90 games in each of his first five seasons, but his legacy in New York is marred by the team's reputation as a traveling frat party. Strawberry and Gooden both spent years battling cocaine addiction and other problems, Dykstra led a wild lifestyle, Hernandez battled drug issues—several books have been written about this club's off-field antics. Johnson was not directly involved, but he has been criticized for allowing it go on. After a second-place finish in 1989, a slow start in 1990 (20-22) led Cashen to fire Johnson in May.
Johnson spent the next three years out of baseball, managing some property in Florida when he wasn't fishing, flying, or golfing. Johnson had married Mary Nan in the early days of his baseball career, and the couple raised three children—David Jr., Dawn, and Andrea. The Johnsons' marriage ended in the late 1980s, and Johnson admitted that he developed a bit of a problem with alcohol in subsequent years.
Although his name often surfaced when there were job openings, his reputation as a strong and opinionated manager might have scared some teams off. Johnson had battled with Cashen constantly in New York. Finally, in May 1993 Johnson became manager of the Cincinnati Reds, working for their controversial owner Marge Schott. Johnson's hiring was not popular because the Reds had fired local favorite Tony Perez just 44 games into his first managerial season. The previous manager, Lou Piniella, had resigned in the off-season because of Schott's meddling.
The Reds finished just 53-65 under Johnson in 1993, but the next year they had the best record in the National League West (66-48) when the season was ended by the players strike in August. The 1995 season was delayed by the same strike, but once things got going Johnson brought the club home in first place in the new NL Central Division. The Reds swept the Dodgers in three straight in the first round of the playoffs, before falling to eventual champion Atlanta in the National League Championship Series.
Johnson began dating Susan Allen in the early 1990s, and it was their cohabitation that first earned him the wrath of Reds owner Schott. The couple married in 1994, but his relationship with Schott, who had her own off-field problems, did not improve. Despite two first-place finishes in his two full seasons, he was fired after the season.
Johnson was not unemployed for long, signing on to manage the Baltimore Orioles, the organization for whom he had played for 11 years. In Baltimore he worked for Pat Gillick, who had been his teammate in Elmira in 1963. As he had done everywhere, Johnson continued to win—88 games and a wild-card berth in 1996, then 98 and a division title in 1997. In each season the Orioles won a division series before falling short in the League Championship Series. His most challenging personnel decision was his move of Cal Ripken from shortstop to third base—briefly in 1996, then permanently to start the 1997 season. Ripken had not missed a game at shortstop in 14 years, but Johnson felt the 37-year-old would be more valuable and effective at a less demanding position. Ripken was cool to the idea, but adjusted and played every day at third base for two more seasons before ending his consecutive-game streak at 2,632 in September 1998.
Along with winning, Johnson's two years in Baltimore were marked by occasional public spats with owner Peter Angelos, who resented Johnson's "swagger."11 After the 1997 season Johnson, who had not spoken to Angelos in six months, faxed a letter demanding either a contract extension or a buyout. Angelos considered the action yet another sign of insubordination. He accepted the resignation on November 5, 1997, the same day that Johnson was named Manager of the Year.
Johnson's final major-league assignment, with the Los Angeles Dodgers in 1999 and 2000, saw his team win 77 and 86 games. Johnson was let go with little fanfare after the latter season.
The ensuing years were a struggle for Johnson. In 2005 he suffered the tragic loss of his 32-year-old daughter, Andrea. She had once been a world-class surfer, but had suffered through years of depression and schizophrenia. Soon after her death Johnson developed stomach problems, eventually diagnosed at the Mayo Clinic as a ruptured appendix that cost him half his stomach and more than 50 pounds.
In 2003 he managed the Netherlands to a European championship, and in 2008 he skippered the United States team to a Bronze Medal in the Olympic Games in Beijing. He also led the American team in the 2009 World Baseball Classic. In 2006 he became an adviser for the Washington Nationals, and had spent two seasons coaching in the Florida Collegiate Summer League. "If you're a baseball person, and love it, it's what we do," he said.12 In 2010 he was named to the New York Mets Hall of Fame, along with his former players Dwight Gooden and Darryl Strawberry, and his former boss, Frank Cashen.
After the surprising resignation of Jim Riggleman, in July 2011 the Nationals hired Johnson to replace him as manager. Helped by young phenoms Bryce Harper and Stephen Strasburg, the Nationals won 98 games in 2012, the most in the major leagues. Unfortunately, the club lost in the NL Division Series to the St. Louis Cardinals. The 70-year-old Johnson came back in 2013, and his club won 86 games but missed out on the playoffs by four games. In late September Johnson announced his retirement.
For his entire managerial career, Johnson managed 13 full seasons, and finished over .500 in 13 of them. He managed four different teams to the post-season. All this was on top of his long playing career as a four-time All-Star and two-time champion. A multi-talented player and a bright, innovative manager, Johnson accomplished much in his five decades on the scene.
This biography is included in the book "The 1986 New York Mets: There Was More Than Game Six" (SABR, 2016), edited by Leslie Heaphy and Bill Nowlin. An earlier version appeared in "Pitching, Defense, and Three-Run Homers: The 1970 Baltimore Orioles" (University of Nebraska Press, 2012), edited by Mark Armour and Malcolm Allen.
Notes
Born
January 30, 1943 at Orlando, FL (USA)
If you can help us improve this player's biography, contact us.
http://dev.sabr.org/wp-content/uploads/2012/01/JohnsonDavey.jpg
600
800
admin
/wp-content/uploads/2020/02/sabr_logo.png
admin
2012-01-04 19:54:36
2021-03-15 09:44:06
Davey Johnson