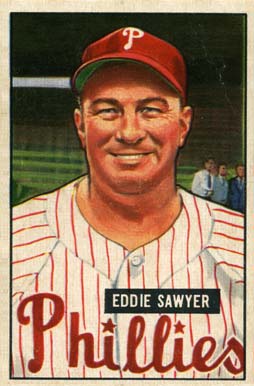 ---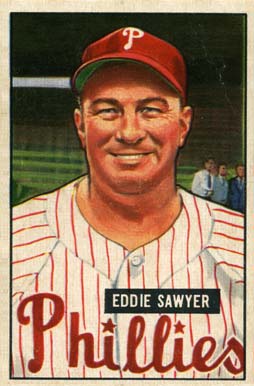 In 1883 the Worcester Ruby Legs became the Philadelphia Quakers and shortly the Phillies. From then until 1980, there were no World Series titles for the Phillies. They won just two National League pennants, in 1915 and in 1950, when a quiet, scholarly but rugged man named Eddie Sawyer led the club called the Whiz Kids.
Edwin Milby Sawyer was born on September 10, 1910, in Westerly, Rhode Island, to Robert and Isabelle Sawyer. Westerly, as its name indicates, is in the western part of Rhode Island, founded by John Babcock in 1669. The nearby Pawcatuck River flows by fine beaches to which thousands of tourists flock every summer. Eddie's father was a stonecutter. He had two siblings, Mildred and Robert.
When he was 10 years old Eddie sometimes served as a batboy for a visiting semipro team that came to town to play exhibition games against a local team. The visitors bore names like Brown, Green, and Smith but were uncommonly impressive ballplayers. Sawyer later learned that they were Boston Red Sox players who were playing under assumed names to pick up some extra money since Boston did not have Sunday baseball at the time. Among them was Herb Pennock, who later would be instrumental in Sawyer's own baseball career.1
Sawyer was a four-sport star in high school. After graduating, he had no resources to attend college and went to work as an assistant caddie master at a local golf course while playing semipro baseball. In 1931, his second summer out of high school, one of his teammates, Ken Patrick, scouted around and learned that Ithaca College in New York would, in the midst of the Great Depression, extend tuition credit to incoming students and allow them to work their way through college.2 So with just $20 in his pocket, Sawyer entered Ithaca College worked his way through by tending furnaces, sweeping out gyms, and being a short-order cook at fraternity houses.3 He earned a bachelor's degree and membership in the Oracle Society, Ithaca's version of Phi Beta Kappa, allegedly, because of his photographic memory, without ever taking a note.4 In addition to pitching and playing outfield on the baseball team, he was a star halfback on the football team. He subsequently enrolled at Cornell University, where he earned a master's degree in biology.5
During Sawyer's first month at Ithaca, he began dating a pretty, petite classmate named Pauline Bassett, known to all as Polly, who also earned membership in the Oracle Society. They became engaged by the time they graduated in 1935 and were married that July.6 They would raise two daughters and be married for 62 years.
In 1934 Paul Krichell, the famed New York Yankees scout, signed Sawyer, who was playing in a summer college league in Malone, New York. Sawyer's first stop in professional baseball was at Norfolk in the Class-B Piedmont League. He helped lead the Tars to the pennant by hitting .361, with 143 hits in 102 games. The outfielder followed with two .300-plus seasons for Binghamton in the Class-A New York-Pennsylvania League, batting .325 in 1935 and .313 in 1936 for the Triplets.
Sawyer reached the Yankees' Pacific Coast League affiliate, the Oakland Oaks, in 1937 — but that was as far as he would advance in his playing career. He was slow afoot, and a shoulder separation, sustained diving for a ball, hampered his chances of making it to the majors. That winter Sawyer decided to give up baseball. He began teaching at Ithaca College and was intent on earning a Ph.D.
When 1938 rolled around, the Yankees were short of minor-league outfielders. Despite his ailing shoulder, which hampered his swing, Sawyer gave himself one more shot as a player. Before he left that season, he told his wife, Polly, that if he did not hit over .300 he would quit baseball.7 He batted .299 at Binghamton despite his bad shoulder. But his baseball career was far from over. Although he was only 28 years old, the Yankees asked him to become a player-manager in their minor-league system.
Sawyer's first managerial assignment was at Amsterdam, New York, in the Class-C Canadian-American League, in 1939. He played full-time and led the league in four offensive categories, including hitting a robust .369 with 103 runs batted in, while leading the Rugmakers to a first-place finish, although they lost in the playoff finals.8 Sawyer returned to manage Amsterdam in 1940 and hit .329 again as a full-time outfielder. This time the Rugmakers finished the regular season in third place but became league champions when they won the playoffs. Sawyer remained a player-manager in 1941 for Norfolk in Class B, where he hit .277 in 128 games. He went back to Binghamton to manage in1942 and 1943 before retiring as a player.
In the offseasons, he returned to Ithaca as an assistant coach in football, baseball, and basketball and as assistant athletic director. He taught physiology and biology. There he again displayed the photographic memory that aided him greatly as a manager. At Ithaca he was able to call every student by his or her first name and knew every one of their hometowns.9 However, after the 1943 season, with Ithaca College down to about 300 students, mostly women, because of World War II, Sawyer stayed in Binghamton and taught and coached football at Binghamton North High School.10
In 1944 Sawyer left the Yankees, where he didn't think he would be able to move up the managerial chain, and ended up with the Phillies organization. Bob Carpenter of the DuPont family had taken over as president and owner of the Phillies in 1943 when the club had finished in the second division for 11 consecutive years. The farm system was in disarray, with few talented players. Carpenter realized that rebuilding was going to take time and money. He hired Herb Pennock as general manager. Carpenter and Pennock agreed that the best way to go was a five-year plan to first strengthen the farm system. One of their initial major moves was to hire a minor-league manager, the 33-year-old part-time college professor Eddie Sawyer.11
Sawyer and Pennock had become friendly in the early 1940s, when Sawyer was playing and managing in the Yankees farm system and Pennock was farm director for the Boston Red Sox. Every minor league in which Sawyer managed also had a Red Sox farm team. Sawyer was about to join the Boston organization when he picked up the papers one morning and found that Pennock was no longer there — he was now the general manager of the Phillies. This left him up in the air a bit. A few days later, though, Pennock told Sawyer, "Don't worry, I've got a job for you no matter."12
At first Sawyer had no idea where he was going. All he knew was that he was now in a National League organization. The Phillies did not have a Triple-A affiliate at the time, because they did not have enough players. The first club Carpenter's Phils bought was Utica, New York, in the Class-A Eastern League. The team did not even have a fitting nickname; in 1943 they were still known as the Braves, a vestige of past affiliation with the Boston NL franchise. Sawyer as manager eventually named them the Blue Sox.13
Of the Phillies' "Five Year Plan," Sawyer said, "We did things pretty fast. Our scouts signed a lot of good young players. Of course we rushed them to the major leagues pretty quickly, but we made sure we they had a good foundation. The Carpenters knew what it took to build a good organization and they relied heavily on Herb Pennock. He knew how to build a farm system and develop it. Within a few years we had a bunch of teams in the minor leagues."14
Sawyer managed at Utica for four seasons through 1947. "The Whiz Kids actually started in Utica, New York, but were not known as the Whiz Kids then," Sawyer once said. "We had players such as Richie Ashburn, Putsy Caballero,15 and Granny Hamner. In 1945, I had nine first-year men in a real tough league, and we won the pennant [though they lost in the first round of the playoffs]. We had an excellent team in 1945. We made very few mistakes because we tried to take care of that in morning and afternoon workouts. The games were played at night."16
In 1946 the Blue Sox, sans Ashburn (who was in the military), Hamner, and Caballero, slipped to seventh place. However, in 1947, buoyed by the return of those three plus the addition of another future Whiz Kid, catcher Stan Lopata, Utica swept to the pennant by 10 games with a gaudy 90-48 record as all four future Whiz Kids made the league All-Star team. The Blue Sox went on to sweep the playoffs, defeating the Wilkes-Barre Barons in six games and the Albany Senators in seven.
As a manager Sawyer was a laid-back, avuncular type who showed great patience with his players.17 For example, the 18-year-old Granny Hamner had had a rough debut with the Phillies in 1945, making 11 errors in 13 games and being booed roundly in Philadelphia. The team sent him to Utica, where Sawyer told him "You're my shortstop this season even if you boot a dozen a game. And I am going to sock the first fan that rides you."18
He also showed his shrewd eye for talent with Richie Ashburn. When Ashburn reported to Utica in 1945, he was a catcher. Sawyer took a look at Richie's speed and soon converted him to the outfield. Ashburn was so fast that on bunts as a catcher he would beat the runner down the first-base line as he backed up the first baseman — even with his catching gear on. Sawyer felt that as a catcher, Ashburn's arm was not strong enough and that his speed would diminish from the constant crouching.19
The Phillies did not have a Triple-A franchise until 1948, when they entered into a working agreement with the Toronto Maple Leafs. After his successful run with Utica, the Phillies named Sawyer manager of the Maple Leafs. He continued to develop future Whiz Kids like Lopata, Bubba Church, and Willie "Puddinhead" Jones, along with older players, like Jim Konstanty, who would contribute greatly to the 1950 pennant.
But before he could take the reins of the Maple Leafs, Sawyer's friendship with Herb Pennock came to a tragic end in January 1948 when Pennock died of a cerebral hemorrhage at the Waldorf-Astoria Hotel in New York. Sawyer had been conversing with the GM not more than 15 minutes earlier.20
That July with the Phillies in seventh place (although with a 37-42 record), Bob Carpenter fired manager Ben Chapman and replaced him with Sawyer. At 37, Sawyer became the second youngest manager in the major leagues at the time, behind only Lou Boudreau of the Cleveland Indians.
In an unusual move after taking over, Sawyer retained all three of Chapman's coaches, Dusty Cooke, Benny Bengough, and Cy Perkins. He said, "All three were ex-Yankee ballplayers and I knew them all well. We got along well and rather than go out and get other people, I just kept them all. They knew the major leagues better than I did. [Interim manager] Dusty Cooke was one of Ben Chapman's best friends, but we got along great. I think they all knew the team had to make a change."21
Eddie was a perfect fit for a team with young players who showed the talent to make a solid ballclub — Granny Hamner, Willie Jones, Del Ennis, Robin Roberts, Richie Ashburn, Curt Simmons, Bubba Church, Bob Miller, and others.22 In 1950 his patience would pay off.
The Phillies' turnaround under Sawyer was not immediate; they finished the 1948 season with 23 wins against 40 losses after he took over and wound up in sixth place, 25½ games out of the lead. During the offseason they traded Harry "The Hat" Walker to the Chicago Cubs for veteran outfielder Bill "Swish" Nicholson. With Richie Ashburn coming into his own, there was not room for two singles hitters in the outfield. Nicholson added power and a veteran presence.23
The team started to come to life under Sawyer in 1949, though a near-tragedy marred the season. In Chicago's Edgewater Beach Hotel on June 14, a deranged woman named Ruth Steinhagen shot first baseman Eddie Waitkus. Waitkus survived, but would not play again until the next year.
Roberts summed up how the team kept its composure. He said, "In baseball we have to play every day. We didn't have much of a chance to dwell on events, even traumatic ones, because there was always another ballgame to play." Sawyer, with his low-key approach, kept the young team moving forward. They took both games of a doubleheader against the Cubs on the day after Waitkus was shot. The next day, still in Chicago, the Phillies trailed 3-0 after seven innings but rallied for four runs in the eighth to win, 4-3. Sawyer allowed reliever Jim Konstanty to bat for himself with the go-ahead run on third. Konstanty responded with a single to drive in the winning run.
Gaining confidence under Sawyer's steady leadership, the Phillies closed with a late surge and finished the season in third place with an 81-73 record. It was the highest finish by a Phillies team since 1917, a span of 32 years.
Staff ace Robin Roberts said of Sawyer, "Although I did not realize it at the time, the hiring of Eddie Sawyer was a real turning point for the Phillies and for me personally. Under Eddie, the Phillies would race to the 1950 pennant and I would develop into a twenty-game winner."
Roberts continued, "Eddie had a hands-off leadership style that I did not grow to appreciate until much later in my baseball career. We knew who was boss but he did not flaunt his authority or force himself on us. We had very few meetings, and Eddie had very few conversations with individual players. When he did talk to a player it was in private and had a purpose. Usually to correct a mistake."
"… Sawyer wanted to keep the game simple and did not have pregame meetings to go over the hitters and how to pitch to them. He encouraged pitchers to pitch from their strengths. The catchers called the ballgames. The players played the game on their own."24
Sawyer did keep the game simple and did not try to complicate it with a lot of strategy. Under him the team rarely hit and ran or pitched out. Even their signs were simple. Putsy Caballero remembered that "H, hat was for hit, S, shirt, was a steal. Belt buckle, B, was a bunt. Anyone could remember those signs. Of course, we had a take-off sign, so Eddie could put a sign on, take it off, and put it back on, several times if he wanted to."25
According to Roberts, "Sawyer's leadership had a lot to do with our camaraderie — he did not panic or show frustration when the team did not do well."26 Sawyer had the sense to leave well enough alone, as seen when he told pitching coach George Earnshaw and other coaches not to change the herky-jerky, across-the-body motion of bonus baby southpaw Curt Simmons, who had struggled his first two years. He told Simmons, "You go right back to pitching the way you pitched in Egypt, Pennsylvania."27 Simmons did go back to his natural style and won 17 games for the Whiz Kids in 1950 before he was called to active military duty from the reserve.
Sawyer also handled different personalities well. Jim Konstanty, a family man who didn't smoke or drink, wasn't "one of the boys." He could be difficult and was not well-liked by some. Sawyer said, "He was doing all right and I avoided him."28 Yet Konstanty was quoted in 1950 as saying, "If we didn't have Sawyer as manager, we'd be in the second division. He gets 20 percent more out of a team than any man I ever saw."29
Richie Ashburn echoed this, saying, "He didn't bother the people that played hard. He never said a word to those guys because he didn't think he had to."30
While Sawyer had a laissez-faire approach to managing a team, he could get rough and even physical when it was needed. Ashburn said, "He was a brilliant, scholarly man but he could also be very tough."31
Sawyer could clamp down on the players when necessary. He related that he once fought a player who was breaking training rules in the privacy of the clubhouse after everyone but the clubhouse attendant had left. He said, "I whipped this fellow and whipped him good. All he could understand then was fear. I made him fearful." According to Sawyer, the individual "turned out to be a pretty good ballplayer."32 At one juncture the young team was stuffing themselves on the road and charging it to the team, and some had gone to the beach and gotten sunburned. Eddie laid down the law and had the players come to him for their meal money and saw to it that there were no more sunburns.33 Still, he allowed them to play the game mostly on their own intuition and abilities.
The Phillies of 1949 were a surprise team. The fans were becoming optimistic. Sawyer told the players at season's end, "We are going to win it all in 1950. Come back next year ready to win."34
When the 1950 season opened, the Phillies broke out their new red-striped uniforms. Sawyer said, "I actually designed the pinstriped uniforms. I thought the old uniforms were terrible looking … and Bob Carpenter agreed to change them. I worked for Wilson Sporting Goods and so I told them that I wanted pinstripe uniforms like the Yankees, only in red. I thought that the Yankee blue pinstripes were good-looking uniforms.
"But Wilson did not want to make them … for anybody but the Yankees. So even though I was with Wilson, I told them I have a lot of good friends at MacGregor. They'll make them for us any way we want. So Wilson decided to make them for us."35
The club moved in and out of first place several times in 1950, but on July 25 they took two from the Cubs and moved into the lead for good. With three weeks left in the season, the Phillies had built a 6½-game lead. Then bad things started to happen. Gene Kelly, the voice of the Phillies, used to say, "Whoa Nelly" — but now it was "Woe." Number-two starter Curt Simmons was lost to the Army. Then Bubba Church, Bob Miller, Andy Seminick, and Dick Sisler were injured. The seemingly comfortable lead melted to one game over the Brooklyn Dodgers with the Phillies playing the Dodgers at Ebbets Field on the last day of the regular season. If the Phils lost, they would face a best-of-three playoff with a depleted pitching staff.
Eddie Sawyer picked Robin Roberts, who had only two days' rest, to start for Philadelphia. The Dodgers went with their ace, Don Newcombe. Roberts seemed to pitch his best against Newcombe and Sawyer felt confident about using him. In fact, Roberts had started on only two days' rest seven times already that season.36 The game was a classic. Roberts bore down in the ninth inning and — with the help of Ashburn, who threw out Cal Abrams at the plate — survived a Brooklyn threat. He then retired the Dodgers in order in the 10th after Dick Sisler's three-run homer gave the Phillies a 4-1 lead.
After the game several of the Dodgers (including losing pitcher Newcombe and Jackie Robinson) came to the Phils' clubhouse to congratulate them. "The Dodgers and we respected each other," Sawyer said. "We played them a lot and they were all tough games. They appreciated us and we appreciated them. They were good hard competitors."37 Some 30,000 fans jammed Thirtieth Street Railroad station in Philadelphia to welcome home the first pennant by a Phillies team in 35 years.
Sawyer's Whiz Kids and Casey Stengel's New York Yankees squared off in the World Series. The Phillies' opening-game starter was an open question. Roberts would have had to go on very short rest yet again; Simmons, while on furlough from the Army, was only a spectator and batting-practice pitcher. The newspapers speculated that three-game winner Ken Heintzelman could get the call, since soft-tossing lefties had done well against the Yankees that year. Yet to the surprise of many, Sawyer picked the Phillies' ace reliever, Jim Konstanty.
"I was looking for somebody different," Eddie said. "Back in 1929, Connie Mack started Howard Ehmke in the World Series versus the Cubs. (Ehmke) couldn't throw hard and struck out 13. So this was what I was thinking of. Konstanty would be something different for the Yankees to look at. We had to stop the Yankees' left-handed bats, Berra, Bobby Brown, and Mize. Those guys were pretty good hitters. Konstanty had pitched seven innings a lot of times in Toronto, pitching the short games in a doubleheader. So I figured he could start it and go as far as he can and then I would bring in somebody else."38
Jim did pitch great ball, but Vic Raschi was slightly better, and the Yankees won the first game, 1-0. The rest of the Series followed the first game almost to a T. In Game Two, Robin Roberts lost in the 10th inning when Joe DiMaggio hit a long fly ball into the upper deck at Shibe Park, giving the Yankees a 2-1 victory and a 2-0 edge. The Phillies' bats were silent, continuing a team hitting slump from the end of the season, and Sawyer could do little about it. They lost Game Three, 3-2, and Game Four, 5-2. No World Series had fewer runs scored than the 1950 edition. The Yankees swept the Series despite an opposing 2.27 earned-run average.39 After the final out, the sporting Phillies manager "vaulted from the dugout and was one of the first to reach the yelling, celebrating Yanks to congratulate them."40
Sawyer edged Stengel in the voting for baseball's Manager of the Year. The news came as a surprise to Eddie; he said, "It was farthest from my thoughts."41 Joe Reichler of the Associated Press wrote, "Players regard Sawyer as more than a mere manager. He's father confessor, friendly advisor, coach, and psychologist to every Phil."42
Psychology was a key ingredient to Sawyer's managerial style. After the Whiz Kids won their pennant, he said, "Build up a fellow's confidence and you build up his ability. Knock him all the time, his confidence disappears and the battle is lost."43
Sawyer and the Phillies were optimistic about the 1951 season. However, with Curt Simmons still on active duty, the team slumped to fifth place with a 73-81 record. Sawyer got a small measure of revenge against the Yankees as manager of the National League All-Star team, which defeated Casey Stengel's AL squad, 8-3.
In 1952 Sawyer clamped down in spring training. As a sportswriter put it, "No wives, no automobiles, no golf, no gambling, no swimming and a strict curfew is the order of the day in camp."44 The "austerity program" didn't pay off, though — the Phillies had a 28-35 record when on June 27 Sawyer resigned as manager and was replaced by Steve O'Neill. Sawyer said the move had been "on the fire for some time. It almost happened last winter. Had the club been winning this year it would not have happened at this time, but probably would have happened next year anyway. … [The club] isn't winning because it isn't hitting."45
Sawyer was retained on the Phillies payroll in an advisory capacity, evaluating the farm systems and personnel of other teams. Although there were rumors after the 1952 season that he might manage the Pittsburgh Pirates,46 Eddie said at the end of the year that he was "through with baseball for good."47 He then became a salesman for a golf-ball manufacturer in the Philadelphia area, eventually advancing to vice president for sales.48
Sawyer was out of baseball until 1958. Amid reports that he was looking to come back, he rejoined the Phillies, replacing Mayo Smith as manager in July. General manager Roy Hamey said, "He had a good record while he was here."49
Eddie said, "I told them I expect them to put out 100 percent. And if they don't, I made it very clear to them that they wouldn't be here long."50 Revealing why he came back, he added, "Baseball gets in your blood. There's more to working than just making money. What good is all the money in the world if you don't enjoy yourself?"51
The enjoyment didn't last, unfortunately. The team finished in the cellar in 1958 with a 69-85 record and in 1959 fell to 64-90 to again finish in last place. Then, after the Phillies lost the opening game of the 1960 season in Cincinnati, Sawyer resigned, issuing the famous quote, "I am 49 years old and want to live to be 50."52 He knew of what he spoke as, under Gene Mauch, the team finished in the cellar for the third straight season with a 59-95 record before bottoming out with a dreadful 47-107 won-loss record in 1961.
Sawyer rejoined the Phillies as a scout in December 1962,53 serving through the 1966 season. In June 1968 it was announced that he would join the brand-new Kansas City Royals as a full-time scout in 1969.54 He was instrumental in the expansion draft, helping to form a team that became the most successful of the four new franchises that year.
Sawyer continued to work as a special-assignment scout for the Royals before retiring from baseball on January 1, 1974. For many years he lived in Phoenixville, Pennsylvania on Valley Forge Mountain with his wife, Polly. Over the years he was elected to various sports Halls of Fame: Pennsylvania; Maryland; Virginia; Rhode Island; Binghamton, New York; and Ithaca College.
On October 14, 1980, Sawyer threw out the ceremonial first pitch at Veterans Stadium as the Phillies faced the Kansas City Royals in the World Series. It was the Phillies' first pennant since the Whiz Kids, and at last they brought home the championship.
For much of the 1990s Sawyer cared for Polly, who was in poor health. During that time he routinely turned down speaking engagements and appearances, saying, "She took care of me all those years, it's the least I can do to take care of her now."55
Eddie Sawyer died on September 22, 1997, at the age of 87 in Phoenixville from a combination of respiratory problems and kidney failure. He donated his body to the Pennsylvania Medical Society for research.56 Sawyer was survived by Polly, two daughters, five grandchildren, and three great-grandchildren.
The loss of Sawyer came not two weeks after the death of Richie Ashburn. Although it wasn't front-page news in Philly, the Inquirer and the Daily News carried substantial obituaries for the Whiz Kids' skipper. As the Daily News put it, "He could tell the greatest, rich-in-detail stories one moment, then speak volumes soon afterward merely by fixing someone with a purposeful stare."57
Eddie Sawyer's lifetime managing record in the major leagues of 390-423 ended below .500 at .480, but he remains one of the most revered managers in Phillies history. For one season, he led a young team that brought great joy and glory to a city that had been bereft of either for a long time.
This biography appears in "The Whiz Kids Take the Pennant: The 1950 Philadelphia Phillies" (SABR, 2018), edited by C. Paul Rogers III and Bill Nowlin.
Notes
1 Harry T. Paxton, The Whiz Kids — the Story of the Fightin' Phillies (New York: David McKay Company, 1950), 38.
2 Paxton, 42-43.
3 Robin Roberts and C. Paul Rogers III, The Whiz Kids and the 1950 Pennant (Philadelphia: Temple University Press, 1996), 122.
4 Tim Cohane, "Eddie Sawyer — Boss of the Huckleberry Phils," Look Magazine, January 1, 1950: 77; Bill Fay, "Sawyer of the Phillies," Collier's Magazine, July 2, 1949: 40.
5 Roberts and Rogers, 122. He was reportedly about 18 months from earning a Ph.D., but his baseball career intervened. Cohane, 77.
6 Paxton, 44. The wedding date was July 8, an open date on the schedule of the Binghamton Triplets, for whom Sawyer was playing that summer. But 48 hours ahead of the wedding, the league ordered Binghamton to play a makeup game with Scranton on that date, so Sawyer had to rush from his own wedding to Scranton to play the game. Polly Sawyer later said, "It was some time before I could discern the humor of the situation." Polly Sawyer as told to Edgar Williams, "I'm Glad We're Out of Baseball," Philadelphia Inquirer Magazine, June 6, 1954, 10.
7 Roberts and Rogers, The Whiz Kids, 123.
8 "Set Rugmaker Pattern," unidentified clipping dated February 1, 1940, from the Eddie Sawyer clippings file of the National Baseball Library at the Hall of Fame.
9 "The Professor Leads the Phillies," Complete Baseball, Summer, 1950, 17; Stan Baumgartner, "The Brains Behind the Phillies," Sport, January, 1951: 9; Fay, 40; Roberts and Rogers, The Whiz Kids, 122.
10 Roberts and Rogers, The Whiz Kids, 124.
11 Skip Clayton and Jeff Moeller, 50 Phabulous Phillies (Champaign, Illinois: Sports Publishing Inc., 2000), 170-172.
12 Roberts and Rogers, The Whiz Kids, 30, 31; Donald Honig, The Man in the Dugout (Chicago: Follett Publishing Company, 1977), 60.
13 Roberts and Rogers, The Whiz Kids, 31.
14 Roberts and Rogers, The Whiz Kids, 32.
15 Caballero, who was only 17 years old in 1945, hit .279 with zero home runs and 75 runs batted in in 130 games.
16 Clayton and Moeller, 170-2.
17 Clifford Bloodgood, "Eddie Sawyer, a Baseball Educator," Baseball Magazine, October, 1948, 378.
18 Stan Baumgartner, "The Phillies Gamble on Youth," Sport, June 1950: 26; Baumgartner, "The Brains Behind the Phillies: 93; Roberts and Rogers, The Whiz Kids, 38. Hamner ended up with 37 errors in 104 games with Utica in 1945.
19 Roberts and Rogers, The Whiz Kids, 107-110; Frank Eck, "Sawyer of the Phillies," unidentified article dated 1950 from the Eddie Sawyer clippings file of the National Baseball Library.
20 Roberts and Rogers, The Whiz Kids, 63.
21 Roberts and Rogers, The Whiz Kids, 129.
22 Frank Yeutter, "Sawyer Has a Way with Him," Baseball Digest, January 1950: 43.
23 Roberts and Rogers, The Whiz Kids, 149. Skip Clayton, "Eddie Sawyer: Led the 1950 Whiz Kids to Pennant," Phillies Report (undated copy on file with C. Paul Rogers III).
24 Robin Roberts with C. Paul Rogers III, My Life in Baseball (Chicago: Triumph Books, 2003), republished as Throwing Hard Easy — Reflections of a Life in Baseball (Lincoln: University of Nebraska Press), 49-50.
25 Sawyer was never too worried about the opposition having the Phillies signs because he could always change them. According to Sawyer, "That's what we used to do with Durocher. He loved to have your signs, so we would make sure he had them quick. Then when we changed them he was in trouble." Roberts and Rogers, The Whiz Kids, 138-139.
26 Roberts and Rogers, The Whiz Kids, 273-4.
27 Roberts and Rogers, The Whiz Kids, 199-200; Honig, 67-68; Eddie Sawyer interview by C. Paul Rogers III, October 30, 1994.
28 Roberts and Rogers, The Whiz Kids, 277.
29 Rich Westcott and Frank Bilovsky, The New Phillies Encyclopedia (Philadelphia: Temple University Press, 1993), 445.
30 Roberts and Rogers, The Whiz Kids, 139, 277.
31 Ashburn recalled a bus trip when Sawyer was managing Utica and a player in the back of the bus was drinking and popping off. Sawyer "walked back and without a word picked this guy up and stuffed him in the overhead luggage rack. Then he told him to shut his trap." Roberts and Rogers, The Whiz Kids, 123, 127.
32 "Phil Player Learned Boss Eddie Sawyer Can Be Convincing," unidentified clipping dated May 11, 1959, from the Eddie Sawyer clippings file of the National Baseball Library.
33 Baumgartner, "The Phillies Gamble on Youth," 78; Cohane, 79; Yeutter, 43.
34 Roberts and Rogers, The Whiz Kids, 193.
35 Roberts and Rogers, The Whiz Kids, 217-218.
36 Jack Hand, "Heintzelman Touted as Series Starter for Phillies in Opening Game," San Diego Union, October 3, 1950: 17.
37 Roberts and Rogers, The Whiz Kids, 335.
38 Roberts and Rogers, The Whiz Kids, 339-40.
39 The Yankees' earned-run average for the Series was a minuscule 0.73.
40 Gayle Talbot, Associated Press, "Yanks Take Series in Four Straight," Baton Rouge Advocate, October 8, 1950: 18.
41 "Phils Skipper Is Honored as Top Big-League Pilot," Sacramento Bee, November 8, 1950: 38.
42 Joe Reichler (Associated Press), "Eddie Sawyer Is 'Manager of Year,'" Seattle Daily Times, November 8, 1950: 40.
43 "Phils Skipper Is Honored as Top Big-League Pilot."
44 "'Austerity' Paying Off for Rejuvenated Phils," Arkansas Democrat (Little Rock), March 20, 1952: 32; Yeutter, 41.
45 Russ Green, "Sawyer Quits; O'Neill New Phillies Boss," Journal Star (Peoria, Illinois), June 28, 1952: 5. The club's performance did improve dramatically under O'Neill as they went 59-32 for the rest of the season to finish in fourth place with an 87-67 record.
46 "Report Sawyer Headed for Bucs as Manager," unidentified clipping dated November 6, 1952, from the Eddie Sawyer clippings file of the National Baseball Library.
47 "Eddie Sawyer Says He's Thru With Baseball," Chicago Tribune, December 31, 1952. Sawyer's name surfaced again in 1953 as the possible successor to Rogers Hornsby as manager of the Cincinnati Reds but he denied having any interest in the job. "Sawyer Wants No Part of Job as Reds Pilot," unidentified clipping dated September 19, 1953, from the Eddie Sawyer clippings file of the National Baseball Library; "Reds Deny Sawyer to Replace Rajah," unidentified clipping dated August 26, 1953, from the Eddie Sawyer clippings file of the National Baseball Library.
48 Frank Yeutter, "Ed Sawyer, the 'Golf Ball Man,' Has No Yearning for Baseball," Philadelphia Evening Bulletin, March 20, 1958: 38; Polly Sawyer as told to Edgar Williams: 11; "Mayo Smith Out, Eddie Sawyer In as Phils Boss," Morning Star (Rockford, Illinois), July 23, 1958: 27.
49 "Mayo Smith Out, Eddie Sawyer In as Phils Boss."
50 United Press International, "Eddie Sawyer Demands All-Out Effort of Phillies," Milwaukee Journal-Sentinel, July 29, 1958: 62.
51 Ibid.
52 Roberts, with Rogers, My Life, 171.
53 "Sawyer Hired as Phils Scout," Hartford Courant, December 23, 1962.
54 "Sawyer to Scout," Washington Evening Star, June 29, 1968: 12.
55 Eddie Sawyer interview by C. Paul Rogers III, April, 16, 1993.
56 Bill Lee, The Baseball Necrology (Jefferson, North Carolina: McFarland, 2003), 350.
57 "Manager of Whiz Kids Dies at 87," Philadelphia Daily News, September 23, 1997.
Born
September 10, 1910 at Westerly, RI (USA)
Died
September 22, 1997 at Phoenixville, PA (USA)
If you can help us improve this player's biography, contact us.
http://bioproj.sabr.org/bp_ftp/images4/SawyerEddie.jpg
600
800
admin
/wp-content/uploads/2020/02/sabr_logo.png
admin
2012-01-04 20:37:21
2012-01-04 20:37:21
Eddie Sawyer