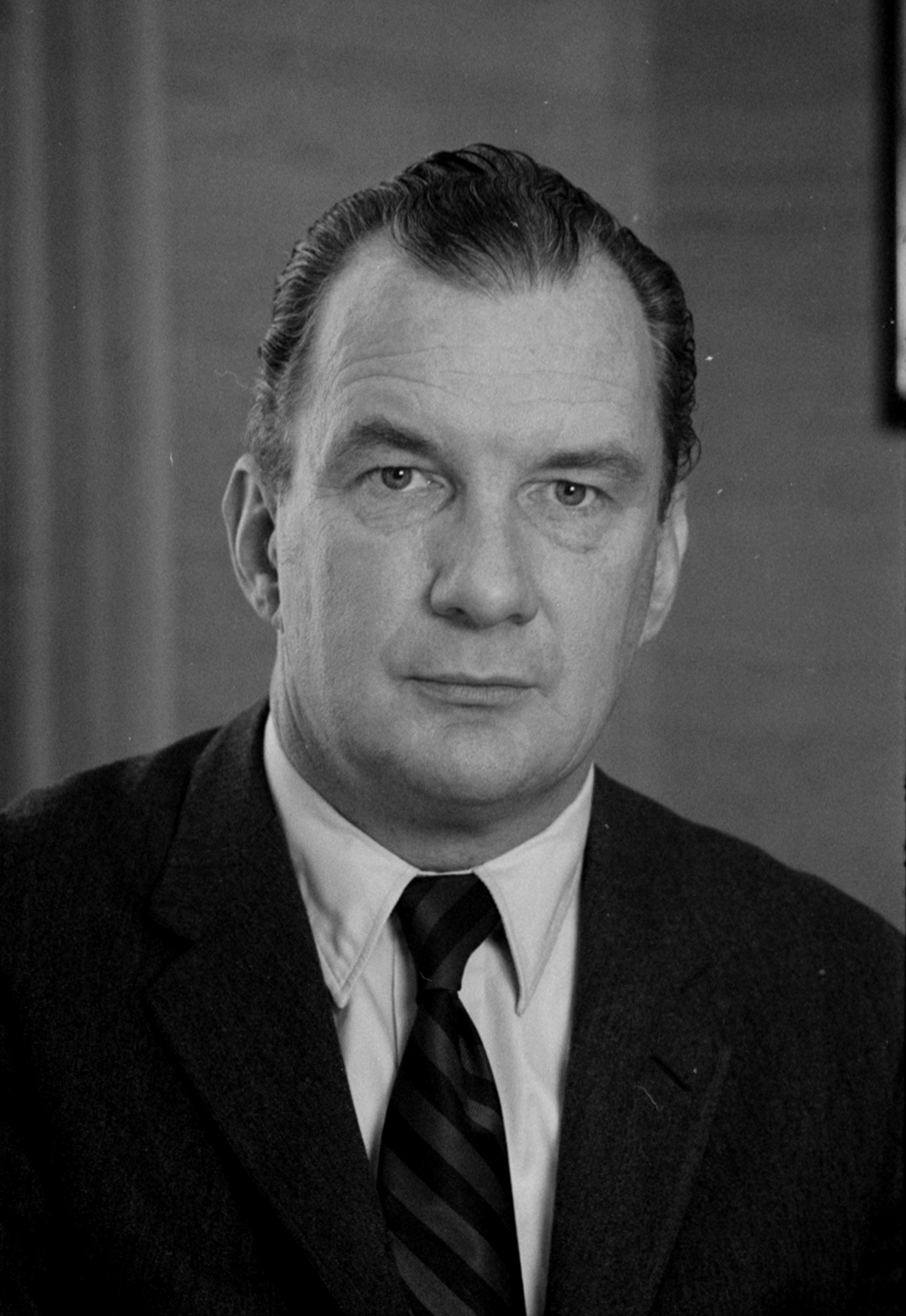 ---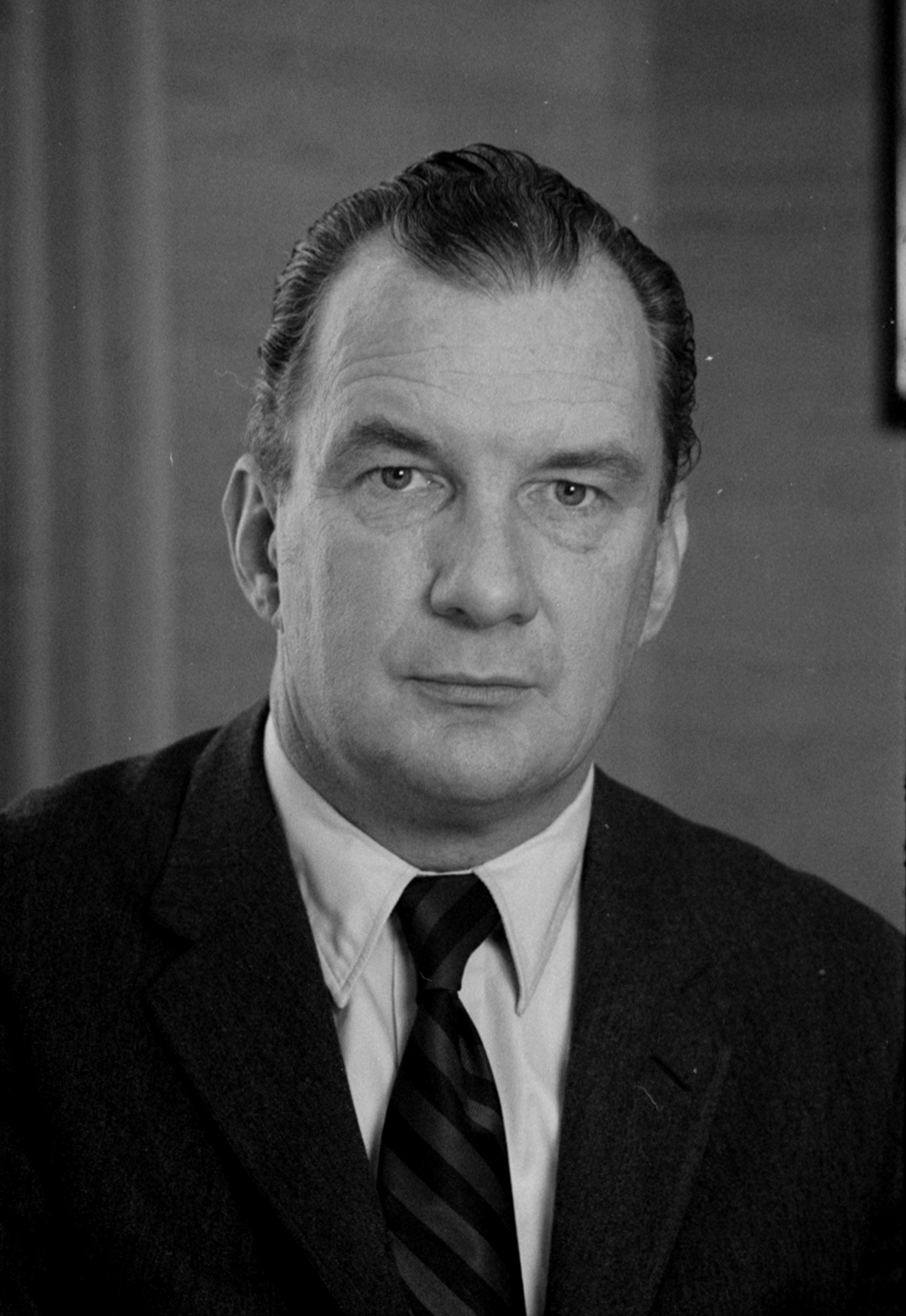 One night at Toots Shor's restaurant, Edward Bennett Williams was asked what he wanted to do when he grew up — an odd question for a man in his mid-30s who'd already gained a reputation as a distinguished trial lawyer.
"I want to own a ball club and be president," said Williams,1 who as a child sold concessions at the local minor league baseball park.
He bought the Baltimore Orioles in 1979, fulfilling his first ambition. He never realized his second ambition. But with the life he led, he didn't have to. "If I had to pick the 10 most interesting Americans, he'd be on my list," Andy Rooney said of Williams. "And I've never even met him."2
Williams walked the halls of the Capitol as a private attorney, summoned to help members of Congress, be they Senator Joe McCarthy in his fight against censure or Rep. Adam Clayton Powell in his income tax evasion case. Other high-profile clients included Treasury Secretary John Connally, CIA Director Richard Helms, Teamsters president Jimmy Hoffa, George Steinbrenner, and mob boss Frank Costello, who provided a glowing recommendation: "I've had 40 lawyers, but Ed's the champ."3
Williams, who earned the nickname "Fast Eddie" — which he hated4 — counted among his close friends for the rest of his life Joe DiMaggio (whom he'd met at Toots Shor's), Pulitzer Prize winner Art Buchwald, and Washington Post editor Ben Bradlee. In fact, after the New York Times was enjoined from printing the Pentagon Papers, Bradlee picked up the baton on advice from Williams, who said, "What's Nixon going to do? Put every major publisher and editor in jail? Nixon doesn't have the balls to go after you, Bradlee." It earned him a spot on Tricky Dick's enemies list.5
A Rockefeller Republican turned Democrat, Williams had friends in high places regardless of which party was in power. "No matter who was in, Williams was never out," Jesse Jackson said.6 When it was an appointed post, Lyndon Johnson wanted to name Williams mayor of Washington D.C.; after leaving office, LBJ said if he had it to do over again, he would have appointed Williams U.S. Attorney General instead of Ramsey Clark.7 Gerald Ford and Ronald Reagan each wanted him to be director of the CIA. In fact, there were even rumors — which he never actively dispelled — that he was the infamous "Deep Throat," the insider source that guided the Post's investigation into Watergate.8 (It ultimately turned out to be FBI agent Mark Felt.9) His fame led him to appearances on "The Tonight Show" and "Person to Person" with Edward R. Murrow and an interview with Mike Wallace in his pre-"60 Minutes" days. F. Lee Bailey called him a personal hero.10
In sum, Edward Bennett Williams was the consummate Washington insider. And that worried a lot of Oriole fans when he bought the team. He'd served as managing partner of the NFL's Washington Redskins when tickets to games became status symbols for the city's elite. Williams had tried unsuccessfully to buy the expansion Senators in 1960, and when they left for Texas, he was part of the group that tried to lure the San Diego Padres to Washington. What would keep him from doing the same with the Orioles?
Williams owned the team for less than a decade, before he succumbed to the cancer that had plagued him even before he bought the Orioles. Baltimore Evening Sun writer Gwinn Owens said, "Relatively, his only real failure came when he ventured afield to buy the Baltimore Orioles."11
On his watch, the team's fortunes declined precipitously, culminating in a 21-game losing streak to open the 1988 season — the last year of Williams's life. But his time as Orioles owner remains notable for two things: The team won its last World Series to date, and he set in motion the construction of the team's new stadium, with far-reaching implications across the major leagues.
"Dad did intend to move, at first. But he came to love Baltimore," his son Tony said.12
***
Edward Bennett Williams was born on May 31, 1920, in Hartford, Connecticut, the only child of Joe and May Williams. He was a serious boy, wearing a suit and tie to school, and felt acutely the prejudice against Irish-Americans. Hartford, then as now, was dominated by the insurance industry, which itself was ruled by upper-class WASPs. Joe Williams couldn't break into one of the well-paying jobs there, however, so he worked at the Brown Thomson department store as a floorwalker. Williams himself went to work early, working at a local gas station and selling concessions at Hartford Senators games at Bulkeley Stadium. There he saw Hank Greenberg before his Hall of Fame career, when he was "a big gawky kid about 18 or so," prone to strikeouts.13
Williams graduated from Bulkeley High School (both the stadium and high school were named for Morgan Bulkeley, who served as governor of Connecticut — and President of the National League). He then went to Holy Cross against the wishes of his father, who wanted him to start work. The Jesuit college was seen as an avenue to advancement by many of its Irish-American students. "Holy Cross was full of the sons of firemen aspiring to become doctors," said Bill Richardson, one of Williams's classmates.14 Williams excelled on the debate team and graduated first in his class, and planned to attend law school. Yale offered a partial scholarship, but he could go to Georgetown free. With $12 in his pocket,15 he arrived in Washington, D.C. in 1941.
It felt like the Promised Land to him. The New Deal and World War II increased the size of government, and the war actually led to a shortage of lawyers in the nation's capital. The WASP prejudice he'd experienced in Hartford wasn't present in D.C., either. Richardson recalled that Williams saw that Washington would soon be the center of the world — and he wanted to be part of it.16
Williams was briefly in the U.S. Army Air Forces. His explanation for why he never saw combat shifted over the years, but his biographer Evan Thomas filed a Freedom of Information Act request for Williams's service records. He found that Williams had progressed insufficiently in pilot training and was discharged after less than a year.17
Williams went to work for the law firm of Hogan & Hartson prior to his graduation from Georgetown Law (again, first in his class). In early 1946, he was introduced to Dorothy Guider, granddaughter of his firm's founder, Frank Hogan. They hit it off, and following a whirlwind courtship were married on May 3, 1946, at St. Thomas the Apostle Catholic Church in Washington.18
The couple had a daughter, Ellen, and two sons, Joseph and Peter.19 Dorothy died on May 9, 1959, and a year later, Williams married Agnes Neill, a lawyer with his firm and like him, a Georgetown Law graduate. In fact, she was one of the first women to attend that law school. Her husband said she was one of the three best lawyers he ever knew, but Agnes gave up her law career. They had four children: Edward, Dana, Anthony and Kimberly. They remained married until Williams's death. Agnes Williams died in 2020.20
The work at Hogan & Hartson was steady but boring, largely defending streetcar companies in personal injury cases. In 1949, Williams left to form his own firm with Nicholas Chase. (His departure cleared a path to prominence for another lawyer at the firm, John J. Sirica, who would be appointed a federal judge in 1957 and named Time magazine's "Man of the Year" in 1974 as the Watergate Judge.21) The two were in partnership for a little more than a year before Williams struck out on his own. Today, the law firm of Williams & Connolly, as it's been known since 1967, is one of the most famous and prominent in the United States, representing presidents and some of the largest corporations in America. It's one of the most selective and well-paying in the country too.22
Determined to make a name for himself, Williams started defending writers and directors called before the House Un-American Activities Committee, and made friends with the junior senator from Wisconsin, a fellow Catholic who enjoyed alcohol and good times: Joe McCarthy. Williams was McCarthy's attorney when he sued another senator for defamation, and McCarthy asked Williams to be his counsel for what came to be known as the Army-McCarthy hearings. Williams declined, saying, "It was quite clear that he just wanted me to carry his briefcase." The job went to Roy Cohn instead.23 Williams defended McCarthy during his censure hearing to no avail, but McCarthy had accepted censure as inevitable. Williams was distraught about the result, but his profile rose markedly.
Williams became even more famous with his defenses of Powell, who later said, "Abraham Lincoln freed the slaves, but Edward Bennett Williams freed Adam Clayton Powell"24 — and Frank Costello, the inspiration for Mario Puzo's Godfather as well as Marlon Brando's portrayal of him. Williams almost didn't get the chance to defend Costello. The man known as the Prime Minister of the Underworld wasn't sure he wanted to hire the lawyer who had defended Joe McCarthy.25
But his highest-profile victory came in defense of Hoffa in a case that had led Robert Kennedy to say he'd jump off the Capitol dome if Hoffa was acquitted. Williams said after Hoffa's acquittal, "I'll buy him a parachute."26
Williams wasn't just a celebrity lawyer, he was the type of lawyer that drew an audience. Overflow crowds watched him argue in court or deftly cross-examine witnesses. "Lawyers come to look at him as children stop to look at glassblowers in Venice," Murray Kempton wrote during the Powell trial.27
His reputation was burnished by his willingness — almost eagerness — to take on high-profile yet decidedly not saintly clients. "I defend my clients against legal guilt," he said. "Moral judgments I leave to the majestic vengeance of God." Williams professed the belief that every accused criminal was entitled to a defense, and made it a point to inveigh against J. Edgar Hoover's FBI, which he said was using illegal wiretaps — a charge that proved correct. (When Eugene McCarthy was running for president, he said he'd make Williams director of the FBI — just so he could take a match to Hoover's files.)
His high-profile cases continued, with defenses of Washington fixer Bobby Baker in 1967, George Steinbrenner when he was accused of campaign finance violations in 1974 and John Connally in 1975, which prompted People magazine to write, "If you're rich, famous and in a jam — call Edward Bennett Williams." Connally, probably most famous as the Governor of Texas who was wounded when President Kennedy was assassinated, was accused of taking payoffs to influence milk prices when he was Richard Nixon's Treasury Secretary. Connally was acquitted, earning Williams a congratulatory call from Nixon himself, who added that he wished Williams had defended him during Watergate. "I could have won it," Williams immodestly said later.28
***
Williams's first attempt at owning a baseball team came in 1960, when the Senators were set to leave Washington for the Twin Cities in Minnesota. Partly to stave off the insurgent Continental League and partly to keep Congress from considering removing baseball's antitrust exemption, MLB granted an expansion team to Washington starting in 1961. Williams headed one of the groups vying for ownership. He thought he had it in the bag, thanks to his name-dropping of his friend Joe DiMaggio and behind-the-scenes machinations by White Sox owner Bill Veeck, who promised Senators owner Calvin Griffith his vote for relocation in exchange for Griffith's vote for Williams. "I left the meeting sanguine in the fact that we could not lose," Williams told Sports Illustrated in 1966. "I was down in the bar talking to the sportswriters, puffing a big cigar and having a drink when the news was announced that General [Elwood] Quesada had gotten the new team in Washington. It seems Joe Cronin gave Griffith a dark look, and Cal deserted us and backed Quesada." But even that turned into a win for Williams, who said five years later, "It may have been the best thing that ever happened to me."29
In 1961, Williams was poised to buy into the Washington Redskins. Owner George Preston Marshall had a falling out with announcer Harry Wismer, who owned 25 percent of the team. But Williams told Marshall he would only buy into the team if the Redskins, the last all-white team in the NFL, would integrate. Marshall, an unrepentant racist, refused. When he died, his will established a charity, the Redskin Foundation, specifying that it "shall never use, contribute or apply any money or property for any purpose which supports or employs the principle of racial integration in any form."30 Wismer, who would later become owner of the New York Titans (later Jets) of the AFL, ultimately sold his shares to Jack Kent Cooke. It would prove fateful.31
Following a 1-12-1 season in 1961, Marshall was willing to dip into the African-American pool of talent. (He was also receiving pressure from the federal government. If he wanted the Redskins to play in the new D.C. Stadium, he would have to integrate.) Marshall asked Williams to seek the intervention of Rep. Powell, his former client, to convince Heisman Trophy winner Ernie Davis of Syracuse that Washington was a good place for him to play. The Redskins drafted Davis — and promptly traded him to the Browns for Bobby Mitchell and the next year's first-round pick. Davis, who had leukemia, never played a down for the Browns, dying in 1963. Mitchell went on to a Hall of Fame career — but Williams still kicked himself years later for wasting the draft pick. "Our first pick was Leroy Jackson. Ever hear of Leroy Jackson? He fumbled his bus ticket when he was cut. That was the year we could have had Gary Collins."32
Marshall's health started to decline in 1963 and Williams, along with minority owners Leo DeOrsey and Milton King, was named temporary conservator for the team. DeOrsey died in 1965, and Williams became team president, despite owning only 5 percent of the team. Marshall died in 1969, and following an acrimonious fight over his estate by his children, Marshall's shares in the Redskins were sold to Cooke, who was more than willing to let Williams run the team, particularly since Cooke also owned the NBA's Lakers and NHL's Kings in Los Angeles.
Williams loved being president of the Redskins. He engaged in calisthenics at the team's training camp in Pennsylvania, and his owner's box at new stadium (later named for Robert F. Kennedy, with whom Williams was friendly except when he was defending Hoffa) hosted senators, journalists, and Supreme Court justices.33 On his watch, the Redskins embarked on a sellout streak they claimed lasted half a century (even if the last few years saw the numbers gamed,)34 and had more success than the team had known in a generation. He made a series of splashy coaching hires, first luring legendary Browns quarterback Otto Graham from the Coast Guard Academy.
Then in 1969, Williams replaced Graham with Vince Lombardi, who had his pick of jobs as the most successful coach in the NFL in the 1960s, Lombardi's wife Marie said that he went to Washington out of his "great respect for Williams."35 Of course, Williams had made Lombardi the proverbial offer he couldn't refuse: total authority as coach and general manager as well as an ownership stake. Lombardi led the Redskins to their first winning season in 14 years in 1969,36 but died of cancer before the following season started. Williams's next hire was George Allen, which almost immediately yielded dividends. The team made four straight playoff appearances, including a trip to the 1973 Super Bowl, which they lost to the undefeated Miami Dolphins.
Williams and Allen ultimately had an acrimonious parting of the ways — Williams famously said, "I gave Allen an unlimited expense account and he has already exceeded it."37 Jack Kent Cooke came east to take charge of the team after divesting himself of the Kings and selling the Lakers to the Buss family. Cooke had to pay for his then-record $41 million divorce settlement — decreed by future TV star Judge Joseph Wapner.38
At the same time, the opportunity arose for Williams to fulfill a lifelong dream — buying a baseball team. The Orioles had been one of the best in Major League Baseball since Jerry Hoffberger had taken over as owner in 1965, but the on-field success didn't translate into financial success, and Hoffberger was looking to sell.
Williams bought the team in August 1979 and took ownership following the World Series, which the Orioles lost to the Pittsburgh Pirates in seven games. Almost immediately, speculation started that he would move the team, and his denials did nothing to stem that. "I did not buy the Baltimore Orioles to move them," he said. "I bought them to play in Baltimore and so long as the people of Baltimore support the Orioles, they will stay here."39
The Orioles had a term in their lease that they could play up to 13 games in another location. Since Williams was president of the Redskins, everyone assumed that venue would be RFK Stadium.40 But thanks to shrewd marketing, within five years of his buying the team, the share of the Orioles fan base from the D.C. area had gone from 10 percent to 25 percent. "In the end, Williams did not need to move the Orioles to Washington," biographer Evan Thomas wrote. "In effect, he moved Washington to the Orioles."41
On opening day 1980, Williams heard glorious chants of "Ed-die! Ed-die!" and thought they were for him. As it turned out, they were for first baseman Eddie Murray. He loved baseball, but wasn't accustomed to its more languid pace, especially after owning a football team that played 14 times a year. "What kind of sport is it where you can lose sixty times a year and be a roaring success?" he said.42
During the players' strike of 1981, as well as the run-up the year before, Williams was seen as a conciliator, trying to bring both sides together. He kept back channels open directly to the players through the Orioles' reps, Doug DeCinces and Mark Belanger, and met with a federal mediator at the Jefferson Hotel in Washington, which he owned. It was a marked change from his reputation as a fighter in the courtroom (as well as his predecessor, Hoffberger, whom MLBPA director Marvin Miller said actively tried to break the players union in the 1972 strike.43) Of course, he was highly motivated to do so. To buy the Orioles, he had taken out millions of dollars in loans at 20 percent interest. His ownership experience was also colored by his time in the NFL, which shared broadcast and ticket receipts more broadly than Major League Baseball did — and does, for that matter. "I'm basically a capitalist," he said. "But I think baseball needs a quasi-socialist system to survive."44
When the players came back after a 50-day strike, Miller credited Williams with helping make it happen. The owners, on the other hand, were less than thrilled with him. He in turn was incensed with what he saw as inaction by Commissioner Bowie Kuhn. (His financial worries, as it turned out, were unfounded. The insurance claim on the games lost turned into a net profit for Williams.45) Williams was regarded as one of the insurgent new guard of owners following the 1981 strike. Yet he voted to retain Kuhn (who, it should be noted, shared Williams's beliefs on revenue sharing) in 1982 — an election that Kuhn ultimately lost, thanks in part to a former Williams client, George Steinbrenner.46 Williams also was part of the committee that found Kuhn's successor as commissioner, Peter Ueberroth.
Initially, Williams was content to let general manager Hank Peters run the team, and had proven more willing to spend money than Hoffberger was. But by 1984, Williams was starting to change "The Oriole Way." Peters said later Williams was likely growing impatient because of the cancer he'd been fighting for seven years. In 1977, Williams began experiencing nausea in the mornings. "I felt as if I were pregnant," he said later.47 It turned out to be colon cancer, requiring an operation. He had a second operation removing part of his liver in 1982, and surgery on his lung two weeks after the Orioles beat the Phillies in the 1983 World Series. The following March, he had an operation on his other lung.
The Orioles made a splash in the free agent market after the 1984 season, signing Fred Lynn, Lee Lacy, and Don Aase. The team also later acquired Terry Kennedy, Ray Knight, Rick Burleson, Tom Niedenfuer, and Alan Wiggins, none of whom yielded great results.48 Meanwhile, homegrown talent like Jim Palmer and Al Bumbry and fan favorites like Ken Singleton and John Lowenstein were turned loose.
Williams also butted heads with manager Joe Altobelli, firing him and bringing back Earl Weaver for an unsuccessful one-year tenure. "He called me a cement head," Altobelli was quoted as saying in Williams' obituary. Williams said he couldn't remember the exact phrasing, but ″it was not inconsistent with my thinking on the subject.″49
Williams's relationship with Cooke continued to disintegrate. When Cooke had been in Los Angeles, he let Williams act as managing partner of the Redskins so he wouldn't run afoul of NFL rules prohibiting ownership of teams in multiple sports. Having divested the Kings and Lakers, he wanted full control of the Redskins — and now Williams was fighting with NFL commissioner Pete Rozelle about his owning teams in two sports.
Also, Williams was part of the D.C. power structure. Cooke wasn't — and wanted to be. "Cooke bragged, Williams never did," said Redskins general manager Bobby Beathard, who was hired by Williams in 1978 and built the Redskins' championship teams in the decade to come. "Williams was first class, Cooke was nickel-and-dime cheap."50 The friction was visible when the Redskins won Super Bowl XVII against the Dolphins in 1983. Williams, still the team president, although by then a figurehead, watched from the stands — not the owner's box, "because the prick didn't invite me," he said of Cooke, who also kept Williams from the trophy presentation.51 Cooke also threatened to bring a baseball team to Washington to antagonize Williams, and tried to use a loan he made to Williams to buy into the Orioles.
Williams finally sold his stake in the Redskins to Cooke in 1985 for a sum estimated at between $8 million and $10 million.52 Nonetheless, their feud continued. Cooke married and divorced twice in rapid succession, and divorce proceedings between Cooke and third wife Suzanne Martin revealed that Williams had been her lawyer when she wanted to sue him before their marriage. "I hope you get what's coming to you," Cooke wrote Williams shortly before his death.53
In 1986, Williams made remarks about Eddie Murray's year-round commitment to the game, saying, "At his age, he's got to work in the offseason. It's a fulltime job."54 Murray promptly demanded a trade. Things were smoothed over, but the damage was done. Murray was dealt to the Dodgers following the 1988 season.
After the 1987 season, Williams fired Hank Peters, the longtime executive who'd helped build the Orioles into the class of the American League. "I think we reached a point where there needed to be a change," Williams said. "I think Hank may have felt he needed a change himself."55 Peters wasn't unemployed for long. He became the Indians team president, laying the foundation for that team's rebirth in the mid-1990s.
Following Al Campanis's notorious remarks in 1987 on "Nightline" that blacks lacked the "necessities" to be managers or front-office personnel, Williams promised action. "We are switching instantly to a very positive affirmative-action program," he said. "I will take second place to no one in the United States on my sensitivity to racial justice."56 The Orioles manager at the time was Cal Ripken Sr., who guided the team to a 67-95 record that season. After losing the first six games of the 1988 season, Ripken was fired and replaced by Frank Robinson.
Robinson fared little better initially, as the Orioles lost their next 15 games, starting the season with 21 straight losses, a major league record. But the following year, the Orioles went 87-75, and Robinson was named American League Manager of the Year.
Williams didn't live to see it. His health continued to decline, and in the spring of 1988, he ceded day-to-day control of the team to his protégé Larry Lucchino. One of Williams's last actions as Orioles owner was to sign a 15-year lease for a new Orioles stadium. The Baltimore Colts of the NFL had left town in the middle of the night in 1984. Williams' Washington connections and his unwillingness to sign a long-term lease made Baltimore and Maryland leaders fearful that the Orioles would leave too. (Mayor William Schaefer received reports that shirts were on sale in Indianapolis saying, "Colts today, Orioles tomorrow."57) In 1986, the Maryland General Assembly established the Maryland Professional Sports Authority. The following year, Williams testified in favor of a new baseball-only ballpark, and was vital to the measure's passing. "He made the difference," said Schaefer, by then the governor.58
On August 13, 1988, Williams died at the age of 68 at Georgetown University Hospital — the same hospital where Vince Lombardi had died, also of colon cancer, 18 years earlier.59
Williams's career in Washington D.C. was without parallel, and even though his time as Orioles owner was full of ups and downs, it's downright sterling compared to what came after. His estate sold the team for a then-record $70 million in 1988 to Eli Jacobs, who kept Lucchino on to help bring the new ballpark to fruition. Orioles Park at Camden Yards opened in 1992, to almost universal acclaim, but Jacobs, spread thin by a variety of investments, sold the team at auction while under bankruptcy protection the following year.
The new buyer, Peter Angelos — also a trial lawyer — ran off Lucchino, who ended up in Boston, where he helped build the Red Sox dynasty of the 21st century. Under Angelos's ownership, the Orioles have made five postseason appearances — none in the World Series. They have just two division titles (in 1997 and 2014) and lost 115 games in 2018 and 108 in 2019.
Ever the control freak, Williams had planned his own funeral. His family suggested Holy Trinity Church, but he said it was too small — and he was right.60 Much like his box at RFK Stadium, Williams's funeral at St. Matthew's Cathedral attracted a galaxy of stars. Ueberroth and Rozelle attended, as did a crowd as varied as Oliver North, Post publisher Katharine Graham, boxer Sugar Ray Leonard, Supreme Court Justice Thurgood Marshall, junk bond king Michael Milken — one of Williams's last clients — and DiMaggio, who said, ″I'm happy to be here, to say my farewell.″61 Vice-President George H.W. Bush, who was named CIA director by Ford after Williams turned it down, paid his respects at Gawler's Funeral home the night before — and then went to New Orleans to accept the Republican nomination for president.
Acknowledgments
This biography was reviewed by Rory Costello and Norman Macht and fact-checked by Alan Cohen.
Sources
Pack, Robert, Edward Bennett Williams For the Defense, New York: Harper and Row, 1983.
Thomas, Evan, The Man To See, New York: Simon and Schuster, 1992.
Notes
1 Thomas 99.
2 Andy Rooney, "Hinckley's lawyer deals with the 'losers,'" Cleveland Plain Dealer, April 19, 1981, 22-C
3 "Edward Bennett Williams, 'Contest Living' exponent," Associated Press, August 13, 1988, https://apnews.com/e3289f818a43f3d4e6ededa58f3f5d4b
4 Thomas 19.
5 Thomas 15.
6 Thomas 463.
7 Phil Gailey, "Behind the Scenes with Ed Williams," New York Times Magazine, April 17, 1983
8 Thomas 19.
9 "FBI's No. 2 turned out to be Deep Throat," David von Drehle, Washington Post, June 1, 2005, https://www.washingtonpost.com/politics/fbis-no-2-was-deep-throat-mark-felt-ends-30-year-mystery-of-the-posts-watergate-source/2012/06/04/gJQAwseRIV_story.html
10 "Vital Statistics: F. Lee Bailey," Cleveland Plain Dealer, July 1, 1984.
11 Gwinn Owens, "Tales of the great EBW," The Baltimore Evening Sun, November 25, 1991, https://www.baltimoresun.com/news/bs-xpm-1991-11-25-1991329122-story.html
12 Owens
13 Pack 100.
14 Thomas 35.
15 Thomas 18.
16 Thomas 42.
17 Thomas 40.
18 Pack 125.
19 "Mrs. E.B. Williams," The New York Times, May 11, 1959, p. 27.
20 Matt Schudel, "Agnes Neill Williams, lawyer and widow of Edward Bennett Williams, dies at 89," The Washington Post, March 7, 2020, https://www.washingtonpost.com/local/obituaries/agnes-neill-williams-lawyer-and-widow-of-edward-bennett-williams-dies-at-89/2020/03/07/baf8b0c2-60be-11ea-b014-4fafa866bb81_story.html
21 Pack 126.
23 Pack 148.
24 Thomas 144.
25 Gay Talese, "Counsel (extraordinary) For the Defense," New York Times Magazine, September 25, 1960.
26 Associated Press, "Edward Bennett Williams," August 13, 1988, https://apnews.com/e3289f818a43f3d4e6ededa58f3f5d4b
27 Pack 296.
28 Gailey.
29 Robert H. Boyle, "A Legal Eagle and His Boy Scout," Sports Illustrated, July 25, 1966, https://vault.si.com/vault/1966/07/25/a-legal-eagle-and-his-boy-scout
30 Pack 78.
31 Pack 74.
32 Boyle
33 Edwin Shrake, "To Be Seen Seeing the Redskins," Sports Illustrated, October 4, 1965, p. 52. https://vault.si.com/vault/1965/10/04/to-be-seen-seeing-the-redskins
34 Liz Clarke and Tyler Blint-Welsh, "The Redskins are now being honest about their sellout streak — and it's not pretty," The Washington Post, September 16, 2018, https://www.washingtonpost.com/sports/redskins/the-redskins-are-now-honest-about-their-attendance-and-its-not-pretty/2018/09/16/f4269a4e-b9df-11e8-bdc0-90f81cc58c5d_story.html
35 Pack 89.
36 https://www.pro-football-reference.com/teams/was/index.htm
37 Joe Marshall, "You Won't Have Washington to Kick Around Anymore," Sports Illustrated, Jan. 15, 1973, https://vault.si.com/vault/1973/01/15/you-wont-have-washington-to-kick-around-anymore
38 Rick Reilly, "Larger than Life," Sports Illustrated, Dec. 16, 1991, https://vault.si.com/vault/1991/12/16/larger-than-life-in-his-own-estimation-at-least-jack-kent-cooke-the-owner-of-the-washington-redskins-is-an-immortal
39 Ken Nigro, "Birds sold for 12 million," The Sporting News, August 18, 1979, 6.
40 Richard Justice, "Relentless Drive to Win," Los Angeles Times, August 20, 1988, https://www.latimes.com/archives/la-xpm-1988-08-21-sp-1102-story.html
41 Thomas 396.
42 Thomas 398.
43 Richard Goldstein, "Jerold Hoffberger, 80, owner of the Series-Winning Orioles, dies," The New York Times, April 13, 1999, https://www.nytimes.com/1999/04/13/sports/jerold-hoffberger-80-owner-of-series-winning-orioles-dies.html
44 Thomas 399.
45 Thomas 400.
46 Larry Eldridge, "Baseball owners still at odds over ouster of Bowie Kuhn," The Christian Science Monitor, November 10, 1982, https://www.csmonitor.com/1982/1110/111034.html
47 Gailey.
48 Bob Kravitz, "Oriole decline was imminent," The Plain Dealer, April 28, 1988
49 https://apnews.com/e3289f818a43f3d4e6ededa58f3f5d4b
50 Thomas 397.
51 Thomas.
52 David Remnick, "The Ultimate Trial of Edward Bennett Williams," The Washington Post, April 9, 1986, https://www.cia.gov/library/readingroom/docs/CIA-RDP90-00552R000706940042-1.pdf
53 Thomas 493.
54 "Harsh words," The Plain Dealer, August 23, 198.
55 Bruce Hooley, "Differences with owner cost Peters job," The Plain Dealer, November 3, 1987.
56 Associated Press, "Vow From Orioles Owner," The New York Times, April 14, 1987.
57 Daniel A. Nathan, Baltimore Sports: Stories from Charm City (Fayetteville: University of Arkansas Press, 2016). https://books.google.com/books?id=Xe5lDAAAQBAJ&pg=PA212&lpg=PA212&dq=edward+bennett+williams+camden+yards&source=bl&ots=b4IYYgIJw9&sig=ACfU3U1HPK-Tl3elctaKFe2dBO7Ec11G2Q&hl=en&sa=X&ved=2ahUKEwiT48bI19voAhVKZM0KHfR9DII4FBDoATADegQICxAu#v=onepage&q=edward%20bennett%20williams%20camden%20yards&f=false
58 "Edward Bennett Williams, Orioles owner, 1979-1988," The Baltimore Sun, March 29, 1992. https://www.baltimoresun.com/news/bs-xpm-1992-03-29-1992089228-story.html
59 "O's Williams is dead," The Sporting News, August 22, 1989.
60 Thomas 13.
61 Tom Seppy, "Edward Bennett Williams Mourned by 1,000 from sports, legal worlds," Associated Press, August 16, 1988, https://apnews.com/4ea1b1878d472d7d897c81b6759227fd
Born
May 31, 1920 at Hartford, CT (US)
Died
August 13, 1988 at Washington, DC (US)
If you can help us improve this player's biography, contact us.
https://sabr.org/sites/default/files/Williams-Edward-Bennett.jpg
600
800
admin
/wp-content/uploads/2020/02/sabr_logo.png
admin
2020-05-21 06:42:57
2020-06-30 09:34:22
Edward Bennett Williams