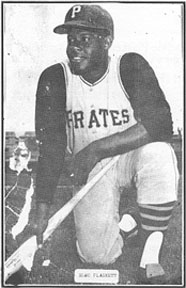 ---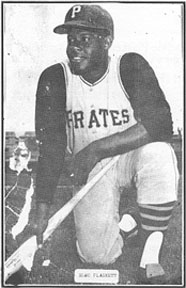 Elmo Plaskett had only two cups of coffee in the major leagues, but those brief stints barely hint at the full picture of a talented hitter who was devoted to baseball all his life. Plaskett, who died in November 1998 at the age of 60, remains a hero in the Virgin Islands. The city of Ponce, Puerto Rico, also inducted Elmo into the Museo Pancho Coímbre, its sporting Hall of Fame, in 1994. This selfless man strove his utmost to help local youth–the Little Leagues on St. Croix are named after him–but it is hard to overstate how greatly he is still missed by so many friends of all ages.
What stands out in everyone's memory is his sunny nature. It's remarkable how many of the Virgin Islands major-leaguers flashed movie-star smiles, but Elmo's was the most luminous of all. Valmy Thomas, the first major-leaguer from the Virgin Islands, noted that this smile often got Elmo in trouble because people thought he was laughing at them. [1] Yet that wasn't his way at all. Sister Alma Plaskett Christensen said, "He was always jovial, always helping. I would always warn him when I came to my house, 'Don't cook my food!' 'cause he would cook a heap a food and don't even eat any because he would give it all to the guys." [2]
Plaskett was also a well-liked teammate. Before becoming the baseball coach and hugely successful athletics director at Duke University, former Pittsburgh Pirates reliever Tom Butters rose with Elmo all the way through the pro ranks. Butters said it for many: "He had 300 teeth. He always had that smile on his face, always, no matter what the situation. I never saw him down. I saw him take the collar a lot of nights, but I never saw him affect other players negatively because of it."
Elmo Alexander Plaskett was born in Frederiksted, St. Croix, on June 27, 1938. He was the fourth of Verne and Rehenia Plaskett's 17 children. "Mumps" was the classic young boy who skipped out on chores to play ball. His mother said baseball was "his tea, breakfast, and dinner." At St. Patrick's School in Frederiksted, he followed a few years behind future Met Joe Christopher, whom he credited for helping him to learn the game. Christopher remembers that when he was 10 or 11, little Elmo would come by early in the morning and say, "Wake up, Joe! Let's go play ball!"
In 1954, Joe and Elmo played for a local club called the Annaly Athletics. It is remarkable how that one little team boasted three future major-leaguers; the other was pitcher Julio Navarro, a Puerto Rican who spent his youth on St. Croix. The cream of the Athletics joined the Christiansted Commandos, a Virgin Islands all-star squad that went to that year's National Baseball Congress (NBC) World Series in Wichita, Kansas. At that tournament, Pittsburgh Pirates superscout Howie Haak signed Joe Christopher. This was a crucial event in Virgin Islands baseball history because it either created or cemented Haak's awareness that there were quality prospects in the islands. He then added St. Croix and St. Thomas to his Caribbean itinerary.
Although Elmo did not see any action in the Commandos' two games at the NBC, Christopher recommended his friend when Haak held a St. Croix tryout camp in 1957. Plaskett signed with the Pirates, forgoing his last year at Christiansted High School to turn pro. Also at that session, though not quite ready yet, was fellow Frederiksted native and future Yankee Horace Clarke. When Elmo reported to his first spring training he turned in an expense account of 70 cents, for one meal. He ate dinner, slept at the airport, and skipped breakfast the next day so he could get to the ballpark early.
Plaskett started as a pitcher but played every position during his minor-league career. Of interest, Pittsburgh made him available in the National League's expansion draft in October 1961, but he was not selected. He earned his call-up with a memorable 1962 season in Asheville, North Carolina. Bob Terrell, a columnist for the Asheville Citizen-Times for over 50 years, wrote a warm tribute to the man he called Mighty Mo, "a muscular fellow with the broadest grin in the Sally League" and part of "the most dreaded one-two-three punch the league has ever known." [3] After a bit of lax play in the outfield cost Dick Lines of the Tourists a no-hitter, Elmo responded to manager Ray Hathaway's lecture with a six-week tear. In a race decided by a microtome, he went on to beat future three-time AL batting champ Tony Oliva, .34979 to .34978. With 27 homers and 96 RBI to boot, he was named Player of the Year.
Tom Butters remembered Plaskett, "not only slender, he was skinny–he couldn't have weighed 160 pounds," as the opening day pitcher at Jamestown, New York (Class D) in 1957. Butters was also called up from Asheville in 1962. "My recollection was, he hit around .500 at home that year. It was a tremendous home hitting spree that went on for the season. It was incredible." He called Elmo "really one of the great people and characters that I've ever played with."
Ray Hathaway said, "I begged Pittsburgh to take him up–in the middle of that year, in fact. At that time he was so locked in that he would hit anybody. And [Pirates general manager] Joe Brown said 'What would that do to your club?' I said 'Well, it's going to hurt us, but you're gonna help yourself and you're gonna help Elmo.'" But despite this plug, the Bucs did not call until September.
Still, Plaskett's lone major-league home run affected the pennant race. In his first start on September 17, he hit a three-run shot off the right-field foul pole at Forbes Field off Mike McCormick. That dropped the Giants four games behind the Dodgers with 13 to play, their low ebb, but the Dodgers staggered to a 3-10 finish, setting up a three-game playoff which the Giants won. Elmo's banner headlines in the San Francisco Chronicle caught the fancy of noted science fiction author Philip K. Dick, a Bay Area resident who must have been a Giants fan, and became a salient detail in one of his surreal novels, Galactic Pot-Healer (1969).
But Plaskett's greatest feats came with the Ponce Leones. In 1960-61, with 15 homers, 45 RBI, and a .328 batting average in 64 games, he became the second of four players to win Puerto Rico's Triple Crown. (The others: Willard "Ese Hombre" Brown–twice, Wally Joyner, and Héctor Villanueva. Only Plaskett didn't win MVP, as Luis "Tite" Arroyo led San Juan to the title.) At age 20 in 1958-59, though Al McBean of St. Thomas captured the PRWL's Rookie of the Year honors, Elmo led the league in hits and triples and became the third of 10 men with three homers in a game. 
Cal Ermer, who later led the Minnesota Twins (1967-68), was Elmo's skipper for the Triple Crown year. Singling out Plaskett's prowess with breaking stuff, Ermer stated flat out, "Never, in my 57 years of pro baseball, have I seen a young hitter as good as Elmo was." Teammate Cal Neeman also told the manager that Elmo was the best he'd run across since Mickey Mantle–and Neeman had broken in with The Mick at Class D Joplin, Missouri, in 1950.
Ermer recalled how his young friend outdueled another fellow Lion, Rafael Alomar (brother of Sandy Alomar Sr.), for the batting title. Luis "Canena" Márquez, then a Ponce player-coach, told his boss that Rafael had a badly upset stomach. "I did not see him for six days, in the meantime Elmo got two and three hits. Alomar showed up in Mayagüez for the last games of the season and told me he was ready to play." Alomar led Elmo .3267 to .3265, but he went 0-for-8 while Plaskett finished his stretch drive 3-for-8. The runner-up in home runs that winter was Frank Howard, quite possibly the strongest man in major-league history.
One would think that such results in a high-quality league would surely have led to more than a mere 17 games in the majors. Joe L. Brown recalled Plaskett as "an outstanding young hitter. We thought we really had something…we did have something there." He cited a March 1961 spring training game in which Elmo hammered tough Lew Burdette for two homers and then a double off the top of the wall.
But the Pirates were well stocked at all of Plaskett's positions: Hall of Famers Willie Stargell and Roberto Clemente in the outfield, slugger Dick Stuart and Donn Clendenon at first, Don Hoak and bonus baby Bob Bailey at third. The organization decided to convert Elmo to catcher, but there too, in 1965 Jim Pagliaroni set a club record for HRs that still stands.
Most of all, though, Brown believed Elmo's main drawback was that "he allowed himself to get heavy." That is interesting because those Bucs also had corpulent Smoky Burgess behind the plate, but Burgess was a proven vet and ace pinch-hitter. Perhaps if Plaskett had played a decade later, the DH rule could have helped him–his sweet natural swing was his biggest asset.
Elrod Hendricks, another Virgin Islander who spent many winters in Puerto Rico, concurred. "He had bad hands," observed Ellie, whose hard-earned skills behind the plate got him to the majors. "He worked and made himself into an adequate receiver." The learning process was painful, though–a deep bone bruise on his right hand cost Elmo most of the summer of 1961. The injury required several rounds of special treatment and lingered into that winter, which was the worst of his Puerto Rican prime. He batted just .226 with 3 HR and 21 RBI in defense of his Triple Crown.
When interviewed during spring training in March 1963, Plaskett expressed confidence that he would make the big club. He was confident because he'd had another good winter in Puerto Rico, leading the league in RBIs.  He thanked catchers Elston Howard and Del Crandall for their helpful insights. He also told interviewer Cliff Evans that he didn't view himself as a long-ball hitter. Instead, he preferred to hit for average, in the belief that it made him better at driving runners in. He also viewed himself as better at hitting breaking balls than fastballs, echoing Cal Ermer.
Plaskett did indeed make the Pirates roster coming out of camp. He knew he wouldn't play every day (though he hoped to establlish himself as a regular), but he got very little action at all, going just 3 for 21 in 10 games. On May 18 that year, he was inserted at third base after shortstop Johnny Logan was ejected in a rhubarb. Although he was not charged with any errors, Elmo had a rough day with the glove, apparently costing the Bucs at least three runs in a 6-4 loss to the Dodgers. [4] He never again resurfaced in the majors, finishing his career with a .200 average.
Plaskett spent the 1963-64 winter with the Aguilas Cibaeñas in the Dominican League owing to a front-office dispute. Pittsburgh wanted him only to catch, but the Leones said they'd use him wherever they saw fit, underscoring the serious play-to-win mentality in the PRWL. The Pirates had an arrangement with Cibao too; teammates there included Stargell and Steve Blass. Ironically, Elmo still saw much duty at third, since Orlando McFarlane was also with the club. The Cuban, a natural receiver, won the backup spot with the Bucs in '64.
Elmo returned to Ponce for the winter of 1964-65. But early that season, he caught a spike sliding into second and badly broke his fibula, putting him out for the year. Backing up Joe Brown's view, Horace Clarke noted it was then that Elmo put on weight, which in turn didn't help the leg when the cast came off. "That one major accident was really detrimental to his career," Clarke stated. Possibly domestic contentment added a few pounds too. On January 16, 1965, with Al McBean serving as best man, Plaskett married Digna Marie Rodríguez of Ponce. The union eventually dissolved, but it produced three children: a daughter also named Digna Marie, son Elmo Jr. ("Elmito"), and another daughter named Joanne.
Either McBean or Clarke formed a V.I. tandem with Plaskett for several of his nine seasons in Ponce. In fact, Horace said that Elmo urged the Lions to trade for him in the winter of 1962-63. However–mainly because Pittsburgh had McBean sit out that PRWL season and the next–the whole trio was on the field together just briefly, in 1964 before Elmo's leg injury.
McBean talked about how the roommates hung together against notoriously fierce pitcher Bob Gibson. "One time Gibson knocked Elmo down. When Gibson came up to bat I knocked him down. When Gibson looked to charge, I made my way to third base for protection." [5]
Plaskett mainly played at the AA and A levels for Pittsburgh in the mid-Sixties. The organization released him from their Macon Peaches affiliate in May 1967, but he then hooked on with the Athletics chain thanks to a chance meeting in the Atlanta airport with Kansas City's minor-league pitching coach, Bill Posedel. Kinston Eagles catcher Freddie Velazquez had broken a hand, and a replacement was needed. According to Joe Mihalek, former baseball coach at the University of the Virgin Islands, the A's also obtained Elmo in part because club owner Charles O. Finley liked him.
Elmo's fortunes revived somewhat after that, as he made it back to AAA for part of the 1968 season. He played four games for Vancouver in the Pacific Coast League and 17 for Rochester, the top farm club of the Baltimore Orioles. Again he was needed as a replacement for an injured receiver (Owen Johnson of the Red Wings had suffered a broken wrist). Conceivably, had the O's called Plaskett up, he could have platooned with Elrod Hendricks. However, the Wings activated Vic Roznovsky and returned Elmo to Oakland's Double-A affiliate, Birmingham. [6]
In 1969, Elmo's final minor-league season, he was assigned to nurture rising star Vida Blue at Birmingham. Joe Mihalek recounted how years later, Vida visited St. Croix. Stepping off the plane, he spied his old batterymate in the crowd and greeted him with a delighted cry of "Mo!"
Plaskett also kept going back to Puerto Rico each winter. He made a brief stop with the Caguas Criollos in 1967-68, spent two full seasons with the Arecibo Lobos, and hung it up as a player after one at-bat in the winter of 1970-71. He finished his Puerto Rican career with 35 homers, 207 RBI, and a .281 average in 493 games.
At home on St. Croix, he then became a baseball specialist for the department of Housing, Parks, and Recreation. His partner was Horace Clarke; Valmy Thomas was Deputy Commissioner of the department. Another colleague was Alfonso "Piggy" Gerard, St. Croix's pioneer in the PRWL and Negro Leagues, who was in charge of field development and maintenance. It was hard, hot work for Horace, Elmo, and Piggy–but they did it for love of the sport and their desire to see young people do well.
In Elmo's latter years, he also lobbied successfully for the reintroduction of high-school baseball, scored and umpired many local games, and served as one of the coaches for the Virgin Islands branch of the Reviving Baseball in Inner Cities (RBI) program. He also gave input to the Major League Scouting Bureau on behalf of many local prospects. Two of the young men he instructed–Jerry Browne and Midre Cummings–went on to fairly sizable careers in the majors.
During 1998, Elmo's general health began to fail (he drank more than was good for him), but he hid it from nearly everyone. "He worked hard all the time and you wouldn't know he was hurting in the last months," said local high school coach Morgan Quigley. [7] As late as August, he accompanied a squad of players aged 15-18 to a Latin American tournament in Colombia. Childhood friend and work colleague Lloyd "Jughead" O'Bryan observed, "I knew he was ailing but not the gravity of it…he was not a guy who would focus on himself. He would make simple whatever bothered him." [8]
It was touching to observe that as the ill man declined and friends brought him meals, Plaskett would hide the food rather than make others worry that he could not eat. Finally he was admitted to Juan F. Luis Hospital in Christiansted on October 23, 1998, passing away ten days later at 3 PM. He was laid to rest in Frederiksted Cemetery on November 13. Honorary pallbearers included Horace Clarke, Al McBean, and Willie Stargell. In Elmo's funeral program, Horace related that his old friend was asked several questions for hospital registration. "In his ill state and not so conscious minded, he answered all the same way, 'I am Elmo Plaskett Baseball Player.'"
This biography originally appeared on the now-defunct website "Baseball in the Virgin Islands," from which it was adapted. It was most recently updated on August 17, 2022.
Grateful acknowledgment to the following major-league figures for providing their memories of Elmo Plaskett: Joe Christopher, Horace Clarke, Elrod Hendricks, Al McBean, Tom Butters, Cal Ermer, Ray Hathaway, and Joe L. Brown.
Sources
A radio interview with Elmo Plaskett from March 3, 1963 is available on YouTube. It was one of many conducted by RKO General Broadcasting reporter Cliff Evans.
Notes
[1] Eunice Bedminster, "Plaskett Dies at Age 60," Virgin Islands Daily News, November 3, 1998.
[2] Rashidi Clenance, "Ballparks Couldn't Hold Elmo, Earth Couldn't Hold His Spirit", St. Croix Avis, November 4, 1998.
[3] Bob Terrell, "Asheville Baseball Great Gone but Not Forgotten", Asheville Citizen-Times, February 20, 1999, p. B2.
[4] Charlie Park, "Piracy? Bucs Think Ump 'Capsized' 'Em", Los Angeles Times, May 19, 1963.
[5] Clenance, op. cit.
[6] Brian Bennett, On a Silver Diamond: The Story of Rochester Community Baseball from 1956-1996, (Scottsville, New York: Triphammer Publishing, 1997), chapter 3.
[7] Bedminster, op. cit.
[8] Eunice Bedminster, "Baseball Was Plaskett's Life", Virgin Islands Daily News, November 3, 1998.
Sources
Elmo Plaskett's personal scrapbook, courtesy of Joseph P. Mihalek.
Funeral program, courtesy of Hilda Clarke.
Elmo Plaskett File at National Baseball Hall of Fame and Museum, Cooperstown, New York.
Private database of José A. Crescioni, the late SABR member who compiled statistics for the Puerto Rican Winter League.
Born
June 27, 1938 at Frederiksted, St. Croix (V.I.)
Died
November 2, 1998 at Christiansted, St. Croix (V.I.)
If you can help us improve this player's biography, contact us.
http://bioproj.sabr.org/bp_ftp/images2/PlaskettElmo.jpg
600
800
admin
/wp-content/uploads/2020/02/sabr_logo.png
admin
2012-01-04 20:26:52
2022-08-17 10:13:18
Elmo Plaskett