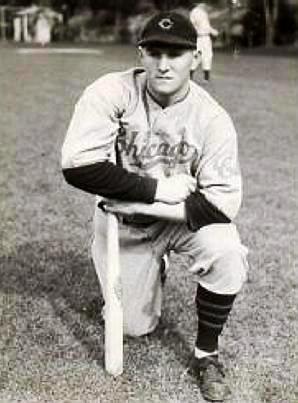 ---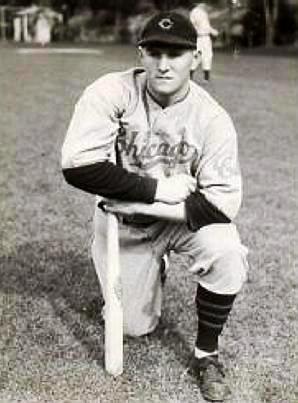 One more hit or one less at-bat would have given Frank Demaree a career .300 batting average in the big leagues. The 12-year major-league outfielder finished his career with a batting average of .299 – more precisely .299469, on 1,241 hits in 4,144 at-bats. One more hit would have raised his batting average to .2997, and one less at-bat would have raised it to .2995. Both figures would be rounded up to .300. Perhaps one step faster on an infield grounder, or a close pitch that the umpire could have called ball four instead of strike three. But it was not to be; Demaree's average has what some baseball announcers like to call round numbers, but in his case they are the wrong kind of round.
Joseph Franklin Demaree was born on a ranch between Winters and Woodland, two towns west of Sacramento, California, and was raised in Winters. His parents, Franklin and Louisa, were deaf who lived in the Apricot District, an area just west of Winters where the senior Franklin was engaged in fruit farming. At the time of Frank's birth his father was 48 years old and his mother was 41. He had a half-brother, Finis Ewing, his mother's son from a previous marriage. Finis was 15 years old when Frank was born.
Young Frank attended the Apricot Grammar School and then Winters High from the fall of 1923 to the spring of 1927. At Winters High he was a very good student and excelled in athletics – baseball, basketball, track, and tennis. He might have excelled in football also, but Winters High did not have a football team until the year after he graduated.
Frank's grades were mostly B's. As a senior he took Spanish, economics, ancient history, Medieval history, and civics. He was also an excellent typist. In his senior year he was voted the student body president.
At that time Winters High played fall and spring baseball seasons. Frank helped lead the baseball team to championships in his junior and senior years, and as a senior he hit .448. In his last high-school at-bat, he hit a home run against Sacramento High.
After graduating in 1927 Demaree played semipro ball for nearby town teams, first for Woodland, then briefly for Knight's Landing, and then for Willows beginning in July. Some online sources indicate that he attended St. Mary's College in the San Francisco Bay Area, but no evidence of that has been found. In 1928 he joined fellow Yolo County residents Jonah Graf, Herman Richter, and Dayton Shepherd on the Willows Giants club. On May 2, 1928,   Demaree played second base for Willows as the Giants took on the traveling House of David nine from Benton Harbor, Michigan. Demaree clouted the first home run of the season for Willows and later rapped a double to help fuel a five-run ninth-inning comeback for the Giants as they defeated the bearded House of David team, 8-7.
The following season, 1929, Demaree played for the Marysville Giants. That fall, as Americans endured the stock-market crash that foreshadowed the Great Depression, Demaree played in the California Winter League, first for the Oakland Oaks entry and then for the Alameda team. He batted just .262 but drew the attention of the Pacific Coast League owners who sponsored the league.
While playing for the semipro Marysville Giants in the summer of 1930, Demaree was one of the league's leading hitters (.381), and he signed his first professional contract, with the Sacramento Senators of the Pacific Coast League, on July 15. His first professional hit was a pinch-hit single off of Clyde "Tub" Perry of the San Francisco Seals that knocked in a run in the seventh inning of a 14-inning 7-6 Sacramento victory.
Demaree finished out the 1930 season with the Senators, batting only .228 in 41 games as an outfielder. The highlight of his season was a game on September 14 in which he drove in six runs – one-third of his season's total – and clubbed his only home run of the season.
In the offseason Demaree played basketball for the Winters town basketball team. Returning to the Sacramento Senators for the 1931 season, he played in 180 of the team's 187 games, batted .312, and led the team in RBIs with 104. Manager Buddy Ryan considered Demaree the fastest man on his club.
In July 1932 Demaree was batting .364 for Sacramento when he was sold to the Chicago Cubs. At a farewell party in Winters, he disclosed that he and Nadine Mitchell (actually Frances Nadine Michello) had been quietly married on the previous December 28. One newspaper report said they eloped to Carson City, Nevada. Another said it was Los Angeles. Based on the report from their adopted son Gerald that his parents honeymooned in Rosarita Beach in Mexico, the Los Angeles location seems more reasonable.
Nadine Demaree, in a newspaper article in 1933, said Frank's ascent to the big leagues was somewhat unusual. She said that one day after a game in Sacramento, as Frank drove away from the ballpark, his car collided with another auto. After berating the other driver, he learned that it was Rudy Hickey, sports editor of the Sacramento Bee. "He was so afraid the writer would razz him, after that," Nadine told the newspaper, "that he began to hit the ball until he was second in the league standing. Then he came up to the Cubs."
He got his first taste of the big leagues on July 22 against the Pittsburgh Pirates when he pinch-hit in the ninth inning for pitcher Jakie May and fouled out to the catcher. Overall he played in 23 games in 1932 for the Cubs and batted .250. On one occasion, Cubs manager Rogers Hornsby put Demaree in as a pinch-hitter. When the team owner, Philip K. Wrigley, questioned Hornsby's decision and told him he should have put himself in as the pinch-hitter, Hornsby replied, "If you think you can run this team better than I can, why don't you run it yourself?" Shortly thereafter Hornsby was released by the Cubs and Charlie Grimm took over the reins and led the Cubs to the National League pennant.
Chicago faced the New York Yankees in the World Series. Demaree played center field in Game Two and Game Four as the New Yorkers swept the Cubs. He got one hit in each game, the Game Four hit being a three-run home run in the first inning that (after one additional run) gave the Cubs a short-lived 4-1 lead that they eventually relinquished. He made a spectacular catch in each game, robbing Frank Crosetti of a home run in Game Two and Lou Gehrig of a circuit clout in Game Four. Demaree was on the bench in Game Three when Babe Ruth hit the home run off the Cubs' Charlie Root that has stirred controversy ever since over whether it was a "called shot."
Upon returning to California after the Series, Demaree was a celebrity in the Sacramento Valley. He signed autographs for schoolchildren in Marysville, where he had last played in the semipro leagues. In his hometown, the Winters Service Club held a dinner in his honor, followed by a reception at the high-school gym attended by more than 200 people, at which Demaree was presented with a gold watch.
The following season an injury to outfielder Kiki Cuyler allowed Demaree to get a lot of playing time. He played in 134 games, batting a decent .272 with six home runs and 51 RBIs. On July 30 the St. Louis Cardinals' Dizzy Dean struck him out twice en route to a record-setting (since broken) 17 whiffs
After the 1933 season the Cubs management decided that Demaree needed more seasoning, and sent him to the Los Angeles Angels of the Pacific Coast League. The 1934 Angels won 137 games and easily captured the league championship by 35½ games over the second-place Missions. Without a doubt, it was the 1934 season that later earned Demaree his Pacific Coast League Hall of Fame status. In a book, authors Bill Weiss and Marshall Wright selected the 1934 Angels as the greatest minor-league team in the 20th century and Demaree (pictured on the cover of the book) as its top player. Appearing in 186 games, Demaree led the league in runs scored (190), hits (269), home runs (45), RBIs (173), and batting average (.383). He is the only PCL player (as of 2010) to have hit 45 home runs and stolen 41 bases in the same season. He was voted the league's Most Valuable Player, edging out teammate Fay Thomas, a pitcher who had a 28-4 record.
Now living in the Los Angeles area, Demaree played for Joe Pirrone's All-Stars in the California Winter League, which then was based in Los Angeles. The October 14 league opener pitted the team against Wilson's Elite Giants, an African-American team. A crowd of 2,500 saw Wilson's win the first game, 7-4, and the All-Stars take the nightcap, 6-3.
On October 28 the All-Stars met Wilson's Elite Giants again in what was decreed as Frank Demaree Day. The Giants won the game 10-4, but Demaree had two hits, including a home run. In a Thanksgiving Day game, Demaree went hitless against future Hall of Famer Satchel Paige, who won 7-1 and fanned 14 All-Stars.
The guidance offered by Angels manager Jack Lelivelt in 1934 paid off as Demaree returned to the Cubs in 1935 and batted .325. The Cubs again won the National League pennant and then faced the Detroit Tigers in the World Series. Demaree had six hits in 24 at-bats, including two home runs, as the Cubs fell to the Tigers in six games. After the season he played in four games for Pirrone's All-Stars in the California Winter League.
In 1936 Demaree batted .350 and belted 16 home runs. With the fans choosing the All-Star Game squads, he received 90 percent of the votes for the National League right-field position. He singled off Lefty Grove in the second inning to start a two-run rally as the National League won the game for the first time, 4-3.
The Cubs finished the season tied with the Cardinals for second place, five games behind the New York Giants. In a tradition at that time, the Cubs concluded the season with the City Series against the Chicago White Sox. Demaree batted .333 but the third place Sox swept the Cubs four games to none. The results of the MVP balloting were released later, and Demaree finished seventh.
While in the Winters area in February 1937, Demaree and a friend were in a bad auto accident but escaped serious injury. Their car skidded on loose dirt, rolled over four times, and struck a fence. The two men were able to extricate themselves from the vehicle and waited alongside the road until help arrived. On the baseball front, Demaree, who was holding out for a raise to $15,000 for the 1937 season, ended up settling for $12,000, still a $2,500 raise from the previous season.
Despite a slightly injured shoulder, Frank was in the Opening Day lineup for the 1937 Cubs. On April 30 he became only the 14th major-league player to score a run while the defense was pulling off a triple play. With the bases loaded in the seventh inning against the Pittsburgh Pirates, Demaree was on third base when Joe Marty smashed a hot grounder to Pirates shortstop Arky Vaughan, who threw to Lee Handley at second, forcing Stan Hack. Handley relayed the ball to first to complete a double play. As Demaree scored, the runner at second, Ken O'Dea, reached third safely. But O'Dea ventured too far off the bag and was thrown out, completing the triple play. Thirteen players scored on a triple play before Demaree did it, and since him six other players (as of 2010) have done it.
On July 5 Demaree collected six consecutive hits against the St. Louis Cardinals in the 14-inning first game of a doubleheader. In the second game he pounded out two more hits. Two days later he was in Griffith Stadium in Washington for the All-Star Game, for which he had been selected as a starter. He played the entire game in center field and had one hit in five at-bats as the National League lost, 8-3. (The game is remembered in baseball history because Earl Averill lined a shot off pitcher Dizzy Dean's toe, breaking it. When Dean tried to come back too soon before the toe was completely healed, his pitching motion changed, causing severe arm damage and he was never the same.)
Demaree batted .324 in 1937 and had a career-high 17 home runs. He was 15th in the MVP voting in the National League. In the postseason series against the White Sox, Demaree batted .333 as the Cubs lost, four games to three. Coming off his third season in a row with a batting average over .300, Frank was high on other teams' want list. Trade rumors appeared in the newspapers but Charlie Grimm, the Chicago manager, was unwilling to trade Demaree.
Demaree was a holdout again in 1938. Hearing of the interest he was drawing from other clubs, he figured that he had some leverage in his contract negotiations. Whether or not he got what he wanted, he was in the starting lineup on Opening Day. Demaree's 1938 season was not up to the standard he had set the past three seasons. He finished with a .273 batting average and only 30 extra-base hits (he had 59 the season before). On May 12 a playing streak of 396 consecutive games ended. It had begun on August 21, 1935. That total was the Cubs' franchise record until 1956, when Ernie Banks surpassed it.
The Cubs went to the World Series in 1938 for the third time in seven years. They were again swept by the Yankees. Demaree played in three of the four games and managed just one hit in ten at-bats.
After his subpar season, the Cubs were ready to deal Demaree. In December 1938 he was traded to the New York Giants along with Bill Jurges and Ken O'Dea for Dick Bartell, Hank Leiber, and Gus Mancuso. It was basically a straight deal of an outfielder, a catcher, and a shortstop for the same. The knock on Demaree was that he didn't have a very strong arm.
With the Giants Demaree bounced back close to his old form, hitting .304 with 11 home runs and playing in 150 of the team's 151 games. He played a role in one of the highlights of the season for the Giants. It happened on June 6 in a game against the Cincinnati Reds at the Polo Grounds in New York. In the fourth inning, with two outs, the Giants broke a 45-year-old record by hitting five home runs. Demaree hit the second of the five. The record has since been equaled four times.
After the season Demaree again played in the California Winter League. One of his teammates was a 20-year-old pitching phenom, Bob Feller. Demaree also appeared in a 30-minute instructional film, "Play Ball, America," in which his batting stance was analyzed.
Demaree had another fine season in 1940, batting .302 in 121 games. He and Nadine lived in a $30,000, ten-room house in Coldwater Canyon, outside Beverly Hills. She took great pride in making their home a showplace and had plenty of time to work on it since, as she put it, "Baseball widow in the summer, golf widow in the winter!" In February 1941 they
adopted a son in Evanston, Illinois. They had no other children.
An outfielder his whole professional career, Demaree got to play shortstop, his old high-school position, for a few innings in a preseason exhibition against the US Military Academy team on April 14, 1941. He had four assists without an error. Otherwise the '41 campaign did not go well for him. By July 21 he had played in only 16 games for the Giants, hitting .171. There are no newspaper accounts that indicate an injury, but several that said he was overweight and out of shape. On the 21st the Giants sent him to the Boston Braves on waivers. He didn't fare much better with the Braves, hitting only .230 in 48 games.
At the season's end the Braves sent Demaree to the Hollywood Stars as part payment for pitcher Lou Tost. Demaree refused to report to the Stars. Then Braves decided to take him back to spring training and allow him to compete for a job. On the strength of a productive spring training, Demaree earned a spot on manager Casey Stengel's roster. But as a part-time platoon player and pinch-hitter he played in only 64 games and batted .225. At the beginning of August the Braves released him.
Despite Demaree's poor showing in the previous two seasons, it was wartime and many able-bodied players were away in the military, so Demaree, by then 32 years old, was able to land a job with the St. Louis Cardinals in 1943. He had a minor comeback of sorts as he batted .291, but played in only 39 games. The Cardinals won the National League pennant and faced the Yankees in the World Series. Demaree batted just once and failed to get a hit as the Cardinals were dumped by the Yankees in five games. It was Demaree's fourth World Series, all on the losing end.
Demaree signed a contract with the Cardinals for the 1944 season, but was released before spring training began. Although newspaper indicated that he had been classified 1-A for the military, there is no evidence that he ever was called for service. Despite the possibility that he could be inducted at any moment, the St. Louis Browns signed him. Demaree played in 16 games for the Browns and batted .255 (13-for-51) before being released in mid-June. In his last game he was 0-for-3. His major-league career was over after 12 seasons with his batting average a fraction under .300. The Browns won the American League pennant in 1944 but lost the World Series to the Cardinals. So if Demaree had stayed on the team he could have had the dubious distinction of being on the losing end of five World Series.
After his release, Demaree was not out of a job for long. On July 12, 1944, the Portland Beavers of the Pacific Coast League signed him to a contract. (On that same day he was granted a divorce from Nadine; he had alleged "general indignities.")
In 35 games with Portland, Demaree batted .260. Not wanting to finish his career that way, he worked hard in the offseason to get himself in shape, including playing for the Studio Grips of Hollywood in the Southern California Winter League. In the past couple of seasons he had ballooned up to over 225 pounds, from his normal playing weight of 185, which led one newspaper to call him a "fat old reserve outfielder." Undoubtedly drinking, which ultimately caused his early death, was a factor in his weight gain and possible also in his marital problems.
But in 1945 a slimmer Demaree finished the season batting .304 for the Beavers and helped them win the Pacific Coast League championship. In six PCL seasons, Demaree batted a combined.332.
After his 1945 revival, Demaree was picked up by the Philadelphia Athletics in the postseason draft, but with many major leaguers returning from the war, he was released on April 1, 1946. There was speculation that Athletics owner-manager Connie Mack had selected him as a favor to the owner of the Beavers, since once he was selected the Beavers were protected from losing any other players.
After being released by the A's, Demaree was reported to have signed with Jorge Pasquel, president of the Mexican League. Pasquel was making a push to lure major-league talent for his league in order to challenge the two existing major leagues. But no record of Demaree's participation in the Mexican League has been located.
In December 1946 Demaree was named manager of the Fresno Cardinals of the California League. The team opened training camp on April 1. Two weeks later Demaree was asked to resign because of "misconduct" that was never specified.
On June 1, 1948, Demaree got another opportunity to manage. He had been playing for the Rosabell Plumbers semipro team in California and working as a scout for the Chicago White Sox. He took over the reins of the 8-14 Wisconsin Rapids White Sox of the Class D Wisconsin State League. This stint didn't last long as he managed for only three days before "being called to the bedside of his ailing wife." Although no actual proof has been found, it is believed that Frank married a woman named Maxine some time after his divorce from Nadine. After his return to California he remained a scout for the White Sox.
In 1950 Demaree resurfaced as manager of the San Bernardino Pioneers in the Class C Sunset League. At the age of 40, he played in 19 games, batting .306. The league had several "all-star" games and Demaree played in at least one of them, scoring a run and batting in a run with a single.
On July 16, 1950, after three straight losses to the first-place Mexicali Eagles, Demaree was fired. That was the last record of Demaree playing an on-field role in Organized Baseball. He died on August 30, 1958, after internal hemorrhaging. He had been ill for some time. He was cremated and his ashes were returned to Winters, where they were buried alongside his parents. His obituary said he had been working as a grip for the United Artists studio in Los Angeles.
Demaree was elected to the Pacific Coast League Hall of Fame in November 2009. At the induction ceremony in Oakland a presentation was made by Winters High Athletics Director and school historian Tom Crisp. Demaree's cousin, Frank Sieferman, accepted Demaree's plaque on behalf of the family.
Earlier, in 1989 Demaree had been selected to another Hall of Fame – the National Italian American Sports Hall Of Fame, located in Chicago. There is no firm evidence that he was Italian. Many baseball publications say his last name at birth was DiMaria, but his birth certificate says "Demaree" (just like his father). His mother was from Germany, and there is a greater likelihood that his father had a French background.
Last updated: February 10, 2021 (ghw)
Sources
Interview with Gerald Demaree, son of Frank Demaree.
Interview with Al Graf, son of Frank Demaree's teammate Jonah Graf.
Chicago Tribune
Los Angeles Times
Marysville Appeal-Democrat
Sacramento Bee
Willows Journal
Winters Express
Woodland Democrat
McNeil, William F. The California Winter League. Jefferson, North Carolina: McFarland & Co., 2002.
Snyder, John. Cubs Journal: Year by Year & Day by Day With the Chicago Cubs Since 1876. Cincinnati, Ohio: Emmis Books, 2007.
Stevens, Chuck, and Roger Osenbaugh. The Early Coast League Statistical Record, 1903-1957. San Diego, California: Baseball Press Books, 2004.
Ancestry.com
NewspaperArchive.com
SABR.org
Winters High School Yearbooks from 1924 to 1935.
Winters High School Transcripts (Grades) from 1924 to 1927.
Born
June 10, 1910 at Winters, CA (USA)
Died
August 30, 1958 at Los Angeles, CA (USA)
If you can help us improve this player's biography, contact us.
http://bioproj.sabr.org/bp_ftp/images4/DemareeFrank.jpg
600
800
admin
/wp-content/uploads/2020/02/sabr_logo.png
admin
2012-01-04 20:26:57
2021-02-10 17:38:08
Frank Demaree