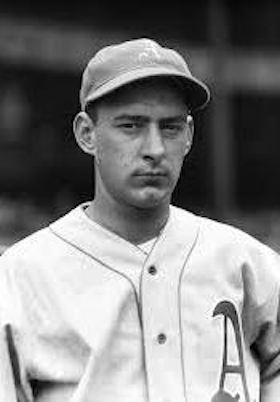 ---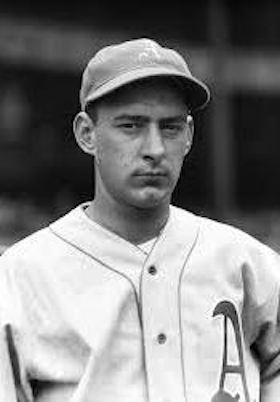 A five-time All-Star, catcher Frankie Hayes had a lengthy career spanning the years 1934 through 1946, with three games in 1933 and five games in 1947 bookending his work behind the plate. Eleven of those 14 seasons were spent with the Philadelphia Athletics. At one point, he set an "iron man" record for catchers, appearing in 312 consecutive games from 1943 into 1946. He was dead at the age of 40.
Not long out of his New Jersey high school as an 18-year-old, Hayes debuted with the Athletics on September 21, 1933. He had been recommended to Athletics manager Connie Mack by an umpire from Trenton, Frank Marshall, who had seen him play at Pennington Prep.1 He reportedly hit five balls into the stands during a tryout.2 As The Sporting News explained, "Because of a rule then in effect, Hayes could not be signed directly to a major contract, but inked a Montreal (International) pact. After a week with the Royals, he rejoined the A's, catching three games at the tail end of the season."3 He never played a moment for Montreal.4
Red Smith averred, "The impression is that it was Lena Blackburne, a coach with the Athletics who also lived in New Jersey, who discovered Hayes for Connie Mack. At any rate, Lena had a special interest in the boy from the time Frank came out of high school in 1933 and joined the Athletics."5 A Hartford Courant article a few years into Hayes's career said that Hayes had paid his way into Shibe Park to meet Connie Mack; he had two scholarship offers but wanted to give baseball a try. He said, "When I had an opportunity to break into the big leagues, why go on to school. My heart wouldn't have been in my studies."6 One way or another, the connection was made and he was signed on September 13.7 Blackburne worked morning after morning hitting foul fly balls for Hayes to catch.
His debut came in a home game at Shibe. The visiting Detroit Tigers were leading, 10-2, so Mack gave catcher Mickey Cochrane a bit of a breather, and put in Hayes to catch after seven full innings. Hayes came up to bat once, in the bottom of the eighth, facing Elden Auker, and struck out. A week later, on September 28, he came into a close game (the Red Sox held a 4-2 lead) at the same point in that game. In his one plate appearance, he reached first base on an error by the second baseman. A run scored on the play but it was, of course, not an RBI for Hayes. On September 30 he played in one more game, batting eighth and catching the full second game of the day's doubleheader against the Red Sox (a 12-1 loss for Philadelphia). He flied out to center field in the third inning, grounded out in the fifth, and struck out in the seventh.
The next spring Hayes hit a ninth inning tie-breaking two-run homer against the Phillies in the pre-season City Series on April 10.
He finally got his first official big-league base hit in his second game, on April 18 against the visiting New York Yankees, a fourth-inning double that drove in Pinky Higgins, his first RBI at the same time. Later in the same game, Hayes singled in the seventh and homered in the bottom of the ninth, giving the Athletics their final run in an 11-5 loss. He won his first game with his bat at Yankee Stadium on April 26, doubling in Higgins in the top of the ninth to break a 2-2 tie, and beat the Red Sox with a walk-off single in the bottom of the 10th inning on June 30. He played in 92 games in 1934, just seven fewer than Charlie Berry (the two obviously split duties in numerous games) with six homers and 30 RBIs, and a batting average of .226.
Just four days after he turned 20, Hayes was off for a tour of the Orient, a last-moment addition to the team due to Charlie Berry having to undergo an appendectomy. The two-month tour of American League all-stars went to Hawaii, The Philippines, China, and Japan. Mack was on the tour, as were Babe Ruth, Jimmie Foxx, Lou Gehrig, and many others. A photograph of the touring party appears on page 3 in the November 15, 1934, issue of The Sporting News.
Berry and Paul Richards shared the catching duties in 1935, while Hayes spent the season with Buffalo and Albany. He hit for a combined .292 average, and was back in the majors to stay in 1936.
In May 1935, the rumor that Hayes was engaged to Babe Ruth's daughter was published by the Hartford Courant's sports editor.8 If there had been substance to the rumor, nothing more seems to have come of it.
Hayes responded to an American League player questionnaire. At the end of the second page of the questionnaire, the form asked him to offer "Any other information you may think interesting." His response: "I am a catcher."9
Hayes was born as Franklin Witman Hayes in Jamesburg, New Jersey, on October 13, 1914. His father, Lincoln C. Hayes, worked as a telegraph operator for a steam railroad at the time of the 1920 census. He'd reportedly been "a fairly good semi-pro player" in his day, and organized and managed the town team at Jamesburg.10 He and his wife, Laura Etta (Pettie) Hayes, were both New Jersey natives, each born to two New Jersey parents.11 Franklin was their first born. More than 14 years later, they had another child, Robert L. Hayes. Lincoln Hayes was working as an express agent for the railroad at the time of the 1930 census, which reflected Robert's birth.
For high school, Frank attended Pennington Prep School in Pennington, New Jersey. He was a catcher on the Pennington Prep team, but as INS story said, he "wasn't even much as a schoolboy catcher. He didn't burn up the scholastic circuit."12 He was a sizable backstop, six feet tall and listed at 185 pounds. Hayes was right-handed.
Hayes returned to the majors to stay in 1936. He played in 144 games (more than any other catcher in the league) with a solid .271 batting average, 67 runs batted in (fourth on the team), and a good .972 fielding percentage. At career's end, his fielding percentage was .977. In the game in Cleveland on July 25, Hayes hit four doubles (and drove in five runs), tying the major-league mark for doubles in a game. Mack said, "I'm ready now to say Frank is a big leaguer. He always had a good arm and was a powerful hitter. Now he is showing the generalship required of a big league catcher and his hitting is becoming consistent."13
Despite being only 22 years old, he earned an amusing headline when signing his contract for 1937: "Veteran Philadelphia Catcher Signs for '37."14 In February the A's added longtime minor-league catcher Earle Brucker, age 36, to back up Hayes as needed. The Athletics trained in Mexico in 1937. Hayes hit three home runs in a game on March 6; he'd hit one the day before, too. Hayes only played in 60 games in 1937, a broken finger on June 20 sidelining him for two full months.
Both Hayes and Brucker were back in 1938, and though Brucker hit .374 with 35 RBIs in 53 games, Mack clearly favored Hayes, presumably for his game-calling abilities – though Hayes hit very well indeed, batting .291 with 55 RBIs.
Hayes had his first All-Star year in 1939, with career highs in homers (20) and RBIs (83) to go with a .283 batting average in 124 games. He placed 22nd in MVP voting; to rank in the top 25 in the league was clearly another recognition of his importance to the team.
Though he didn't play in the 1939 All-Star Game, he did in 1940 and grounded out to third base in his one at-bat. He didn't appear in the 1941 game, and struck out the one time he came to bat in the 1944 game. Hayes lined into a double play in his 1946 All-Star at-bat.
Regular-season play was more his forte. He'd been a holdout in the spring of 1940, with it obvious that other teams (such as the Red Sox and the Indians) had approached Mack to try and acquire his contract. He signed late, on March 18, accepting the terms Mack had offered. There had been a lot of comparisons to Bill Dickey and Mack said, "Possibly, that comparison stuff went to Hayes' head, but he's got both feet on the ground now."15 In 1940, Hayes was in 136 games and batted a career-high .308 (as late as May 23, he was hitting over .400 and leading both leagues). He drove in 70 runs, third-most on the team. Mack was presented with more offers for his catcher in the offseason.
Hayes shared more playing time with Hal Wagner in 1941, but still recorded over 500 plate appearances in 126 games. His average was well above .300 into mid-July but gradually dipped to .280, and he saw declines in home run and RBI totals that were commensurate with the fewer games he played. Hayes was the catcher on the final day of the season, working the first game of the September 28 doubleheader in Philadelphia, when Ted Williams went 4-for-5 and boosted his batting average from .399 to .404. Williams recalled, "As I came to bat for the first time that day, the Philadelphia catcher, Frankie Hayes, said, 'Ted, Mr. Mack said if we let up on you he'll run us out of baseball. I wish you all the luck in the world, but we're not giving you a damn thing.'"16
Hayes had a knee operation in January 1942, and in February married Helen Morton. When he got off to a slow start, there were rumors aplenty that the Athletics were willing to deal him, but Connie Mack sought to scotch them, saying that he wasn't 100% and "it wouldn't be fair to the club making the deal for him."17 The Browns, with their eyes open, did a deal about 10 days later (Hayes was batting .238 at the time), and on June 1 he was traded to the Browns for pitcher Bob Harris and catcher Bob Swift. In the 56 games he played for the Browns, interrupted by missing nearly three weeks in late July and early August due to a leg injury when he caught his foot in a drain on the field, he hit at a .252 pace.
Even against subpar wartime pitching, Hayes only hit .188 in all of 1943. In early July, he received orders to report for his induction physical, but was rejected due to two bad knees.
Before 1944 spring training began, the Browns traded him back to the Athletics for pitcher Sam Zoldak and minor leaguer outfielder Barney Lutz and an undisclosed amount of cash. Bad knees or not, Hayes played in every single game of the 1944 season – the 154 on the regular schedule and an additional one due to a tie. He missed out being on the pennant-winning Browns, but he drove in a club-leading 78 runs for Philadelphia while batting .248. Eight of the runs 18batted in came on grand slams on May 15 and May 24.
Despite another trade, on May 29 (to the Cleveland Indians for catcher Buddy Rosar), Hayes appeared in 151 games on the season – every game on the schedule in which he could have played, thus extending his consecutive games streak from the final two games of 1943 through all of 1944 and 1945. The major-league record for catching in consecutive games was held by Ray Mueller at 217 games. Hayes surpassed Mueller's record in June 1945, and kept on catching.
His 151 games played in 1945 was despite the Athletics only playing 150 games in all, and the Indians only playing 145. It was indeed due to the scheduling. All told, he hit. 234 for the two clubs, slightly better while with the Indians.
On April 30, 1946, Bob Feller threw a 1-0 no-hitter against the Yankees, the game won by his catcher when Hayes hit a solo home run with one out in the top of the ninth inning at Yankee Stadium. It was the first no-hitter in Yankee Stadium history; The Yanks' Floyd Bevens lost a heartbreaker. Feller walked five batters during the game. After the game, he gave full credit to Hayes for his calling of the game and, of course, for the home run that won it. "That was the sweetest homer I ever saw," Feller said, noting as well, "Frank caught a great game. I didn't shake off his signals once."19
Early in 1946, the "iron man in the iron mask" saw his streak brought to an end at 312 games. when he was asked to sit out the April 24 game. It was later reported that the Indians had wanted to see what both Jim Hegan and Sherm Lollar could do, and had thus placed Hayes on the bench.20
The Boston Red Sox dominated the selections to the 1946 All-Star Game squad, but Hayes was one of three Indians chosen. It was his fifth selection. Cleveland shortstop/manager Lou Boudreau was not named. A bit beforehand, Hayes had fallen out of favor with Boudreau and been benched in favor of Hegan. There was a sense that Hayes was also in Boudreau's doghouse. On July 15 he was sent to the White Sox on waivers, as the player to be named later in a July 4 deal for catcher Tom Jordan. United Press posed a query of sorts: "Just why Hayes should go for the waiver price at a time when top flight catchers are just about as rare as uranium was an unanswered question, although it was revealed he had differences with Cleveland Manager Lou Boudreau."21 Many years later, Bill Veeck took the blame, though the calendar does not fully match his tale. Commenting how Hayes had his streak going, "I told Lou Boudreau (then manager) I thought Hayes could use a rest. Lou said he didn't want to bench him because of that streak. I solved it. I traded him to Chicago and let them bench him."22
Last-place Philadelphia might have claimed him again for a third stint with the A's, but "apparently after some back stage maneuvering" the A's deferred to the seventh-place White Sox.23
Hayes had apparently asked for his outright release, but Indians GM Bill Veeck said that wasn't going to happen. Hayes hesitated a bit, but then told White Sox skipper Ted Lyons that he would report. He was batting .256 at the time of the deal. He only hit .212 the rest of the season. One of his base hits, however, was on August 8 when his fly ball in the seventh inning landed in short center field in the midst of three Cleveland fielders; it was the only hit of the game for the White Sox and spoiled Bob Feller's bid for a third no-hitter.
In mid-February 1947, Hayes requested and received his unconditional release from the White Sox.24 Just a few days later, on February 19, he signed with the Boston Red Sox. He hoped to become a regular with the Red Sox. "I've never been a bench-warmer," he said, "and when I was taken out of the lineup early last year in Cleveland, I was really mad."25
He didn't get much opportunity to catch for the Red Sox. They had Birdie Tebbetts and Roy Partee. Hayes only appeared in five games and only got a base hit (two of them) in one of the five games. It wasn't his lack of hitting that was the problem, however; Gordon Campbell of the Boston Herald wrote that "his catching had slipped so much that [manager Joe] Cronin had no choice but to make a change."26 On May 21, the Red Sox brought up rookie Tex Aulds from Louisville. Hayes was hitting .154, and was released by the Red Sox.
In January 1948, the Cleveland Plain Dealer's Gordon Cobbledick wrote that Hayes had retired and opened a sporting goods store in Spring Lake, New Jersey. Cobbledick noted his 312-game streak and wrote, "He was the hardest working catcher in history, but he is paying for his incredible record of durability by being forced to quit at 32."27
On June 22, 1955, Hayes died of a retro peritoneal hemorrhage four days after he had entered Point Pleasant Hospital in New Jersey. He was the fourth Athletics catcher to die at such a yoing age. Jack Lapp (32), Osee Schrecongost (33), and Doc Powers (38) had all died well before they turned 40. He was survived by his parents, his wife Helen, and their two children, John and Sarah. He is buried in his hometown of Jamesburg.
Sources
In addition to the sources noted in this biography, the author also accessed Hayes's player file and player questionnaire from the National Baseball Hall of Fame, the Encyclopedia of Minor League Baseball, Retrosheet.org, Baseball-Reference.com, and the SABR Minor Leagues Database, accessed online at Baseball-Reference.com. Thanks as well to Rod Nelson.
Notes
Born
October 13, 1914 at Jamesburg, NJ (USA)
Died
June 22, 1955 at Point Pleasant, NJ (USA)
If you can help us improve this player's biography, contact us.
http://sabr.org/sites/default/files/HayesFrankie.jpeg
600
800
admin
/wp-content/uploads/2020/02/sabr_logo.png
admin
2016-05-11 16:46:58
2016-05-11 16:46:58
Frankie Hayes