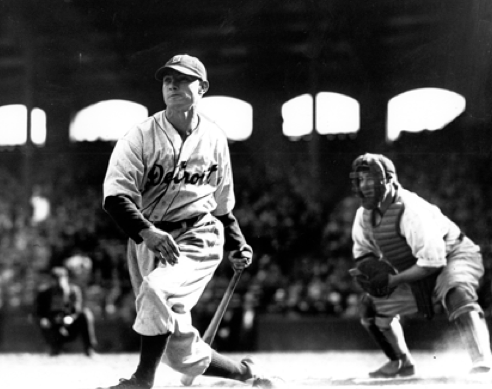 ---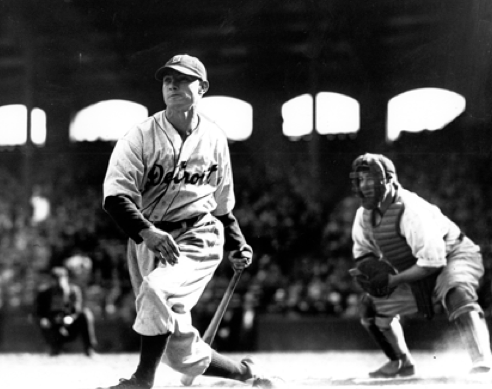 Gerald "Gee" Walker was one of the most popular players in Detroit Tigers history, even though he often drove his managers crazy with his risk-averse approach to baserunning. Walker also played for the Chicago White Sox, Washington Senators, Cleveland Indians, and Cincinnati Reds in a major-league career that went from 1931 to 1945.
Walker was born in Gulfport, Mississippi, on March 19, 1908. He was one of five brothers, who included fellow major-league outfielder Harvey "Hub" Walker. He grew up in Hattiesburg, Mississippi, and was a football and baseball star at the University of Mississippi, where he pledged the Sigma Chi fraternity and was later named to the school's Hall of Fame as well as the Mississippi Sports Hall of Fame.1 Walker was an All-Southern Conference halfback, but an incident there presaged some of the controversies that would become part of his baseball career. Supposedly, he lost a game for Ole Miss when he fumbled the ball as he was scoring a touchdown because he took a crack at an opposing player.
Walker got into baseball through his brother, Hub, who was playing for a team in Lexington, Mississippi. The team needed an outfielder and Hub convinced the manager that Gee could fill the bill. Gee had a notable debut: A line drive hit him in the head and, according to Gee, "the ball bounced off my head to the third baseman,"2 which might have been an exaggeration.
Walker made his Organized Baseball debut in 1928 with the Fort Smith Twins of the Class C Western Association, and he ended up the season in the Class B Illinois-Indiana-Iowa (Three-I) League for the Evansville Hubs, but he ended up with only 144 at-bats for both teams combined. The Hubs finished fifth in the eight-team league with a 62-68 record, despite having future major leaguers Chief Hogsett and Whitlow Wyatt in their rotation. 
In 1929 Walker played for the Wheeling Stogies of the Class C Middle Atlantic League, and was a teammate of future Tigers teammate Tommy Bridges. He starred there, hitting .373 with a .605 slugging percentage, due to 31 doubles, 8 triples, and 10 home runs. He also nabbed 33 steals, which drew a lot of attention. The Stogies finished tied for first with the Charleroi Governors with a 67-47 record but lost the playoff series to the Governors, four games to one.
Walker was back with Evansville in 1930 and had another stellar season, hitting .378 with 10 home runs and 50 steals, getting caught only five times, despite having his season ended early with a broken leg on the Fourth of July. His brother Hub joined him with the Hubs and also had a very good season.
The 1930 seasons the Walkers had with Evansville raised eyebrows throughout baseball, and they were considered some of the best prospects in the game (Hub more than Gee). Gee made the Tiger team in 1931 and was the starting left fielder on opening day, going 1-for-4 with a run scored in Detroit's 7-3 loss to the Browns in St. Louis. However, he spent most of his time on the bench, starting only five of the team's first 43 games before being sent to the Toronto Maple Leafs in late May. Walker hit .313 in 43 games with the Leafs before being recalled in mid-August.
His first day back in the majors was a memorable on. On August 17 he hit a triple in his first at-bat and stole home, while the same day his wife gave birth to a son. Walker was installed as the regular center fielder, starting all but three of the remaining games, during which he hit .286. The Tigers were much improved during that stretch, going 19-22 after posting a 42-71 record before Gee's promotion.
Bill Lawrence beat out Walker for the center-field job to start the 1932 season, but after five games Walker was reinstalled as the regular. He played very well, and on June 19 he took over the batting race from Jimmie Foxx, raising his average to .383. He hit .294 the rest of the way to end the season with a .323 average in 127 games. He was the regular in center field the first half of the season before splitting left and center with John Stone for the rest of the year. However, Walker was also suspended by manager Bucky Harris twice for insubordination. This started a pattern for Walker in Detroit — disputes with management that led other teams to try to get him from the Tigers on the cheap.
Despite a glut of outfielders, Walker won the left-field job in 1933. That meant he had to learn how to field balls off the new left-field screen (about 20 feet high) that the Tigers had installed. Walker lost his job to Frank Dojack in mid-July but returned to the regular lineup a month later, supplanting Stone.
The Tigers replaced manager Bucky Harris with Mickey Cochrane in 1934. Walker had had run-ins with Harris, but Cochrane promised the slate would be clean. Cochrane said, "I like Walker as a player and like what I have seen of him personally. He can hit and he is fast. He can overcome his fielding faults. They say he is temperamental and I am inclined to think that is true to some extent."3 Walker reportedly early to spring training at the Tigers' first season in Lakeland, Florida, and won a regular outfield spot, playing games in all three fields. 
However, things soured between Cochrane and Walker due to Walker's refusal to follow orders, swinging away when being asked to bunt and not playing in the outfield where he was told. The problem culminated with an incident on June 30, 1934, that highlighted Walker's reckless baserunning habits. The Tigers were trailing the St. Louis Browns by a run in the eighth inning at Sportsman's Park. Hank Greenberg led off the eighth with a single, and Walker was safe at first on a Harlond Clift error, moving Greenberg to second. Walker took too big a lead off first, and when the Browns pitcher threw over, Walker took off for second. Greenberg naturally headed to third and was thrown out, with Walker making it into second. Soon after that, pitcher Jack Knott picked Walker off second, meaning Walker's ill-advised baserunning had taken the Tigers from a two-on, nobody-out situation to two outs and nobody on, in a game the Tigers eventually lost in extra innings.
Cochrane was incensed and wanted to cut Gee. Owner Frank Navin offered Cochrane his support no matter what he did. Cochrane decided to put it to a vote of the team. All 24 other players voted to keep Walker, to Cochrane's disappointment. Cochrane lived with the result, but he suspended Walker for ten days, stating, "I am tired of arguing with him. I'm not going to let him wreck this ballclub. It's unfair to the other players, who are hustling all the time, straining every nerve to win."4 Walker was contrite after the incident, saying, "I had it coming. What else is there to say? Mickey is absolutely right. He's the boss and if a fellow can't play ball for him, he deserves to be suspended."5
In the 1934 World Series, Gee had only three pinch-hitting appearances, in Games One, Two, and Seven. His bottom-of-the-ninth pinch-hit single in Game Two scored Pete Fox to tie the game, 2-2. (The Tigers eventually won in 12 innings.) However, Walker was then picked off first, and in the tenth, Frank Doljack went in to play center field. It was the last meaningful at-bat Walker had in the Series.
Given that Walker was a talented player who was on the outs with his team, it is not surprising that he was the talk of the Hot Stove League that winter. Rogers Hornsby really wanted him for the Browns, and the White Sox made a big push to get him. The Tigers wanted Al Simmons, who was a good friend of Mickey Cochrane, but the two teams could not work it out. The Yankees wanted him too but they were trying to get him cheap.
Waljker stayed with the Tigers in 1935, playing much of the time in left and center, except for a stretch from late July to early September where his only appearances were as a pinch-hitter. The Tigers won their second straight pennant in 1935, facing the Chicago Cubs in the World Series. Despite playing regularly in September, in the Series Walker was once again relegated to the bench. He pinch-hit unsuccessfully in Games Three and Five, and he was given the start in Game Six. He scored a run in the fourth to put the Tigers up 2-1, as the Tigers won their first-ever World Series on their fourth attempt.
Walker was again the subject of trade talks in the offseason. This time the Senators were the big suitors, but no deal could be worked out. Walker vowed to be ready for a big 1936 season, moving down to Lakeland to work out over the winter, although his arrival in Florida was delayed by an automobile accident that gave him a bruised chest and a cut face.
The 1936 season turned out to be Walker's breakout year. He did not start the year in the lineup, but made his first start in the 14th game of the season, subbing for an injured Pete Fox. Once he was in there, he did not come out. He ended up hitting .353 with 12 home runs, 93 runs batted in, and 194 hits. He had another bit of fortune that year. The Michigan Chevrolet dealers were having a rally and they invited the Tigers to come. Only six showed up, including Walker, and when the event was over, to thank them for coming, they gave each of them a gift, a brand new Chevy in whatever color they wanted. But while Walker's fortunes were up, the Tigers' were down; they finished 83-71 in second place after two straight pennants.
Walker became a big fan favorite in Detroit, where they appreciated his hustle and desire. Even when he made one of his typical baserunning blunders, the fans did not boo him, and woe to any sportswriter in Detroit who dared mention his flaws. After Walker's stellar season, other teams once again tried to bring up his name in trade talks, but this time Cochrane was not interested.
Given Walker's outgoing personality and popularity, and the fact that Detroit was the Motor City, it is not surprising that Walker worked in the offseason for an automaker promoting its products.  He and Hub were with Graham-Paige. At the Detroit Auto Show that winter, the Walkers and fellow Southerner Jo-Jo White, working for Pontiac, had a loud mock argument, first at the Pontiac booth and later at the Graham-Paige booth, to promote their car companies.
Walker had a second straight great season in 1937. He played in a career-high 151 games and posted bests in hits (213), home runs (18), and runs batted in (113). However, the old Gee Walker still showed up in spots. He was thrown out at second base trying to steal while the opposing team was trying to walk Marv Owen intentionally. After the game, Walker was contrite: "I can't explain it. There was no excuse for doing what I did."6
The Tigers rebounded a bit, winning 89 games, but still finished second to the Yankees. On December 8, 1937, the Tigers finally got an offer for Walker they could not turn down, and he was traded with Marv Owen and Mike Tresh to the Chicago White Sox for pitcher Vern Kennedy, infielder Tony Piet, and outfielder Dixie Walker. (Ironically, Dixie Walker, no relation to Gee, would himself become a fan favorite at his next stop in Brooklyn.)
To say there was an uproar in Detroit would be a huge understatement. Cochrane said, "I knew I was putting myself on the spot, but I had to do something to strengthen our pitching. I doubt that Schoolboy Rowe will come back [Rowe had suffered a shoulder injury]. We had to have somebody who figures to win 18 or 20 games, if we are to improve our position. In my opinion, Kennedy will give us the needed help. He is the best pitcher that could be had. … If this business does not turn out to the benefit of the Tigers, I'll take the rap."7 At a reunion in Lakeland in 1959, Cochrane lamented, "Probably my greatest failure — not to make Gerald Walker as great a player as his native talents would indicate. He really should have been another Ty Cobb."8
The consensus around the league was that Chicago got the best of the deal. Kennedy was the key to the deal for Detroit. The 30-year-old went 14-13 with a 5.09 ERA for the White Sox in 1937. That ERA seems very high, but the league had a 4.62 ERA. In 1936 Kennedy had gone 21-9 with a 4.63 ERA, which is probably what caught Cochrane's eye. But Kennedy did not work out for Detroit, going 12-9 in 1938 with a 5.06 ERA. After a slow start in 1939, he was part of a ten-player deal with the Browns that netted Detroit pitcher Bobo Newsom. Cochrane was fired midway through the 1938 season.
It's probably good that Detroit fans did not know that Kennedy would be a bust for the Tigers, for they were already mad enough anyway. The newspapers devoted whole pages to a protest campaign. There was a movement for children to donate to a token of gratitude for Walker. After signing his contract in Chicago (for a raise), Walker came to Detroit and helped quiet the fans down, stating that he knew the Tigers needed a pitcher and that Cochrane had done what he thought was best for the club. For the White Sox, who needed a third baseman, Marv Owen was the key player, but Walker was certainly a good player to have.
Walker had a good season, but definitely a step down from his last two years in Detroit. He hit .305 with 16 home runs and drove in 87 runs in 1938. He played in only 120 games because he was benched in late June for not hitting, (His stats did not seem to be that bad, but the White Sox went on a winning streak after Walker was benched, which could have encouraged manager Jimmy Dykes to keep the lineup intact.) Walker's honeymoon in Chicago was clearly coming to an end as his salary was cut for 1939, which the team blamed on poor attendance although dropping from 86-68 to 65-83 probably did not help. However, Walker did get an attendance clause built in to his contract, a move that proved to doom his stay in the Windy City.
Walker had another solid season in 1939. He drove in over 100 runs for the second time, and played in 149 games, the second highest in his career. He was the regular left fielder for the White Sox. Chicago rebounded from the down 1938 season to go 85-69 in 1939, but that still put the team in fourth place, 22½ games behind the pennant-winning Yankees. After the season, Walker expected to be paid the attendance bonus based on the attendance figures in the box scores, but the White Sox said their final figure was 592,000, just below the 600,000 trigger. When Walker complained, the White Sox traded him.
On December 82, 1939, Clark Griffith, who had been a Walker suitor when Gee was a Tiger, finally got his man, in exchange for pitcher Pete Appleton and outfielder Taffy Wright. The trade reunited him with his first big-league manager, Bucky Harris. Harris was delighted to get his former player, "He'll give you a headache one day and make up for it the next by doing something brilliant," the manager said. "I know. I had him once. Best of all, Walker will be there giving everything he's got all of the time. He's really one of those anything-to-win guys. He'll steal bases and run into fences and knock infielders and pitchers all over the lot"9
Walker had another good year in 1940. Playing in 140 games as the Nats' regular left fielder, he hit .294 with 13 home runs and 96 runs batted in. However, the rest of the Senators did not do as well, as the club finished 64-90 in seventh place. After the season, citing a need for a center fielder, Washington traded Walker to the Boston Red Sox for center fielder Doc Cramer. Boston turned around and traded Walker the same day to Cleveland with pitcher Jim Bagby and catcher Gene Desautels for pitcher Joe Dobson, infielder Odell Hale, and catcher Frankie Pytlak. Walker was the key to the deal from Cleveland's standpoint. The club felt that if Walker hit his usual .300 with around 100 runs batted in, they'd be in great shape. The Indians had finished 89-65, just one game behind Detroit.
The 33-year-old Walker was not up to the task. He had his first really mediocre season, hitting only six homers and driving in only 48 runs while hitting .283 in 121 games.  Cleveland fell in the standings to 75-79, 26 games out in a fourth-place tie with Walker's former team in Detroit. He went to camp with the Indians in 1942 but was sold to the Cincinnati Reds for an estimated $15,000 to $30,000 on March 26.
Walker played four unmemorable seasons for the Reds during World War II. In 1942 and 1943 he mostly played center field, and in 1944 and 1945 split time between center and right. He even got into three games at third base in September of 1945, his last month in the big leagues. 
After the 1945 season, Walker asked for his release to try to find another job in the majors, but he ended up signing with the Sacramento Solons of the Pacific Coast League. After 20 games he was reacquired by the Reds to be first-base coach for manager Bill McKechnie. After McKechnie was fired following that season, Walker became manager of the Columbia (South Carolina) Reds of the Class A South Atlantic League from 1947 to 1950. The team finished last in the odd-numbered years and over .500 in the even-numbered years. Future notable major leaguers Walker managed included Wally Post, Joe Adcock, Joe Nuxhall, Roy McMillan, and Johnny Temple. Post was an 18-year-old pitcher for Walker in 1948 before hitting 14 home runs as an everyday player in 1949. Near the end of the 1948 season, the Columbia fans gave Walker his own day, flying in his wife from their home in Orlando. In 1947 Walker and Babe Didrikson Zaharias, women's amateur golf champion, medaled in a mixed two-ball golf tournament in Orlando.
After leaving the Reds, Walker became a traveling representative, based in Detroit, for D&W Distilleries. He had a diving accident in 1955 that resulted in temporary paralysis, but he recovered. In 1956 he became business manager of the Orlando Seratomas of the Class D Florida State League, with Taffy Wright (whom he was once traded for) as manager. The club finished in last place. He later went into the real-estate business in Orlando and moved back to Mississippi in 1959. He attended a celebration marking the 25th anniversary of the Tigers training in Lakeland and in 1962 he attended an old-timer's dinner in New York at Toots Shor's restaurant.
Gee Walker died in Jackson, Mississippi, on March 20, 1981, one day after his 73rd birthday.  He is buried at Highland Cemetery in Hattiesburg.
Sources
Bak, Richard, Cobb Would Have Caught It (Detroit: Wayne State University Press, 1991)
Johnson, Lloyd, and Miles Wolff, eds., The Encyclopedia of Minor League Baseball (Durham, North Carolina: Baseball America, 1997).
Notes
1 Baseball-Reference.com and other references (including The Sporting News of December 11, 1930) have Walker born in Gulfport but the December 25, 1941, Sporting News article states he was born in Hattiesburg.  I have decided to believe the B-R.com birthplace attribution, but from the tone of the article in The Sporting News, I believe he grew up in Hattiesburg. The Hall of Fame information can be found at olemiss.edu/info/notablealumni/sports.html
2 H.G. Salsinger, "Gee Walker, Who Won Detroit Fans by His Mistakes, Keeps Tearing Around Bases Traveling About A.L.," The Sporting News, December 25, 1941.
3 Sam Greene, "Cochrane Is Big Hit as Resident Leader," The Sporting News, January 18, 1934.
4 William Anderson, The Glory Years of the Detroit Tigers 1920-1950 (Detroit: Wayne State University Press, 2012), 186.
5 Ibid.
6 Salsinger.
7 Sam Greene, "Detroit Fans Deride Cochrane for Swapping Walker to Dykes," The Sporting News, December 9, 1937.
8 Hal Middlesworth, "Detroit Ex-Stars and Pilots Saluted at Lakeland Party," The Sporting News, March 18, 1959.
9 Denman Thompson, "Bid For Rudy York Renewed By Griff," The Sporting News, December 14, 1939.
Born
March 19, 1908 at Gulfport, MS (USA)
Died
March 20, 1981 at Jackson, MS (USA)
If you can help us improve this player's biography, contact us.
http://sabr.org/sites/default/files/Walker-Gee.png
600
800
admin
/wp-content/uploads/2020/02/sabr_logo.png
admin
2012-01-04 20:42:50
2020-10-09 08:10:42
Gee Walker