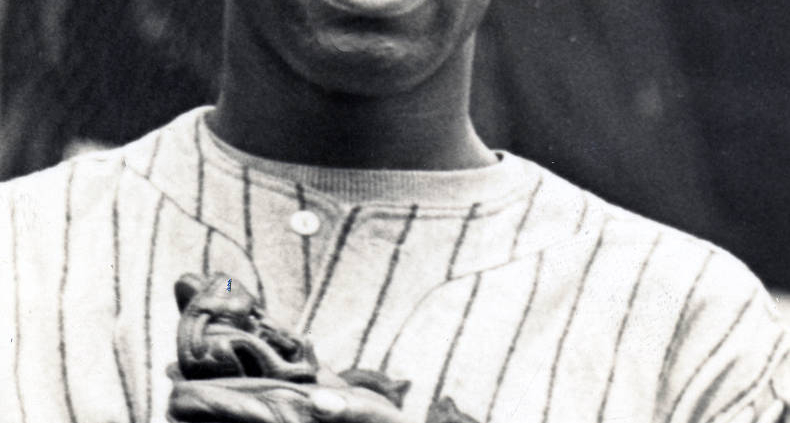 ---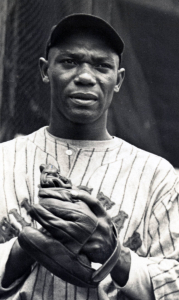 From 1934 to 1951, the name Johnny Hayes appeared in newspaper sports pages and box scores for seven Negro baseball teams. His career, interrupted by service with the US Army during World War II, was split between the second Negro National League (NNL2), the Negro American League (NAL), and the short-lived United States League (USL). He appeared in two East-West All-Star games,1947 and 1951; and he saw playing time, with the NNL2 champion Philadelphia Stars in 1934. He played baseball in Puerto Rico and Cuba, sharing the fields with Monte Irvin, Josh Gibson, Howard Easterling, Frank Duncan, and others.1
John William Hayes, born on April 17, 1910, in Independence, Missouri, was the youngest of five children. He had two sisters, Virgie and Mary Ella, and two brothers, Ray and Cecil. His parents, John William Hayes Sr. (b.1868) and Martha "Mattie" Wood Hayes (b.1871), were born in Missouri and married in 1892 in Chariton County, Missouri. (The 1910 Census indicates that Mattie gave birth to six children and notes that four had survived. Johnny, born the fifth surviving child, would arrive that same year.) According to the 1910 Census, John and Mattie could read and write, owned their home, and engaged in the "eating house" industry. (They operated a restaurant.)
The 1920 U.S. Federal Census notes that John Sr., widowed, was head of his household in St. Joseph Ward 5, Buchanan, Missouri. Mattie had died on May 8, 1918. Remaining in the household were Virgia, 23, Mary Ella, 20, Cecil 15, and Johnny, 9. Ray, age 27, the oldest of the Hayes children, at this time worked as a railroad laborer and lodged in Salisbury, Chariton County. John Sr. worked as a butcher. Johnny's siblings who were still in the household were employed – the young men as butchers or laborers in a local packing house, and the young women as cooks – either with a private family or in a hotel setting.
Unfortunately, as with many Negro League players, records of Johnny Hayes' early life and his baseball career are few. One of the earliest records of his playing baseball is a 1933 Arriving Passenger and Crew List for the passenger ship Carabobo, which sailed from New York City to San Juan, Puerto Rico. Along with other ballplayers, including Paul Dixon of the 1933 New York Black Yankees and Herb Smith of the 1933 Philadelphia Stars, Hayes arrived in San Juan on October 16, 1933. It is quite likely that this was the first of his visits to the islands – namely, Puerto Rico and Cuba – to play winter baseball. Whether he had been playing baseball in Missouri or elsewhere, it is certain that he had achieved, by 1933, a level of talent and notoriety that qualified him for travel to Puerto Rico. Official records for winter baseball in Puerto Rico were not available until the 1938-1939 season.2 
Hayes, at 5-feet-10 and 195 pounds, batted left-handed and threw right. In 1934 he began his professional career in the Negro Leagues with the Newark Dodgers, managed by Dick Lundy. He shared catching duties with Frank McCoy and appeared in 26 games. Hayes batted .308 with 24 hits, including three doubles, one triple, and one home run, and had 16 RBIs. After the Newark Dodgers completed the season with an overall 19-18-1 record, Hayes joined the Philadelphia Stars, owned by Ed Bolden and managed by Webster McDonald. The Stars won the NNL2 championship over the Chicago American Giants that year, but Hayes did not play in any of the eight championship games. However, he played three "Out of Season"3 games: as catcher, two were for Ed Bolden's Stars.4 In one of those games, Hall of Famer Biz Mackey, who shared catching duties with Mickey Casey during the regular season, played first base.5 Next, Hayes caught game one of a doubleheader while Mickey Casey caught the second game.6 In the third game the team, identified as the Philadelphia Stars, faced a "handpicked team of the Philadelphia League," including Dizzy and Paul Dean and Pepper Martin.7
In 1935 Hayes returned to the Newark Dodgers, managed by Lundy for two games and  William Bell for the remaining 60 games. That season Hayes, age 25, shared backstop duties with Frank McCoy. Hayes appeared in 32 games and amassed 29 hits, 12 RBIs, and a .266 batting average.
In 1936 two teams, the Brooklyn Eagles and the Newark Dodgers, "were consolidated into a single team by co-owners Abe and Effa Manley,"8 the Newark Eagles. In addition to Hayes, the team included Leon Ruffin, Mule Suttles, Ray Dandridge, and Wille Wells. William Bell managed the team for 34 games and Abe Manley for 25 games. That year, Hayes compiled 10 hits, 6 RBIs, and a .192 average in 17 games. He remained with the Newark Eagles for two more seasons.
The 1937 season saw the Eagles managed by Tex Burnett and Dick Lundy. Hayes shared catching with Joe Brown, and hit a mere .158 in 26 games, with 12 hits and 8 RBIs.
In 1938, under managers Abe Manley and Dick Lundy, he appeared in 21 games, had 13 hits, 11 RBIs and a .232 average.
Dick Lundy managed the 1939 team for the entire season. Hayes played in 24 games, had 19 hits, 7 RBIs, and a .250 average. 
Throughout his career, Hayes traveled via ship or airline, to and from Puerto Rico and Cuba. He was a year-round ballplayer. His name appears on passenger and crew lists, or in photograph captions.9 His wife, Alice, appears on at least two passenger lists – one shipboard in 1942 and the second as airline passenger with Illis [sic] Air Services in 1946.10 Teams he played for in Puerto Rico include the Mayagüez Indios, the Crillos de Caguas, the San Juan Senators, the Santurce Crabbers, and the Tiburones de Aguadilla. Hayes joined Josh Gibson, Quincy Trouppe, and Robert Clarke as catcher-manager for Puerto Rican teams. While he played more often in Puerto Rico than in Cuba, he did play with the Leopardos de Santa Clara.11
The New York Black Yankees added Hayes to their roster in 1940. Managed by Tex Burnett, Hayes and Bob Clarke shared the backstop duties for the team. In 18 games, Hayes had eight hits, two RBIs and a .200 average. In 1941, again under manager Tex Burnett, Hayes, now 31 years old, had one of his finest seasons. In 26 games, he had 24 hits, 11 RBIs, and a .293 average. Hayes continued his fine play into the 1942 season with the Black Yankees, hitting .283 with 28 hits and 13 RBIs in 33 games.
With World War II intensifying, Hayes registered for the military draft on October 16, 1940, at Local Board No. 24, Essex County, New Jersey. Three questionable items appear on his draft card that warrant attention: first, while most records indicate that Hayes was born in Independence, Missouri, the card notes Kansas City, Missouri, as place of birth; second, his baseball résumé consistently shows him at 5-feet-10 and 195 pounds but on the card his "Approx." height and weight are 5-feet-7 and 138 pounds; and third, his employer's surname was misspelled – his employer was James Semler, owner of the New York Black Yankees, not James Simnley.
As Hayes continued to play ball through the 1942 season, two other noteworthy events occurred in his life. First, on December 13, 1942, he and Alice Parms (or Parmes) from New Orleans were married.12 Their marriage license indicates his occupation as "Ball Player" while census records identify Alice as a "houseworker." He was 32, she 39, and they lived at 142 West 139th Street, New York City. The second event was Hayes' enlistment in the US Army on December 15, 1942. Unlike his marriage license, his enlistment record shows his "civil occupation" under the category "Athletes, Sports instructors, and sports officials." He served in the European Theater of Operations from 1944 to 1945 and was discharged, at the rank of sergeant, on November 25, 1945.13
After the war, and before he  returned to the Black Yankees for the 1946 season in August, Hayes played for the Boston Blue Sox of the USL.14 When that league folded, also in 1946, manager Tom Parker "had the Boston Squad in First place."15 In addition to his time with the Boston Blues, he may have played briefly with the USL's Pittsburgh Crawfords
In 1947 Hayes appeared in 31 games and batted .278 with 25 hits and 13 RBIs for the New York Black Yankees, now managed by Marvin Barker. His play that year earned him a spot on the East All-Star team, managed by Biz Mackey. Due to the "popularity of the East-West game among Negro League fans,"16 the 1947 contest offered  two games – the first at Comiskey Park, Chicago, on July 27 (won by the West, 5-2) and the second on July 29 at the Polo Grounds, New York City (also won by the West, 8-2).17 Hayes played in both games but was hitless.
The following season marked the final year of the NNL2 and Hayes' final year with the Black Yankees. The team was again managed by Marvin Barker and had an overall record of 13-45. Hayes, now 38, played in 14 games, had 11 hits, 3 RBIs, and a .262 average. In 1949 Hayes moved to the Baltimore Elite Giants of the Negro American League.18 In 1951, his final season, he was once again selected for the East-West All-Star Game. He and his Elite Giants teammate Kelly Searcy helped the East All-Stars defeat the West All-Stars, 3-1, at Comiskey Park on August 12. Hayes had two hits and Searcy was the winning pitcher.19 Ben Littles of the Philadelphia Stars pinch-hit for Hayes in the ninth.20 The Elite Giants "club was sold … in 1951 for $11,000. After returning the team to Nashville [the team's city of origin] for a final season, the team was dissolved. …"21 Perhaps this was a fitting conclusion to Hayes' baseball career.
As of 1950, Hayes and his wife, Alice, still lived in New York City; the 1950 Census identified his occupation as "other," and Alice's as "keeping house." Alice Hayes died at the age of 75 on September 8, 1977. She was interred on September 12 in Long Island National Cemetery in Farmingdale, New York. Her grave marker indicates that her marriage to US Army veteran Sergeant John W. Hayes sanctioned her burial in a National Cemetery.22 Hayes lived another 11 years until he died of natural causes on November 16, 1988, in Cook County, Illinois, where he had been working as a clerk in his later years. There is discrepancy regarding which village outside of Chicago Hayes had claimed as residence when he died: Most records indicate Auburn Park while others list Evergreen Park. Hayes was buried in Cook County, Illinois, although his exact place of burial was not recorded and has been lost to history.23
Negro Leaguer Gordon "Hoppy" Hopkins of the Indianapolis Clowns noted that "[t]here was a lot of other guys that helped me out: Buck O'Neil, Buck Leonard, and Leon Day [and] Johnny Hayes up in New York. …"24 Johnny Hayes was not a Hall of Famer, but he was a competitive, All-Star ballplayer.
Sources
In addition to the sources cited in the Notes, the author consulted Ancestry.com, Baseball-Reference.com, Family Search.com, GenealogyBank.com, Google Books, the SABR Biography Project, and Seamheads.com (the source for all Negro League statistics, unless otherwise indicated).
Photo credit: Courtesy of Gary Ashwill.
Notes
1 Johnny Hayes has been confused with John Hayes, born in 1931, who played with the Hartford Chiefs in 1952, and with Frankie Hayes, who happened to be a catcher in the same era, with the Philadelphia Athletics.
2 Larry Lester, Black Baseball's National Showcase: The East-West All-Star Game, 1933-1953 (Lincoln: University of Nebraska Press, 2001), 67.
3 James C. Isaminger, "J Dean Twirls 3 Frames; Paul Plays Afield," Philadelphia Inquirer, October 17, 1934: 17.
4 "Satchell Paige's Fireball Hurling Fells Stars by 4-2 Count," Pittsburgh Courier, October 13, 1934: 4.
5 "Satchell Paige's Fireball Hurling Fells Stars by 4-2 Count."
6 Isaminger.
7 "Dean Brothers and Martin to Play in Philadelphia," Scranton Times Tribune, October 13, 1934: 13.
8 "Newark Eagles," The Negro Leagues, Powered by the Negro Leagues Museum, https://www.mlb.com/history/negro-leagues/teams/newark-eagles.
9 Lester, 67.
10 "John Hayes in the Puerto Rico, U.S., Arriving Passengers and Crew Lists, 1901-1962, Ancestry.com, https://www.ancestry.com/discoveryui-content/view/1286624:2257?tid=&pid=&queryId=3f8b999e1960c2387a6fa42d3c3bdeb2&_phsrc=Zla48&_phstart=successSource.
11 Jorge S. Figueredo, Who's Who in Cuban Baseball, 1878-1961 (Jefferson, North Carolina: McFarland Publishers, Inc., 2007), 378.
12 "Marriage Licenses Issued," New York Age, January 2, 1943: 5
13 Gary Bedingfield's Baseball in Wartime, https://www.baseballinwartime.com/negro.htm.
14 Center for Negro League Baseball Research, http://cnlbr.org/MuseumGallery/Programs/tabid/83/mid/402/ProjectId/62/wildRC/1/Default.aspx.
15 Bill Johnson, "Tom Parker," SABR Baseball Biography Project, https://sabr.org/bioproj/person/tom-parker/.
16 Jim Overmyer, "July 29, 1947: The West Wins Another Negro League East-West Game at Polo Grounds," SABR Baseball Games Project, https://sabr.org/gamesproj/game/july-29-1947-the-west-wins-another-negro-league-east-west-game/two.
17 "East-West All Star Summaries," Center for Negro League Baseball Research, http://www.cnlbr.org/Portals/0/RL/East-West%20All%20Star%20Game%20Summaries.pdf.
18 Dr. Layton Revel, "Forgotten Heroes: Henry Kimbro," Center for Negro League Baseball Research, http://www.cnlbr.org/Portals/0/Hero/Henry_Kimbro%202019-10.pdf. (Photo Page 2).
19 "East Negro League All-Stars Beat West, 3-1," Chicago Tribune, August 13, 1951: 51.
20 Lester, 67.
21 "Baltimore Elite Giants," Negro Leagues Baseball Museum eMuseum, https://nlbemuseum.com/history/teams/baltegiants.html.
22 "Alice Hayes," Find-a-Grave, https://www.findagrave.com/memorial/82594090/alice-hayes.
23 "Illinois, Cook County Deaths, 1871-1998," database, FamilySearch (https://familysearch.org/ark:/61903/1:1:Q23W-NJDD: 18 March 2018), John Hayes, 16 Nov 1988; citing Evergreen Park, Cook, Illinois, United States, source reference, record number, Cook County Courthouse, Chicago; FHL microfilm.
24 Brent Kelley, The Negro Leagues Revisited: Conversations with 66 More Baseball Heroes (Jefferson, North Carolina: McFarland, 2010), 301.
Born
April 27, 1910 at Independence, MO (USA)
Died
November 16, 1988 at Auburn Park, IL (USA)
If you can help us improve this player's biography, contact us.
https://sabr.org/wp-content/uploads/2021/08/14-Hayes-Johnny-Temple-Moseley.jpg
1324
790
admin
/wp-content/uploads/2020/02/sabr_logo.png
admin
2021-08-31 00:00:06
2023-09-06 09:07:53
Johnny Hayes