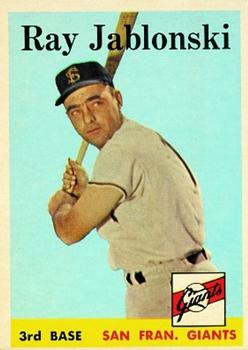 ---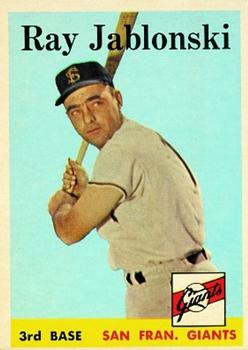 In August 1953, as St. Louis Cardinals third baseman Ray Jablonski was putting the final touches on a brilliant rookie campaign, Gus Mancuso, the club's broadcaster and a former longtime National League catcher, said, "The thing about Jabbo is that he's got terrific potential as a hitter. Give him a year or so and he could be one of the best."1
Parroting Mancuso a year later, The Sporting News contributor Bob Broeg added that Jablonski provided the Cardinals with "the most promising bat [to] … join the club since Stan Musial" as Jabbo's 84 hits at the 1954 season's one-third marker appeared to threaten the NL single-season hits record.2 Veteran NL umpire and former major-league third baseman Babe Pinelli invoked another St. Louis slugger when he spoke of Jablonski: "He's the best right-handed batter to come into the National League … since Rogers Hornsby. [He] amazes me with his power."3
Noticeably absent from this laudatory praise was any reference to Jablonski's overall play as the right-handed-hitting slugger made an adventure out of any ball hit to him. A snapshot of his eight-year major-league career can be glimpsed in a June 5, 1953, game against the Brooklyn Dodgers. Hit while he was en route to a franchise rookie record of 21 home runs, Jablonski's fifth-inning home run against left-hander Preacher Roe was not enough to overcome the two consecutive second inning miscues – he was charged with only one error – that led to the Dodgers' game-deciding four-run frame. By October 1954, Broeg's take on Jablonski had changed considerably: "[He is m]urder defensively, rough on pitching morale."4 After the 1954 season, with the luxury of slick-fielding third baseman Ken Boyer waiting in the wings, the Cardinals traded Jablonski to the Cincinnati Redlegs. Over the next six years he bounced through five franchises, including a brief return to St. Louis, used primarily in a utility role. He kicked around in the minors for several years thereafter until he retired in 1964.
Raymond Leo Jablonski was born in Chicago on December 17, 1926, the fifth of seven children of Thaddeus and Catherine (Stawasz) Jablonski. His four grandparents were Polish immigrants who arrived in the United States around the turn of the twentieth century. Thaddeus and Catherine were born in Ohio and Pennsylvania respectively. The couple met in Chicago and married there in 1922. Thaddeus supported his growing family by working as a machinist in a steel mill. Living a mile south of Comiskey Park, Ray grew up an avid Chicago White Sox fan.
But baseball was not among Jablonski's early childhood passions. His sporting pursuits were initially focused on the gridiron, while the bilingual child, fluent in English and Polish, was also an accomplished singer and piano player with an eye toward a musical career. Jablonski attended Chicago's Kelly High School where, under the influence of Sam Fralick (who coached everything but football for the Kelly Trojans), he eventually abandoned football in favor of baseball and basketball. As his diamond prowess grew so did his confidence. In 1945, a year after he graduated from Kelly High, Jablonski attended a Chicago Cubs tryout on the northwest outskirts of the city. One report suggests that the Cubs flatly turned him away while another indicates he was asked to return for a second session. The issue became irrelevant when Jablonski enlisted in the US Army on July 19, 1945. Assigned to the 787th Military Police Battalion, he spent most of his service in postwar Paris, where he led his squadron's baseball team to a regional championship. Jablonski received an honorable discharge from the Army in January 1947.
Shortly after his return stateside, Jablonski signed up for another professional tryout, this time with the Boston Red Sox. (He tried out as a shortstop, providing a hint as to the position he played in high school and while in the service.) Jablonski appears to have attracted the attention of fellow Chicago native Wally Millies, a former major-league catcher who in 1947 was to be the player-manager of the Milford (Delaware) Red Sox in the Class D Eastern Shore League. Jablonski accompanied Millies to Milford, where despite just 261 at-bats he placed among the team leaders in nearly every offensive category. In 1948 Jablonski returned to Milford without Millies, who was managing elsewhere in the Red Sox farm system. Jablonski led the league with a .354 average and a league-record 172 hits. The talented trio of Jablonski and future major leaguers Norm Zauchin and Frank Malzone led Milford to the league championship.
Milford's success stood in sharp contrast to the chaos that reigned within the Red Sox organization after farm director Specs Toporcer was fired in 1948. Amid the confusion, the club failed to protect Jablonski in the November minor-league draft and the fair-haired slugger was grabbed by the Cardinals. At varied stops over the next three seasons, Jablonski continued hitting the cover off the ball, including a 1951 campaign with the Class B Winston-Salem Cardinals in which his .363-28-127 line captured the Carolina League's triple crown. Moreover, beginning in 1950 Jablonski began manning the hot corner on a regular basis under the tutelage of minor-league skipper and former Cardinals third baseman/slugger Whitey Kurowski.
In 1952 the Cardinals promoted Jablonski to the Rochester Red Wings in the Triple-A International League. With Don Richmond, the league's reigning batting champ, locked in at third base, Jablonski began the season at first base. But a rash of injuries forced Red Wings manager Harry Walker to slide Jablonski around the entire infield, and briefly in the outfield, throughout the season. The constant movement did little to curtail Jablonski's explosive bat. Though his batting average dipped below .300 at the very end of the season, he placed among the league leaders in nearly every offensive category to collar Rookie of the Year honors. In the fall, Jablonski collected a team-leading six RBIs to lead the Red Wings over the Kansas City Blues in the Junior World Series. He then finished the year playing winter ball in Puerto Rico.
Though most of Jablonski's tenure with the Red Wings was at shortstop, in 1953 the Cardinals were looking to the 26-year-old to stabilize the club's third-base turnstile. (The team had seven players man the hot corner in 1952.) Fully aware of his defensive challenges, the club assigned former slick-fielding Cardinals infielder Frank "Creepy" Crespi to work with Jablonski when he returned from Puerto Rico. Prepared to sacrifice some defense to insert the "Jolting Jabbo's" explosive bat into the lineup, the club assured Jablonski of the starting job before the Cardinals 1953 spring camp opened. During the Grapefruit League campaign the slugger did not disappoint, collecting 6 homers, 15 RBIs, and a team leading 38 hits.
On April 14, 1953, Jablonski made his major-league debut in Milwaukee's County Stadium against Braves left-handed ace Warren Spahn. Though his defensive challenges were exposed early — Jablonski made a second-inning error that accounted for the game's first run — he quickly made up for it with a game-tying RBI three innings later. With the Cardinals trailing 2-1 in the ninth, Jablonski's two-out single preceded a run-scoring double by pinch-hitter Peanuts Lowrey to tie the game. (The Braves won in extra innings.)
Jablonski committed two more errors over the next three games, none of which proved costly during the team's three-game winning streak. On April 21 he connected for his first major-league home run, a three-run blast against Reds left-hander Harry Perkowski in the Cardinals 5-4 loss. The homer launched a 10-for-16 surge that lifted Jablonski's average to a lofty .387. The offensive surge provided by the Polish trio of Jablonski, former Rochester teammate Steve Bilko and fellow rookie Rip Repulski kept the Cardinals in contention through the season's first half. (The trio's heritage added to the club's longstanding "Polish Falcons" contingent that counted Musial and manager Eddie Stanky among its members.) Though the team began to slide in July, Jablonski maintained his offensive onslaught. His 21 homers shattered the franchise's rookie record set in 1936 by future Hall of Famer Johnny Mize, while his 112 RBIs placed among the NL leaders.5 Despite a near-league-leading 27 errors at third – a pace that prompted the Cardinals to acquire surehanded Pete Castiglione as a late-inning defense replacement during the season – Jablonski still managed to tie a major-league record for games played at third base (157). Though leading all rookies (both leagues) in games played, homers, and RBIs, Jablonski came in third in the NL Rookie of the Year balloting behind Dodgers second baseman Jim Gilliam and Cardinals pitcher Harvey Haddix. In this deep rookie class, he was selected as The Sporting News's Rookie All-Star third baseman.
During the offseason manager Stanky, ever mindful of the defensive challenges, publicly toyed with the idea of moving Jablonski into the Cardinals already crowded outfield; thoughts that went no further than the first weeks of the 1954 spring training and the emergence of rookie outfielder Wally Moon. Jablonski did not allow rumors of a possible move to affect his hitting as he paced the Cardinals with 25 hits and 15 RBIs during the club's Grapefruit League campaign. His torrid clip continued with 84 hits through the one-third mark of the regular season, a pace that threatened the league's single-season mark, set in 1930 by New York Giants great Bill Terry. Selected as the circuit's starting third baseman in the All-Star Game, Jablonski delivered a run-scoring single and scored the tying run in the fourth inning in a raucous high-scoring affair eventually won by the American League.
The NL hit record survived the 1954 season when Jablonski's scorching pace slowed in the second half. Noticeably absent were home runs as he delivered just one dinger after July 6. But Jablonski remained productive, driving in runs and finishing among the league leaders with 104 RBIs (33 years passed before Wally Joyner collected 100 RBIs in his first two seasons). Jablonski finished among the team leaders in nearly every offensive category, including a surprising career-high nine stolen bases from the generally slow runner.
But much of Jablonski's offense was offset by a league-leading 34 errors at third. In a 23-13 loss to the Cubs on April 17, he committed three of the Cardinals five errors in what Broeg described as "probably one of the worst … games in the 78-year history of the National League."6 Three weeks later, consecutive errors by Jablonski and shortstop Alex Grammas contributed to five unearned runs in a 10-3 loss to the Redlegs. Moreover, Jabbo's mental mistakes only added to the frustration. During the season Stanky instituted a $5 fine against every player who failed at the little things that rarely show up in the box score – advancing a runner or taking an extra base. "I think Jablonski won the prize," Stanky recalled years later. "It seemed like he was always getting fined."7 The physical and mental errors, combined with the emergence of Boyer, made Jablonski expendable.
On December 8, 1954, the Cardinals traded Jablonski and veteran starter Gerry Staley to the Redlegs for reliever Frank Smith. In a deal widely perceived as an exchange largely benefiting Cincinnati, the acquisition of Smith – who had placed among the NL leaders in saves in four of the preceding five seasons – was intended to fill the void in the Cardinals bullpen that had contributed to the team's first losing season in 16 years. Meanwhile, Redlegs skipper Birdie Tebbetts was elated with the addition of Jablonski: "[W]e now have an exceptionally well-balanced attack between right- and left-handed hitters," he observed. "[We] should not be bothered as much by southpaw pitchers as we were last year."8
Much as the Cardinals tried to improve Jablonski's fielding in 1953 by assigning Crespi to work with him full time, the Redlegs did the same with third-base coach Dick Bartell during 1955 spring training. The emphasis on fielding – over-emphasis, Jablonski later claimed – not only failed to produce results, it affected the slugger's focus at the plate. A terrible spring yielded to an equally terrible start to the regular season as Jablonski struggled to keep his average above .200. On May 2, after the club lost two straight games on unearned runs from Jabbo's miscues, he was moved to left field. Without the stress of infield play, Jablonski's bat slowly came to life. On May 18 he collected three hits and scored two runs in a 5-1 win against the Pittsburgh Pirates. A month later he connected for a three-run game-winning home run against Braves left-hander Chet Nichols. On June 26 the Redlegs inexplicably returned Jablonski to third base, where the errors immediately resumed. Thereafter relegated mostly to pinch-hitting duties, on July 18 Jablonski was optioned to the Pacific Coast League's San Diego Padres in hopes he might recapture his prior success in Triple-A play. Vowing to make a quick return, Jablonski said, "I'm sorry I didn't help the Reds, but it wasn't because I didn't try. Maybe I tried too hard and became too tense."9 Though he saw little improvement in the field in 62 games with the Padres, Jablonski successfully regained his batting eye – .282 with 13 home runs in 213 at-bats – to earn a late-season recall. In September he collected three hits in two consecutive games against the Cubs but this brief surge was not enough to make up for his disappointing season. He finished with a .240/.289/.403 slash line in 221 at-bats. During the offseason, the Cardinals made several attempts to reacquire Jablonski with the stated purpose of converting him as a utility infielder and pinch-hitter but nothing came of this.
In the spring of 1956 the Redlegs pursued a hands-off approach regarding Jablonski that benefited both player and team. In Grapefruit League play he led the club with six home runs to earn the Redlegs' "most improved player" label in a sportswriters' preseason nationwide poll. When the regular season opened, Jablonski became the first player to collect a single, double, and home run in each of the first two games (a feat matched only by Dodgers first baseman Adrian Gonzalez in 2015).10 Jabbo's second homer was a grand slam – the first of his career – that tied the game against the Cardinals (eventually won by the Reds in extra innings). At the end of April Jablonski's 13 RBIs, tied him with teammate Wally Post for the league lead. On May 18 he connected for two home runs, including an extra-inning game-winning drive against the Dodgers. "He's the [fan's] sentimental favorite … [for] fighting his way back [to the majors]," Tebbetts chirped.11
Unable to maintain this torrid pace, Jablonski fell into a 1-for-28 hole that included lining into a triple play against the Cardinals on May 30. In June he fared little better as his only highlight came off the field when he and 10 of his teammates comprised the "mystery guest" on the television program What's My Line?12 A brief rebound in July included Jablonski's decisive three-run homer against the Giants on the last day of the month. Facing the same club two days later, he connected for his second career grand slam, a blast against future Hall of Famer Hoyt Wilhelm in a 10-2 win. But the heft that the Redlegs had looked for Jablonski to provide was not there as he delivered just one pinch-hit homer through the rest of the season. Relegated largely to pinch-hitting duties over the final weeks, he finished with a .256/.324/.432 line in 407 at-bats.
On November 13, 1956, the Redlegs traded Jablonski to the Cubs with pitcher Elmer Singleton for right-hander Warren Hacker, third baseman Don Hoak, and outfielder Pete Whisenant. Despite the power outage Jablonski experienced in Cincinnati, the Cubs hoped he would regain his former clout in the cozy confines of Chicago's Wrigley Field. Anxious to potentially play out his career in his hometown, Jablonski greeted the move with elation. But elation quickly turned to sadness when he suffered through a miserable Cactus League campaign. On April 16, 1957, two hours before the first pitch of the season, Jablonski was shipped to the Giants with catcher Ray Katt – another player who disappointed in spring training – for outfielder Bob Lennon and pitcher Dick Littlefield.
Acquired by the Giants to back up rookie third baseman Ozzie Virgil, Jablonski was used sparingly through the first half of the season. But when Virgil faltered in July (.088 in 34 at-bats), Giants manager Bill Rigney turned increasingly to Jabbo. On July 29 he was a triple shy of the cycle as he accounted for most of the Giants' offense with four hits, four RBIs, and a run scored in a 9-8 loss to the Braves. Three weeks later Jablonski delivered a ninth-inning two-run homer against future Hall of Famer Robin Roberts in a 2-1 comeback win against the Philadelphia Phillies. When the season ended, Rigney applauded Jablonski's second-half contributions and predicted a greater role for the veteran third baseman in the club's new San Francisco surroundings.
Rigney's prediction had not anticipated the emergence of rookie Jim Davenport, whose strong 1958 spring-training performance earned the 24-year-old the starting third-base job. The skipper briefly toyed with moving Jablonski to first before another rookie, Orlando Cepeda, quickly closed that door. With just seven pinch-hit appearances through the first few weeks of the season, on May 4 Jablonski got his first chance to play in the field when Davenport pulled a rib muscle in a game against the Pirates. Returned to the bench six days later after Davenport's recovery, Jablonski spent the remainder of the season platooning at third as the rookie continued to be plagued by the rib muscle. On July 5 Jabbo was a single shy of the cycle as he once again accounted for most of the Giants' offense in a 5-4 win against the Cardinals. Two weeks later his fourth-inning pinch-hit home run brought the Giants back from a 4-1 deficit for an eventual 5-4 win. Arguably one of the slowest runners on the club, on September 1 Jablonski beat out a 16th-inning bunt single and came around to score the winning run against the Los Angeles Dodgers. Despite getting just 230 at-bats, he finished with 106 total bases, 12 homers, and 46 RBIs.
Seeking another front-line starter, on March 25, 1959, the Giants traded Jablonski and first baseman Bill White (who was stuck behind Cepeda) to the Cardinals for veteran right-hander Sam Jones (minor-league hurler Don Choate accompanied Jones to San Francisco). White was St. Louis's main prize and Jablonski was tabbed for pinch-hitting duties and as an emergency third baseman. In this limited capacity, Jabbo showed some promise with a second-inning pinch-hit home run that undid a 3-3 tie against the Dodgers on April 25. But far less success ensued. After going hitless in 16 plate appearances, Jablonski was placed on waivers and was claimed by the Kansas City Athletics on August 20. The next day Jablonski made his American League debut pinch-hitting against New York Yankees hurler Bob Turley. He grounded out to second base. Periodically spelling Dick Williams at third base, Jablonski connected for two homers and six RBIs over three games in September. The home runs proved to be his last in the major leagues. In October, Jablonski was outrighted to the minors.
In March 1960 Jablonski, a nonroster invitee to the Athletics spring training, was among the first cuts. Sent to the Dallas-Fort Worth Rangers in the American Association, Jabbo led the last-place club with 74 RBIs while placing among the team leaders in nearly every other offensive category. His success earned a return to the Athletics in August. Used almost exclusively as a pinch-hitter, Jablonski made his last major-league appearance on September 17, hitting for pitcher Dick Hall and flied out to left field.
During the offseason, a report surfaced that Jablonski had retired from baseball. If this was true –the report was never substantiated – the 34-year-old soon changed his mind. He reported to the Hawaii Islanders during their inaugural season and on April 20, 1960, connected for the franchise's first home run.13 Jablonski returned to Dallas-Fort Worth, where he continued to produce over the next several seasons. At no point during this time was there any interest shown from the major-league clubs. In 1964 Jablonski joined the International League's Atlanta Crackers as a player-coach with aspirations of becoming a manager. "I want to manage to see if I know as much about this game as I think I do," he cracked.14 At the end of the 1964 season, when nothing surfaced on the managerial front, he retired from Organized Baseball.
During the offseasons Jablonski often joined varied barnstorming clubs touring the Midwest before returning to his native Chicago. He worked at a cardboard-box company near Comiskey Park and in 1957 was promoted to a sales position. For several years Jablonski also coached the company's winter basketball team. During his career, he was a favorite on the rubber-chicken circuit and was honored at sports dinners around Chicago. In 1956 Jablonski, a practicing Catholic, played a role in converting Redlegs teammate Rocky Bridges. He was also a proud member of the Polish National Alliance, the Knights of Columbus, and the American Legion. In 1952 Jablonski married Dorothy A. Szczepanik, a Chicago native three years his junior who was born to Polish immigrants. The union produced a son and a daughter.
Early in his career varied reports occasionally addressed Jablonski's passing resemblance to fellow Chicago native Phil Cavarretta; these reports disappeared when Jabbo began to go bald in the late 1950s. In retirement Jablonski added gardening to his lifelong passion of music. In September 1976 he returned to St. Louis, where he participated in a Cardinals Old Timers Game. But a decade later he began experiencing health problems. On November 25, 1985, one month shy of his 59th birthday, Jablonski died from kidney failure in a Chicago hospital. He was buried in Resurrection Cemetery in Justice, Illinois, a village southwest of Chicago.
In January 1957, shortly after he was traded to the Cubs, Jablonski declared, "I don't think I've reached my [playing] peak yet."15 By the time he had made these quotes, his career was more than halfway over. Once compared to some of the Cardinals greats of the past, over the last three years of his career Jablonski was relegated to a utility role (averaging just 138 at-bats per season). Over an eight-year major-league career he collected 83 homers, 438 RBIs, and 687 hits in 2,562 at-bats — much of which was accumulated over his first two seasons with St. Louis.
Sources
In addition to the sources cited in the Notes, the author consulted Ancestry.com and Baseball-Reference.com. The author wishes to thank Len Levin for review and edit of the narrative.
Notes
Born
December 17, 1926 at Chicago, IL (USA)
Died
November 25, 1985 at Chicago, IL (USA)
If you can help us improve this player's biography, contact us.
http://sabr.org/sites/default/files/JablonskiRay.jpg
600
800
admin
/wp-content/uploads/2020/02/sabr_logo.png
admin
2017-01-18 13:53:34
2017-01-18 13:53:34
Ray Jablonski