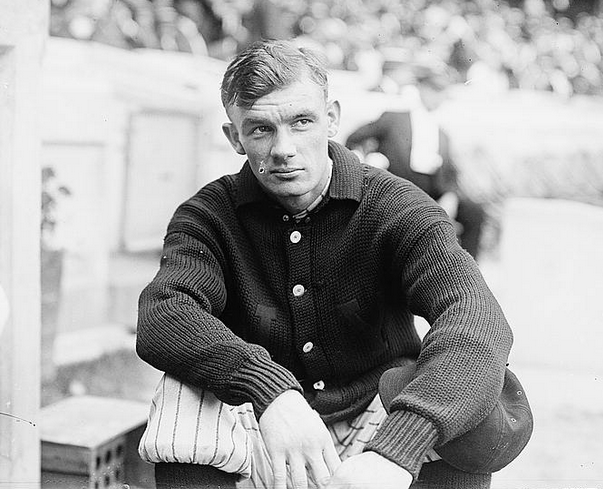 ---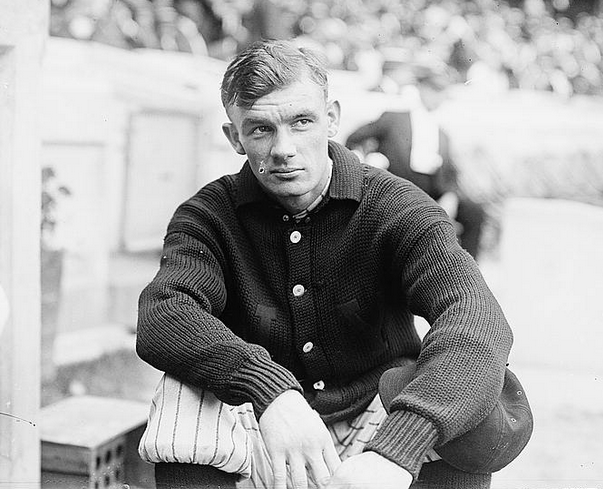 In sports, college or professional, individual or team, nothing captures a fan's interest quite like a streak. This is especially true with baseball. Whether it is a team's winning or losing streak or a player's performance within the chalked lines, the fanfare and pressure may build each day. The fervent fan or even the uninformed follower of the national pastime may acknowledge that perhaps the greatest of all is Joe DiMaggio's hit streak. In 1941, the Yankee Clipper stirred up quite a bit of excitement with his 56-game hitting streak. It was a testament to DiMaggio's hitting prowess, and will always remain part of his lore.
But 29 years before Joltin' Joe was smacking the horsehide around American League parks, another one of the great players in Gotham set his own streak. And it was just as impressive. Rube Marquard, who was a pitcher on the 1912 New York Giants, put together a single-season winning streak that, like DiMaggio's, still stands. Beginning with his first start of the season, at Brooklyn on April 11, Marquard won 19 games in a row. He didn't lose until July 8. During the streak, left-handed pitcher Marquard had an earned-run average of 1.63.
If the same streak were played under the rules that are employed today, Marquard would have won 20 in a row. On April 20, against the Brooklyn Superbas, Marquard relieved Jeff Tesreau in the ninth inning. Tesreau had given up three runs and Brooklyn had taken a 3-2 lead over the New Yorkers. Marquard recorded all three outs in the ninth, and retreated to the dugout to watch the Giants score two in the bottom of the frame to win, 4-3. In those days, the win went to the pitcher who had pitched the most innings. In today's game, Marquard would get the win since he was the pitcher of record when the Giants took the lead.
Marquard credited Giants manager John McGraw for sticking with him during the early years of his career, when wins were hard to come by. Both McGraw and coach Wilbert Robinson echoed the same refrain to Marquard: "You've got it in you, if you can only find yourself."1 But the pitcher also noted the other successful tactics he employed. "I suppose the great thing is to find the weaknesses of the batsmen you're pitching against," said Marquard. "Why, you've got to know 'em like your hand. I used to keep a book and watch each fellow like a hawk when he'd come up to the plate, and I'd mark down in that book just what he couldn't do. After a while, I'd find some of 'em couldn't hit a fastball. Then I'd write that down.
"Then players talk among themselves and swap experiences, for the one thing a ballplayer talks is shop. You never seem to talk anything else when you play ball. So you get to know the different players like an old pair of shoes. Then on a dark day, I blacken the ball."2
Asked what he meant, Marquard replied, "I chew tobacco so when I spit on the ball, it blackens up. Then I get it against my dark glove and a batsman can't see it."3
Richard William Marquard was born on October 9, 1886, in Cleveland, one of five children of Mr. and Mrs. Fred Marquard. Fred worked as the chief engineer for the City of Cleveland.
The elder Marquard believed that for a person to get anywhere in life, education was the key to unlock many doors of opportunity. Richard did not see the advantages of gaining a formal education, instead telling his father that he wanted to become a ballplayer. But Fred Marquard was steadfast in his stance against the career of a baseball player.
Marquard spent many of his days as a youth at League Park, serving as a batboy for the Cleveland Broncos, who eventually became the Naps when Nap Lajoie joined the team in 1902 from Philadelphia and became the manager in 1905.
According to Marquard, his friendship with Howard Wakefield, a catcher for the 1905 Naps, paved the way for a tryout with Waterloo of the Iowa State League. Marquard had no money to travel to Waterloo, and of course his father wouldn't provide it. According to Marquard, he made his way to Waterloo by stowing away on freight trains. After five days, Marquard found his way to Waterloo, and introduced himself to Charlie Frisbee, the Waterloo manager. Frisbee knew of Marquard through Wakefield, and decided to pitch Marquard the day after he arrived. According to Marquard, he begged for more time to get settled. He also requested a small advance on his salary so that he could get something to eat. But Frisbee held his ground, "Tomorrow or never, young fellow!"4 Frisbee let Marquard believe that after he pitched, the advance would follow as well.
Marquard relented and defeated Keokuk the next day. But Frisbee wanted to see Marquard pitch one more time before he handed any money over to the young pitcher. A frustrated Marquard left Waterloo, hopping a train to head back to Cleveland. In 1907, Marquard went to work for the Telling Ice Cream Company and pitched for its baseball team in a semipro league. Sources vary, but he was paid about $25 a week.
Because of his fine work on the mound, Marquard was recommended to the Naps by the team's third baseman, Bill Bradley. The young pitcher met with team president John Kilfoyl with the hope of signing a contract. Wary of his experience in Waterloo, Marquard did not want to be taken advantage of again. When Kilfoyl offered $100 a month, Marquard balked. "I get that much from the ice cream company, and in addition, I get to eat all the ice cream I want."5
Marquard left with no contract. On his way home he stopped at a sporting-goods store in downtown Cleveland that was owned by Bradley and Charlie Carr. Carr, a first baseman on the Naps in 1904 and 1905, was now the manager and first baseman of the Indianapolis Indians of the American Association. Carr signed Marquard to a $200-a-month contract with Indianapolis. Marquard's father was not pleased. "Now listen," Fred said, "I've told you time and time again that I don't want you to be a professional ballplayer. But you've got your mind made up. Now I'm going to tell you something: When you cross that threshold, don't come back. I don't ever want to see you again."6 No matter. Richard headed west to Indy.
Indianapolis optioned Marquard to the Canton Chinamen of the Central League in 1907. He led the circuit with 23 wins. The next season, he joined the Indianapolis club. According to Marquard, it was here that he got the nickname Rube.7 His sweeping delivery reminded a sportswriter at the Indianapolis Star of Rube Waddell. The star pitcher of the Philadelphia Athletics was also a southpaw and a future member of the National Baseball Hall of Fame.
Marquard gave a good account of himself at Indianapolis in 1908. He won his first six games, three of them shutouts on his way to a 28-19 record with a 1.69 ERA. On June 16, he threw a one-hitter, striking out nine, in a 4-0 win over Kansas City. Marquard's pitching ability reached the big leagues.
The Indianapolis club nearly traded Marquard to Detroit. The June 26 edition of the Huntington Herald reported that Marquard had been dealt to the Tigers for left-handed pitcher Ed Siever. The deal also included a sizable bonus for Siever, who balked about going to the minors. Siever was not exactly tearing it up in the AL, posting a 2-6, 3.50 ERA at the time of the deal. Marquard, on the other hand, sported a 17-6 record and had twirled six shutouts.8
In the end, Siever reported to the Indians, and Marquard stayed put in Indy as well. On June 30, Marquard pitched a three-hitter to defeat Louisville, 3-0, in a key game at Washington Park.
After the game, an auction was held, and the Indianapolis Indians were the hosts. The scene was described by the Evening World. "The Detroit club put in a claim for him and had the first call. Then John R. Brush, dipped in his oar. Garry Herrmann put in a bid, and even (Chicago owner Charles) Murphy of the Cubs took a hand in the game.
"Murphy bid as high as $5,000 over the long distance 'phone. When (Indianapolis owner W.H.) Watkins said there was nothing doing at that price, Murphy quit. Herrmann boosted the offer up to $6,500 and quit at the half-mile. President (Frank) Navin of the Tigers was the next highest bidder. He offered $7,500. Watty said $12,000 was his price, and Navin fainted. John T. Brush weighed in with a bid of $11,000, and Watkins, knowing he was getting the biggest price ever paid for a ballplayer, threw both arms around Brush and held him before there was a chance of him changing his mind and getting away."9
Marquard was immediately dubbed the "the $11,000 peach" by the Giants or "the $11,000 beauty" by others. "Whew, $11,000," he said, "you can't prove it by me that there is that much money in the world. Guess there must be, however, and I hope to have that and a little bit more one of these times. I am glad, naturally, that I have been sold to a first-class club, and I think I will be able to win my share of games."10
The Giants continued their spending, acquiring catcher Chief Meyers from St. Paul of the American Association for $6,000. The $17,000 paid for two players was a staggering amount for that period.
Marquard was to stay with Indianapolis until the completion of their season. On September 3, he pitched a no-hitter at Columbus.
Marquard reported to the Giants and made his major-league debut on September 25 against Cincinnati. The Giants lost 7-1, and Marquard gave up two earned runs. "I intend to get some good work out of Marquard and (Giants pitcher Bull) Durham," said manager John McGraw about the following season, "and I expect them to show some good speed in the race next year. You must not judge either of them by the showing they made in the doubleheader against Cincinnati toward the end of the season. They both have all the natural ability that is necessary to make a good pitcher. What they need is a little training with a major league club."11
But Marquard found the road a bit rocky. Never lacking confidence in his abilities, he started out in unfamiliar territory. He was losing more than he was winning. He went 9-17 in his first two seasons. The "$11,000 peach" was now being called the "$11,000 lemon." But McGraw told Marquard to ignore "the roasts" from the grandstand.
In 1911, McGraw and his coach Wilbert Robinson went to work on Marquard. When he joined the Giants, he used a side-arm delivery. McGraw got Marquard to change to pitching overhand. Robinson, a former catcher who was a teammate of McGraw's on the Baltimore Orioles, worked on getting Marquard to throw first-pitch strikes. Robby also tutored Marquard on how to mix his pitches. Marquard was soon throwing to a location, and improving on his control.
The results were immediate. Marquard posted a 24-7 record with a 2.50 ERA in 1911. He threw a pair of one-hitters three days apart, first beating St. Louis at the Polo Grounds on August 28, striking out nine, and then coming back on September 1 at the Baker Bowl in Philadelphia. Marquard struck out 10 Phillies on his way to the win.
Marquard led the National League with 237 strikeouts in 1911. The Giants won the pennant with a record of 99-54. Christy Mathewson won 26 games, and the two pitchers combined for more than half of the Giants' wins.
It was the first of three straight flags for the Giants, who broke the stranglehold the Cubs had for much of the previous few years. Those three pennants would be followed by three straight losses for McGraw's bunch in the World Series.
Against the Philadelphia Athletics in 1911, it was surely a battle of titans: McGraw vs. Connie Mack. They had gone up against each other previously in the 1905 Series with the Giants besting the A's in five games.
Christy Mathewson won three games in that 1905 Series, and he continued his mastery of the A's in 1911, winning Game One by a score of 2-1. The Game Two pitching matchup was Rube Marquard against Eddie Plank. The game was in a 1-1 tie until Frank Baker smacked a two-run home run, delivering a 3-1 verdict in favor of the Athletics. Marquard had been instructed by McGraw not to pitch fastballs to the power hitter. Baker, by the way, was not given the moniker Home Run Baker for no reason.
Marquard was to give Baker a steady diet of curveballs, and struck him out on three curves in the first inning. "In the fourth he caught the first pitch, a high out (curve) and pushed a weak grounder to (second baseman Larry) Doyle," said Marquard. "When he came up in the sixth, I fully intended to follow instructions and give him curveballs. After I had one strike on him and he refused to bite on another outcurve which was a little too wide, I thought to cross him by sending in a fast high straight ball, the kind I know he likes. Meyers had called for a curve but I could not see it and signaled for a high fastball. Either he knew the signal from (Eddie) Collins who was on second or he outguessed me, for he was waiting for that fast one and sent it over the fence."12
Baker's jolt was just the lift the Athletics needed, as they defeated the Giants in six games. Marquard, who also started Game Five, was victimized by another Rube in that game. Rube Oldring connected for a three-run homer against him. (All three runs were unearned.)
On July 8, 1912, Marquard's streak of 19 consecutive victories was snapped by the Cubs. Chicago won 7-2 at the West Side Grounds as Marquard was lifted from the game after giving up six runs – five earned. Beginning with that Cubs defeat, Marquard went 7-10 for the rest of the campaign to finish with a 26-11 record and an ERA of 2.57. The 26 wins were tops in the NL in 1912. He lost three straight from September 17 to October 1. But even his victories were hard to come by. In an 8-6 win over the Pirates at Forbes Field on August 22, Marquard won his 25th game of the season. But it was not without some difficulty as Pittsburgh collected 16 hits off him in the loss.
Marquard also found time around then to star in a short silent movie titled Rube Marquard Wins. The film depicts a tale of a baseball pitcher who is coerced by gamblers into throwing a baseball game. When Marquard refuses, he is kidnapped by the gamblers, but is saved by his girlfriend – just in time to win the game.13
The Giants won the 1912 NL pennant by 10 games over Pittsburgh. Their opponent in the fall classic was the Boston Red Sox. The Red Sox won the series in eight games (one was a tie). Marquard won two games for the Giants. On both occasions, he outdueled Red Sox righty Buck O'Brien.
Like many baseball players of the era, Marquard also took part in vaudeville acts. McGraw and Mathewson had also taken part in stage productions. It was a way to earn extra income, and many of baseball's biggest stars hammed it up for the audiences. Joe Kane, a veteran of the vaudeville stage, was seeking an athlete to pair with his wife, Blossom Seeley, for a show, and engaged Marquard. A real-life romance developed between Marquard and Seeley. Kane grew suspicious of their relationship and accused them of having an affair. At times, Kane became violent against his wife. He divorced Seeley and the pitcher and the actress married. Their union produced one son, Robert. The Marquard-Seeley affair was nationwide news; the tale of this love triangle was told in a book by Noel Hynd Marquard & Seeley: A Scandalous Ragtime Romance.
Marquard threatened to leave the Giants and stay in the acting biz. Of course it was just a ploy to get more money (maybe the acting did pay off after all). He inked his new deal with his bride by his side in late March of 1913. Marquard went out and pitched well for the Giants, posting his third consecutive year of 20 or more wins with a 23-10 record and a 2.50 ERA in 1913.
Marquard won nine games in a row from June 28 to July 27, lowering his ERA from 2.79 to 2.32. Rube pitched against Chief Bender in Game One of the World Series against the Athletics. The A's won, 6-4, and for the second time in three years kicked sand in the face of McGraw's boys.
The Giants lost their grip on the first-place mantle in 1914. The Boston Braves outdistanced the New Yorkers by 10½ games to take the NL pennant and the franchise's first world championship since 1898. Marquard did a reversal of his previous three seasons; he slumped to 12-22. A big part of that record occurred from August 8 to September 23 when Marquard lost 12 straight games. There were no games where he was given a no-decision. It was indeed 12 straight losses. A game that might be indicative of Marquard's season was played on July 17 at Forbes Field. Both starters, Marquard and the Bucs' Babe Adams, went the distance, 21 innings. The Giants won on Larry Doyle's two-run homer in the top of the 21st. But Marquard had to fight tooth and nail for one win, pitching over two games worth of innings to secure it.
As the 1915 season dawned, it appeared that many of the eight teams that made up the Federal League, a rival league to both the National and American Leagues established in 1913, were having financial problems. The clubs were feeling the pinch from paying players high salaries; building new ballparks and the cost of doing business were squeezing some clubs financially. The Indianapolis Hoosiers, for example, won the pennant in 1914 but because of low attendance were moved to Newark, New Jersey.
However, some clubs were still making attractive overtures to established major-league players. Robert Ward of the Brooklyn Tip-Tops waved a $10,000 contract under Marquard's nose. And Rube liked the aroma. He liked it so much that he swore out an affidavit stating that he was not under contract with the New York Giants, thus accepting a $1,500 bonus from Ward. In actuality, Marquard was under contract with the Giants for two years, and the stalemate as to his status carried on all winter. In the end, the Giants returned $1,500 to Ward, and Marquard grudgingly reported to spring training.14
Marquard started the 1915 season on the right foot. He tossed a no-hitter against the Brooklyn Robins on April 15 at the Polo Grounds. Rube struck out two and walked two in the 2-0 victory. Marquard backed his fine pitching performance with a single to right field in the seventh inning that scored Fred Merkle from second base.
The Giants, who had been on top for so long, were seeing some chinks in the old armor. Mathewson was not as effective and Marquard was running hot and cold, with a 9-8 record in late August. With the exception of Larry Doyle, who would lead the league in batting with a .320 average, Fred Merkle, and Dave Robertson, the offense had fallen flat. The bench was not providing positive alternatives and the Giants, as well as McGraw, had lost their competitive fire. After the Giants lost four straight to the Cardinals, they were in unfamiliar territory: the cellar of the National League.
Marquard asked McGraw to trade him. McGraw replied, "Who would take you? You couldn't lick a postage stamp."15 To prove his point, McGraw asked for waivers on Marquard, and everyone passed on him. Marquard contacted his old mentor Wilbert Robinson, now the manager of the Robins, and allegedly negotiated his own contract. Robby signed Marquard on August 31. In doing so, he paid the asking price of $7,500 to the Giants. Marquard was inserted into the second game of a doubleheader that same day against Pittsburgh. He pitched two scoreless innings in relief of starter Larry Cheney, who was acquired that day from the Chicago Cubs. Marquard was credited with the win as the Robins came from behind to win.
But Marquard was knocked around quite a bit in that final month of 1915. His record was 2-2, but his ERA was 6.20. In 24⅔ innings pitched, he gave up 17 earned runs. The 1916 season provided plenty of excitement for fans of the senior circuit. The Braves, Phillies, and Robins tussled all season for first place in the standings. After the Robins swept the Cubs in a three-game series, they opened a three-game set against the Phillies beginning on September 28. The Robins sat atop first place, ahead of the Phillies by 1½ games, Boston was in third place, 3½ games off the pace.
The Phillies won the first game, 8-4, as Pete Alexander won his 32nd game of the year. After an off day, the Robins and Phillies played a doubleheader on September 30. The Phillies took the opener 7-2, and now were in first place by themselves, a half-game ahead of Brooklyn. In the second game, Alexander, now 32-11, took the hill against Marquard. Marquard was equal to the task, going the distance in beating Philadelphia 6-1. Marquard struck out seven and scattered three hits. He supported his win with his first triple of the year, and scored a run. Brooklyn was now a half-game ahead in the standings. That was the last regular-season game Marquard would pitch in 1916. He finished 13-6 with a 1.58 ERA. He struck out 107 batters and walked 38 in 205 innings pitched.
Brooklyn closed the season against the Giants at Ebbets Field. The Phillies and Braves were scheduled for a six-game series at the Baker Bowl. But the Robins took three of four from New York and the Phils dropped four of six to the Braves. The Brooklyn Robins were headed to their first World Series.
There they would meet the Boston Red Sox. But the party was short-lived as Boston made quick work of their NL counterparts, winning the series in five games. Marquard lost Game One to Ernie Shore and Game Four to Dutch Leonard.
The Robins sank to seventh place in 1917, although Marquard led the club in victories, posting a 19-12 record with a 2.55 ERA. He also led the team in strikeouts with 117. The 1918 season was cut short, ending on Labor Day because the federal government's World War I "work-or-fight" order decimated major-league rosters. Marquard did his part, enlisting in the US Naval Reserve, serving for three months before he was discharged after the war ended in November.
The 1918 season was a role reversal for Marquard. He was 9-18 when the season came to a halt. He lost five of those games to last-place St. Louis. The 18 defeats tied him for the National League lead with Joe Oeschger of Philadelphia.
Marquard had an unfortunate ending to his 1919 season. In the fifth inning of a game on June 9 at Redland Field in Cincinnati, he was rounding second base on a hit when his spikes hooked into the bag. He fell heavily on his leg, and suffered a fracture in a small bone. He was lost for the rest of the season.
Burleigh Grimes was the anchor of the Brooklyn pitching staff. After coming over from Pittsburgh in 1918, Grimes had his first 20-win season in 1920, going 23-11 with a 2.22 ERA. Five other Brooklyn pitchers had double-digit wins, including Marquard, who posted a 10-7 record with a 3.23 ERA.
The Robins finished in first place in the NL and faced the Cleveland Indians. Marquard was chosen to start Game One, in part because he had experience pitching in the World Series, but also because he could neutralize Cleveland's left-handed hitters. Of course, Cleveland manager Tris Speaker countered that move with a right-handed-heavy lineup.
Stan Coveleski pitched for Cleveland and the Indians won the opener, 3-1. Marquard lasted six innings, giving up all of the Cleveland tallies.
The Robins won the next two games, at Ebbets Field. But it was what happened off the field in his hometown that cast Marquard in a questionable light. Marquard was arrested for scalping tickets. He was seized in a hotel lobby when he offered to sell eight box-seat tickets that cost $52.80 to a Cleveland police detective for $400. Marquard was released on his own recognizance and was to appear in court at the conclusion of the Series. The police released Marquard because they did not want to be accused of crippling Brooklyn's chances of winning the Series by holding the pitcher.16
Meanwhile, Cleveland took a commanding 4-2 lead in the Series (the World Series was a best-of-nine format that season). There was one more game to be played at League Park. "Beat? I should say we're not," said Robby. "We haven't been hitting and that's the only trouble. We're going out there tomorrow and smash into those Indians so hard they'll wish they'd never seen a world's series, and when we get back to Brooklyn, Cleveland won't have a chance. I'll pitch either Rube Marquard or Burleigh Grimes and either one of them can stop Cleveland."17
Whether Robinson really considered Marquard to start Game Seven will never be known. His arrest before Game Four was a huge distraction to the Robins. His subsequent appearance in Common Pleas Court was a painful reminder as well. After Game One he was removed from the rotation and pitched out of the bullpen.
Cleveland wrapped up the title, the first for the franchise. For the game itself, the last thing it needed was controversy, coming on the heels of the 1919 Black Sox scandal. Eight Chicago players were indicted just before the 1920 season ended, and its memory was still fresh in the public's mind. And now there was Marquard with a ticket-scalping charge.
Although he got off with a $1 fine, Marquard was harshly criticized. "The scalping ordinance was gotten up for the benefit of people who have supported a baseball team all the year in order to protect them so they could get tickets at a reasonable price when a World Series or an important game comes up," said Cleveland Common Pleas Court Judge Samuel Silbert. "It is an unfortunate thing, because baseball is going through its test period. For fifty years baseball has been regarded as a clean sport, but now the effect of a sudden scandal has made people dubious."18
"I am through with him, absolutely," said Brooklyn President Charles Ebbets. "He hasn't been released, however, and if anyone wants him, he can have him. But Marquard will never again put on a Brooklyn uniform."19
True to Ebbets's word, the Robins traded Marquard to Cincinnati for pitcher Dutch Ruether on December 15, 1920. Marquard won 17 games (17-14, 3.39 ERA) for the Reds in 1921. But the Reds, who had just won the World Series in 1919, sank to the second division in the NL. Marquard, who had divorced Blossom Seeley, married Naomi Wigley from Baltimore in 1921.
Marquard got a real good sense for the second division the next four years. He was traded with infielder Larry Kopf to the Boston Braves for pitcher Jack Scott on February 18, 1922. In four years with the Braves, Marquard posted a 25-39 record and a 4.44 ERA. The Braves never finished higher than fifth place from 1922 to 1925, and were cellar dwellers for two seasons.
Rube's last season in the major leagues was 1925, when he won two games and lost eight. In 18 seasons, he compiled a 201-177 record and a 3.08 ERA. In 3,306⅔ innings pitched, he totaled 1,593 strikeouts and walked 858 batters. Marquard was an excellent control pitcher.
For the next several years, Marquard was a player or player-manager in the minor leagues. He managed Providence in the Eastern League in 1926, Jacksonville of the Southeastern League in 1929 and 1930, and Wichita-Muskogee of the Western League in 1933.
In 1932 Marquard was a coach for the Atlanta Crackers. He put out a 12-page pamphlet for youths titled "How to Pitch." His philosophy for a successful pitcher was control. "From my experience of 25 years in baseball," he wrote, "I have learned that control is 90 percent of successful pitching. If a pitcher has control, he has everything. The entire importance of pitching lies in ability to pitch to a 'spot' and put the ball where you want it.
"What I mean by control is not simply aiming the ball across the plate or splitting the middle, but pitching to a batter's weakness. Every batter has a weakness, no matter how good a hitter he may be. A smart pitcher soon discovers that."20
Marquard spent his later years working as a pari-mutuel clerk at racetracks in Maryland, New Jersey, Florida, and Rhode Island. He was inducted into the National Baseball Hall of Fame in Cooperstown on August 9, 1971, after being voted into the Hall by the Veterans Committee.
In 1966, Lawrence Ritter, an economist and a professor at New York University, wrote the book The Glory of Their Times. Each chapter contains an interview with a former player. Many of the players were from the Deadball Era and the book is widely considered a classic in baseball literature.
The first entry is of Rube Marquard. The interview has been considered by some as a fabrication by Marquard, or at least a story containing hyperbole. Sportswriter Joe Posnanski has questioned Marquard's place in the Hall of Fame. In his blog on March 27, 2014, Posnanski pointed to the Marquard chapter in Ritter's book as the reason for his enshrinement.21
Larry Mansch, who wrote a biography of Marquard for the SABR BioProject, also questioned the veracity of the facts. Mansch wrote: "Rube's recollection of some of the events of his life was circumspect; he shaved three years off his life, unnecessarily romanticized his hobo-style train trip to Iowa, and downplayed his scandalous affair with Blossom Seeley. Despite a few inaccuracies, his story seemed to capture the essence of the early days of baseball, and it was prominently featured as the first chapter of Glory."22
Marquard related to others in interviews that his real name was Richard LeMarquis. This fact was erroneously reported in The Sporting News's obituary of Marquard in its June 21, 1980, edition. It is also mentioned in the book written by Noel Hynd. He said he changed his name to Marquard when he started to play professional baseball. A quick check of the US Census and Cleveland city directories of the late nineteenth century proves this untrue.
Richard "Rube" Marquard died on June 1, 1980, after a two-year battle with cancer.
One person whom Marquard held in high esteem was McGraw. Despite their differences, Marquard admired his former manager. "Take Mr. McGraw," he said. "What a great man he was! The finest and grandest man I ever met. He loved his players and his players loved him. Of course he wouldn't stand for any nonsense. When he laid down the law, you better abide by it."23
Notes
Born
October 9, 1886 at Cleveland, OH (USA)
Died
June 1, 1980 at Baltimore, MD (USA)
If you can help us improve this player's biography, contact us.
http://sabr.org/sites/default/files/Marquard-Rube-LOC-Bain.png
600
800
admin
/wp-content/uploads/2020/02/sabr_logo.png
admin
2012-01-04 20:24:51
2022-04-13 04:32:11
Rube Marquard