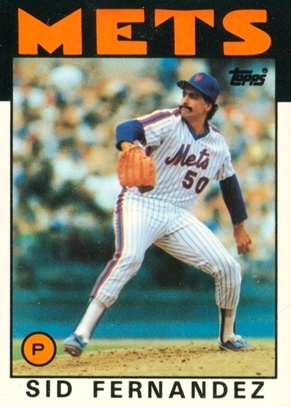 ---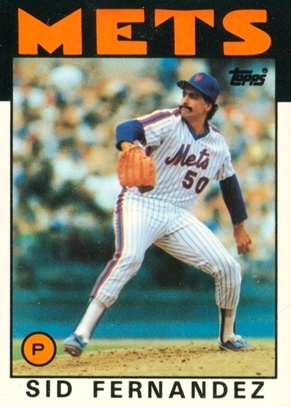 No pitcher born and raised in Hawaii has had more wins in the majors than Sid Fernandez, who notched 114 (against 96 losses) from 1983 through 1997. Charlie Hough (216) grew up in Hialeah, Florida. Ron Darling (136) looked the part of a Hawaiian, thanks to his Chinese-Hawaiian mother, but he called Massachusetts home from before the age of 2.1 Milt Wilcox (119) had a father with deep Hawaiian roots, but the Wilcoxes moved to Oklahoma when little Milt was also just 2.2 But Fernandez — who attended Kaiser High School in Honolulu, was quiet and laid back, and loved surfing — never stayed away from the Pacific for too long. As he said in 1987, "Hawaii is my home. I go there whenever I can. I grew up in the water; I love to be on the ocean."3

The hefty southpaw had a live arm and knew how to use it. When "El Sid" was on top of his game, which was often, he baffled hitters. Fernandez was most often described as "sneaky-fast." His delivery was deceptive — he hid the ball behind his body and slung it in after a long drive step. The pitches seemed to come out of his uniform. "His release point is so low, it is almost impossible to pick up," said Ben Wade, who was director of scouting for the Los Angeles Dodgers in 1982.4 But Sid was particularly tough with his beautiful sweeping slow curve — righty batters would be simply locked up as they watched it drop in over the outside corner for a called strike three. He was an important member of the New York Mets as they rose to become World Series winners in 1986.

Charles Sidney Fernandez IV5 was a fourth-generation Hawaiian. His father, Charles, worked as a civilian foreman at the Pearl Harbor Shipyards; mother Sheila was a teller in the credit union on the Marine base.6 Sid had one older brother, Roger. The family's heritage is mostly Portuguese, with little bits of Irish and Maori.

Baseball was a part of Sid's life from the age of 6, when he began playing tee-ball. He was never interested in any other competitive sport. As a 9-year-old, he represented Hawaii in the Pitch, Hit, and Run contest in San Diego — the lad's first trip away from the islands.7 There were a handful of Hawaiians in the majors to root for when he was young — the most notable being Mike Lum — but Sid was a fan of the San Francisco Giants. "They had the Dodger and Giant games on the radio every day in Hawaii, so most of the people are either Dodger fans or Giant fans," he remembered in 1994. "I listened to the Giants every day on the radio. Willie McCovey, Jim Ray Hart."8

Fernandez was a champion at all levels throughout his career. Kailua, the town on the windward coast of Oahu where he grew up, won the state Little League championship in 1975.9  His Colt League and American Legion teams both won national titles. For Moiliili manager Clyde Hayashida's 1980 Legion club, Sid won the Bob Feller Award (most strikeouts in regional and national competition). He threw a no-hitter in his first start at Kaiser High in '80, as coach Stu McDonald helped him develop the three-quarter delivery that would make him a star. As a senior in '81, Sid posted another 5-1 record and led Kaiser to the state championship.10

In the June 1981 draft, the Los Angeles Dodgers selected Sid in the third round. Local scout Ichiro "Iron" Maehara made the initial recommendation, and Gail Henley confirmed the opinion. One special local factor, according to Sid: "The high school season isn't long enough to attract too much attention. … I think Iron saw me do most of my pitching in one of the other island leagues, like maybe in the American-Japanese Association."11

The Dodgers assigned Fernandez to Lethbridge (Alberta) of the Pioneer Rookie League, where he averaged an eye-popping 15.2 strikeouts per nine innings in 11 starts. At Class-A Vero Beach in '82, Fernandez was again devastating. He blew away batters at the rate of 14.6 per nine innings, including a 21-strikeout tour de force. It was then that Sid first wore uniform number 50, in honor of his home state and favorite TV show, Hawaii Five-O. Dodgers manager Tommy Lasorda came up with the idea.12 When Fernandez pitched for the Mets, the show's well-known theme music always played before his starts at Shea Stadium.

Sid jumped to Triple-A in midseason 1982, cause for relief among batters throughout the Florida State League — he had thrown two no-hitters in 12 starts.13 Wildness was a problem at Albuquerque, though, and so he stepped back to Double-A the next year. Though still issuing a lot of walks, Sid was again dominant with San Antonio, winning Texas League Pitcher of the Year. The big club called him up in September 1983.

Over in New York, meanwhile, a remarkably talented young pitching staff had begun to take shape. J. Frank Cashen had become general manager of the Mets in February 1980, less than a month after Nelson Doubleday and Fred Wilpon bought the club. Cashen was the president or GM of the top-notch Baltimore teams from 1966 to 1975, and he set about replicating the Orioles formula: rebuilding the farm system and stockpiling young arms. The acquisitions of both Ron Darling and Fernandez rank among his greatest coups.

The trade with LA in December 1983 — Sid and infielder Ross Jones for handyman Bob Bailor and fellow Hawaiian lefty Carlos Diaz — appeared logical. The Dodgers had an excellent rotation, blending youth and experience in Fernando Valenzuela (23), Bob Welch (27), Alejandro Peña (24), Jerry Reuss (34), Burt Hooton (33), and yet another lefty in Rick Honeycutt (29). With that kind of depth, and Orel Hershiser in the pipeline too, they could afford to deal even such a promising prospect to bring in needed bullpen help. (Steve Howe was battling his drug problem.)

In addition, "the Dodgers started a whispering campaign that Fernandez had quit playing winter ball in the Dominican Republic because of arm trouble." The real reason he left, however, was homesickness for Hawaii.14 Sid was disappointed because he had expected to be a Dodger, and he wasn't overly enthusiastic about coming to New York either. "Let's face it, I come from paradise and I've come to a concrete city," the avid bodysurfer remarked.15 Looking back in 1994, though, he said, "I liked New York. You hear some people say the people are nasty, but I didn't find it to be that way. I found everyone to be pretty friendly. It took a little getting used to at first, but I liked it."16

A couple of months before the trade (October 1983), Frank Cashen had named Davey Johnson Mets manager. Earl Weaver's old second baseman was also steeped in the Orioles pitching-oriented philosophy. During spring training in 1984, he insisted that the spectacular 19-year-old Dwight Gooden was ready for the majors. Johnson, who had managed the Mets' Triple-A Tidewater club in '83, installed Darling in the rotation too. However, Fernandez required some more seasoning with the Tides. In fact, Johnson wasn't crazy about the deal at first. In his book Bats, Johnson said, "[Cashen] traded two guys I could have used … for a pitcher who wasn't ready to play regularly in the spring. In the end it turned out for the best, but in the short run, it handicapped me."17
 
Fernandez came up at midyear 1984 and made 15 starts, posting a respectable record of 6-6, 3.50. That summer, though, the Mets did not have enough weapons to stay with the Chicago Cubs, who won the NL East behind unanimous Cy Young Award winner Rick Sutcliffe. In 1985 New York added star catcher Gary Carter to the mix, and Doc Gooden burst out with a solar flare of a season. Although Sid had to begin the season at Tidewater once more after a poor spring, he was called up after five polished starts (including an 18-strikeout performance) when veteran Bruce Berenyi went down with chronic shoulder miseries. Though his won-lost record was again even at 9-9, he struck out more than a batter an inning and had a clean 2.80 ERA.

Whitey Herzog's Cardinals, a speedy gap-hitting team tailored to the pool-table turf at Busch Stadium, outfenced Davey's Mets in the gripping 1985 race. However, New York blew everybody's doors off during the regular season in '86, going 108-54. Though no starter won more than Bob Ojeda's 18 games, it was a potent, balanced staff. Sid went 16-6 (which turned out to be his career high in wins) with a 3.52 ERA. He also tossed a scoreless eighth inning in the All-Star Game, striking out the side after walking the first two batters.

Baseball fans remember the 1986 postseason as perhaps the most excitingly tense ever. In the NL Championship Series against Houston, Sid started Game Four. He pitched respectably but yielded homers to Alan Ashby and Dickie Thon in a 3-1 loss to sandpaper-scuffing suspect Mike Scott, who was on a lethal roll.

After the Mets finally dispatched the Astros in the draining 16-inning Game Six — which many observers place among the greatest games ever played — Davey Johnson decided to go with three starters against the Boston Red Sox in the World Series. Fernandez was odd man out for the rotation, but he played a pivotal role. When Ron Darling was knocked out of the box in Game Seven, Sid (making his third relief appearance of the Series) entered in the fourth inning. He walked his first man but then mowed down seven straight, including four strikeouts. He stabilized the situation and enabled the Mets to stage their final triumphant comeback.

"We just had a great team," Fernandez told journalist Patrick Hickey Jr. in a 2006 interview, when he was honored at the Hawaiian Night held by the Mets' Class-A affiliate, the Brooklyn Cyclones. "People thought we were cocky because we just beat everyone. We just played well as a team. I wish that whole team could have stayed together just a little bit longer. That would have been nice."18

Fernandez was an All-Star again in 1987, picking up the save for Lee Smith as the NL won 2-0 in 13 innings. He finished with only 12 wins, however, and his 3.81 ERA was unusually high for him. Again the White Rat's Cardinals came out ahead in September. In 1988 the Mets won the NL East; Fernandez was a hard-luck 12-10 with a 3.03 ERA. In the playoffs against the Dodgers, he gave up six runs in four-plus innings in Game Five, and the Mets lost the series. That year also featured work with sports hypnotherapist Peter Siegel, who incorporated heavy-metal music — which Sid loved — to get him in "The Zone."19

Another pair of frustrating second-place finishes for New York followed in 1989 and 1990, though in '89 Sid put up one of his best years. He went 14-5, 2.83, and on July 14 he pitched what might have been the most brilliant game of his career. Against the Braves in Atlanta, he struck out 16 (five of them looking) as his big curve was just deadly. It turned out to be a flawed gem, though, as Lonnie Smith hit a game-winning homer in the ninth.

In 1989 the division belonged to the Cubs, with Greg Maddux, Ryne Sandberg, and Rookie of the Year Jerome Walton. The 1990 season was another disappointment for Sid (9-14, 3.46). Better years from him and Darling might have enabled the Mets to catch the Pirates and Cy Young winner Doug Drabek. The 1991 campaign was a washout; a hot smash broke Sid's wrist in spring training, and he injured his knee after he came back. That offseason Fernandez attended the Duke University clinic and slimmed down markedly.20 He regained his form in '92, leading "The Worst Team That Money Can Buy" with a record of 14-11, 2.73. With a different team, that could have been his long-awaited 20-win season.

After that, though, the injuries started to catch up with Sid — he never started more than 19 games in a year again. After the 1993 season, when he again hurt his knee covering first base, he signed a three-year, $9 million contract with the Orioles. It was clear, though, that his physical problems weren't allowing him to get anything on the ball. Sid had always been a pronounced fly-ball pitcher — indeed, he once had a complete game (September 12, 1993) in which the infield did not record a single assist — but now the ball wasn't staying in the park. He allowed a frightening 27 homers in 115 innings in '94 and nine more in just 28 innings in '95. In July Baltimore bought Fernandez out for $2 million after a year and a half.

Yet there was still a last charge left in the battery. The Phillies picked Sid up three days later, and he responded with a 6-1 record in 11 starts, even capturing Pitcher of the Month honors in August as he won five straight. Manager Jim Fregosi also named him Philadelphia's Opening Day starter in '96, a career first. Although Sid went just 3-6 in 11 starts, he struck out well over a batter an inning, as he had the year before, and he remained difficult to hit.

Big 5-0 made his 300th and final start for the Astros in 1997. Houston GM Gerry Hunsicker, who knew Sid well from his years in the Mets front office, decided to take a flyer. On April 5 Fernandez got the W as he allowed two runs in five innings against St. Louis. However, elbow woes finally proved to be too much to battle through. Sid submitted to a final operation in May, went on a rehab assignment to Triple-A New Orleans, and decided to retire on August 1. His announcement came before a game at the Astrodome against the Mets.

After retirement, among other things, Fernandez served as Honolulu sports development coordinator. In 1998 he went with Mayor Jeremy Harris to Japan to speak with baseball executives there about using the proposed sports complex in Kapolei. This facility was a pet project of State Senate President Norman Mizuguchi and his old friend, Maui native Wally Yonamine, a member of the Japanese Baseball Hall of Fame.21

In July 2000 Fernandez returned to Shea Stadium as part of the celebration of the "Ten Greatest Moments in Mets History." He told the New York media that he was enjoying extensive time on the beach and golf course at home, and who could begrudge this agreeable fellow the lifestyle of a gentleman of leisure? Yet there was still another postscript to Sid's baseball career. He worked out hard over that winter and threw in front of big-league scouts in Arizona in February 2001. The Yankees were impressed enough to invite him to spring training, with the idea that he could be a lefty bullpen specialist.

"I went to a Mets reunion in January and a lot of people said, 'You look great, why don't you try and pitch again?'… I went home and thought about a comeback. I had thought about it in '99 and let it go. I guess I didn't want to be sitting around two or 20 years from now and regret not doing it."22

Fernandez noted that eminent orthopedist James Andrews had found nothing wrong with his elbow in 1998. He believed that a chiropractor had solved his problems by diagnosing and treating nerve damage in his neck. Although the big curveball still had bite, the longshot bid for a job in the Bronx did not come through. Fernandez went to Triple-A Columbus to get in some more work. After two innings in one start, though, he finally did hang it up for good. Yankees manager Joe Torre observed that Sid's knee was "just too bad, bone on bone."23

Fernandez resumed his easygoing life in Hawaii. He continued to enjoy golf, joining the Celebrity Players Tour in 2004.24 He and his wife, Noelani Gillis Fernandez, were married in 1991. They had two children.25 They run the Sid Fernandez Foundation, which for many years has awarded college scholarships to seniors from their alma mater, Kaiser High.

This man endured a lot of criticism during his career. When he arrived in the majors, he was shy and timid, to use his own words.26 He was also naïve and unworldly, as depicted in Jeff Pearlman's book about the 1986 Mets, The Bad Guys Won.27 That book and John Harper and Bob Klapisch's The Worst Team Money Could Buy portrayed him as "The Big Pineapple," who believed that professional wrestling was real. In particular, he drew flak about his weight, which did indeed fluctuate, contributing to his knee problems. On occasion Sid also puffed himself out running the bases, but he was one of the NL's better-hitting pitchers, batting .190 as a Met. All in all, if Sid had not been so strongly built, especially in the legs, it is doubtful that his elbow could have endured such a stressful motion as long as it did.

In addition, some observers felt that Fernandez did not sustain the concentration necessary to be a really big winner. On the contrary, others — particularly outside New York — believed that his competitive toughness was not properly appreciated. A rep as a six-inning pitcher was to a great extent unjustified in comparison with other starters around the league. And those who regard the Mets of the late '80s and early '90s as underachievers should think about Herzog's Cardinals and Tony La Russa's Oakland A's. Arguably both of those clubs should have won more championships too.

In the final analysis of Sid Fernandez, there are some eye-catching statistics:

* As of 2011, his strikeout ratio of 8.40 per 9 innings ranked 21st on the all-time list among pitchers with more than 1,000 innings pitched.

* Three times (1985, 1988, and 1990) he led the NL in lowest opponents' batting average.

* In both lifetime lowest opponent's batting average (.209) and fewest hits per nine innings (6.85), he ranks third behind Nolan Ryan and Sandy Koufax—exalted company indeed.

Notes
1 Peter Gammons, "More Than a Media Darling," Sports Illustrated, April 6, 1987.
2 E-mail from Milt Wilcox to Rory Costello, July 20, 2011.
3 Tim Layden, "For Hawaii's 'El Sid,' The Surf's Always Up," Albany Times Union, March 27, 1987.
4 Ralph Wiley, "This Duke's a Real Hazard," Sports Illustrated, June 28, 1982.
5 Dan Cisco, Hawai'i Sport. (Honolulu: University of Hawai'i Press, 1999), 36.
6 Dave Nightingale, "Sidney Smoke: Super Prospect Fernandez May Have Climbed Too Fast." The Sporting News, August 2, 1982: 41.
7 Ibid.
8 Tom Keegan, "Wary Fernandez issues surfing an intentional pass." Baltimore Sun, April 20, 1994.
9 Cisco.
10 Nightingale.
11 Ibid.
12 Bill Kwon. "Sid quits." Honolulu Star-Bulletin, August 1, 1997. During spring training 1987, Fernandez briefly wore number 10.
13 Wiley; Dave Nightingale, "A Collective Sigh of relief in FSL." The Sporting News, June 21, 1982: 42.
14 Jack Lang and Peter Simon, The New York Mets: Twenty-Five Years of Baseball Magic (New York: Henry Holt and Company, 1986), 195.
15 George Vecsey, "Fernandez's State of Mind," New York Times, August 26, 1984. Fernandez gave up bodysurfing after a scary accident in 1987, though (Keegan).
16 Keegan.
17 Davey Johnson and Peter Golenbock. Bats (New York: G.P. Putnam, 1986), 37.
18 Patrick Hickey Jr., "Fernandez Still Remembers '86." (patrickhickeyjr.tripod.com/sid_fernandez_interview.html).
19 Jessica Bendinger, "Mental Metal," SPIN, September 1988: 14.
20 Marty Noble, "From El Sid to El Slim," Newsday, February 12, 1992.
21 Bruce Dunford, "Hawaii Complex Gets Wake-Up Call," Associated Press, July 16, 1999.
22 Tom Keegan, "A Return to Slender," New York Post, February 21, 2001: 70.
23 George King, "Torre Says Family Comes First for Bernie, Bombers," New York Post, April 15, 2001.
24 Bill Kwon, "Fernandez Looking to Make Mark on Celebrity Golf Tour," Honolulu Advertiser, April 22, 2004.
25 Erika Engle, "He Built It, but Now He's Leaving." Honolulu Star-Bulletin, February 5, 2002.
26 Steve Wilder, "The Best Is Yet to Come for the Mets' Sid Fernandez," Baseball Digest, June 1986: 28. Originally published in the New York Post.
27 Jeff Pearlman, The Bad Guys Won (New York: HarperCollins Publishers, 2004), 78-79.
Born
October 12, 1962 at Honolulu, HI (USA)
If you can help us improve this player's biography, contact us.
http://bioproj.sabr.org/bp_ftp/images5/FernandezSid.jpg
600
800
admin
/wp-content/uploads/2020/02/sabr_logo.png
admin
2012-01-04 19:49:40
2020-09-23 16:22:03
Sid Fernandez