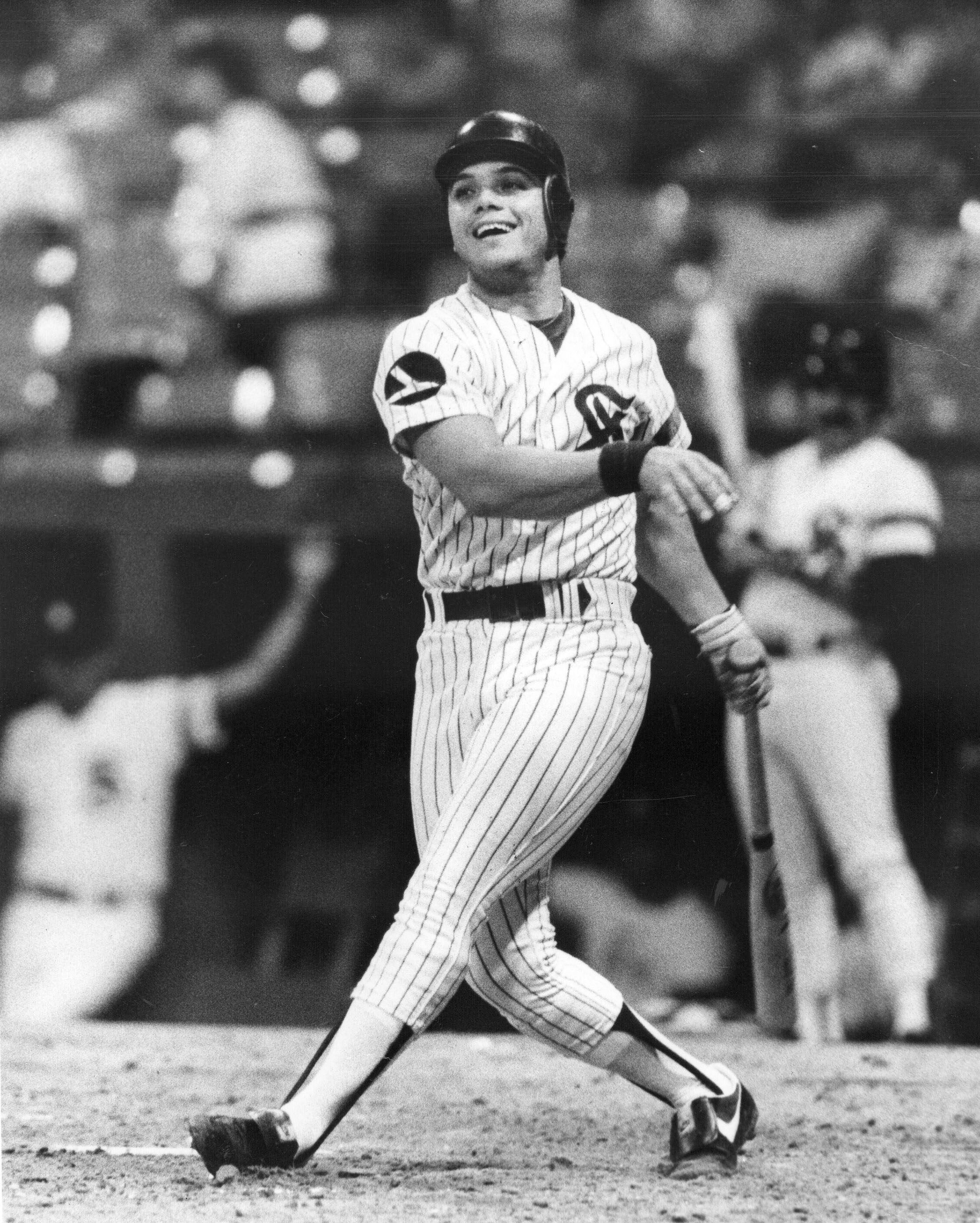 ---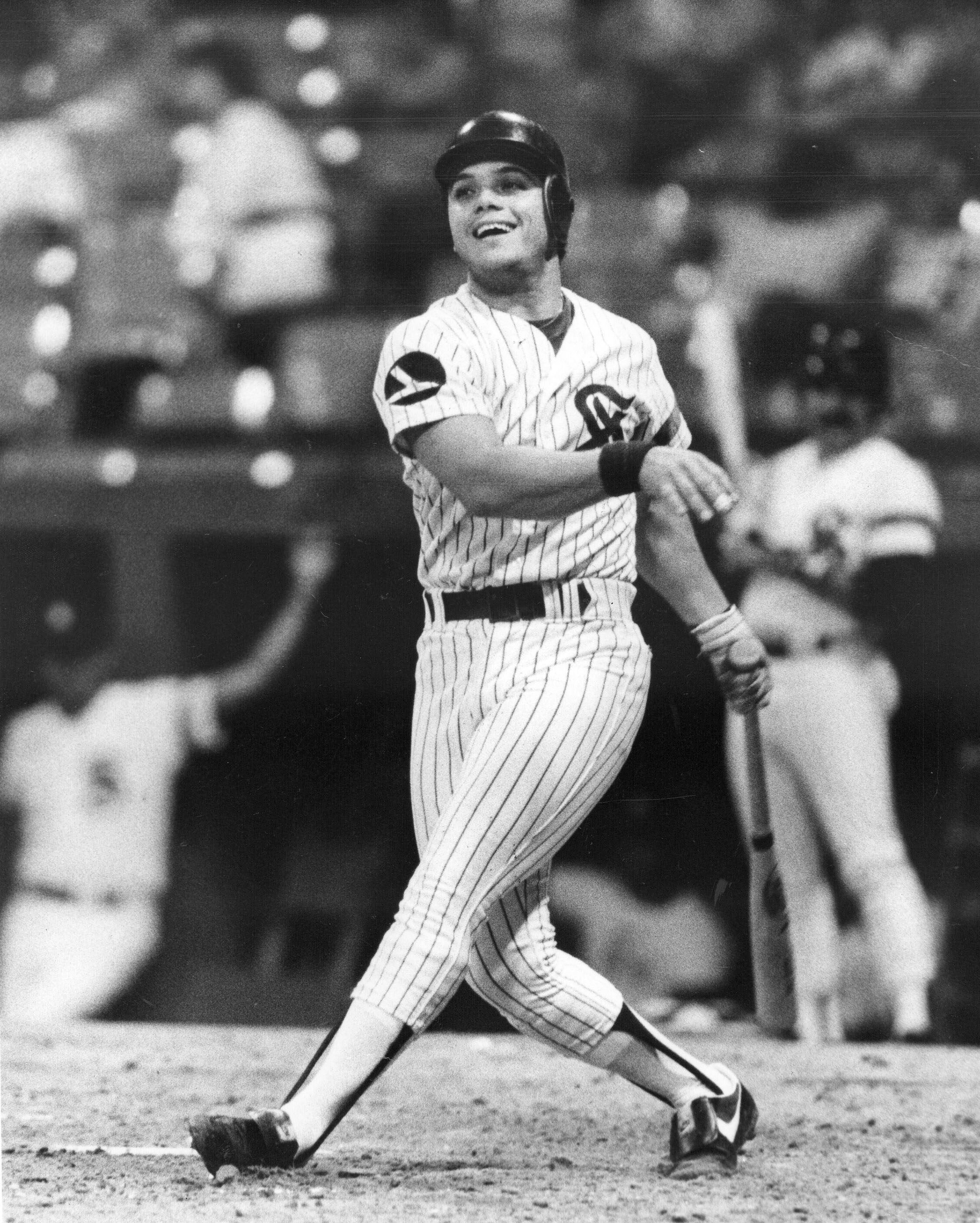 Opening Day at Milwaukee's County Stadium, April 10, 1980. Visiting Boston scores two runs in the top of the inning to tie Brewers at 5 apiece. Bottom of the inning, two outs, bases loaded. Up to the plate steps Sixto Lezcano. A packed house of 53,313 screaming as one, urging Sixto to send them home with smiles on their faces.
Dial back the clock 26½ years to Saturday, November 28, 1953. Sixto Joaquin Lezcano Curras was born in Arecibo, Puerto Rico, 50 miles west of the capital city of San Juan. Arecibo produced major leaguers Luis Olmo and Vic Power before him and is known as "El Diamante Del Norte" (The Diamond of the North).1 Quite apropos since Lezcano would grace the diamonds of major-league baseball for 12 seasons. Properly pronounced "SEES toh,"2 but "SIX toh" by most fans, Lezcano became a fan favorite through the years, as did his name itself. However, his career was noted for periods of poor attitudes.3
Felix Delgado4 signed 16-year-old Lezcano to a contract with the Milwaukee Brewers for $5,0005 when he was a student at Fernando Collegio San Jose High School6 in San Jose, Puerto Rico, on October 1, 1970.7 However, four years earlier, Delgado first tried to sign him as a 12-year-old, thinking he looked much older.8 He later wore number 16 while with both the Brewers and Cardinals in honor of his age at the signing of his contract.9 He worked his way through the Milwaukee farm system with stops at Newark, New York (short-season Class-A New York-Penn League), Danville (Class-A Midwest League), Shreveport (Double-A Texas League), and Sacramento (Triple-A Pacific Coast League). Brewers batting coach Harvey Kuenn noticed Lezcano's potential during winter instructional ball in 1971: "The kid can't miss. He can hit with power, run, and throw."10
Lezcano showed improvement each season, raising his home-run and RBI totals each year, culminating in 1974 with the Sacramento Solons when he hit 34 home runs, had 99 RBIs, batted .325, and was a late-season call-up to the Brewers. However, he was only third on the team in round-trippers behind Bill McNulty's 55 and Gorman Thomas' 51. Sacramento hit 305 home runs, a large number until you consider that the left-field foul pole sat a mere 233 feet from home plate. Hughes Stadium was primarily a football and track and field stadium and thus not suited for baseball.11
Brewers manager Del Crandall penciled Lezcano's name into the starting lineup on September 10, 1974. And did Sixto ever perform! He singled against the Baltimore Orioles' Dave McNally in his first career at-bat. He went 3-for-5, including a game-winning single in the bottom of the 10th. Lezcano scorched a line-drive single off reliever Grant Jackson, driving in Johnny Briggs from third base for a 6-5 Milwaukee victory.12
Lezcano's first home run came 10 days later, off John Hiller of the Detroit Tigers, a three-run shot to give the Brewers a 5-3 lead. Lezcano would patrol the outfield for Milwaukee for the next six seasons.
On May 1, 1975, the Brewers bombed the Tigers at County Stadium, 17-3, led by Hank Aaron's 4-for-4 day with two RBIs. In the third, Aaron drove in Lezcano with a single off Vern Ruhle to surpass Babe Ruth on the all-time RBI list with number 2,210.13
Lezcano developed a reputation for being a "hard head" during the 1975 season, leading to a clash of personalities with manager Del Crandall. His approach at the plate was one of going for the home run.14 Lezcano felt Crandall had tried to give him too much advice and had confused him. This led to a certain amount of arrogance and with temper tantrums. In early August Crandall fined Lezcano twice (for $100 and $50) for his poor attitude and benched him for several games.15 One of the fines was for smashing a water cooler in the dugout in Minnesota and hurting his hand. The friction with the manager came to a head when Crandall suspended Lezcano for a week at the end of the season. After using a number of pinch-hitters and runners during a game, Crandall asked Lezcano to pinch-run. Lezcano did not respond and continued to stand in place, smoking a cigarette.16 Some viewed his actions as downright mutiny. Before the season ended, Lezcano went to Crandall's office and apologized for his behavior. Crandall was impressed with his sincerity. "After all, he knew I was going to be fired, so he didn't have to butter me up," the manager said. 17 He also had a long discussion with Bud Selig, the Brewers president, and general manager Jim Baumer who related, "He was almost apologetic as he told us he was wrong. He promised us he was going to be a different person and you've got to believe him. He'd never been a problem before in our organization."18
Lezcano had a new manager in 1976, Alex Grammas, fresh from a World Series title as third-base coach with the Cincinnati Reds. Lezcano again promised management that he would turn over a new leaf and not be the "rebellious youngster" from the previous season.19 A thumb injury in spring training, led to a slow start. Lezcano's batting average slipped to a season low .265 in May. Grammas rested him for a week and he was able to bounce back, finishing the season at .285.20
During the 1976 season Lezcano became engaged to his hometown sweetheart. In addition, he became his niece's godfather on November 6.21
Red Sox pitcher Dick Drago gets the sign from catcher Dave Rader. Here's the pitch …
Lezcano was also a frequent winter-ball participant, playing on three championship teams in Puerto Rico.22 During the 1975-76 winter season, he changed his approach at the plate from trying for home runs to looking for a hit by getting good wood on the ball. He adjusted his stance so he could cover more of the plate. He acknowledged advice from his winter-ball teammates Felix Millan, Jerry Morales, Willie Montanez, and manager Jim Bunning.23 In the 1976-77 winter season, Lezcano led the league in batting (.366) for Caguas Criollos,24 or Country Boys.25 The Criollos, who had a team batting average of .307, included future Hall of Famer Eddie Murray. Manager Doc Edwards later compared the team to many big-league clubs of the mid-'90s.26
On April 10, 1977, Lezcano provided all of the offense in a 2-1 victory over the New York Yankees, including a "called" shot in the ninth inning. After hitting a home run to tie the game, 1-1, in the fourth, Lezcano came to the plate in the top of the ninth inning and was overheard by the Yankees' Spanish-speaking batboy to say, "Yo voy saca reste" ("I'm going to take this one out").27 And he did.
On May 20, 1977, Lezcano broke the American League record for most putouts by an outfielder with 10 in a nine-inning game.28
Lezcano's home run numbers went up in 1977, as did his strikeouts, in which he ranked as high as third in the AL during the season. However, starting on July 9, Lezcano reduced his strikeout ratio from 22.9 percent to 9.1 percent, including only 9 in his final 99 at-bats.
The Yankees' Mike Torrez broke Lezcano's left hand with a pitch on July 22. After a 49-game absence (save for one appearance as a pinch-runner), he returned to the lineup and banged out five home runs in his first 12 games. Of his hand, Lezcano said, "It still hurts. I'm getting paid and I don't like to get paid sitting. I like to get paid working."29 It was the first time in his baseball career that he had been out for such an extended period. During the winter (1977-78), he passed up playing in the Puerto Rican winter league, the first time he had done that. He wanted to spend more time with his family in Puerto Rico and give his hand time to heal.30
After two years of consecutive sixth-place finishes, Bud Selig dispatched both manager Grammas and general manager Baumer, replacing them with Harry Dalton (from the California Angels) and George Bamberger (from the Orioles). It was the start of Bambi's Bombers.31 However, winning 93 games in 1978 was good enough for only third place in the AL East behind the Yankees and Red Sox.
Lezcano knocked out two grand slams in 1978, the first on Opening Day, April 7, against the Orioles' Tim Stoddard. It was the first of three consecutive games in which a Brewer hit a grand slam, the first time this occurred in the major leagues.32 Gorman Thomas (April 8) and Cecil Cooper (April 9) followed Lezcano. Lezcano's second grand slam of the season was part of a five-RBI game against the Indians on August 24 in a 9-8 extra-inning win at County Stadium. The 1978 season was the Brewers' first over .500. They stayed above .500 for the rest of Lezcano's time in Milwaukee.
An early-season shoulder injury caused him to miss 10 games in April.33 After he was named the Brewers' player of the month in May (.333, 8 home runs, 17 RBIs), Lezcano's contract was extended three years through the 1981 season.34
After the 1978 season, the Brewers had four regular outfielders — Lezcano, Larry Hisle, Gorman Thomas, and Ben Oglivie — and the case was being made to dispatch Lezcano in a trade. However, manager Bamberger thought highly of him, saying, "He's 25 years old and he's probably the best right fielder in baseball. The only guy close is Dwight Evans at Boston, and if you ask me which one I'd rather have, I'd take Lezcano."35 The fact that he led AL right fielders with 18 assists may have prompted that statement. As it turned out, Hisle tore his rotator cuff 20 games into the season.36
Lezcano's best season came in 1979 when he socked 28 home runs, drove in 101 runs, and hit .321, all career highs. He was awarded a Gold Glove as the league's premier right fielder.37 He was voted the Brewers' Most Valuable Player38 and named the Puerto Rican professional athlete of the year.39
While sidelined with a thumb injury, he was married to fiancée Marianjelly on May 21.40 On May 25, after returning from the injury, he knocked out two home runs and scored all three runs in a 3-2 Brewers win over the Oakland A's.41
In early June, hitting coach Harvey Kuenn said Lezcano had matured. "He's starting to know the strike zone better," Kuenn said. "He's not swinging at as many bad balls as he used to."42 Lezcano reduced his strikeout ratio to a career-low 15.6 percent.
In the bottom of the 11th inning, on July 19, 1979, Lezcano homered off Blue Jays pitcher Tom Buskey for a 3-2 Brewer walk-off win.
"He is one of the most underrated ballplayers in the American League," said manager Bamberger.43 "[He] can do everything. Some guys are superstars and they can only do two things. Not only does he play outstanding baseball, but when he wasn't playing, he was rooting for everybody else. That impressed me. His attitude is outstanding."44
Milwaukee won its last five games going into the All-Star break. Coming out, the Brewers won five more to tie the team record of 10 consecutive wins set in 1973 and earlier in the 1978 season from June 9-17. Lezcano hit four home runs in the first four games until he went down with a sore heel.45 During this stretch, Lezcano's wife was admitted to a Milwaukee hospital due to pregnancy complications.46
Milwaukee improved to a then franchise record 95 wins and a second-place finish behind the Orioles in 1979.
The 5'10" 165 pound Lezcano swings. … It's a long fly ball to right field …47
Lezcano's postseason victory was the birth of his son Michael in October 1979.48 Once again, he passed up winter ball.49
On Opening Day of 1980, April 10, he kicked off the season with two home runs. The first one was a two-run homer off Boston's Dennis Eckersley that tied the score; the second was his other Opening Day grand slam, a walk-off homer hit down the right-field line off reliever Dick Drago.
The Brewers slumped to 86 wins and a third-place finish in 1980. It was Lezcano's worst season to date. He was plagued by injuries, including a season-ending broken bone in his hand after he was hit by a pitch from the Tigers' Jerry Ujdur on August 31. His average dipped to .229 (from .321), the largest drop of any major-league regular,50 making him expendable.51 Lezcano's attitude also took a nosedive. Teammate Ben Oglivie noted that the 1980 Brewers team was marked by frustration and fault-finding and that Lezcano was one of the instigators.52
Lezcano became part of two blockbuster trades that helped both Milwaukee and St. Louis reach the 1982 World Series.53 On December 12, 1980, he was sent to the Cardinals with a highly regarded prospect, outfielder David Green, and starting pitchers Dave LaPoint and Lary Sorensen for catcher Ted Simmons and the next two AL Cy Young Award winners, Rollie Fingers and Pete Vuckovich. All three new Brewers were key members of the 1982 pennant-winning team. All four of the new Cardinals (or players traded for them) made contributions to the 1982 Cardinals World Series champions.
Lezcano's 1981 season was marred by another injury, this time to his wrist, that sidelined him from mid-June to mid-August,54 and a sore elbow that caused him to miss a number of games in September.55
Lezcano took a platoon role in St. Louis, batting primarily against left-handed pitchers despite hitting 100 points higher against righties.56 After the season he demanded to be traded and Cardinals manager-GM Whitey Herzog obliged.57 The Cardinals had a chance to unload troubled shortstop Garry Templeton with Lezcano to the San Diego Padres for shortstop Ozzie Smith and pitcher Steve Mura.58 While Templeton was a key cog in the Padres' 1984 NL championship season, Smith was the final piece the Cardinals needed to win the 1982 World Series and the 1985 and '87 NL pennants. Lezcano did not mince words after his departure: "I'm pretty sure Whitey hasn't been in the World Series," comparing him to his Padres manager Dick Williams who had won two World Series Championships with the 1972 and 1973 Oakland A's. "Whitey won two [division titles] (with Kansas City) and was still fired. I wonder why?"59
Before the 1982 season, Lezcano became a father again when son Steven was born on February 18.
The 1982 season turned out to be a comeback year for Lezcano as he had his second-best offensive season with 16 home runs and 84 RBIs (both second on the team), a .289 batting average, 78 walks, a .388 on-base percentage, and a .472 slugging percentage. Despite missing 24 games to injuries,60 he led the NL in assists (16, tied with Chili Davis and Lonnie Smith) and double plays (8) and made only three errors. "I thought I deserved a Gold Glove. I felt like I made more contributions than the guys who won them," said Lezcano during spring training in 1983.61
Lezcano had a spectacular day on July 31, going 6-for-7 with three home runs, two doubles, and seven RBIs in a doubleheader sweep of the Reds. He was named the National League Player of the Week twice during the season. On September 13 Lezcano was hit on the left hand by a Bob Welch fastball. The injury ended Lezcano's season and the Padres won just seven of their remaining 19 games, finishing at .500 in fourth place, eight games out of first place.
During the 1982-83 winter-ball season semifinal series between Lezcano's Santurce team and Arecibo, his hand was broken again by a pitch from Keith Creel, and was lost for the rest of the playoff season.62
Lezcano got off to a good start in 1983, batting .293 with six doubles, and 16 RBIs in the month of April. However, after May 5 he fell into a slump, hitting .210 through the end of August. On August 31 Lezcano was dispatched to the Phillies in a trade involving five players to be named later.63 He platooned with former Padres teammate Joe Lefebvre in right field and had a game-winning hit on September 11 with a pinch-hit single in the seventh inning in a 5-3 win over the Pirates. The win kept the Phillies a half-game behind first-place Montreal in the tight NL East race.
Commenting on his new role as a platoon player, Lezcano said, "All my life I've been a regular, and there's a certain adjustment you have to make when you're a platoon player. There's nothing wrong with platooning; with the personnel we have, we have to use everybody. Then if we make the playoffs and World Series, everybody will be ready. I've never been in a pennant race before, and it feels good. I feel like I've come out of a nightmare and gone into a dream, so I'm willing to do whatever it takes. Otherwise, I'll be home watching the World Series on TV."64
Because the Phillies acquired Lezcano before September 1, he was eligible to play in the postseason for the first time. Batting .308 in the NLCS, Lezcano went 3-for-4 including a two-run home run against Rick Honeycutt in the sixth inning of Game Four against the Dodgers, to ice the game and the series. In the seventh inning, he gunned down the Dodgers' Bill Russell trying to stretch a single into a double. Lezcano batted .125 in the World Series, starting two games in the five-game Series loss to Baltimore.
Lezcano had a respectable year in 1984 for the Phillies, who were unable to repeat as division champions (81-81, fourth place, NL East) as a pinch-hitter and part-time outfielder, hitting .277 with 14 home runs in 294 at-bats. On May 1 he hit two home runs and drove in five runs in a 7-4 victory over the Montreal Expos.
During the offseason, the Pirates signed Lezcano as a free agent. He commented, "Before I leave this game, I wanted to play for the team my idol played for. All Puerto Rican kids where I was growing up [Arecibo] idealized Roberto Clemente."65 He opted for a two-year, $800,000 deal with Pittsburgh over offers from Oakland and Houston. Lezcano said he was frustrated with a lack of playing time on the Phillies, even though Pirates manager Chuck Tanner saw Lezcano as a fourth outfielder.66 Lezcano batted just .207 for the 1985 Pirates with three home runs in 153 at-bats. What turned out to be his last major-league hit was a pinch single off the Cardinals' John Tudor on August 12.
Lezcano was released by the Pirates in April 1986 and spent time caring for his ailing wife in Puerto Rico.67 He attempted a comeback the next year when he signed with the Yokohama Taiyo Whales of the Japan Central League. However, after hitting .217 in 20 games, Lezcano retired from the game. He reportedly told team officials, "I couldn't show power as in the past and I do not want to give trouble to the Whales anymore."68
In the years after his retirement as a player, Lezcano coached in the Royals and Braves organizations from 1993 through 2010, when he retired.69
In 1994 Lezcano was named manager of his old team, the Caguas Criollos, just four games into the winter season after Mike Easler was fired. Lezcano was later fired as well as Caguas finished in last place.70
On June 13, 2014, Milwaukee established the Brewers Wall of Honor with Lezcano being one of the initial honorees along with Hall of Famers Hank Aaron, Robin Yount, Paul Molitor, and Rollie Fingers.71
Sixto's cousin Carlos Lezcano played two seasons for the Chicago Cubs and managed more than 1,800 games in the minor leagues.72
It's GONE!!! for a Grand Slam and the Brewers win the game 9-5!! Lezcano crosses the plate and his teammates mob him.
This home run, on April 10, 1980, was Lezcano's second grand slam in an Opening Day game, a major-league record. In 2006 Brewers historian Mario Ziino selected the blast as the most memorable home run in Brewers history.73
Last revised: August 1, 2018
This biography is included in "Puerto Rico and Baseball: 60 Biographies" (SABR, 2017), edited by Bill Nowlin and Edwin Fernández.
Sources
In addition to the sources cited in the Notes, the author also relied upon Baseball-Reference.com and Retrosheet.org.
Notes
1 "Arecibo, PR-Diamond of the North," eyetour.com/blog/arecibo/, retrieved August 18, 2016.
2 "Sixto Lezcano," cardboardgods.net/2007/09/12/sixto-lezcano/, September 12, 2007, retrieved August 18, 2016.
3 Witness his run-ins with Del Crandall and Whitey Herzog, among others.
4 Milton Richman, "Lezcano: Starting Over in NL," Los Angeles Times, April 5, 1981.
5 Phil Collier, "Everyday Action Is Lezcano's Goal," San Diego Tribune, March 27, 1982.
6 Sixto Lezcano fact page from Baseball Hall of Fame, September 1974.
7 Kyle Lobner, "Today In Brewer History: Happy Anniversary, Sixto Lezcano,"
m.mlb.com/video/topic/6479266/v7999465/41080-sixto-lezcano-hits-a-homeopener-walkoff, October 1, 2012, retrieved August 18, 2016.
8 Collier, "Everyday Action Is Lezcano's Goal."
9 Richman.
10 Lou Chapman, "Thomas and Lezcano Brighten Brewers' Future," Milwaukee Sentinel, September 28, 1974.
11 Baseball Oddballs, "Arena Baseball at Hughes Stadium," baseballoddball.blogspot.com/2013/02/arena-baseball-at-hughes-stadium.html, February 17, 2013, retrieved December 11, 2016.
12 Chapman, "Thomas and Lezcano Brighten Brewers' Future."
13 Herm Krabbenhoft has conducted research on RBIs and determined that Ruth should have been credited with an additional five RBIs (2,214). In this case, Aaron did not actually pass Ruth until May 15, when he hit a sacrifice fly off Texas Rangers starter Steve Hargan. (He added a three-run home run later in the game.) "40 Years Ago: Hank Aaron Sets new RBI Mark – 1976 Topps #1 Record Breaker." phungo.blogspot.com/2015/04/40-years-ago-hank-aaron-sets-new-rbi.html, April 30, 2015, retrieved August 18, 2016.
14 Lou Chapman, "Ex-Bad Boy Lezcano Brewers' Pride and Joy," The Sporting News, September 11, 1976.
15 Article in unknown newspaper, August 28, 1975, from Lezcano's Hall of Fame file.
16 Deane McGowen, New York Times, September 24, 1975.
17 Lou Chapman, "Lezcano Promises to Curb Tantrums," Milwaukee Sentinel, unknown date.
18 Ibid
19 Ibid.
20 Chapman, "Ex-Bad Boy Brewers' Pride and Joy."
21 Ibid.
22 Lou Chapman, "Ex-Midget Lezcano Packs a Big Wallop for Brewers," The Sporting News, April 30, 1977.
23 Chapman, "Ex-Bad Boy Lezcano Brewers' Pride and Joy."
24 Thomas E. Van Hyning, "Dennis Martinez's Winter League Career," SABR, The National Pastime, 16, 1996: 51.
25 Keith Harmon, "In Wisconsin or Puerto Rico, Sixto's Still a Hero," 1977 Milwaukee Brewers Scorebook: 12B.
26 Van Hyning, "Dennis Martinez's Winter League Career."
27 Associated Press, "Sixto's KOs, 'Legal Balk' Foul Up Yanks," Binghamton (New York) Press and Sun-Bulletin, April 11, 1977.
28 "Record for Lezcano," unknown newspaper in Lezcano's Hall of Fame file, June 11, 1977. Note, this article stated the record occurred on May 21, 1977. Retrosheet states it happened on May 20, 1977.
29 Lou Chapman, "Sixto Shooting for Top Spot as Brewer Belter," The Sporting News, October 8, 1977.
30 Ibid.
31 Michael V. Uschan, United Press International, "In 1978 the Milwaukee Brewers Were Known as 'Bambi's…," April 28, 1986, upi.com/Archives/1986/04/28/In-1978-the-Milwaukee-Brewers-were-known-as-Bambis/2098515044800/ retrieved December 15, 2016.
32 "Sixto Lezcano," baseball-almanac.com/players/player.php?p=lezcasi01, retrieved August 18, 2016. See list at bottom of page.
33 "Sixto Lezcano Rightfielder," 1978 Seattle Mariners scorecard, from Lezcano's Hall of Fame file.
34 "Brewers Bits," The Sporting News, July 15, 1978.
35 Mike Gonring, "Brewers Nix Trade Talks Involving Sixto," The Sporting News, December 23, 1978: 48.
36 David E. Skelton, "Larry Hisle," SABR BioProject, sabr.org/bioproj/person/99d6b47d, April 25, 2014, retrieved December 15, 2016.
37 Of note, 1979 was Lezcano's worst season in defensive wins above replacement (dWar) with a -1.1. In fact, he had only two positive dWar seasons (1978, 0.2; 1982, 0.6). dWar is the defensive counterpart of wins above replacement (WAR).
38 Unattributed newspaper article, January 26, 1980, from Lezcano's Hall of Fame file.
39 Tom Flaherty, "MVP Lezcano Reaps Reward," Milwaukee Journal, February 16, 1980.
40 "Sixto Lezcano," Facebook, facebook.com/sixto.lezcano.75/about?lst=1655423404%3A100004230403197%3A1490929601,
retrieved December 12, 2016.
41 Untitled recap associated with box score from May 24, 1979 game between Oakland and Milwaukee, from Lezcano's Hall of Fame file.
42 Mike Gonring, "Sixto's RBI Numbers Take Up Brewer Slack," The Sporting News, June 2, 1979.
43 Mike Gonring, "Lack of Acclaim Doesn't Bother Maturing Lezcano," Milwaukee Journal, May 15, 1979: 21.
44 Flaherty.
45 Mike Gonring, "Lezcano's Bat Fills a Big Void for Brewers," The Sporting News, August 11, 1979.
46 Ibid.
47 "4/10/80: Sixto Lezcano hits a home-opener walk-off"
m.mlb.com/video/topic/6479266/v7999465/41080-sixto-lezcano-hits-a-homeopener-walkoff,
retrieved August 18, 2016.
48 Rick Hummel, "Money Talk Disturbs Lezcano," St. Louis Post-Dispatch, April 18, 1981.
49 Flaherty.
50 Richman.
51 Lezcano's left hand was broken on a pitch from Mike Torrez of the Yankees on July 22, 1977. He was out of the lineup for a little over a month. Photo, NYP Holdings, Inc. via Getty Images, gettyimages.com/detail/news-photo/sixto-lezcano-screams-in-pain-after-his-hand-was-broken-by-news-photo/533001554, July 23, 1977, retrieved August 18, 2016. Note: The caption incorrectly states that the injury occurred on July 23.
52 "Dissension Brewers Problem?" unknown newspaper article, March 21, 1981, from Lezcano's Hall of Fame file.
53 Jenifer Langosch, "Players Recall Epic '82 'Suds Series'" m.mlb.com/news/article/25568000/, October 9, 2011, retrieved August 18, 2016; Dave Anderson, Trade That Brewed the 6-Pack Series," New York Times, October 12, 1982, nytimes.com/1982/10/12/sports/sports-of-the-times-trade-that-brewed-the-6-pack-series.html,
retrieved August 18, 2016.
54 Bob Chandler, San Diego Padres press release dated March 12, 1982.
55 John Sonderegger, "San Diego Hopes Sixto Lezcano's Bat Makes a Comeback." St. Louis Post-Dispatch, undated article from 1982.
56 Phil Collier, "Lezcano Hikes Padres' Punch," San Diego Union, date unknown.
57 Sonderegger.
58 Relief pitcher Luis DeLeon was the player named to complete the deal, moving from the Cardinals to the Padres.
59 Sonderegger.
60 Untitled San Diego Tribune article, March 14, 1983, from Lezcano's Hall of Fame file.
61 Ibid. The three NL Gold Glove outfielders were Dale Murphy, Garry Maddox, and Andre Dawson.
62 Thomas Van Hyning, The Santurce Crabbers: Sixty Seasons of Puerto Rican Winter League Baseball (Jefferson, North Carolina: McFarland, 1999), 144.
63 Lezcano was traded with Steve Fireovid for the Phillies' Marty Decker, Ed Wojna, Darren Burroughs, and Lance McCullers.
64 Pohla Smith, "Sixto Lezcano, Who Says He's Still Trying to Learn…" September 11, 1983, upi.com/Archives/1983/09/11/Sixto-Lezcano-who-says-hes-still-trying-to-learn/6357432100800/, retrieved August 18, 2016.
65 Charley Feeney, "Lezcano Follows Clemente to Bucs," The Sporting News, February 4, 1985.
66 Ibid.
67 Associated Press, "Sixto Lezcano Quits Japanese Baseball," articles.latimes.com/1987-05-18/sports/sp-393_1_show-power, May 18, 1987, retrieved August 18, 2016.
68 Ibid.
69 "Brewer Player Retrospective — Sixto Lezcano," forum.brewerfan.net/viewtopic.php?f=63&t=33766, retrieved August 18, 2016.
70 David Nevard, "The Making of Mo Vaughn," buffalohead.org/nomomo.htm, 1999, retrieved December 11, 2016.
71 Bob Wolfley, "New Wall of Honor Brings Together Old Milwaukee Brewers," Milwaukee Journal Sentinel, June 13, 2014. archive.jsonline.com/sports/brewers/new-wall-of-honor-honors-old-milwaukee-brewers-b99290675z1-263126431.html, retrieved August 16, 2016.
72 Mark Schremmer, "Lezcano's Baseball Journey Lands Him in Joplin," Joplin Globe, January 25, 2015, joplinglobe.com/sports/local_sports/lezcano-s-baseball-journey-lands-him-in-joplin/article_c3c93711-d660-5ea2-ac96-d4c87fd2486a.html, retrieved August 18, 2016.
73 Drew Olson, "Blasts From the Past: A Look at Memorable Home Runs in Brewers History," May 13, 2006, onmilwaukee.com/sports/articles/brewhomers.html, retrieved August 18, 2016.
Full Name
Sixto Joaquin Lezcano Curras
Born
November 28, 1953 at Arecibo, (P.R.)
If you can help us improve this player's biography, contact us.
https://sabr.org/sites/default/files/LezcanoSixto.jpg
600
800
admin
/wp-content/uploads/2020/02/sabr_logo.png
admin
2012-01-04 20:27:39
2012-01-04 20:27:39
Sixto Lezcano