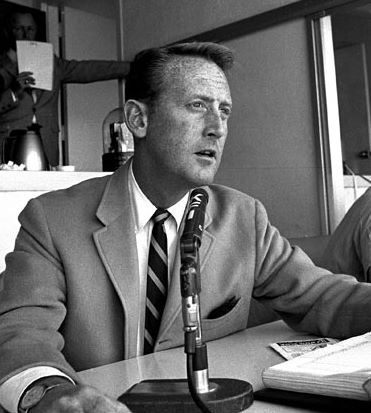 ---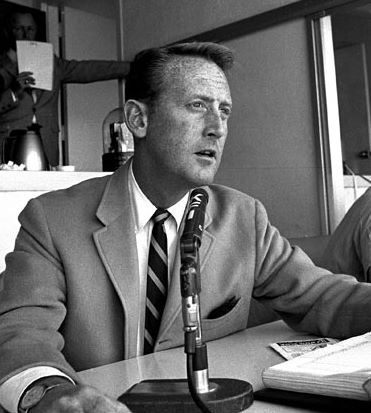 Chances are if one were to poll SABR members about the greatest left-hander in the history of the Dodgers franchise, the most frequent response would be, "Sandy Koufax." But they would be incorrect. Without a doubt, the honor of greatest southpaw in organizational history belongs to Vincent E. Scully.
Since the emergence of baseball broadcasts, America's love and fascination with the sport has been amplified by the play-by-play announcers who describe and interpret the strategies and resulting action with their own unique conversational style and insider baseball knowledge. On the surface it seems simple enough. The broadcaster watches the game from a booth overlooking the diamond and speaks into a microphone headset reporting the game. But it is much more than that.
The principal announcer, the team's "voice,'' is the embodiment of the link between the team and its loyal fans. No one is a better illustration of that nexus than the Dodgers' Vin Scully, whose professional work for the organization spanned two coasts and sixty-seven consecutive years. Scully's remarkable career with the Dodgers began in 1950, eight years before the team pulled up stakes in Brooklyn and headed west. No one called the play-by-play for one team longer. Only two of the major-league stadiums remained from his rookie year when he called his last game. A full two-thirds of a century? It is likely we'll witness Joe DiMaggio's 56-game hitting streak surpassed or Cal Ripken's consecutive games streak shattered before the one Scully established is matched.
Scully's constant presence in the tapestry of Dodgers baseball history extends into the various eras and themes that run through its history. Scully was there, of course, to call the seasons that saw the Dodgers capture five National League pennants in the 1950s, and three more with Sandy Koufax-Don Drysdale–Maury Wills–Tommy Davis in the span between 1963 and 1966. He covered the swinging '70s with the likes of the record-setting infield of Ron Cey, Bill Russell, Davey Lopes and Steve Garvey, who brought three additional National League Championships to Los Angeles; he helped shepherd in Fernando-mania and a World Championship in 1981, and he was up in the booth with NBC in 1988 when Orel Hershiser and Kirk Gibson led their team to another Dodger World Series crown. He was there throughout the half-century of the O'Malley family ownership, the complete managerial careers of Walt Alston and Tommy Lasorda (totaling 43 seasons), and the debut seasons of 16 of the first 18 Dodgers to win the National League Rookie of the Year Award.
Despite being away from NBC weekly Saturday afternoon broadcasts since 1989 and CBS radio post-season broadcasts since 1997, and Dodger games since 2016, Scully may still have the most recognizable voice in baseball. His signature was an easy-going, golden-throated delivery, displaying a great command of the English language, deployed in a manner that has been called nothing short of an art form. USA Today called him "the poet laureate of baseball."1
For 59 years, Vin Scully provided the soundtrack for the Southland summer — not to mention a good part of spring and a sprinkle of fall. To say that he had a sizable following in Southern California and across the nation would be an understatement. The elongated announcement by Scully at the start of every Dodgers television broadcast, "It's time for Dodger baseball," as it has been for decade after decade, is as familiar to Angelenos as the Hollywood sign. Yet, despite his long association with the Dodgers, he was not viewed as a "homer" by fans — a term used in reference to those sportscasters who openly root for the team whose game they cover. Scully reported the plays objectively, regardless which team made the spectacular catch, or conversely, failed to hit the cut-off man. It is for this reputation that the Los Angeles Times Sunday Magazine ran a long feature piece on Scully with the banner, "The Most Trusted Man in L.A." 2
Scully always pinpointed his honed objectivity in calling baseball games to two primary factors: first, he got his start when greater New York City sported the Dodgers, Giants, and Yankees. "I was very conscious of other fans listening to the ballgame," he said. Second, he was teamed with Red Barber, who "had the greatest influence on my working life. He impressed upon me that I should be reporting and not cheerleading. Actually, it helped me because I was inclined to feel the emotion. But I have learned to withhold it, up to a point. Objectivity is a habit."3
Scully's love of sports broadcasting traces back to his childhood when he would shoehorn himself under the oversized cabinet radio in his Bronx apartment house. He enjoyed listening to the radio sports broadcasting giants of the era, Byrum Saam, Ted Husing, and especially, Bill Stern. The sound waves carrying crowds raucous cheering for a goal line stand, or a ball hit in the alley with men on base washed over him like an ocean wave and induced chills. When asked by a teacher at age 8 what he wanted to be when he grew up, Scully simply wrote in his composition, "sports announcer." He practiced aloud while playing stickball with his chums in the streets of New York. "4
The broadcaster of Irish descent was born in the Bronx near the Grand Concourse not far from Yankee Stadium on November 29 in the storied year of 1927, but he became a fan of the Giants. An 18-4 drubbing at the hands of the Yankees in the second game of the 1936 World Series had Scully feeling sorry for the men in black and orange, and he immediately adopted them as his own.5 The redheaded youngster received complimentary game tickets to the Polo Grounds from the Catholic Youth Organization or Police Athletic League, or he would scrape up enough change from selling newspapers or returning soda pop bottles to buy bleacher tickets to see the afternoon games. "I saw a complete home stand once," remembered Scully fondly. But he couldn't stop himself from adding in his characteristic good humor, "That was just shortly after the discovery of fire."6
He especially idolized the Giants' southpaw slugger Mel Ott. "I just thought he was the cat's meow," he recalled, dropping in a popular phrase of a by-gone era. Scully went so far as emulating Ott's unorthodox batting style: elevating his right leg up high prior to swinging the bat and moving into the pitch, a technique resulting in 512 career home runs. "It didn't help me," said Scully, who played outfield on varsity baseball squads in high school and college. 7
Educated at Fordham University, with a short break for service in the US Navy towards the tail end of World War II, he became a member of the initial class of students admitted to the new radio communications program. There, Scully received hands-on experience working at radio station WFUV, handling college football, basketball and baseball games, as well as a score of other programming and station responsibilities.
Following graduation in June 1949, he accepted a summer internship with CBS affiliate WTOP in Washington, D.C., where a combination of dedication, hard work, natural communication abilities, and warm personality were in ample evidence. That fall, he adeptly covered a key Boston University-Maryland match for the nationally aired CBS Radio Football Roundup in an emergency pinch role when an announcer became ill. Despite adverse working conditions [covering the game from the roof of Fenway Park on a bone-chilling November afternoon], he made a favorable impression on the "ol' Redhead," Red Barber, the network's sports director, who doubled as the Dodgers broadcaster. A few weeks later, after an unexpected opening came up on the Dodgers broadcasting team — Ernie Harwell had jumped ship to the Giants for more air time and a salary bump — Scully was recommended by Barber to Dodgers president Branch Rickey, who hired him to become the third man behind Barber and Connie Desmond. The young redhead had just turned 22.8
In his first broadcast stint for the Dodgers, an exhibition game in spring 1950, Scully called a triple play, and in hindsight, more importantly, had the opportunity to meet the legendary Philadelphia A's manager of 50 years. "I was overwhelmed to meet Connie Mack," he remarked over the airwaves in 2010, remembering back to so many years ago. In his first year in the booth he saw the Dodgers lose in heartbreaking fashion to the "Whiz Kid" Phillies on the last day of the season. He could already understand firsthand the Brooklyn fan's refrain, "Wait 'til Next Year." But the 1951 season with the crushing defeat of the Dodgers at the hands of the Giants and Bobby Thomson certainly topped it.9
What was it like for Scully in those early years of broadcasting? "You had the Southern gentleman, the father (Barber), the good-natured Irishman, the older brother with the big sweeping baritone everyone loved (Desmond), and I was the kid off the streets of New York," was how Scully characterized the trio.10 They quickly formed a cohesive partnership. "Connie and I trained him, loved him, teased him, and rejoiced in his remarkable development," Barber wrote.11 Scully, who handled the third and seventh innings, rapidly demonstrated both an understanding of baseball and an acute ability to communicate this knowledge to listeners in a naturally powerful and rich voice. Scully valued Barber's instructions and explained, "Red Barber taught me to get to the park early, to do my homework, to be prepared and to be accurate. He was a stickler for that. He cared."12
When Barber balked at covering the 1953 Dodgers-Yankees World Series, the plum television broadcasting assignment was offered to Scully, with his mentor's blessing. The credible job he did, paired with Mel Allen, had viewers and the sporting press taking notice.13 Barber soon ended his 15-year tenure with the Dodgers and went crosstown to the Yankees while Desmond became increasingly unreliable with periodic bouts of alcoholism. Scully was elevated to the top spot following the 1954 season.
The Sporting News wrote about Scully in 1955, "He has a clear voice and a casual, friendly manner that projects comfortably over the air. He stays alert and displays an unmistakable grasp of his subject."14 Nothing in the intervening decades would alter that early assessment.
Though he called over 9,000 baseball games, when I asked Scully many years ago what his most memorable baseball broadcast was, he responded without a moment's hesitation: "The 1955 World Championship." He quickly added, "But I have to preface it by saying I was younger and more impressionable then. The Dodgers had a background of frustration that you have to be aware of and I certainly was, growing up in New York. The Dodgers played the Yankees in the World Series in 1941, '47, '49, '52 and '53, and they always lost," he explained. "The 1955 Dodgers club had a lot of fellows who were there when I started. It was sort of like my graduating class. I knew their frustration of getting so close and not making it. I was empathetic."15
Players like Pee Wee Reese, Jackie Robinson, Duke Snider, Roy Campanella, Gil Hodges, and Don Newcombe had long been excluded from the champagne drenching that accompanied the celebration and crowning of baseball World Champs. The 1955 fall classic went down to the seventh game, with Johnny Podres shutting out the Yankees, 2-0.
"On the last out of the game in the finale, I said, `Ladies and gentlemen, the Brooklyn Dodgers are the champions of the world.' Then I stopped and didn't say another thing. All winter long people asked me, `How could you have stayed so calm?' Well, the truth is, I was so emotionally overwhelmed by it all that if I had to say another word, I think I would have cried."16
When the Dodgers moved to Los Angeles following the 1957 season there were those within the organization who believed Scully should adjust his style to better promote the relocated team to its new audience. Strong consideration was given to replacing Jerry Doggett (who had only joined the Dodgers broadcast team in September 1956) with a local announcer already familiar to Southern California listeners. This was to be a new start. Scully made the case to Walter O'Malley for Doggett to remain his sidekick and eschewed openly rooting for the Dodgers. Doggett remained in the booth together with Scully for nearly a third of a century, each calling his own innings.
Dodgers fans picked up the knack of bringing their transistor radios, as revolutionary in their day as when iPhones were introduced, to the cavernous Memorial Coliseum almost immediately. East Coast critics of the transplanted team, ever ready to lambaste the Hollywood crowds, claimed the pocket radios were proof the fans were so genuinely ignorant of the sport that the game had to be explained to them as they watched. No doubt there was some truth to this assertion, for there were obviously those in attendance who knew little about baseball. What such commentators conveniently ignored, of course, was that a high caliber of baseball in the form of the Pacific Coast League had long been played in Southern California. 17
There was another reason fans felt compelled to bring their portable radios to the ballpark: Vin Scully instantly captivated the Southland. His Irish lilt made baseball what it was supposed to be: entertaining. It was natural for Angelenos to wonder beyond the mere statistics: just who were these guys? "Although people were aware of some of the superstars, they weren't aware of the rank-and-file ballplayers," Scully said. "So they brought their radios to hear me tell them about the players."18 Scully adeptly sketched their personal histories, provided color to go along with the game's action, something in which he particularly excelled. Moreover, with the exception of road games in San Francisco against the Giants, no Dodgers games were shown on local television. For many years, throughout the late 1950s and through the 1960s, radio was king in Los Angeles. Another contributor was that the expansive region was dominated by cars and traffic jams. When the Dodgers played on the road against anyone but the Giants, the time zone difference meant the games were beginning as drivers headed home from work on the area freeways. Factors such as these helped cement the relationship between Scully and his listeners.
"More than anyone, Scully made the Dodgers successful in Los Angeles," Dodgers general manager Buzzie Bavasi wrote in his memoirs, Off the Record. "He was the biggest asset we had coming to California."19 Immediately fueling Scully's popularity was that the Dodgers, following a seventh place finish in 1958, snared a World Series championship trophy in only their second year in Los Angeles, which Scully found "thrilling because it was so unexpected."20 A record album, "Dodgers '59," was promptly produced following the season by the Dodgers and their flagship station KMPC, featuring nothing but Scully's notable calls during the magical year.
The custom of the transistor-laden fan entering turnstiles intensified when the Dodgers moved into their new ballpark in 1962, as major-league season attendance numbers were shattered. A cacophony of Scully's voice over the airwaves could be heard wafting through the Stadium crowd when he was calling the innings of any game.21 During the middle innings (Doggett's time) batteries were generally conserved. The tradition of fans leaving the game early may have been more than just an effort to beat the traffic, as listening to Scully on the car radio was just as much fun, or better, than being at the game itself.
When Scully was announced as the recipient of the Ford C. Frick Award for broadcasting excellence in 1982, in the fifth year of the award's existence, he was already marking his 33rd season as a Dodgers team broadcaster, roughly 25 of those years as its main voice. Perhaps what is most remarkable in hindsight is that up to that point he had been on the national television stage for baseball only during the occasional Dodgers World Series appearances or to call sporadic All-Star Games. His tenure as host of the NBC Saturday Game of the Week was still ahead of him, as were his many years behind the mic for CBS Radio Network coverage of the World Series. However, he already had a monopoly over much of the West by virtue of Dodgers flagship station KFI 640, which carried its clear 50,000-watt signal across the mountains and deserts and as far away as Des Moines and Denver.
Scully was appreciated even in the enemy territory of the San Francisco Bay Area where, the future Giants and ESPN broadcaster Jon Miller was within earshot of Scully's distinctive baritone voice. Miller learned to mimic him. The Giants announcer remembered listening as a teenager to Scully's call of Koufax's perfect game in 1965. "That alone should have put him in the Hall of Fame," Miller said.22 A word-for-word transcription of Scully's ninth-inning call became a part of a classic anthology, Charles Einstein's book, The Baseball Reader. As Einstein wrote as a preface to Scully's play-by-play, "And as you read Scully's spontaneous description, it will become hard to believe that this wasn't written, but indeed the unrehearsed spoken word instead."23
In early 1969, Scully agreed to emcee a daytime game show on NBC, It Takes Two. He even ventured into hosting a short-lived 30-minute daytime variety show on CBS, The Vin Scully Show, in 1973, where he was able to perform some stand-up humor, act in skits, conduct celebrity interviews, and occasionally sing. "I was sandwiched around the soap operas and actually nobody knew it was on and nobody really knew when it was off."24 When asked what he would have liked to have done had he not become a sports broadcaster, he answered "a song and dance man — perhaps a combination Danny Kaye and Gene Kelly."25
Not only do few remember Scully's ventures into daytime television, his work as the primary CBS weekend sportscaster for championship tennis, golf tournaments, and pro football between 1975 and 1982 was overshadowed by his long and constant association with the Dodgers. At the time he signed his CBS contract, some sports media pundits questioned whether Scully could readily transfer his baseball broadcasting style and techniques to a non-baseball venue. The Sporting News soon gave Scully the ringing endorsement, "He seems proficient in describing tennis, golf, and other sports as he is in baseball."26 He became the highest-paid sportscaster in the nation at the time.
When CBS Sports reneged on a promise to have Scully cover the 1982 Super Bowl, he rejected their new 10-year contract deal.27 NBC acted fast to sign him up to broadcast The Baseball Game of the Week. For seven seasons, from 1983 through 1989, until NBC was out-bid for baseball, Scully greeted television viewers with his friendly invitation to, "Pull up a chair and spend part of Saturday with us." Fans across the country were finally treated on a weekly basis to arguably the best baseball broadcaster in the business.
"There was only one thing that guaranteed Scully's success — talent!" said the late Leonard Koppett, who toiled for several New York papers.28 Revered by his peers, Scully remained a master of the art of baseball broadcasting and the English language. In the grand Irish tradition, Scully was a consummate storyteller. Did Scully trace his own communication talents to his family's Gaelic roots? "I think there might have been a horse thief and a poet in the tribe," Scully joked. 29
Vin Scully's choice of words was a delight, the language fresh, witty, and original. A changeup "squirts out like a wet bar of soap." A batted ball "squirts foul." The ball springing off a broken bat sounds like it was "hit with a morning newspaper." A pitcher unable to find the strike zone was "as wild as anything this side of Barnum & Bailey." The two pitchers in a scoreless duel "are like two bucks with their antlers locking." The lanky, pencil-thin pitcher standing on the mound with his arms close to his chest "looks like six o'clock." A breaking ball left up in the strike zone to a menacing batter, who clobbered it for a home run, came in "like a letter from home." A relief pitcher is "built like a 2-iron." When two Dodgers in their home white uniforms fell down chasing after a base hit, Scully remarked, "It looks like a bowling alley out there!" The first baseman reaching for the throw with his foot stretched on the bag "opened up like a pair of scissors."
Yet as colorful as these descriptions might be, to conclude Scully's popularity was due solely to his command of language would certainly miss the boat. The secret behind Scully's broadcast was that he loves people and finds them interesting. Added to it was a sense of compassion that could not be feigned. Scully was invariably intrigued by any ballplayer who had overcome difficult personal circumstances and he would masterfully weave these personal narratives into the play-by-play without missing a pitch. They were the vignettes of players who toiled for years in the minors but would not give up their dream to find a way to the big leagues. They were the stories of players who were considered washed up but whose careers were revived by another big-league club. They were the accounts of players who grew up amid poverty in third-world countries. In listening to Scully's broadcasts, and without being entirely conscious of it, a fan could not help but be moved to have a larger appreciation of the human dimension. These were not just men with bats and gloves, and in recent years, lots of money — but people with their own personal life stories.
Although he kept pace with technology and conducted prodigious research on incoming teams and their storylines before each series via the Internet, Scully never abandoned his instincts as a reporter to gather information on opposing players from the visiting press or lifelong contacts including coaches and scouts he knew with every team the Dodgers played. Nevertheless, in many ways he would have to be considered old school. Throughout his career, up until his retirement, when he walked into a broadcast booth he usually was decked out in an elegant suit jacket from which a handkerchief spilled from a front pocket, and he always sported a tie — even if for no more than about a minute of face time per televised game. He did this as a consummate professional who wanted to be reminded when he is in the broadcast booth, he was all about business.
Not that he thought of broadcasting baseball as strictly work. "Learn to do something you love, and you won't have to work a day in your life," Scully said from time to time.30 He was the rarest of broadcasters and the last of his generation; he preferred to work alone, speaking directly to the audience one-on-one, and not in reaction to a color commentator.
You never knew what Scully would say next. There was his journalist's innate curiosity about most anything. That unpredictability made each and every broadcast unique. He would incorporate the lyrics from a classic show tune, or a recent country ballad, or a verse from a poem, if it seemed to fit the occasion. For example, when the Braves' Chipper Jones was approaching Dale Murphy's Atlanta team records, Scully remarked, "As the great Pearl Bailey sang, that `ain't no bad crowd to hang around with!'" 31
On one occasion he might have discussed the connection between Wrigley Field and Mexican General Santa Anna of the Battle of the Alamo [hint: gum] and on another describe outfielders climbing the terrace at Cincinnati's Crosley Field or the Gashouse Gang rolling around in the dirt in old Sportsman's Park in St. Louis. He might discuss a current book he was reading, such as David Maraniss's biography of Roberto Clemente or ask whether listeners were familiar with the writer James Lee Burke and his descriptions of New Orleans, as a player hailing from Bayou Country made an appearance on the mound. He could dust off a Winston Churchill quote in World War II speaking of Europe's "soft underbelly" and smoothly transition to say "Well, the `soft underbelly' for Colorado is its pitching." Miss this story or that observation expressed in a creative fashion — and told within the context of a particular game — and one might never have had the opportunity to hear it again.32
Was there ever a broadcaster who better wove baseball's past with the present? Something in a game might have reminded Scully of a time he saw Preacher Roe toss his equipment into the crowd. Harkening back to stories involving play of Jackie Robinson, Stan Musial, Henry Aaron, and Willie Mays, or the lesser known likes of Ron Hunt, Chico Ruiz, and Bob Friend, or any thousands of other players he observed, Scully was aware that the simple demographics of those tuning into the broadcast would necessarily mean most had been born after these players had long called it a career. Scully may not have consciously believed he carried some responsibility to convey to today's fans some of the game's history. But he obviously felt that by connecting to the past the game became more enjoyable for the fan and provided a context for watching or listening to today's game. Regardless, it never seemed forced when the story Scully unfolded over the air involved players or other references from earlier eras.
For example, in one game a demonstration of timely hitting by an opposition player got Scully pondering great past hitters. "I'll always remember meeting Paul Waner," Scully explained during the game's lull. "He had very intense and bright blue eyes." Scully called a pitch. "I would look at his eyes and think of a fighter pilot." A ball was fouled off. Scully then went on to relate a story concerning the longtime outfielder for the Pirates; Waner had a small whiskey-filled flask in his hip pocket as he stood in the on-deck circle. "He took a nip. And a second one. Umpire Bill Klem chastised him, `Young man, you're a disgrace to this game!' Waner replied something to the effect, `oh yeah?' and proceeded to hit four doubles," Scully told listeners. "I don't know how many `doubles' he had in the dugout but boy, he could reeaalllly hit," Scully laughed.33
Between 1950 and 2016, Scully got behind the mic to not just call the play-by-play, but to provide picture word descriptions to make each game truly entertaining, regardless of the score and team standings. He was endowed with several gifts that put him at the top of his profession, including a great voice, a rich imagination which enabled him to incorporate seemingly perfect similes into a broadcast, a contagious enthusiasm for intelligent ball playing regardless of uniforms, and an ability to speak to listeners as if he were merely an old friend.
Despite his rise to prominence, having received virtually every national sports broadcasting award possible, including having the press box at Dodger Stadium named in his honor, Scully remarked many times that he was not special. He never took himself too seriously, perhaps illustrated in the following short recollection he told over the air. "Wilver Stargell hit the first ball out of Dodger Stadium in 1969 off Alan Foster," Scully recalled before asking his audience, "Who called it?" Scully then answered his own question with the confession, "Jerry Doggett — bless his heart. I was in the restroom." 34 His was just a simple story of a kid growing up in the Bronx — who was able to realize his boyhood dreams.
In 2016, Scully announced that season would be his last behind the mic. It was an eventful farewell year, with the Dodgers clinching the Western Division on Charlie Culberson's walk-off home run in extra innings in Scully's last broadcast ever at Dodger Stadium. Days later — 80 years to the day he had become a fan during the 1936 World Series — Scully was feted by the Giants on October 2 in a classy adieu from San Francisco. Placards honoring him were distributed to all fans in attendance and a plaque mounted in the press box honoring the site of Scully's final broadcast was unveiled with his old friend Willie Mays at his side.
Among the national-level send-offs and appreciation for Scully's body of work in 2016 were a Sports Illustrated cover and detailed profile by Tom Verducci, an appearance on Jimmy Kimmel Live, an interview with John Dickerson on Face the Nation, and a featured segment on the CBS Evening News with Scott Pelley titled, "The Voice of Heaven," among others. Scully also received the Presidential Medal of Freedom from Barack Obama in November 2016 in a ceremony at the White House.35
Closer to home, the Dodgers held a special outdoor ceremony renaming their road entrance to Dodger Stadium as Vin Scully Avenue, and hosted a Vin Scully Night in a sold-out ballpark, featuring tributes from Koufax, Clayton Kershaw, and Kevin Costner, where fans could cheer their favorite icon. The Los Angeles Times published a special 14-page insert devoted to Scully's incredible 67-year career before his last broadcast in Los Angeles.36
Tributes to Scully came from near and far all season long, including a constant parade of well-wishers to see him in the broadcast booth. Scully repeatedly expressed how it was he who was forever grateful and how he would miss the fans and the roar of the crowd. But going forward — he celebrated his 89th birthday in November 2016 — Scully maintained it was important to spend time with his wife Sandi, three daughters, two sons, 16 grandchildren, and three great-grandchildren.
After he retired, Scully came back to Dodger Stadium from his home in Hidden Hills from time to time, with some on-field appearances for special occasions, such as before World Series games in 2017 and 2018, and for the official announcement of the All-Star Game coming to Los Angeles. His dulcet voice was still regularly heard during Dodgers radio broadcasts through the 2020 season, with short audio clips introducing the pregame show and the game's announcers, and select advertising spots for Mercedes-Benz. But as he told CBS News correspondent Lee Cowan in September 2020, he "absolutely had no regrets" retiring from announcing baseball games when he did. "In my heart, in my mind, it was enough. And I never had one misgiving about the fact, `You know, I should have waited one more year."37
In April 2020, Scully stumbled headfirst while going out to the mailbox at the end of his driveway and ended up in the hospital with a broken nose, broken teeth, three fractured ribs, and a concussion. His slow recovery, combined with the coronavirus pandemic's restrictions, kept him firmly rooted at his home for months at a time.
Scully made news again when he elected to put up for auction in August 2020 hundreds of items from his personal collection of the memorabilia he had garnered in almost seven decades, ranging from World Series rings to signed letters from presidents, from personalized golf bags to photographs and portraits, from autographed baseballs to dozens of award plaques and trophies. "There are things that mean a great deal to me," he explained to one reporter, "but now it's time to let someone else treasure them." He and Sandi decided that it was best to share the proceeds from the sale with his large family to enjoy while he was still alive, the money raised mostly to help support the educational needs of his grandchildren, and to UCLA for medical research on amyotrophic lateral sclerosis (ALS), also informally known as Lou Gehrig's disease.38
A friend who visited Scully during the pandemic thought he missed seeing people and recommended that he get involved with social media. Establishing new accounts on Twitter and Instagram in September 2020, Scully said he would use it as a way to stay connected with fans, providing his thoughts on Dodgers personalities and team history, and sharing general baseball memories and observations on today's game, but also promising to steer away from controversial topics. "I miss the fans, I really do," Scully told the Los Angeles Times. "I've always said I need the fans more than they needed me. Some of the tragedies in my life, the fans have always helped me get through them, and I owe these fans a great deal."39
Scully died at the age of 94 on August 2, 2022, according to an announcement from the Los Angeles Dodgers.

Notes
1 http://officialvinscully.com/biography.php
2 Los Angeles Times Magazine, April 26, 1998; Remarked during Dodgers broadcast, June 15, 2007.
3 Interview with Vin Scully, September 17, 1991.
4 Los Angeles Times, June 1, 1966; Curt Smith, Pull Up a Chair, Washington D.C.: Potomac Books, 2009, 4-5.
5 Los Angeles Times, June 1, 1966.
6 Remarked during Dodgers broadcast, April 29, 1995.
7 Interview with Vin Scully, September 17, 1991.
8 The Sporting News, June 15, 1955; July 24, 1989; Christian Science Monitor, November 10, 1986.
9 Remarked during Dodgers broadcast, October 3, 2010; The Sporting News, June 15, 1955.
10 The Sporting News, July 24, 1989.
11 Red Barber, The Broadcasters, New York: The Dial Press, 1970, 187.
12 The Sporting News, January 23, 1982.
13 See Red Barber, The Broadcasters, New York: The Dial Press, 1970, 185-188. While broadcasting the 1996 World Series for radio, Scully reflected back on his first fall classic and working with Mel Allen. "I remember how extra kind he was," Scully said. CBS Radio Broadcast, October 20, 1996.
14 The Sporting News, August 3, 1955.
15 Interview with Vin Scully, September 17, 1991.
16 Interview with Vin Scully, September 17, 1991.
17 Robert Creamer, "The Transistor Kid," Sports Illustrated, May 4, 1964.
18 Curt Smith, Voices of the Game. South Bend: Diamond Communications, Inc., 1987, 492.
19 Buzzie Bavasi. Off The Record. Chicago: Contemporary Books: 1987, 194.
20 Interview with Vin Scully, September 17, 1991.
21 The Dodgers even requested fans to turn down their radios at one point. See Los Angeles Times, August 4, 1973.
22 Interview with Jon Miller, June 27, 1998. Miller told me that he had listened to Scully on CBS Radio in his car during the previous World Series (1997) and found his broadcast "exciting as he regaled listeners with stories."
23 Charles Einstein, ed., The Baseball Reader. New York: McGraw-Hill, 1980, 273.
24 Binghamton, N.Y., Sun-Bulletin, January 27, 1975.
25 Interview with Vin Scully, September 17, 1991.
26 Los Angeles Times, January 14, 1975; The Sporting News, May 3, 1975.
27 Washington Post, May 27, 1982; TV Guide, June 12, 1982; Orange County Register, February 18, 1983.
28 Interview with Leonard Koppett, November 8, 1997.
29 Interview with Vin Scully, September 17, 1991.
30 Baseball Weekly, March 8-14, 1995.
31 Remarked during Dodgers broadcast, April 2, 1997.
32 Remarked during Dodgers broadcasts, August 17, 2003; June 24, 2006; April 16, 1996; September 18, 2004.
33 Remarked during Dodgers broadcast, June 23, 1998.
34 Remarked during Dodgers broadcast, April 29, 2010.
35 Tom Verducci, "The Man Behind the Voice of Baseball," Sports Illustrated, May 16, 2016; Jimmy Kimmel Live, October 13, 2016; Face the Nation, November 27, 2016; CBS Evening News with Scott Pelley, April 13, 2016; The White House, Office of the Press Secretary, "President Obama Names Recipients of the Presidential Medal of Freedom," Press Release, November 16, 2016.
36 Los Angeles Times, September 25, 2016.
37 Lee Cowan, Interview with Vin Scully, CBS News Sunday Morning, September 6, 2020.
38 AP Wire Services, "Vin Scully Prepares for Auction of Items from his 67-year Career," August 26, 2020.
39 Bill Plaschke, "Why is Vin Scully Jumping into Social Media at Age 92? `I miss the fans.'" Los Angeles Times, September 1, 2020.
Born
November 29, 1927 at New York, NY (US)
If you can help us improve this player's biography, contact us.
http://bioproj.sabr.org/bp_ftp/images5/ScullyVin.jpg
600
800
admin
/wp-content/uploads/2020/02/sabr_logo.png
admin
2012-01-08 21:23:25
2022-08-02 20:25:39
Vin Scully