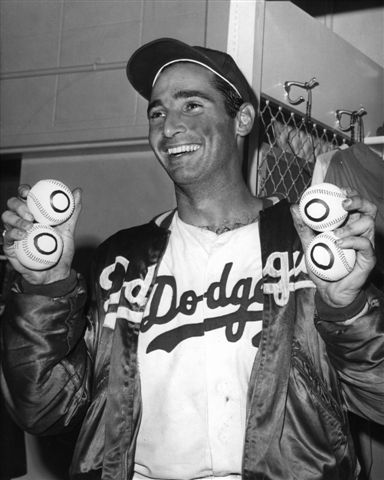 September 9, 1965: 'A million butterflies' and one perfect game for Sandy Koufax
---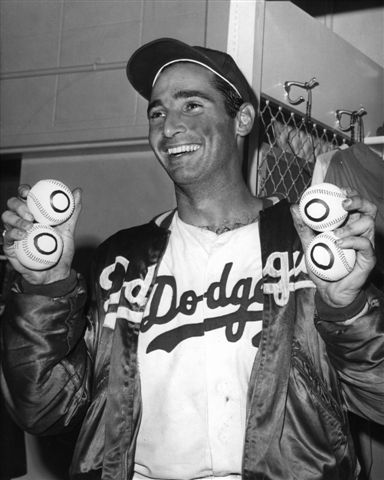 On September 9, 1965, Sandy Koufax became the "no-hittingest pitcher of all time,"1 the first major-league pitcher to throw four no-hitters.2 His record-setting accomplishment was a 1-0 perfect game against the Chicago Cubs. In front of a relatively small crowd of 29,139 fans at Dodger Stadium, Koufax, who came into the contest with a 21-7 record, locked in a pitchers' duel with a fellow lefty, Bob Hendley. Koufax had been unsuccessful in his previous five starts in winning his 22nd game.
Hendley had just been recalled from the minors. After four seasons with Milwaukee and San Francisco, he had been traded on May 29, 1965, from the Giants (with Harvey Kuenn and Ed Bailey) to the Cubs (in exchange for Dick Bertell and Len Gabrielson). Hendley also pitched a brilliant game, giving up only one hit, and the only run scored off him was unearned. Koufax went him one better.
Cubs center fielder Don Young, in his major-league debut, led off the game. Koufax's first pitch was "a curve ball that bounced in the dirt."3 After that, his control was nearly perfect, as he retired Young with a popout to second baseman Jim Lefebvre. Koufax then struck out Glenn Beckert and Billy Williams looking. Hendley was equally sharp, getting the first three Los Angeles batters in order. Koufax was in top form, striking out at least one Chicago batter in every inning. Future Hall of Famer Ernie Banks struck out three times, all swinging. According to Dodgers radio announcer Vin Scully, the first Banks strikeout came in the second inning on a forkball. Every Cubs batter except shortstop Don Kessinger struck out at least once. On the other side, Hendley had only three strikeouts, Koufax and Lefebvre (twice).
Hendley was in no danger though the first four innings. The only run of the game came in the fifth. Lou Johnson led off with a walk and advanced to second on a sacrifice by Ron Fairly. Hendley might have had a play at second base when he fielded the bunt, but he dropped the ball and got the sure out at first. With Lefebvre batting, Johnson stole third base and then continued home as Cubs catcher Chris Krug made a throwing error. The run was unearned, and Hendley still had not allowed a hit.
The Cubs had a chance in the sixth inning, when Krug hit a groundball to shortstop Maury Wills. Wills' throw to first was in the dirt, but Wes Parker dug the ball out for the first out of the inning, preserving the string of consecutive outs. This was the only threat to Koufax's perfect game. Kessinger then hit a grounder to third and was just erased, as third baseman Jim Gilliam was playing in for a possible bunt. Koufax then struck out Hendley to end the inning.
Both pitchers had no-hitters intact until the seventh inning, when Koufax retired the side on a strikeout and two fly outs. That's when Koufax "really started to feel as though I had a shot at [the perfect game]."4 In the home half, the Dodgers had several exciting at-bats. Lead-off batter Gilliam hit a grounder to third baseman Ron Santo, who fielded the high bouncer and just threw out Gilliam at first. Willie Davis followed with a slow grounder to first. Banks fielded the ball and then tagged out Davis, who tried sliding into the bag to avoid the tag. Johnson then hit a ball past first base that barely made it to the outfield grass before rolling into foul territory. By the time Banks retreated to field it, Johnson had motored to second base for a two-out double. However, he was stranded there as Fairly grounded out to short, and the Dodgers did not score, but Hendley's bid for a no-hitter was gone.
In the top of the eighth inning Koufax, facing the middle third of the Cubs' order, struck out Santo looking and Banks and Byron Browne swinging. The Dodgers tried to add a run in their half of the eighth, but Jeff Torborg's long fly to left was caught by Browne in front of the bullpen gate.
Before the ninth inning, Vin Scully told his producers, "Let's make a recording."5 Fans can still hear Scully call the final three outs. The Cubs had sent up two pinch-hitters. After Krug struck out, Joey Amalfitano pinch-hit for Kessinger and struck out swinging. The broadcast climaxed when Scully exclaimed, "Swung on and missed, a perfect game!" as Harvey Kuenn, who batted for Hendley, struck out to end the game.6 The game lasted one hour and 43 minutes. The final six Chicago batters (and seven of the final nine) went down on strikes.
The next day, Los Angeles Times writer Frank Finch started his story with, "A Michelangelo among pitchers, Sandy Koufax produced his masterpiece when he pitched a perfect no-hit, no-run game against the Chicago Cubs."7 After the historic game, Koufax had told reporters, "I had a real good fastball, and that sort of helps your curve."8 He added, "The last three innings I had the best stuff I threw all night, and perhaps all year."9
With his accomplishment, Koufax surpassed the record of three career no-hitters held by three different pitchers: Larry Corcoran, Cy Young, and Bob Feller.10 This was just the eighth perfect game pitched in major-league history.11
As of the beginning of the 2023 season, this was the only perfect game thrown by a Dodgers pitcher.12 Further, this marked the fourth consecutive season in which Koufax had pitched a no-hit game. His record of four career no-hitters stood for 16 years, until Houston Astros fireballer Nolan Ryan pitched his fifth no-hit game on September 26, 1981, against the Los Angeles Dodgers.13
Hendley faced only 26 batters in his eight-inning gem. On any other day, his performance would have grabbed the top headlines. Five days after Koufax's perfect game, on September 14, 1965, he and Hendley faced each other again, this time at Chicago's Wrigley Field. The Cubs prevailed, as Hendley beat Koufax 2-1.
The Cubs had only three groundball outs. Koufax's 14 strikeouts were the highest strikeout total in a perfect game (equaled by Matt Cain on June 13, 2012). Koufax finished the season with 382 strikeouts, which bested Rube Waddell's twentieth-century record of 349 set in 1904. But Ryan topped this mark eight years later, striking out 383 in 1973.
Koufax finished the 1965 campaign with a record of 26-8. His earned run average was 2.04, and he pitched 27 complete games out of 41 starts. He was the unanimous choice for the 1965 Cy Young Award and finished second in the NL's Most Valuable Player Award voting.14
Author's Note
This game was reminiscent of another pitchers' duel, when Chicago's Hippo Vaughan and Cincinnati's Fred Toney pitched a double no-hitter through regulation on May 2, 1917. Vaughan held the Reds hitless for 9⅔ innings, before two hits produced a run. Meanwhile, Toney pitched 10 hitless innings for the win and part of history.
An abridged version of this article was published in SABR's "No-Hitters" (2017), edited by Bill Nowlin. As Scully described Krug's ninth-inning at-bat against Koufax, the future Hall of Fame broadcaster uttered the timeless phrase, "There's 29 thousand people in the ballpark and a million butterflies."15
Sources
In addition to the sources mentioned in the Notes, the author consulted Baseball-Reference.com, MLB.com, Retrosheet.org, SABR.org and the following sources:
"The Cubs haven't been no-hit since Sandy Koufax pitched," https://ftw.usatoday.com/2013/08/the-cubs-havent-been-no-hit-since-sandy-koufax-pitched.
"Sandy Koufax pitches perfect game," http://history.com/this-day-in-history/sandy-koufax-pitches-perfect-game.
Click here to listen to Vin Scully call the final three outs of Sandy Koufax's perfect game on September 9, 1965.16
https://www.baseball-reference.com/boxes/LAN/LAN196509090.shtml
https://www.retrosheet.org/boxesetc/1965/B09090LAN1965.htm
Notes
1 "Sandy Now No. 1 on No-Hit Parade," Los Angeles Times, September 10, 1965: 46.
2 Koufax's other no-hit games were pitched on June 30, 1962, May 11, 1963, and June 4, 1964.
3 "Koufax Eyed 'Perfection' All the Way," Chicago Tribune, September 10, 1965: 53.
4 Charles Maher, "Even Koufax Admits Game 'Nearly Perfect," Los Angeles Times, September 10, 1965: 45.
5 "Recorded History: Vin Scully Calls a Koufax Milestone," found online at https://www.npr.org/2007/04/23/9752592/recorded-history-vin-scully-calls-a-koufax-milestone. Accessed January 2023.
6 Harvey Kuenn, who struck out to end the perfect game, also made the last out in Koufax's 1963 no-hit game against the San Francisco Giants. In that game, Kuenn grounded out to the pitcher, Koufax.
7 Frank Finch, "Hendley Loses, 1-0, on 1-Hitter," Los Angeles Times, September 10, 1965: 45.
8 Maher.
9 "Koufax Eyed 'Perfection' All the Way."
10 The first to achieve this total was Chicago White Stockings hurler Larry Corcoran, whose no-nos took place on August 19, 1880,[10] against the Boston Red Caps; September 20, 1882, against the Worcester Worcesters; and June 27, 1884, against the Providence Grays. Next was Cy Young, who pitched his first no-hitter as a member of the Cleveland Spiders on September 18, 1897, against the Cincinnati Reds; followed by two as a pitcher for the Boston Americans and Red Sox on May 5, 1904, against the Philadelphia Athletics; and June 30, 1908, against the New York Highlanders. Cleveland Indians star Bob Feller was the third pitcher to tie the mark, on April 16, 1940, against the Chicago White Sox; April 30, 1946, against the New York Yankees; and July 1, 1951, against the Detroit Tigers.
11 For the complete list, see https://www.mlb.com/news/all-time-perfect-games. Accessed January 2023.
12 "Los Angeles Dodgers no-hitters," found online at http://nonohitters.com/los-angeles-dodgers-no-hitters/. Accessed April 2015.
13 "Baseball Sisco Kid Style: Sandy Koufax Becomes the First Pitcher to Throw 4 No-Hitters September 9, 1965," http://baseballsiscokidstyle.blogspot.com/2014/09/sandy-koufax-becomes-first-pitcher-to.html. Accessed April 2015.
14 In 1965, Koufax led the majors in victories (26), earned-run average (2.04), innings pitched (335⅔) and strikeouts (382). He received all 20 first-place votes for the Cy Young Award. Koufax finished second to San Francisco's Willie Mays in the MVP race, receiving six first-place votes (177 vote points) to Mays' nine first-place votes (224 vote points). Before 1967, only one pitcher was awarded the Cy Young Award. Koufax won his third Cy Young Award in 1966, the season before MLB began the practice of awarding a winner from each league.
15 Found online at https://ia800701.us.archive.org/16/items/VinScullyCallsThe9thInningOfSandyKoufaxsPerfectGame/VinScully-1965-KoufaxPerfectGame9thInning_64kb.mp3. Accessed April 2015 and January 2023.
16 To hear Vin Scully call just the final strike, click here (from mlb.com).
Additional Stats
Los Angeles Dodgers 1
Chicago Cubs 0
---
Dodger Stadium
Los Angeles, CA
Box Score + PBP:
Corrections? Additions?
If you can help us improve this game story, contact us.
Tags
http://sabr.org/sites/default/files/images/Koufax%20Sandy%20305.65%20_HS_NBL.jpg
600
800
admin
/wp-content/uploads/2020/02/sabr_logo.png
admin
2015-06-15 17:58:03
2023-03-28 13:50:55
September 9, 1965: 'A million butterflies' and one perfect game for Sandy Koufax