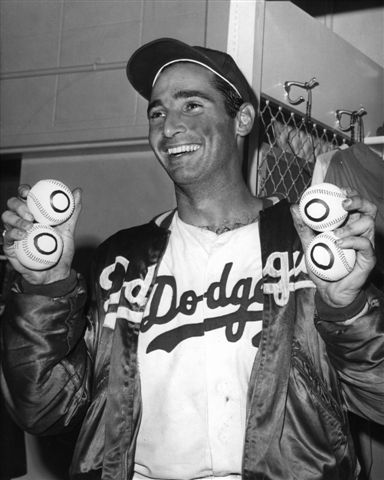 September 9, 1965: 'A million butterflies' and one perfect game for Sandy Koufax
---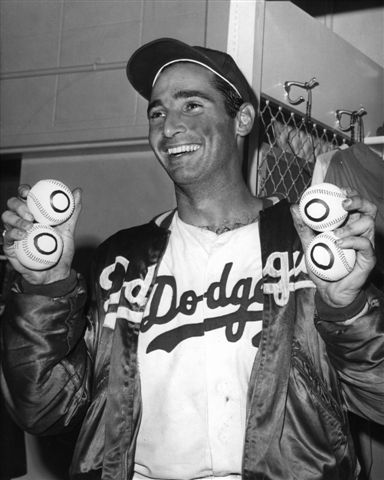 On September 9, 1965, Sandy Koufax became the first major-league pitcher to throw four no-hitters1, and his record-setting accomplishment was a 1-0 perfect game. In front of a relatively small crowd of 29,139 fans at Dodger Stadium, Koufax, who came into the contest against the Chicago Cubs with a 21-7 record, locked in a pitchers' duel with a fellow lefty, Bob Hendley, with a record of 2-2. As of the 2015 season, this was the only perfect game thrown by a Dodgers pitcher.2
Hendley, just recalled from the minors, also pitched a brilliant game, giving up only one hit, and the only run scored off him was unearned. Koufax went him one better.
Cubs center fielder Don Young, in his major-league debut, led off the game with a popout to second baseman Jim Lefebvre. Koufax then struck out Glenn Beckert and Billy Williams looking. Hendley was equally sharp, getting the first three Los Angeles batters in order. Koufax was in top form, striking out at least one Chicago batter in every inning. Future Hall of Famer Ernie Banks struck out three times, all swinging. According to announcer Vin Scully, the first Banks strikeout came in the second inning on a forkball. Every Cubs batter except shortstop Don Kessinger struck out at least once. On the other side, Hendley had only three strikeouts, Koufax and Lefebvre (twice).
Hendley was in no danger though the first four innings. The only run came in the fifth. The Dodgers' Lou Johnson led off with a walk and advanced to second on a sacrifice by Ron Fairly. Vin Scully told his listeners that Hendley might have had a play at second base when he fielded the bunt, but he dropped the ball and got the sure out at first. With Lefebvre batting, Johnson stole third base and then continued home as Cubs catcher Chris Krug couldn't handle Hendley's pitch.
The Cubs had a chance in the sixth inning, when Chris Krug hit a groundball to shortstop Maury Wills. Wills's throw to first was in the dirt, but Wes Parker dug the ball out for the first out of the inning, preserving the string of consecutive outs. Kessinger then hit a grounder to third and was just erased, as third baseman Jim Gilliam was playing in for a possible bunt. Koufax then struck out Hendley to end the inning.
Both pitchers had no-hitters intact until the seventh inning, when the Dodgers had several exciting at-bats. Lead-off batter Gilliam hit a grounder to third baseman Ron Santo, who fielded the high bouncer and threw out Gilliam at first. Willie Davis followed with a slow grounder to first. Banks fielded the ball and then tagged out Davis, who tried sliding into the bag to avoid the tag. Johnson then hit a ball past first base that barely made it to the outfield grass before rolling into foul territory. By the time Banks retreated to field it, Johnson had motored to second base for a two-out double. However, he was stranded there as Fairly grounded out to short, and the Dodgers did not score, but Hendley's bid for a no-hitter was gone.
In the top of the eighth inning Koufax, facing the middle third of the Cubs' order, struck out Santo looking and Banks and Byron Browne swinging. The Dodgers tried to add a run in their half of the eighth, but Jeff Torborg's long fly to left was caught by Browne in front of the bullpen gate.
Before the ninth inning, Vin Scully told his producers, "Let's make a recording."3 Fans can still hear Scully call the final three outs. The Cubs had sent up two pinch hitters. After Chris Krug struck out, Joey Amalfitano came on to bat for Kessinger and struck out swinging. The broadcast climaxed when Scully exclaimed, "Swung on and missed, a perfect game!" as Harvey Kuenn, who batted for Hendley, struck out to end the game4. The game lasted one hour and 43 minutes. The final six Chicago batters (and seven of the final nine) went down on strikes.
With his perfect game, Koufax surpassed Bob Feller's record of three no-hitters. Koufax's record stood for 16 years, until Houston Astros fireballer Nolan Ryan pitched his fifth no-hitter on September 26, 1981, against the Los Angeles Dodgers.5
Hendley faced only 26 batters in his eight-inning gem. On any other day, his performance would have grabbed the top headlines. Five days after Koufax's perfect game, on September 14, 1965, he and Hendley faced each other again, this time at Chicago's Wrigley Field. The Cubs prevailed, as Hendley beat Koufax 2-1.
The Cubs had only three groundball outs. Koufax's 14 strikeouts were the highest strikeout total in a perfect game (equaled by Matt Cain on June 13, 2012). Koufax finished the season with 382 strikeouts, which bested Rube Waddell's 20th-century record of 349 set in 1904.6 But Nolan Ryan topped his record eight years later, striking out 383 in 1973.
Koufax finished the 1965 campaign with a record of 26-8. His earned run average was 2.04, and he pitched 27 complete games out of 41 starts.
This article was published in SABR's "No-Hitters" (2017), edited by Bill Nowlin. To read more Games Project stories from this book, click here.
Sources
"The Cubs haven't been no-hit since Sandy Koufax pitched," http://ftw.usatoday.com/2013/08/the-cubs-havent-been-no-hit-since-sandy-koufax-pitched
"Sandy Koufax pitches perfect game," http://history.com/this-day-in-history/sandy-koufax-pitches-perfect-game.
"Sept. 9, 1965 – Sandy Koufax perfect game," http://latimes.com/local/.
Notes
1 Koufax's other no-hit games were pitched on June 30, 1962, May 11, 1963, and June 4, 1964.
2 "Los Angeles Dodgers no-hitters," http://nonohitters.com/los-angeles-dodgers-no-hitters/.
3 "Recorded History: Vin Scully Calls a Koufax Milestone," http://npr.org/templates/story.php?storyid=9752592.
4 Harvey Kuenn, who struck out to end the perfect game, also made the last out in Koufax's 1963 no-hit game against the San Francisco Giants. In that game, Kuenn grounded out to the pitcher, Koufax.
5 "Baseball Sisco Kid Style: Sandy Koufax Becomes the First Pitcher to Throw 4 No-Hitters September 9, 1965," http://baseballsiscokidstyle.blogspot.com/2014/09/sandy-koufax-becomes-first-pitcher-to.html.
Additional Stats
Los Angeles Dodgers 1
Chicago Cubs 0
---
Dodger Stadium
Los Angeles, CA
Box Score + PBP:
Corrections? Additions?
If you can help us improve this game story, contact us.
Tags
http://sabr.org/sites/default/files/images/Koufax%20Sandy%20305.65%20_HS_NBL.jpg
600
800
admin
/wp-content/uploads/2020/02/sabr_logo.png
admin
2015-06-15 17:58:03
2020-04-17 10:26:45
September 9, 1965: 'A million butterflies' and one perfect game for Sandy Koufax