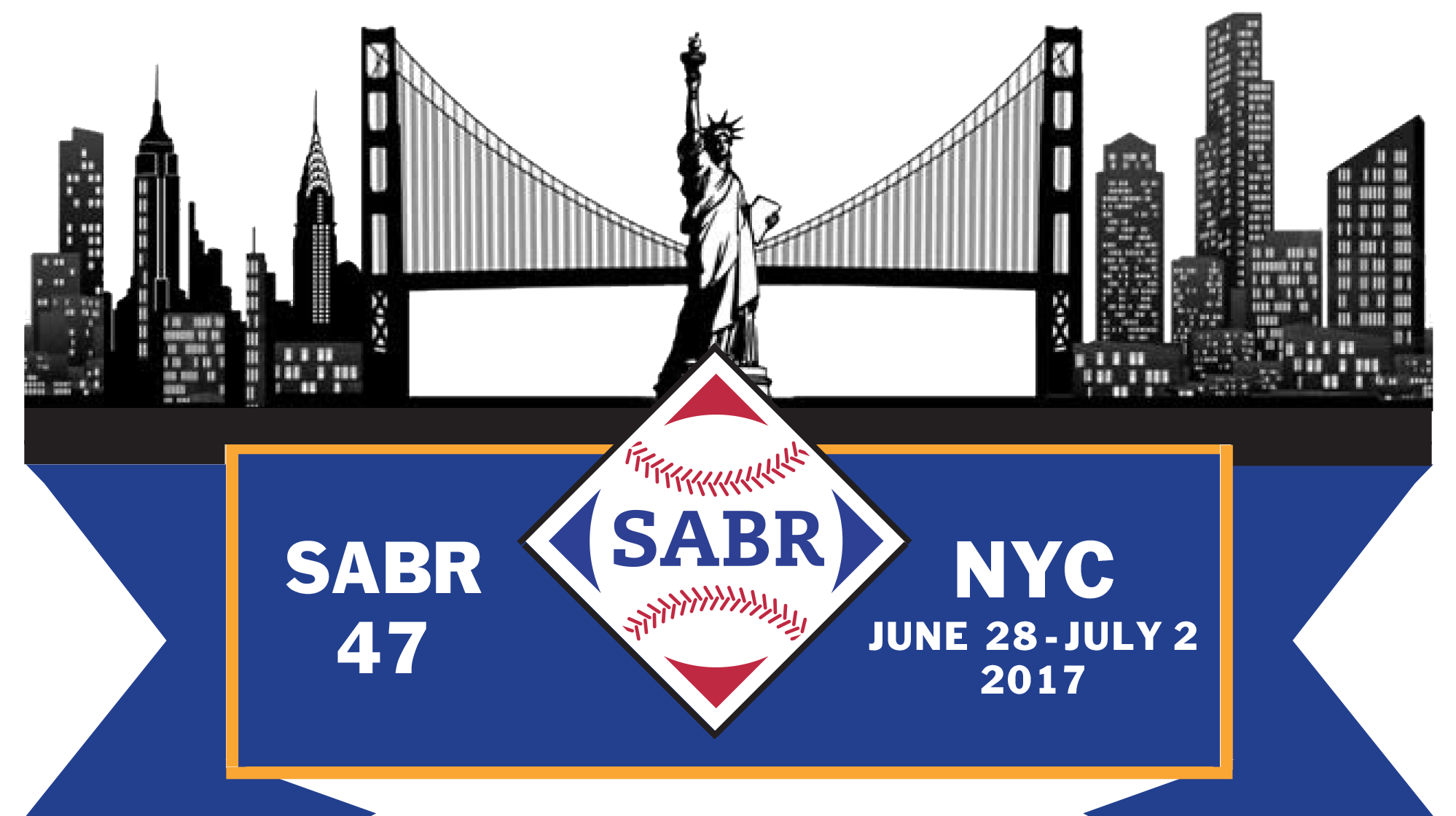 Here are the featured speakers and panelists for the SABR 47 national convention, which was held June 28-July 2, 2017, at the Grand Hyatt New York.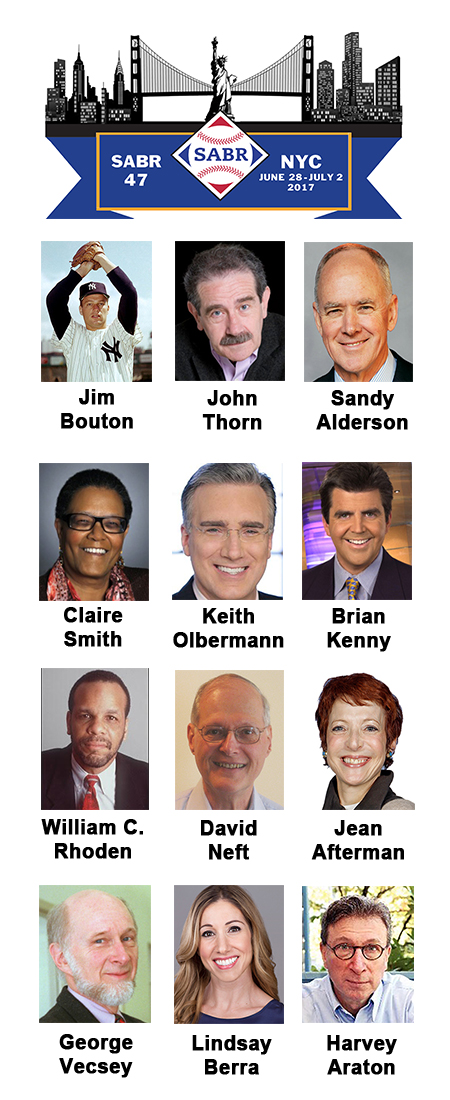 Click on a link below for highlights and clips from each panel.

One-on-One with Jean Afterman
9:30-10:30 a.m., Thursday, June 29
Jean Afterman is entering her sixth season as the New York Yankees' Senior Vice President and her 16th year in the role of Assistant General Manager. She is only the third woman to hold the position of Assistant GM in baseball history and is an integral part of the Yankees' efforts and operations in Asia. In her first year with the Yankees, she was instrumental in the signing of three-time Japanese Central League MVP Hideki Matsui. In 2015, she was appointed to serve on the advisory committee that oversees the Commissioner's Front Office and Field Staff Diversity Pipeline Program. Prior to joining the Yankees, she was General Counsel at KDN Sports, handling business and legal affairs for international baseball clients. She is a graduate of the University of California at Berkeley and received her J.D. from the University of San Francisco School of Law in 1991.
Moderator: Claire Smith was selected in December 2016 as the first woman to win the prestigious J.G. Taylor Spink Award, honoring meritorious contributions to baseball writing, and she will be recognized during the Baseball Hall of Fame's Induction Weekend this summer. She was the first female African American newspaper reporter to cover Major League Baseball on a daily basis, beginning with the Hartford Courant and later as the national baseball columnist for the New York Times and Philadelphia Inquirer. She is a coordinating editor for ESPN's universal news group. Among her many honors are the Association for Women in Sports Media's Mary Garber Pioneer Award and the Negro Leagues Baseball Museum's Sam Lacy Legacy Award.
Casey Stengel: A Man For All Seasons
10:30-11:30 a.m., Thursday, June 29
Ira Berkow is a retired sports writer, columnist, and author who worked for the New York Times from 1981 to 2007. His books include Red: A Biography of Red Smith; The Man Who Robbed the Pierre; Carew with Hall of Famer Rod Carew; and Pitchers Do Get Lonely, and Other Sports Stories. He also wrote the scripts of the documentary film Champions of American Sports and Jews and Baseball: An American Love Story. He shared the 2001 Pulitzer Prize for National Reporting for his article on minority quarterbacks in football.
Steve Jacobson is a retired journalist and author who worked for Newsday for 44 years. He is the author of several books, including Carrying Jackie's Torch: The Players Who Integrated Baseball—And America; The Best Team Money Could Buy: The Turmoil and Triumph of the 1977 New York Yankees; and The Pitching Staff: A Classic Portrait of Baseball's Most Unique Fraternity. He also helped script the documentary Jackie's Disciples for ESPN.
Marty Appel is the author of numerous baseball articles and books, including the best-selling Munson: The Life and Death of a Yankee Captain; Pinstripe Empire: The New York Yankees from Before the Babe to After the Boss; and most recently Casey Stengel: Baseball's Greatest Character. He previously worked in New York Yankees front office as public relations director and as an Emmy Award-winning television producer for WPIX.
Moderator: Ed Randall is the host of "Talking Baseball" on WFAN radio and SiriusXM's MLB Network Radio, and he has covered the national pastime for more than three decades. He is a regular contributor to MLB Network and the author of Baseball for the Utterly Confused and More Tales From the Yankee Dugout. He has also served as the post-game analyst for New York Yankees television broadcasts, the public-address announcer at Yankee Stadium, and as a play-by-play broadcaster in Minor League Baseball.
MLB Now: The Changing State of Sabermetrics Panel
3:00-4:00 p.m., Thursday, June 29
Mark DeRosa joined MLB Network in 2013 as a studio analyst following a 16-year career in the major leagues. Known for his versatility, he played six different positions and batted .268 with 100 home runs. He made his MLB debut with the Atlanta Braves in 1998 and played for seven other teams, including the World Series champion San Francisco Giants in 2010. He attended the University of Pennsylvania.
Joel Sherman is a national baseball columnist for the New York Post who appears regularly on MLB Network. He joined the Post in 1989 and was the Yankees beat writer for seven years. He is the author of Birth of a Dynasty: Behind the Pinstripes with the 1996 Yankees and has written for SI.com, ESPN the Magazine, Sports Illustrated for Kids, and New York magazine.
Mike Petriello is a Stats Analyst for MLB Advanced Media and writes daily about Statcast and advanced metrics for MLB.com and each of the 30 club sites, bringing the latest in stats to the baseball public. He can also regularly be seen on MLB Network, is the host of the Statcast Podcast. Prior to joining MLBAM, he wrote for FanGraphs and ESPN.
Vince Gennaro is the President of SABR's Board of Directors and author of Diamond Dollars: The Economics of Winning in Baseball. He is a consultant to MLB teams, appears regularly on MLB Network, and director of Columbia University's sports management graduate program. He also hosts the syndicated MLB Network Radio program, Behind the Numbers: Baseball SABR Style on SiriusXM on Sunday nights. He is also the architect of the Diamond Dollars Case Competition series, which brings together students and MLB team and league executives and serves as a unique learning experience, as well as a networking opportunity for aspiring sports executives.
Moderator: Brian Kenny is a host at MLB Network, where he appears across the network's studio programming, including "MLB Now" and "MLB Tonight." A 25-year national TV and radio veteran, Brian joined MLB Network from ESPN, where he was a "SportsCenter" anchor, host of the Brian Kenny Show on ESPN Radio and an Emmy Award-winning anchor for "Baseball Tonight." He is the author of Ahead of the Curve: Inside the Baseball Revolution, published in 2016 and winner of the SABR Baseball Research Award.
A Celebration of 70 Years: Jackie Robinson's Journey
9:15-10:45 a.m., Friday, June 30
William C. Rhoden is a columnist and editor-at-large for TheUndefeated.com and a former award-winning sports columnist at the New York Times. He wrote the "Sports of the Times" column for more than a quarter-century until his retirement in 2016. He also was a regular panelist on ESPN's The Sports Reporters and the author of the critically acclaimed books Forty Million Dollar Slaves: The Rise, Fall, and Redemption of the Black Athlete and Third and A Mile: The Trials and Triumphs of The Black Quarterback. He won a Peabody Award as a writer for the HBO documentary Journey of the African American Athlete. Before joining the Times in 1981, he worked at the Baltimore Sun as a feature writer and jazz music critic and he was associate editor of Ebony magazine.
Della Britton Baeza has been President and CEO of the Jackie Robinson Foundation since 2004. The foundation has recently undertaken a $42 million capital campaign to build the Jackie Robinson Museum, a state-of-the-art facility in New York City, expected to be completed by 2018. Over its 43-year history, the Foundation has dispensed more than $70 million in scholarships and direct program support. Della served as assistant general attorney for American Broadcasting Companies, Inc., before becoming the president of Hillside Publishing, a major markets television and radio station group, and president of AJM Records, LLC, a Grammy award-winning, independent record label. She began her career as an associate with the international law firm of Covington & Burling after graduating from Princeton University and Columbia Law School.
Lee Lowenfish is the author of four baseball books, including Branch Rickey: Baseball's Ferocious Gentleman, which won the 2008 SABR Seymour Medal. He has also written three editions of The Imperfect Diamond: A History of Baseball's Labor Wars; The Art of Pitching with Tom Seaver; and dozens of articles in publications ranging from the New York Times to the Baseball Research Journal. A New York City native, he is a graduate of Columbia University and holds master's and doctoral degrees in American history from the University of Washington.
Moderator: Larry Lester is the chair of SABR's Negro Leagues Research Committee and one of the founders of the Negro Leagues Baseball Museum in Kansas City. With Leslie Heaphy, he organizes the annual Jerry Malloy Negro League Conference, the only symposium dedicated exclusively to the examination and promotion of black baseball history. In 2006, he served on the Special Negro Leagues Committee that inducted 17 Negro League players, executives, and managers to the Baseball Hall of Fame. He is the author of several books, including Rube Foster In His Time (2012), Baseball's First Colored World Series (2006), and The Negro Leagues Book (1994), and has contributed to hundreds of publications, programs, and documentaries on the Negro Leagues.
A Day at the Ballpark
3:00-5:00 p.m., Friday, June 30
Citi Field
Please note: You must have a SABR 47 convention badge AND a Mets game ticket in order to enter the ballpark early for our pregame session.
Sandy Alderson is in his seventh season as the New York Mets General Manager. He was honored by Baseball America as the 2015 Executive of the Year after guiding the franchise to the National League pennant. During his tenure, the Mets have built a formidable pitching staff through the amateur draft and qualified for the postseason in each of the last two years. Sandy served as CEO of the San Diego Padres from 2005 to 2009, leading the team to two NL West Division titles. From 1998 to 2005, he was MLB's Executive Vice President of Baseball Operations. He also spent 16 seasons in the Oakland Athletics front office and was the architect of a team that won three consecutive AL pennants from 1988-90 and the World Series in 1989.
Tom Goodwin has been the New York Mets' first-base coach since 2012 after a 14-year major-league career as an outfielder with six teams. He hit .268 in his career and stole 369 bases, including a single-season high of 66 with the Kansas City Royals in 1996. He helped the San Francisco Giants reach the World Series in 2002. He was a two-time All-America selection with Fresno State University and was drafted in the first round of the 1989 amateur draft by the Los Angeles Dodgers. 

Josh Lewin is in his sixth season as an announcer on New York Mets radio broadcasts. He is also the radio play-by-play voice for the San Diego Chargers (since 2005) and the UCLA Bruins football and men's basketball teams (since 2016). From 1996 to 2011, he was a play-by-play announcer for national Game of the Week packages and postseason games for Fox Sports. He has also called TV and radio broadcasts for the Texas Rangers, Detroit Tigers, Chicago Cubs, and Baltimore Orioles.   
Wayne Randazzo is in his third season as the New York Mets' pregame and postgame show host on WOR Radio, and he also calls occasional games as the team's play-by-play announcer. Previously, he worked at CBS Radio in Chicago as an anchor and show host for the Chicago White Sox. He has worked as a play-by-play announcer for ESPN, the Big Ten Network, and MLB Network.
Steve Gelbs is in his third full season as the New York Mets field reporter for all SNY television broadcasts. He joined SNY in 2013 as an anchor and sports reporter. Before that, he worked at MSG Network where he served as a host of the "MSG 150" during Knicks and Rangers telecasts. He has been nominated for four New York Emmys, including "Sports Anchor of the Year" in 2012.
T.J. Barra is in his third season as the New York Mets' Director of Baseball Research and Development. He has been with the Mets front office since 2007 and previously served as Manager of Baseball Analytics and Manager of Minor League Operations. From 2005 to 2007, he worked with the Washington Nationals, where he was the Coordinator of Scouting/Baseball Analysis. He earned a bachelor's degree in psychology from Wake Forest University.
Pat Roessler is in his third season as the New York Mets' Assistant Hitting Coach and he has spent three decades coaching and working in professional baseball. From 2004 to 2014, he was the Director of Player Development for the New York Yankees, including three stints as the team's hitting coordinator. He has also worked in the Houston Astros, Montreal Expos, and Chicago White Sox organizations. He graduated from the University of Arizona, where he played on the 1980 NCAA championship team, and holds a master's degree in sports management from Old Dominion University. 
Joe Lefkowitz is in his fifth year with the New York Mets with the current title of Sr. Coordinator of Baseball Systems Development, responsible for developing the internal applications and databases the front office utilizes in their information-driven decision-making processes. He got started in baseball by building a website hosting PITCHf/x data and visualizations, which led him to accepting an internship in the New York Yankees' baseball operations department. He graduated from the Stevens Institute of Technology in 2010 with a degree in Computer Science.
Moderator: Marc Appleman joined SABR as the Executive Director in 2010 and was named Chief Executive Officer in 2015.
Moderator: Barry M. Bloom has been a national reporter for MLB.com since 2002 and has more than 35 years of experience covering sports. He covered baseball and hockey for five years at Bloomberg News and also spent 16 years as a writer at the San Diego Union-Tribune.
It Ain't Over: The Legacy of Yogi Berra
9:15-10:15 a.m., Saturday, July 1
Lindsay Berra is a national correspondent for MLB.com and appears frequently on MLB Network. From 1999 to 2012, she was a senior writer for ESPN The Magazine, covering ice hockey, tennis, baseball, and the Olympics. She graduated from the University of North Carolina, where she played varsity softball and men's club ice hockey. She is the oldest grandchild of Yogi and Carmen Berra and is a board member at the Yogi Berra Museum and Learning Center.
Harvey Araton is a sports reporter and columnist for the New York Times, providing commentary on all major sports. He is the author of Driving Mr. Yogi: Yogi Berra, Ron Guildry, and Baseball's Greatest Gift (2013) and several other books. He joined the Times in 1991 and was a "Sports of the Times" columnist from 1994 to 2009. He was named Sportswriter of the Year in 1998 and has been honored several times by the Associated Press Sports Editors.
George Vecsey has written six national best-selling books, including Stan Musial: An American Life (2011), and has covered baseball for more than five decades. He wrote the "Sports of the Times" column at the New York Times from 1982 to 2011. His other books include Eight World Cups: My Journey through the Beauty and Dark Side of Soccer (2014), Baseball: A History of America's Favorite Game (2006), The Rivals: The New York Yankees vs. the Boston Red Sox (2004), A Year in the Sun (1986), Loretta Lynn: Coal Miner's Daughter (1976), and Joy in Mudville (1970).
Dave Kaplan was the founding director of the Yogi Berra Museum and Learning Center from its opening in 1998 until 2016. He collaborated with Yogi Berra on four books, including the New York Times bestseller When You Come to a Fork in the Road, Take It. He is also an adjunct professor at Montclair State University in New Jersey.
Jim Bouton: A Life in Baseball
1:00-2:00 p.m., Saturday, July 1
Jim Bouton is a former major-league pitcher and the acclaimed author of Ball Four, which was honored by the New York Public Library as one of the greatest books of the 20th century. His provocative and insightful journal of the 1969 season with the expansion Seattle Pilots and Houston Astros was an instant best-seller, fundamentally changing the world of sports literature and journalism and providing a candid look at life in the big leagues. Before Ball Four, Jim helped lead the New York Yankees to three American League pennants and a World Series championship in 1962-64, winning 21 games in 1963 and being named to the AL All-Star team. In retirement, he went on to become a well-known TV analyst in the 1970s before making a brief comeback with the Atlanta Braves. He continued to write about and play competitive baseball into his 70s. He also was the co-inventor of "Big League Chew" bubble gum and helped form the Vintage Base Ball Federation.
Paula Kurman is the wife of Jim Bouton and a retired psychologist and professor.
Mark Armour is the founder and long-time (2002-2016) director of SABR's Baseball Biography Project. His biography of Jim Bouton and essay on Ball Four are published online at the BioProject website. Mark was the recipient of SABR's highest honor, the Bob Davids Award, in 2008 and the Henry Chadwick Award, honoring baseball's greatest researchers, in 2014. His book Joe Cronin: A Life in Baseball was a finalist for the prestigious Seymour Medal in 2011, as was In Pursuit of Pennants, which he co-wrote with Dan Levitt in 2015.
Mitchell Nathanson is a professor of legal writing at Villanova University School of Law and the author of God Almighty Hisself: The Life and Legacy of Dick Allen (2016), A People's History of Baseball (2015), and The Fall of the 1977 Phillies: How a Baseball Team's Collapse Sank a City's Spirit (2008). He is a two-time winner of the McFarland-SABR Baseball Research Award in 2007 and 2013 for articles on baseball's antitrust exemption.
Marty Appel is the author of numerous baseball articles and books, including the best-selling Munson: The Life and Death of a Yankee Captain; Pinstripe Empire: The New York Yankees from Before the Babe to After the Boss; and most recently Casey Stengel: Baseball's Greatest Character. He previously worked in New York Yankees front office as public relations director and as an Emmy Award-winning television producer for WPIX.
Moderator: John Thorn was named as MLB's Official Historian by Commissioner Bud Selig in 2011, succeeding the late Jerome Holtzman. He is a longtime SABR member who was the recipient of the Society's highest honor, the Bob Davids Award, in 2006 and the Henry Chadwick Award in 2013. He is the author and editor of numerous books. His works include Baseball in the Garden of Eden: The Secret History of the Early Game; Treasures of the Baseball Hall of Fame; the Total Baseball encyclopedia series; The Glory Days: New York Baseball 1947-1957; The Armchair Book of Baseball; and The Hidden Game of Baseball. He is the founding editor of McFarland's Base Ball: A Journal of the Early Game and creator of SABR's The National Pastime. He served as the senior creative consultant for Ken Burns' Baseball series and appears regularly as a television commentator on MLB Network, ESPN, PBS, and The History Channel.
Research Committee meeting speakers
Click here for the full schedule of Research Committee meetings
Keith Olbermann is an acclaimed sports and political commentator and writer. He has been a SABR member since 1984 and has contributed articles on baseball history to the Baseball Research Journal and many other publications, including his "Baseball Nerd" blog on MLB.com. In 1973, when he was 14 years old, his book The Major League Coaches: 1921–1973 was published. He spent more than two decades as an award-winning sports anchor and reporter, including stints with ESPN, NBC, CNN, and Fox Sports. From 2003 to 2011, he hosted "Countdown with Keith Olbermann" on MSNBC. He is currently the host of GQ's political webshow "The Resistance with Keith Olbermann." Baseball Cards Committee, 10:30-11:30 a.m., Saturday, July 1, Empire State Ballroom. Click here to listen to highlights from this session.
David S. Neft was the driving force behind The Baseball Encyclopedia, affectionately known to a generation of baseball fans as "Big Mac." It was published by Macmillan in 1969, totaling 2,338 pages and weighing six and a half pounds. Working for Information Concepts Inc., David led the work that produced the Big Mac, which was the first computer-based compilation of baseball records, setting the stage for much of what has come since. The three-year task filled in many gaps in the official data from the early years of baseball history, especially from the 19th century. After leaving ICI, David established The Sports Encyclopedia: Baseball with partner Richard M. Cohen, creating an annual publication updated each spring. He broadened his research to include basketball and football encyclopedias, but it is his precise and painstaking baseball investigations which established his reputation. Baseball Records Committee, 4:15-5:15 p.m. Saturday, July 1, Empire State Ballroom. Click here to listen to highlights from this session. (MP3; 55:15) 
Perry Barber is one of very few women to have umpired major-league spring training games in the United States, and the only woman to umpire major-league exhibitions in both the United States and Japan. She assembled the first (and so far, only) four-woman crew to umpire a major league spring training game in 2008, and when she's not umpiring international tournaments in Taiwan and Hong Kong or spreading the gospel of umpiring to the next generation of male and female umpires, she travels the world speaking to diverse audiences and writing about the rewards of umpiring for her blog, "Dishing It ... and Taking It, Too," while working on an upcoming book about her unusual and far-flung career. She is a board member of the International Women's Baseball Center, which is creating a bricks-and-mortar museum and conference center in Rockford, Illinois, home of the Rockford Peaches of A League of Their Own fame. She is also an accomplished singer/songwriter who has opened concerts for the likes of Bruce Springsteen, Hall and Oates, and Billy Joel, as well as a former Jeopardy! champion. Women in Baseball Committee, 1:45-2:45 p.m. Thursday, June 29, Empire State Ballroom. Click here to listen to highlights from this session. (MP3; 1:00:04)
Peter C. Bjarkman writes for BaseballdeCuba.com and is considered to be one of the foremost authorities on pre-revolution and post-revolution Cuban baseball history. He is author of numerous baseball volumes, including Cuba's Baseball Defectors: The Inside Story (2016) and A History of Cuban Baseball, 1864-2006 (2007). He was honored with a 2004 Sporting News-SABR Baseball Research Award and the 2008 Eduardo Valero Award from SABR's Latino Baseball Research Committee. He has been featured in more than a dozen documentary films on baseball history, including the ESPN "30 for 30" program Brothers in Exile. Latino Baseball Committee, 1:45-2:45 p.m. Thursday, June 29, Ballroom I. Click here to listen to highlights from this session. (MP3; 1:06:36)

Reynaldo Cruz is a Cuban journalist who writes for the newspaper Ahora!, based in Holguin province. He is the founder and editor of the Universo Béisbol digital magazine, covering all aspects of Cuban baseball. He is also, with Yasel Porto, one of the filmmakers behind Unidos por una Pasión. Orlando "El Duque" Hernández and José Martí ... the New York Cubans and Rey Ordóñez ... the Industriales and the New York Yankees as the most loved and hated teams in their leagues. Two big cities in two baseball-crazed nations have more in common than just being the top holder in titles in their respective countries. Join us for a sneak preview of this new film with special guest Orlando "El Duque" Hernández (subject to availability). Latino Baseball Committee, 1:45-2:45 p.m. Thursday, June 29, Ballroom I. Click here to listen to highlights from this session. (MP3; 1:06:36)

Harold Richman invented Strat-O-Matic as an 11-year-old in 1948 as a result of his frustration with the statistical randomness of other baseball board games. He has been CEO since founding Strat-O-Matic Media, LLC, in 1961 and later expanded the company to include football, basketball, and hockey games in addition to baseball. His presentation will center on the difficulty of applying Strat-O-Matic gaming procedures to the Negro Leagues, perhaps the most important historical project ever undertaken by the company. Games and Simulations Committee, 10:30-11:30 a.m. Saturday, July 1, Alvin & Carnegie Room
Keith Avallone, the man behind PLAAY.com Sports Simulation Board games, discovered sports gaming while growing up in rural Wisconsin and it's been his passion ever since. After earning a degree in Advertising from the University of Texas, he spent thirty years as a Top 40 radio personalty, weaving stories. Storytelling — the drive to create narrative and evoke imagery — drove the design behind the History Maker Baseball game. HMB has found an enthusiastic following among tabletop baseball fans with its use of key words rather than numerical ratings and its focus on "blue sky" narrative and intangibles such as team mood and umpire characteristics. PLAAY Games' offerings include eleven different sports simulation games, including box lacrosse, roller derby, and Canadian football. Games and Simulations Committee, 10:30-11:30 a.m. Saturday, July 1, Alvin & Carnegie Room
Jim Robinson was a three-time East-West All-Star Game selection (1956-58) in the Negro Leagues as a versatile infielder for the Kansas City Monarchs, and he served as captain of that team in the latter two years. He played for manager Oscar Charleston with the Philadelphia Stars and with the Indianapolis Clowns before signing a minor-league contract with the St. Louis Cardinals organization in 1953. He was drafted by the U.S. Army before he could begin playing in the minors and served a tour in Korea, then returned to the Negro Leagues in 1956. He also played baseball at North Carolina AT&T State University and graduated with a bachelor's degree in physical education and a master's degree from the City University of New York. Negro Leagues Committee, 2:15-3:15 p.m. Saturday, July 1, Empire State Ballroom. Click here to listen to highlights from this session. (MP3; 39:55)

Tom Villante was a batboy for the 1944 and 1945 New York Yankees under manager Joe McCarthy. Later, he became a producer of Brooklyn Dodgers TV and radio broadcasts from 1950-57, where he worked with statistician Allan Roth. He was the creator of the Major League Baseball Promotion Corporation, Founding Director of the Jackie Robinson Foundation, and the originator of MLB's first promotional slogan, "Baseball Fever—Catch it!" Ralph Branca and Jackie Robinson were at his wedding, and he was a close friend of Joe DiMaggio, Don Zimmer, Yogi Berra, and Tommy Lasorda. Tom will regale us with many never-before-heard tales from his half-century in baseball. Please read Marty Appel's article about Tom's extraordinary life in baseball. Join us for this unique live oral history and the opportunity to learn from someone who spent decades observing and knowing many of baseball's greats. Oral History Committee, 2:15-3:15 p.m. Saturday, July 1, Uris/Juilliard Room. Click here to listen to highlights from this session. (MP3; 53:40) 
Glenn Stout is the author of The Selling of the Babe: The Deal That Changed Baseball and Created a Legend, which won the 2017 Larry Ritter Book Award from SABR's Deadball Era Committee. Glenn previously won the award in 2012 for Fenway 1912: The Birth of a Ballpark, a Championship Season, and Fenway's Remarkable First Year, which also won the prestigious SABR Seymour Medal. He has written and edited more than 90 books, including the best-selling Red Sox Century and Yankees Century, the critically acclaimed Nine Months at Ground Zero, and Young Woman and The Sea: How Trudy Ederle Conquered the English Channel and Inspired the World. He has served as Series Editor for The Best American Sports Writing since its inception. After accepting his award, Glenn will discuss his research and writing methods in a talk titled "Writing the Past to Life." He is glad to answer questions from the audience and to sign any copies of his books brought by attendees. Deadball Era Committee, 4:15-5:15 p.m. Saturday, July 1, Ballroom I. Click here to listen to highlights from this session. (MP3; 57:25)

Alain Usereau is in his seventh season as a French-language broadcaster of Major League Baseball games with Réseau des Sports (RDS) based in Montreal, and he has been covering baseball for more than two decades on TV and radio. He is the author of The Expos in Their Prime: The Short-Lived Glory of Montreal's Team, 1977-1984 (2012), which was first published as L'époque glorieuse des Expos in 2009. He has appeared as an actor in a number of movies and TV series in Quebec, and is a three-time winner of the SABR Trivia Contest at the Annual Convention. Join us for a live "Working The Game" interview and learn how Alain prepares for games he broadcasts both live at the stadium and from RDS studios. Baseball and the Media Committee, 5:15-6:15 p.m. Saturday, July 1, Empire State Ballroom. Click here to listen to highlights from this session. (MP3; 52:19)

For more information on SABR 47, visit SABR.org/convention.