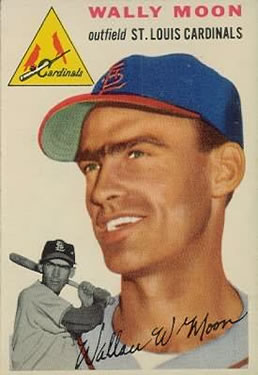 April 16, 1955: Cardinals outslugged by Cubs but finally win in 14th
---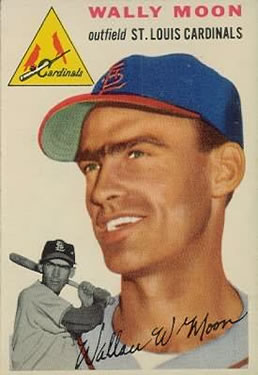 On Saturday, April 16, 1955, pregame activity at Busch Stadium was lively hours before the 1:30 p.m. tilt between the Cubs and the Cardinals. While Chicago manager Stan Hack amused reporters talking about his badly swollen hand, St. Louis skipper Eddie Stanky and his coaching staff were busy hosting a morning baseball clinic for more than 1,000 high-school-age baseball players and their mentors. After the two-hour training session concluded, the athletes, plus their tutors, were admitted to the game as guests of the ballclub.1 With a ladies day promotion drawing more than 5,500 walk-ups, the 9,075 paid admissions swelled attendance to 15,678 on an early-spring day under partly cloudy skies that reached an above-normal high temperature in the mid-80s.2
Hack, known as Smiling Stan from his playing days as an All-Star third baseman, was questioning his laughable injury. Three days earlier in Cincinnati, Hack reached for a chaw from the chewing tobacco pouch he stuffed in his rear pants pocket. He quickly removed his grip on the contents after feeling a stinging sensation, and saw a bee quickly fly away from the scene. "I thought I knew about bees," Hack joked. "I've been stung before. But what do you suppose that bee was going to do with my chewin' terbaccy?"3 Despite the discomfort, Hack was grinning broadly because his Northsiders had won their season's first three games for the first time since 1950.
Stanky, assessing his squad's roster a few days before, had remarked, "This is the best club I have ever managed. But it's young; be patient with it."4 Stanky, who was The Sporting News Major League Manager of the Year in his first season in 1952, had guided the Cardinals to a pair of third-place finishes before he experienced a bumpy ride piloting a sixth-place team in 1954. Always a fiery competitor, and nicknamed "The Brat," Stanky had been ejected 15 times as the Cardinals manager. As it happened, all four of the seasoned arbiters working today's contest had banished Stanky at least once. The Cardinals were 1-1 with a lopsided loss sustained in Chicago, followed by a comeback extra-inning home-opening win over the Milwaukee Braves.
St. Louis starting pitcher Tom Poholsky had to first appear in morning traffic court and plead guilty to a speeding charge, costing him an $8 fine.5 Chicago countered with a rookie hurler, "Toothpick Sam" Jones. In the first inning, the 6-foot-3 right-handed Poholsky pitched around a two-out single. Jones, a 6-foot-4 righty with a herky-jerky motion, had a rough bottom half as he allowed two runs on three hits and a walk.
Just as fans flipped their scorecards, the game took an eventful turn and the Cardinals' lead became a memory. Randy Jackson drove an offering from Poholsky into the left-field bleachers. Before Jackson was done receiving kudos, shortstop Ernie Banks blistered a one-strike pitch for another drive into the left-field seats. Not to be outdone, left-handed-hitting Dee Fondy powdered a full-count pitch that hit a flag perched on the right-center-field pavilion roof and Chicago had a 3-2 lead. These back-to-back-to-back home runs tied a major-league record held by several teams; the last time it had occurred for the Cubs was August 11, 1941. Back then, the successive blasts were also socked in St. Louis when Phil Cavarretta, Hack, and Bill Nicholson connected off Lon Warneke.6
Jones settled down in the next two frames, even striking out the side in the third. Poholsky, too, was doing better until two outs in the third, when Jackson cracked a 400-foot shot into the right-center-pavilion seats for his second solo home run of the game and a 4-2 lead.7 Poholsky, who had given up four runs on seven hits in three innings, was replaced by Brooks Lawrence. The barrage the Cubs put on Poholsky was not an aberration as Chicago had entered this contest with a .375 team batting mark while scoring 27 runs on 42 hits during their first three games.
A penchant for wildness hurt Jones in the fourth: He walked the first two batters, and they came around as the Cardinals plated three on just one base hit to go back up, 5-4. St. Louis added another run in the sixth. Del Rice singled with two outs. Alex Grammas received the fifth free pass allowed by Jones, then Lawrence singled home Rice for his second RBI of the day. With the Cubs trailing 6-4, Hack removed Jones for southpaw Jim Davis, who retired Wally Moon on an unassisted grounder to Fondy at first base.8
Chicago's Bob Speake made his major-league debut memorable as the 24-year-old left-handed batter delivered a pinch single leading off the seventh. Speake went to second on a walk and scampered home on a knock by Frank Baumholtz to cut Chicago's deficit to one. Hank Sauer smacked the next pitch for another run-scoring single, tying the score, 6-6. Veteran right-handed submariner Frank Smith, who was obtained from Cincinnati during the offseason, took over for St. Louis and brushed back the heavy-hitting Jackson. Notwithstanding, Jackson drove a double off the left-field wall to score Baumholtz with the go-ahead run and send Sauer to third. Smith departed, and right-hander Bobby Tiefenauer was beckoned to stifle the Cubs' parade around the bases. Banks fouled out to left fielder Moon, but it was deep enough for Sauer to tag and score. Fondy's single plated Jackson to increase the Cubs' edge to 9-6.9
In the bottom of the seventh, 32-year-old right-hander John Andre made a forgettable major-league debut, defaulting to wildness by walking fellow rookie Bill Virdon, uncorking a wild pitch, and then issuing another walk to Stan Musial. Hack summoned right-hander Hal Jeffcoat, who had been a Cubs outfielder from 1948 through 1953 before successfully converting to pitching in 1954. Rip Repulski greeted Jeffcoat with a double to center to score Virdon and send Musial to third. Red Schoendienst grounded out, plating Musial. Rookie Ken Boyer singled to score Repulski and tie the game, 9-9. The highly touted Boyer, who earlier made a heads-up dash home to slide around catcher Harry Chiti in the fourth, stole second, but was held at third by Stanky on Rice's third single. After lefty-swinging pinch-batter Solly Hemus was announced, Hack motioned for ex-Cardinals' lefty Howie Pollet, and Hemus was lifted for right-handed batter Harry Elliott. Pollet had allowed a two-run double to Elliott the last time they faced each other two seasons ago, but this time the veteran southpaw fanned his adversary. Another pinch-hitter, Bill Sarni, was retired to strand two Redbird runners.
Right-handed knuckleballer Barney Schultz entered for St. Louis in the eighth. The 28-year-old Schultz, who had already represented 11 different minor-league cities from 1944 to 1954, surprisingly stabilized the Cardinals' mound efforts for four innings. Schultz worked out of a bases-loaded 10th frame when Gene Baker fouled out. St. Louis threatened to win the contest in the 11th, but Boyer flied deep to left with two runners on to end the threat.10
Chicago finally solved Schultz's flutter pitch for twin tallies in the 12th when Banks and Fondy again swatted consecutive homers to provide Chicago with an 11-9 margin. In the bottom half, Cubs right-hander Bubba Church began his third inning of relief by walking pinch-hitter Joe Frazier. Dick Schofield ran for Frazier, but he remained stationary as Church retired pinch-hitter Tom Alston on a fly ball and fanned Sarni. With a two-run cushion, another out and the Cubs would start a season with four straight victories for the first time since 1934. Moon had other thoughts, however, as he parked a two-run homer onto the right-field rooftop to knot the game, 11-11.11 Virdon singled and Church was replaced by right-hander Vicente Amor. The Cuban-born Amor, also making his major-league debut, got Musial to pop out to the catcher.
The ballpark lights were on, and the available bench for both teams was dwindling. Despite an ineffective start in the Cardinals' home opener two days before, left-hander Harvey Haddix opened the 13th and hurled two scoreless frames. Amor pitched out of trouble in his portion of the 13th after Repulski doubled and Schoendienst was intentionally passed to start the inning. Sarni opened the Cardinals' 14th with an easy pop fly to short left. Banks moved back to make the catch, but then inexplicably gave way to left fielder Sauer, who was in no position to glove it, and the ball fell safely for a fluke double. Moon, who had extended the game, singled to right on the next pitch.12 Stanky waved Sarni home and the Cardinals walked off with an unforgettable 12-11 triumph.
Haddix was the winner with Amor charged with the loss. Forty players, including 13 pitchers, appeared in the contest, which took 4:39 to play.13 Chicago accumulated 37 total bases to 24 for St. Louis as the clubs combined for 33 hits. Lack of control from Cubs pitching was the difference as their nine walks permitted five extra St. Louis runners to eventually score. Four of the seven home runs were hit to right field, but none of the circuit clouts this day were due to the pavilion screen being removed prior to the start the season.14
This article appears in "Sportsman's Park in St. Louis: Home of the Browns and Cardinals at Grand and Dodier" (SABR, 2017), edited by Gregory H. Wolf. Click here to read more articles from this book online.
Sources
In addition to the sources noted in this game account, the author also accessed Retrosheet.org, Baseball-Reference.com, and The Sporting News archive via Paper of Record.
Notes
1 St. Louis Post-Dispatch, April 15, 1955: 6C.
2 Bob Broeg, "Cards Win In 14th, 12-11, Despite Six Cub Homers," St. Louis Post-Dispatch, April 17, 1955: 1.
3 The Sporting News, April 27, 1955, 3.
4 Herb Heft, "Youthful Cards Hailed by 1,000 at Dinner as Team of Future," The Sporting News, April 20, 1955: 26.
5 The Sporting News, April 27, 1955: 6.
6 Edward Prell, "Card Pop Fly Wins, 12-11, In 14th; 6 Cub Homers," Chicago Tribune, April 17, 1955: 1F.
7 Ibid.
8 Ibid.
9 Ibid.
10 Ibid.
11 Broeg.
12 Prell.
13 According to Baseball-Reference.com, this marathon was the third longest major-league game of the 1955 season. The Washington Senators and Cleveland Indians took the '55 top spot for "Time of Game" at 4:46 in 17 innings on April 27, followed by the Pittsburgh Pirates and Milwaukee Braves lasting 4:44 in 19 innings on July 19.
14 St. Louis Post-Dispatch, May 7, 1955: 1C; The "Redbird Notes" column reported that Cardinals public-relations man Jim Toomey affirmed that Bill Virdon's sixth-inning home run off Milwaukee's Chet Nichols on May 6 was the first to land into the right-field pavilion seats instead of remaining in play after striking the screen that was removed before the 1955 season started. When the opposing batters ended up hitting more homers than the Cardinals into the available area, the screen was re-installed prior to the 1956 campaign. The 25-foot 8-inch covering went from the 310-foot right-field foul line and ended at the 354-foot right-center power alley and stayed in place through the final game on May 8, 1966.
Additional Stats
St. Louis Cardinals 12
Chicago Cubs 11
14 innings
---
Busch Stadium
St. Louis, MO
Box Score + PBP:
Corrections? Additions?
If you can help us improve this game story, contact us.
Tags
https://sabr.org/sites/default/files/MoonWally-STL.jpg
600
800
admin
/wp-content/uploads/2020/02/sabr_logo.png
admin
2018-11-21 00:10:57
2020-04-17 10:23:45
April 16, 1955: Cardinals outslugged by Cubs but finally win in 14th