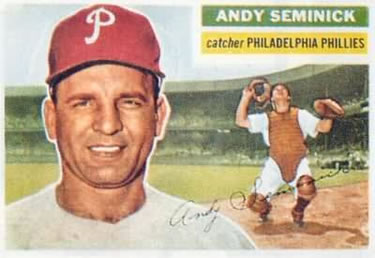 August 12, 1950: The day Andy Seminick took out the Giants' infield
---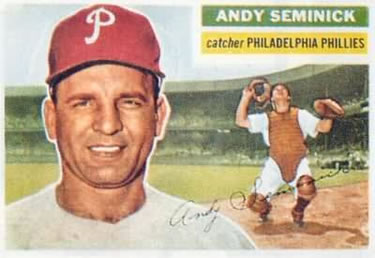 Heading into their August 12 "Kids' Day" game against the New York Giants in Shibe Park, the Phillies were on a roll with four wins in their last five games. In fact, since July 21 the Whiz Kids had won 19 of 26 to extend their lead from a first-place tie to a five-game lead over the second-place Boston Braves. They had split the first two games of the four-game series, but there was added drama heading into game three because of what had transpired the night before, a 3-1 Giants victory over Curt Simmons behind the pitching of Sal Maglie.
The Giants and Phillies were intense rivals and earlier in the year Phillies manager Eddie Sawyer had accused the Giants of intentionally throwing at the Phillies hitters, while New York manager Leo Durocher had complained publicly about the aggressive manner in which Whiz Kids catcher Andy Seminick blocked the plate.1 In the August 11 game, ultracompetitive Giants second baseman Eddie Stanky decided it would be a good idea to move over by second base and perform jumping jacks while Seminick was at bat.2 The Phillies complained to no avail to umpire Al Barlick, who said there was nothing in the rule book to prohibit it.3 In addition, in the eighth inning Maglie, who had a history of throwing at Seminick, hit him in the elbow. Although Seminick treated it as if a fly had landed on his arm and trotted down to first base, the next day it was all swollen and discolored.4
Seminick was still fuming the next day although Sawyer and Durocher agreed before the game to instruct Stanky to stop his gyrations until they could get a ruling from league President Ford Frick.5 The game featured Phils ace Robin Roberts, seeking his 16th win of the season, against Sheldon Jones, who was 9-12 so far. The Giants quickly loaded the bases in the top of the first with one out, but Roberts struck out Wes Westrum and induced Bobby Thomson to roll into a force out to escape the inning unscathed.
The Giants did scratch out a run in the top of the second on an Alvin Dark single, another single by Tookie Gilbert, a bunt, and a sacrifice fly to score Dark. Then, in the bottom half of the inning, the fireworks began. With two out Granny Hamner doubled to bring up Seminick. While he was at bat, Stanky at second base made a big show of waving his arms and then standing absolutely motionless when the pitch was delivered.6 Seminick walked to put runners on first and second. Mike Goliat was next and Giants pitcher Jones promptly sent him sprawling with a high inside pitch. Goliat got up and took a step toward the mound before deciding to return to the batter's box.7 He then smashed the next pitch to left for a single to score Hamner from second. An irate Seminick rounded second and never broke stride while heading to third. He slammed into New York third baseman Hank Thompson with a forearm shiver to Thompson's jaw just as Thompson reached for the throw from left fielder Whitey Lockman. Thompson and the ball went flying while Seminick scrambled to his feet and scored, beating a throw to the plate by Jones, who, backing up third, had retrieved the ball.8
Thompson was dazed by the collision9 and while Durocher and the Giants trainer tended to him, the Phillies dugout hollered, "You better call Jersey City." Thompson was unable to continue and was replaced by Bill Rigney at third. Roberts followed with a single to center to score Goliat, who had moved to second on Seminick's adventure at third, to make the score 3-1.
Seminick came to the plate again with two outs in the bottom of the fourth with the score still 3-1. Jack Kramer was pitching for the Giants, since Jones had been lifted for a pinch-hitter in the top of the inning. Stanky, who was upset with Seminick for his slide into Thompson in the second, moved over behind second and on the second pitch waved his hands wildly over his head.10 Seminick responded by flinging his bat out in the direction of the mound while umpire Lon Warneke promptly ejected Stanky for "making a farce of the game." That caused Durocher to argue vociferously "chin-to-chin" and to officially protest the game. He was forced to move Rigney to replace Stanky, inserting Jack Lohrke at third.11
Seminick proceeded to reach first on an error by Al Dark at shortstop. Goliat then grounded to Dark, who threw to Rigney at second for the force out. Seminick slid in hard right at the bag and upended Rigney, who took umbrage and jumped on Andy and took a swing. Seminick, who was on the bottom, grabbed Rigney by his shirt and started hitting him, causing Rigney to bounce up and down. After taking a couple of punches, Rigney yelled, "Turn me loose, you're killing me."12
By that time both benches had emptied and several fights erupted.13 The Giants' Gilbert went after Seminick, only to be intercepted by Phillies coach Dusty Cooke. Phillies reserve infielder Jimmy Bloodworth and Giants Jim Hearn and Rudy Rufer exchanged swings. The Phillies all despised Durocher, who was woofing at everyone until the Phillies' Bubba Church grabbed him from behind with both arms and pulled him into the outfield. The rhubarb lasted close to 10 minutes. The police had to come onto the field to restore order and almost arrested Gilbert for abusive language and resisting an officer's command. Umpire Lee Ballanfant, however, came to Gilbert's defense and talked the officer out of it.14
Both Seminick and Rigney were ejected. The next day Durocher was quoted as saying the Phillies would be playing Jersey City [the Giants' top farm team] the next day if they hadn't gotten Seminick out of the game.15
Once play resumed, the game turned into a thriller. Roberts continued to struggle on the mound and in the top of the sixth with two outs he walked opposing pitcher Kramer, gave up a single to Jack Lohrke (the Giants' third second baseman of the game), and walked Whitey Lockman to load the bases. Don Mueller lived up to his Mandrake the Magician nickname by singling through the infield to drive in two runs and tie the score, 3-3. Roberts then walked Monte Irvin (the Giants' third third baseman of the game)16 to reload the bases before retiring Wes Westrum on a fly ball to left to finally escape the inning.
In the meantime the Phillies could get nothing going against Kramer. Bobby Thomson then led off the seventh with a home run into the upper left-field stands to put the Giants ahead 4-3. The Phillies, however, came back in their half to scratch out the tying run when Gilbert at first base booted a groundball by Goliat, and Bill Nicholson (pinch-hitting for Roberts), and Eddie Waitkus both singled.
Jim Konstanty relieved Roberts and showed his MVP form, scattering two hits over the next four innings as the game remained tied and went into extra innings. In the meantime Dave Koslo, who had relieved Kramer in the seventh, held the Phillies at bay. With one out in the bottom of the 11th, Stan Lopata, who had come in to catch after Seminick's ejection, tripled to center just out of the reach of Bobby Thomson.17 Koslo intentionally walked Goliat and Bloodworth, batting for Konstanty. Waitkus was next and sailed a flyball to Thomson in center field. It was deep enough to allow Lopata to beat the throw and give the Phillies a 4-3 victory.
The run enabled Konstanty to record his 10th win of the season, all in relief, as he extended his scoreless streak to 20⅓ innings. With the victory, the Phillies stretched their lead to five games over the second-place Boston Braves, 6½ games over the Cardinals, and 7½ games over the Dodgers.
Efforts to reach National League President Ford Frick were successful and the next day he fined Seminick and Rigney $25 each.18 After a hearing with Giants owner Horace Stoneham, Durocher, and Stanky, Frick issued an edict ruling that Stanky's actions were unsportsmanlike and would in the future result in ejection "in aggravated cases."19
After two games against the Boston Braves in Shibe Park, the Phillies had to head to New York for a series against the Giants. In the interim, Seminick had received a threatening letter saying the fans were going to get him in New York. The first time he came to bat in the first game, on August 18, just six days after the rhubarb, Giants fans booed loudly while the Giants waved white handkerchiefs from the dugout. Seminick responded by walloping Jim Hearn's first pitch into the upper deck in left field for a home run. By his last at-bat, Seminick had the Giants' fans cheering and clapping for him in appreciation of his toughness and resilience.20
This article appears in "The Whiz Kids Take the Pennant: The 1950 Philadelphia Phillies" (SABR, 2018), edited by C. Paul Rogers III and Bill Nowlin. Click here to read more stories from this book at the SABR Games Project.
Notes
1 Stan Baumgartner, "Rigney, Seminick Scrap Spreads Into Battle Royal," The Sporting News, August, 23, 1950: 6.
2 Stanky had hit on the idea of distracting batters in an August 9 game against the Boston Braves when the Braves' Bob Elliot asked umpire Al Barlick to move out of his line of vision. Barlick did so but Stanky moved into Barlick's old spot and succeeded in distracting Elliot, who struck out. Robin Roberts and C. Paul Rogers III, The Whiz Kids and the 1950 Pennant (Philadelphia: Temple University Press, 1996), 248; Baumgartner, The Sporting News, August, 23, 1950: 5.
3 Sawyer called it "unsportsmanlike and purely bush league stuff." Joseph M. Sheehan, "Phillies Beat Giants in 11th, 5-4, After Players Fight," New York Times, August 13, 1950: Section 5, 1.
4 Roberts and Rogers, 248-49.
5 Sheehan; Roberts and Rogers, 249.
6 Sheehan.
7 Carson Van Lindt, Fire & Spirit – The Story of the 1950 Phillies (New York: Marabou Publishing, 1998), 123.
8 Roberts and Rogers, 248-50.
9 According to the New York Times, Thompson "went down like he was pole-axed and did not stir for fully five minutes." Sheehan.
10 Some sources indicate that Durocher directed Stanky to begin waving his arms again after Seminick's takeout of Hank Thompson. Harry T. Paxton, The Whiz Kids – The Story of the Fightin' Phillies (Philadelphia: David McKay Co., Inc., 1950), 98.
11 Sheehan. Durocher was incensed that Warneke had not ejected Seminick for throwing his bat. Van Lindt, 123.
12 Roberts and Rogers, 250.
13 The fight was the Phillies' second major brawl in three weeks. On July 23 in Cincinnati Willie Jones slid hard into Reds second baseman Connie Ryan, spiking him and ripping off his shoe. Ryan responded by taking a swing at Jones and the two wrestled to the ground as both benches emptied. Roberts and Rogers, 235; Baumgartner, The Sporting News, August 23, 1950: 5.
14 Roberts and Rogers, 251; According to The Sporting News, Gilbert was almost hauled to jail for using profanity on the field. "Younger Gilbert, Unlike Dad, Bares Fiery Tongue," The Sporting News, August 23, 1950: 6.
15 Roberts and Rogers, 251.
16 Irvin replaced Lohrke, who moved to second base when Rigney was ejected. Lohrke had replaced Thompson after Seminick coldcocked Thompson in the second inning.
17 According to the New York Times, Thomson failed to get a good jump on the ball and would have made the catch ninety-nine times out of a hundred. Sheehan.
18 According to The Sporting News, a New York newspaper attempted to reach National League President Ford Frick for a ruling on the legality of Stanky's antics after he was banished in the August 12 game. A call to Frick's Bronxville home revealed that he was away for the weekend, staying somewhere on Long Island in a house without a phone. The paper ended its August 13 game story with the message, "Mr. Frick, if you happen to read this, call one of your umpires in Philadelphia. It's urgent." "Paper Asks Frick to Call One of Umpires in Philly," The Sporting News, August 23, 1950: 5.
19 Ken Smith, "Frick Vetoes Wig-Wagging by Infielders," The Sporting News, August 23, 1950: 5. Leo Durocher was unapologetic afterward, saying that what Stanky had done "was perfectly legal as far as he was concerned" and that "smart ballplayers have been pulling stuff like that for all of the 25 years I've been in baseball." Sheehan. Stanky took the same tack, saying, "If a fielder waved his arms at me, I'd congratulate him after the game for doing anything he could to win." When informed the Phillies thought he was "bush league," Stanky retorted, "I don't care how it looks. All I want to do is win." Baumgartner: 5, 6.
20 Roberts and Rogers, 255, 267. The Phillies lost, however, 7-4 to Jim Hearn.
Additional Stats
Philadelphia Phillies 5
New York Giants 4
11 innings
---
Shibe Park
Philadelphia, PA
Box Score + PBP:
Corrections? Additions?
If you can help us improve this game story, contact us.
Tags
https://sabr.org/sites/default/files/images/SeminickAndy.jpg
600
800
admin
/wp-content/uploads/2020/02/sabr_logo.png
admin
2018-11-28 12:43:42
2020-04-17 10:23:44
August 12, 1950: The day Andy Seminick took out the Giants' infield