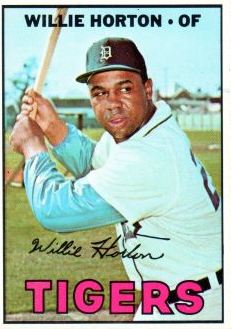 May 14, 1965: Yastrzemski hits for the cycle, but Detroit's Willie Horton steals the show
---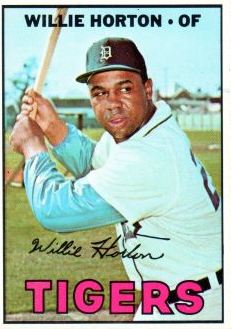 Before a Fenway Park crowd of 10,271, Carl Yastrzemski hit for the 12th cycle in Boston Red Sox history. He added a second home run and a walk to his hit parade, reaching base in every one of his six plate appearances. But his herculean efforts were not enough to propel the Red Sox to victory over the Detroit Tigers, who scored four times in the top of the 10th inning to secure a 12-8 victory.
The hero of the game was Detroit's Willie Horton, who "did everything but topple the steeple on the Old North Church."1 Said the Detroit Free Press, "Horton had to be something special to win this game because Carl Yastrzemski had his greatest night in a Boston uniform."2 The two left fielders "exploded in a furious slugging battle"3 that included four home runs.
Boston's Dennis Bennett squared off against Detroit's Denny McLain. Neither pitcher would figure in the game's decision. Boston brought an 11-13 record into the game, but had just won three of four games against the New York Yankees at Fenway Park. At 14-11, the Tigers were concluding a road trip; they had split a four-game series with Baltimore and then had swept three from the Washington Senators. Bennett was making his first start of the season after two sub-par relief appearances. The southpaw's ERA was 5.14 with a WHIP of 2.000. McLain had a 3.90 ERA and a record of 0-2 in six games.
Yastrzemski gave Boston a 5-0 lead with two early home runs. In the bottom of the first inning, Lenny Green led off with a walk. One out later, Yastrzemski smashed a 475-foot, two-run blast into the right-field bleachers. McLain then walked Tony Conigliaro, Lee Thomas, and Felix Mantilla to load the bases before striking out Eddie Bressoud and Mike Ryan.
An inning later, Bennett and Green each singled to start the inning. Frank Malzone struck out, bringing up Yastrzemski. He swung at McLain's 0-and-1 offering and knocked "a three-run shot lofted into the left-field screen."4 Conigliaro struck out, and Thomas walked. Bob Swift, the Tigers' acting manager, had seen enough. He pulled McLain and brought in Ed Rakow.
Boston's lead was short-lived, as Detroit answered in the third. Jake Wood led off with his first home run of the year, also into the net over the left-field wall. Don Wert singled to left, as did Don Demeter. Boston's skipper, Billy Herman, made a quick pitching change, bringing in Bob Heffner to replace Bennett. Heffner was greeted by Al Kaline's double to left, driving in Wert. Heffner then tossed a wild pitch in the dirt, bringing in Demeter and sending Kaline to third. According to the Boston Globe, "Then there was a sound like the detonation of a bomb,"5 as Horton homered over the screen in left, tying the game 5-5 and sending Heffner to the showers. Jack Lamabe became the third Boston hurler of the inning. Lamabe gave up two singles and a walk, but he started a double play on George Thomas's grounder and got another groundout to prevent any more scoring in the inning.
Lamabe yielded singles to Demeter and Kaline in the top of the fourth and plunked Horton, loading the bases with one out. However, he worked out of the jam without a run being scored. Mantilla homered in the bottom of the fifth to give Boston the lead, but Lamabe lost it again in the sixth, serving up Horton's second home run of the game, after he had walked Wert (who then stole second) and given up an RBI single to Kaline. The ball landed "eight rows up in the center field seats."6 Jay Ritchie came in from the bullpen to relieve Lamabe. In 3⅓ innings, Lamabe had given up six hits and two walks.
In the Red Sox half of the sixth, Yastrzemski tripled off the wall in center with one out, but his teammates could not bring him home. Rakow walked Mantilla in the seventh, and Larry Sherry who came on in relief to face Bressoud, who fouled out to Detroit catcher Bill Freehan. Ryan singled to left and Dalton Jones, pinch-hitting for Ritchie, flied out. Green followed with a two-run double into center field. The game was tied again. Yastrzemski singled to start the Boston eighth, but once again was stranded. At the end of nine innings, the scoreboard showed an 8-8 tie.
Jerry Lumpe started the extra-inning rally for Detroit. Pinch-hitting for Wood, Lumpe tripled into the right-field corner off Dick Radatz, who had come on to pitch for Boston in the eighth. Wert grounded to the pitcher, but Demeter stroked a double to center, breaking the tie. Radatz intentionally walked Kaline to pitch to Horton, prompting sportswriters to note that "they'll just never learn, these managers."7 Horton answered with a single, driving in Demeter and sending Kaline to second. For the second straight night, "Willie the Wonder"8 drove in five runs for Detroit. Norm Cash doubled to right, driving in the two baserunners, and Detroit had built a 12-8 lead.
The Red Sox did not give up in their half of the 10th. Green walked, and Yastrzemski doubled to left with one out, giving him five hits and the cycle. But that's where it ended, as Detroit's fourth pitcher, Terry Fox, struck out Conigliaro and got Thomas to lineout and end the game.
Fans were treated to a slugfest. Each side ripped three home runs, and Yastrzemski and Horton had two each. In five days, Yastrzemski's average had rocketed from .236 to .304, and he had slammed five home runs and batted in 10 runs in his last five games. In a game featuring 20 runs and 31 hits (13 for extra bases), Yastrzemski had five hits, two runs scored, and five RBIs to lead Boston. Only four other Red Sox batters had a hit, while every position player for the Tigers had at least one. All of Detroit's 12 runs were scored by players hitting in the first five places in the batting order. This walk-off victory stretched the Tigers' winning streak to five games.
In his last four games, Horton was 12-for-18 at the plate, including this 4-for-5 performance, with three runs scored. He "slammed six homers and knocked in 15 runs,"9 for a blistering 1.722 slugging percentage. Playing in 16 of Detroit's 26 games so far, Horton had nine home runs, a .383 batting average, a .900 slugging percentage, and 20 RBIs. The Detroit Free Press, alluding to the Revolutionary War Battle of Lexington and Concord, wrote that "for the second time in history an icy terror spread throughout the New England countryside"10 as Horton crushed two home runs, added two singles, scored three runs, and drove in five runs.
In the remaining three games of the series with Boston, Horton went 6-for-12 with four doubles, pushing his batting average up to .403. Detroit's Kaline, describing the 22-year-old Horton's approach to the game, said, "This boy has a great future. He swings an aggressive bat and challenges anybody. He doesn't care who the pitcher is." Kaline added, "They used to pitch around me. Now they have to pitch to me or face that big monster."11
Reporters bombarded Horton with questions after the game, but he had only one comment: "I only wish the man upstairs let my Dad and Mom see this."12
Sources
In addition to the sources mentioned in the Notes, the author consulted baseball-reference.com and retrosheet.org. The author thanks Lisa Tuite of the Boston Globe for providing sources.
http://www.baseball-reference.com/boxes/BOS/BOS196505140.shtml
http://www.retrosheet.org/boxesetc/1965/B05140BOS1965.htm
Notes
Additional Stats
Detroit Tigers 12
Boston Red Sox 8
10 innings
---
Fenway Park
Boston, MA
Box Score + PBP:
Corrections? Additions?
If you can help us improve this game story, contact us.
Tags
http://bioproj.sabr.org/bp_ftp/images3/HortonWillie.jpg
600
800
admin
/wp-content/uploads/2020/02/sabr_logo.png
admin
2017-04-04 11:46:49
2020-04-17 10:25:53
May 14, 1965: Yastrzemski hits for the cycle, but Detroit's Willie Horton steals the show